Spiti Valley Road trip Planning?
A road trip through the Spiti Valley is a must for every mountain and motorcycle enthusiast, trekker or nature lover. However, compared to Ladakh, this region remains harsh and desolate.
The Spiti Valley is a cold desert mountain valley high in the Himalayas in the northeastern region of Himachal Pradesh. "Spiti" means "the middle land" and refers to the area between Tibet and India. The Spiti Valley is also one of the most sparsely populated areas in India.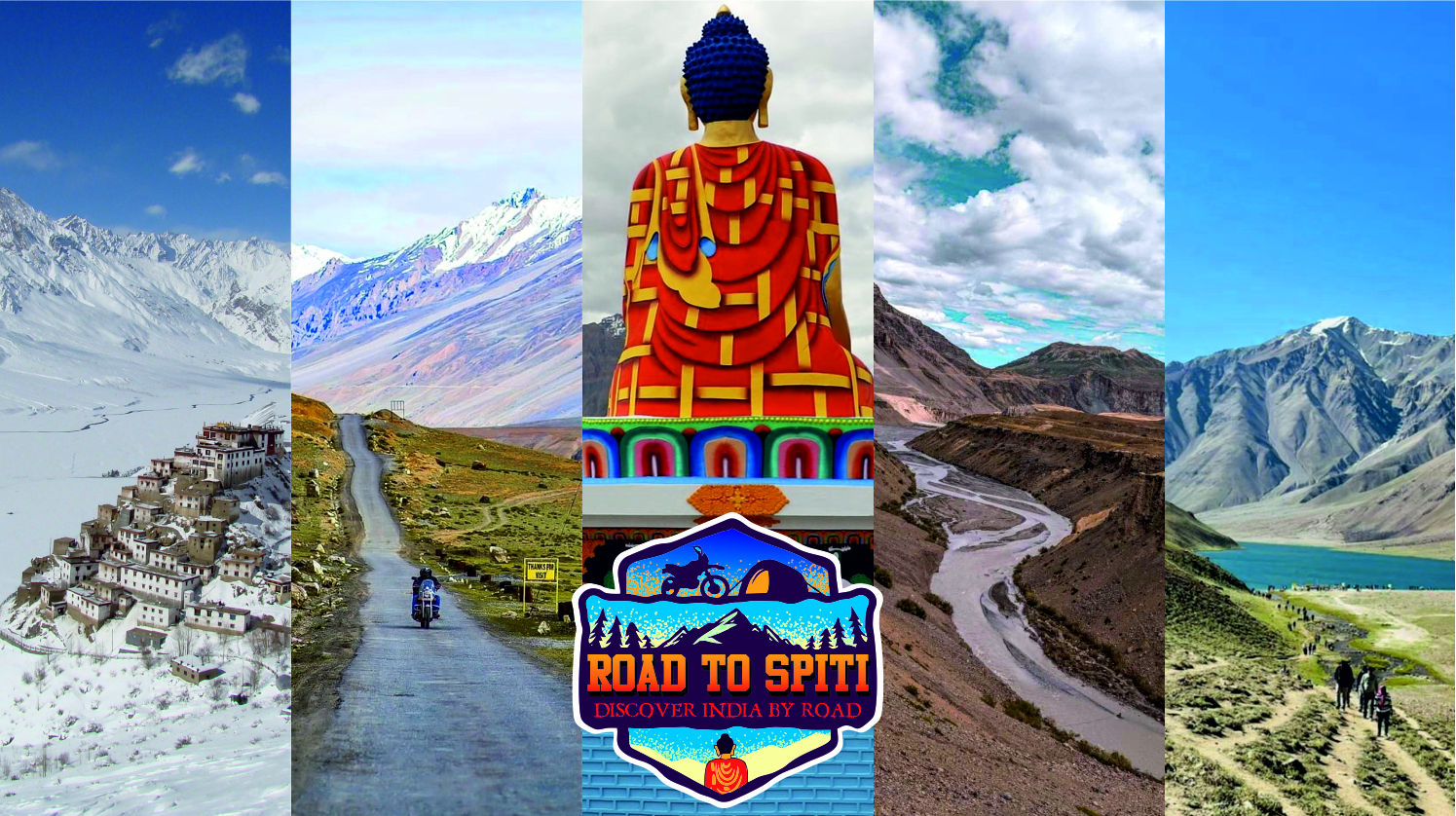 Getting Ready For The Spiti Valley Road Trip
The Spiti Valley Road Trip is one of the most daring excursions one can undertake. Driving through these uninviting yet fascinating landscapes requires a high level of passion. However, organizing a bike/car trip to the Spiti Valley requires more than passion. This is the reality in the Spiti Valley, and I am not saying this to scare you. Therefore, you must be mentally and physically ready before you start your ride or trip.
Physical fitness is one of the most important factors you need to pay attention to throughout the trip as you traverse different landscapes and weather conditions. Since oxygen levels are low at higher altitudes, you should do breathing exercises and yoga. Also, swimming and cycling can increase your endurance.

If you are planning this trip by bike, my video will help you prepare.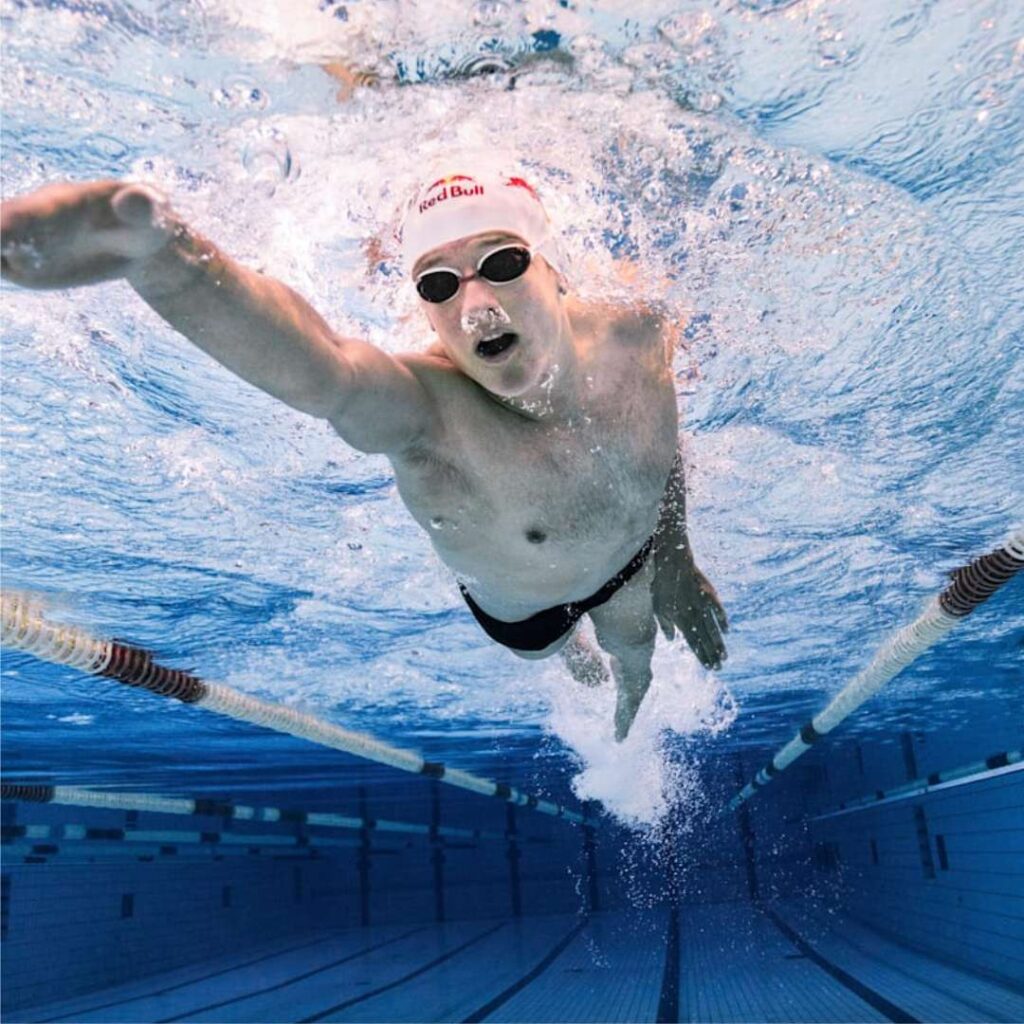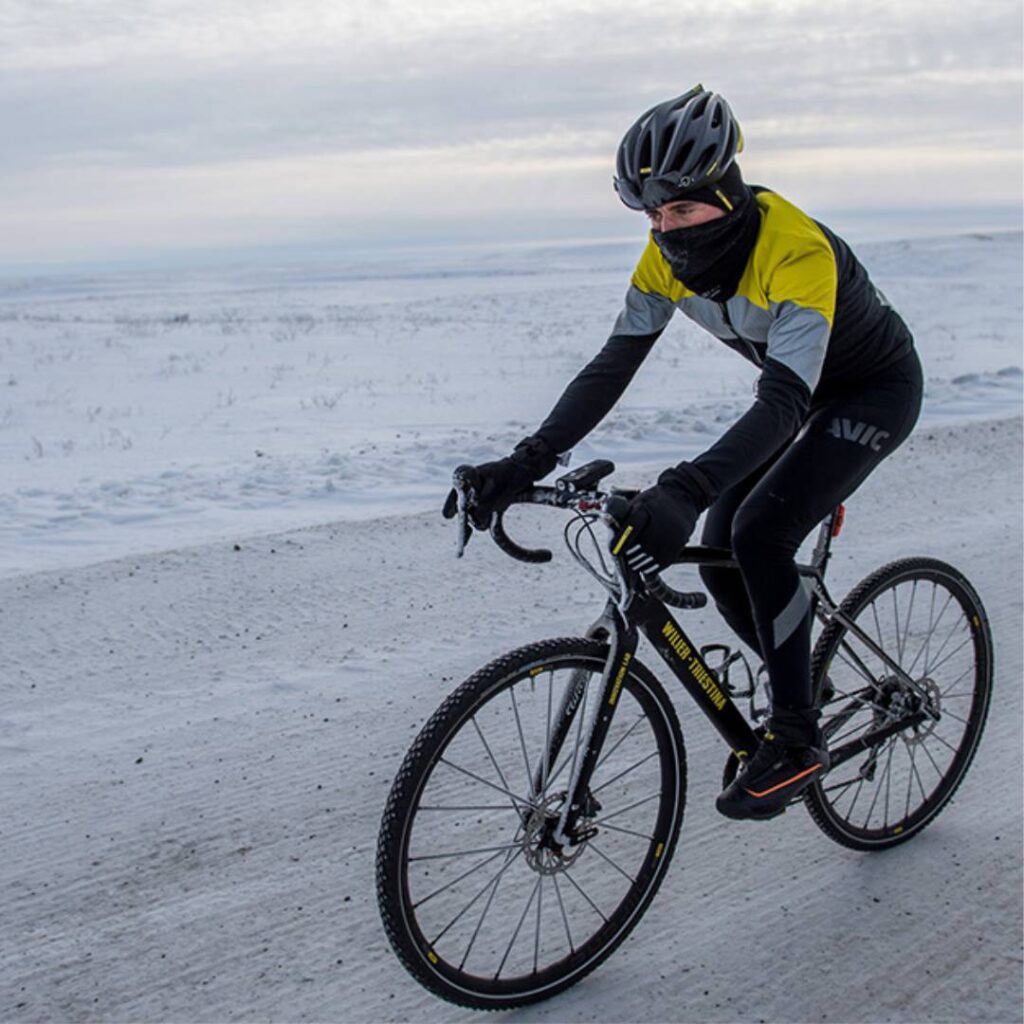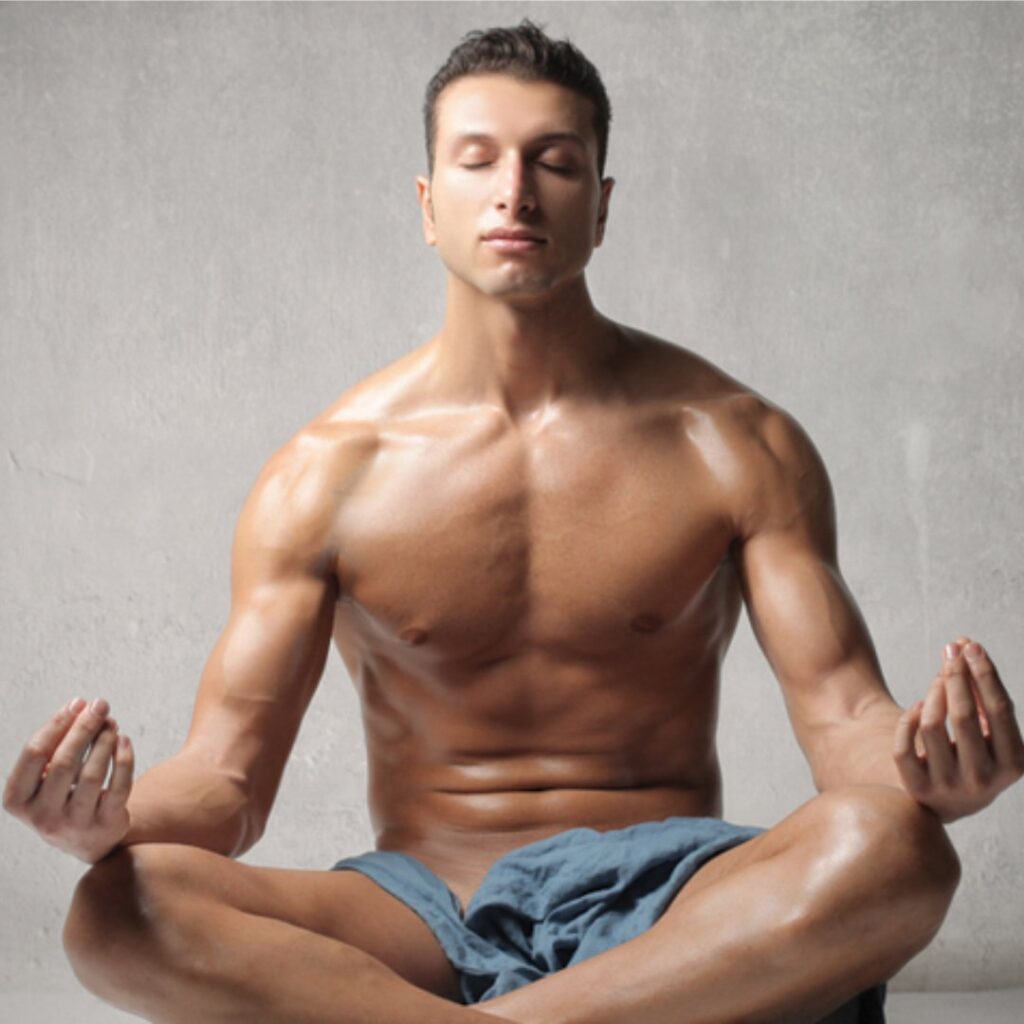 When is the best time for Spiti Valley Road trip?
The Spiti Valley can be visited all year round, but it depends entirely on your personal preferences. The valley is accessible both in summer and winter. However, from November to early March, the valley is covered by a thick layer of snow, which makes access difficult. In winter, the Manali-Kaza route remains closed, and access to the Spiti Valley only from the Shimla side can be extremely difficult. The trip to Spiti in winter is also known as the " White Spiti Trip".
The best time to visit the Spiti Valley is from June to mid-October when the snow melts and the skies clear. During this time, the roads from Manali and Shimla reopen, and access to the valley becomes much easier. You will also have access to all the necessary facilities such as good road conditions, hotels, vehicles, and public transportation. If you are planning a road trip through the Spiti Valley, it is recommended to visit between June and October.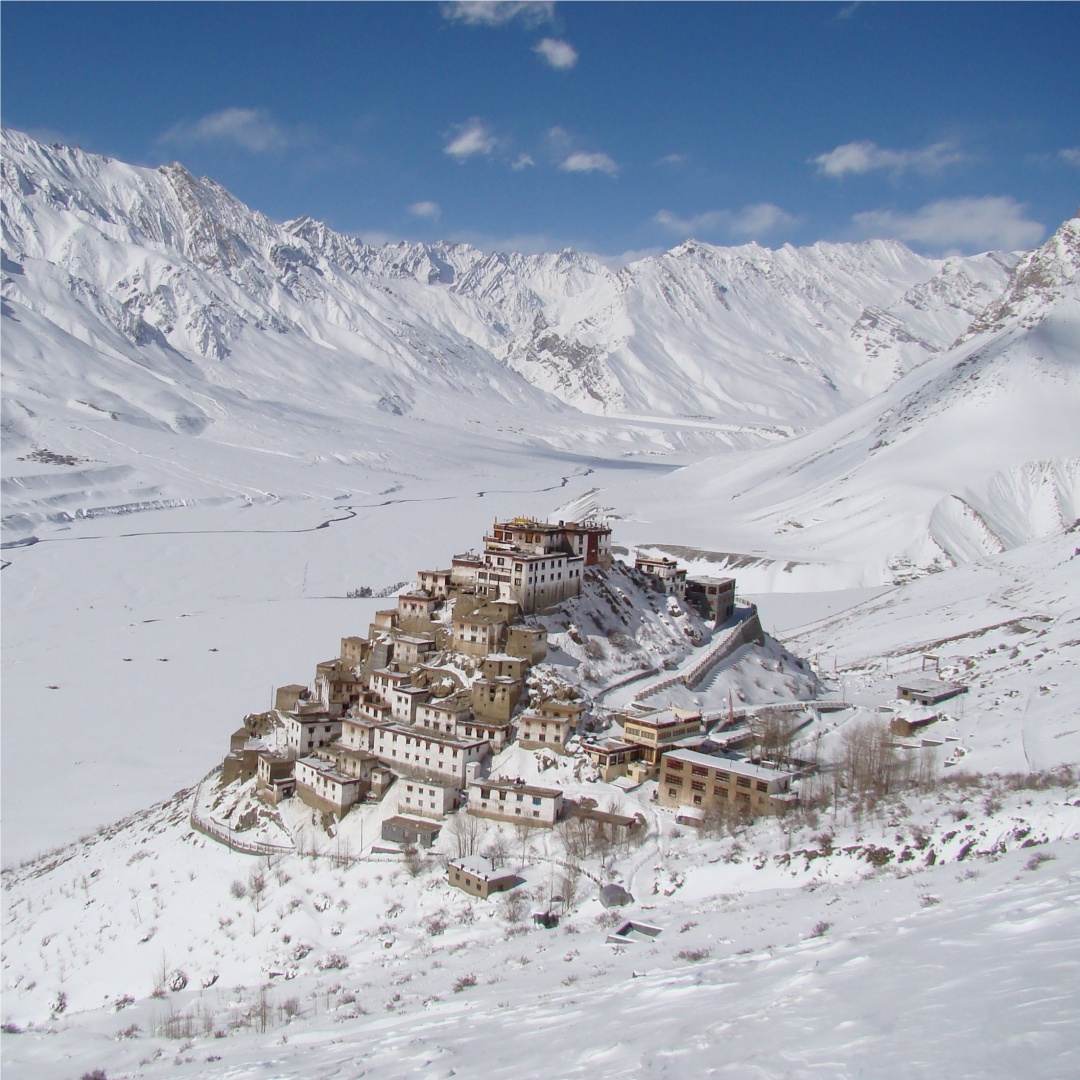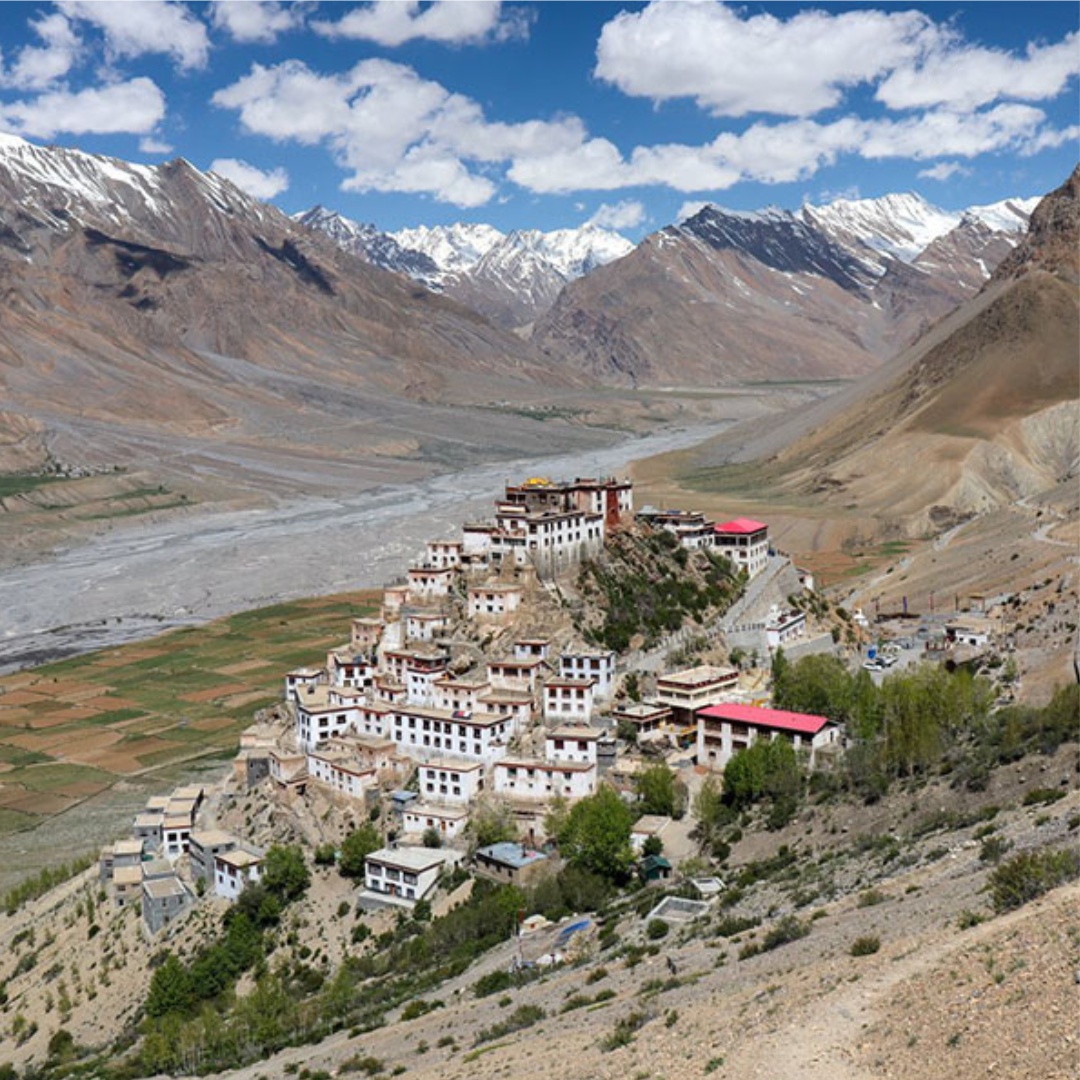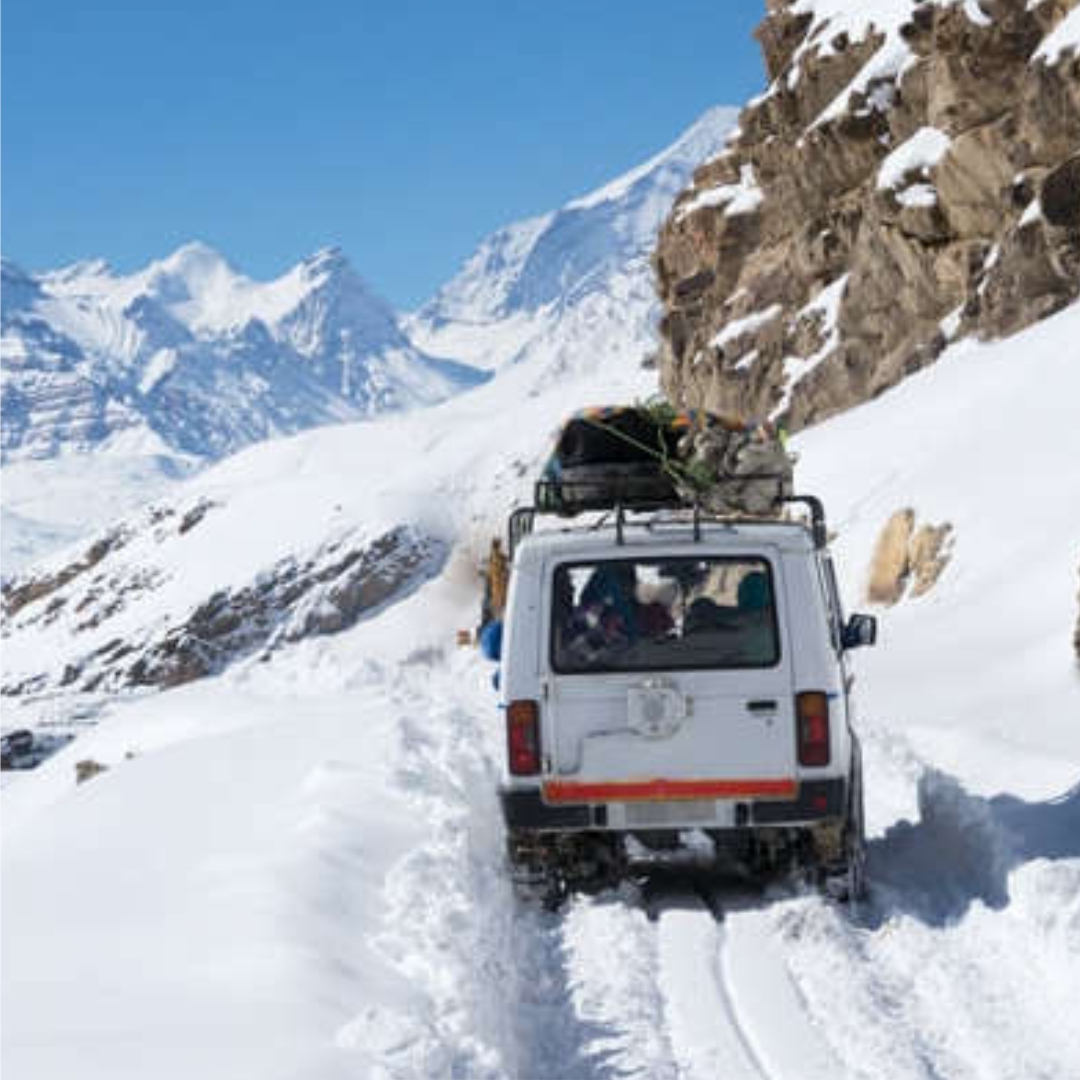 The best route for a Spiti Valley road trip
To begin your journey to the Spiti Valley, you must reach Delhi or Chandigarh. You can arrive by any mode of transportation, including road, rail, or air. From Delhi/Chandigarh there are two routes to start your journey to Spiti Valley.
Route No. 1: Delhi/Chandigarh to Manali – Chandratal – Kunzum La Pass – Losar – Kaza – Tabo – Nako – Chitkul – Narkanda – Shimla and back to Delhi/Chandigarh.
Route No. 2: Delhi/Chandigarh to Shimla – Narkanda – Chitkul – Nako – Tabo – Kaza – Chandratal – Manali and back to Delhi/Chandigarh.
You can start from the Manali side and end from the Shimla side or vice versa. However, I personally would advise you to start from Shimla. And this is for several reasons. If you start from Shimla, it will be easier for you to acclimatize to the high altitude. From Shimla, you do not need to get permission to cross the Rohtang Pass. However, if you start from Manali-Kaza-Shimla or Manali-Kaza-Manali, you need to get a permit from the DC office in Manali.
Important Tip:
Before you leave for the Spiti Valley bike trip from the Shimla side, do not forget to check if Kunzum Pass is open. However, the route will still remain open from Shimla, but only until Losar. After a few kilometers from Losar (if Kunzum Pass is closed), you will have to return via the same route. I have also created a Map of the entire Spiti Valley Circuit for you guys, If you want you can download it for your reference & take a printout of it by clicking here.  or if you want you can download a pdf version of this map by clicking here.
To check day-to-day updates on local weather & roadblocks join the Facebook page of Lahul Spiti Police. 
How to choose the best mode of transport for the Spiti Valley Road trip?
You can also do the Spiti Valley road trip by car-jeep, bike, or HRTC bus. If you ask me, I would prefer the bike because I love to ride. But it all depends on your choice and budget.
For a road trip, your bike is the second most important thing after you. Right now, there are many choices available in the market from which you can choose your bike. If you already have a bike, that is a wonderful thing. However, you need to know the capabilities of your bike. Because this ride will come with extreme challenges. Besides, you can ride any vehicle anywhere if the rider has passion.
But if you want to make your ride more comfortable, you need to choose a bike with higher CC (more than 200 CC). Currently, I personally own a bike with 100 CC, but I know the limits of my bike. The engines of bikes with 100to 200 cc bikes are designed for city commuting. And during this trip, I will be riding on highways most of the time, covering 400-500 km in a day or riding in high altitude, rugged terrain. So I decided to buy a new motorcycle with a more powerful CC engine and advanced features. Now the question is, "Which motorcycle should I buy?" After a comprehensive analysis of the pros and cons and a comparison of different motorcycles, I finally chose the BAJAJ DOMINAR 400 as my travel companion.
Apart from this, we also require some essential touring accessories for our bike like Saddle Stay & Top rack, Crash guard, Windshield, Saddlebags, Tank Bag & Top box, etc. To know more about the essential touring accessories buying guide click Here.
Not just your bike, You should also be ready for Long rides in such harsh weather conditions. proper riding gears will keep you comfortable in a wide range of situations, and when you're comfortable you're a better rider. Good riding gears are designed for more than just crash protection; It's act like your second skin and protects you from hash sun rays, blowing wind, and any unknown object that is flying through the air. For a complete list of riding gear & detailed buying guide, Click here to read more.
If you don't want to plan this trip by yourself, you can hire an agent who can plan this entire trip for you. In Delhi, you can find many travel agents who regularly organize such trips.

HRTC Buses are also an economical option for low-budget travelers or backpackers. From ISBT Delhi, you can get regular buses to Lahul Spiti Circuit. 
(To book online, go to HRTC's website at https://online.hrtchp.com/oprs-web/
I am starting this trip on my Dominar 400, in Day 1 I will cover a distance of around 498 km from Gujarat to Rajasthan, In day 2, I will travel from Rajasthan to New Delhi. Day 3 was kept for some resting and shopping in Delhi. You can watch my Day 1, 2 & 3 videos down below.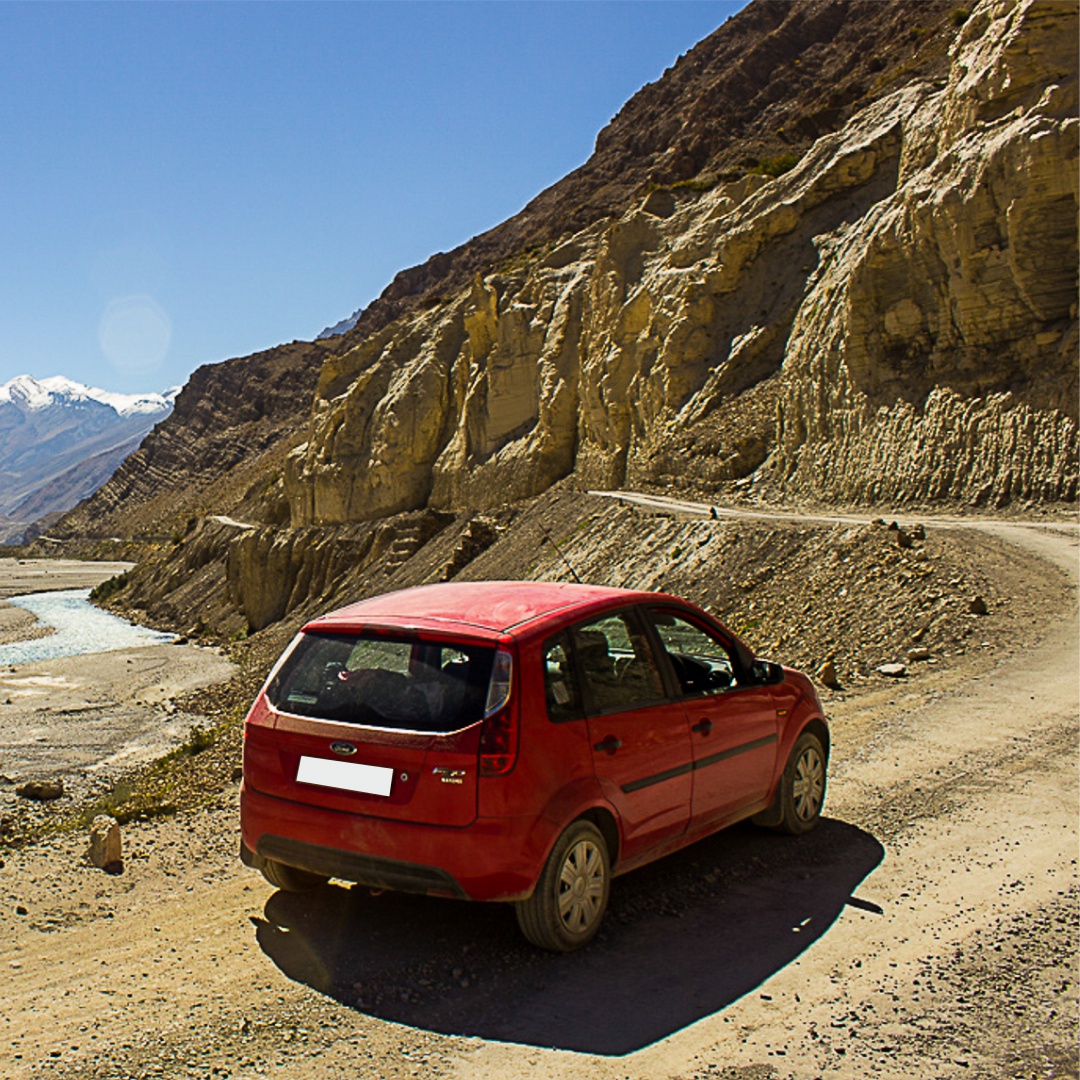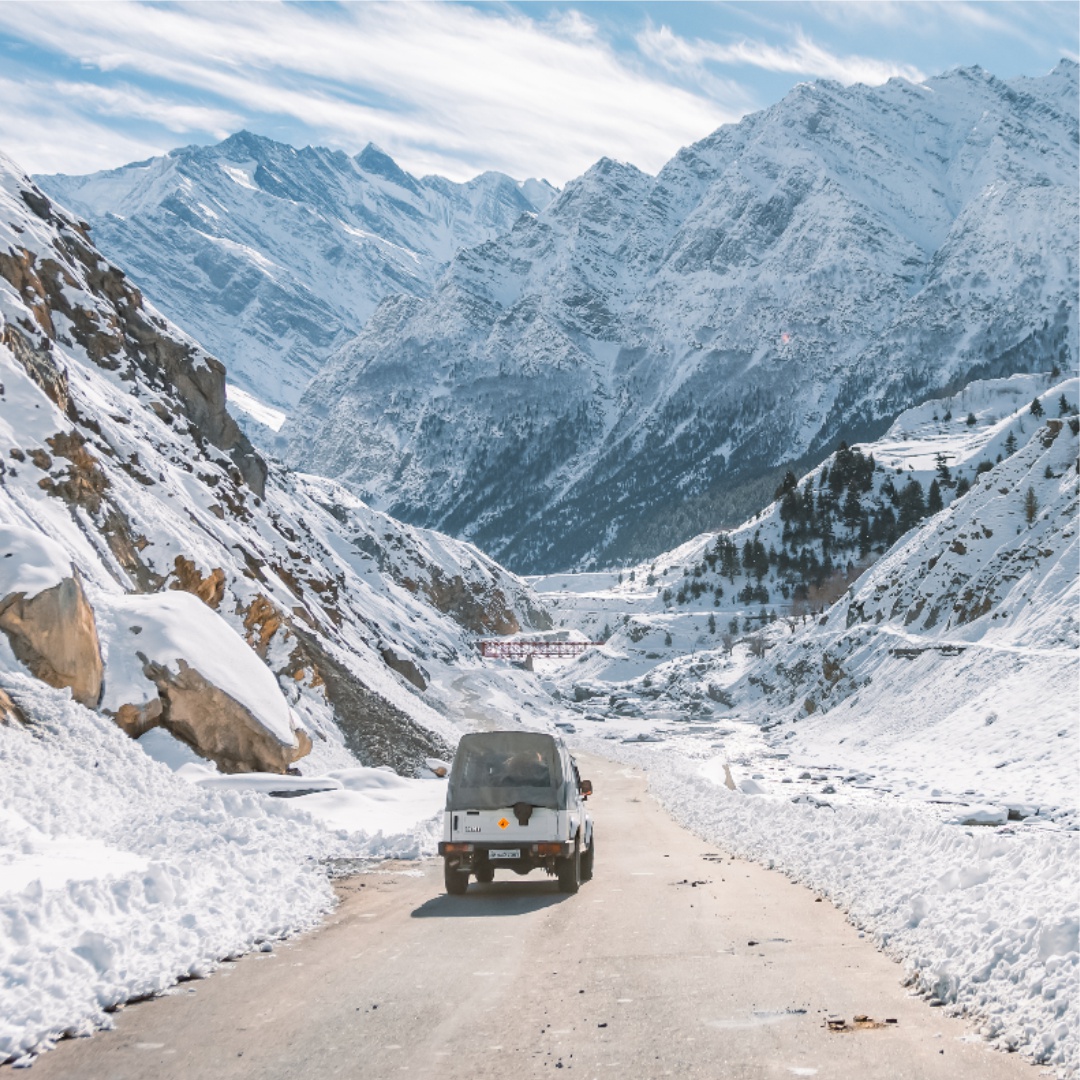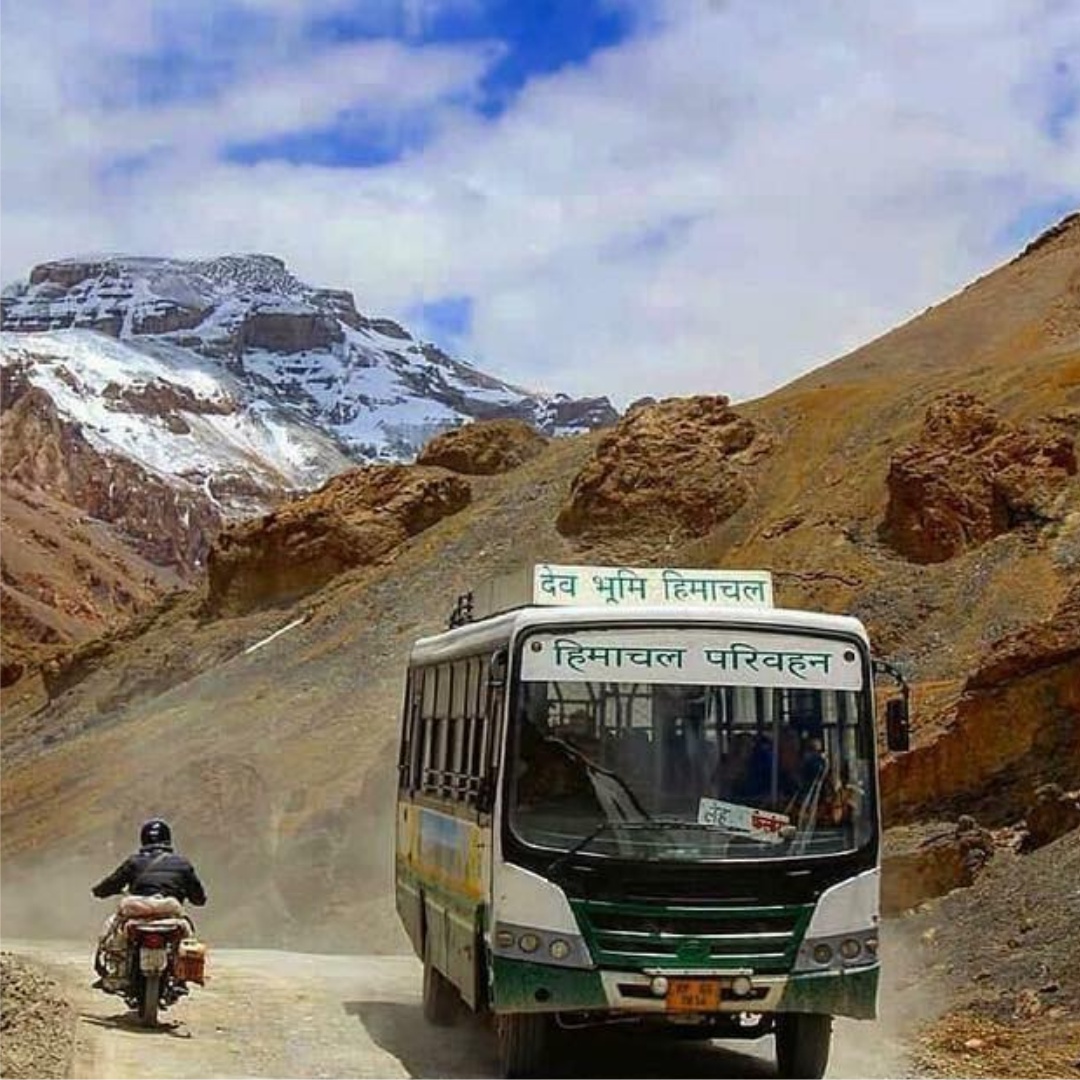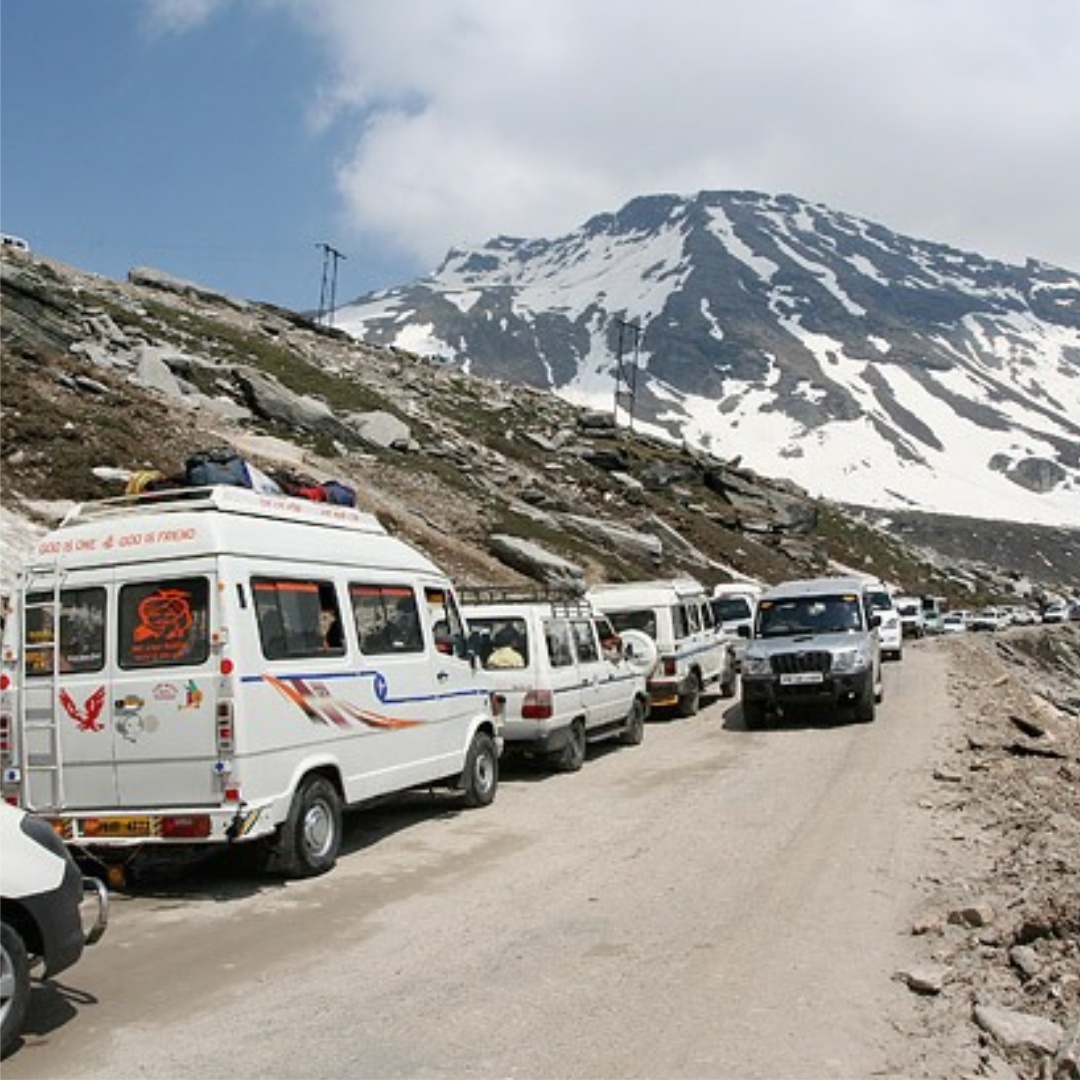 Day-to-day itinerary of the Spiti Valley road trip
As mentioned earlier, the Shimla route is ideal for first-time visitors. Let's start with this route. Although I am riding from Mumbai, I will begin my journey from Delhi, so you can calculate and add the extra travel days from your home location to Delhi.
Day 1: Delhi-Shimla-Narkanda or Rampur (480 km).
To arrive early, I started my journey as early as possible. You can take an NH-44 and NH-5 from Delhi to Shimla via Chandigarh. If you are traveling on this route for the first time, you can stay at Shimla for a day of sightseeing before continuing on. Otherwise, you may carry on your journey toward Narkanda or Rampur. There are many budget hotels and homestays available in this area. You can spend an extra day in Narkanda if you have sufficient time.
Shimla is one of North India's most romantic and enchanting hill stations. Shimla is a tourist paradise for all types of visitors, from honeymooners to family vacationers, and friends-a-cations to the ideal long weekend escape. Shimla, often known as the Queen of Hills, is the capital city of the Himachal Pradesh state and has long drawn travelers from all over the world. Its well-known Mall Road, City Library, churches, and British architecture continue to enchant visitors.
During your sightseeing, you can visit the year-old Sankat Mochan Temple, the Indian Institute of Advanced Studies, the Army Museum, and the Jakhoo Temple. In the evening, explore Shimla city on foot as vehicle entry is prohibited. You can see prime places in Shimla like Ridge, Church, Lakkar Bazaar, Mall Road, Scandal Point, Kali Bari Temple, etc. An ideal time for shopping and eating out at restaurants in mall road.
Narkanda is located at an altitude of 2708 meters or 8599 feet. This town has a peaceful atmosphere and abundant flora. Its scenic appeal is enhanced by the presence of apple and cherry orchards dotting its lush hills, making it a favorite amongst landscape photographers.
Narkanda's main attractions include a beautiful lake named Tanni Jubbar Lake and a respected Hindu temple called Hatu Mata Mandir. Narkanda is also an excellent choice for thrill enthusiasts. Whether you enjoy trekking or skiing, this town provides plenty of possibilities to fulfill your adrenaline junkie side, including the chance to ascend to Hatu Peak, the Shimla district's second-highest peak at 3400 meters. The dense forests of pine, oak, rhododendron, and deodar add a vibrant appeal to its hilly landscape for the rest of the year.
During the winter season, the minimum temperature drops to as low as -8 degrees Celsius at night. The temperatures in the summer are pleasantly cold, adding romantic vibes to the atmosphere.
I crossed Shimla by around 5:30 pm and reached Shilaru by around 7:30 pm. Shilaru was located just 10km before Narkanda, in Shilaru I stayed at Manas Home Stay by paying Rs.650/- per Night. To experience this entire journey you can watch my Delhi to Narkanda Day 4 video on YouTube below.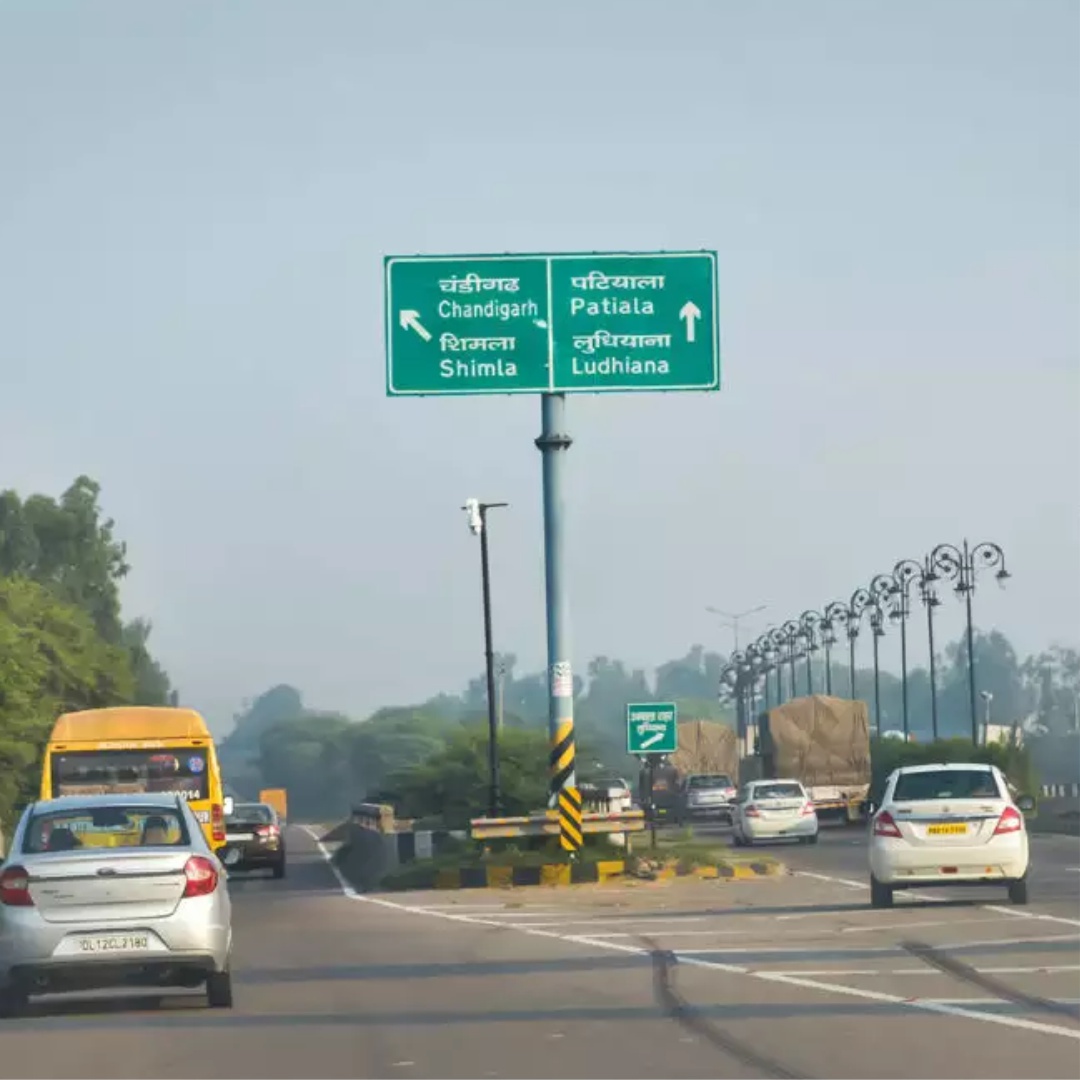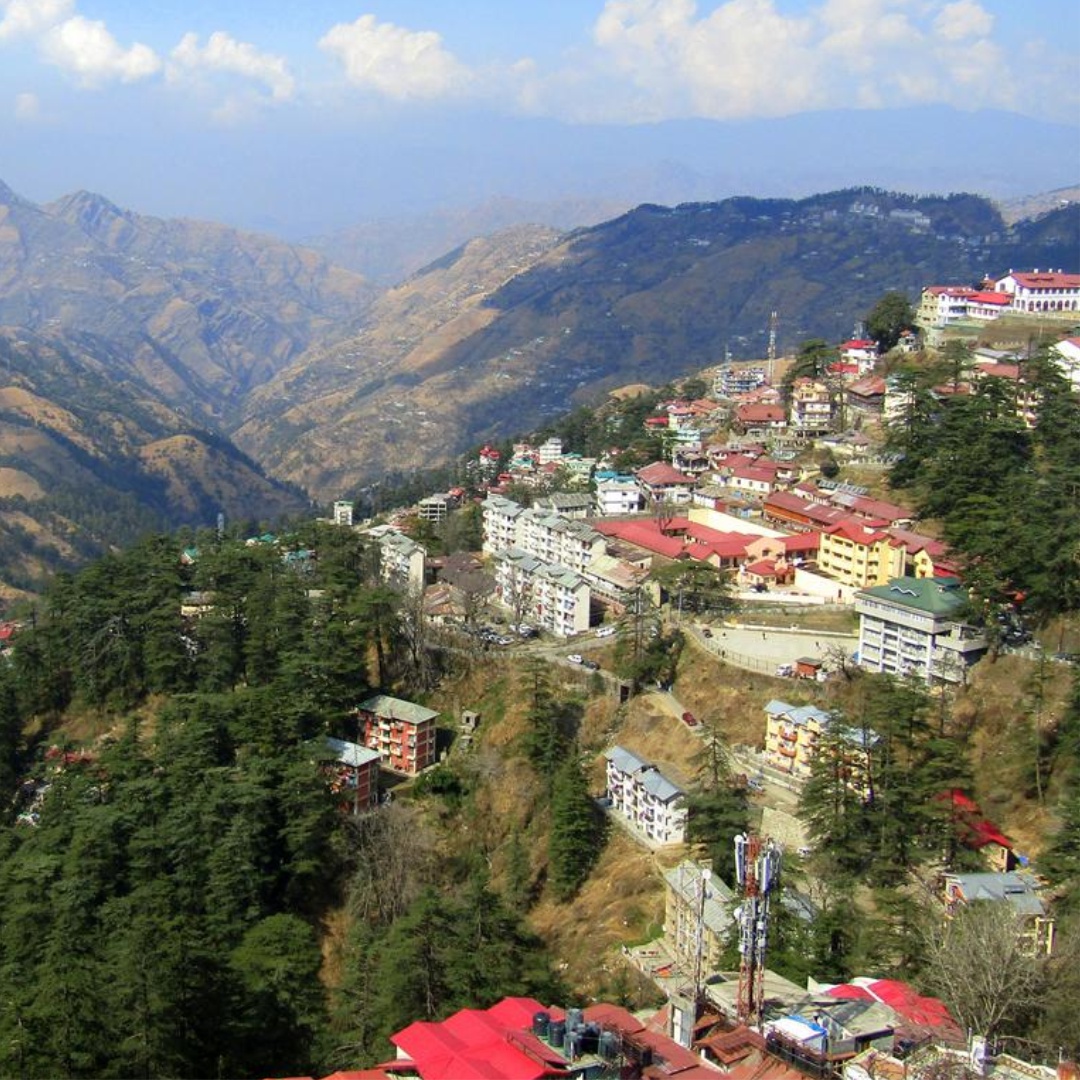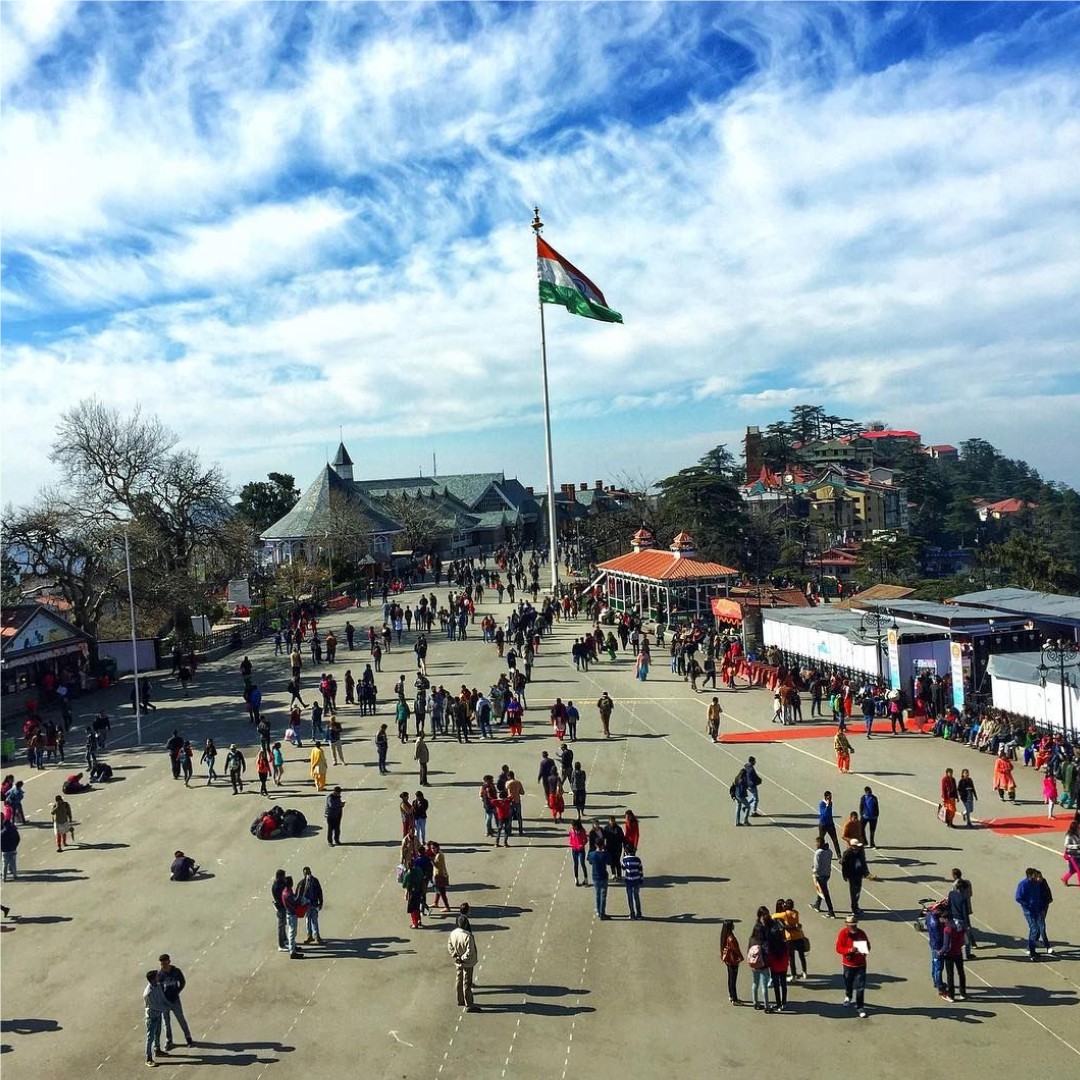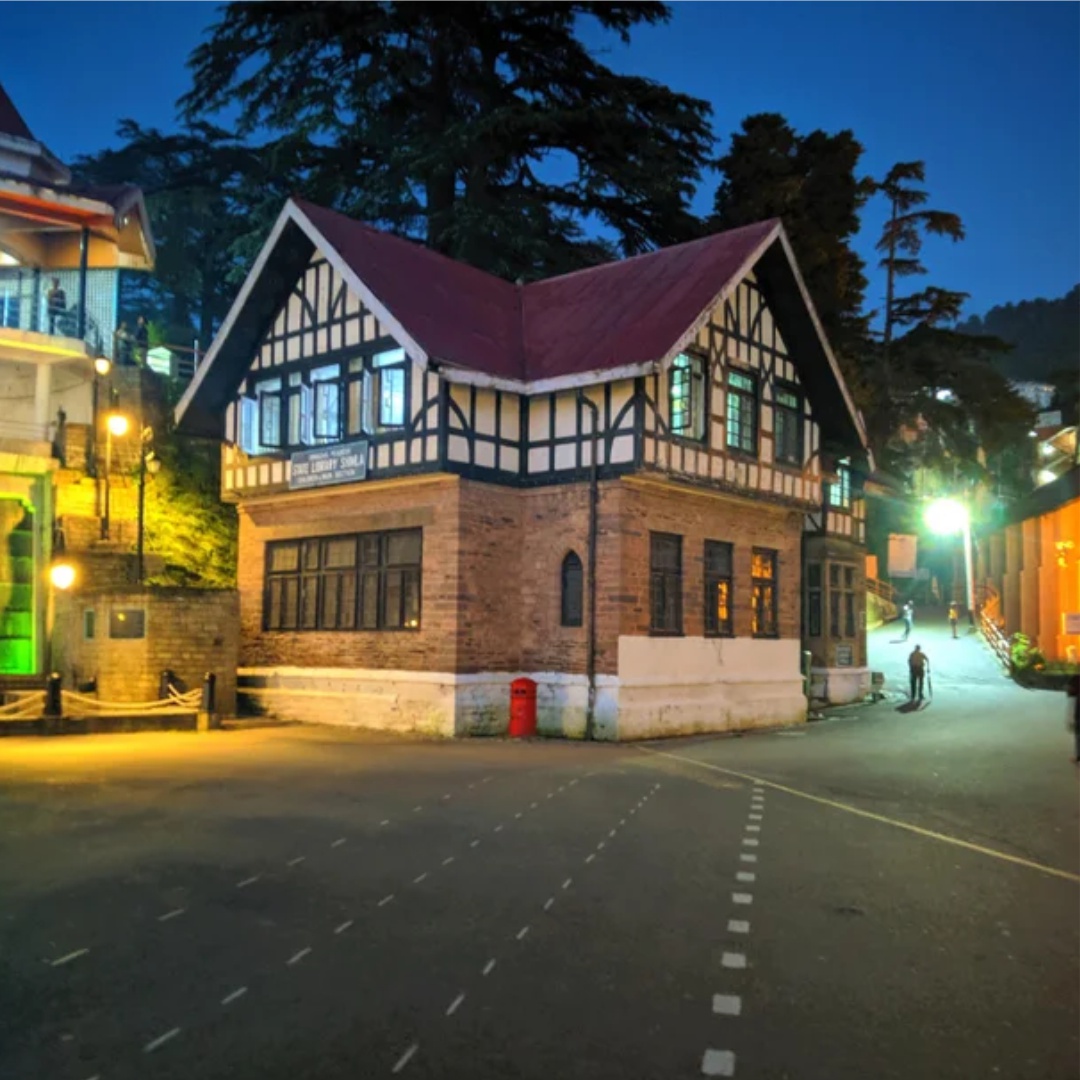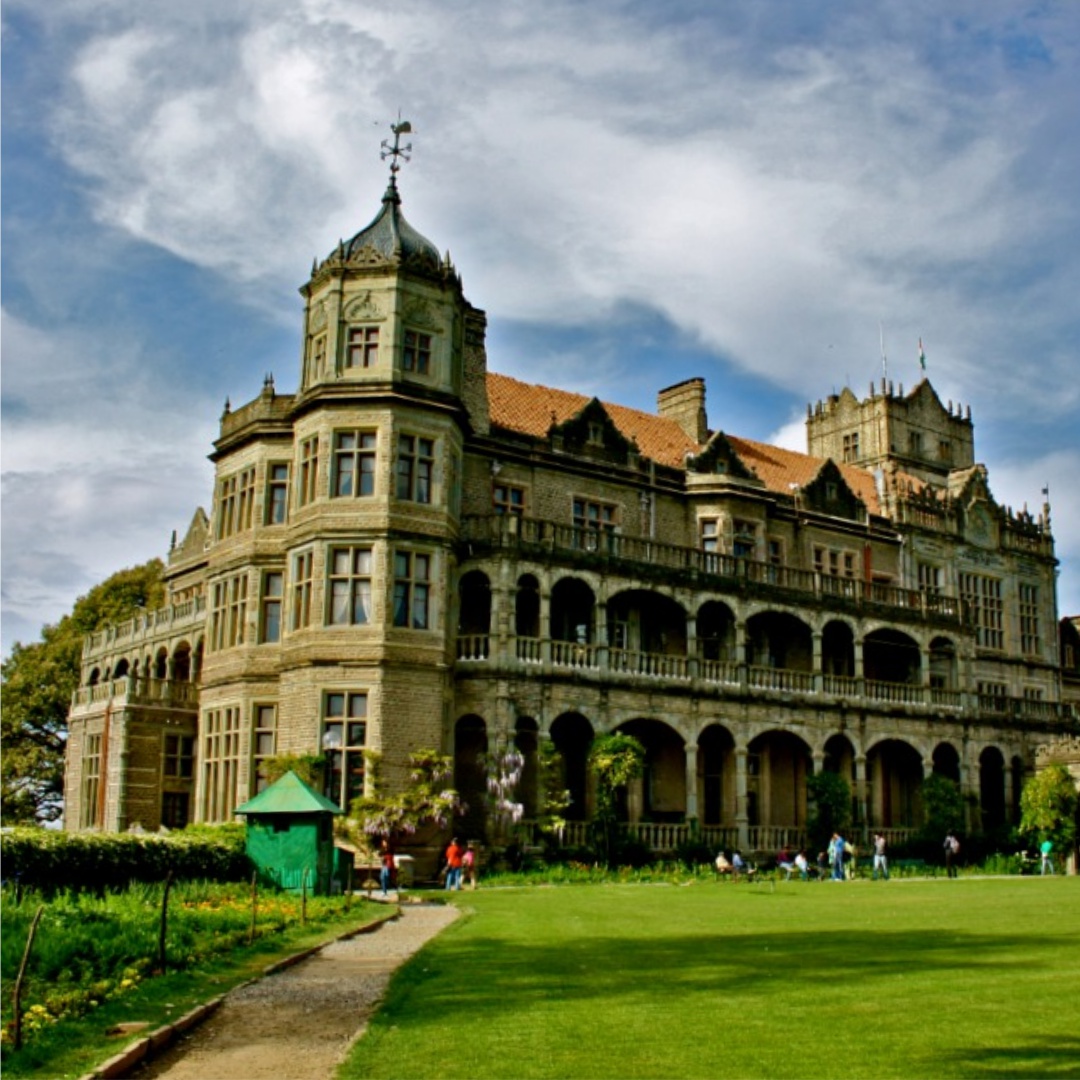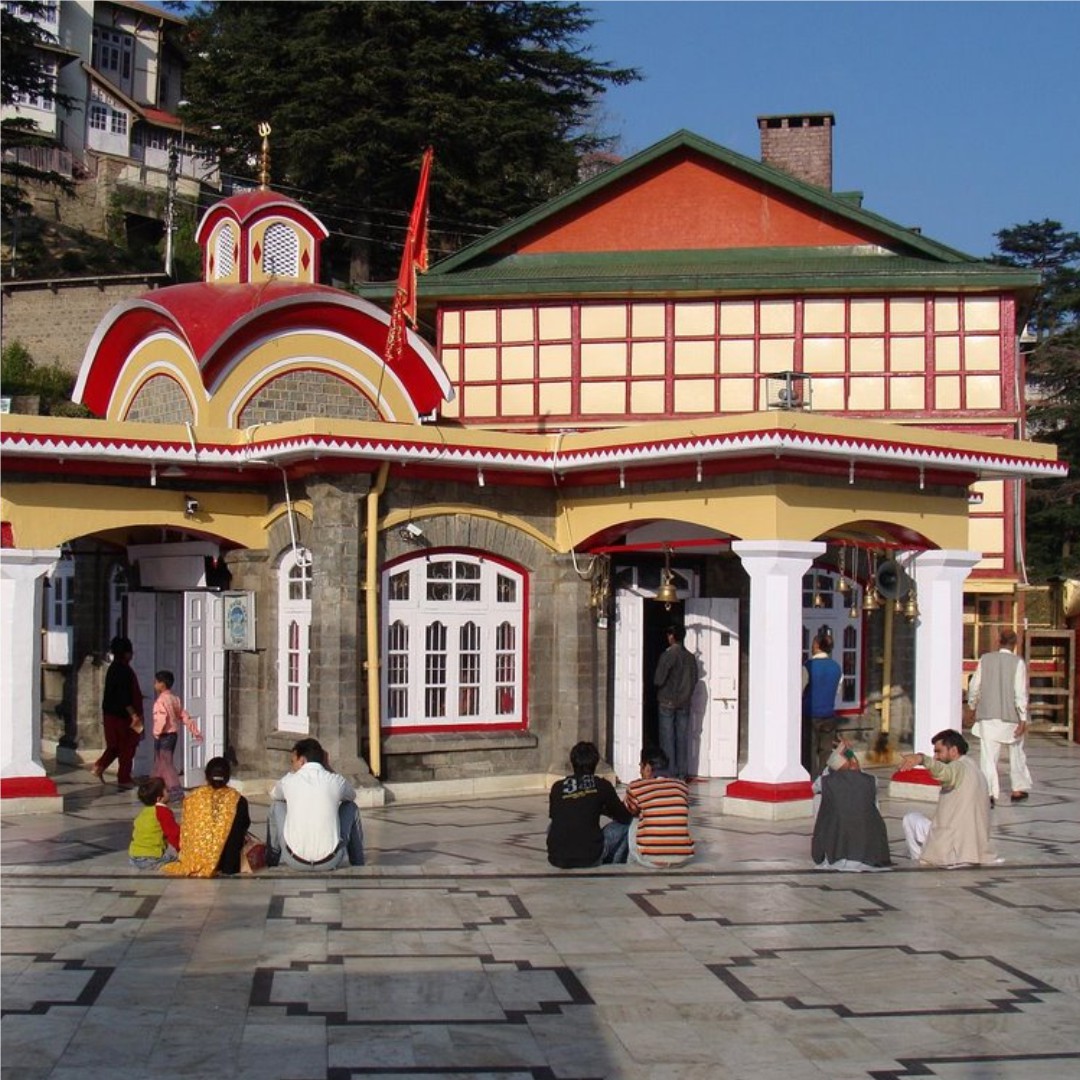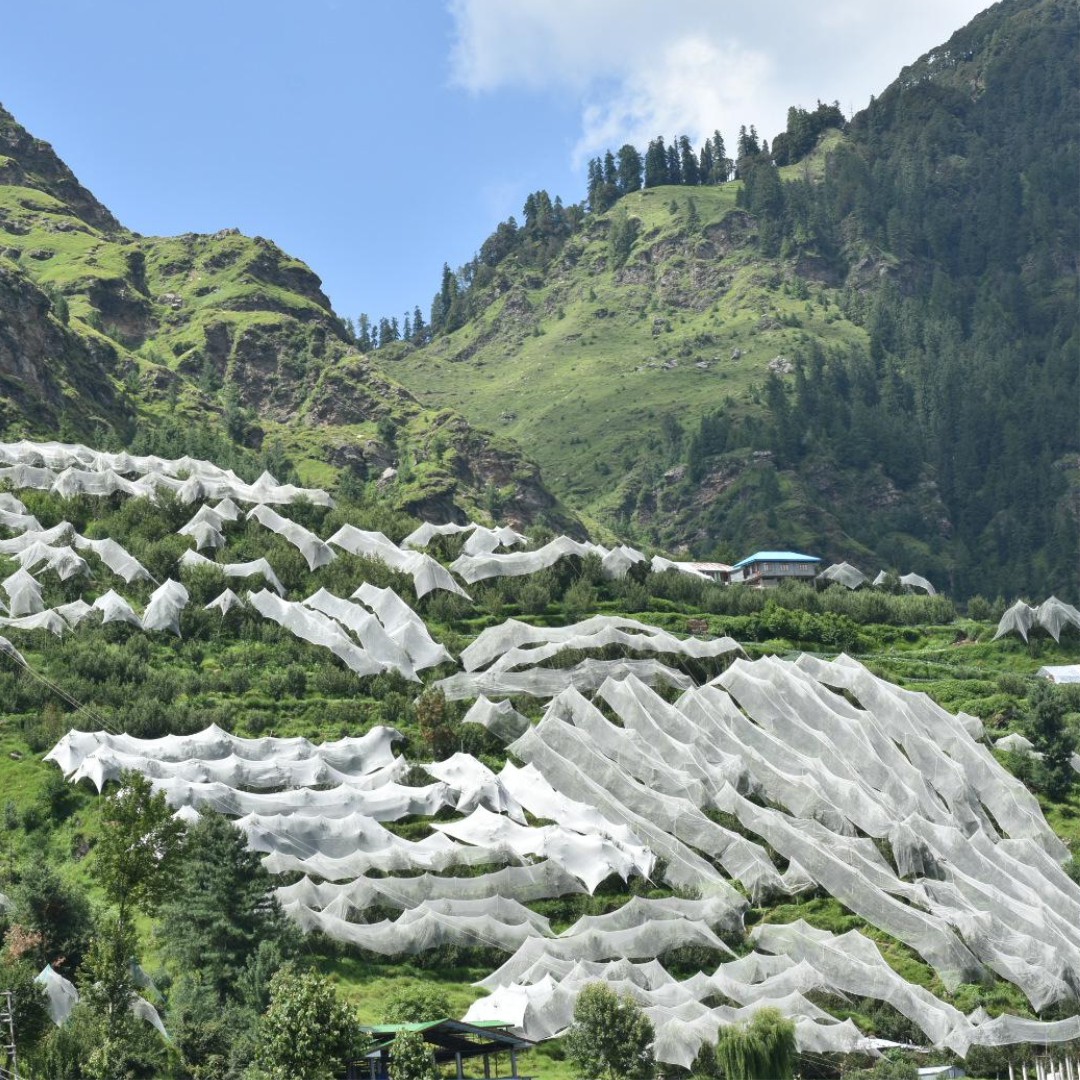 Day 2: Narkanda - Rampur - Kharcham - Sangla - Chitkul (185km)
Chitkul is the next stop after Narkanda. However, there are many scenic spots to see before arriving in Chitkul. Kinnaur Gateway, also known as Rock Tunnel, is one of them. This little tunnel is a popular photo location for tourists, and it has also appeared in a number of films. It was recently shown in Aamir Khan's film Lal Singh Chadda. On the main road in Rampur, you can also visit a Big Hanumanji Idol & Mahishasur Mardini Temple.
As you continue on, you will pass through the magnificent Karcham Wangtoo Hydroelectric Plant and the Baspa Dam before entering the mesmerizing Sangla Valley. One road leads from Karcham Dam to Rekong Peo and another to Chitkul, India's "Last village" on the Indo-Tibet border. I continued my journey towards Chitkul, and after a few kilometers, the road was in very poor condition until Chitkul.
Chitkul is located at an altitude of about 11,319 ft located close to the Indian border before the Spiti Valley begins. There is nothing special that you can try here. But if you are looking for the perfect getaway spot from the busy city life then this is the place for you. One thing that you will find here in abundance is peace. Travelers come to Chitkul to enjoy the beauty of nature and to spend some time away from the man-made world out there. The village also contains a popular 500-year-old Mathi temple with Shakyamuni Buddha images, a Mangala wheel of life, and four directional kings on either side of the door. There are a few Campsites available in Chitkul, as well as a few hotels, homestays, and even a Zostal too. If you want you can pitch your own tent too with the permission of the locals.
Chitkul is also considered to be the final destination of the Kinnaur Kailash Yatra. Anyone who completes it concludes their yatra by praying at the Mathi Temple.
The Indo-Tibet border is just 90 km from Chitkul village. All civilian movement beyond Chitkul is prohibited. This is the reason why Chitkul is called the last village in India. The area lying beyond Chitkul village is under the control of the Indo-Tibet border police.
In Chitkul I stayed at Jyoti Homestay @ Rs. 400/- per bed. To experience this entire journey you can watch my Narkanda to Chitkul Day 5 video on YouTube below.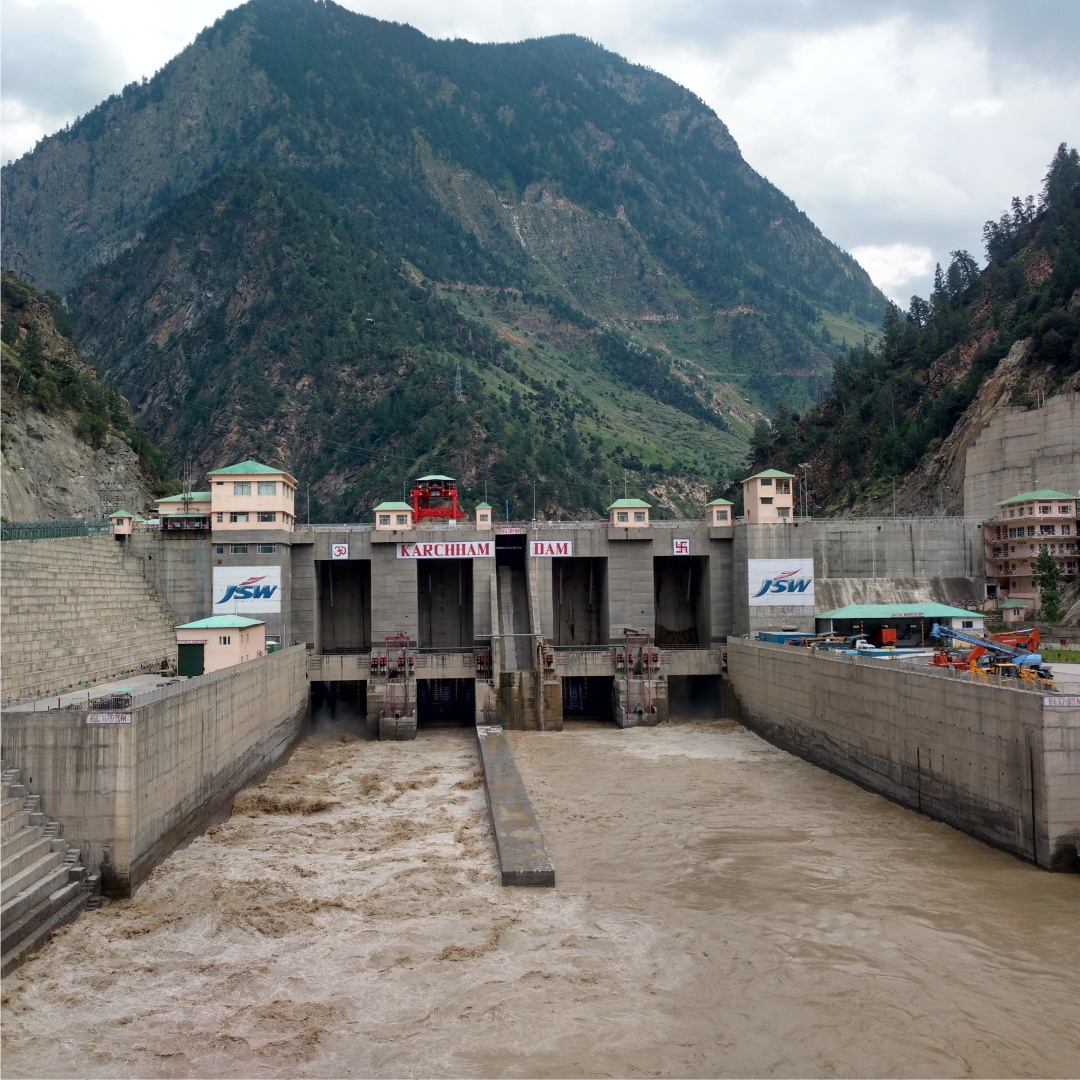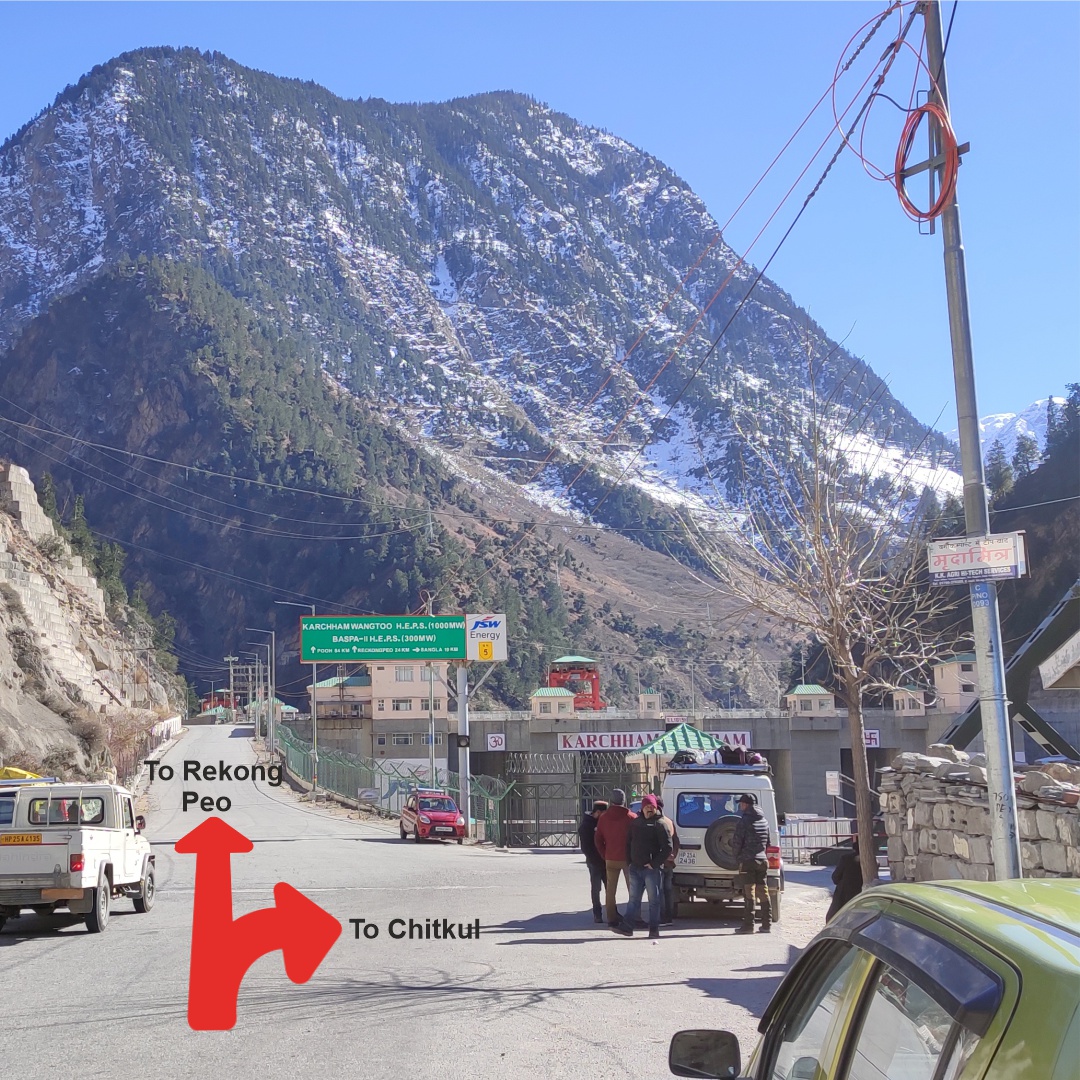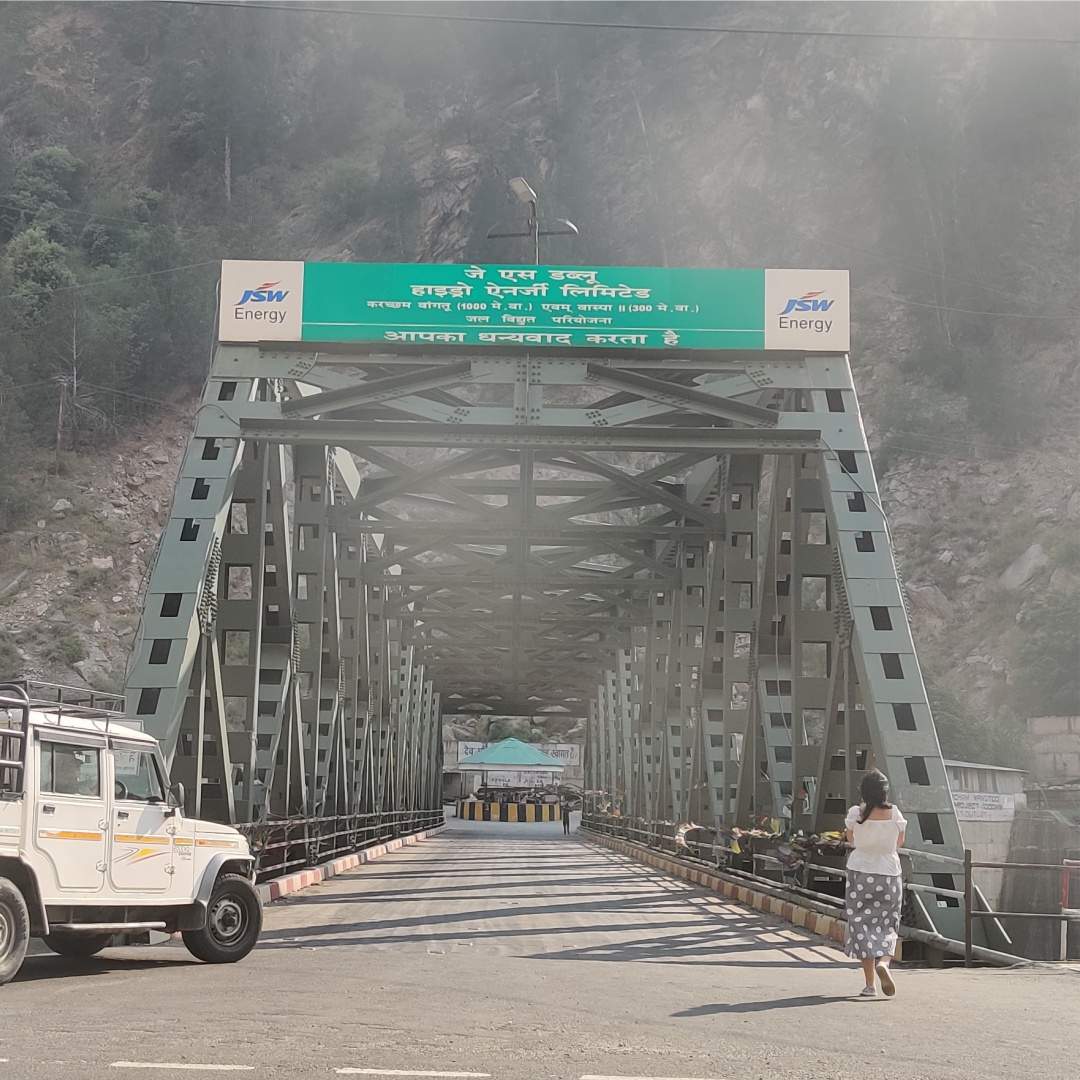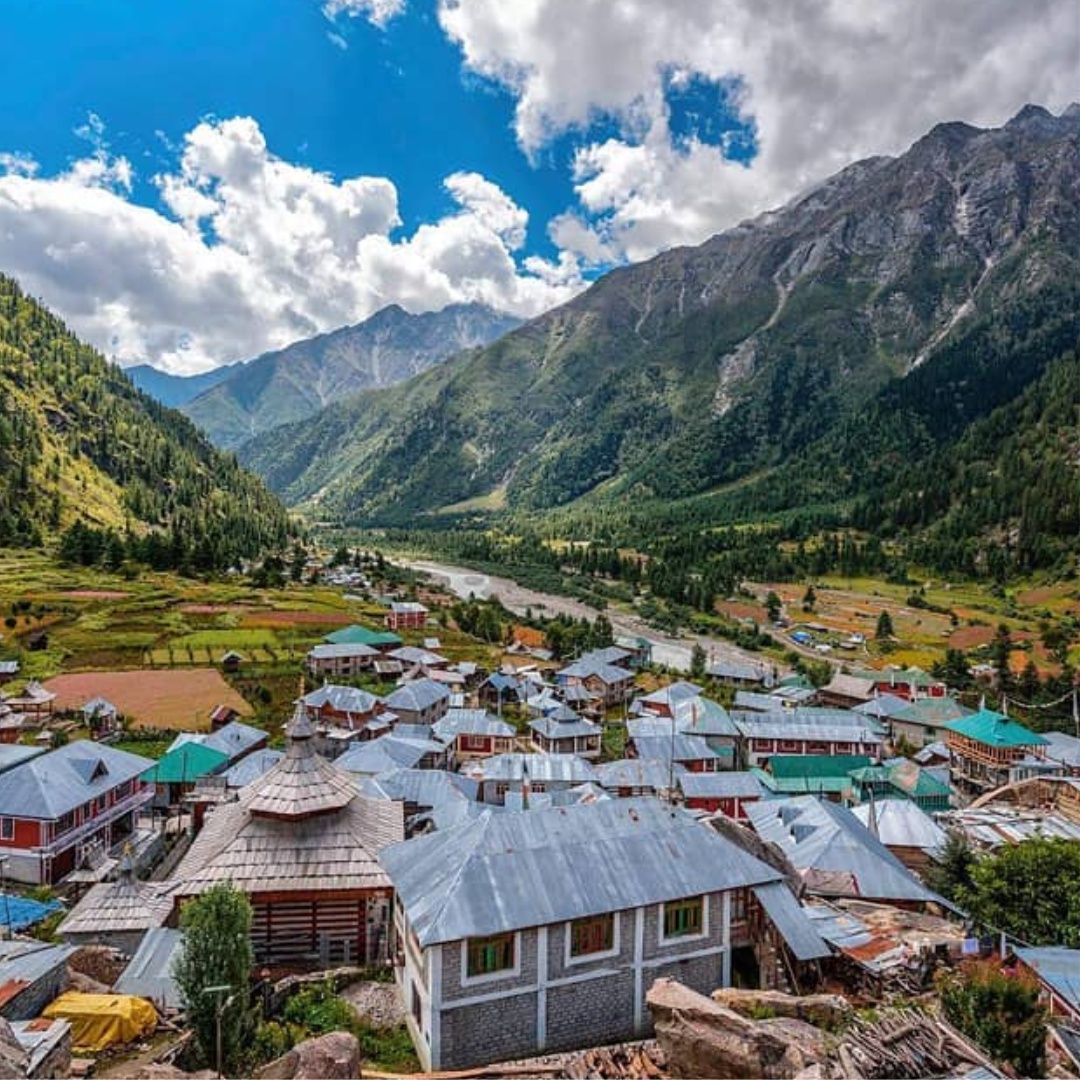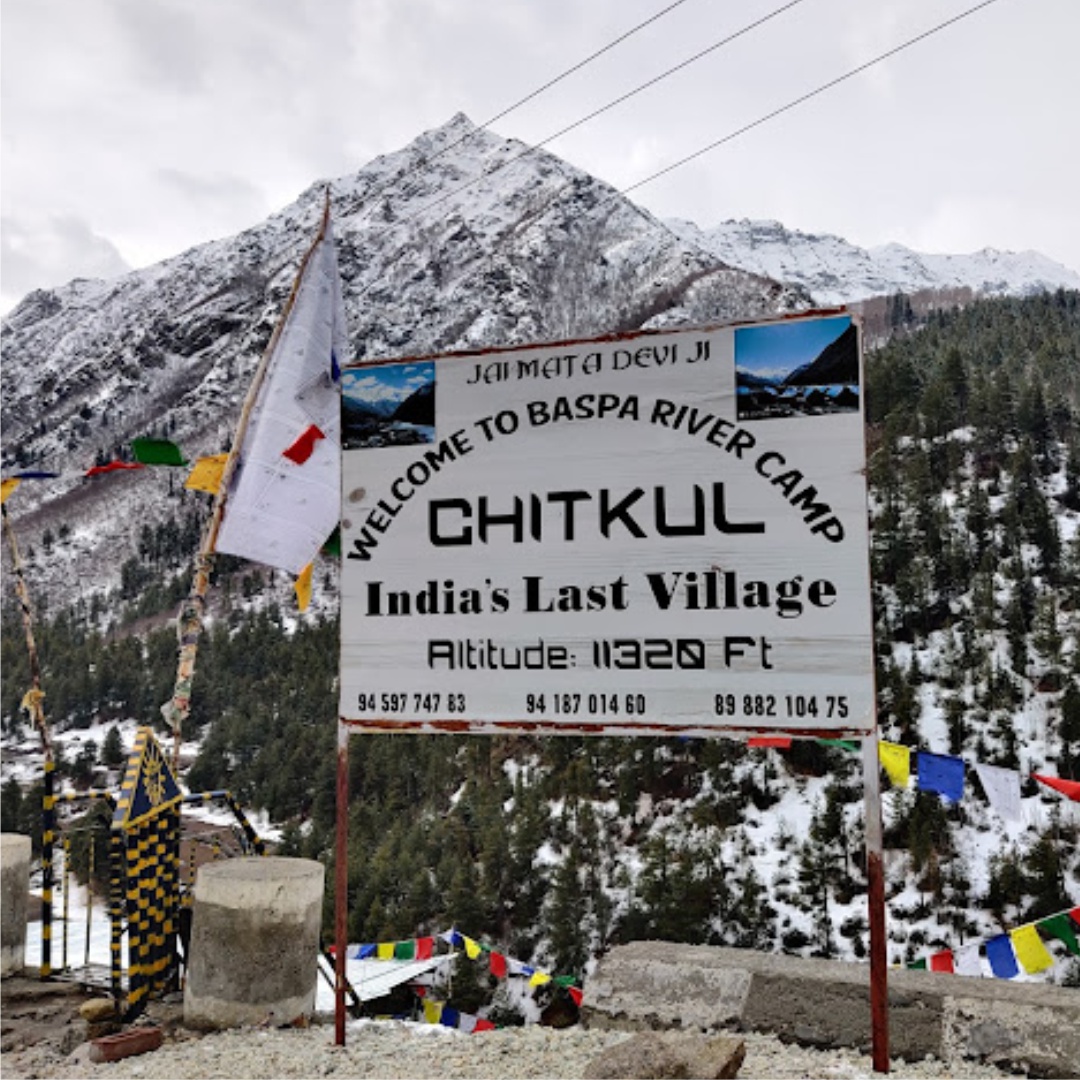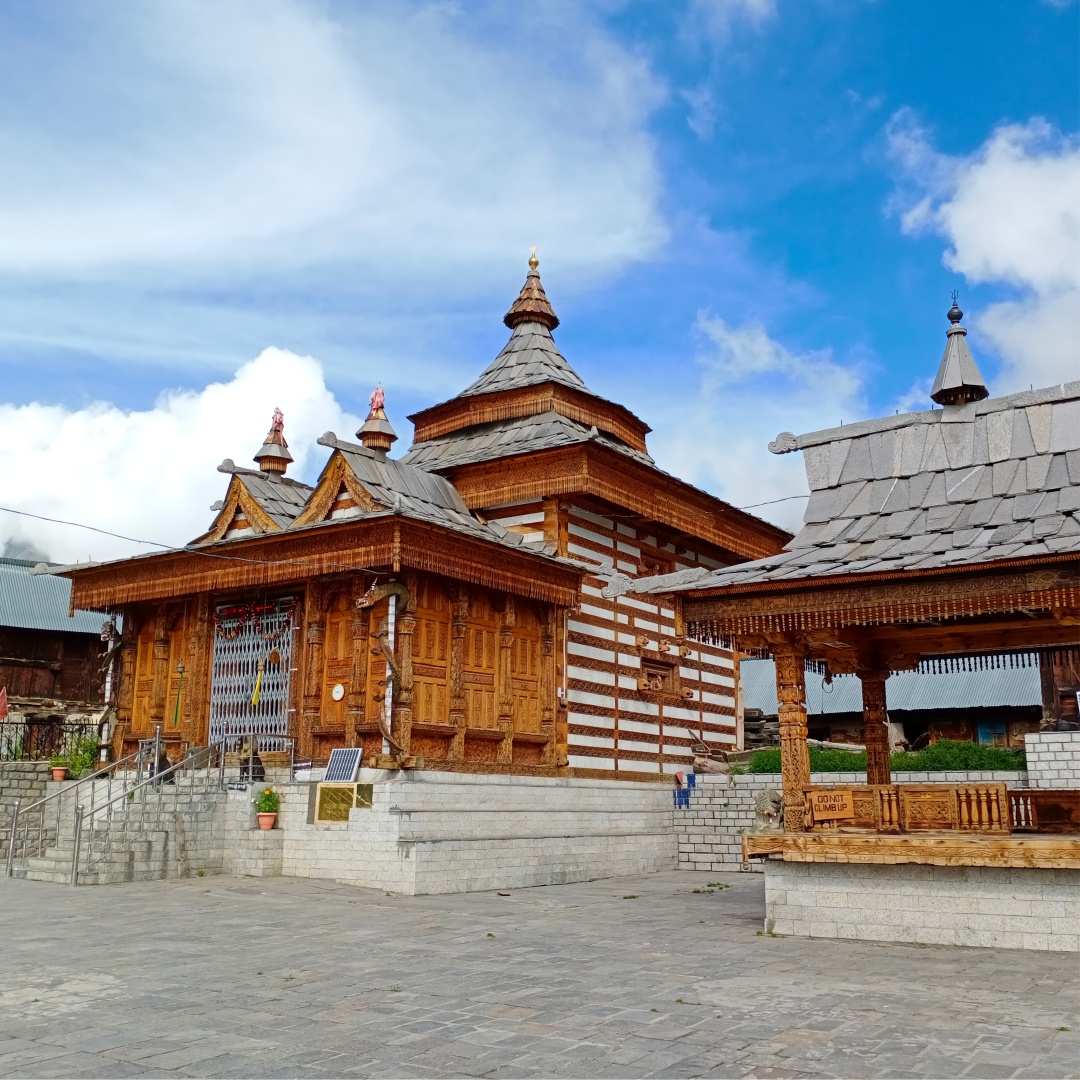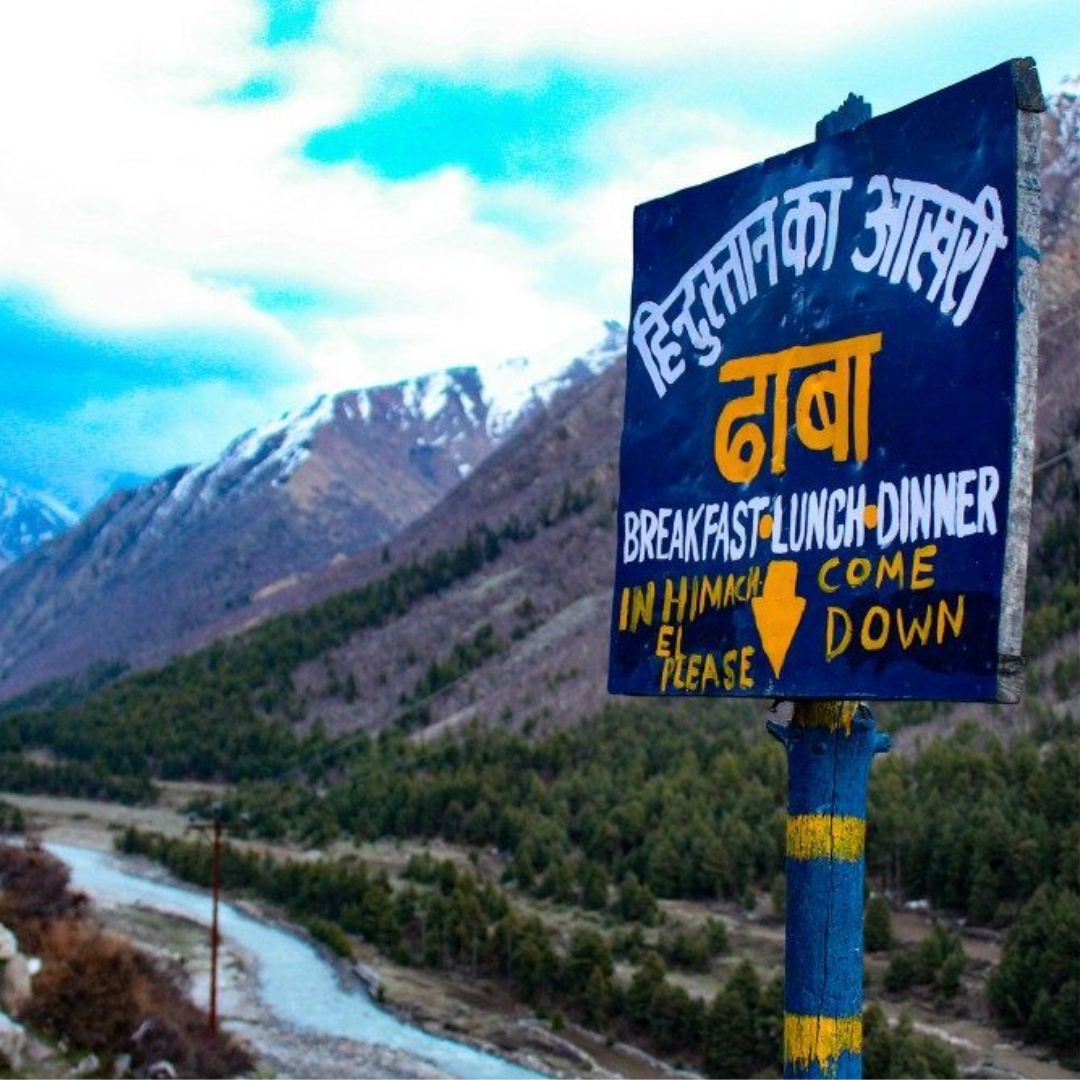 Day 3: Chitkul - Rekong Peo - Kalpa - Khab Sangam - Nako (158km)
The next day, I had breakfast at the cafe located inside my Homestay. Furthermore, I visited Mathi Devi Temple, the Riverside area, & ITBP Check-post & proceeded to my next location Nako via Reckong Peo. To reach Rekong Peo, you have to head back toward Karcham from Chitkul. 
Reckong Peo is in the Kinnaur district at a height of 2,290 meters (7,513 ft). Reckong Peo serves as a base for the pilgrims who go for an annual three days trek to an 80 feet high holy Kinnaur Kailash which is considered to be one of the five Kailashas.
Reckong Peo is also the commercial and administrative center of the Kinnaur. Tourists can take buses to visit all the important villages and other places in the district from HRTC Bus Stand at Reckong Peo.
The primary attractions of Recong Peo are the Chandike Durga Temple, Bodh Mandir (Buddhist Temple), Durga Mata Temple, and many more. Apart from Kinnaur Kailash high mountain peak, you can also observe the high mountain peak of Raldang located in the Himalayas. Rekong Peo is also known all over the world for its apples and chilgoza.
Your next stop can be Kalpa. The views from Kalpa were spectacular, but aside from the Kinnaur Point aka suicide point & Narayan Nagini Temple, there were many locations worth exploring. Some viewpoints also provide views of the beautiful Kinnaur Kailash. After descending from Kalpa, the true adventure in the Spiti Valley begins. This route provides an unforgettable riding experience with a lot of variety. Furthermore, as you go, the scenery becomes increasingly beautiful. Don't forget to fill your petrol tank from Reckong Peo, Powari,  or at the newly opened Petrol pump at Pooh as until Kaza you will not find any petrol pumps.
furthermore, You will pass through the famous Khab Sangam Bridge on your journey to Nako, which was constructed at the confluence of the Spiti and Sutlej rivers. Don't forget to capture a few pictures here. After Khab Sangam, the ascent towards Nako begins. 
I reached Nako by around 5:30 pm, and I stayed at Hotel Reo Praguil for Rs.1000/-. I stayed here because I had secure parking. You can watch my Chitkul to Nako Day 6 Journey video on YouTube below.
Nako village is a popular tourist destination, with numerous natural and historical sites to visit. It is located at an elevation of 3,625 meters (11,893 feet). The Nako Monastery and the Nako Gompa are two of the most ancient monuments, both of which are very beautiful as well as historically significant. Nako Lake is known for its beautiful atmosphere, clean air, and natural beauty that is ideal for photography. During the evening twilight hours, a very large number of birds flock to the lake. There is a rock here that is believed to have the footprint of Padmasambhava. The lake has boating facilities during the summer months and ice skating is practiced on the lake's surface which gets frozen during the winter months.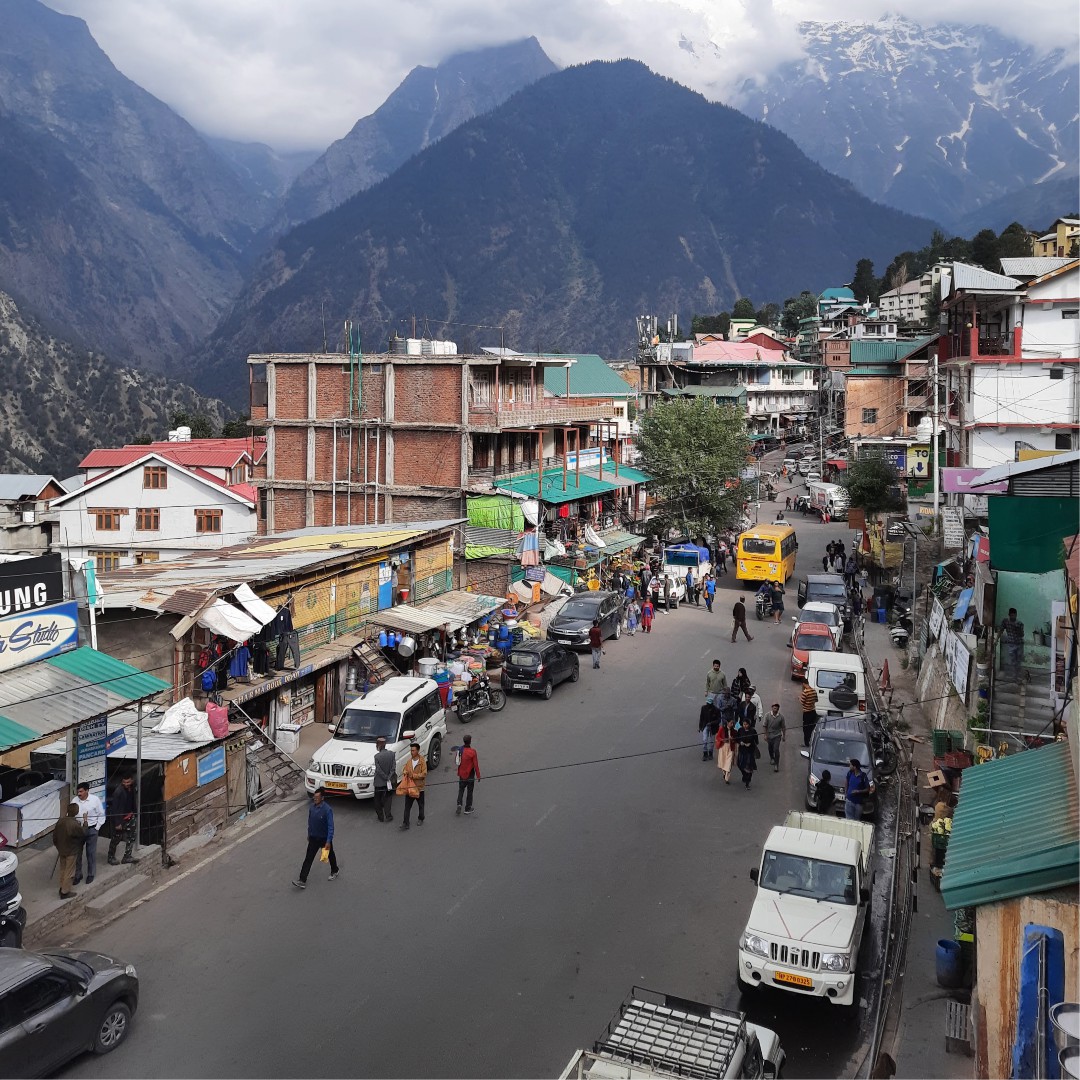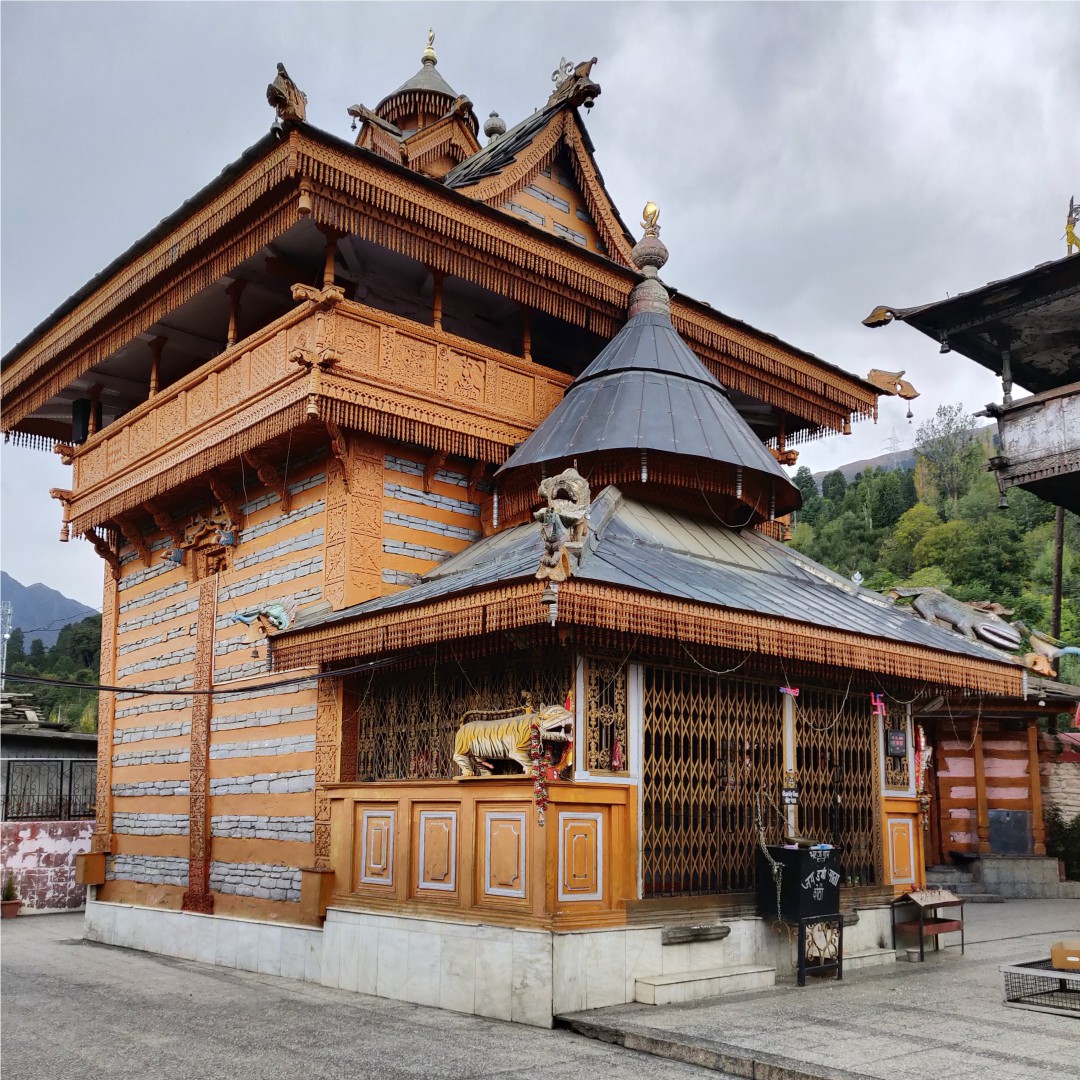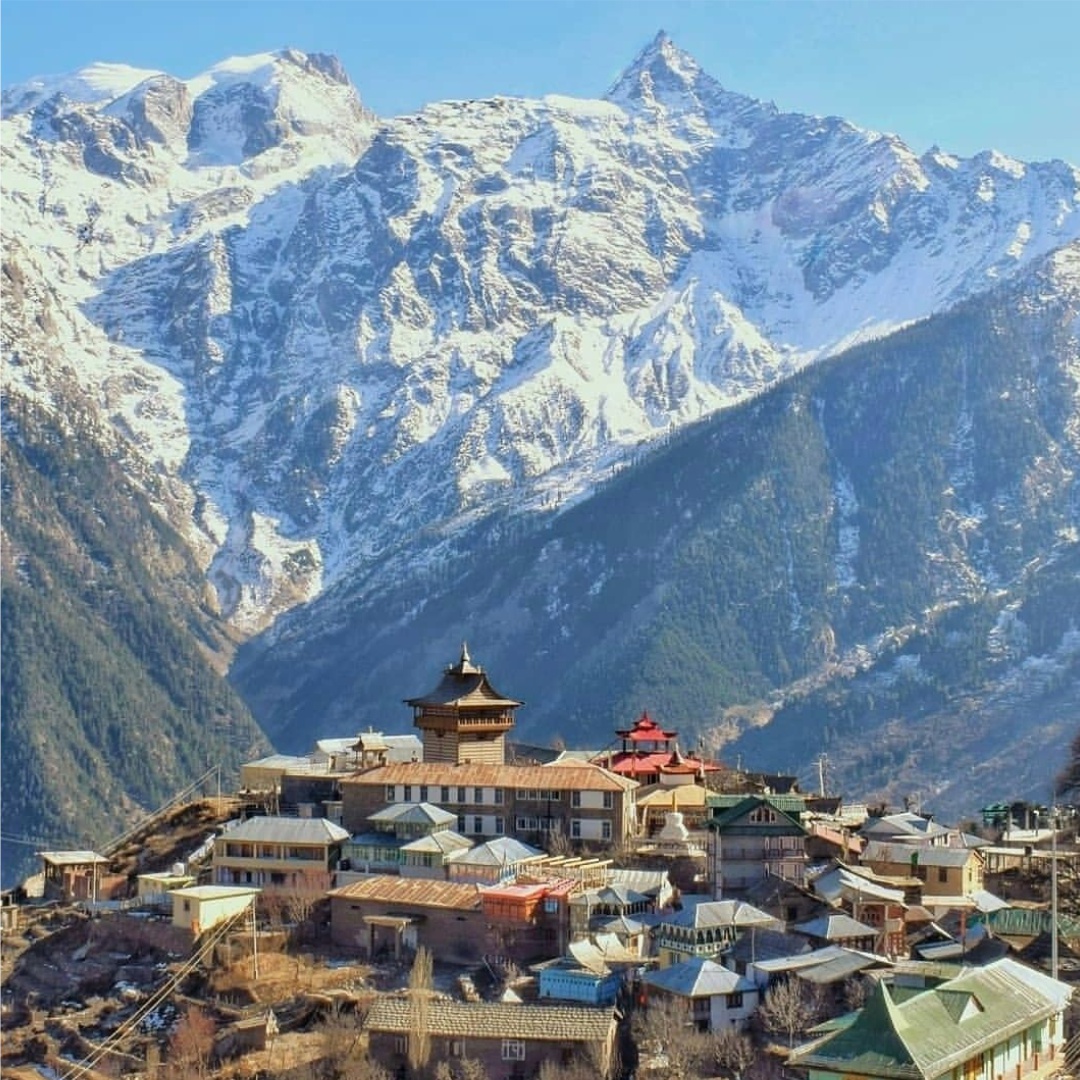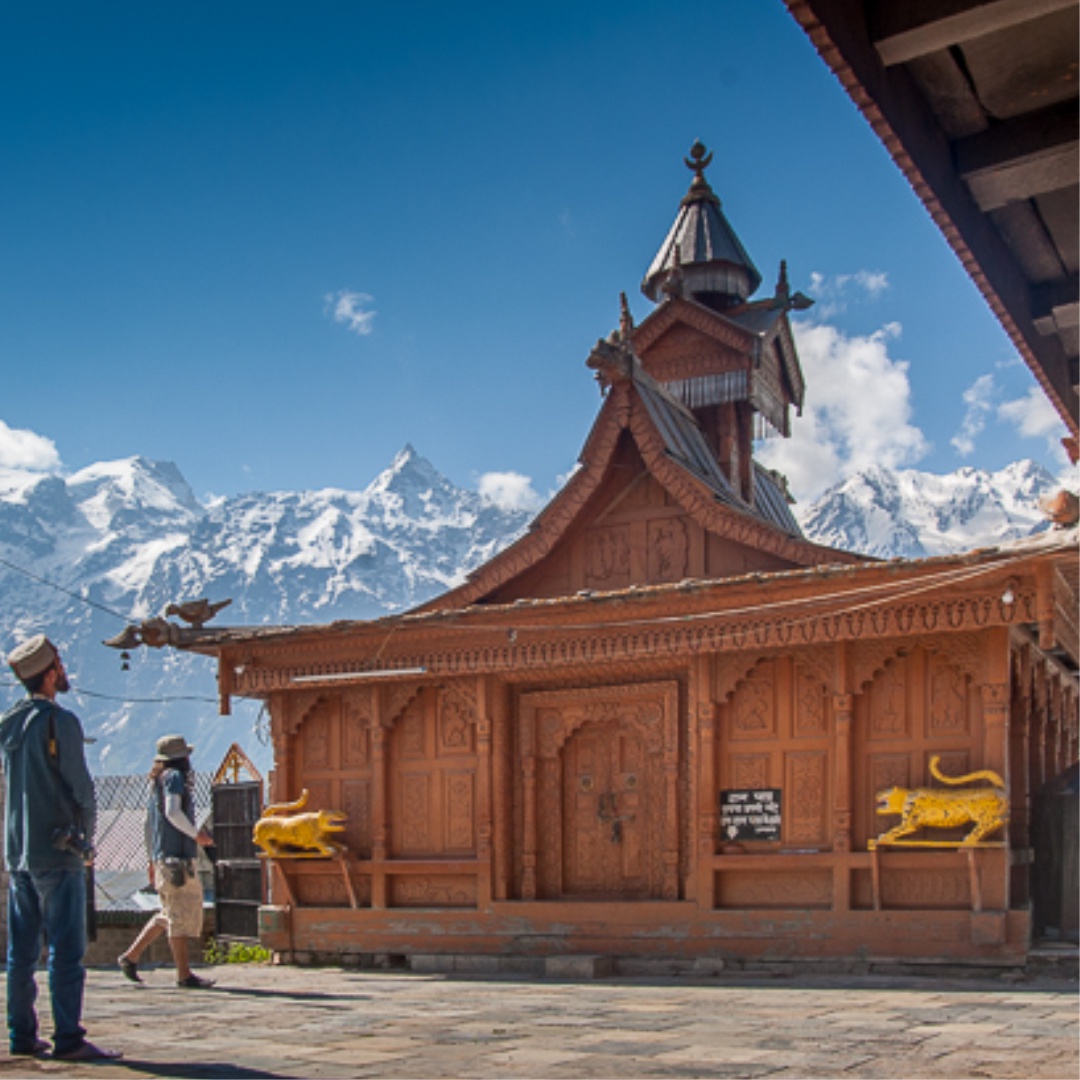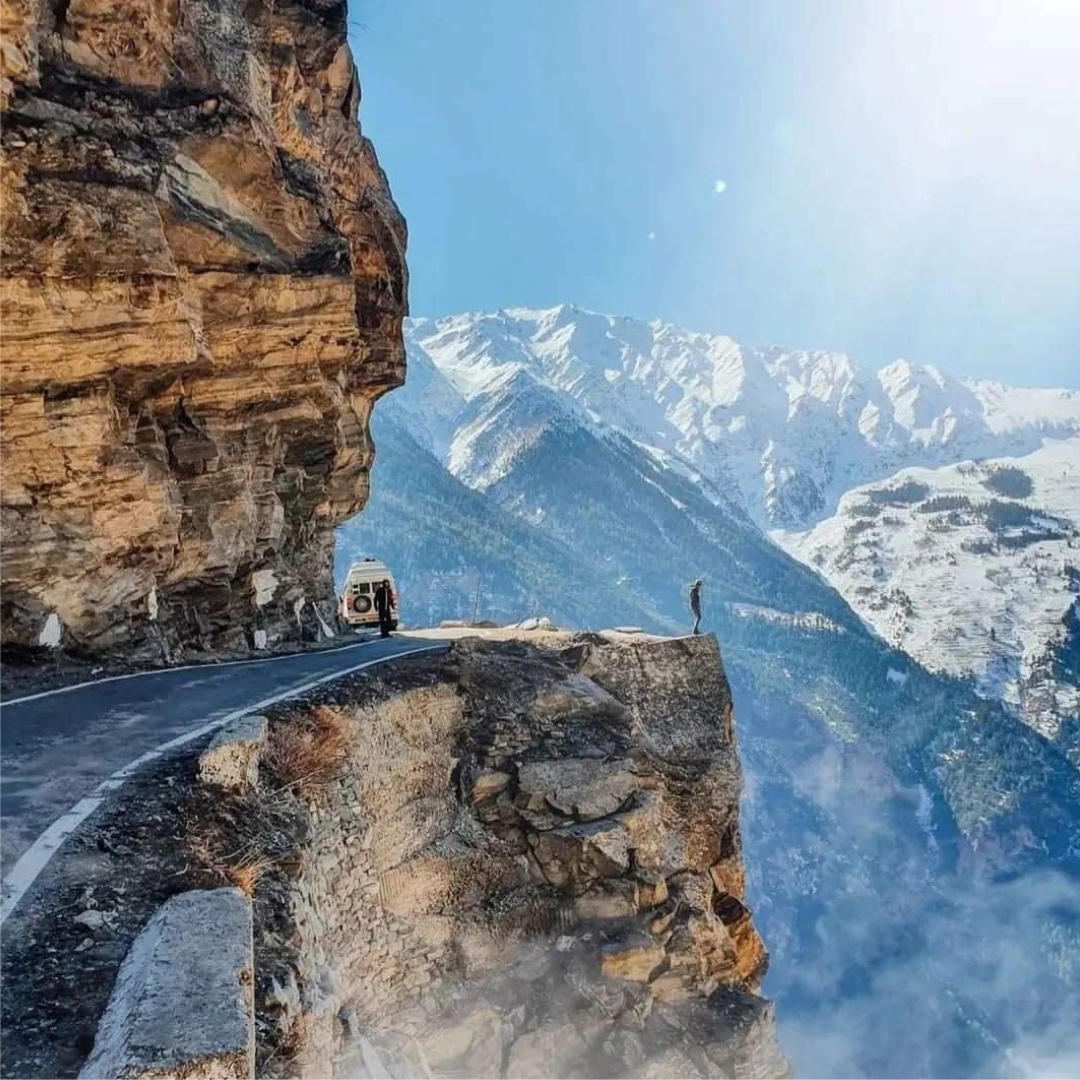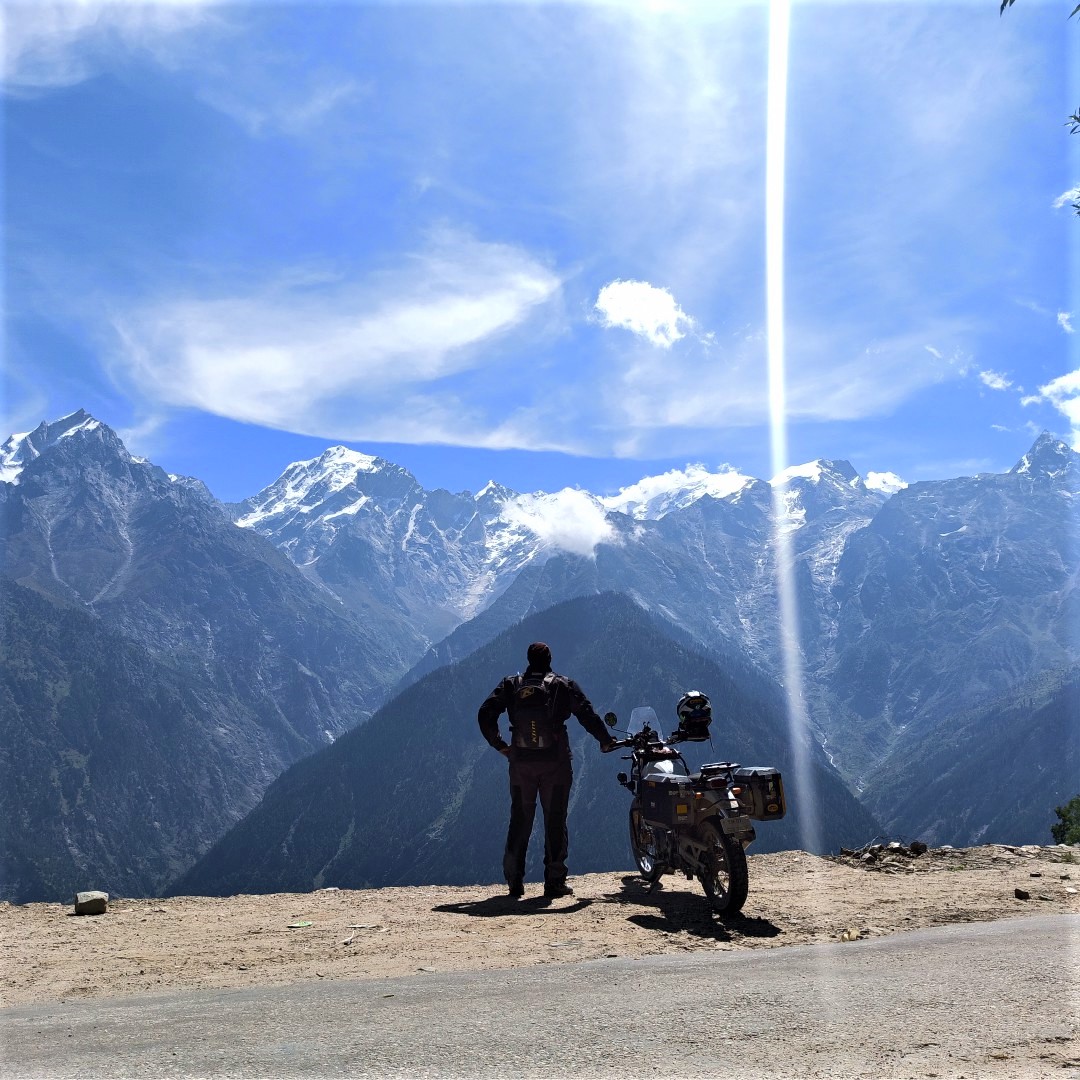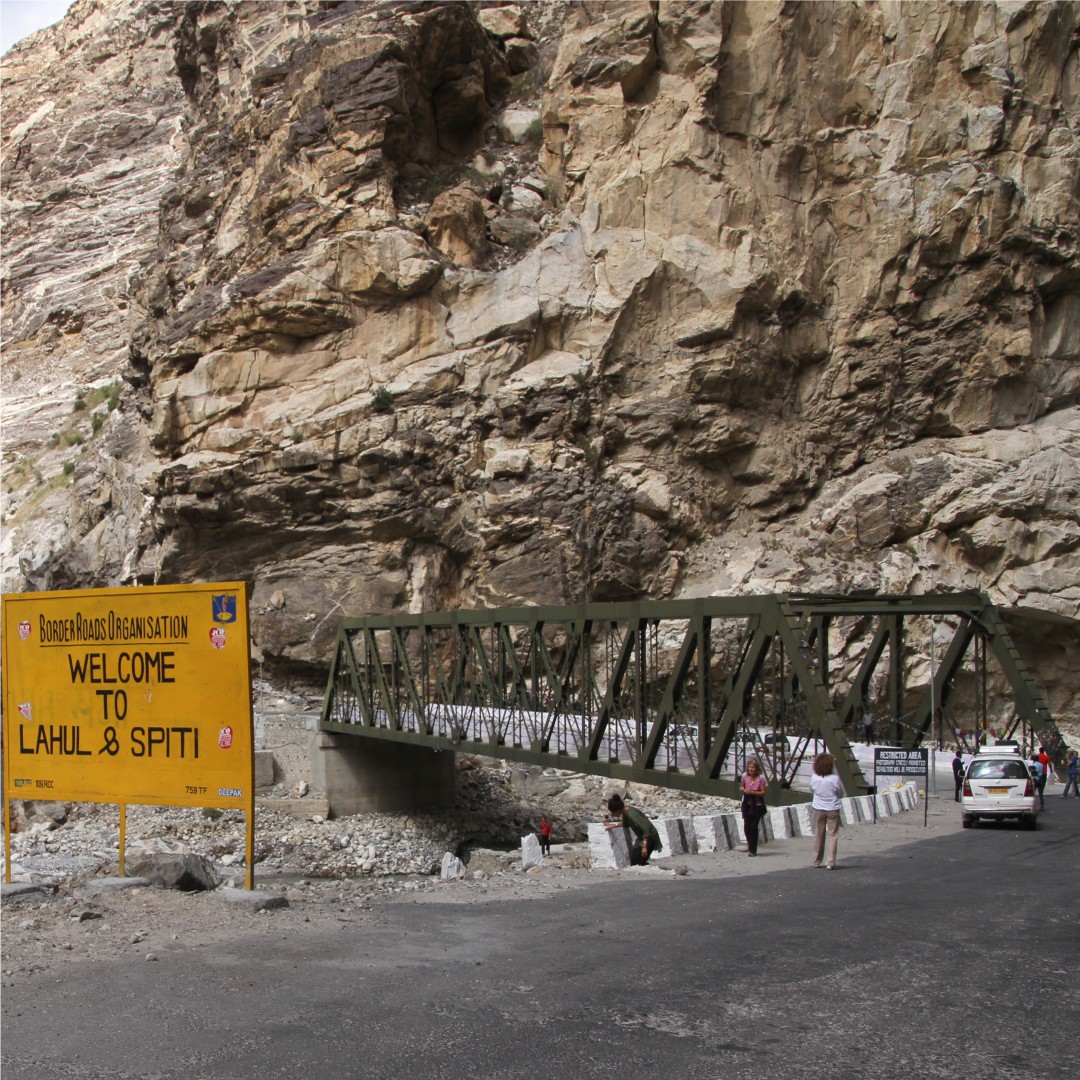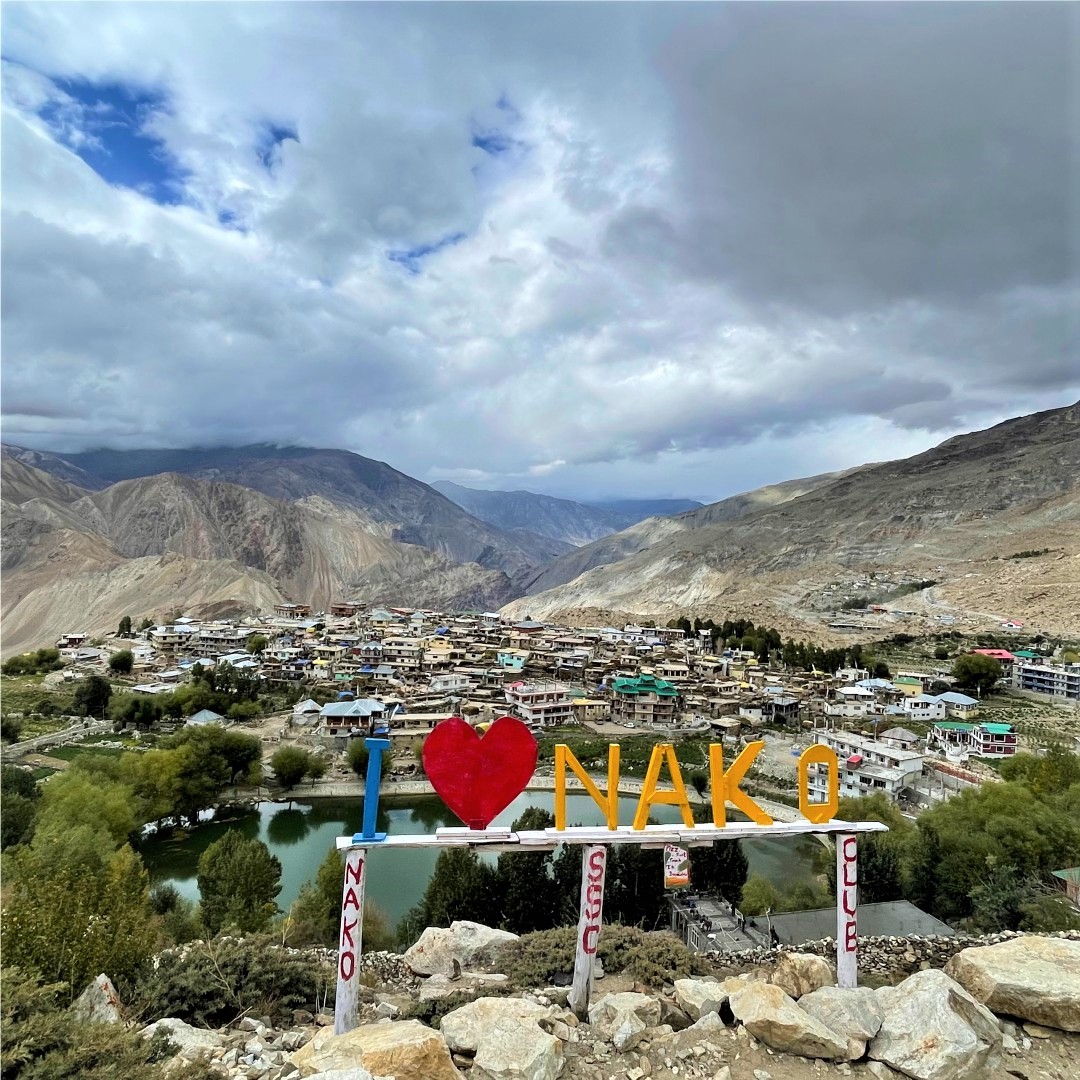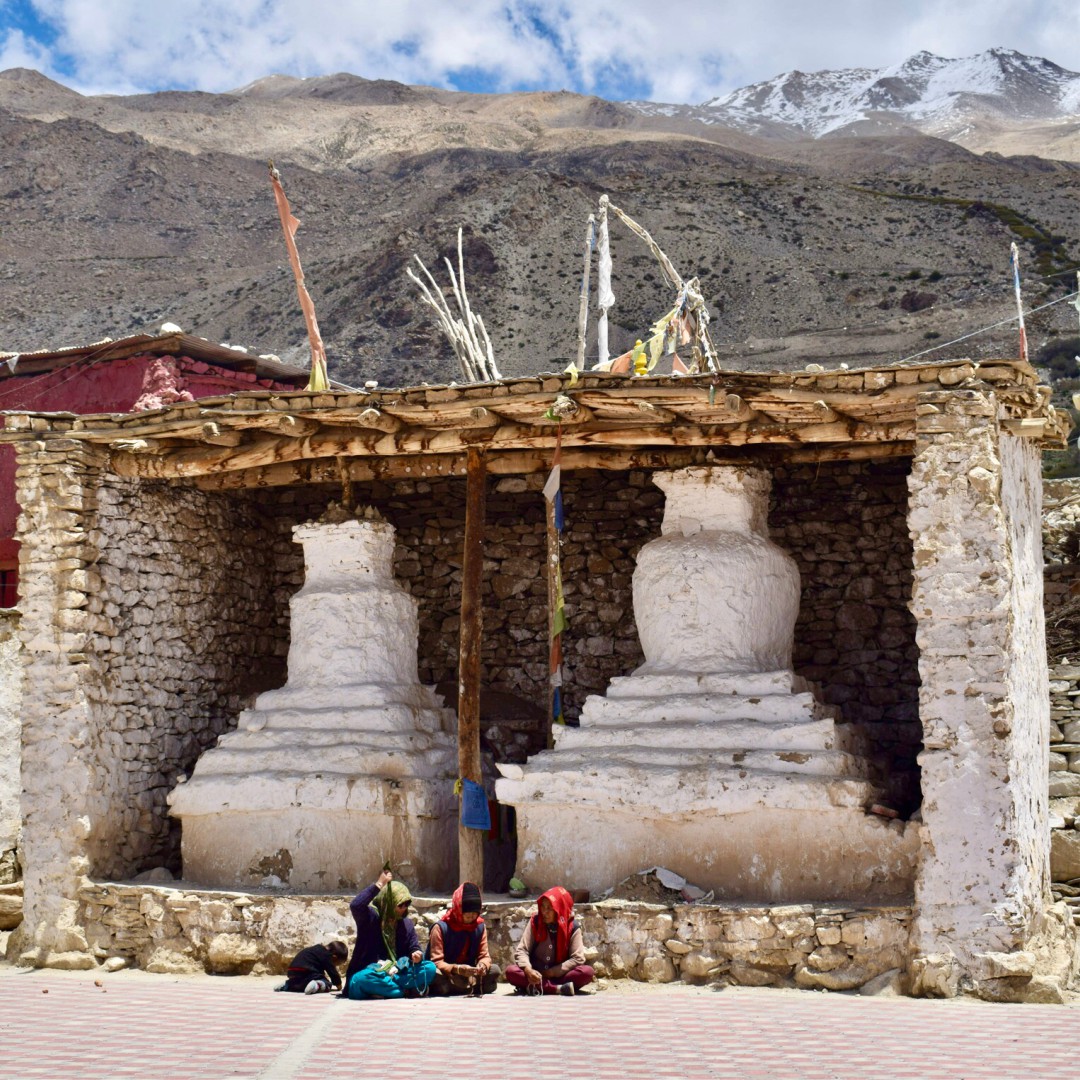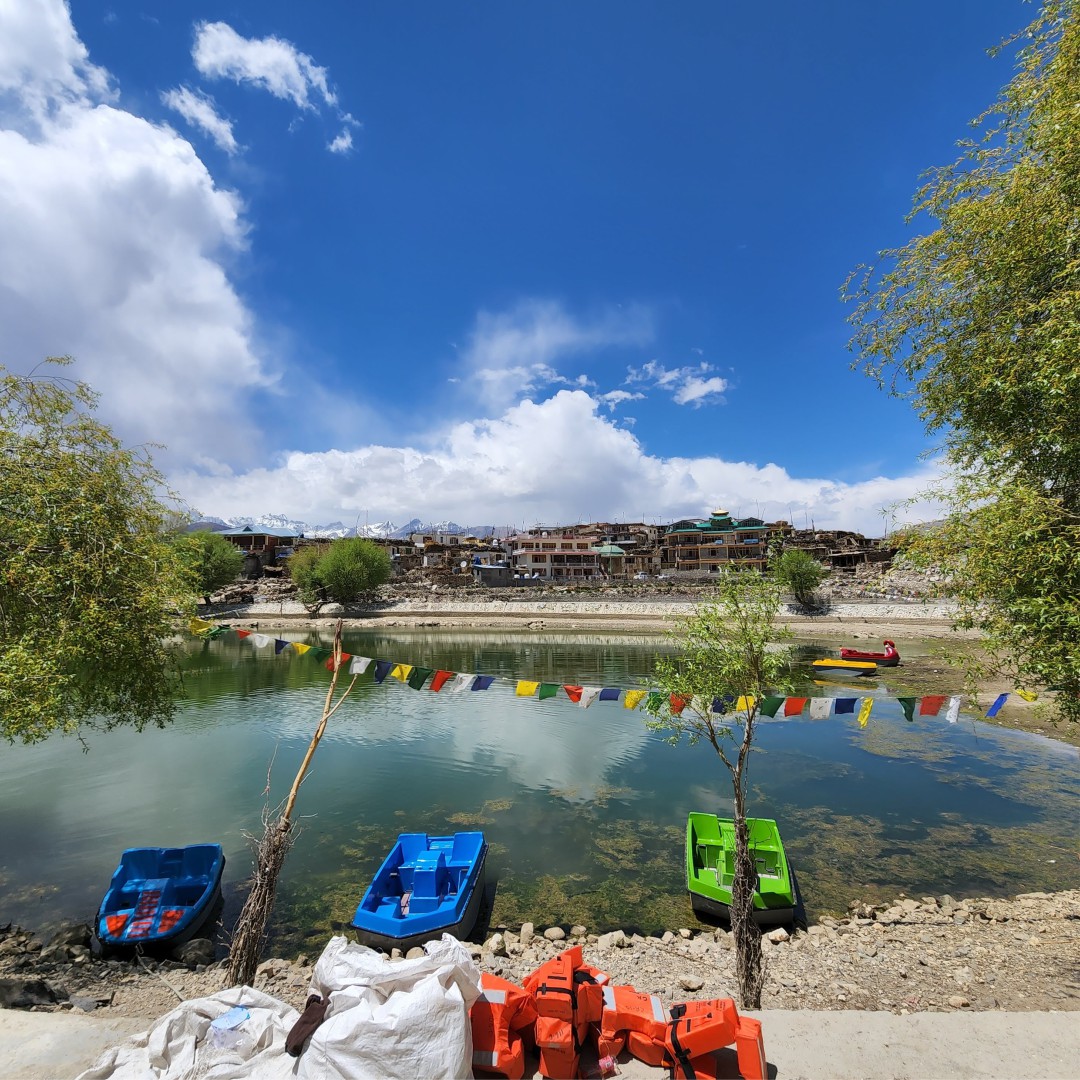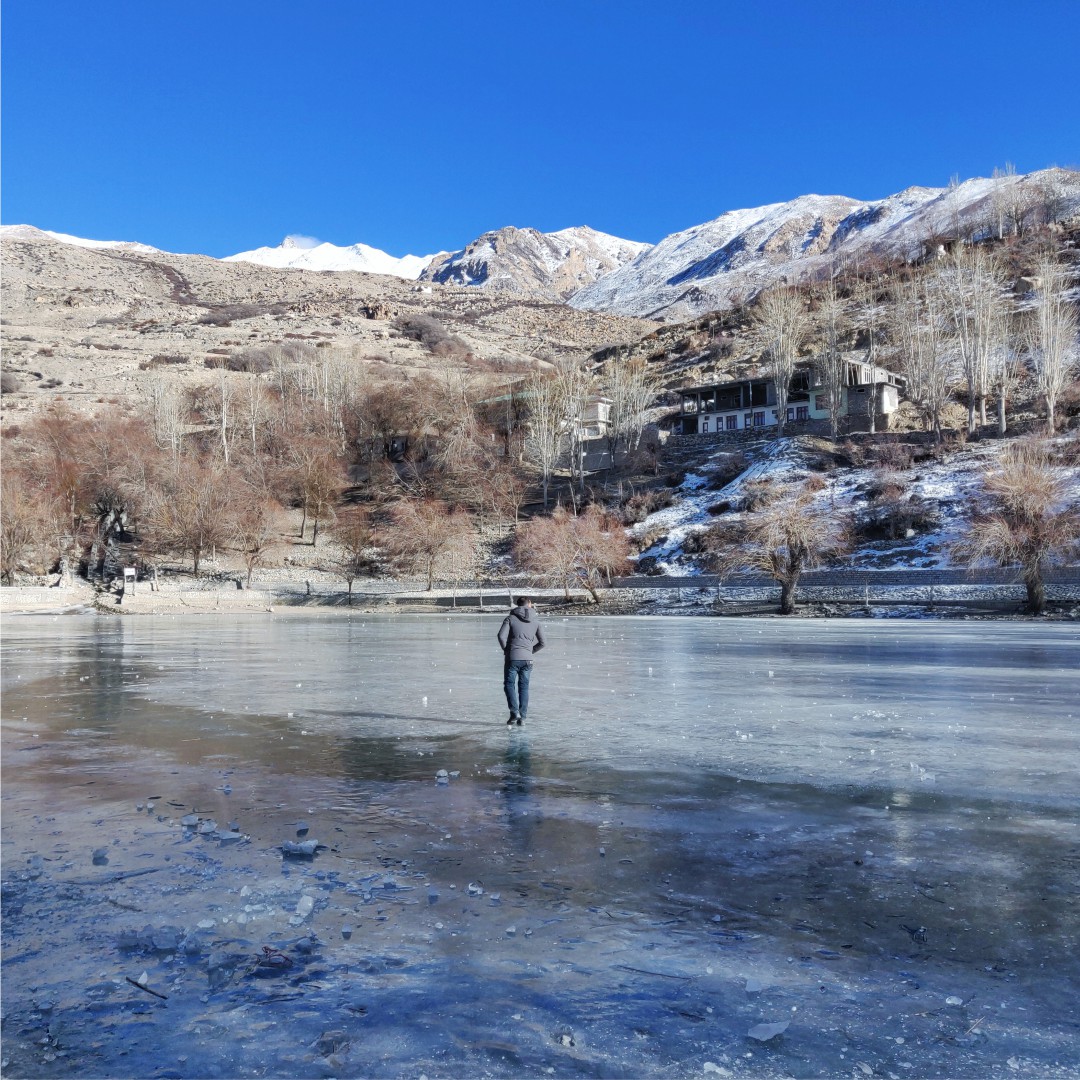 Day 4: Nako - Sumdo - Gue - Tabo - Dhankar or Kaza (115 km)
The next day, I went for local sightseeing, and after breakfast, I resumed my journey towards Sumdo. After March 2023, the road was in very good condition until Sumdo. Sumdo falls under the military area, and you have to submit your details at the checkpoint. After traveling 3 kilometers from Sumdo, you will see a gate on your right side that leads to Gue village.
Gue village is 10 kilometers away from the main road, and 70% road is in bad condition. Gue Monastery is known for its 500-year-old mummy of Sangha Tenzin, a Buddhist monk who is believed to have started his mummification process while still alive. The monastery is located on the Indo-Tibetan border and is surrounded by mountains on all sides. 
This is a very rare example of natural mummification, as most mummies we read about are mummified and then wrapped in linen fabric. Monks adopt the natural process of mummification by a slow process of starvation in a seated position. The dead body is subsequently placed in a three-year underground chamber to allow the drying process to begin. There are only a few of these mummies in the world. The large majority are in Japan. Sangha Tenzin's mummy is incredibly well preserved, with skin and hair intact. So don't miss out on visiting here.
From Gue, I resumed my journey to Tabo. Tabo is the second largest town in the Spiti Valley. Due to its wide variety of accommodation choices, it is a preferred stop for people traveling between Shimla and Kaza. Tabo is also at a much lower altitude than other places on the Spiti Circuit, so if you are feeling symptoms of altitude mountain sickness, Tabo can be a great place to stay until you acclimatize better. I reached Tabo by around 3:30 pm.
Tabo is well known for its monastery, which is the oldest running monastery in India. The original monastery was first built in the year 996 CE. The current structure was built after the monastery was severely damaged in the Spiti Earthquake of 1975.
It is located at an altitude of 3,280 meters (10,760 ft) and is also known as the "Ajanta of the Himalayas". Here you can also observe collections of Thangkas (scroll paintings), manuscripts, well-preserved statues, frescos, and extensive murals. Photography is not allowed inside the monastery, but you can take pictures of the complex from outside.
In this monastery, nine temples and stupas are made out of mud itself. Another unique thing about Tabo Monastery is that it is located in a valley near the bank of a river, whereas most monasteries are built on top of a hill.
You should also visit the magnificent Tabo Caves, located just above the ancient Tabo Monastery. Some of the caves are fairly well-developed, and the walls and floors of the caves are smooth. These caves are the best places for meditating monks, as there is no place as peaceful as these caves for seekers of nirvana. Even today, some caves are used for meditation by monks. If you have sufficient time you can also plan your stay in Tabo. Tabo has many homestays, Hotels & even you can stay at the guest house located inside Tabo Monastery.
If you don't want to stay at Tabo then you have two options. You can either you can drive to Dhankar and stay there. Dhankar is around 30 km away from Tabo or You can plan your stay at Kaza which is around 48km away, depending on how much time you have. 
For many years, Dhankar was the capital of Spiti, but nowadays the capital has shifted to Kaza. Dhankar is a small village, a group of just about 70 odd houses. At an altitude of 3,894 meters (12,774 feet), it is now best known because of the monastery, fort & lake.
There are two monasteries in Dhankar, the new and the old. The old monastery is an ancient one and is definitely a wonder in itself. The views from this spectacular 1200-year-old gompa are phenomenal. The lamas have now moved into the new monastery and no longer live in the old one.
The ruins of Dhankar Fort are a mud-brick fort palace located on the hilltop above the Gompa. During its days of glory, it once sheltered the entire valley's population against invasions and during times of war.
Dhankar Lake is a high-altitude lake located around 2 km away from the main village. It's at an altitude of 4,140 meters above the monastery and can only be reached after a short but difficult trek. You can start your trek across the road from the new monastery. It will take you about 2-3 hours to get to the lake, spend some time there, and come back. This lake is also a great spot for camping. However, there are no campsites here, so you will have to carry your own gear with you.
If you wanted to visit Pin Valley you should stay at Dhankar or Tabo, but this time I am not going to visit Pin valley hence I end up my day in Kaza.
watch my Nako to Gue Day 7 Part 1, and Gue to Kaza Day 7 Part 2 Journey video on YouTube below.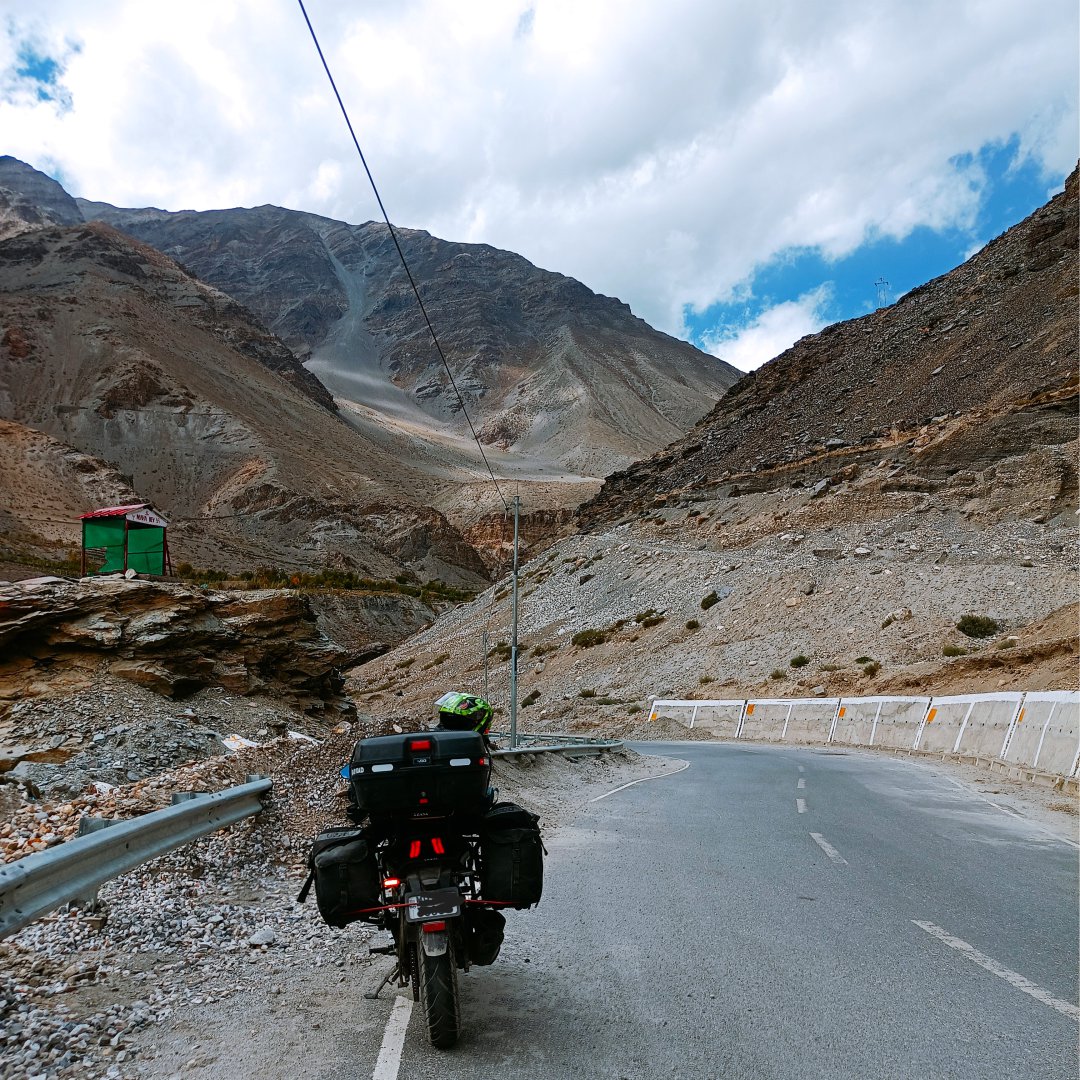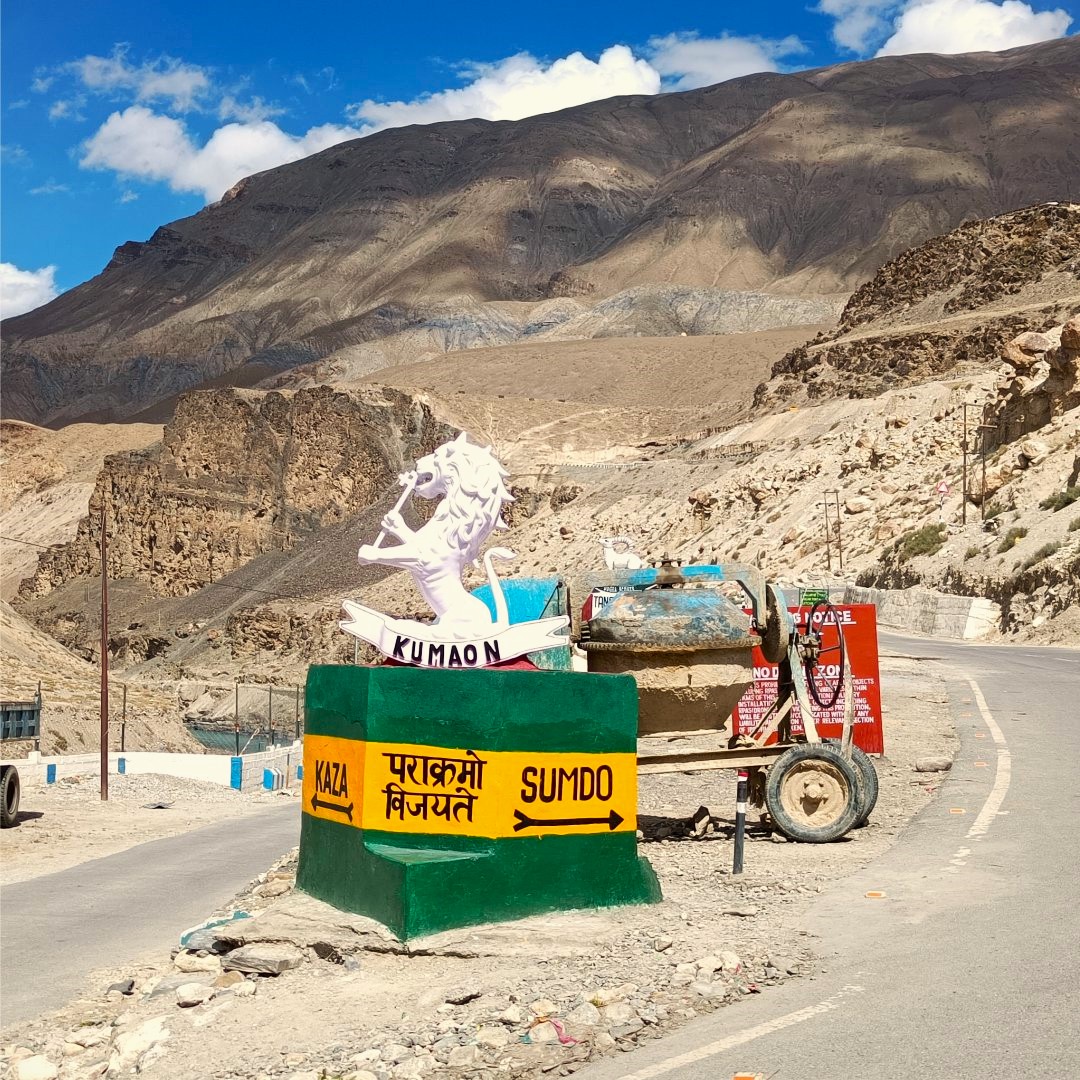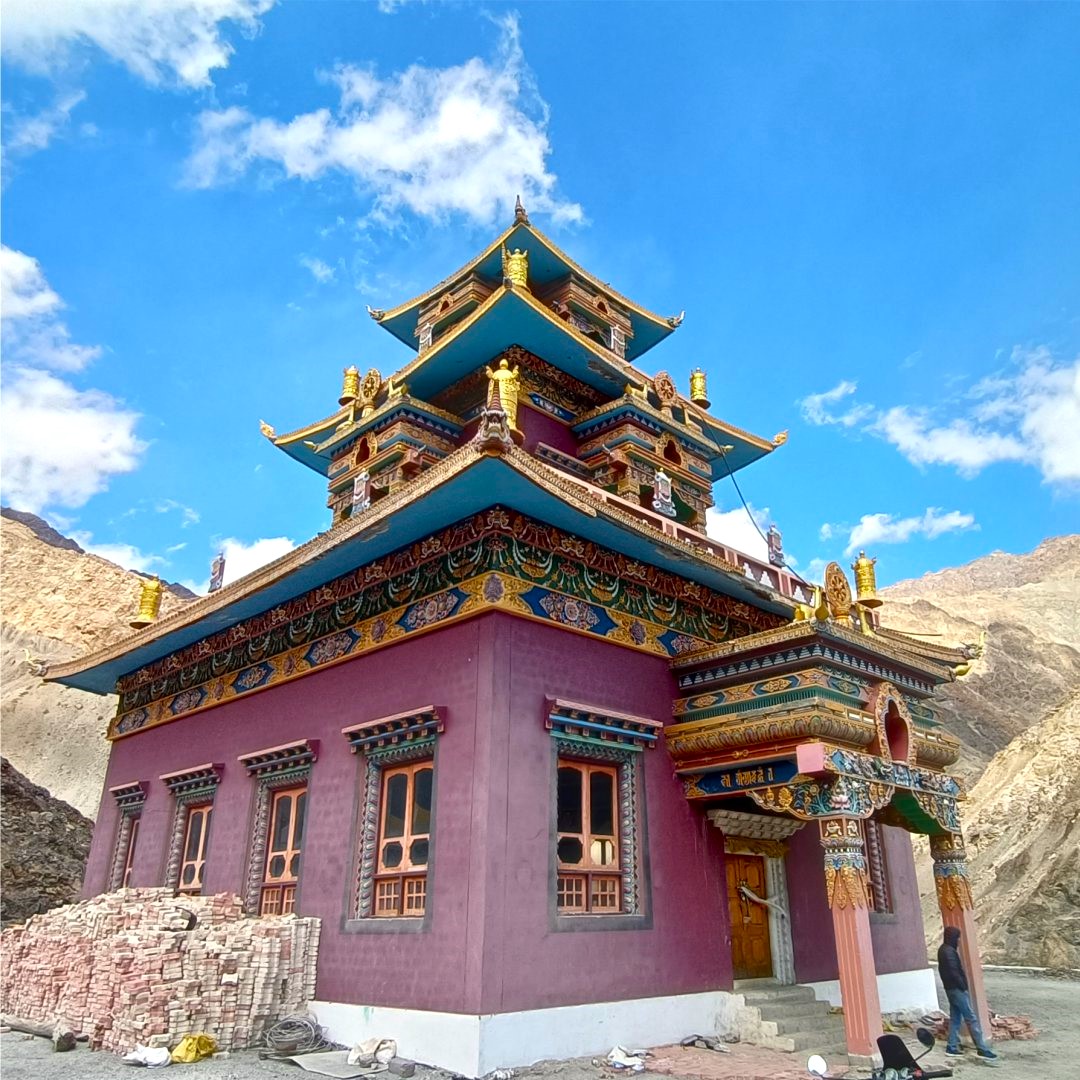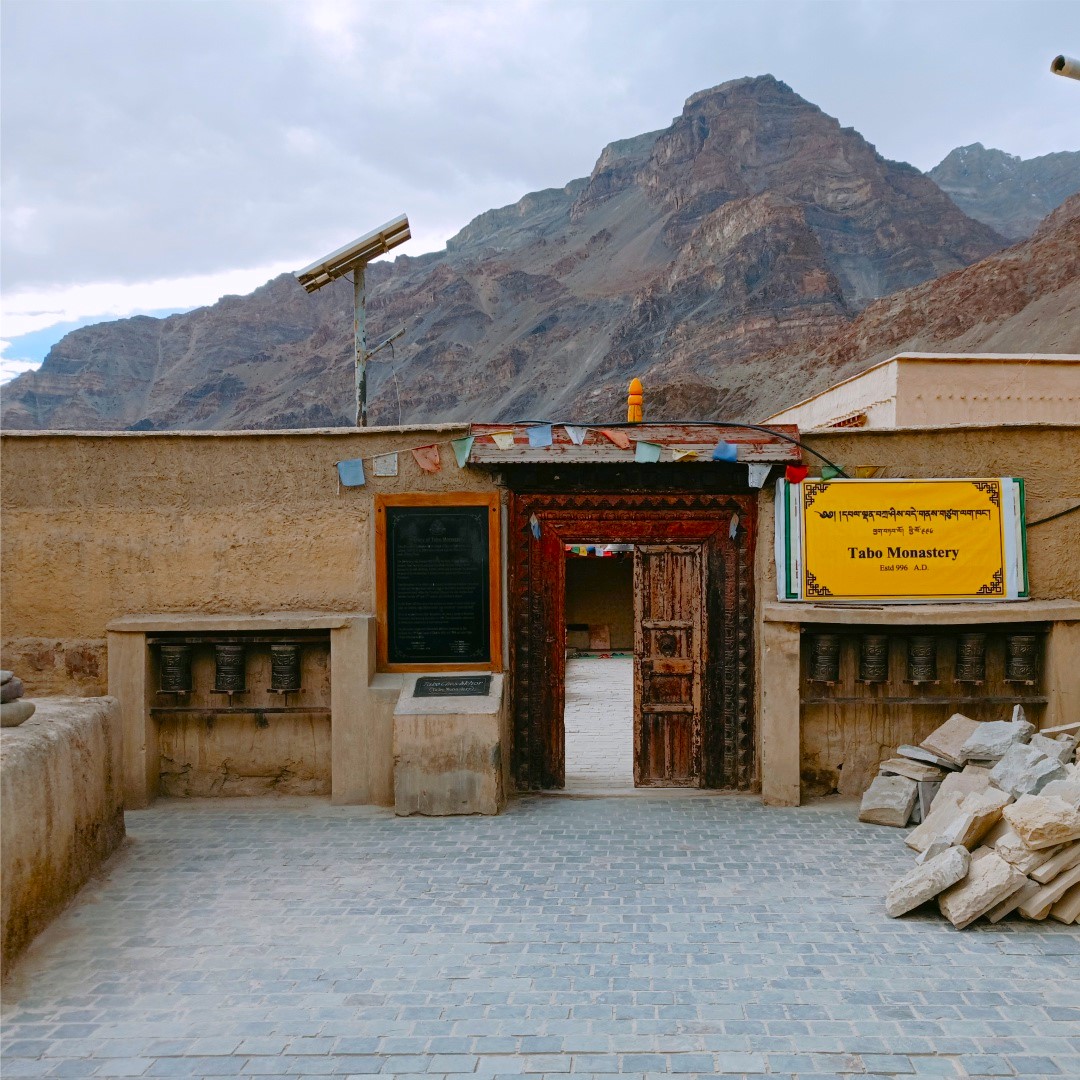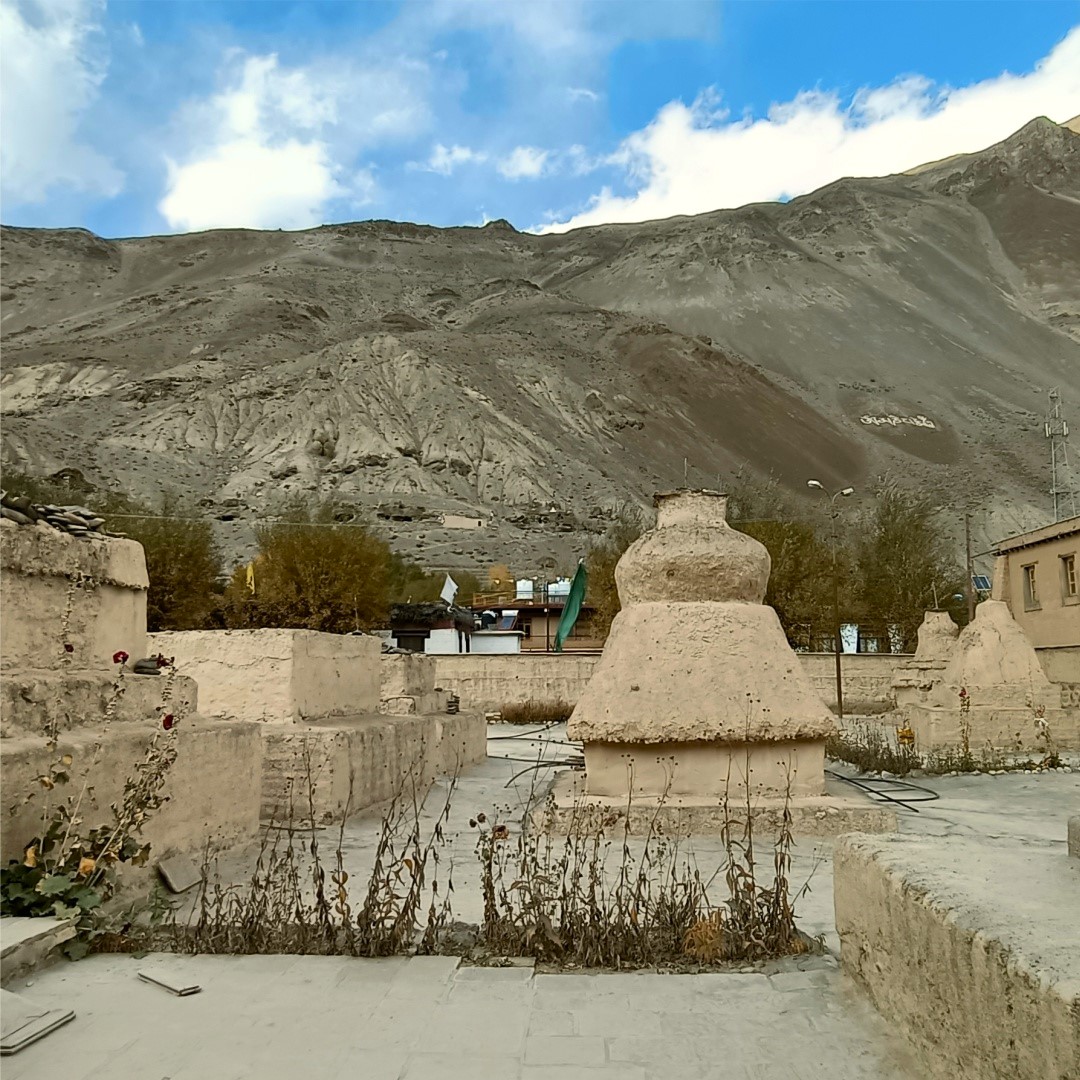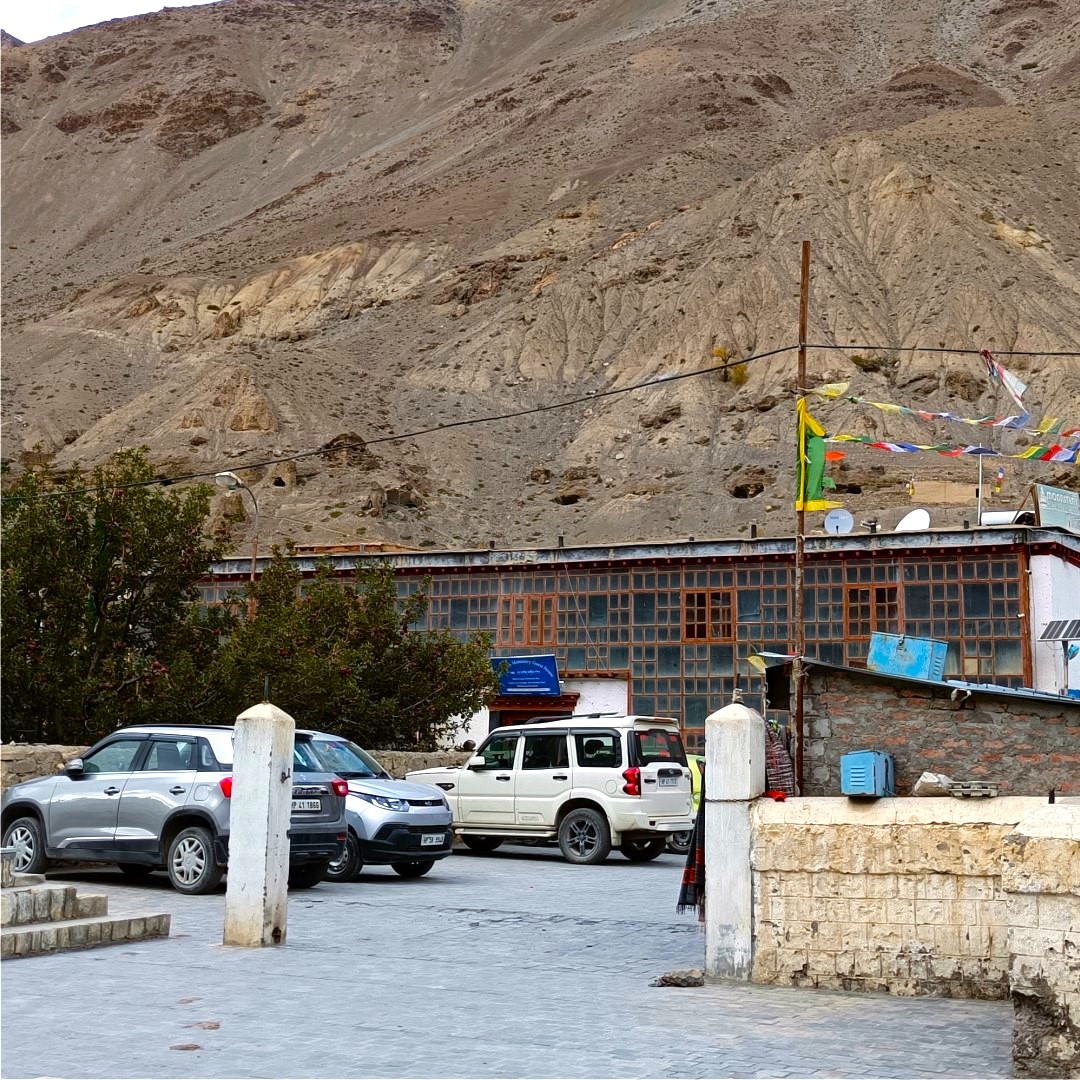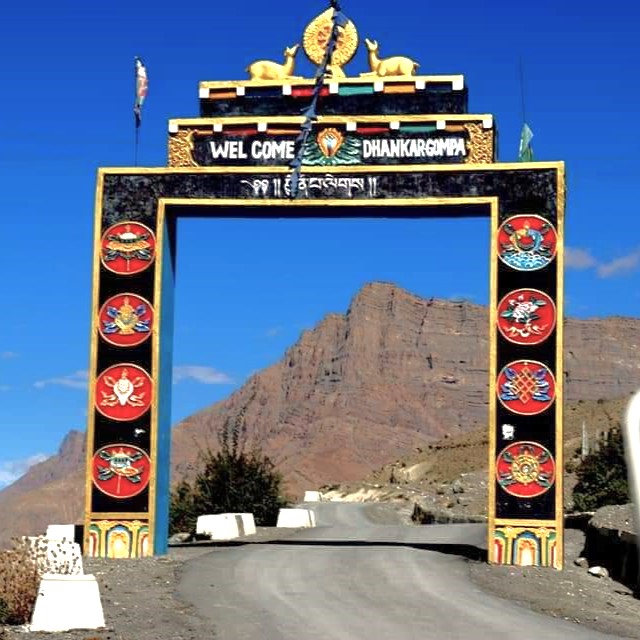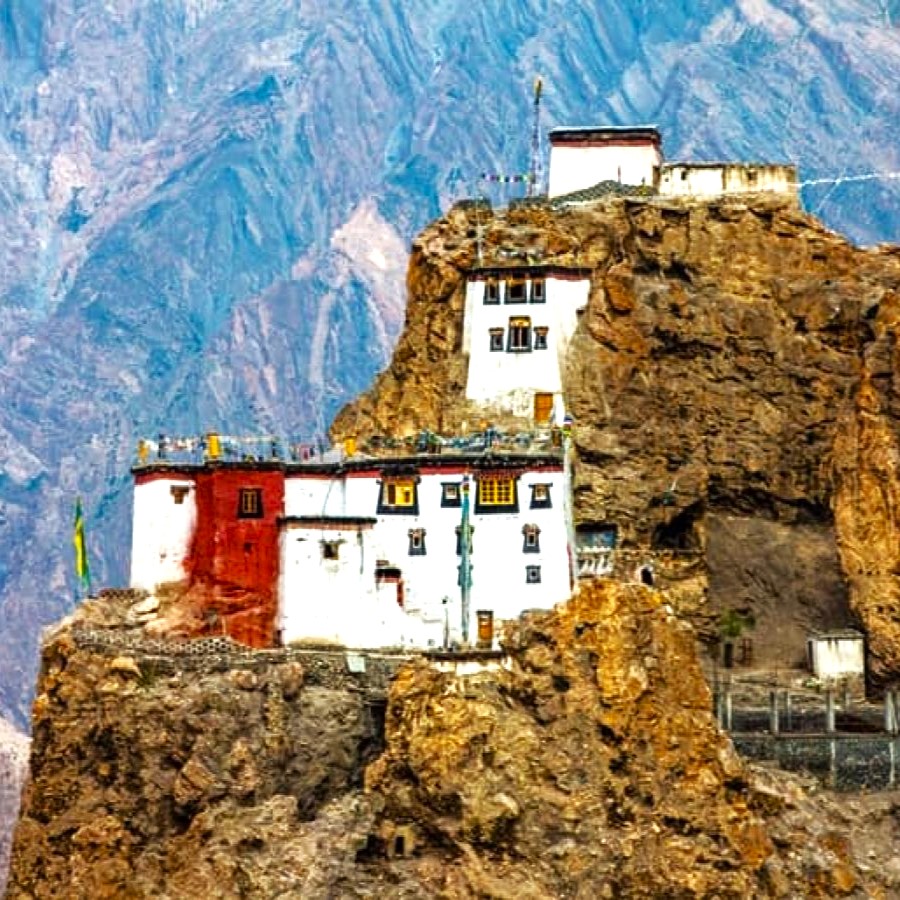 Day 5/6:
(Option 1) Dhankar or Tabo – Pin Valley – Mud Village stay and back,
(Option 2) Dhankar or Tabo – Kaza (Langza- Komic – Hikkim)

If you plan to visit Dhankar then you have two options from Dhankar: if the weather permits, you can explore Pin Valley & stay at Mud Village, or you can proceed directly to Kaza. First, we talk about the Pin Valley route.
Pin Valley National Park is the only national park in Himachal Pradesh that is situated in the cold desert area. Mud Village is located in Pin Valley, where you can drive your bike or car, and for that, you need to cut off from the main highway to reach here. There is one hotel and a few homestays available in this beautiful village. You should spend a night in Mud Village to experience the beauty of this place.
The winter is very harsh here due to the park's high altitude and cold desert climate. Hence, it is very difficult and dangerous to approach the park during the winter season from December to March. July, August, and September are the best times to visit here. 
The second option is that you can skip Pin Valley and proceed to Kaza and visit Langza famous for "The 1000-year statue of Buddha" then Komic, "The highest village" in the world, and Hikkim, known for "the highest post office" in the world. I did the same. I bypassed Dhankar and Pin Valley and arrived in Kaza around 6:00 p.m. In Kaza, I stayed at Lotey Homestay, which was recommended by the bikers whom I met in Nako. This was the first actual homestay of my entire trip; I paid Rs. 750 per night, which included breakfast and dinner; the family was very friendly and supportive; and this was the homestay that I most strongly recommended.
Kaza, is the new district HQ for Lahaul & Spiti. It is located along the Spiti River at a height of 3,650 meters or 11,980 feet and is the valley's main settlement and commercial hub.
In Kaza, finding a place to stay is not difficult. Whatever your budget or preferences are, you will have no trouble finding a place to stay for the night. There are various hotels and homestays available. Though you can book online or in advance, I usually recommend that people arrive first, choose a hotel that suits their needs and budget, and then check in. In most situations, booking ahead of time will result in you paying extra.
After Rekong Peo, Kaza is the only place where you can refuel your vehicle. In Kaza, Indian Oil has installed the "world's highest petrol pump," which is operational for the majority of the year. During the winter, however, even this petrol pump may run out of fuel.
The monastery of Kaza itself is a popular tourist destination. It is a relatively young monastery, having been erected in 2009. It is also known as Sakya Tangyud Gompa. It is one of Spiti Valley's most vivid, colorful, and attractive monasteries.
If you want to enjoy the sunset in Kaza, it is on the banks of the Spiti River. Simply walk through town in the evening, reach the river, and enjoy the magnificent evening view from there.
Another thing you will enjoy doing in Spiti is interacting with the natives and learning about their lives. The easiest way to do this is to stay with the locals at a homestay with a Spiti family. Learn about their culture, dine with them, and understand how they are able to survive in such harsh and distant weather conditions.
On second day you can plan your visit for Langza – Komic & Hikkim. if you want you can also vistit Key Monastery, Kibber village & Chicham Bridge too.
Langza is a village located near Kaza. It is also known as "the fossil village" in India. Langza village is situated at an altitude of 4400 meters, or 14437 ft., with a population of approximately 137 people, and it's divided into two sections, namely Langza Yongma (lower) and Langza Gongma (upper). The road from Kaza to Langza is in excellent condition. (as on oct-2022)
Langza Village is also famous for its golden-colored Buddha statue, which rests on a small hill overlooking the entire village and the surrounding valley. The most prominent image of Langza, or maybe Spiti Valley, on the internet, is of the Langza Buddha statue. The statue is accessible through a short descent from the parking area. The people think that the Buddha idol protects them from evil spirits, thus they adore the statue.
This location is rich in fossils of marine animals and plants discovered here millions of years ago, which is why many geologists and anthropologists visit the town each year to do research and learn more about the fossils. The Spiti Valley is thought to have sunk millions of years ago in the Tethys Sea. You can spend a day wandering around the village looking for fossils. However, you will require the assistance of a local. To our eyes, it will appear to be just another rock, and you will be unable to recognize the difference. A few of the villagers also sell these fossils. from Langza you should visit Komic first, then visit Hikkim & then descend towards Kaza.
Komic village is situated at an altitude of 4520 meters, or 14830 ft. The main reason travelers started visiting Komic was its title as the "highest village in the world connected by a motorable road." The road from Langza to Komic is also in perfect condition. Komic has very few homestays with basic facilities. You should be very cautious if you want to stay here due to its altitude. If you are not acclimatizing properly, then you may feel AMS. So get acclimated first and then stay at such high-altitude Himalayan villages.
Another attraction is Komic Monastery, which is one of the highest-altitude gompas in the world. The road from Komic to Hikkim is still under construction, as of Oct 2022. Earlier, the monastery was located in Hikkim village, but then it was shifted to Komic after the Spiti Earthquake of 1975. One of the attractions of the monastery is a stuffed leopard that hangs from its roof in one of the rooms. Please note that women are not allowed inside the main prayer sections of the monastery.
Hikkim is situated at an altitude of 14,400 ft. and is famed as the "world's highest post office". This post office was established on November 5, 1983, and it only remained operational for about 6 months and closed for another 6 months due to heavy snowfall.
Considering the fact that there is no mobile signal or internet available here, it is the only mode of communication with the world for the residents of Hikkim and other nearby villages. Travelers usually go there to send a postcard to their loved ones as a souvenir. The postcard will cost you about Rs. 35, including all charges, but it's totally worth it.
To experience this entire journey you can watch my Kaza to Langza, Komic & Hikkim Day 8 Part 1 video on YouTube below.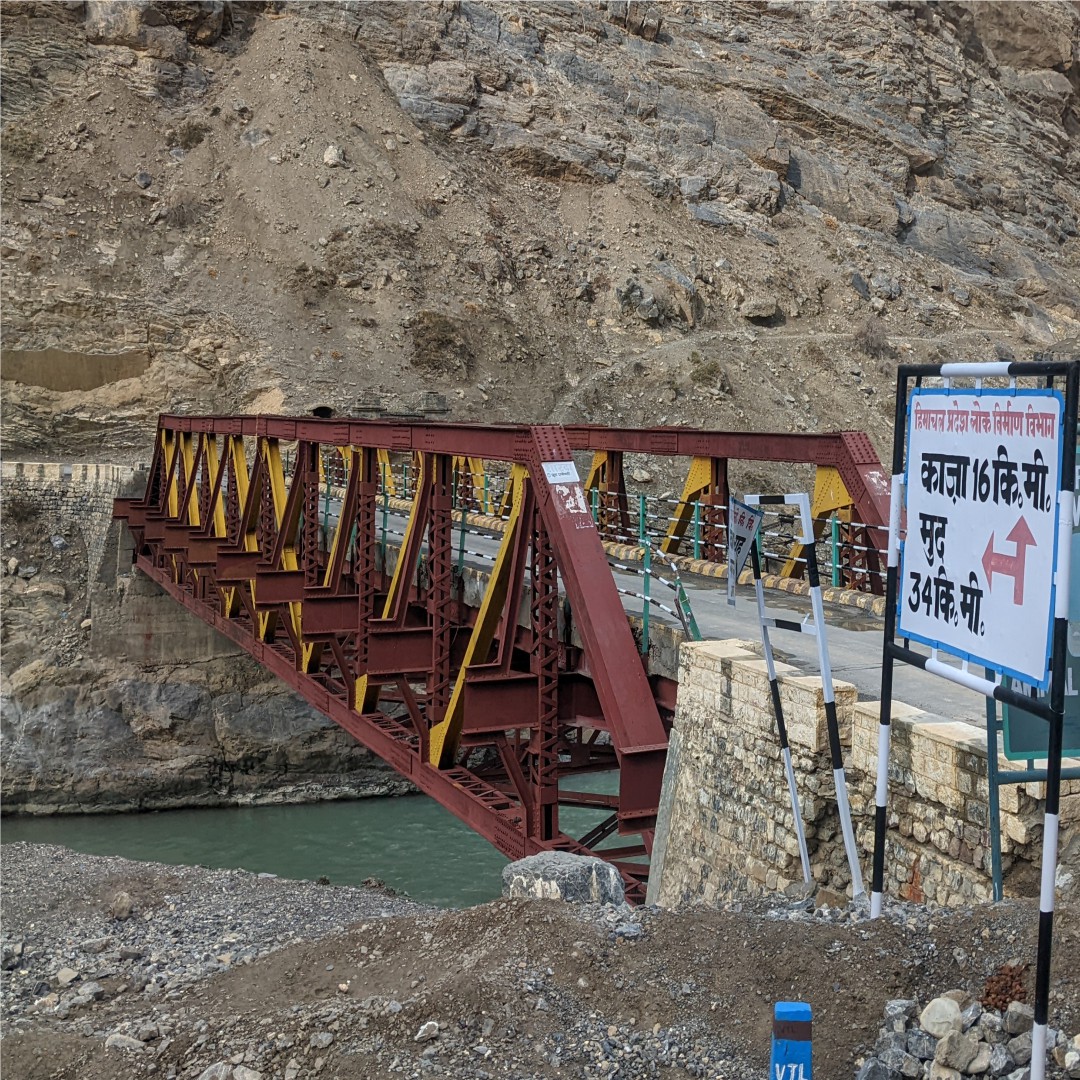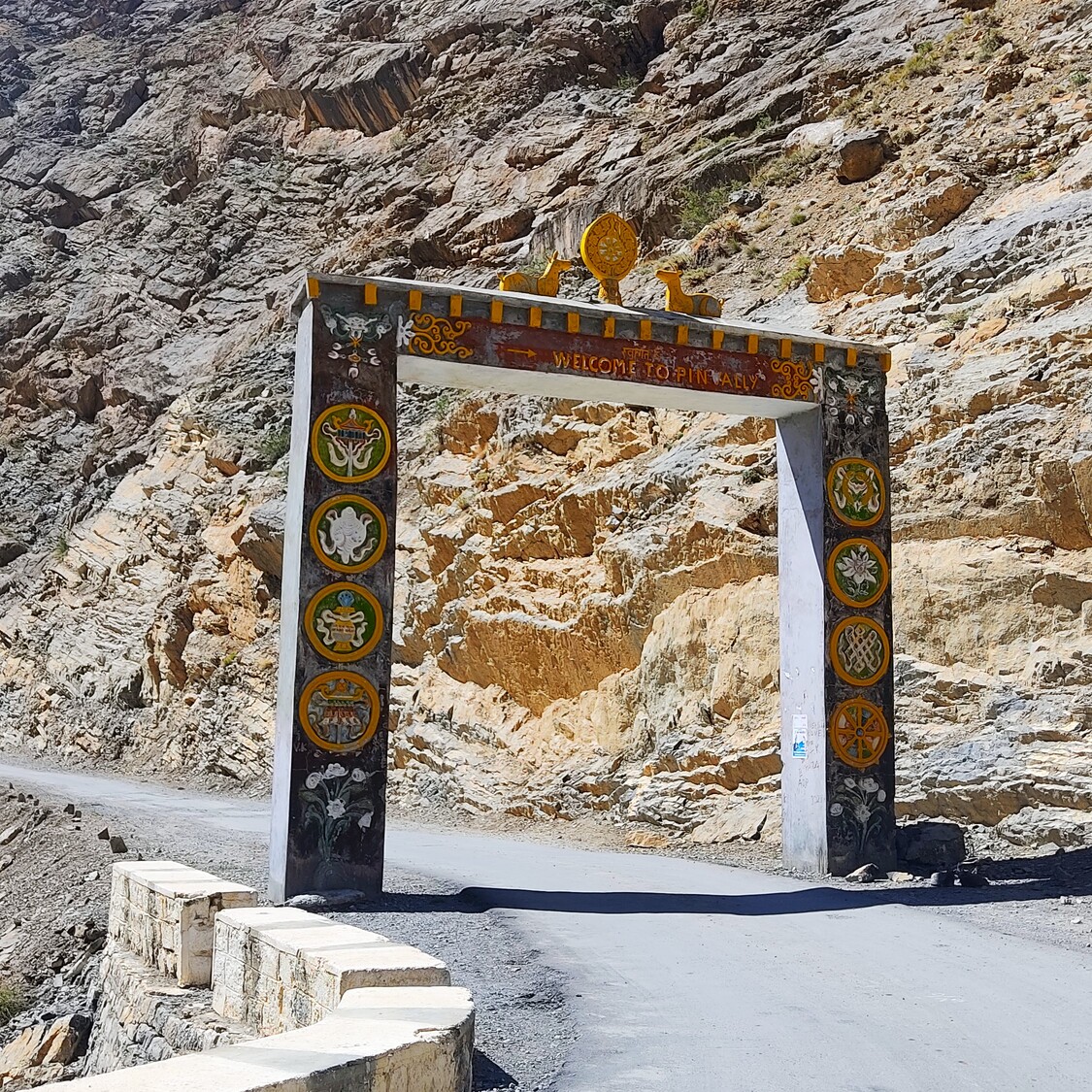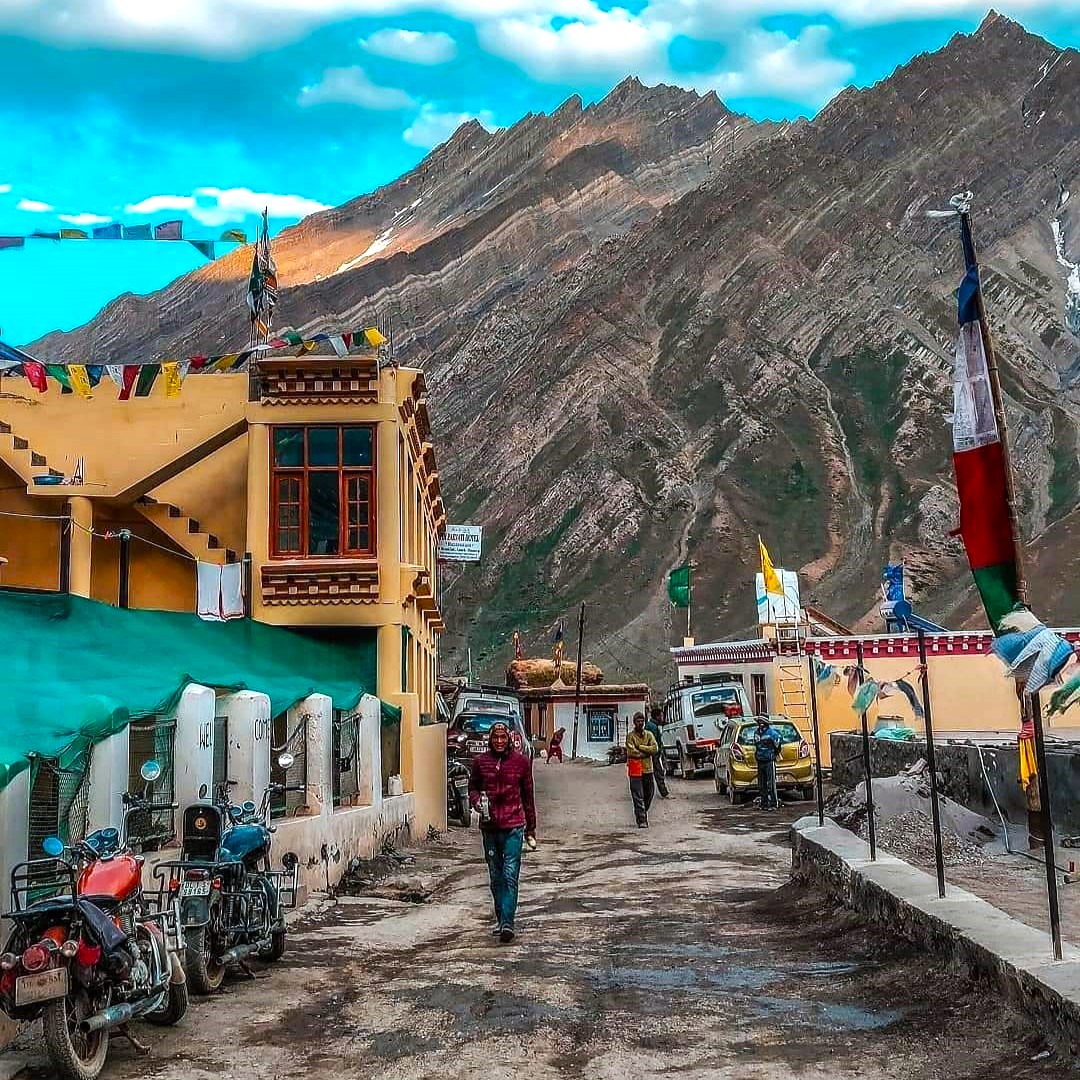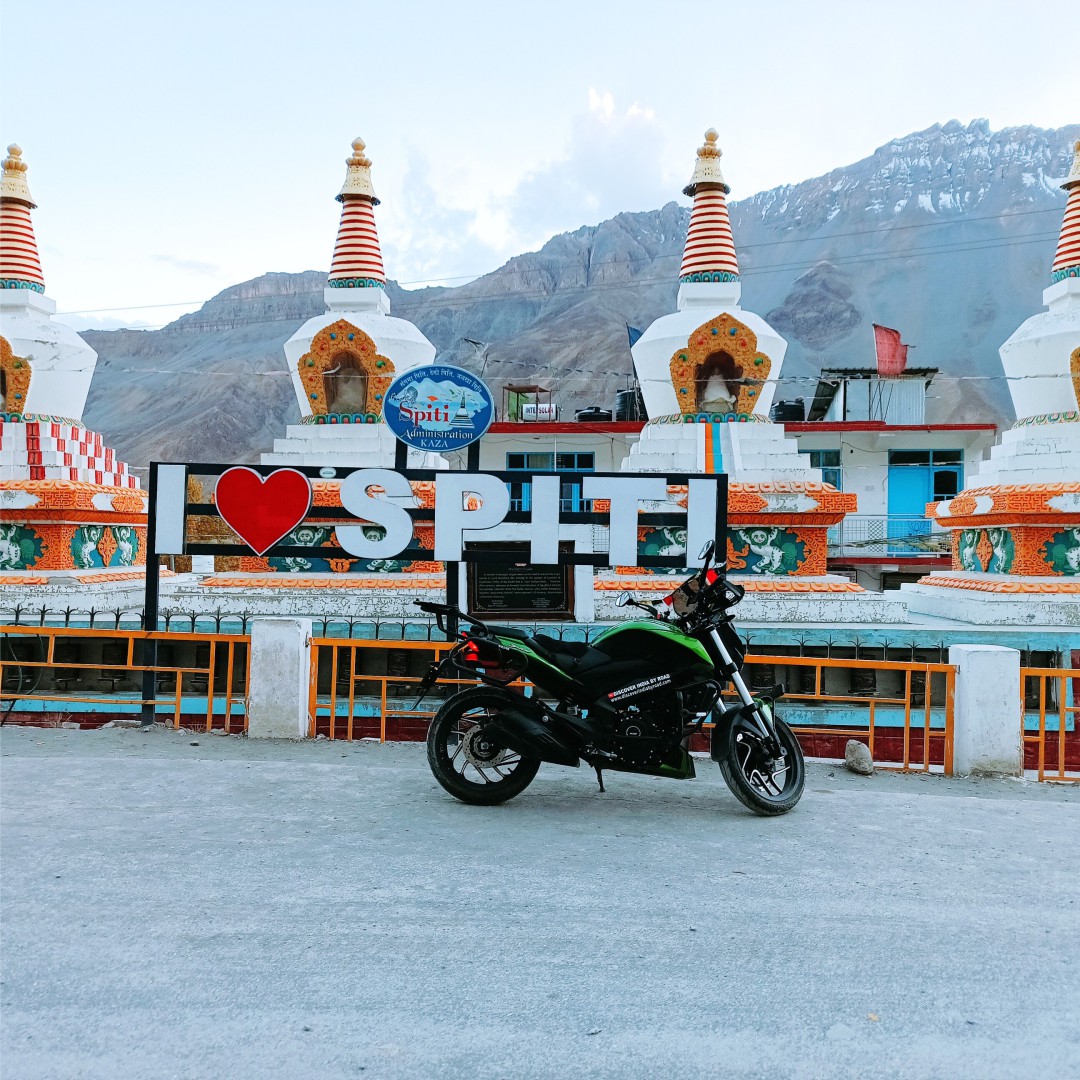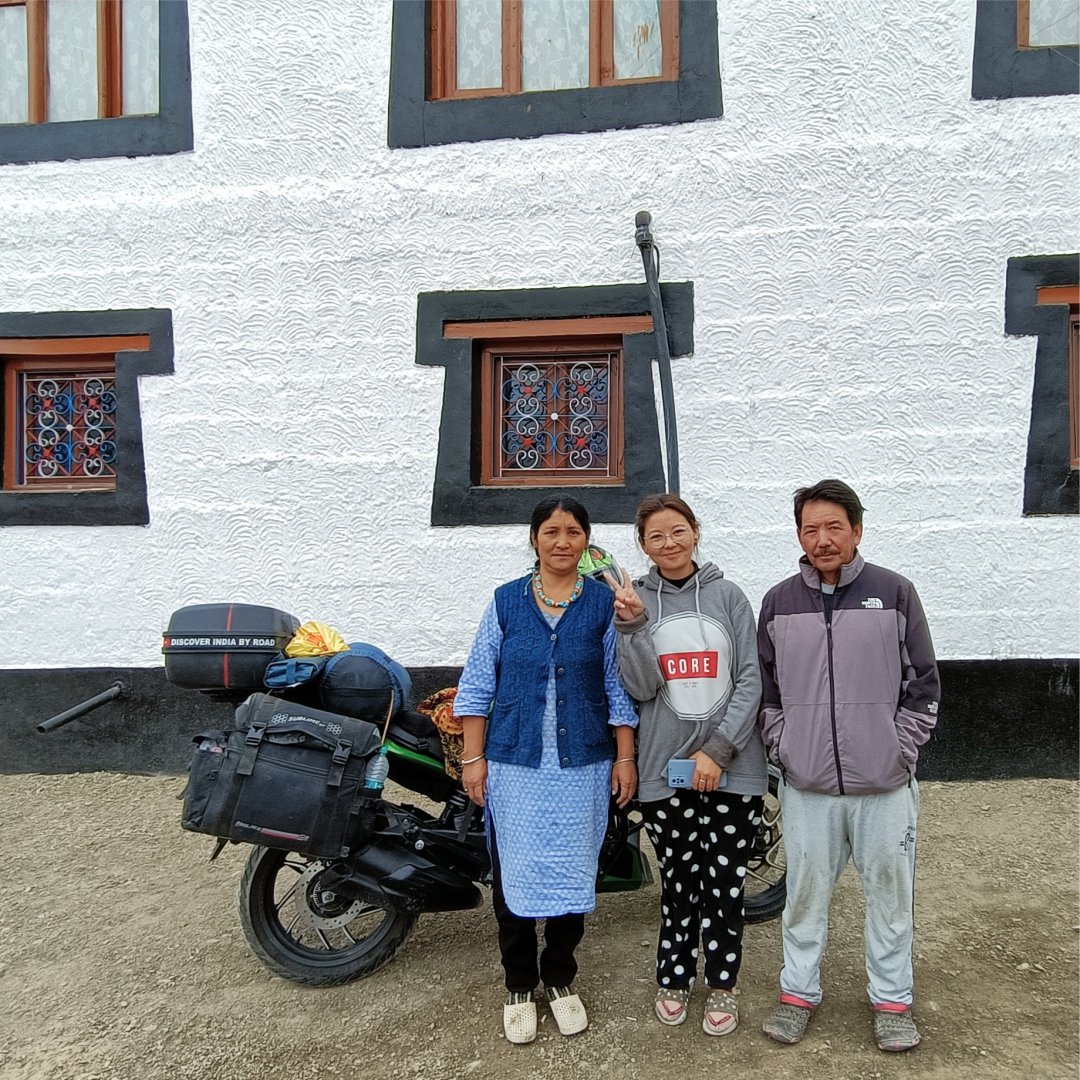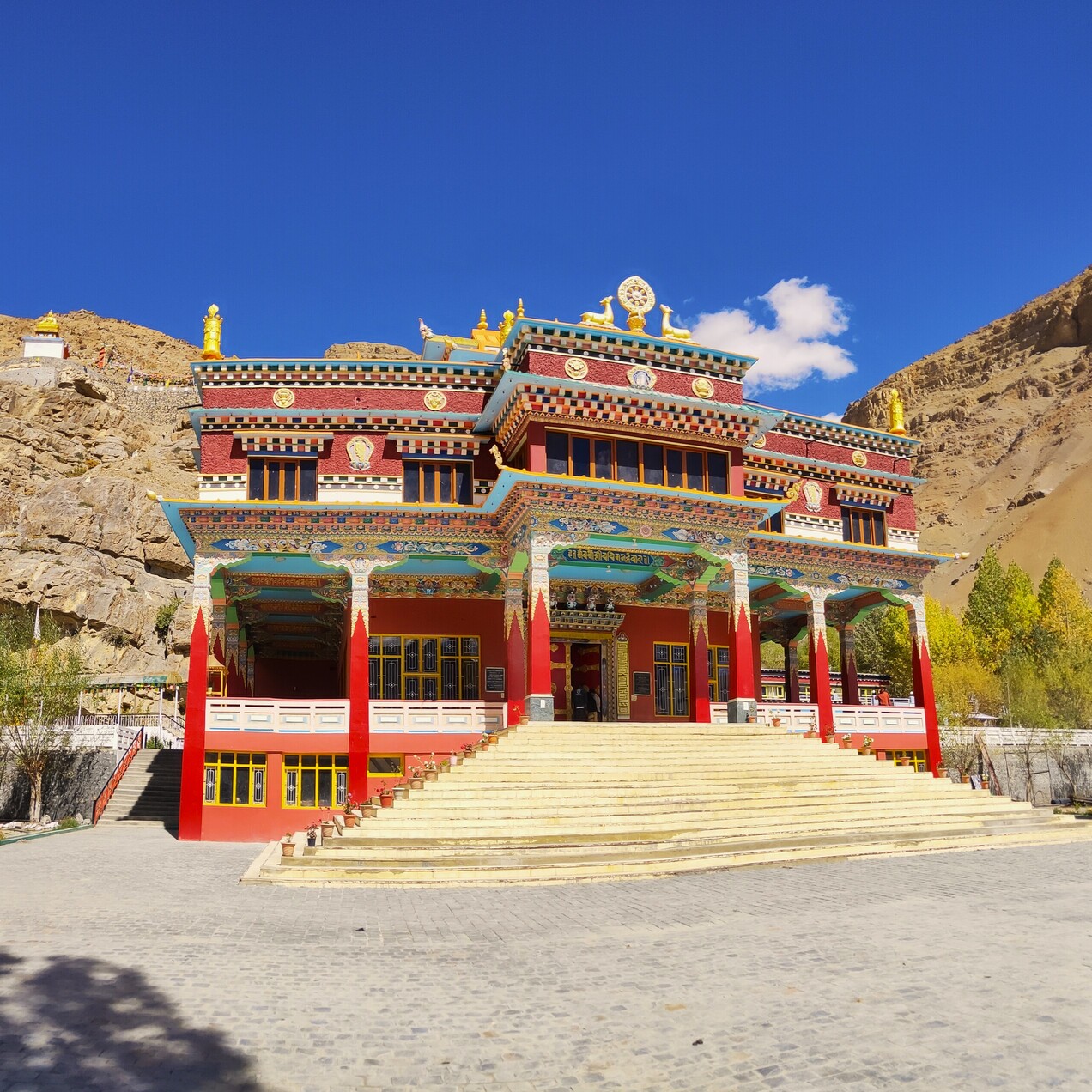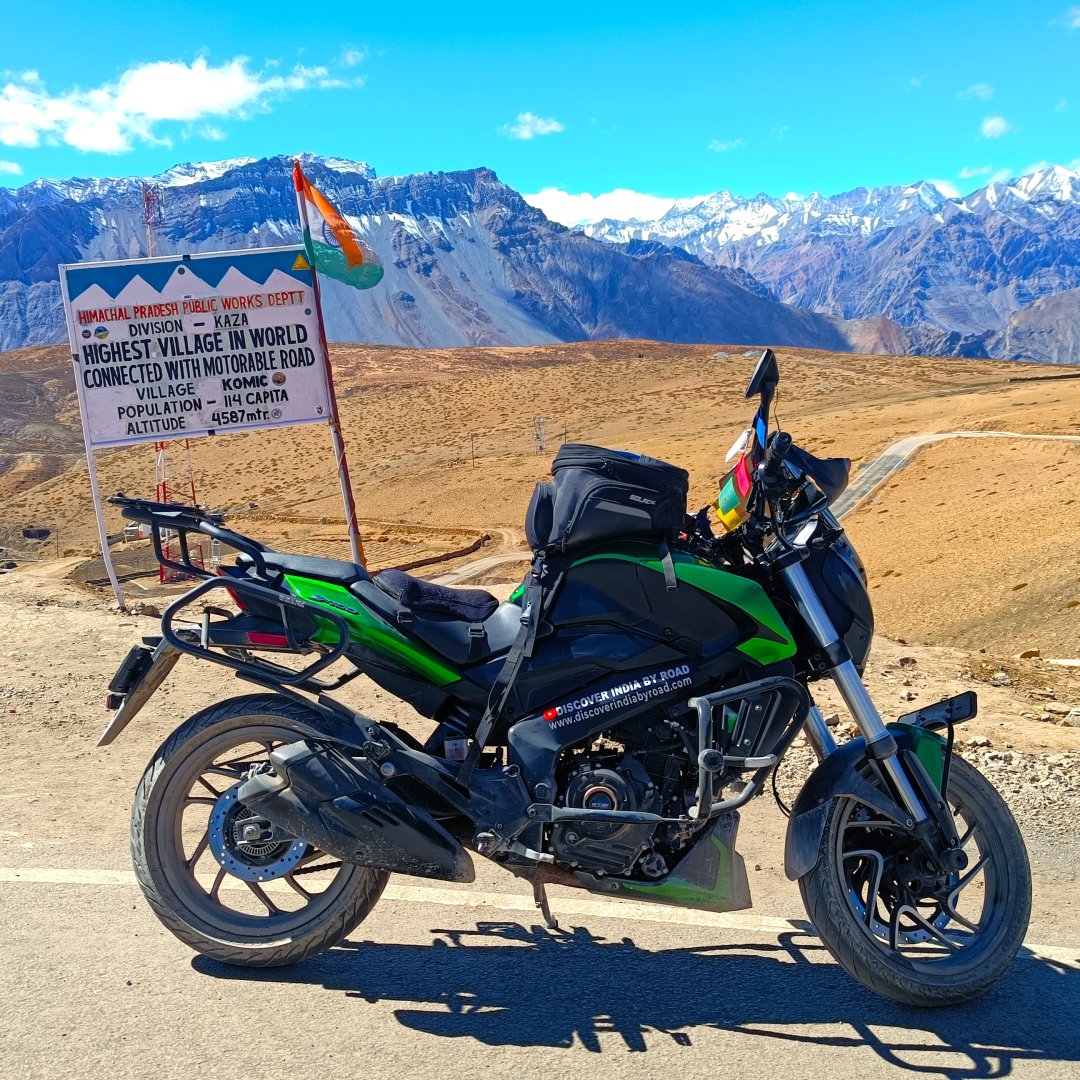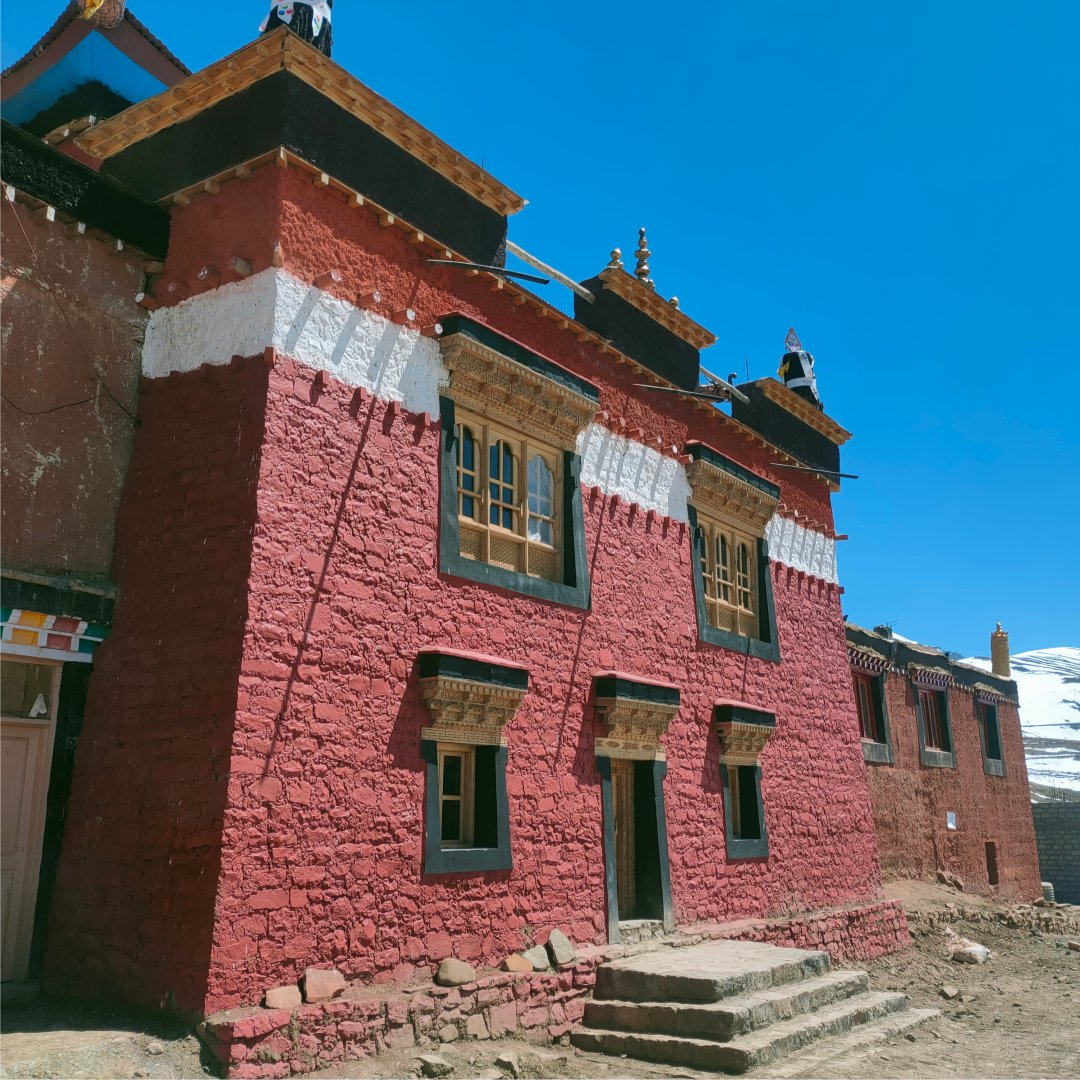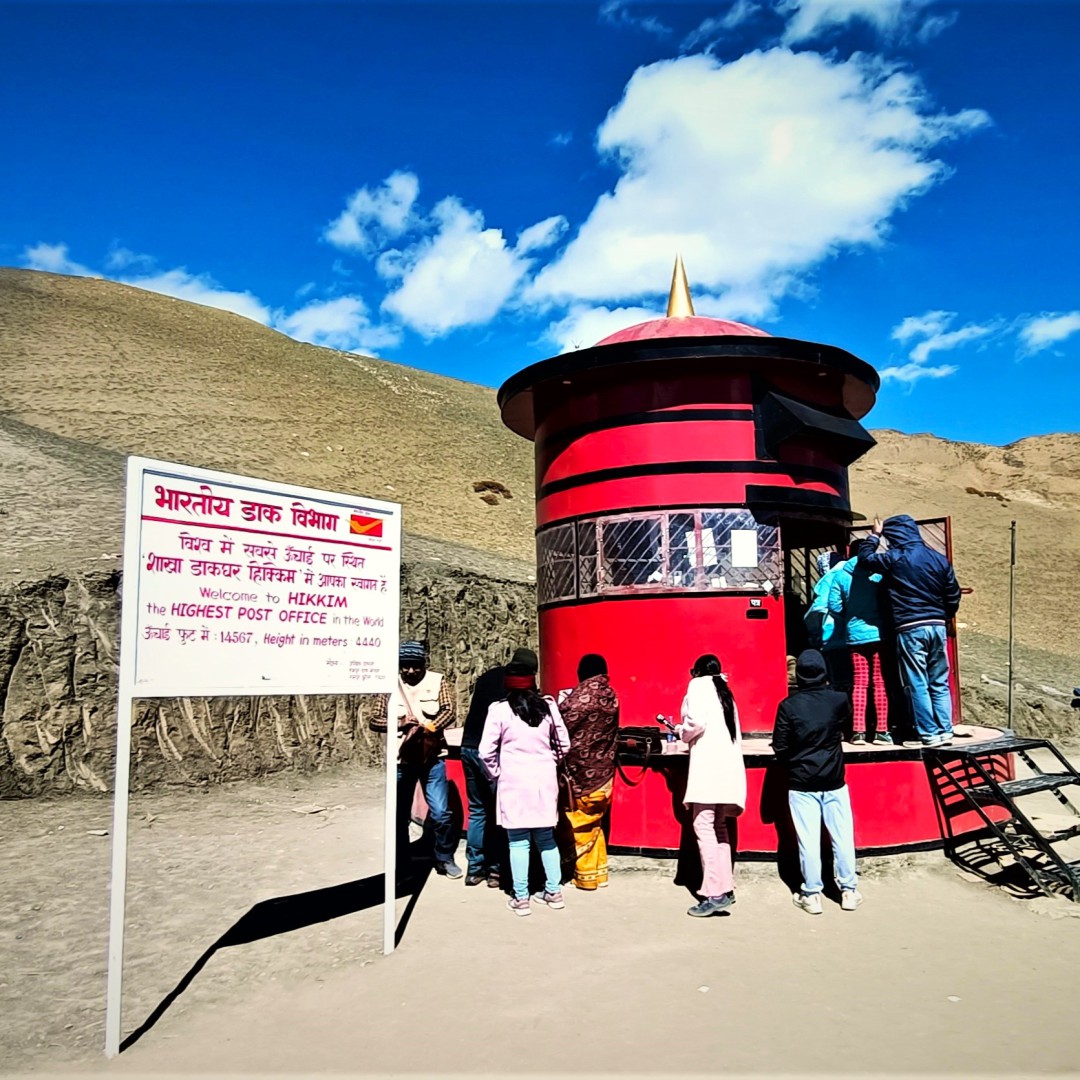 The Key Monastery is the crown jewel of the Spiti Valley. In the Spiti Valley, the Key Monastery is a must-see. Every guidebook and travel company uses this monastery's photo as the cover image for a Spiti trip itinerary. Kye Monastery was established in the 11th century and has served as a Buddhist study center in the Spiti valley for more than a millennium. It is located on top of a hill at an elevation of 4,166 meters (13,668 feet). A cafe and a small homestay were located at the monastery's entrance, while a school was located on the side. The monastery is divided into three stories. The first is mostly underground and serves as a storage facility. The assembly hall and monks' residential quarters are on the ground floor. Other temples and places of worship, as well as a library, can be found on the first floor. The monastery's walls are richly ornamented with paintings and murals.
The nicest thing about Key Monastery is that you may spend the night here for just Rs. 500, which is a very reasonable price (including meals). There isn't a separate guest house or any additional accommodation for tourists at the monastery. Accommodations are made for you in the current Lama quarters. So, it's a terrific learning experience because you actually live and dine with the lamas. Additionally, when you are here, you should try the special butter tea that is available. This is not your typical cup of tea, and I agree that not everyone will enjoy it, but you must try it at least once. It is created by churning tea, salt, and yak butter and is referred to locally as "Po Cha." It contains no sugar. 
If you don't want to stay at Key Monastery you can proceed further to Kibbar. Kibber village is located on the left bank of the Spiti River, at an altitude of 4,270 m (14,010 ft) acclaimed as the second highest motorable village in the world. The landscape of the village is captivating; it is surrounded by limestone rock mountains.
Kibber is also well-known for his The Kibber Wildlife Sanctuary spans 1400 square kilometers and is located at elevations ranging from 3600 to 6600 meters. This is India's only sanctuary located in the cold desert. The majestic Himalayan Snow Leopard, which is difficult to spot makes the Kibber Wildlife Sanctuary home. However, sightings of snow leopards have grown substantially in the last decade, and there are now approximately 25-30 snow leopards in the Kibber sanctuary. It can also be found in Pin Valley National Park, in addition to this sanctuary.
The sanctuary is also home to Tibetan wolves, Ibex, Bharal (Himalayan Blue Sheep), Tibetan Woolly Hare, Pale Weasel, Tibetan Wild Ass, and Red Fox in addition to snow leopards. The reserve is also adorned with Himalayan birds like griffons, bearded eagles, and snowcocks.
The next stop is Chicham, Chicham is about 6 kilometers from Kibber. This settlement is home to Asia's tallest (13,596 ft) suspension steel truss bridge, which spans a 1000-foot-deep valley and connects Kibber and Chicham. The process of building the bridge over such challenging terrain was obviously difficult, taking 14 years to accomplish.
However, the bridge has already cut the distance between Chicham and Losar by 40 kilometers and provided much-needed direct connectivity to Chicham. Chicham is located across the Parilungbo canyon, and until this bridge was built (just a few years ago), a ropeway was the only mode of transportation between Chicham and the rest of civilization. 
 To explore Key Monastery and Chicham Bridge you can watch my Hikkim to Key and Chicham Day 8 Part 2 video on YouTube below.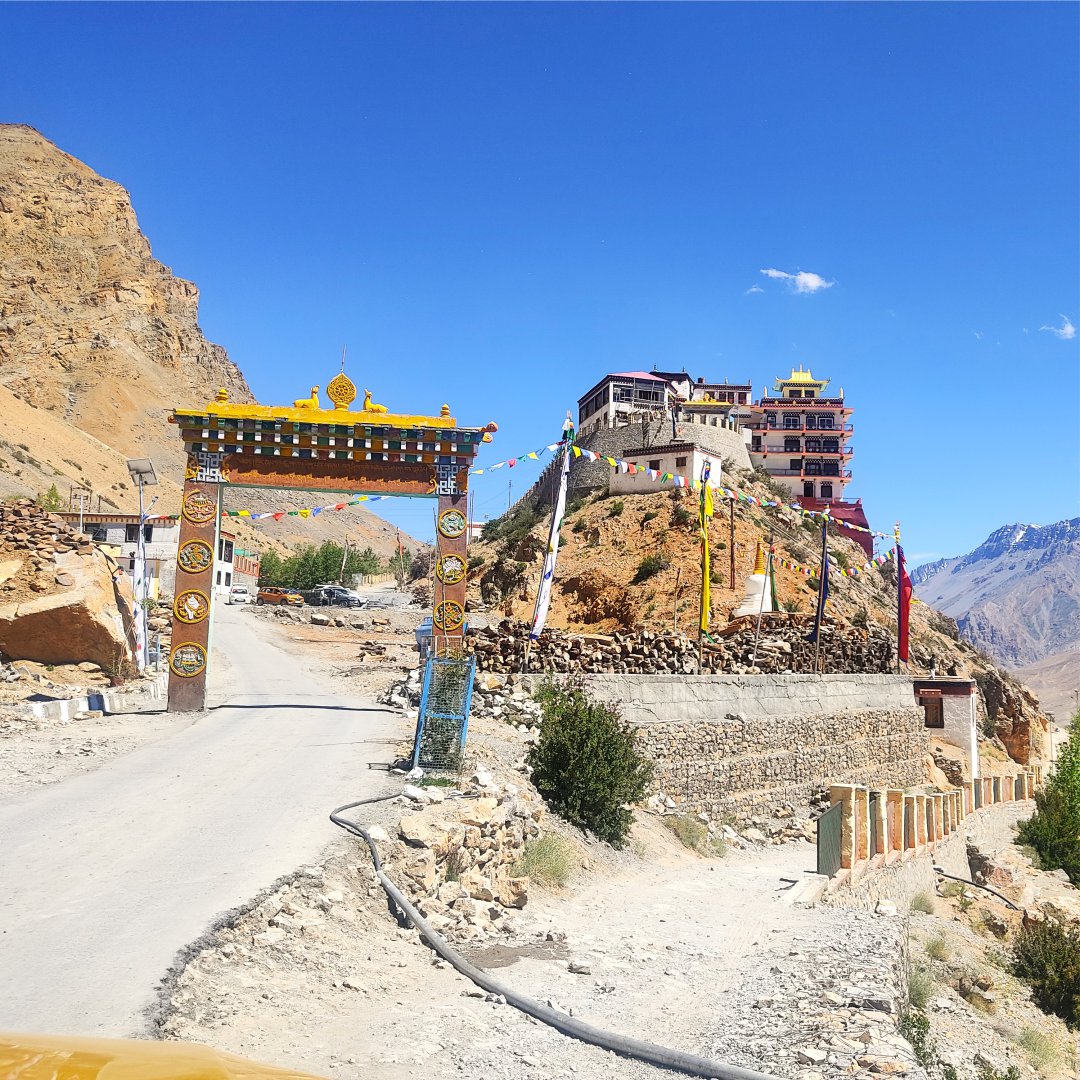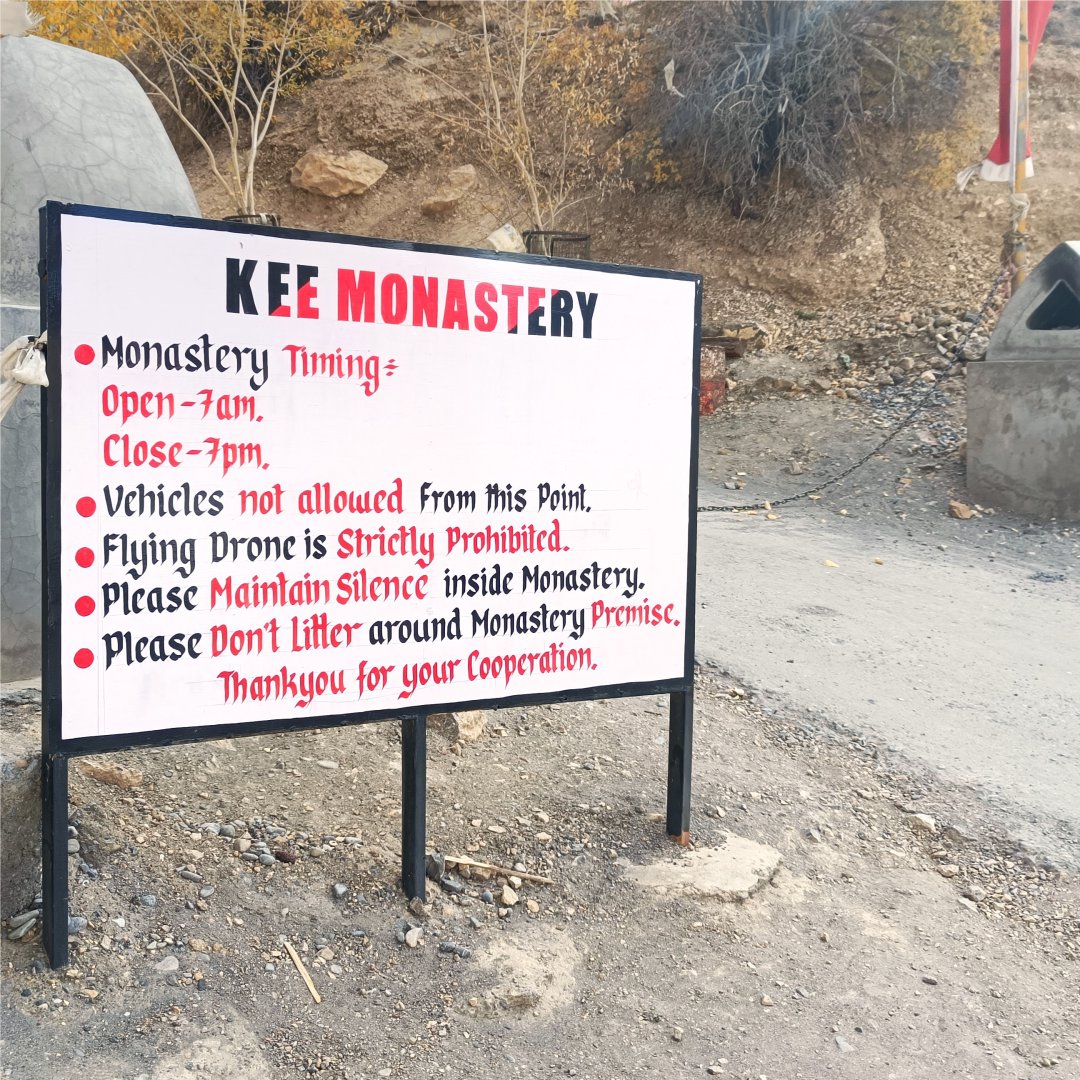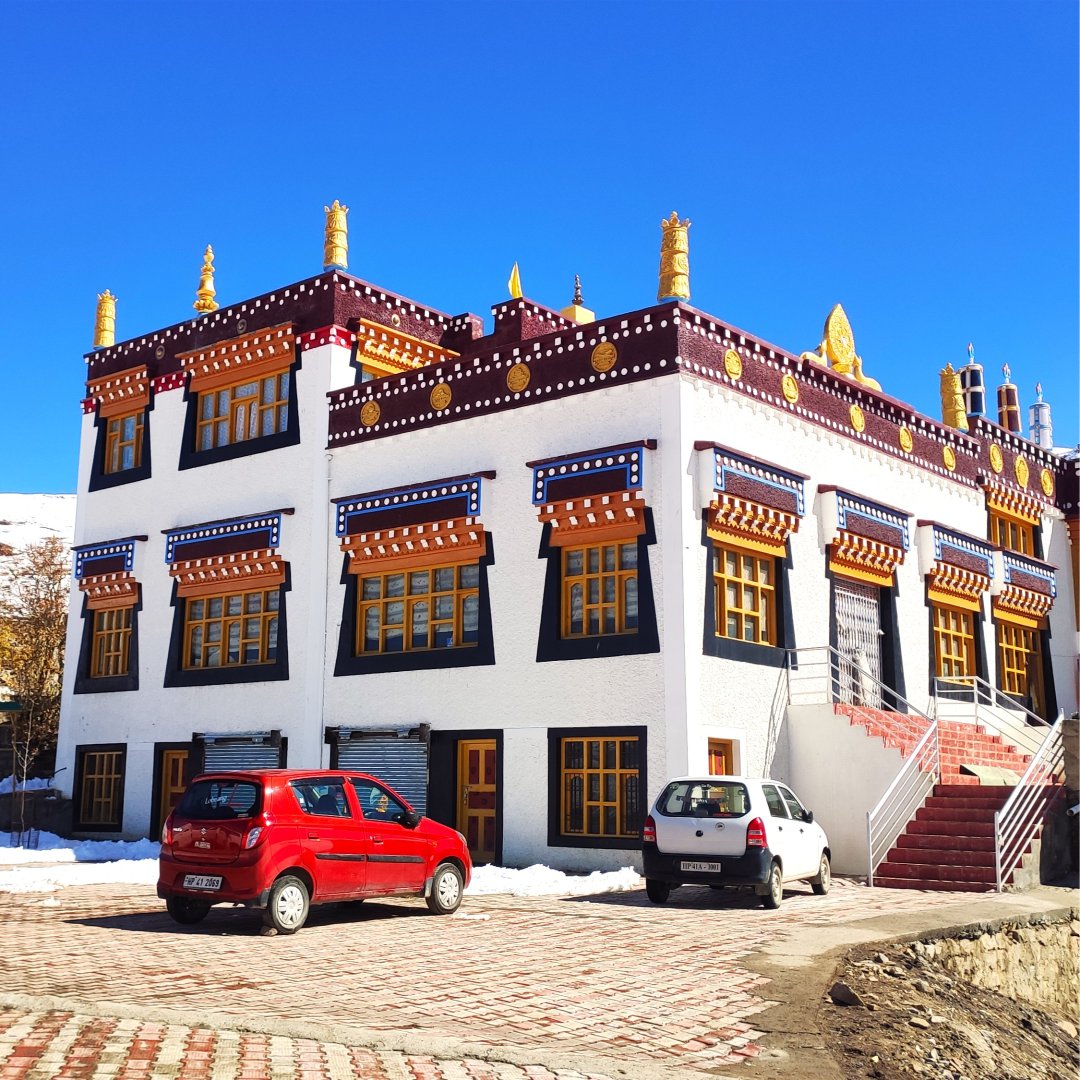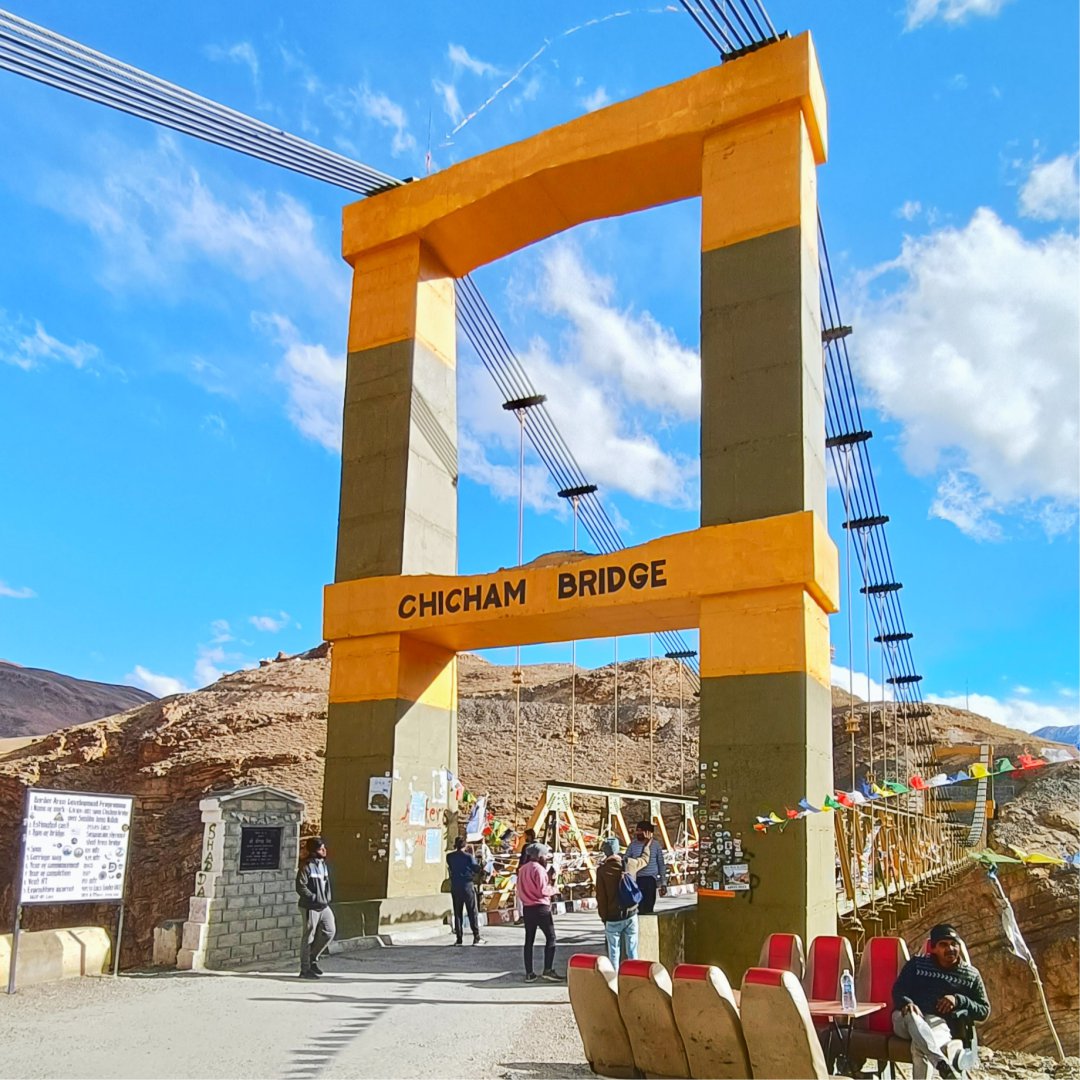 Day 7: Kaza – Key - Chicham – Kiato – Losar (60 km) or chandra Taal (100 km)
After breakfast the next day, refuel your vehicle; don't forget to fill your tank here, as there are no other petrol pumps until Manali. If you've already visited Key Monastery and Chicham Bridge, you can take NH-505 directly to Losar. Otherwise, you can go to Key & Chicham and then to Losar.
Losar to Chandra Taal via Kunzum Pass
From Chicham you can move further towards Losar, Losar is a small village located on Kaza-Gramphoo Road in the Lahaul and Spiti district, located on the right bank of the Spiti River. Losar is calming, soothing, and completely delightful. If you have not visited this heaven-like location near the confluence of the Losar and Peeno streams during your visit to Lahaul and Spiti Valley in Himachal Pradesh, you are missing out. Losar village in Spiti Valley is located at an elevation of 4,085 meters above sea level, close to the Indo-Chinese border. It is situated at the far end of the Spiti Valley, which resembles Ladakh in appearance. Losar has magnificent mountains, stunning rivers, and breathtaking vistas that will captivate any tourist with their unparalleled beauty.
In Losar Village, one can actually hear the sound of silence. People come from all over the country and the world to relax in the tranquil atmosphere and eventually forget about their problems because the location is so beautiful and refreshing. Losar Village in Spiti is best visited between July and September when the roads are open to the general public.
 If you have sufficient time then you can proceed towards Chandra Taal otherwise you can stay in a homestay at Losar. 
Before you proceed further just keep one thing in mind after Loser the incline for Kumzum will start & road here is in extremely bad condition, consider it as there was no road until Gramphu. if you are on a bike then it may be your worst nightmare. Don't try to ride alone anything can happen here & only ride during day time with sufficient time. 
Chandra Taal, also known as Tso Chigma (Moon Lake) a 2.5 km wide freshwater lake nestled between the mountains of Spiti Valley on the Samudra Tal plateau. Chandra Taal is located near the Chandra River's sources. This lake is located in the Himalayas at an altitude of around 4,300 meters (14,100 feet). It is a popular destination for tourists and high-altitude trekkers. It is commonly associated with Spiti, yet it is actually part of Lahaul. The Kunzum La pass separates the Lahaul and Spiti valleys. From late May until early October, the lake is accessible by road from Batal or Losar.
As strange as it may sound, the mythical Chandra Taal Lake is associated with three legends. This enticing site in the Spiti valley bears huge significance in Indian mythology.
If legends are to be believed, Chandra Taal Lake is the site from where Lord Indra's chariot picked up the eldest of the Pandava brothers, Yudhishthira. This is why the lake is frequented by a large number of Hindu devotees too.
Another tale that is popular among the locals talks about two lovers named Chandra and Bhaga. Chandra was the daughter of the moon, while Bhaga was the only son of Lord Sun. Chandra Taal Lake is said to be named after the moon god's daughter, Chandra.
According to local legend, a shepherd from Hansa Village in Spiti Valley fell in love with a mermaid who lived in the glacial lake. Their love blossomed under the icy waters of the angelic lake. According to legend, shepherds still stop here to look for a long-lost friend.
Hence, swimming in this lake is strictly prohibited, as many have died here while trying to swim.
There isn't anything to stay at Chandra Taal Lake because camping is banned and illegal. The region comes from Chandra Taal Lake wetland reserve, which is a Ramsar site protected under the wildlife act. Hence, one cannot pitch camps near Chandra Taal Lake. There is a dedicated camping site about 2 km before it where you can pitch your camps. It is also the parking site where vehicles are parked, and people trek further to the Lake.
Apart from self-camping at the camping site, there are temporary camps set up by locals. The camps are more spacious and comfortable. They also have mattresses and quilts and covered washrooms. If you are looking for safer stay options other than self-camping, you will still be left with few choices.
There is a small place called Chacha-Chachi Dhaba in Batal that can accommodate around 7-8 people. If you are lucky, you will get to stay in igloo-style huts right in front of the Dhaba. You can also try to stay at Batal PWD Rest House. If you didn't find a place for a night's stay at any of these places, you can drive another 10 km towards Manali, a place called Chota Dara, where you may get a stay in a PWD guest house.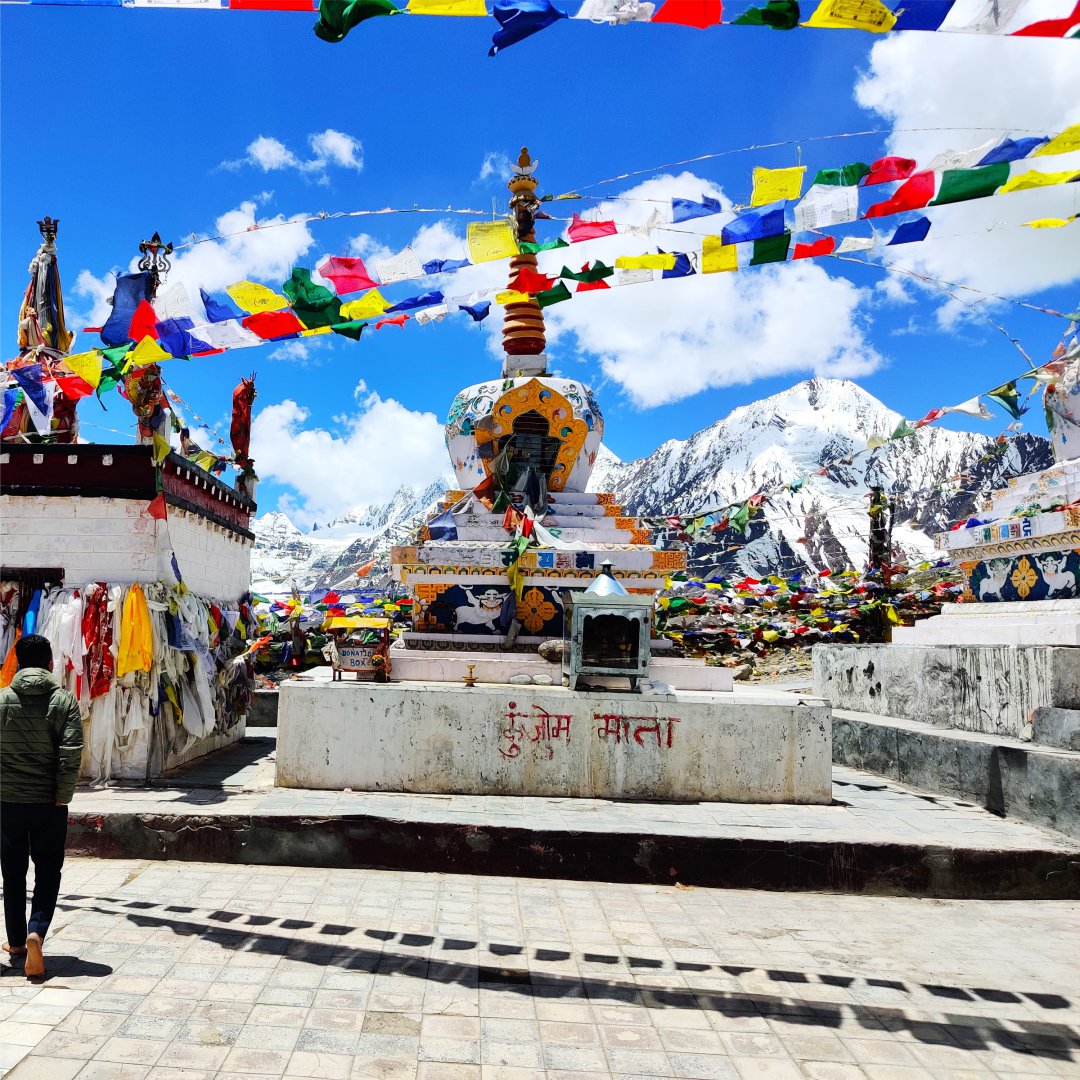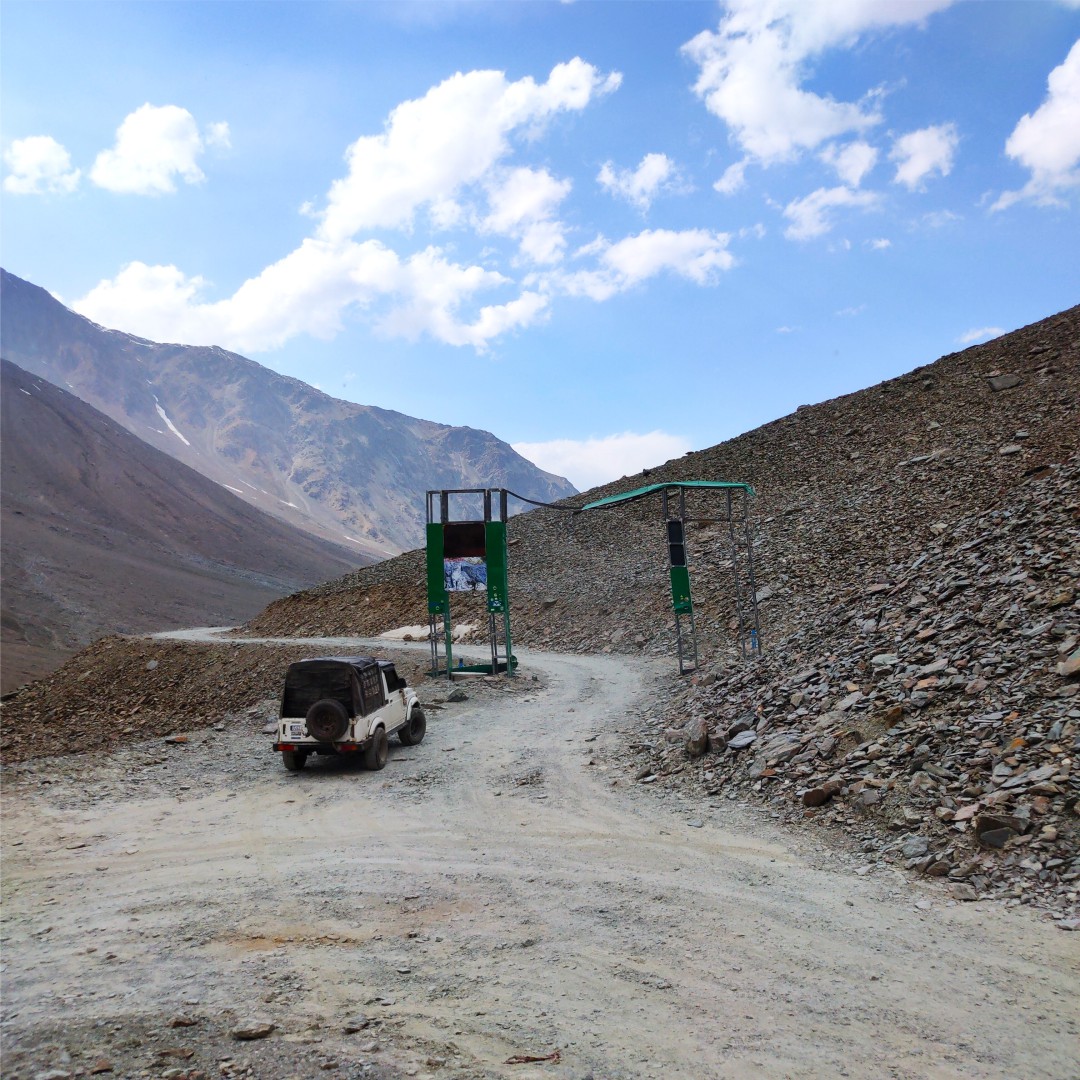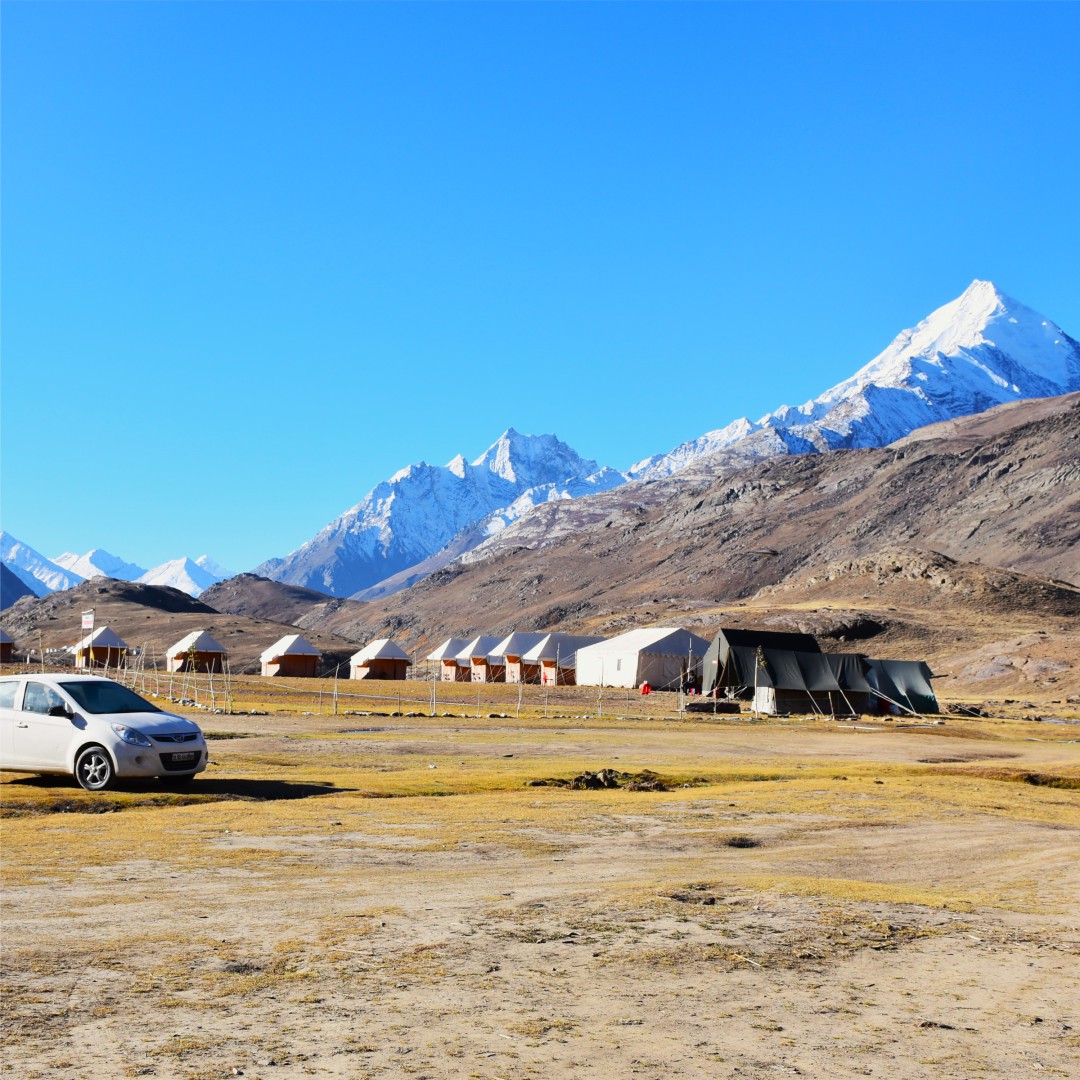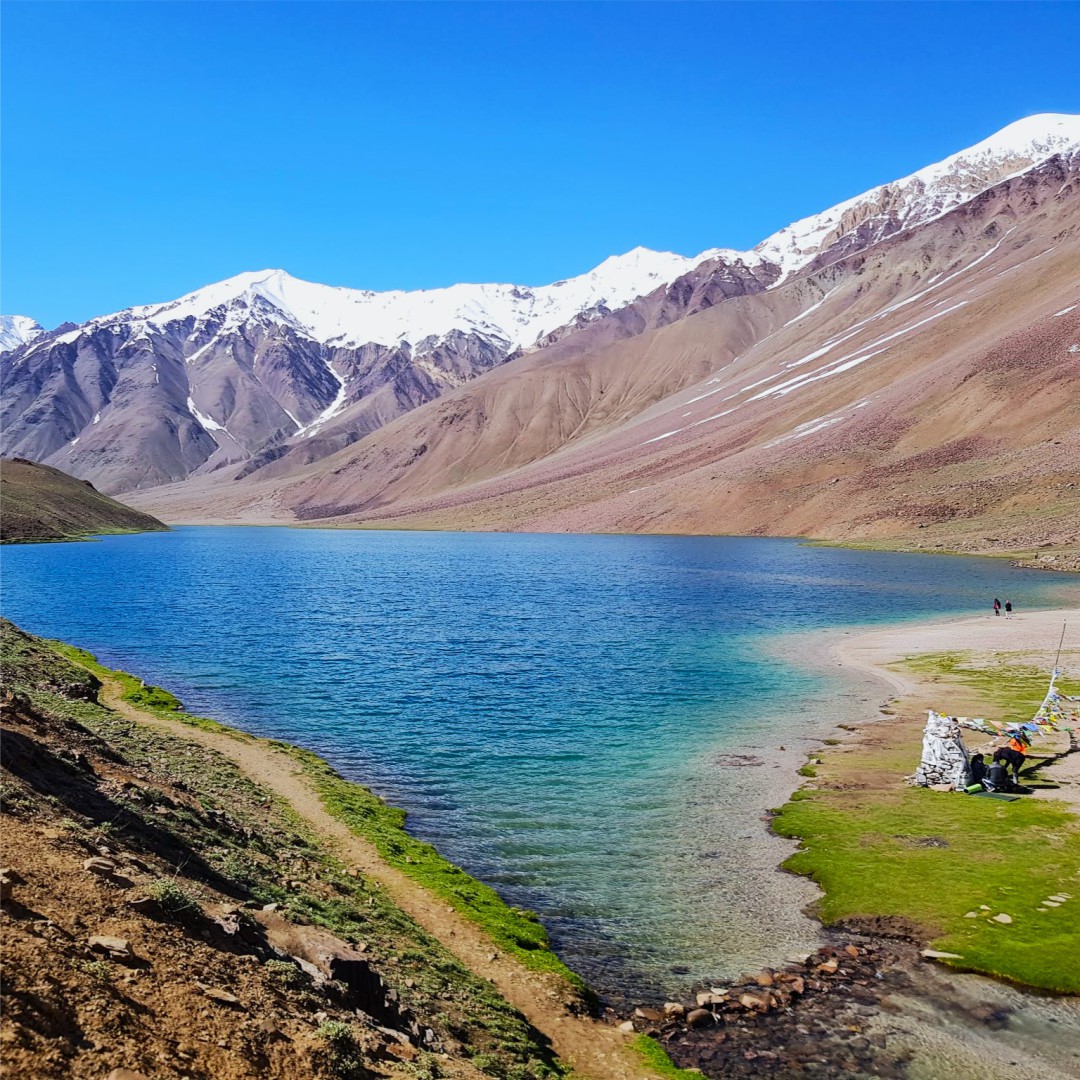 Day 8: Chandra Taal - Batal - Gramphoo - Koksar - Atal Tunnel – Manali (111km)
The next day, after spending some quality time at Chandra Taal, you can start your drive towards Manali to conclude your Spiti trip. Breakfast can be had at Batal's famous Chacha-Chachi Dhaba. You can drive to Manali from Batal via the famous Atal Tunnel. Alternatively, if you want more adventure, turn towards Rohtang Pass from Gramphoo. It is all up to you. But you must keep in mind that the road is in the bed condition.
I personally choose the Atal Tunnel as a faster and safer way to get to Manali. After arriving in Manali, you can relax, explore the market, and if you'd like, stay an additional day to visit the surrounding area.
Manali is a traveler's paradise for nature lovers, honeymooners, and other tourists. The popular features of Manali are its snow-covered peaks, vibrant gardens and plantations, and raving rivers. The tourist attractions in Manali include Vashisth hot water spring and temple, Tibetan monasteries, Hadimba Temple, Jogani Waterfall, Manu Temple, Manali Gompa, Nyingmapa Buddhist Temple, and there are many more to explore, like Solang Valley.
Solang Valley, 13 km from Manali, is one of the most beautiful tourist spots on the outskirts of the town. Solang bustles with tourist activity both in the summer and winter. A variety of adventure sports activities that include quad bike rides, zorbing, paragliding, gondola (ropeway) rides, rock climbing, ballooning, camping, and mountaineering can be indulged in at Solang. In winter, the slopes packed with snow become a winter sports arena for skiing, where even state and national-level ski championships are regularly conducted. Solang also serves as a base camp for mountaineering expeditions to Anjani Mahadev, Hanuman Tibba, and Patalsu peak.
With memories of a lifetime, you can proceed further to Delhi or Chandigarh and from there you can return back to your home. But, there is one more condition that can be applied here, like what happened to me. Due to Snowfall in high-altitude areas, the Road from Losar to Atal Tunnel was closed for all vehicles. So unfortunately I have to return from Kaza by taking the route from which I have come. It took me days to return back to my home, the videos of the return journey was shared below.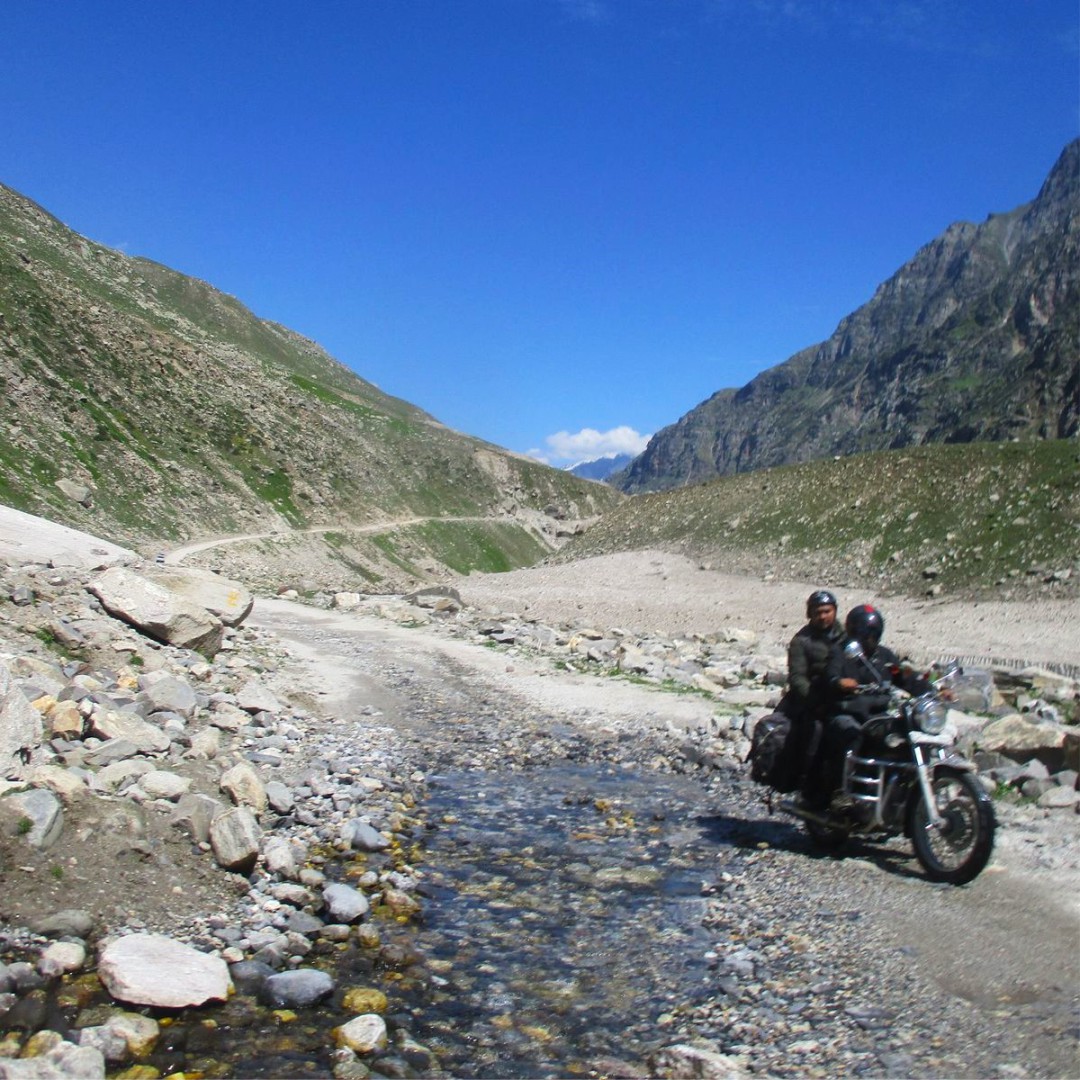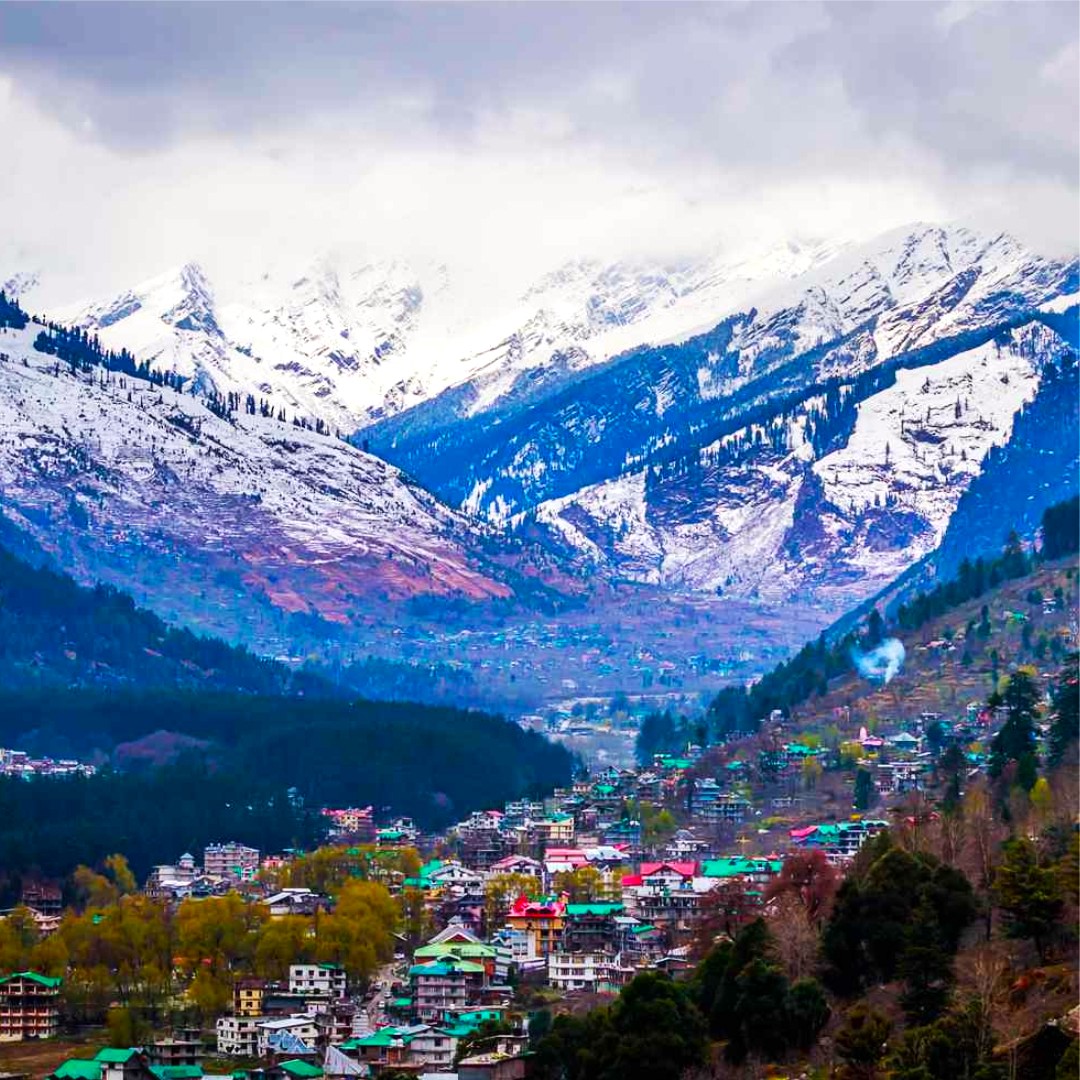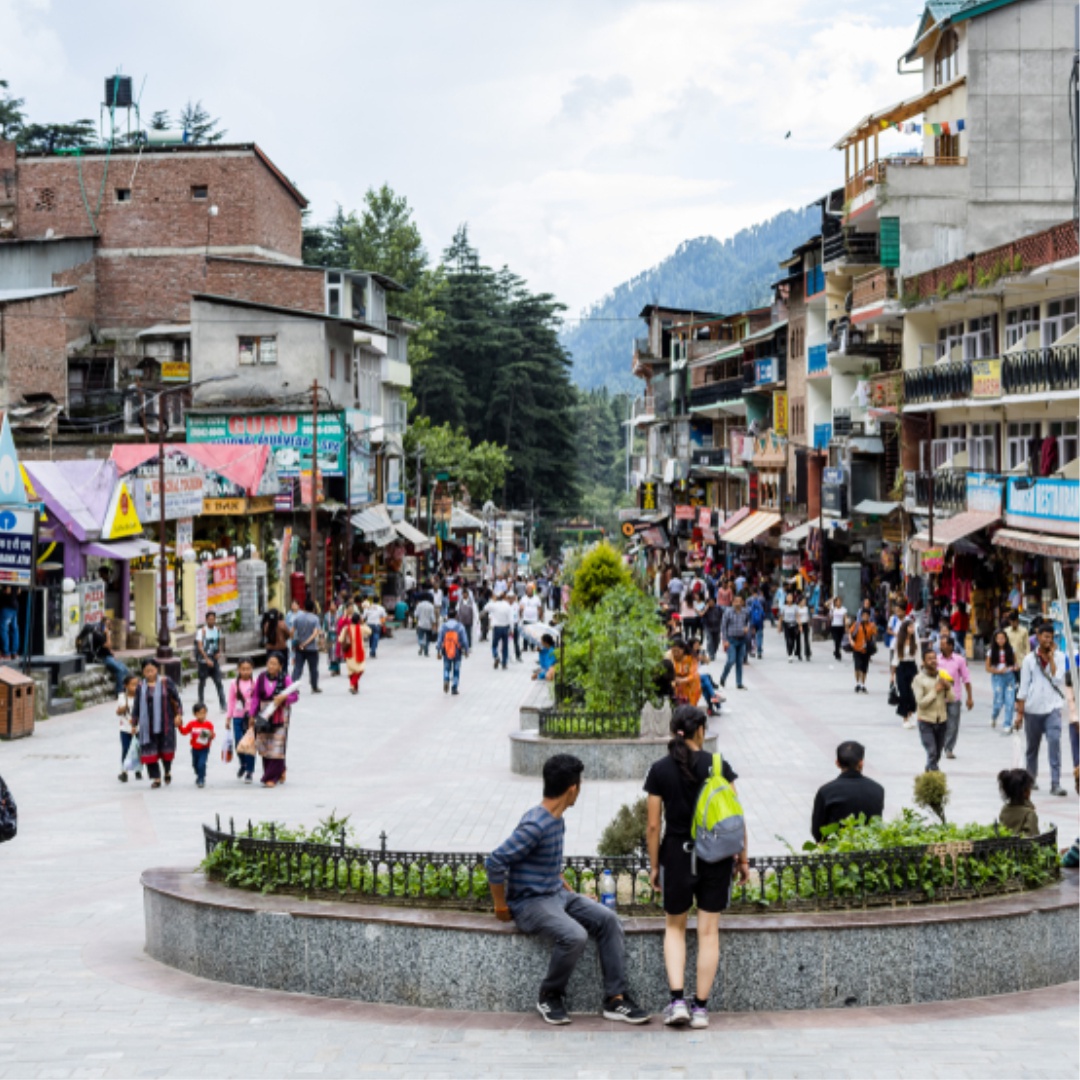 Ideal Budget for Spiti Valley Road trip in 2022-23
Budget Planning for any trip or vacation is a very important part. There are three major parts of the budget, first Transportation or Fuel cost, second is Accommodation and third is Food. So let's break them down all one by one.
The above prices are given as per my calculations, they may vary from person to person. The prices mentioned above are excluding Bikes, Accessories, Riding gear, Camera gear, etc. You can choose them as per your choice & budget. 
By writing this article I have just tried to share my personal views & plans for my recent trip. Apart from this, if you have any queries please feel free to comment below or contact us.  
In the future, I have also shared complete videos on the topics mentioned above. to stay updated please subscribe to our YouTube channel. & if you like this article please share it with your family & friends.