Choosing Best Riding Gears
How to select Best Riding Gears?
Why Riding gears are essential?
The concept of wearing proper riding gear, is lesser popular among Indian riders, as compared to western riders. But, now the new generation riders are getting diverted towards it. However, there are many confusions among the riders, when selecting the best riding gears, according to their riding style. 
But, why riding gears are so important while riding? The answer is very shocking! As per India Today's report, the number of two-wheeler riders, who died in road accidents every year, is 48,746, which is 33 percent of the total deaths in road accidents. And, wearing proper riding gear, can reduce this up to 50 percent.
Good riding gears are designed for more than just crash protection; It also acts as your second skin, and protects you from harsh sun rays, blowing wind, and any unknown object that is flying through the air. Therefore, you must choose your riding gear smartly.
In general, you can divide them into three categories, Daily commuter, Touring or Highway rider, and Track or Sports rider. So, you can choose the gears as per your style, comfort, safety & Budget. Normally, riding gears consist of a Helmet, Riding Jacket, Riding pants, Pair of Gloves, and Boots. These gears protect you from injury and keep you safe in unwanted situations. Because, these apparels are designed to reduce impact, with help of various guards & protectors. So, before investing in these life-saving gears, you must know how to choose them as per your needs.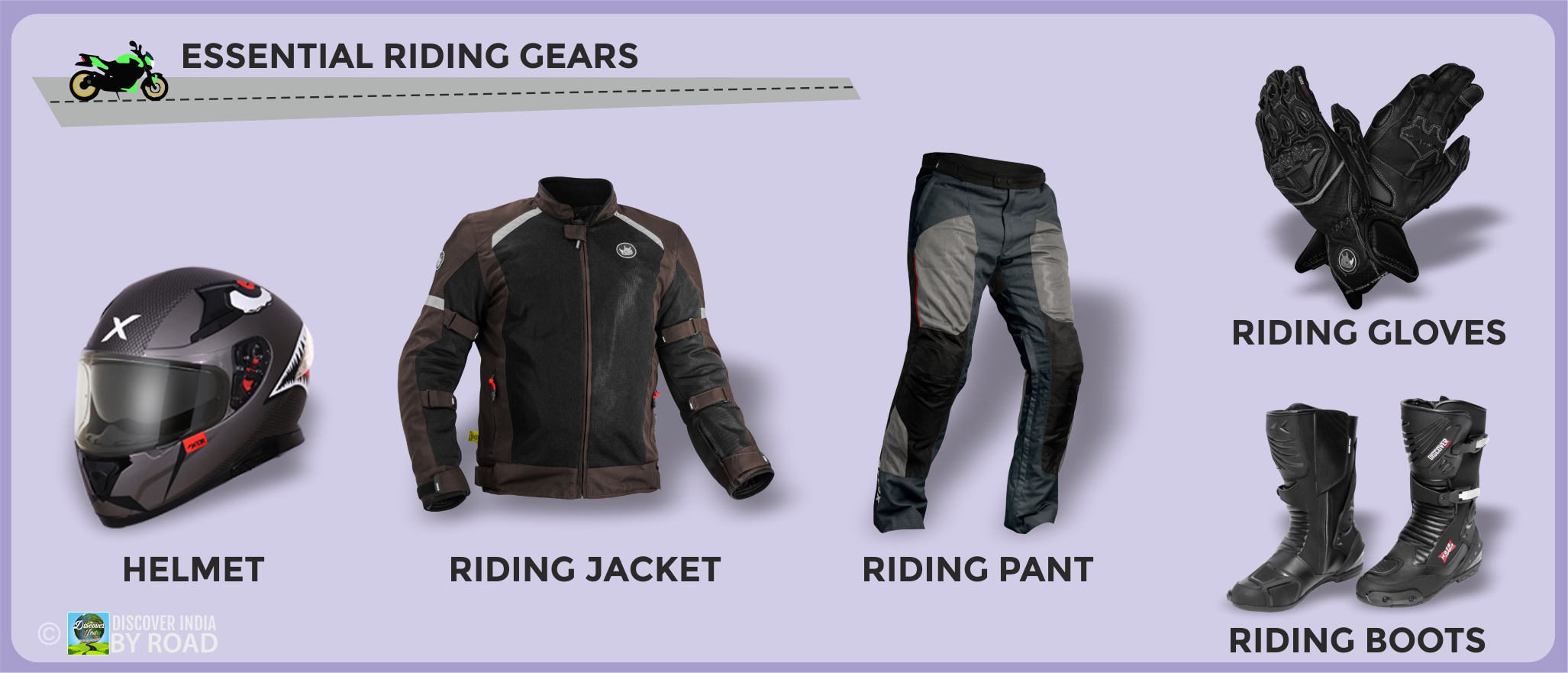 Make sure the type of helmet you select is specific to the environment you will be riding in. Mainly, there are six types of motorcycle helmets available in the market, Full face, Modular (Flip-up), Open face (¾ helmet), Half helmet (brain bucket), Off-road (motocross helmet), Dual-sport. (crossover, hybrid, enduro) Choose the appropriate helmet according to your riding pattern. All helmets are purpose-made and will protect you better, and keep you comfortable, in their own environments.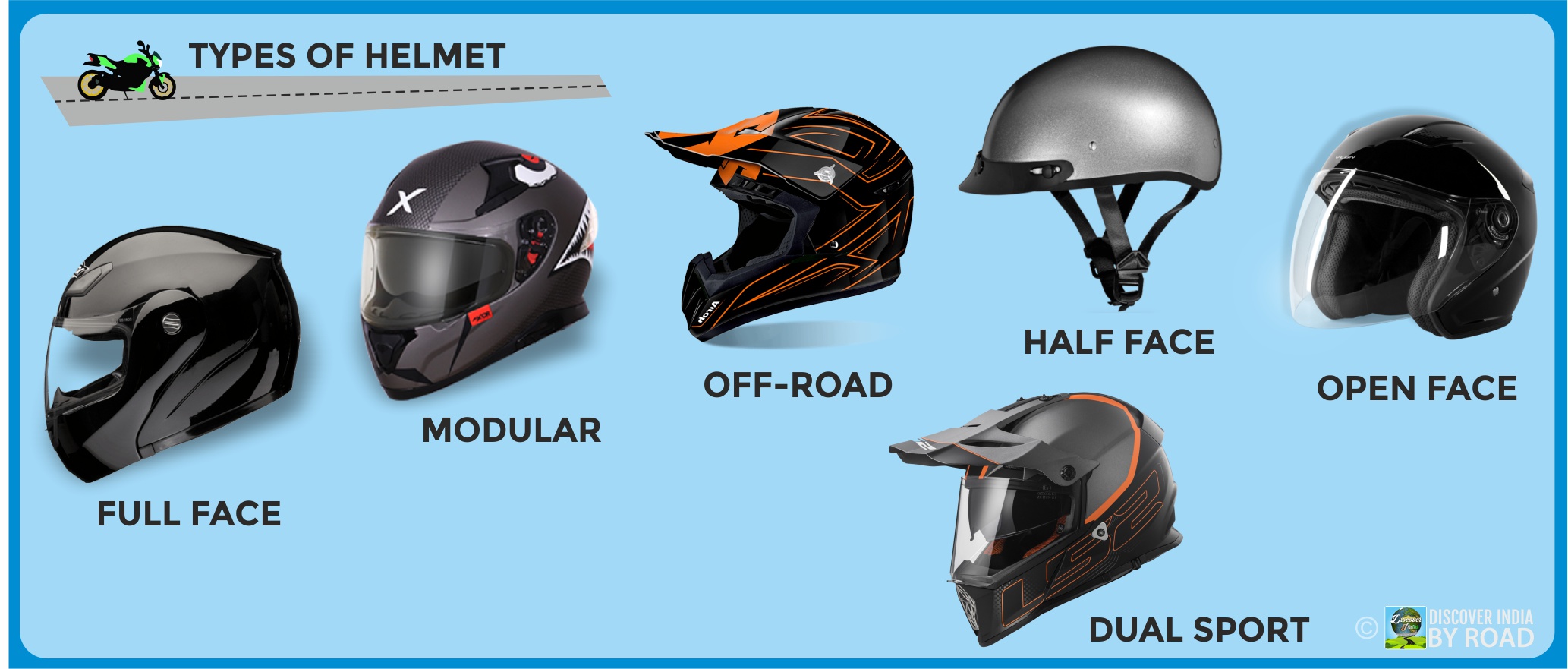 As per the study, more than 50 percent of all impacts to motorcycle helmets occur around the face and chin area, which are not protected by open-face or half-face helmets. Hence, wearing a full-face helmet is more advisable. Apart from this, they'll also protect your eyes from the wind, dust, and bugs, and even sunburn. Nowadays, full-face helmets are becoming very popular among riders. Even so, many helmets have better paint quality, fancy graphics, better ventilation, and more comfortable liners, but are not necessarily safer.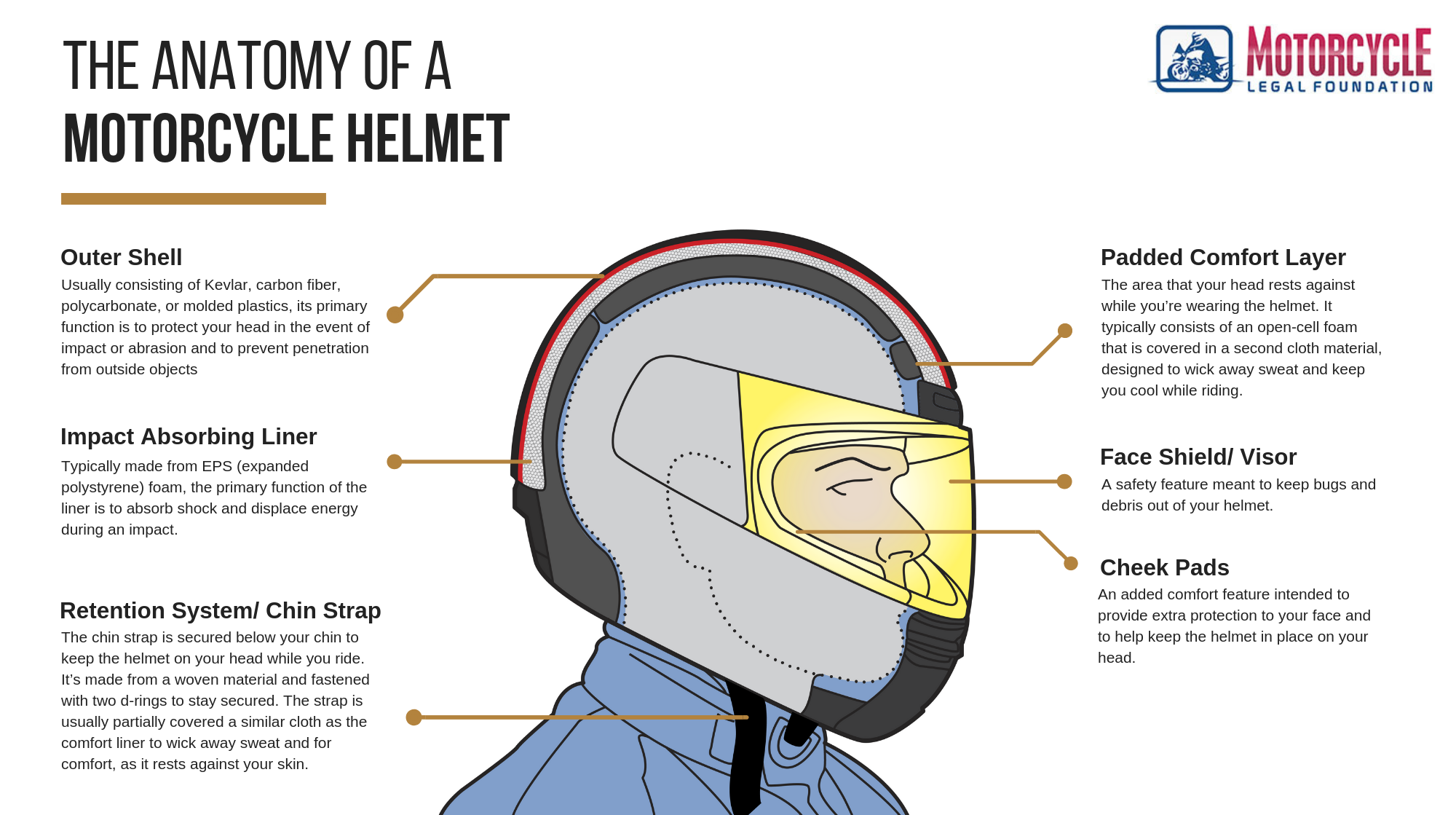 Apart from style & color, the most important aspect is safety. Helmets are designed to protect your head in case of a crash, absorbing energy that would otherwise be transferred to your head. In India ISI : 4151 is mandatory safety standard for all helmet manufactures. But, unfortunately helmets which are sold on the streets or in some shops at cheaper prices use fake ISI logo. Apart from this, there are many international standard certified helmets are available in market right now.
The minimum legal standard for a quality helmet in the US is a DOT rating. You'll see the sticker affixed prominently on the back. Along with it now ECE 22.05 is the European Union's legal standard, and the SNELL certified helmets are also available in Indian Market. SNELL is one of the most trusted certificate among all of these, because their safety norms are very strict & very few companies are able get their certificate.

The shape and size of every person's head is different. You must take your time to find a helmet that fits you perfectly, never buy a loose helmet. Besides it the weight is an important factor. The ideal weight of a motorcycle helmet is should be around 1.2 to 1.4 kg. A helmet which is too heavy, creates unnecessary pressure around your head & strain your neck muscles. Sometime, heavy helmet becomes a cause of headache. And last but not least, is never use a helmet used by someone else, or buy second-hand helmet. 
While wearing a helmet, your head should never slide easily inside it. It should be slightly tight, with the inner padding pressing into contact with the maximum surface area of your head and cheeks. To check proper fitting, you can do finger test too, where if you try putting a finger between the helmet's interior and the head, it shouldn't fit easily.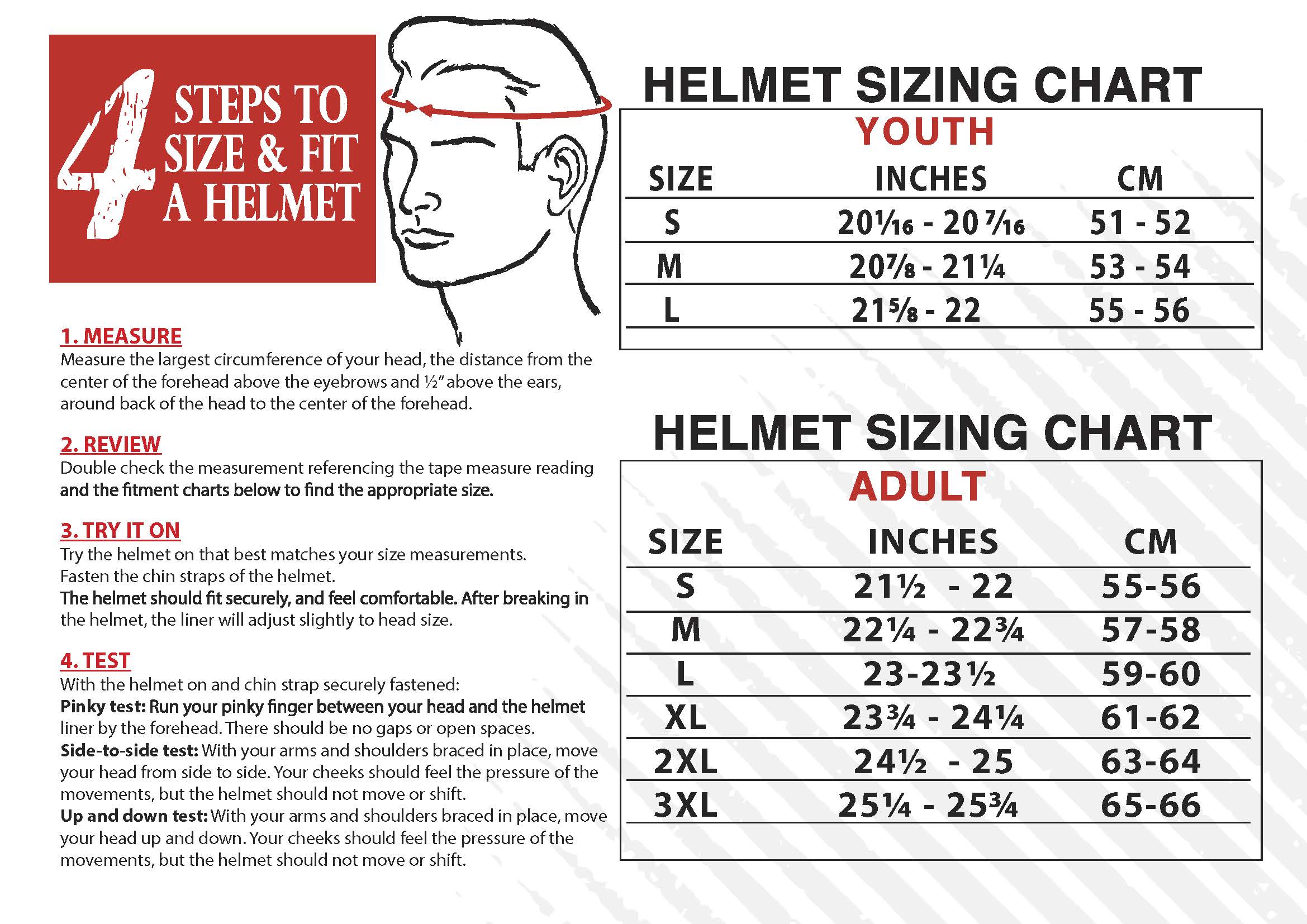 Most of the helmets available in market, come with a removable & washable inner padding. Good Quality helmets, have a padding made out of Anti Bacterial, germ resistant, skin friendly & washable fabric. Some hi-end helmets also comes with a chin curtain and a breath guard. This helps to reduce the amount of wind, dust and other debris which may enter into your nostrils.
Straps are the important part of every helmet. Currently, there are three different types of straps available in the market. The quick release buckle offers a seat belt type mechanism, where a metal end goes into a spring operated catch. The Micro Metric buckle system works by using a 'toothed' strip on the end of one strap which goes into a another spring operated ratchet on the other end. This is the easiest buckle system to be operated with your gloves on. However, the Double D ring system, although the most basic, is also the most safest strapping system for motorcycle helmets. All SNELL certified helmets are equipped with Double D ring system only. A simple design offers the maximum security & proper adjustment for the correct tension when you put the helmet on.
Ventilation system &

Visibility
A professional helmet comes with a multiple ventilation System. One or more intakes can be located near the chin area, one above the visor & one main vent right at the top. Along with these intake vents, most of the helmets will also have exhaust vents in the back, which help in better air circulation. All these vents come with a shut-open mechanism, which helps us in different weather conditions. 
For better visibility, visor is the most important part of your helmet. A visor lid is an important part of a helmet, it should provide great all-round visibility. Especially, at the sides and the bottom, since you will be mostly riding in upright position, and also need to be aware of the overall road condition from a distance. 
A good quality helmet's visor should be scratch resistant &  will open and shut in stages, rather than easily sliding down. A Quick release mechanism will make it easy if you have to switch between visors. However, it's advisable to get a clear type visor, which will serve the purpose well, during both day and night. Additionally, some professional helmets also come with Dual Visor option with easy shut open lever. 
The fog build-up in a visor during cold and rainy weather conditions, makes it even more difficult for the rider to see what's ahead. Riding with a fogged up visor can be really annoying and dangerous. As it interrupts the rider's vision and focus on the road. To solve this issue, the Pinlock visor insert was created. The Pinlock visor insert is made out of a material that contains moisture absorbing properties, which reacts like a sponge and absorbs moisture effectively. So make sure that your visor has Pinlock installed.

According to my opinion, my ideal helmet should be a Full Face one, with DOT & ECE safety standards. With Double D locking system and Air ventilated shell with Antibacterial padding & Dual visor with Pinlock. 
After selecting features, now it's time to buy your helmet, there are many choices available in the market, sold by various brands, namely Axor, Vega, Studds, Steelbird, LS2, THH, MT, SMK, HJC, BELL, etc. I personally like Made In India products.
The price ranges start from around INR.950 to INR.15,000+ depending upon brand & features. But, an ideal helmet will come at a price tag of around INR.3000 to INR.5000.
So, you must choose your helmet wisely. This video will help you to choose your ideal Helmet.
After helmets, riding jackets are probably the second most important gear you should buy. Riding jackets can be divided in to three categories :-Leather jackets, Mesh jackets or Textile jackets. Most of the high-quality textile jackets made from material called Cordura, which is able to resist abrasion as strong as leather, and often include water & cold resistant liners capable of keeping you warm & dry in case of bad weather conditions. Textile jackets are often more affordable. However, leather is more durable, but not much comfortable in all kind of weathers.
How to choose Riding jacket?
You must select riding jackets that come with features like, doubled up seams to protect the stitching from abrasion and increase strength. So that it can fit firmly in high-speed wind blast so they don't flap around. It should also have body armor with a CE level 2 safety ratings. An impact absorbing material that cushions your most vulnerable body parts in case of impact.
The jacket should not only fit snugly, but also leave your arms free to articulate fully. You should also consider your riding style before choosing a jacket. Selection of your jacket material should be based on, what kind of weather you'll most frequently be riding in. Jackets made from mesh, perforated leather, or with lots of vents are good for warm weather but not the cold or wet, and vice versa.
The leather jackets was the classic choice among motorcycle riders. and it still commands respect today. Unlike textile or mesh, leather can often survive a crash or slide; You don't have to replace it if you go down. As leather has great slide resistance. Of course, leather has that timeless style. But, just don't forget leather's weaknesses. Leather jackets will need a proper water cover for riding in rain, and they can get extremely hot in the summer time. 
The mesh jackets brings greater slide and abrasion resistance. Mesh jackets are very useful in hot summer months, when their huge mesh panels allows plenty of air flow inside the sweltering riders. Armors is commonly included in the shoulders, elbows & back of these jackets. Liners to protect against cold, wind and rain might also be included. Thus, a mesh jackets are very popular among riders.
For riders looking for all-season versatile jacket, then your hunt ends at the full textile jackets, They are also capable in providing best protection. Full textile jackets rely on a type of materials to defend rider against abrasion, impacts, and the weather. Textile jackets also feature water, wind and cold  liner with it. Most offer vents that can be opened in hot weather, though they do not flow as much air as a mesh jacket. Full textile jackets are the suitable for adventure tourer, highway riders, & hardcore commuters.
Hybrid jackets are now becoming more popular among the riders. These type of jackets are made with multiple type of fabrics. They are designed according to the riders safety & comfort. The designers have precisely positioned the specific fabrics as per their requirements. Currently, there are many Indian brands available in the market, who make such jackets. Rynox, BBG, Moto Torque, Zeus, etc, are some of them.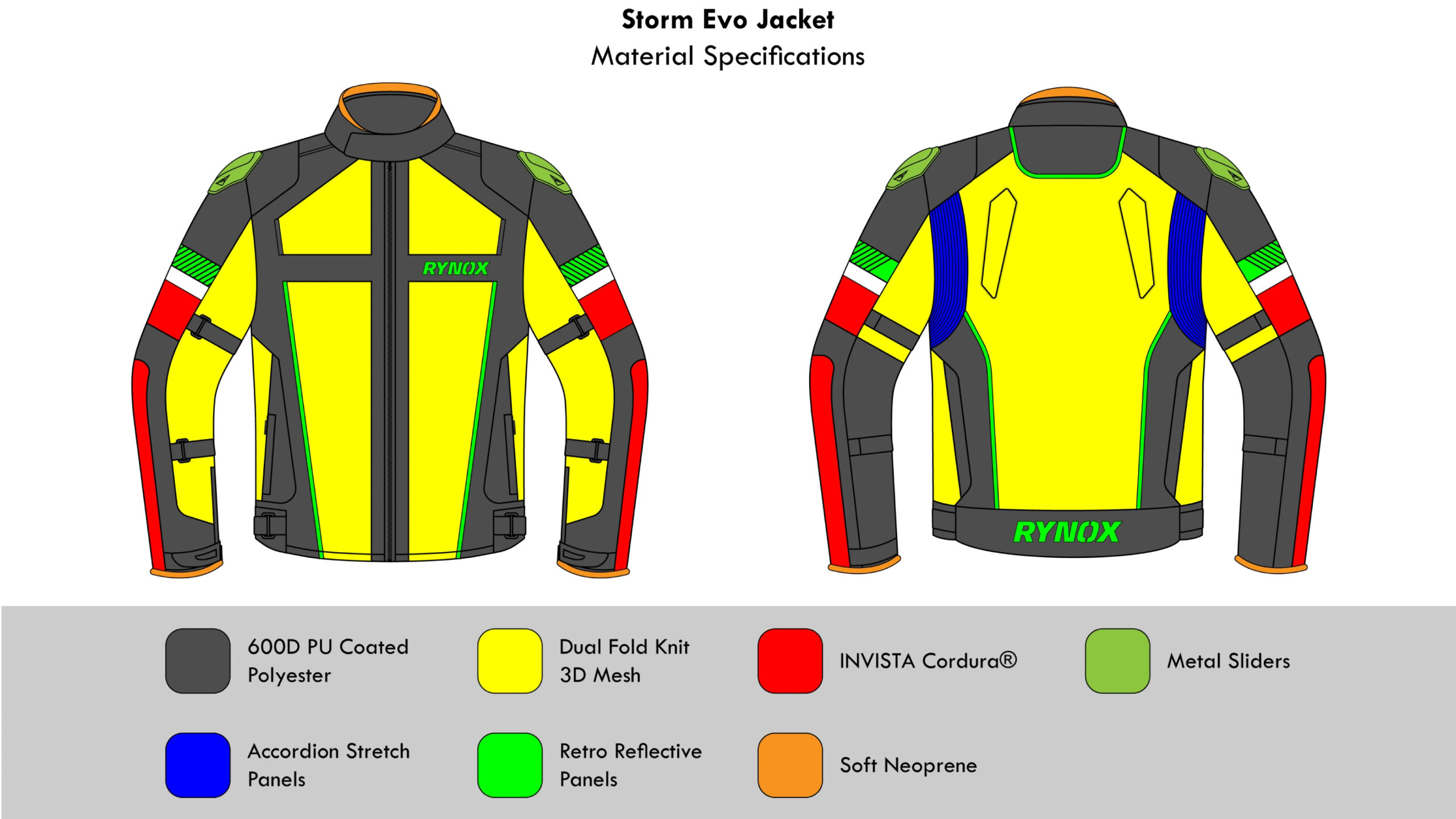 Riding Jacket & Pants Armours
Good protection is very important if you want to make your rides safer. For that, you must have a motorcycle jacket and motorcycle pants with proper protection. Personally, I recommend armor on elbows, shoulders, back, chest, and knees & hips. These are the areas that have the highest chance of impact during a crash. Most of the Motorcycle armor comes in two CE levels. You have to choose from level 1 or level 2 CE-rated motorcycle armor. 
What is CE Level 1 Armor and what does it mean?
CE Level 1 rated armor means that this type of armor can have a maximum transmitted force of 18 kN, and no single value shall exceed 24 kN.
What is CE Level 2 Armor and what does it mean?
CE Level 2 rated armor means that this type of armor can have a maximum transmitted force of only 9 kN, and no single value shall exceed 12 kN.
This means that CE Level 2 rated motorcycle armor will transmit less force than CE Level 1 rated armor. The armor will simply absorb more forces, reducing the chances of injury during a crash. ( kN = Kilonewton, an SI unit of force)
The last line says EN1621-1 which indicates that this is armor is tested for motorcycle riding, which can be used on the whole body (elbow, shoulder, knee)
How do these EN codes work?
There are certain codes that tell you the rating number of ceratin clothing. Let's take EN1621-2:2014 as an example. Every part of this code has its own meaning.
First of all, the numbers following EN are an indication of what the protection is rated for. In this example, 1621 indicates that the armor is rated for motorcycle use.
Next is, – 2 is going to tell us the area of protection. A -1 code indicates that the armor can be used pretty much anywhere on the body, except the back. A – 2 code indicates that the armor is meant to be used for the back.
Finally, 2014 refers to the year when the standard was implemented. These standards are being reviewed every few years so you'll want to buy a protector that meets the latest standards.
A rating that you will see less often is the EN340:2003 rating. The 340 is a general standard that is not specifically designed for sports or motorcycles. A 1621 rating always goes beyond a 340 since it's specifically designed for motorcycles.
Want to know more about the EN1621 codes? This is what the code tells you:
S – The armor is designed for the shoulder
E – The armor is designed for the elbow
H – The armor is designed for the hip
K – The armor is designed for the knee
K + L – The armor is designed for the Knee + Upper and Middle Tibia
L – The armor is designed for the front of the leg below a K protector (shin bone)
KP – The armor is designed for the knuckles
A – reduced coverage for specialized applications
B – normal coverage
B or FB – Full back protector
CB – Central back protector
L or LB – Lumbar protection only

A good quality Jacket has a price range of around INR.5000 to INR.20,000+. You can choose your jacket as per your requirement & budget. Most of the jackets feature zippers around the bottom of the back, enabling them to connect to with riding pants. This holds the jacket firmly in case of a crash. 
I have observed that many riders wear riding Jacket, but not a riding pant. Instead, they prefer wearing Regular denim jeans while riding. Normally, riding pants are the last piece of protective gear a rider invests in. But, jeans will not protect you in a motorcycle accident. Cotton has lesser abrasion resistance than of leather or good textile riding pants. 
If you fall off from the bike, there's a decent chance that a knee or hip will contact with the ground. Adding impact and slide protection to those areas is very important. In addition for added protection, riding pants offer other features like waterproofing, ventilation, and increased flexibility that your regular jeans might not have.
However, some riders also use knee guards instead of riding pants. But, knee guards are not much convenient during long rides.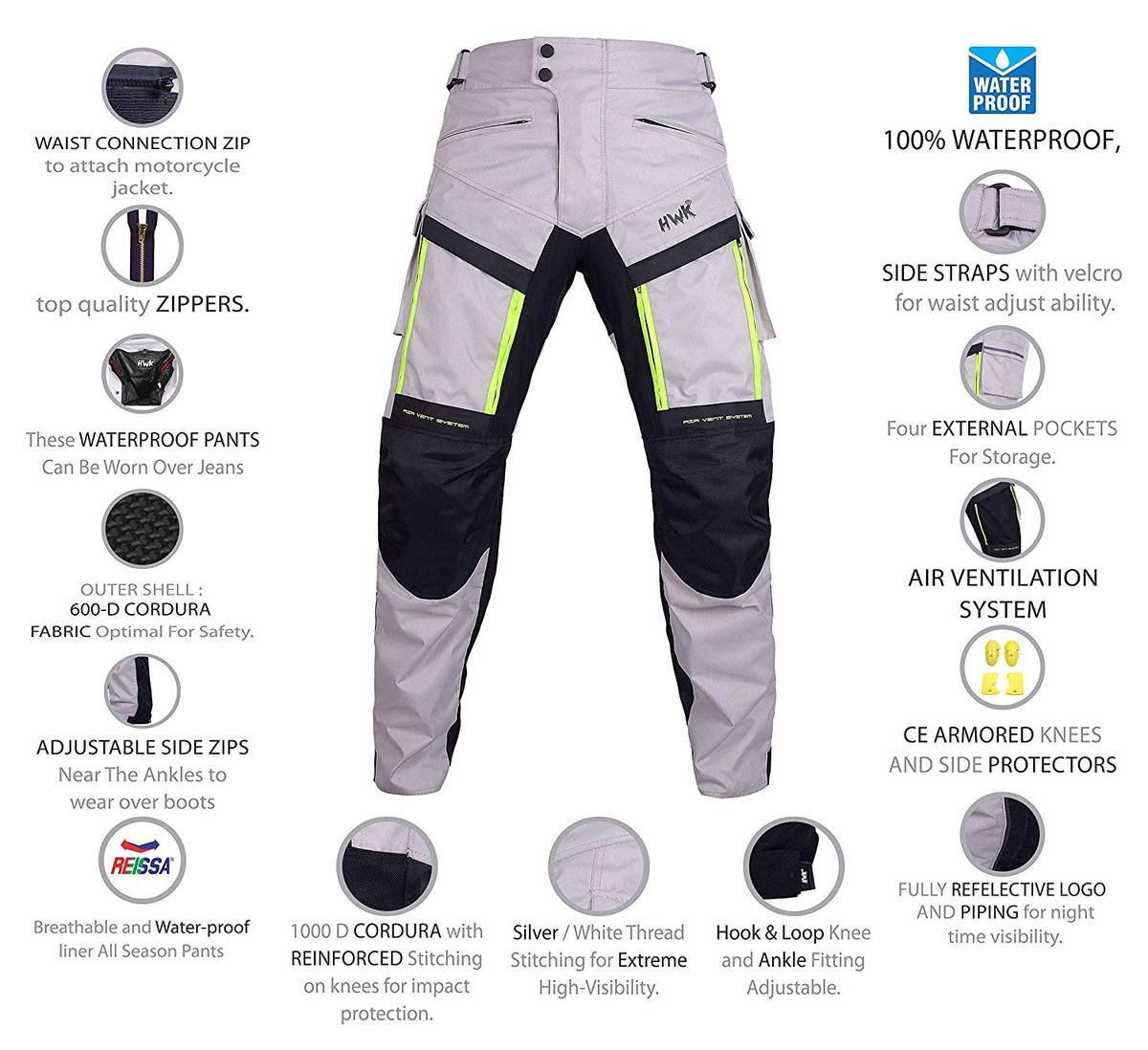 Currently, most of the riding pants are made from Cordura, which is a highly abrasion resistant type of nylon fabric. However, some manufactures has also made riding jeans.
Currently, riding jeans is the latest development in the moto industry, and they're becoming very popular among today's riders. The riding jeans come in with their casual style and hidden protection. Most riding jeans are designed for regular riding or just cruising around. Good riding jeans are equipped with knee armor and hip armor, added with some abrasion-resistant material like Kevlar. Riding jeans can get pretty hot during summer.
Riding Pants (Mesh & Textile)
Mesh pants are specifically designed for hot weather conditions. Like mesh jackets, these pants feature large panels of mesh to improve airflow, with far tougher materials in impact zones. Mesh Pants gives you superior comfort, with weatherproof and protection options, ideal for longer rides.
Textile pants provide all protection and features of Mesh Pants. Along with multi-seasonality, waterproofing, thermal liners, tough materials. these type of pants are capable in handling high-speed crashes, as well. Textile pants are also suitable for street, highway or off-road use.
Taking proper measurement
Beyond features, material and construction, the second most important part of riding pants is choosing the perfect size that fits you. Loose riding pants can't help you properly during a crash or slide, if the pads and armor shifts away from where you need them.
Fit and sizing vary between manufacturers and styles, so always make use of the manufacturers sizing chart before placing your order. Riding gears should generally fit snugly, but be comfortable in the riding position. 
So it's advisable to select your riding pants, by keeping all these points in mind. The Companies who manufacture Jackets, are similarly make pants too.
A good quality riding pant has a price range of around INR.6000 to INR.12,000+.
Human hands are extremely fragile. Our hands are the first things to touch down in any crash. This occurs due to reflex action performed by our body, which is beyond our control. Therefore, our riding gloves should be strong enough to withstand impacts. Proper riding gloves should cover your hands completely. They should be made up of strong, abrasion-resistant materials with durable stitching.  
A good quality gloves comes with Armor at the Scaphoid Bone, Knuckle, foam inserts at Fingertips and protectors at finger Joints. This is where your hands will get maximum impact during the crash. Make sure any glove you choose allows you to operate the controls on your bike and also your smartphone without any difficulty.
A good pair of riding gloves should have price range around INR.1500 to INR.5000+
In India, riding boots have been neglected since a very long time. As riding boots are quite expensive, most of the riders have been using Safety shoes or Woodland shoes as an alternative to riding boots. But, the safety shoes with steel toe caps are not suitable for motorcycle riding.
Safety shoes are designed for industrial environment. They would only protect your feet from something falling on them or you from slipping on a slippery surface. Woodland type shoes are designed to be tough while trekking or just looking stylish. Well, both these types are not designed for protecting your feet while they are moving at high speed.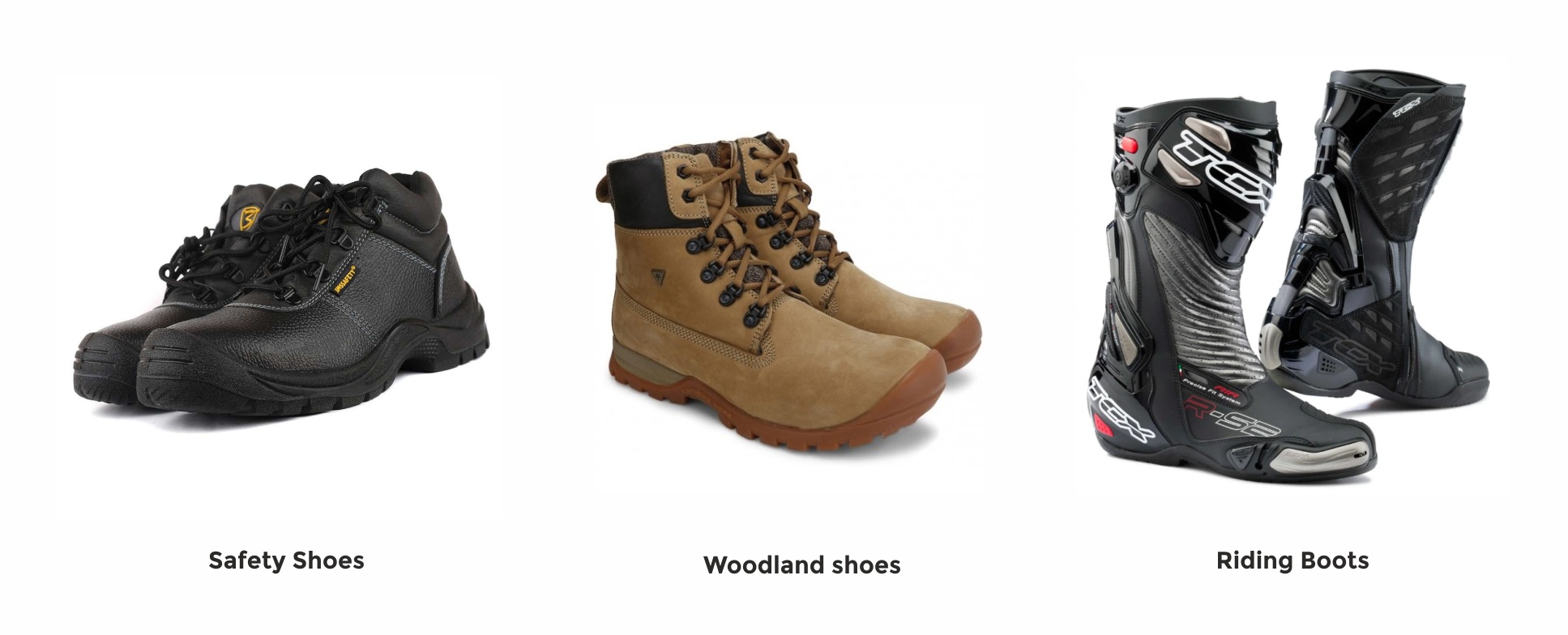 Why are Riding Boots Important?
Just think about how much your motorcycle's weight. You'll need to support that through your legs, ankles, and feet on slippery, uneven & unpredictable surfaces. For that reason alone, a tough pair of riding boots with oil-resistant, non-slip soles and good ankle & sheen support should be considered a minimum. 
During most of the motorcycle accidents, the toe and ankle area is the most affected. The main purpose of a riding boot is to protect your toes and ankles from twisting & breaking. Riding boots are designed to prevent ankle area from twisting and specific protection like toe sliders. Also almost all motorcycle riding boots would have a special padding at toe shiftier area, reducing the chances of shoe getting torn due to frequent gear shifting. Overall, Riding boots work very effectively during any unwanted situation.
Like any other riding gear, boots are designed with various purposes. Riding boots can be divided in to three major categories, namely Ankle Boots, Touring Boots & Sports Boots.
Ankle boots are very popular among city riders, who want to wear them whole day. These short boots are about ankle high and offer lesser protection as compared to full sized riding boots. But are sufficient for daily commuting. Ankle boots are usually quite trendy looking and you can wear them almost everywhere.
Touring boots are full length boots equipped with complete protection. These boots offer you the highest level of protection. Most injuries which happen during a crash, are when the foot is trapped in between bike & road. To handle such situations, ankle & sheen guard plays a major role. Touring boots also equipped with inner waterproof lining for water protection.
Sports boots are specially meant for just one purpose, Sports or race trek. Safety while riding high speed racing, is the main motto behind making of these boot. They offer the maximum safety but aren't really comfortable for whole day riding.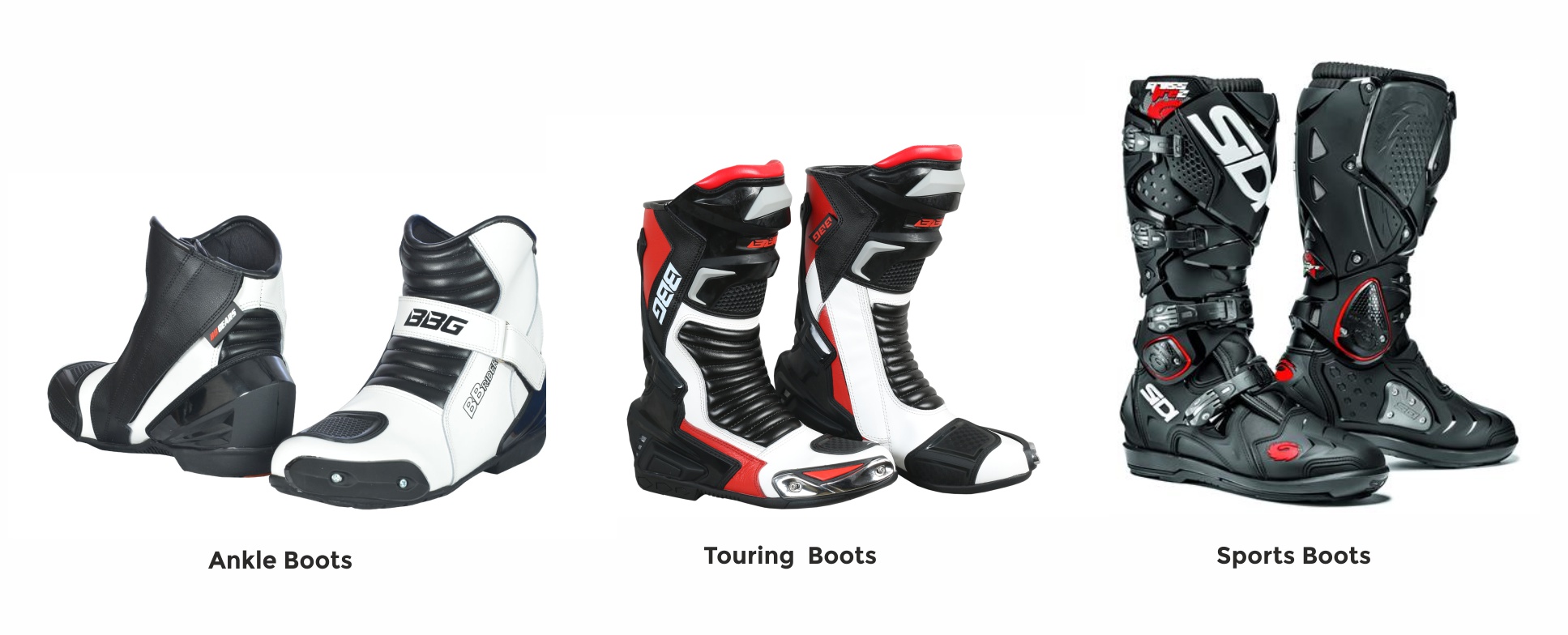 So it's always advisable to select your boots according to your riding style. There are many Indian brands are available in market right now, namely Raida, BBG, Orazo, Zeus, etc. A tough pair of riding boots price range starts from INR.3,800 to INR.10,000 onwards.
I have tried to cover almost all necessary information regarding Riding gears in this article. Apart from this, if you want any other information please feel to comment below or contact us.  
I have shared complete videos on topics mentioned above. to stay updated please subscribe to our YouTube channel. & if you like this article please share it with your family & friends.