Touring Accessories
for Bike
Touring Accessories for Bike
Why are bike touring accessories essential for Ladakh trip?
Traveling on a bike for such a long ride is not an ordinary task. Especially, when you are planning for a Leh-Ladakh road trip on your bike. In our previous articles, we have covered almost all the major topics like- Complete Ladakh trip planning, essential riding gears, the Ladakh permit process, etc. In this article, we will discuss essential touring accessories for bikes. 
Essential touring accessories play a major role in the succession of your road trip. And if you are planning for a Ladakh ride, then touring accessories are a must for every bike.
Here I am sharing my ideas about, how to get your bike ready for Ladakh, or any other long trips. As I have mentioned in my Ladakh blog, I have chosen the Bajaj Dominar 400 BS6 as my touring companion for this Ladakh trip. It doesn't mean that I will be only sharing touring accessories ideas, which will compatible with Dominar only. In fact, this article will also help you to choose accessories according to your bike's model.
Which touring accessories will you need for Ladakh trip?
All riders have their own style or pattern of riding. Hence, we must choose touring accessories according to our style & comfort. But, there are some gears, which are commonly applicable to all bikes, especially touring bikes. In this section, we will be focusing on the most sensitive areas of your bike, where extra protection is a must. Yes, your guess is right, it's the Engine. For that, we use a heavy-duty Crash Guard. 
Another important aspect is to carry extra luggage for long rides. To fulfill this need, a tough saddle stays with a top rack is required. When you are cruising on highways at the speed of 100-120 km/h, your worst enemy is wind. To protect yourself from wind blast, you a need taller & stronger windshield. 
Apart from these, there are some other accessories which you may need on your bike. Like, such Jaw-Grip Mobile holder cum charger, Knuckle guards, Hazard light flasher, etc. If you want, you can also install additional LED Auxiliary lights. However, the Dominar's LED headlights are quite powerful. But, still, if you want, you can add them too.
For the Luggage part, basically, you will need three types of storage. The first, is the Saddle Bags, or you can also use a Tail bag, the second is the Top box & third is the Tank bag.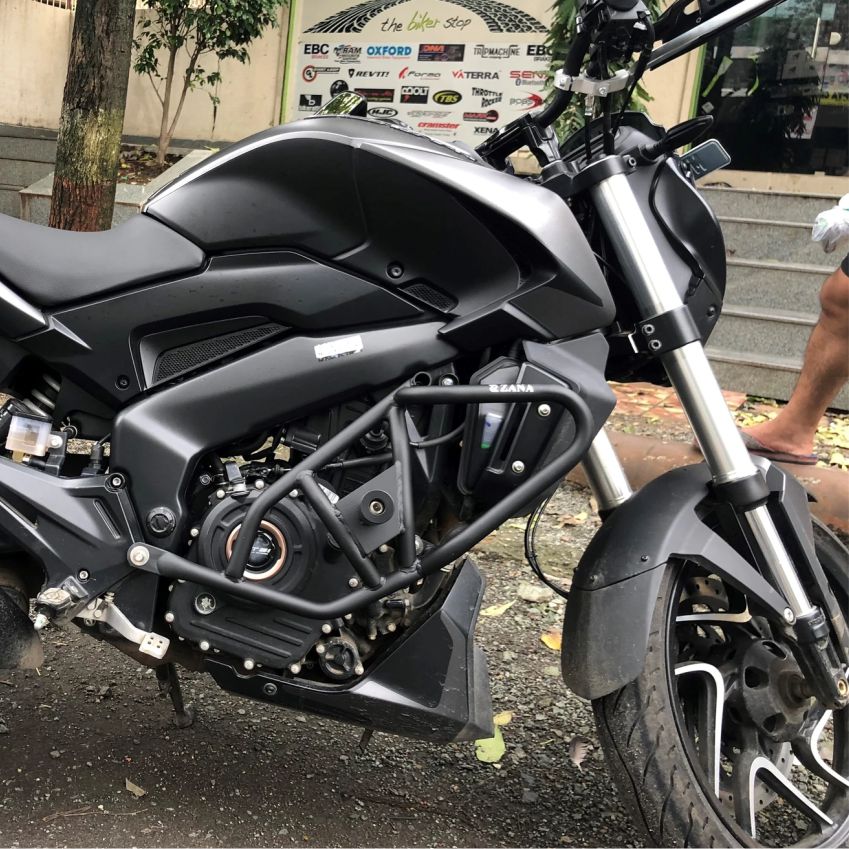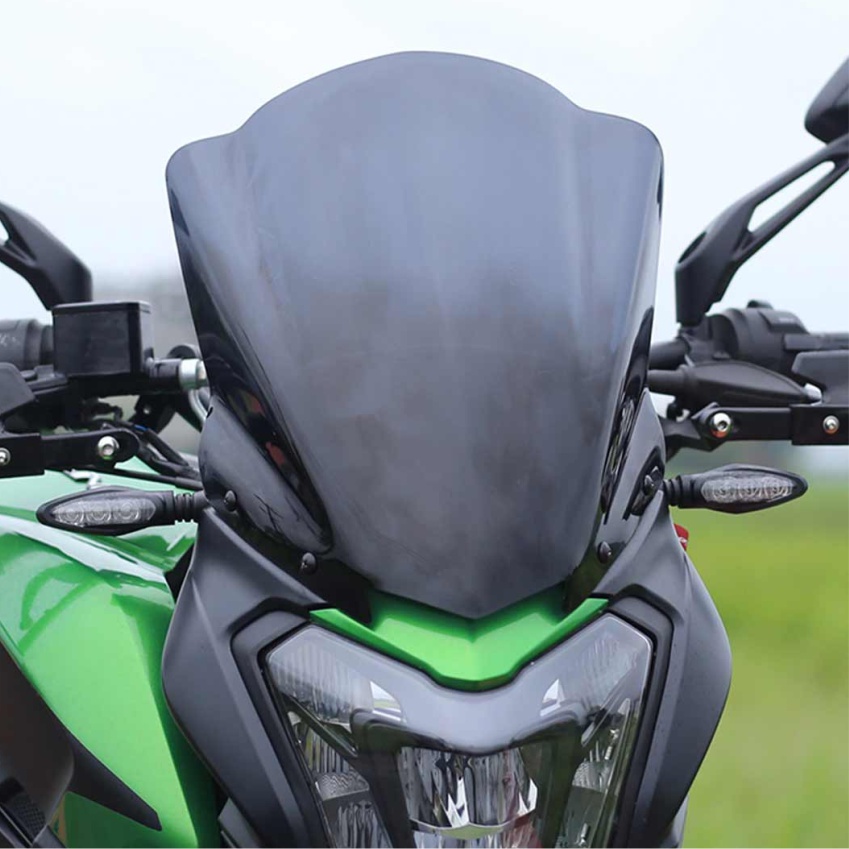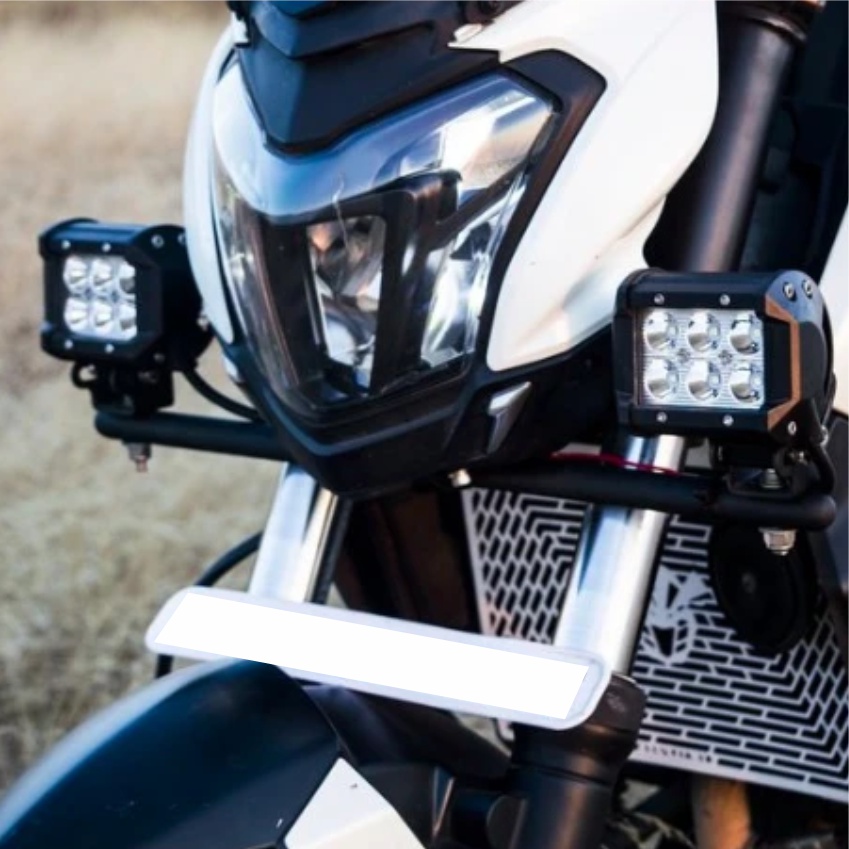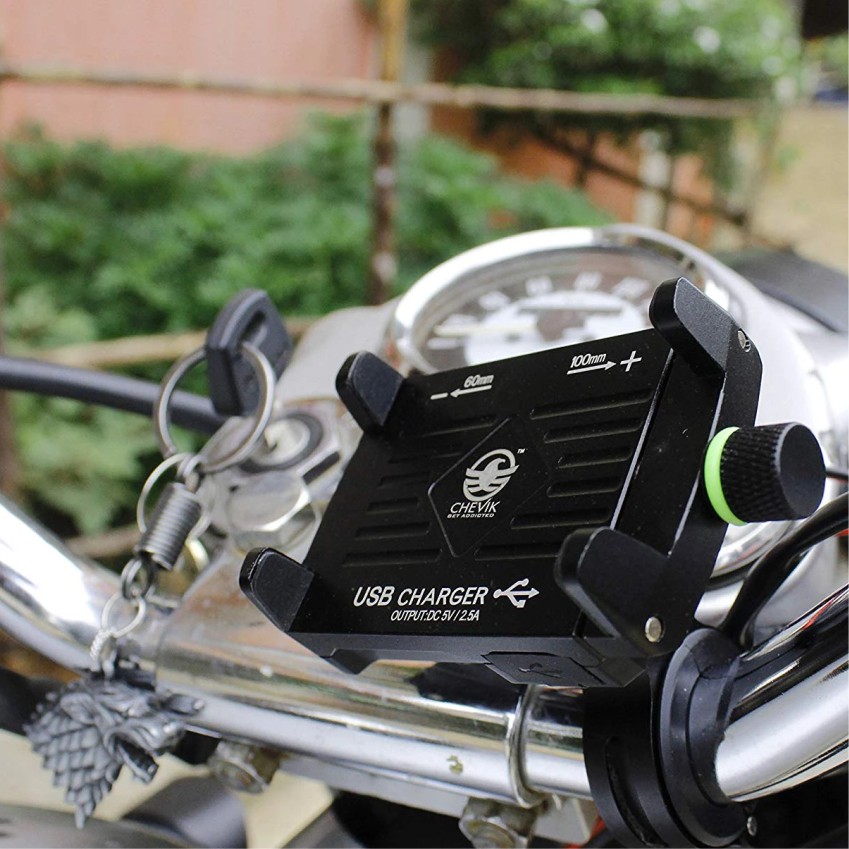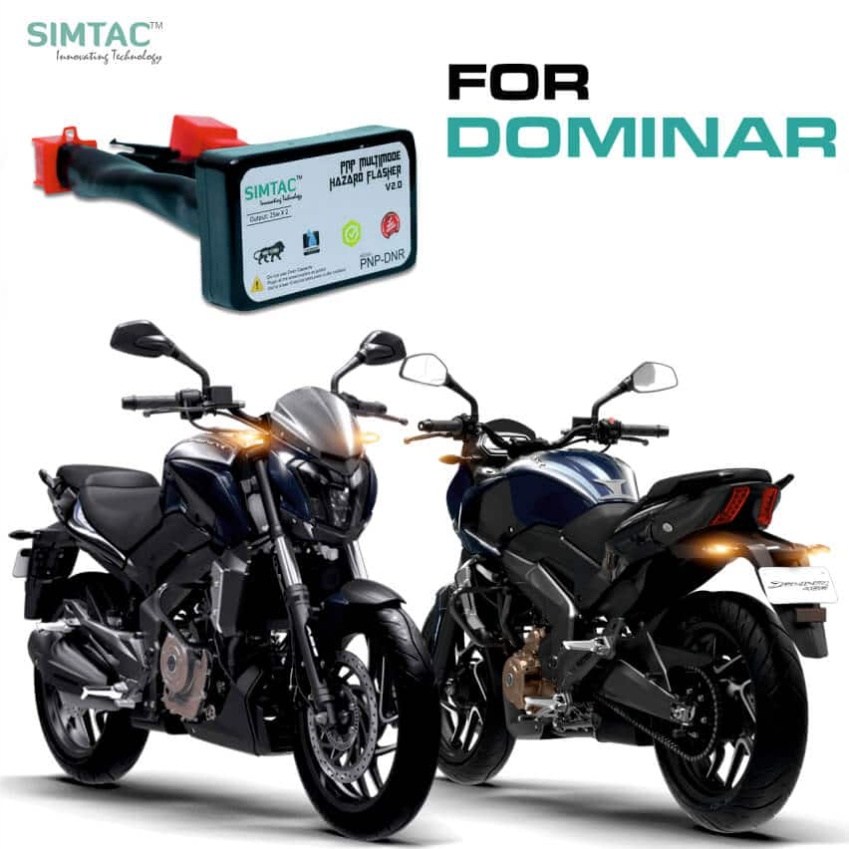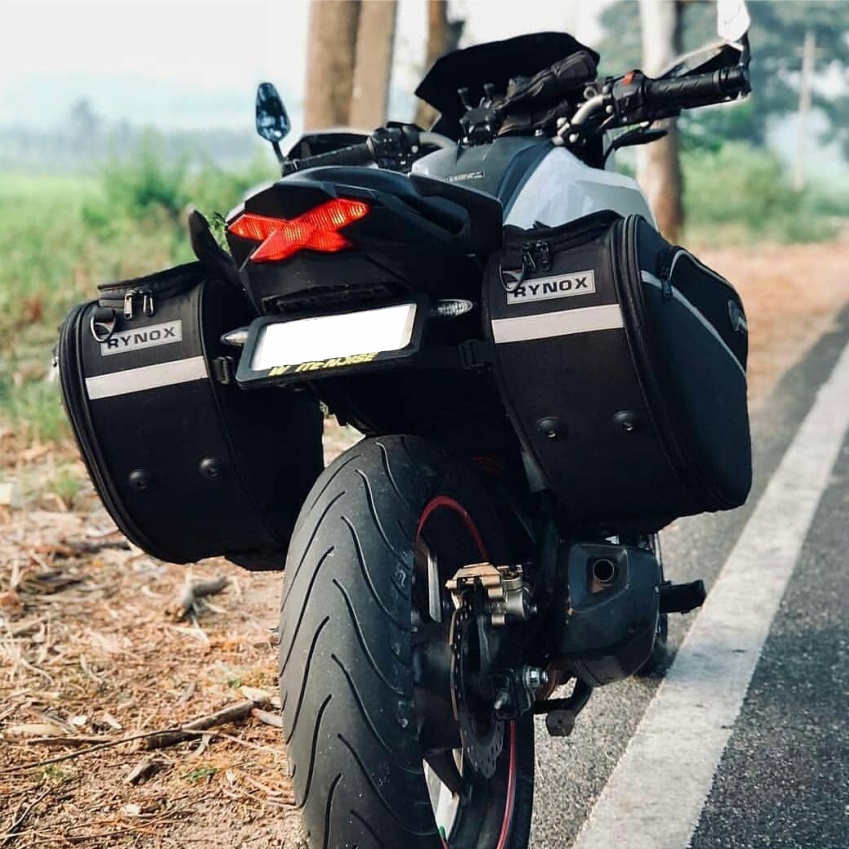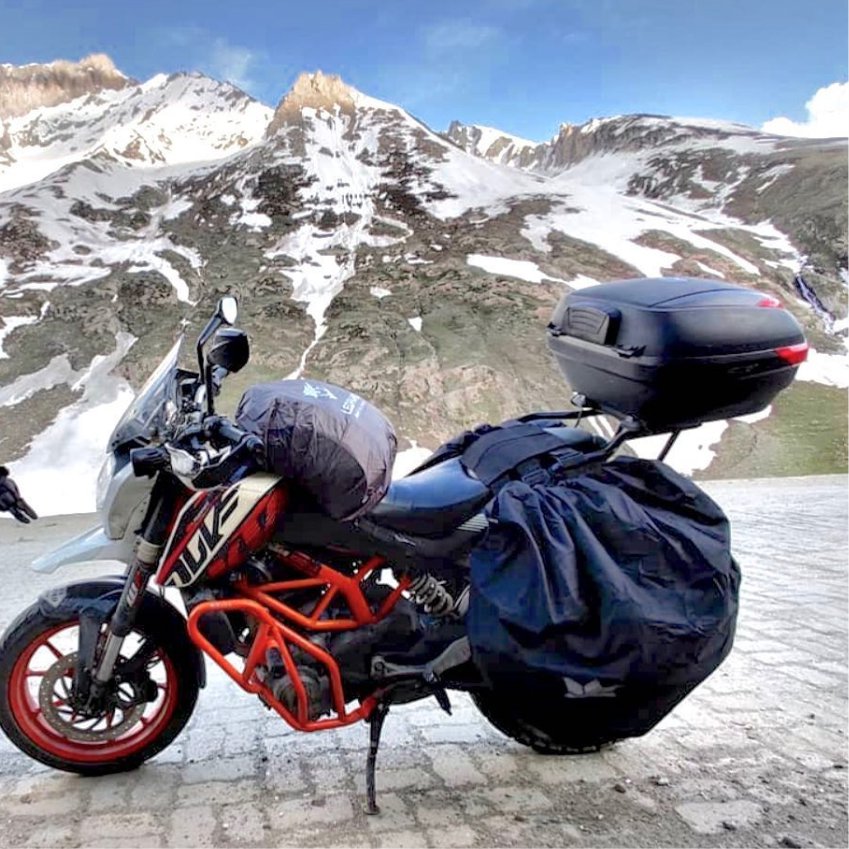 Engine Guard or Crash Guard
Engine guard is a very essential accessory for your bike. Almost all bikes come with preinstalled Crash Guards, you can also call them leg guards. Because, in case of impact, it will not only protect your engine but also guard your legs against injury. The company-fitted crash guards are good for city commuting. But, when you are on the highway, with your luggage, and at high speed, you need a professional custom-made crash guard.
There are multiple types of crash guards available for motorcycles. These cage-type crash guards are made from heavy-duty metal pipes and equipped with frame sliders. A roller-shape part fits on both sides of the guard. They provide a higher degree of protection to the engine, radiator, and tank flaps along with the rider. 
Currently, there are many manufacturers in the market, who make this type of crash guard. Some of them are ZANA, LLUVIA, SVS, HYPERRIDER, CARBON RACING, SAHYADRI, etc.
If you want to know how to install a Crash Guard on your bike please watch this video.


If you are going on a long ride, then you will have to carry more luggage with you. And to solve this problem, you need to install Saddle stay & top rack on your bike. Saddle stay is basically designed to hold your luggage or saddle bags, and keep them away from the tires. Most of the riders, also install a Top rack along with a saddle stay. Saddle stay & Top racks are made up of Powder Coated, fabricated MS pipes. These are very strong, they not only hold your luggage but also provide tail protection to the bike too. Even a pillion can also sit easily while these are installed.
Top Rack is used for mounting the Top box on your bike. Most of the top boxes are made from molded fiber material & some of them are from Aluminium. However, you can also mount aluminum panniers on saddle stays too.
Saddle stay & Top rack are also made by the same manufacturers like-  ZANA, LLUVIA, HYPERRIDER, CARBON RACING, SAHYADRI, etc.  
Normally, many riders, ride the bike without a windshield. But, you should consider getting one installed on your bike. Here are just a few of the reasons, that why will you need a motorcycle windshield on your bike.
Having a windshield on your bike is going to help protect you from a lot of things. Like, wind blast, dirt, asphalt, and tar are just some of the common things that may hit you up when you are out riding. Thus, it's advisable to install a taller windshield on your bike. Especially, when you are riding on a highway. Because, when you have a windshield on your bike your ride will be much more comfortable. A taller windshield will help to cut through the wind that hits you in the face all the time while riding. The absence of a taller windshield, also makes it difficult for you to steer your bike effectively. Hence, it makes your ride uncomfortable and even dangerous.
Right now, there are many options available for windshields in the market. You just need to find a size, which is perfect for you and your bike. The windshields are made from different types of strong and sturdy materials. And are available in different thicknesses. To give you the protection you deserve the most. Once you choose it, you can also install it on your bike by yourself.
CARBON RACING, LLUVIA, HYPERRIDER, and AUTOLOGUE DESIGN are some of the most popular brands available in the Indian market.
If you want to know how to install a Windshield on your bike please watch this video. 

Knuckle guards or Handguards are primarily used on dirt bikes or off-road bikes. To keep branches away from hitting your fingers while you are riding on trails. Secondly, the knuckle guards also keep the windblast off your hands, especially, during cold weather.
Mostly, all dual sports & adventure bikes come with company-fitted knuckle guards. But, if your bike doesn't have preinstalled guards on it, then you can also buy new ones from the market. Before buying handguards you must consider some important points. Like never buy cheap plastic or fiber knuckle guards. Always buy Handguards with a metal frame, which will not only guard your hands but also protects the bike's brake & clutch levers, in case of impact.
Currently, there are many local & international brands available in the market like KTM, Barkbusters, Acerbic, etc. 
If you want to know how to install a Knuckle Guard on your bike please watch this video.

Auxiliary LED Lights for bikes
Auxiliary LED lights are very useful during night rides. Because riding a bike with the stock headlight is quite troublesome sometimes. Especially, during the nighttime, on a foggy road, and the worst of all, wet roads. However, not every rider needs them. If you are a city rider, riding mostly during the day, then you may not need them. But, if you ride in off-road terrain or going on a long ride, you must need more visibility at the front, and on both sides of your bike. For that, you need bright Aux lights at the front of your bike. So, you can see clearly and ride better.
Generally, these lights are available in four categories. Floods, Spots, Hyperspots, and Hybrids. These types are named on the basis of the light pattern they project. A Flood beam projects an extremely large circle of light of 80° or 120°. This is good for filling in the gaps that the low beam of the motorcycle might not be able to fill. The Spot beam gives great confidence to the rider. It projects a 10-15° beam that projects at a good distance. The Hyperspot is the specialist among all the auxiliary lights. It casts a very narrow beam of 5° or 6° These lights project an extremely bright and well-defined circular light beam. A Hybrid light is a mixture of multiple LEDs set up with a combination of spot and flood lenses to produce a beam that balances the distance and width of the beam. These are perhaps the most useful of the lights among all.
Nowadays, there are many cheap unbranded LED lights available in the market. But, the light beam is poorly directed and less durable. There are many Chinese brands also available like Gold Runway or Auxbeam etc. Apart from this, many big brands are available in India too. Like, Rigid Industries, Denali Electronics, Baja Designs, Cyclops, etc.

Mobile holder cum charger for bikes
In the last few years, Mobile holders cum chargers have become the necessity of every rider. Initially, the RAM mount was very popular among bike riders. However, as time passed, the latest invention changed the entire scenario of bike mobile chargers. Now, the latest chargers come with many advanced features like fast charging, waterproof charging port, firm grip, etc.
Jaw-grip Mobile holders cum chargers are very trending right now. These holders are made up of a strong, sturdy, metal, which offers a fantastic grip for your mobile phones. The unique screw-type tightening and loosening system makes mounting and removing your mobile phones very easy. There are many popular brands available in Indian markets right now like, SIMTAC, Motowolf, Bobo, GrandPitstop, etc.
Just keep one thing in your mind, don't keep your mobile phone always mounted on these holders while riding. Because in long run your mobile phone's camera may get damaged due to bike's vibrations.
Hazard light flasher for bikes
Hazard light flashers are very necessary on highways or during low visibility situations. Some of the bikes are equipped with preinstalled hazard lights, but if you don't have them on your bike, then you can install them separately. There are many companies that manufacture this module which you can directly install in your bike without tempering wires. 
I have personally reviewed the SIMTAC brand module. This module allows you to blink all 4 indicators at the same time in the best multiple flashing styles [i.e. quick flash, slow flash, police patrolling]which makes you visible from a long distance. Thus, the hazard lights enhance your presence on the road leading you to a safer zone, especially in unfavorable conditions i.e. fog, storm, rain, etc.
If you want to know how to install a Knuckle Guard on your bike please watch this video.

When it comes to motorcycle luggage, saddlebags are cost-effective & a durable option. Saddle bags are also lightweight and easy to remove, so you can carry them with you when you're not on road. Soft saddlebags come in many shapes and sizes to suit your bike and packing style. Most of the saddlebags are made out of very durable fabric, with waterproof covers. 
Every saddlebag maker has a unique mounting system. If possible try fitting the bags on your bike before your buy them. So that, you can see if the fastening system works and assure yourself that they won't contact the pipes, or touch any moving parts. The Fastening mechanisms of saddle stay should be detachable. This way, you can just unclip them and walk away, and effortlessly reinstall them in the morning without much effort.
Top-loading bags are more convenient, and ideally, the whole top panel will zip open. Side-loading bags provide the easiest access to goods down below, but things often spill out. There are some smaller compartments on the sides or tops of saddlebags which are quite useful, & also allow you to organize items that you might need on the go. Other useful features, are handles, loops for bungee cords, side pouches to carry a water bottle or small petrol can, reflective linings for night visibility, etc. 
There are several brands available in the market right now, in the price range of Rs.2,000 – 4,000 onwards. Some of the popular brands are, RYNOX, GUARDIAN GEARS, DIRTSACK, GODS, VENOM, ZEUS, SOLACE, etc. However, if you have a bigger budget and want some more durable luggage system on your bike. Then Panniers are the best options for you. Mostly Panniers are made up of Aluminium sheets. It is more durable & waterproof than fabric saddle bags. But, Panniers are costlier than Saddlebags. The panniers have a price range that starts from around Rs.15,000 onwards.
If you are riding solo, then Tail bags are the best option for you. The advantage of a Tail bag is you don't even need to install a saddle to stay on your bike. Tail bags are similar to Saddlebags, they are made up of similar fabric and come with a large storage capacity. You can mount them on the pillion seat. 
Unlike most saddlebags, motorcycle tail bags are often expandable. You can keep them small and compact or make them larger if you need more storage. Many high-quality bags are also waterproof or come with rain covers. The best motorcycle tail bags are compatible with all types of bikes. They feature mounting systems that are compatible with almost all bikes and models and are also easy to install and remove. The price of the Tail bags is also similar to Saddlebags. And almost the same manufacturers make them, who make the saddle bags.

Top Box is a very versatile accessory for bikes or scooters. Top boxes create less wind drag than tank bags or panniers. So, if you're going on a short trip, this is ideal for carrying your luggage. The top box doesn't add extra width to your bike. They are waterproof & provide good protection to fragile items like laptops, cameras, etc. The top box comes with a detachable & lockable mechanism. The pillion can also use it as a backrest.
To mount a Top Box on your bike,  you first need to install a Top Rack on your bike. Almost all Top boxes, come with a mounting plate. Thus, you can attach your Top box to it. Top boxes are available in many types & sizes. The most popular top boxes are made up of fiber material. However, many riders are buying Metal top boxes, that match their panniers. Top boxes are available in various sizes, from 25 ltr. to 45 ltr. You can also switch them as per your need. (If you are using the same brand's Top boxes) 
There are many brands available in the market right now like, STUDDS, ASG,  GIVI, SHAD, etc.
The Tank bag is yet another essential accessory to carry your motorcycle luggage. They are available in various shapes, sizes, and materials, with a number of different mounting options. Before choosing your Tank bag, you must consider the shape & type of your fuel tank first. Your Tank bag should be a bit smaller than your fuel tank. Most of the tank bags come with magnetic pads for mounting, which hold the bag on your metal tank. But, in case your bike has a plastic cover on a fuel tank like Dominar 400 then you should select your tank bag accordingly.
There are some basic features that almost all tank bags share, like rain covers, carry handles, cable ports for power or headset cords, reflective linings, and expansion zippers. You can also carry your tank bags like a backpack. Most tank bags are made up of durable, water-resistant black nylon on the exterior. Almost all Tank bags come with a rain cover.
Tank bags are ideal to store important items, which you would want to keep handy. Like Wallet, Gloves, camera, Power bank, USB Cable Charger, Map, Important documents, etc. Usually, the top cover of a Tank bag is transparent, thus you can use it to keep your mobile phone while using GPS. Some popular brands which sell tank bags are, RYNOX, GUARDIAN GEARS, DIRTSACK, SOLACE, GODS, VENOM, ZEUS GIVI, etc. The price of a Tank Bag starts from Rs.2,500 onwards.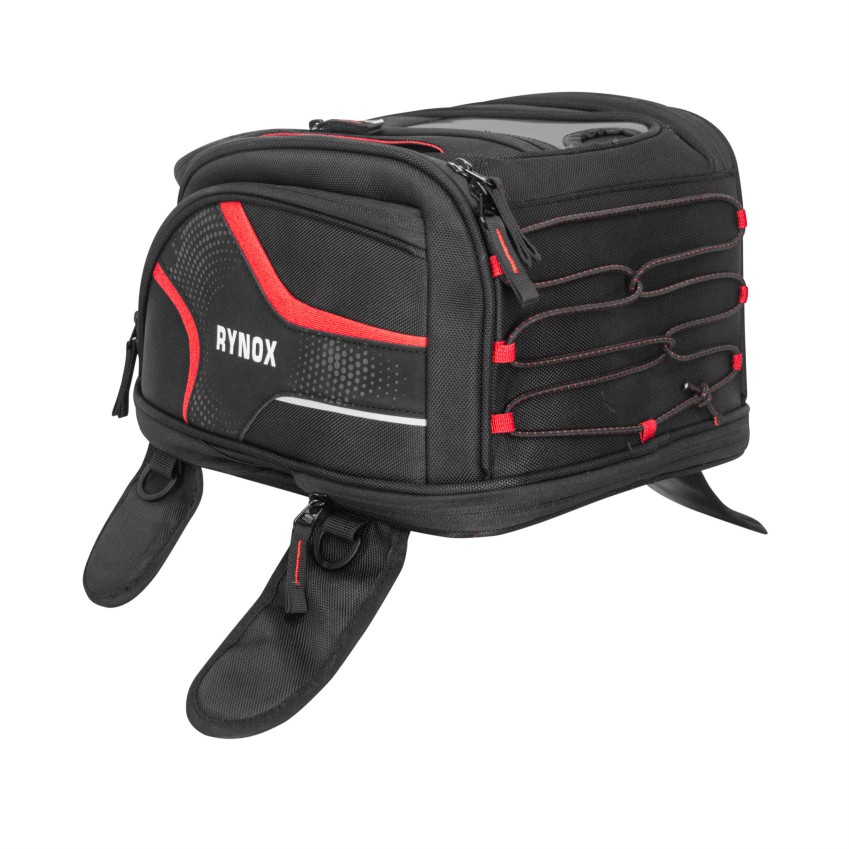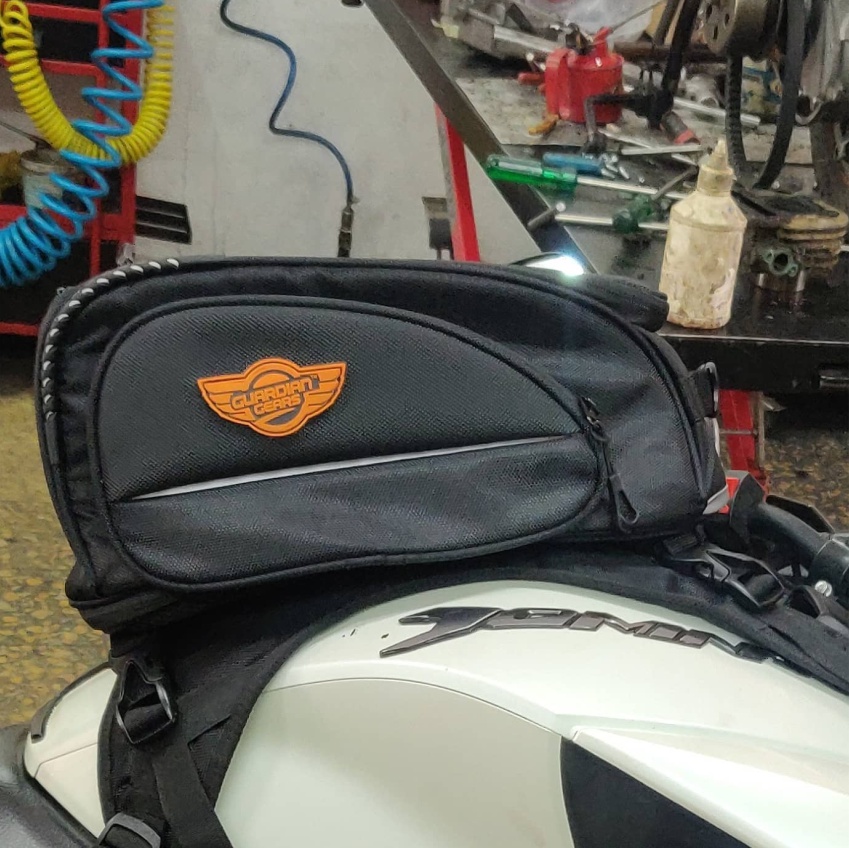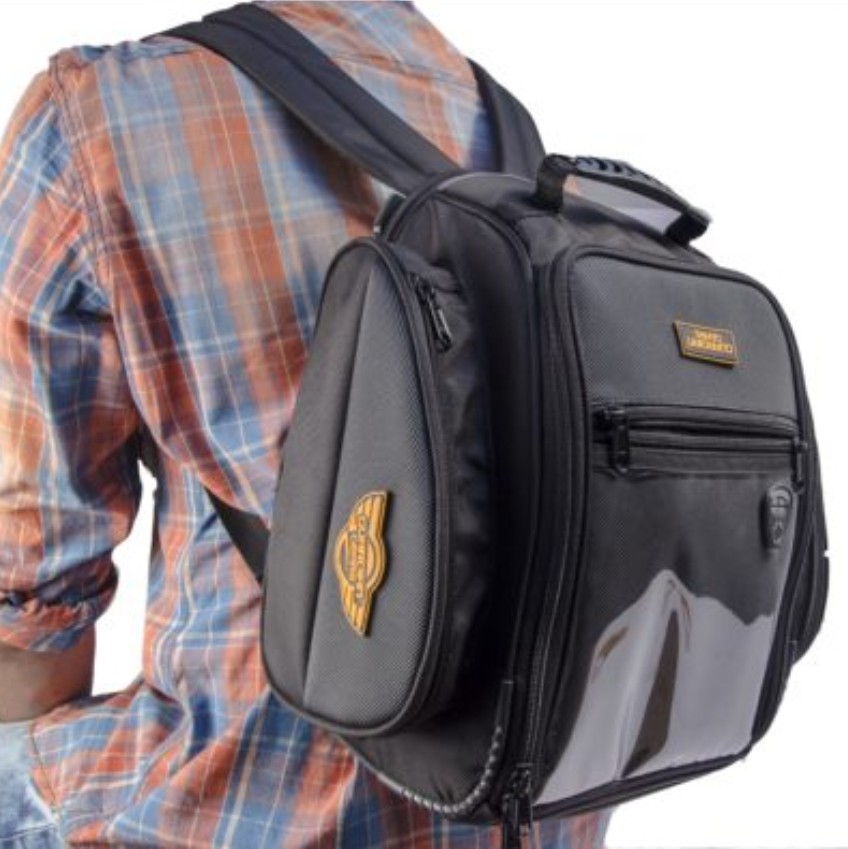 Before choosing your Touring accessories for a bike trip you must consider your bike & riding style first. In short, just select as per your requirement & budget. In the future, I will also share separate reviews of every product personally used by me. 
Anti Theft Security system
One more important I forget to mention is that you should also install a reliable Anti Theft Security system for your bike with an ultra-loud siren & intelligent sensors. I personally recommend Made in India products, which is AUTOCOP Bike Security System. This System comes with very advance hi-tech features. This will protract your expensive bike from theft or damage.  To know more about it please click here.
But Unfortunately, this device is not available anywhere even not on the official website, so after long research, I found one device on Amazon, which is quite innovative & cost-effective too. actually, this device is not for motorcycles but I installed it on my bike & it was working perfectly. to know more you can check out my video on youtube.
By writing this article, I have just tried to share my personal opinion. Apart from this if you have any queries please feel free to comment below or contact us.
In future, I will be sharing complete videos on topics mentioned above. to stay updated please subscribe to our YouTube channel. & if you like this article please share it with your family & friends.