Planning for Dwarka Darshan?
In this Blog we are taking you for Dwarka Darshan Trip. Dwarka, the Kingdom of  Lord Krishna. It is one of the Chardhams in India.
Today, we are in Somnath and leaving for Dwarka Trip by road. To read more about our Somnath Trip Click here.
Dwarka is 235 km away from Somnath, which will take around 5-6 hours to reach. But, we will also be visiting Madhavpura Beach. Located on the Scenic coastal route heading towards Dwarka.
Dwarka is an ancient city located on a bank of the Gomti River. However, the actual city of Dwarka is now under the sea. The Archaeological Survey of India has revealed many artifacts during on-shore & off-shore explorations.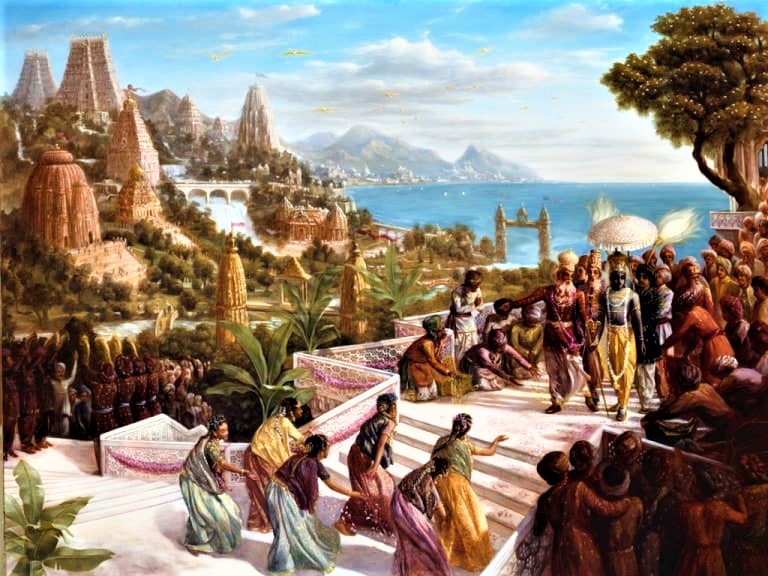 Dwarka Darshan trip :

Journey from Somnath to Dwarka
We started our journey for Dwarka trip at around 10:00 am. The road was really very nice, within an hour we landed in the famous Somnath – Porbunder Coastal Road. I must say, that once you should drive on this road. After covering some distance we saw many tourists gathered in one place. There were many food outlets available here. So, we decided to halt there and spend some time on the beach.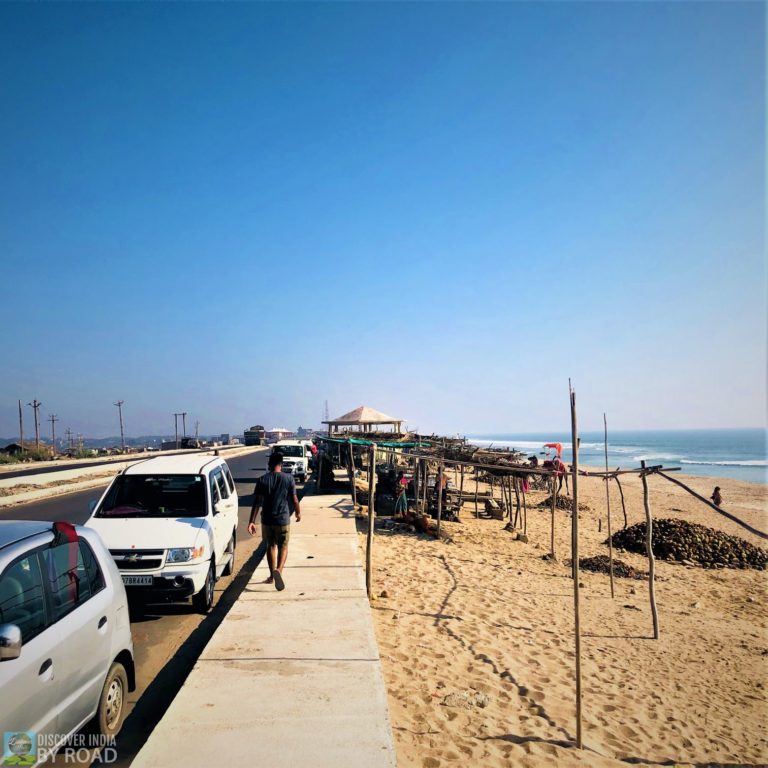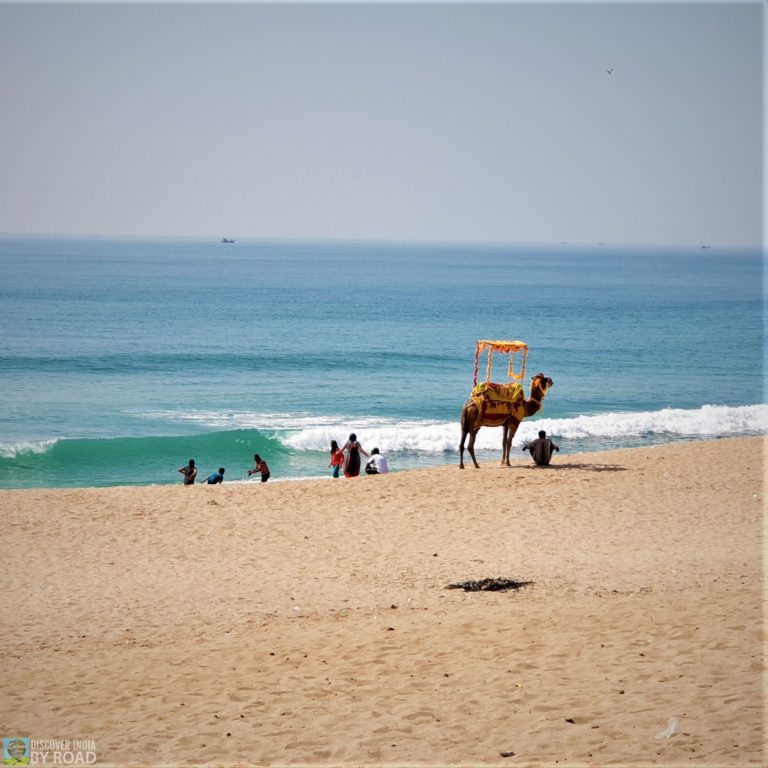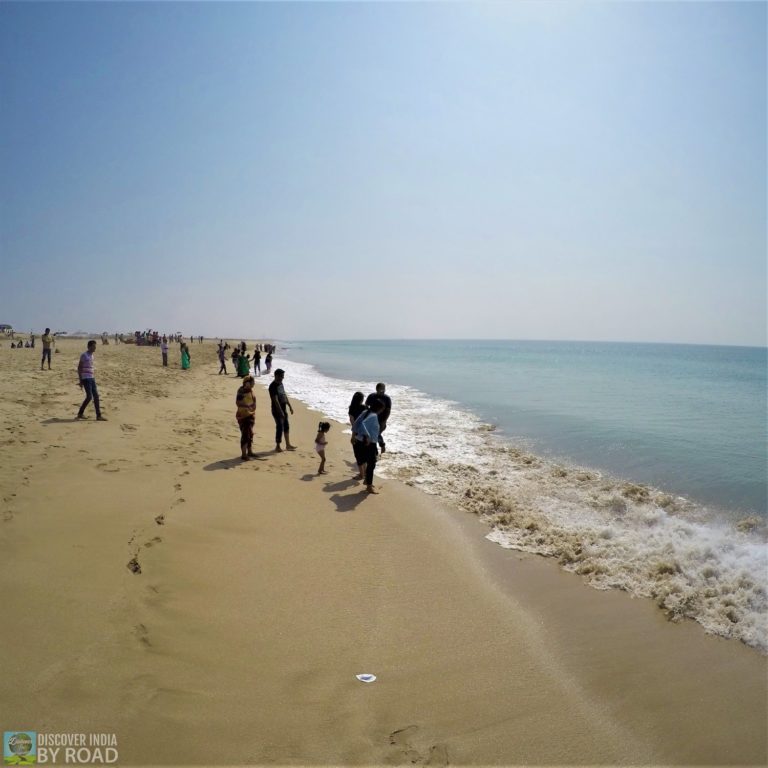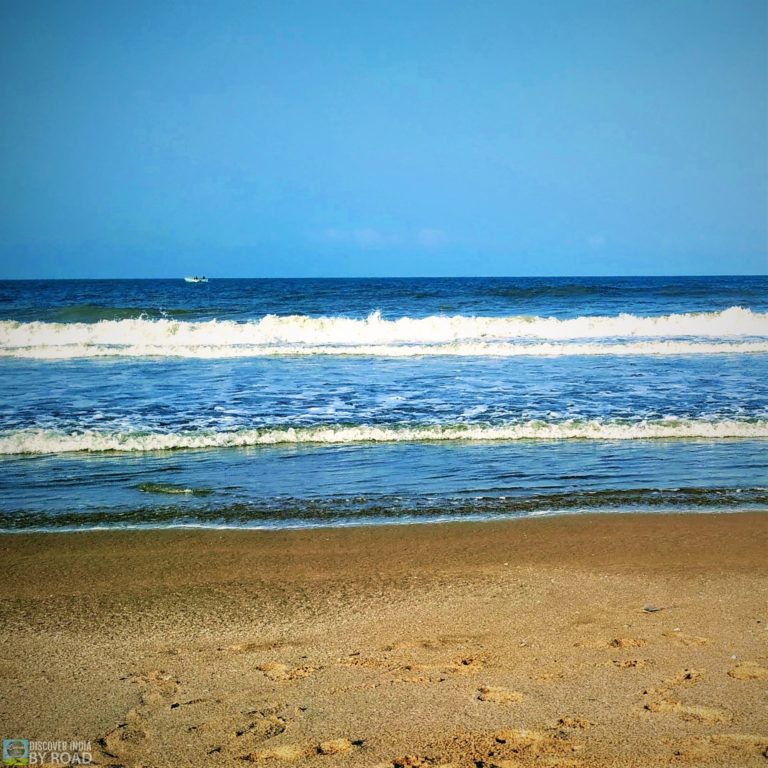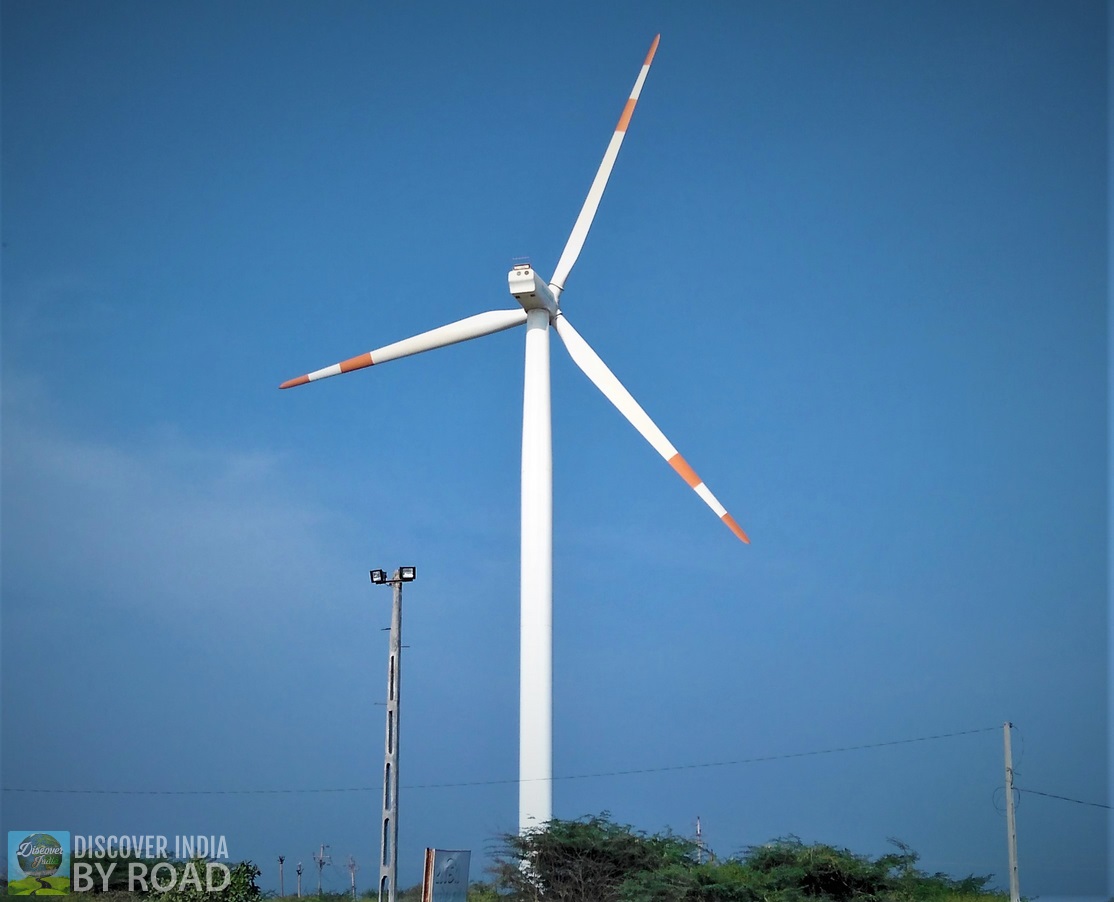 Madhavpura Beach was worth a visit. The Golden Sand & Clear Blue Water gives you a feeling like you are on some foreign location. But, you should be careful too, because the waves are very strong here. You can also enjoy a camel ride here.
We drank some coconut water and continued our further journey. After some distance the coastal road ended. However, the road was still very scenic. As we covered more distance we saw many Wind Turbines on both sides of the road.
The Wind Turbines were in very large numbers. As a result, Gujarat has almost zero power cuts.
Now we were passing by Porbandar, the birthplace of Mahatma Gandhi. However, we will not be visiting Porbandar due to lack of time. 
After having lunch now we were heading towards Dwarka. One the way to Dwarka we also wanted to visit one more place called Harshad Mata, a place famous for the Harsiddhi Mata temple. (One more temple of Harsiddhi Mata is located in Ujjain) However, the main temple situated on the Koyla Dungar. But, due to lack of time, we couldn't visit there.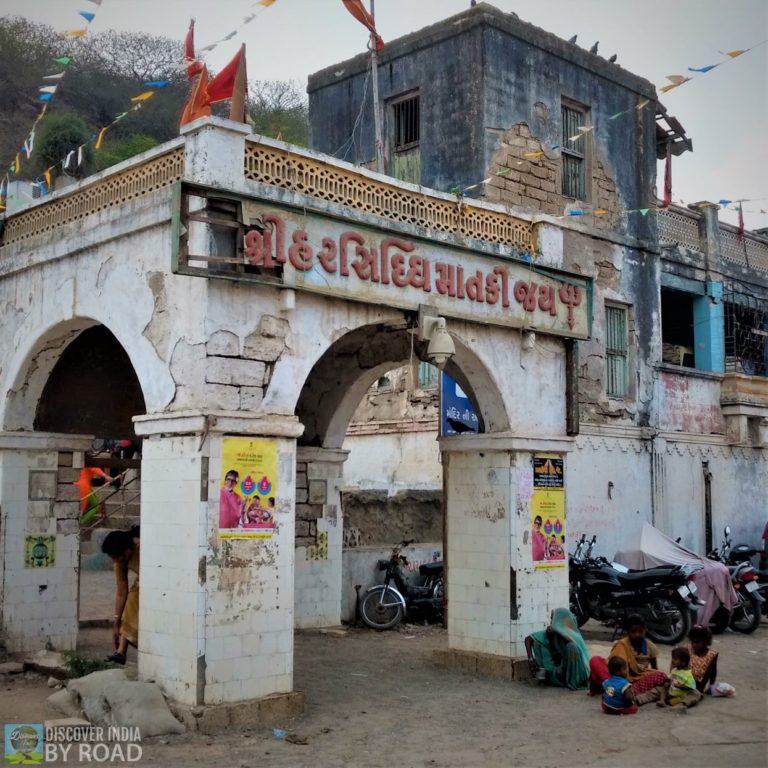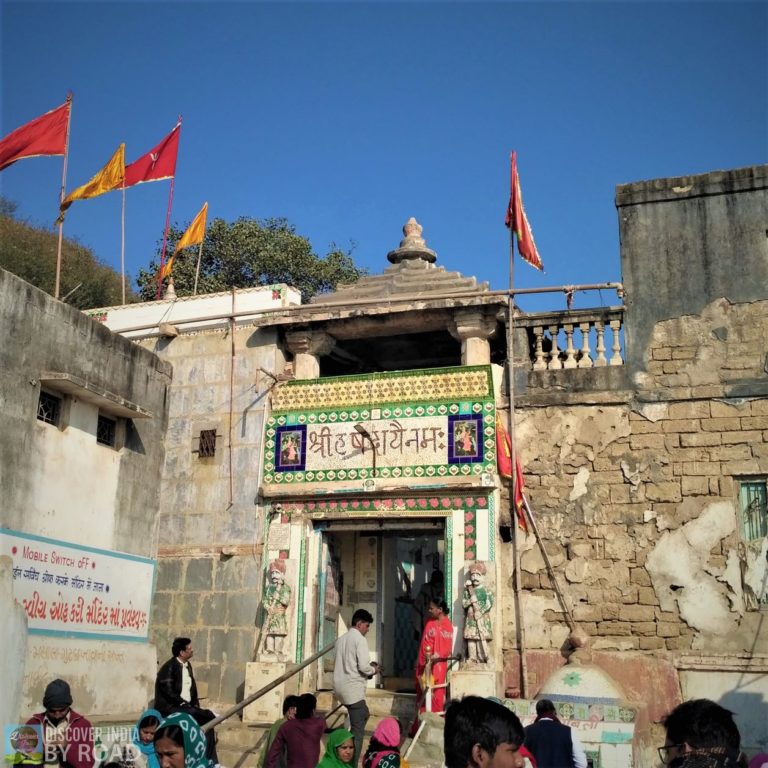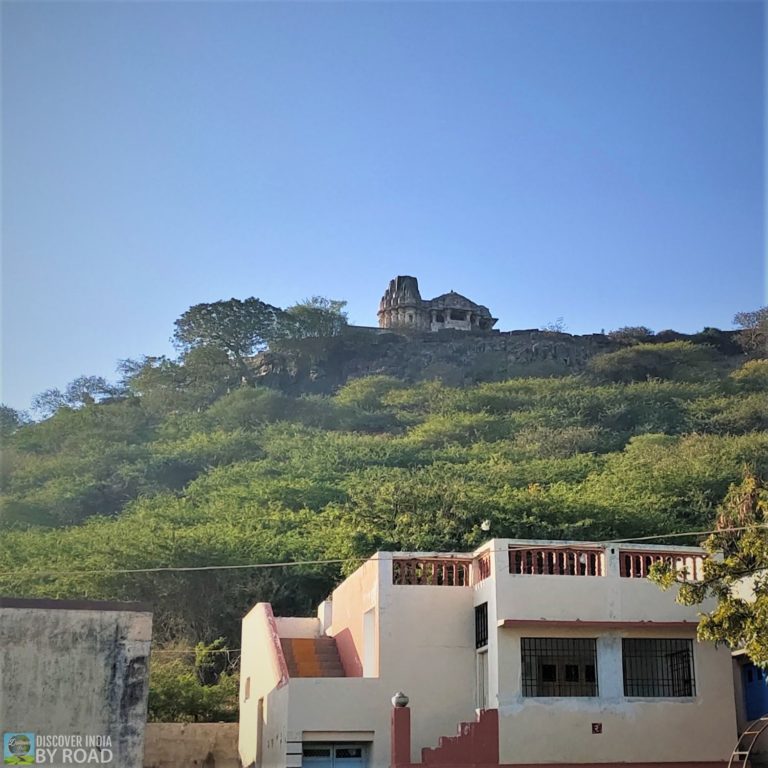 Dwarka trip :

Arrived Dwarka
We entered Dwarka by around 5:30 pm. However, you can reach Dwarka by air, rail, and road from the rest of India. To reach here by Air, Jamnagar is the nearest domestic airport. And Dwarka railway station is on the broad gauge railway line between Ahmedabad to Okha.
There are plenty of Hotels, Guesthouses & Dharamshalas situated here. So, you don't need to worry about your stay. But, try to book your room in advance, if you are visiting during the Holidays. We are going to stay at our caste's Guest House.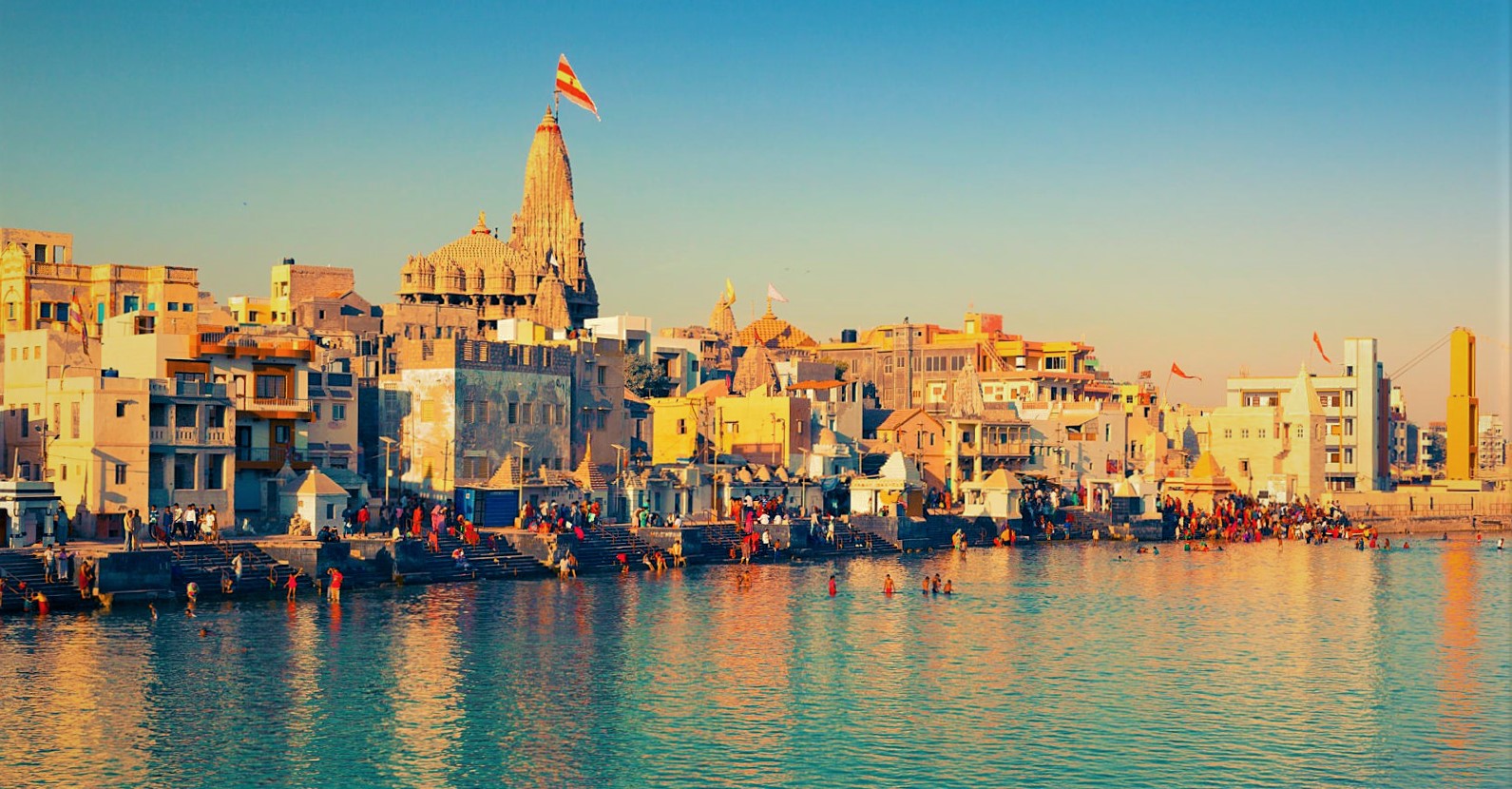 After the Check-in, we had some rest in our room. In the evening, we decided to visit the main temple of Dwarikadhish. The temple is at a walking distance from our Guest House. Here you can't carry your Mobile, Camera, Hand Bags, etc. So keep all these things in a locker room situated near the gate. It was not much crowded inside the temple. Consequently, we had darshan of Shri Dwarikadhish peacefully.
The temple is located on the bank of river Gomti. The temple committee has recently renovated the Gomti Ghat, for the convenience of tourists. From here you can enjoy the Magnificat Sunset with a Lighthouse in the foreground.
In the evening, we like to relax. For instance, we enjoyed watching Sunset at Gomti Ghat. We had our dinner at a Kathiyawadi Dhaba near SBI Bank. After that, we ended the day in our room.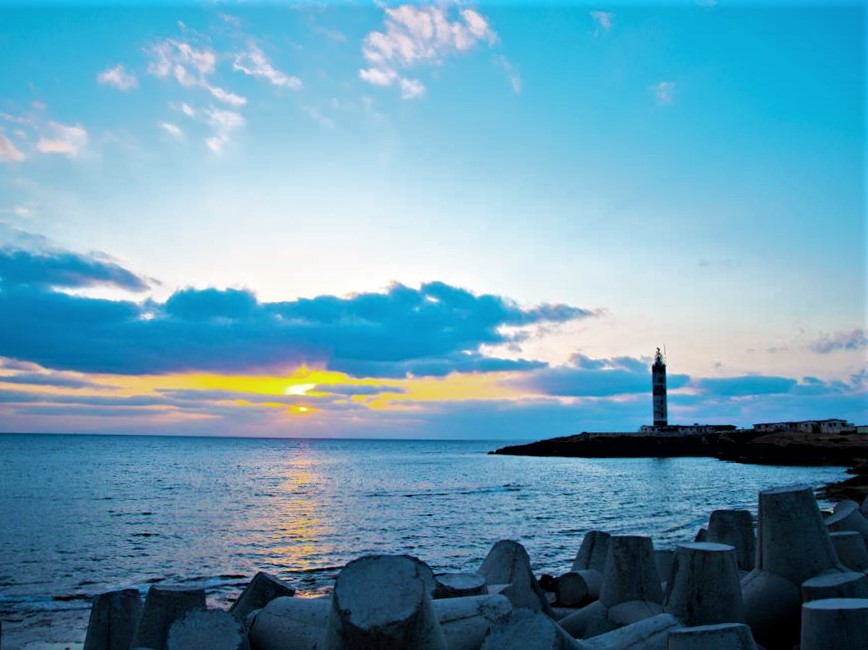 Dwarka trip :

Next day in Dwarka
Today we had planned to visit some more places in & around Dwarka. In other words, today we are going to have lots of fun. We had our morning breakfast of Hot Puri-Bhaji at a small stall just opposite to our Guesthouse. After that, we decided to visit the Dwarikadhish temple again. Meanwhile, returning from the temple we inquired about the Dwarka trip sightseeing by bus.  Actually, first, we planned to visit by our car. But, then we finalized to do sightseeing by local bus. The Dwarka Municipal Corporation were the organizers of these tours.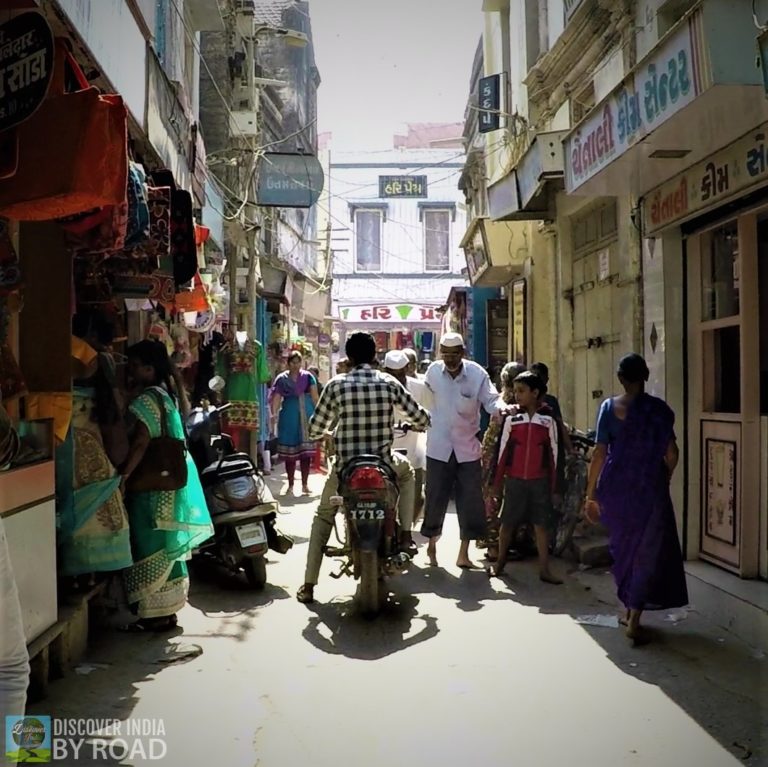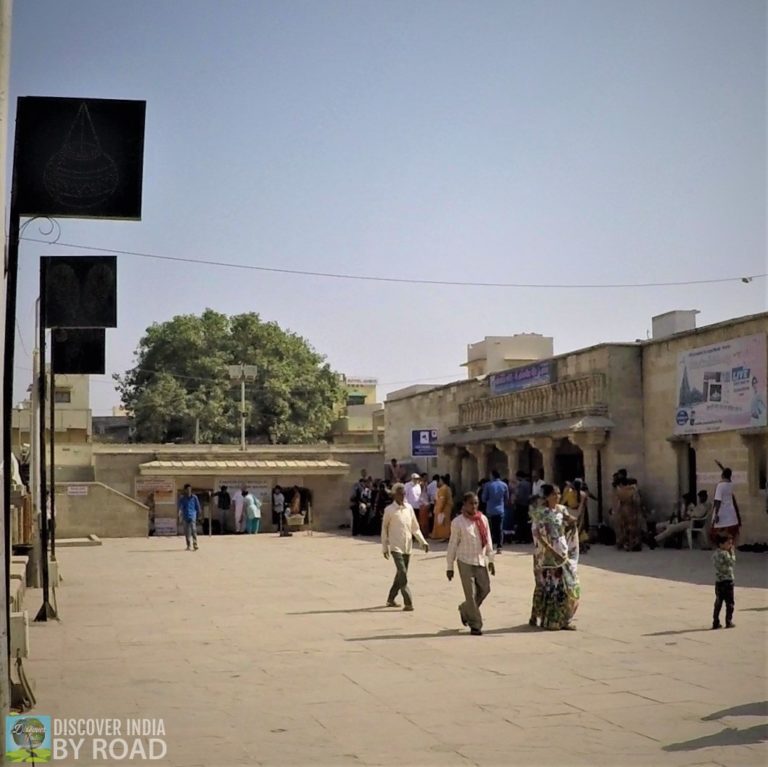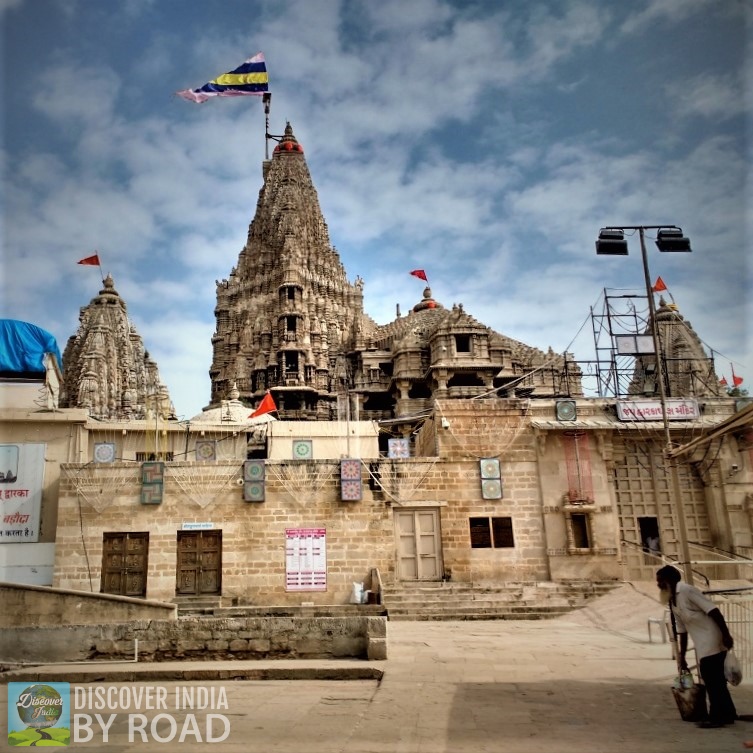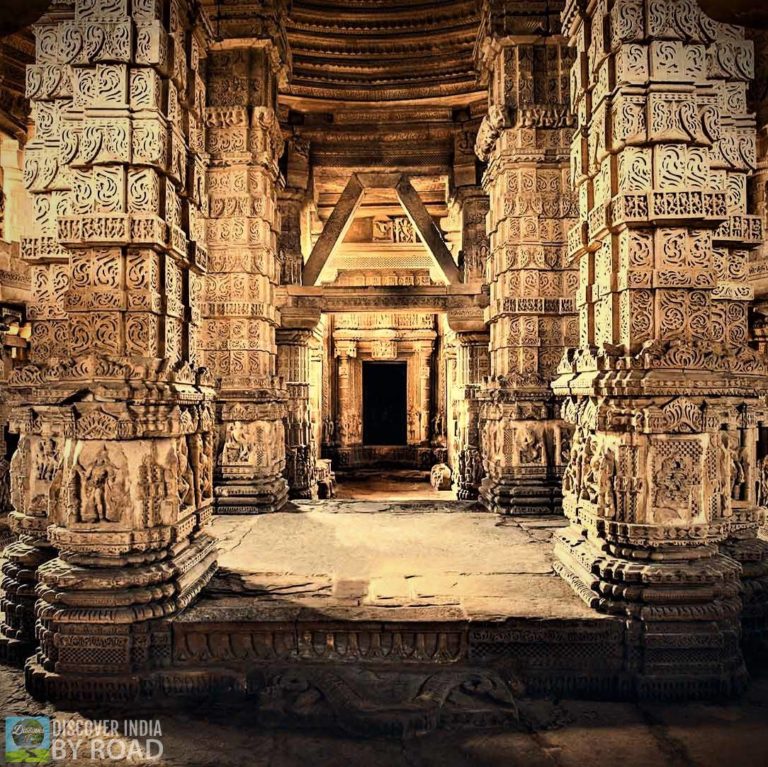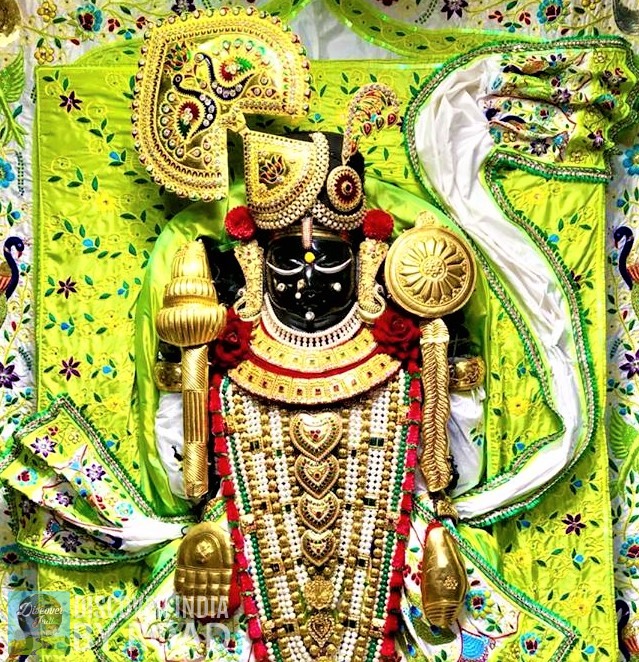 However, you can also hire a car, but we prefer the bus. Because they also provide a guide, and charges are also reasonable. We paid Rs.180 for adults & Rs.140 for children. (prices are subject to change) There are two trips in a day, the first one at 8:00 am & the second one at 2:00 pm. We booked our seats in the 2:00 pm ride. 
We had some spare time before lunch. Therefore, we visited the Gomti ghat again to click some more pics. During the day, this place looked very different. After having lunch, we arrived at the Dwarka darshan office, opposite the State Bank of India.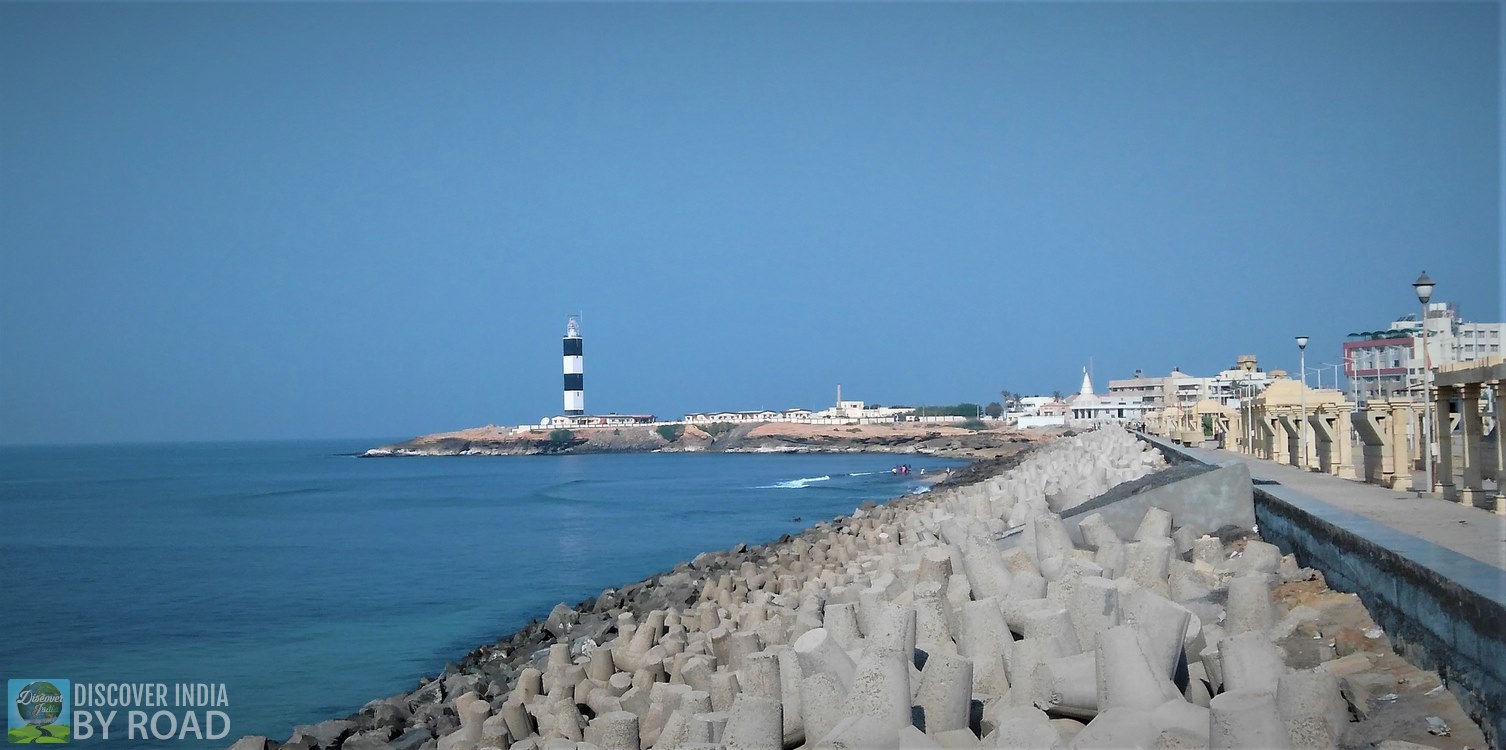 Dwarka trip :

Dwarka Sightseeing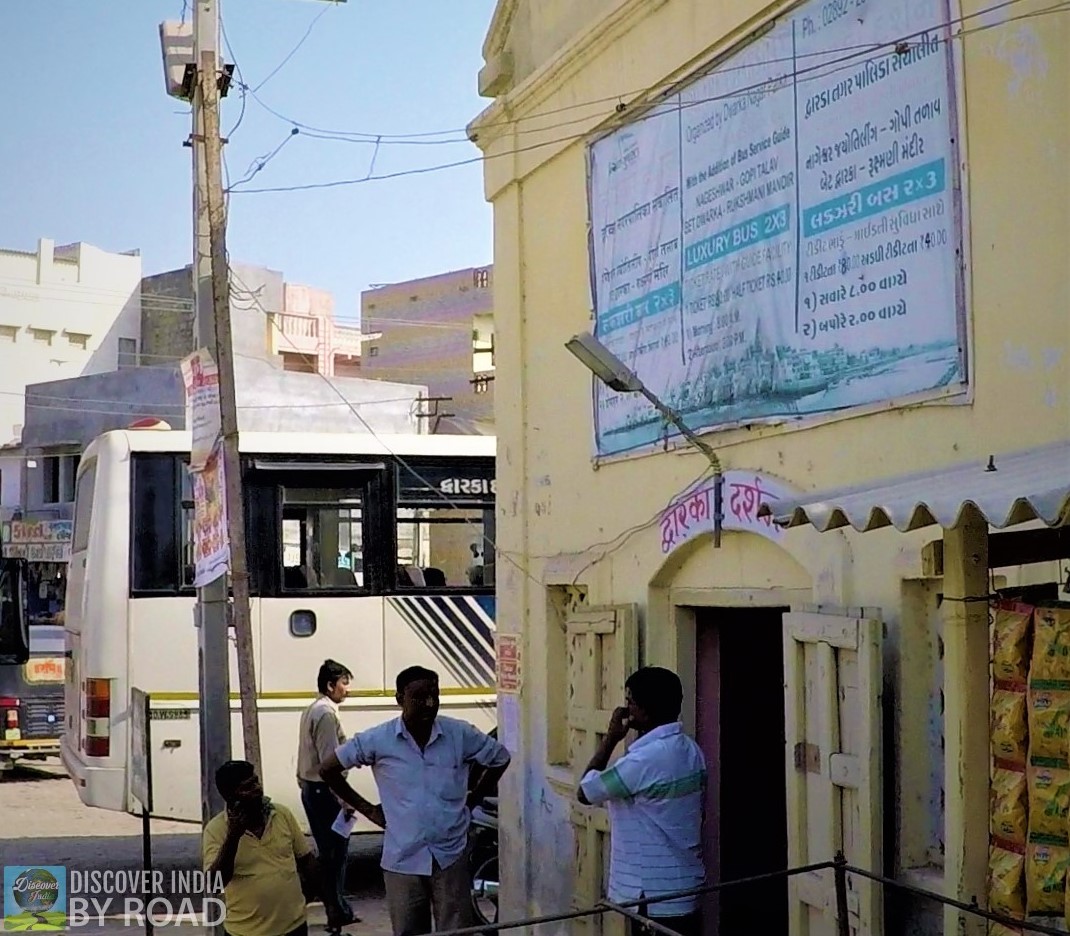 We reached at the Dwarka darshan office at around 1:30 pm. In this entire Dwarka trip, we are going to visit some major tourist attractions. Such as, the Rukmini Mandir, Nageshwar Jyotirlinga, Gopi Talav, Bet Dwarka etc.

The bus departed on time. Firstly, we were going to visit Rukmini Mandir. This temple is 2 km away from the main temple of Shri Dwarikadhish. Devi Rukmini is one of the wives of Lord Krishna and an incarnation of Goddess Lakshmi.
Unfortunately, that day the guide was not able to come along with us. However, it was not an big issue; we had Google Baba with us. Before we reached the locations, we gathered all information about them. But, you don't need to worry about it, as I am sharing all the details with you.
So just sit back & enjoy the Dwarka trip with us.

Within a few minutes, we reached the main temple. The temple is about more than 2500 years old. But, it has been reconstructed over time. However, it's said that the present temple was built during the 12th century.
As we entered the temple, we could see a huge crowd gathered at the entrance, waiting for the darshan. But , now we were pushed into the crowd too. Here, a Pujari, holding a mic in his hand was telling a story about the history of this temple.
Once, Shri Krishna and his wife Rukmini went to sage Durvasa, to invite him for a dinner. He agreed, but with one condition, that they have to pull his chariot instead of any animal. They both agreed but, while pulling the chariot, Rukmini became thirsty. So to quench her thirst Shri Krishna pressed the ground and Ganga gushed forth from there. Thirsty Rukmini, took a sip without offering sage Durvasa. As a result, sage Durvasa was annoyed with her. Thus, followed a curse that she would be separated from her husband. Therefore, Rukmini's temple is located far away from the Main temple of Dwarka.
To sum up, after this story we understand the main reason behind telling this story. The Pujari now asks the devotees for the donation of water. He believes that this area has a very less amount of potable water. However, we don't find any reality in his statement.
After taking darshan when exiting the temple we saw that Pujaries were asking for a Donation from devotees. However, we ignored them & returned to our Bus.
You can also watch our Dwarka trip on YouTube. If you like our video please like & share, and don't forget to Subscribe our channel
Now, we were going to the Nageshwar Mandir. It is one of the twelve Jyotirlingas of India. This temple is located 17 km away from Dwarka. This area is also called Darukavan. As we arrived at Nageshwar, our driver informed us, to return within half an hour. The first thing that grabbed our attention was the gigantic, 82 feet tall statue of Shiva. Gulshan Kumar, the founder of T-series, has Sponsored this statue.
The Main temple is small but, well maintained. We took blessings of the Nageshwar Linga, After that, we visited the huge statue of Shiva & clicked some photos. We had also observed that this place was very isolated. Consequently, there are no hotels or any residential area nearby. Around 20-30 minuets should be enough to explore in & around this temple. We returned to our bus & proceeded to our next destination.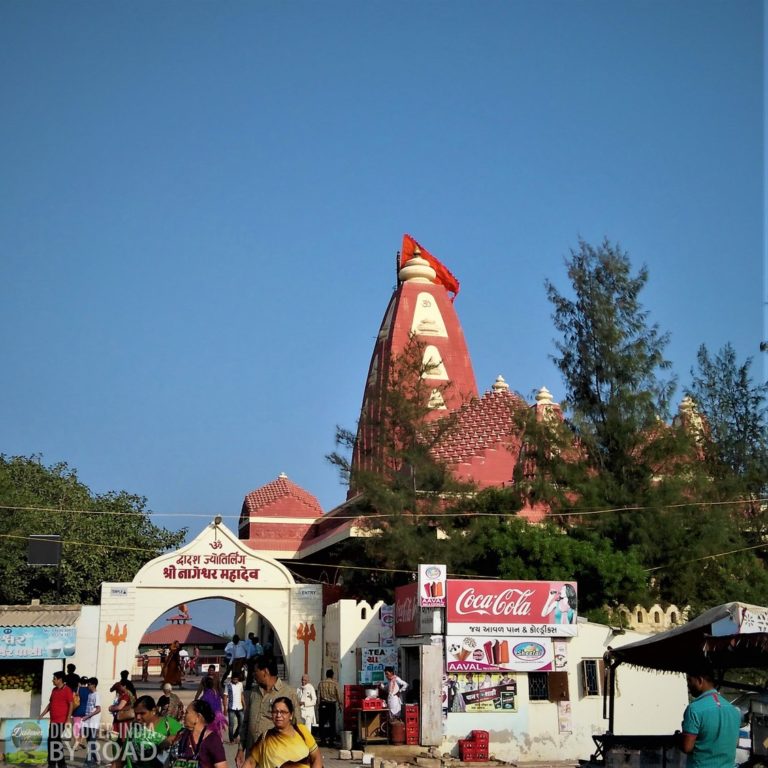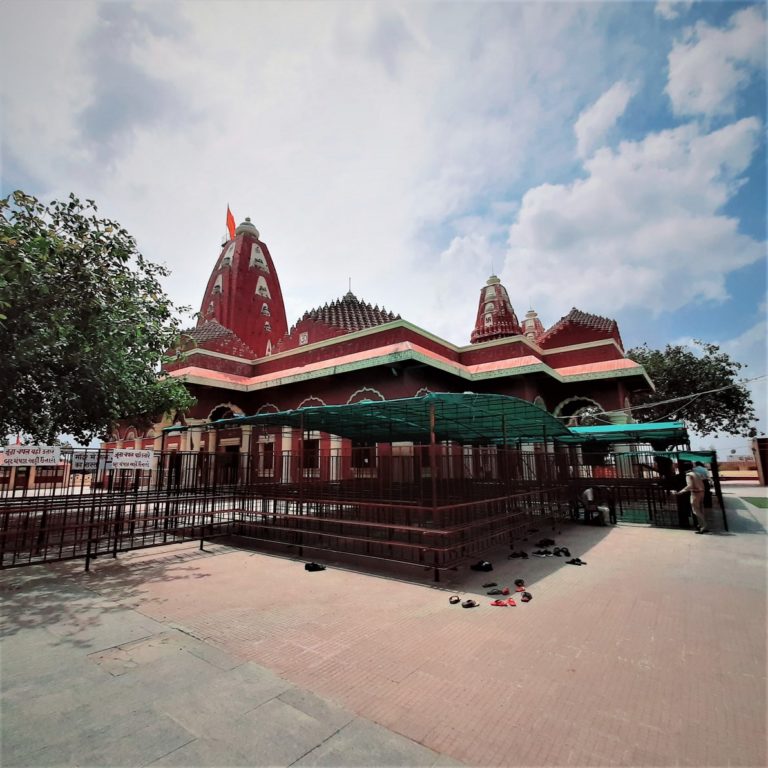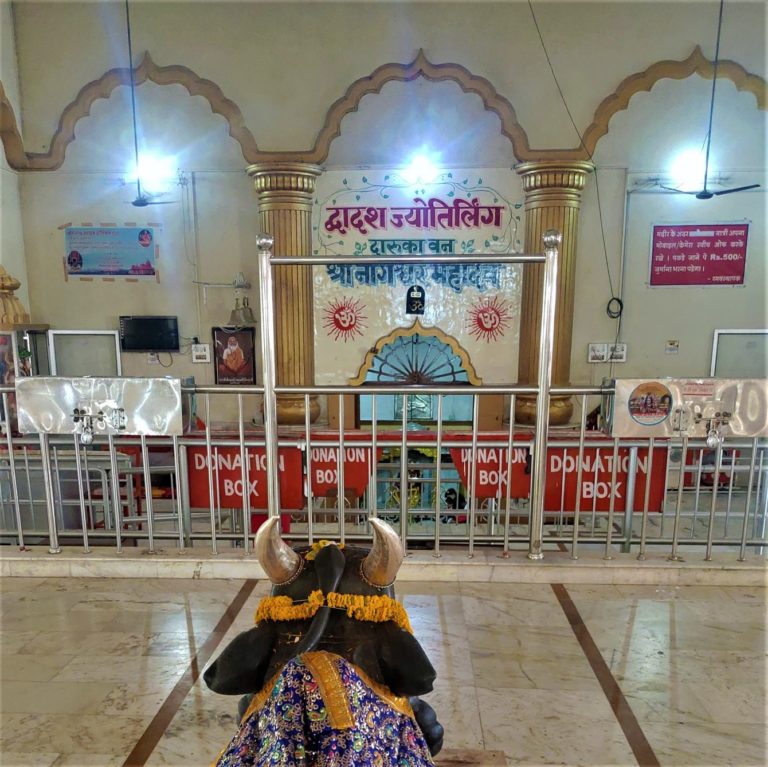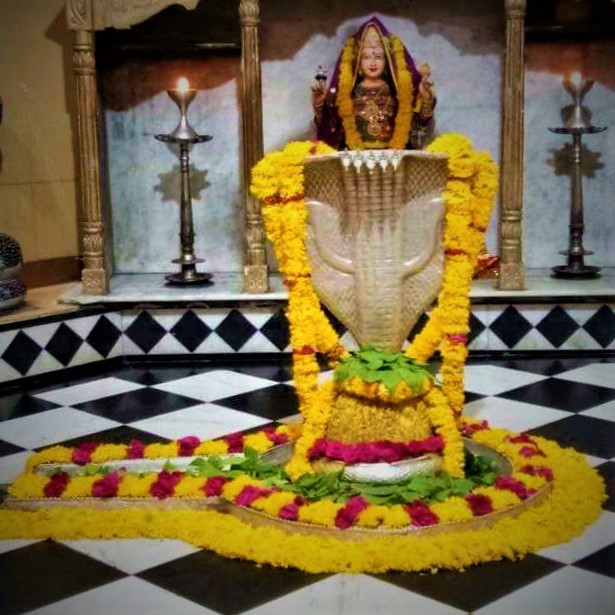 Gopi Talav is a small lake located around 20 km from Dwarka & 4 km from Nageshwar Temple. This lake was named after the gopis. ( Shri Krishna's childhood friends from Vrindavan.)
Legend says that, when Shri Krishna Shifted to Dwarka, the Gopis could not bear the separation and came to visit him. On the night of Sharad Purnima (full moon), they once again performed the Raas with Shri Krishna. However, they were unable to part from Krishna. Thus, the Gopis offered their lives to the soil of this land and merged with their beloved. It is said that they were turned into yellow clay.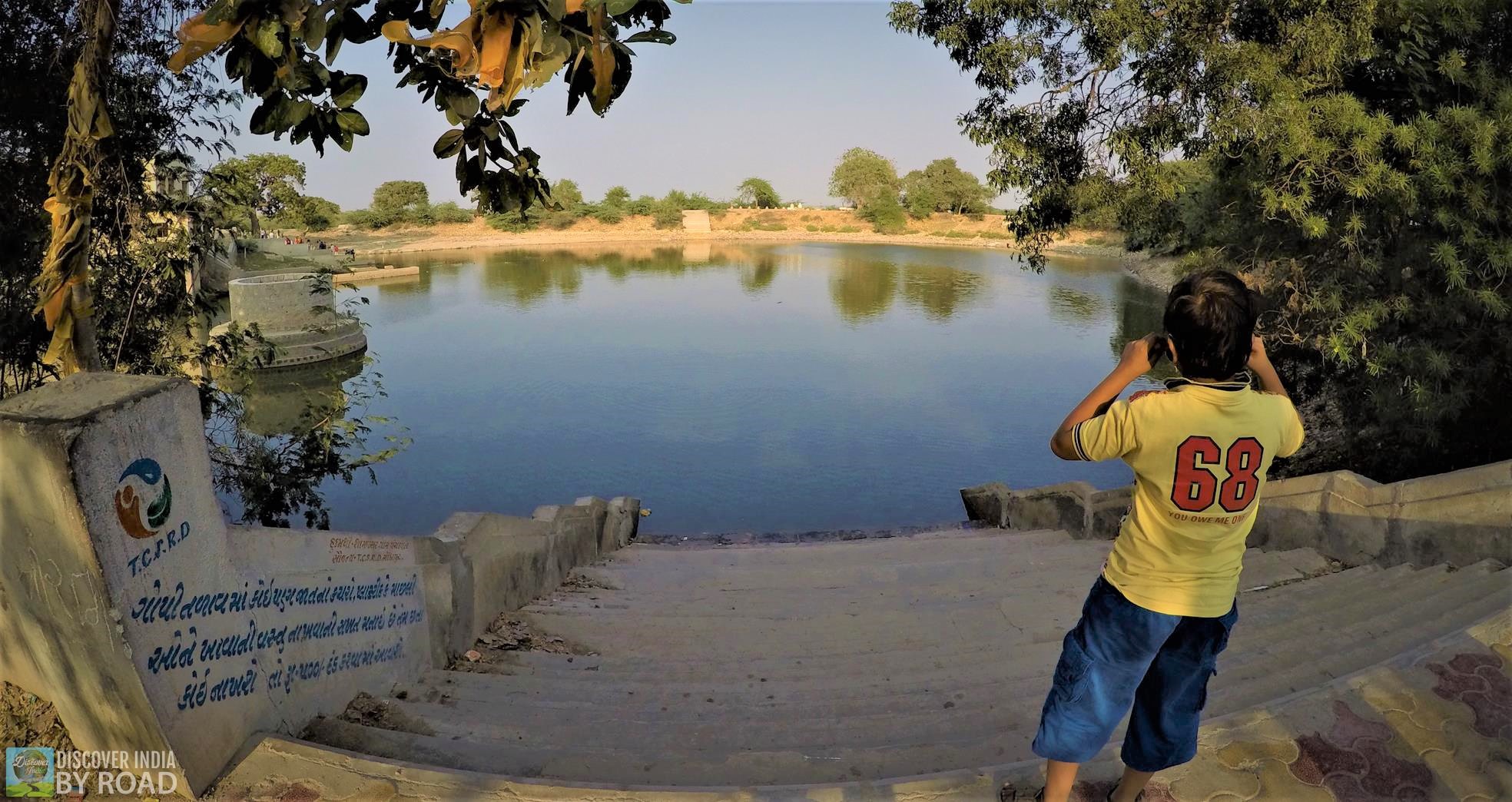 The soil here is fine and smooth bearing yellow color. It is believed that the soil has divine properties that can cure many diseases. Therefore, many tourists purchase this soil, popularly known as Gopi Chandan.
Before we entered, a local man suggested us to stay away from temples which have been created in some houses. Mostly, they try to earn money by tricking the visitors, using their spiritual sentiments.
As we were exploring the Gopi Talav,  we saw every temple claiming that they are the Mukya Mandir & have the "Ram Naam ka tearta Patthar".(The Floating stone with Ram's name) But, when we observed it closely, we found that it was a Pumice stone. (Which naturally floats on water.) Now, we found some truthfulness in the words of the local man.
When we returned, we thanked him for his genuine guidance. I am purposely sharing this experience with you because I have seen these practices at almost every religious place.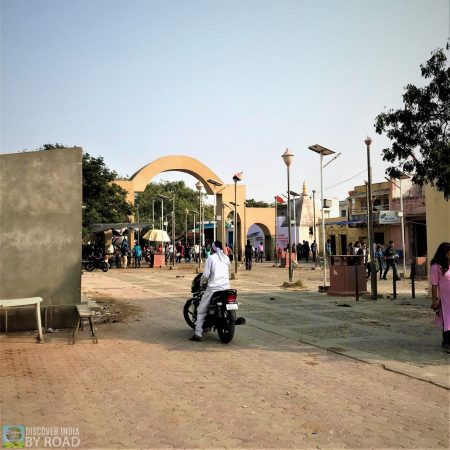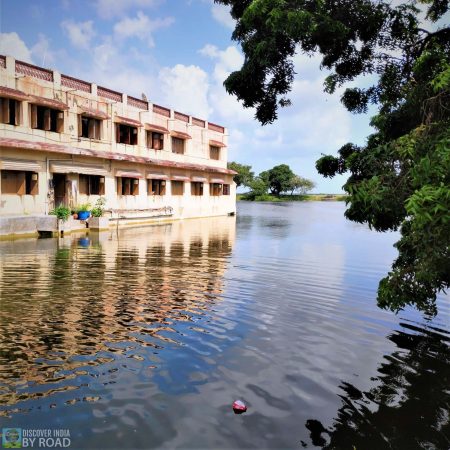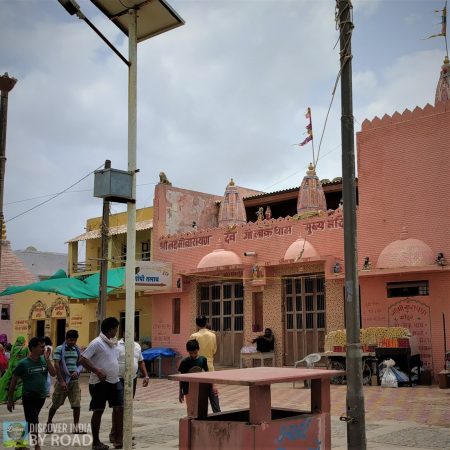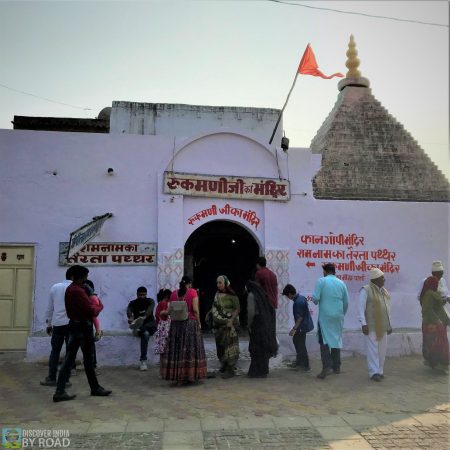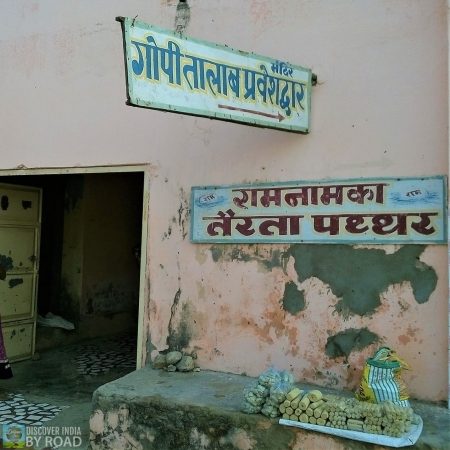 It was about evening, Now we were going to visit the last place in Dwarka.Namely, the Bet (Beyt) Dwarka also known as the Shankhodhar. First, we reached the Okha Jetty which is around 30 km away from Dwarka. Our Bus driver dropped us at the entry Gate of the Jetty & told us to return as soon as possible.
Bet Dwarka is the most important pilgrimage destination. It is believed to have been the residential place of Lord Krishna during his reign as the Dwarikadhish. The land is located off the coast of Dwarka on the Gulf of Kutch. From Okha jetty you can take the ferry to the Bet Dwarka Island.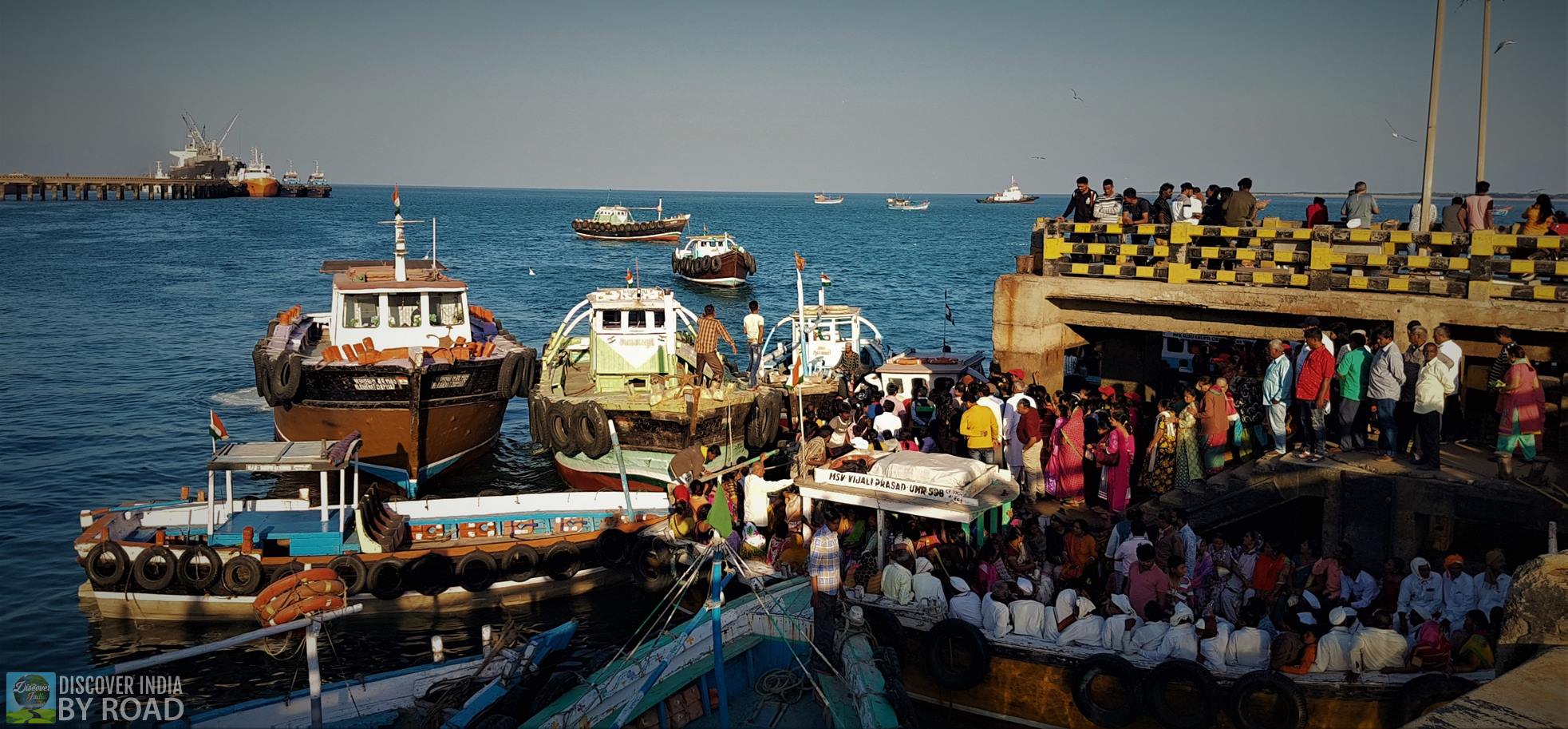 No sooner had we reached the jetty, we were astounded by seeing the crowd gathered at the jetty. As there were only a few Boats going to Bet Dwarka, the main temple in Bet Dwarka closes at 6:00 pm. So everyone wants to reach there on time. We managed to get on board, somehow. The boat was quite overcrowded. Surprisingly, there were no safety gears like life jackets, etc on the boat. This journey by boat takes around 15-20 minutes, and they charge Rs 20/- per head.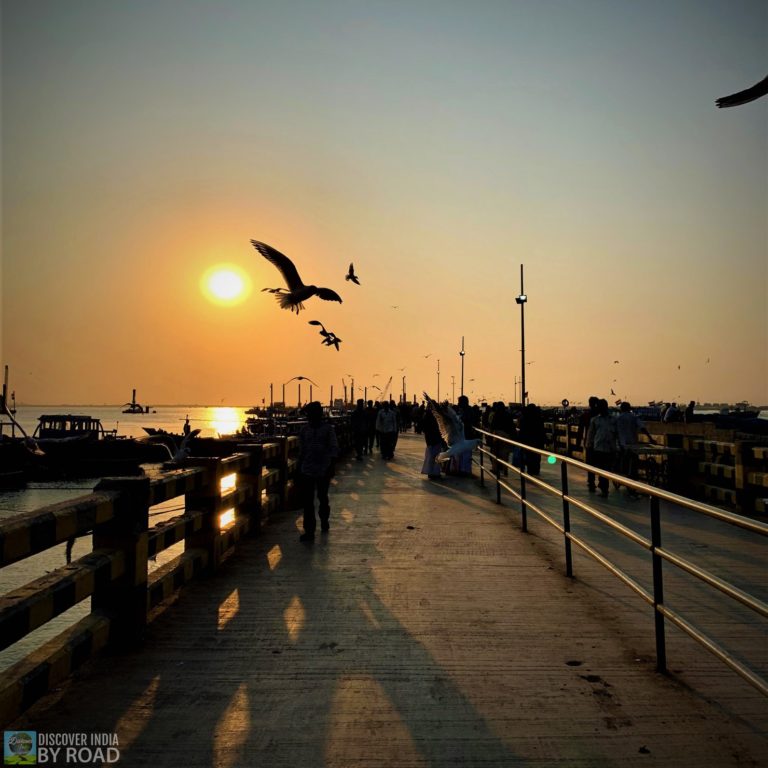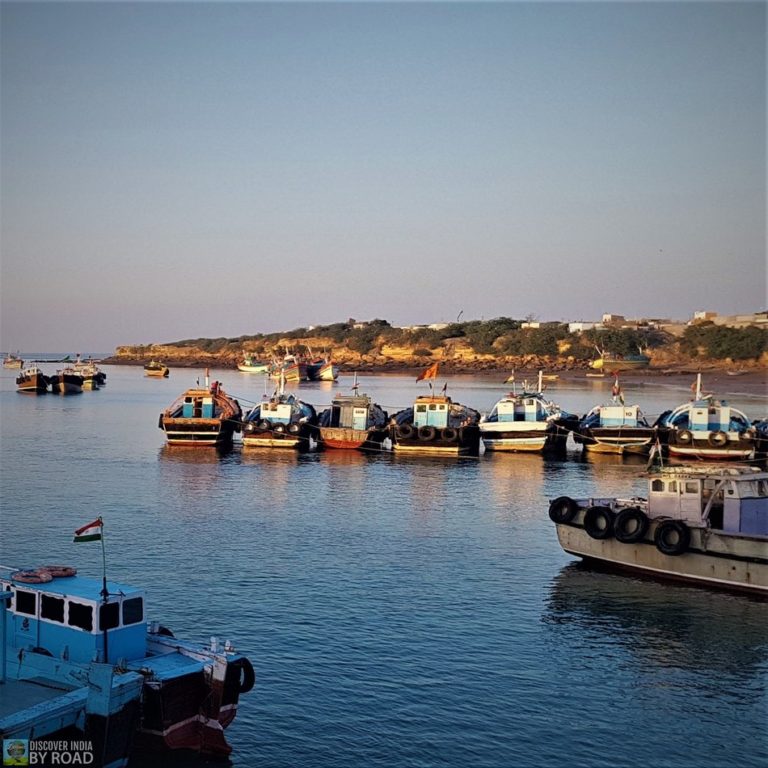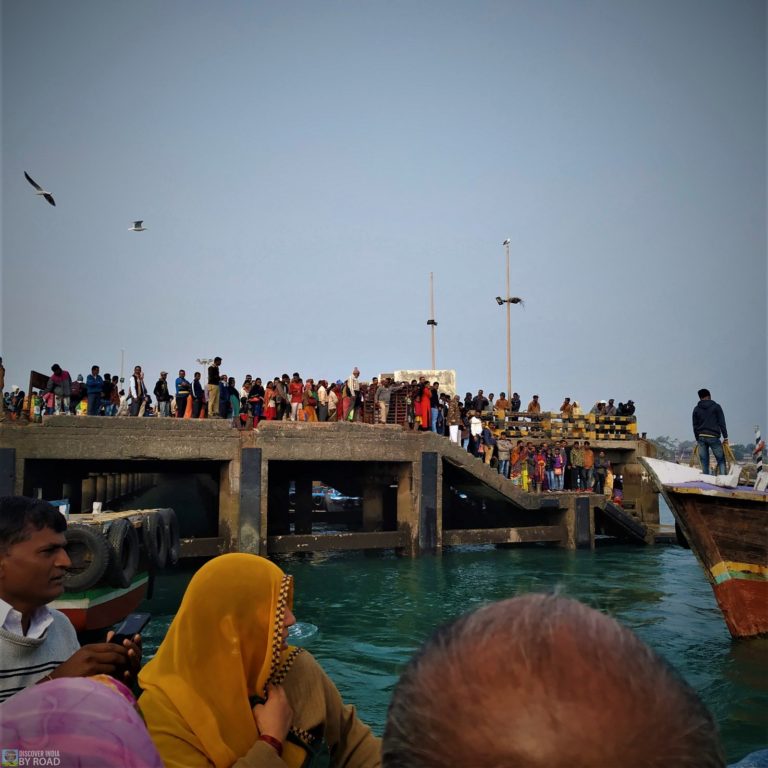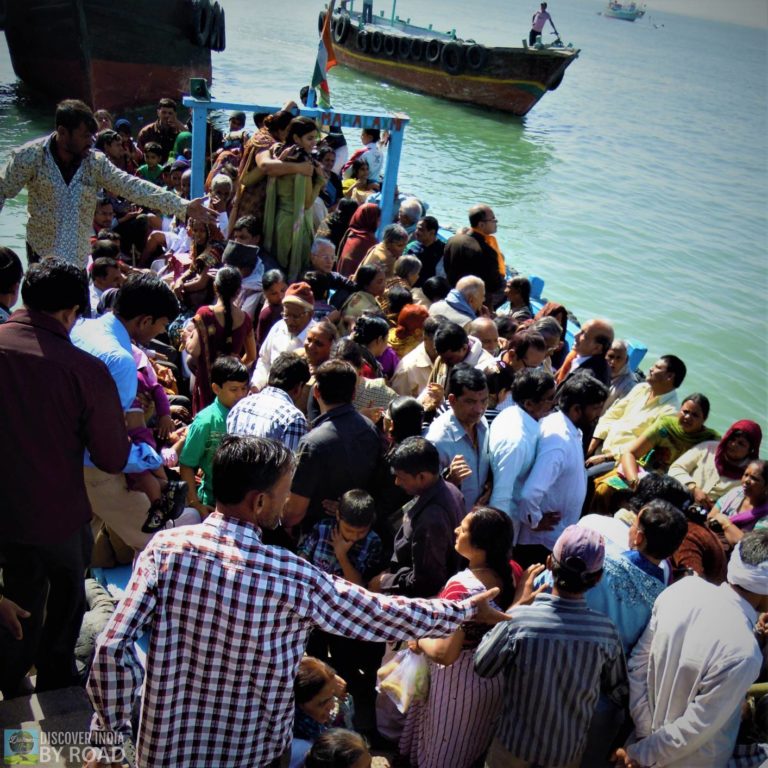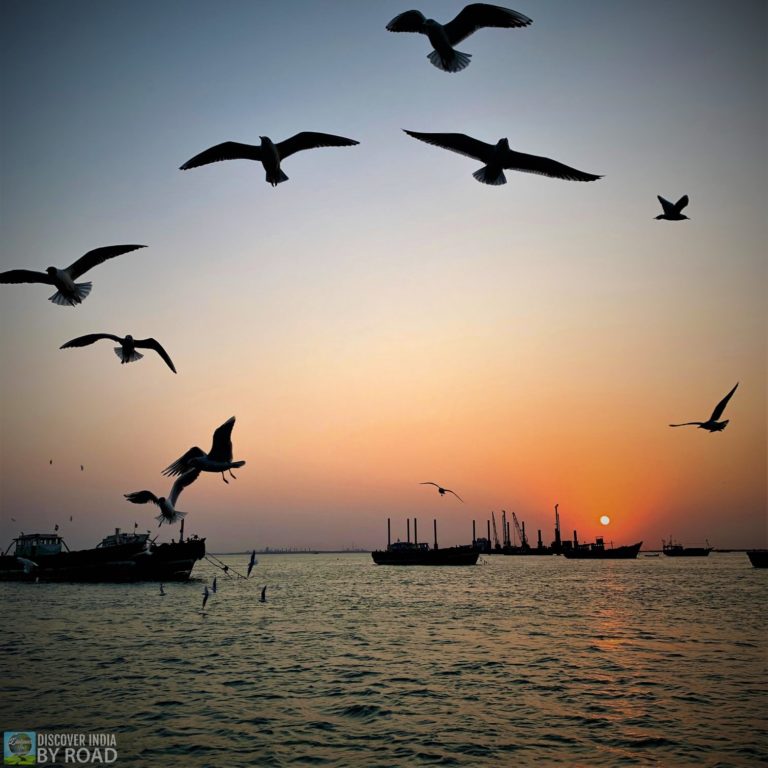 Now, the boat sailed towards Bet Dwarka. Meanwhile, we saw the many Seagulls flying around us, and eating the food thrown by other passengers. Within a few minutes we reached at the Bet Dwarka Jetty. The sun is about to set, so we have to hurry. If you want, you can also hire an Auto to reach the Temple. However, the temple is nearby so we started walking towards it. 
After walking for a while, we reached at the Dwarikadhish temple of Bet Dwarka. Cameras, Mobiles & Hand Bags were not allowed inside. Thus, we had deposited all items in the locker room.
The Bet Dwarkadhish Temple is actually the abode of Shri Krishna. The original idol of Shri Krishna in the temple was installed by his wife Devi Rukmini. However, the present structure of the temple has been establishing 500 years ago by Shri Vallabhacharya Ji. When we visited here the temple, the pujaris told us the famous story of Shri Krishna and his friend Sudama. When the two friends met, Sudama presented rice as a gift to Shri Krishna. Consequently, even today the Pujaris ask for a donation of rice.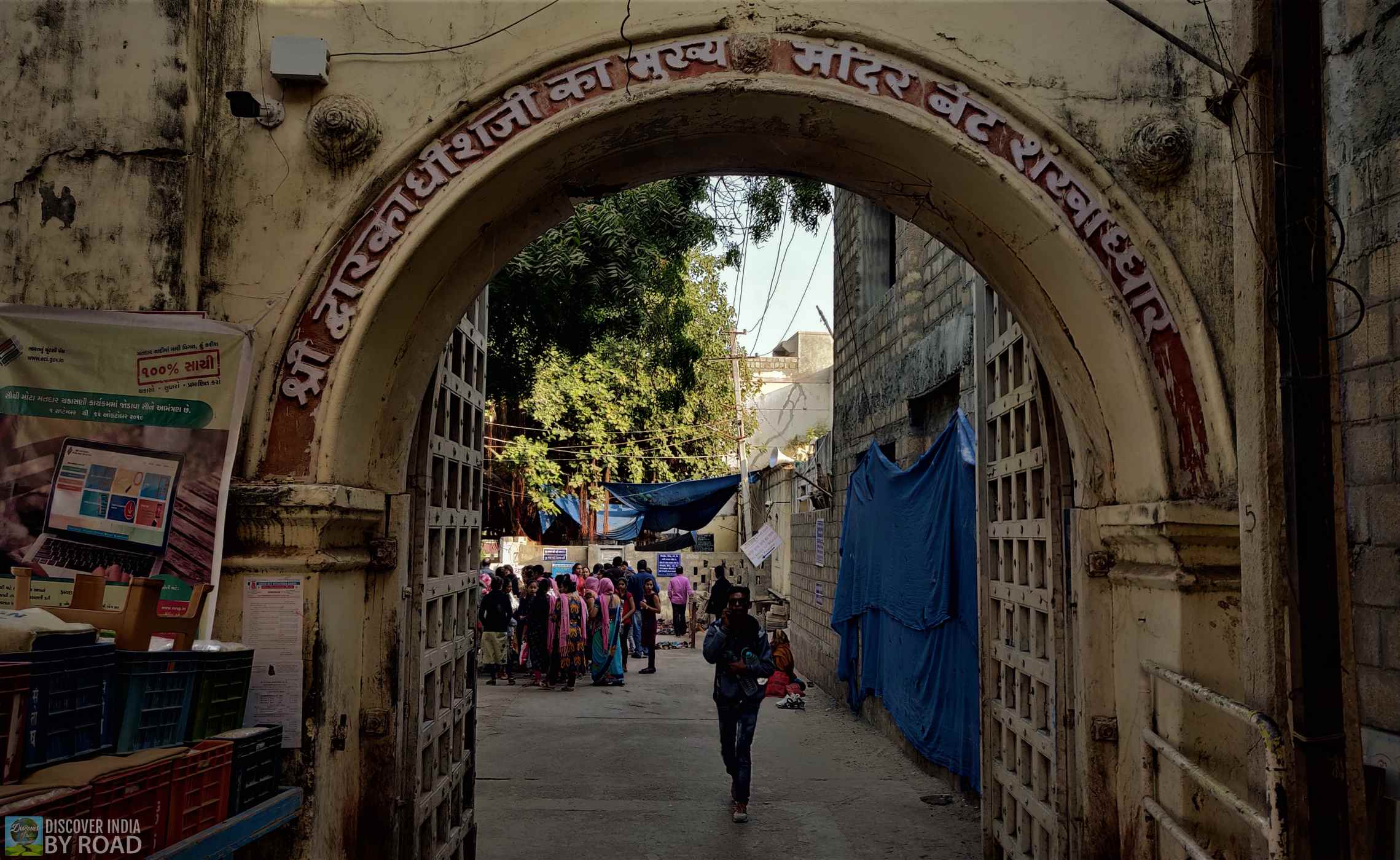 Apart from the Dhwarkadhish Temple, Shri Keshavraiji Temple is one of the major temples of Shri Krishna. If you have some spare time, you can also visit Hanuman Dandi, Mahaprabhuji Bethak & the Gurudwara. But, due to lack of time, we couldn't visit all these places. Now we had returned at the Jetty and departed from the Bet Dwarka, as we sailed towards the Okha jetty.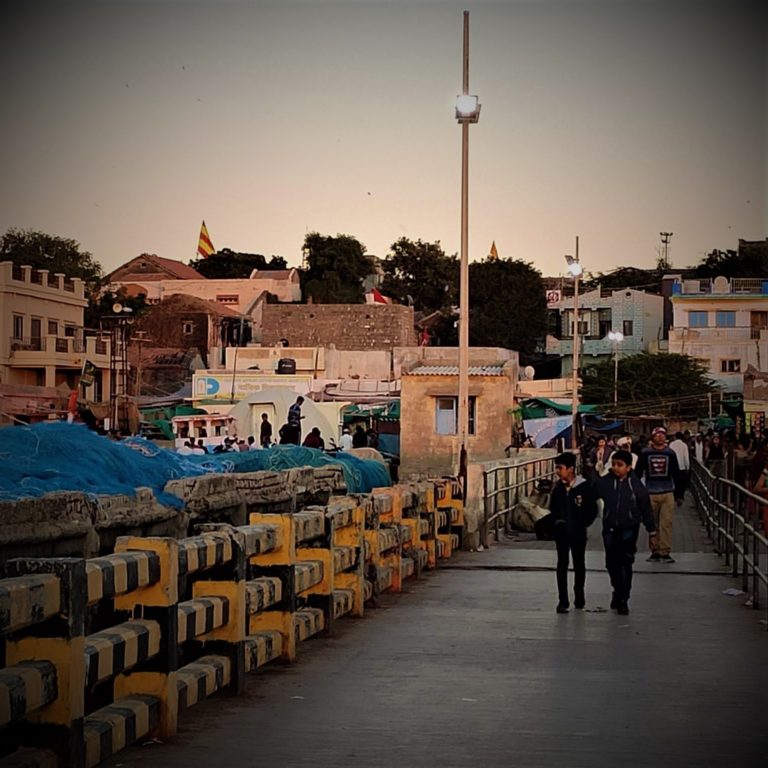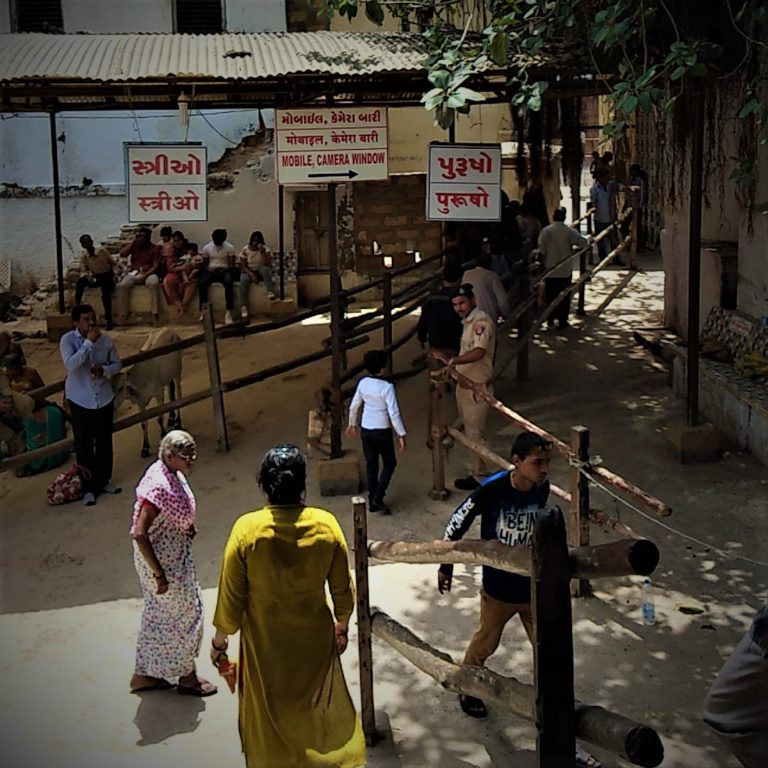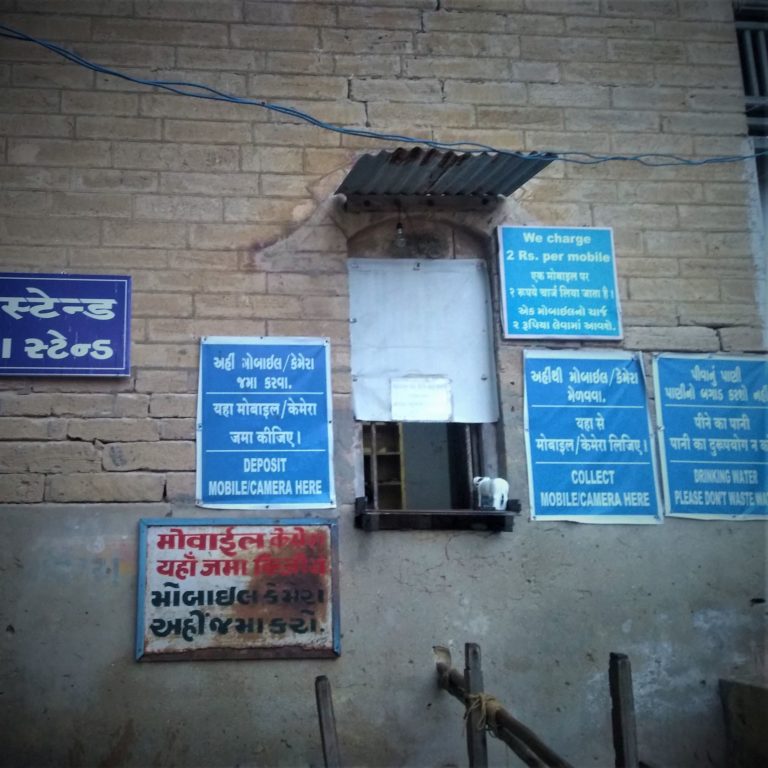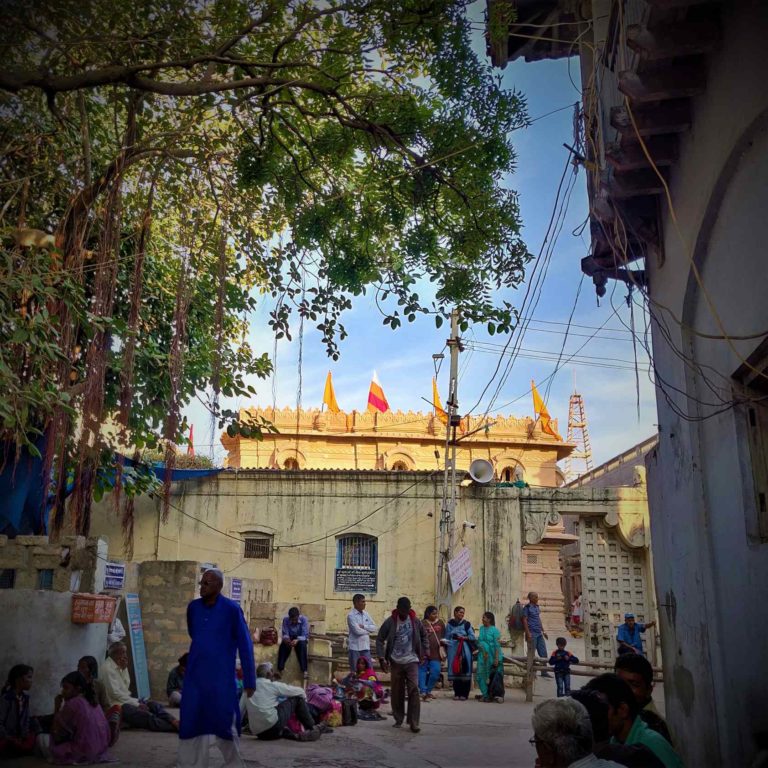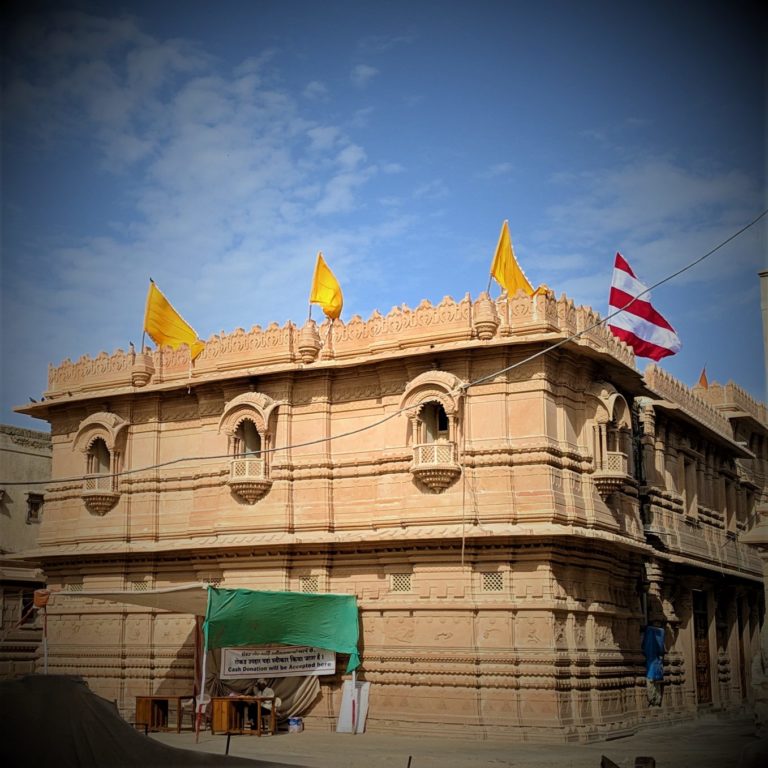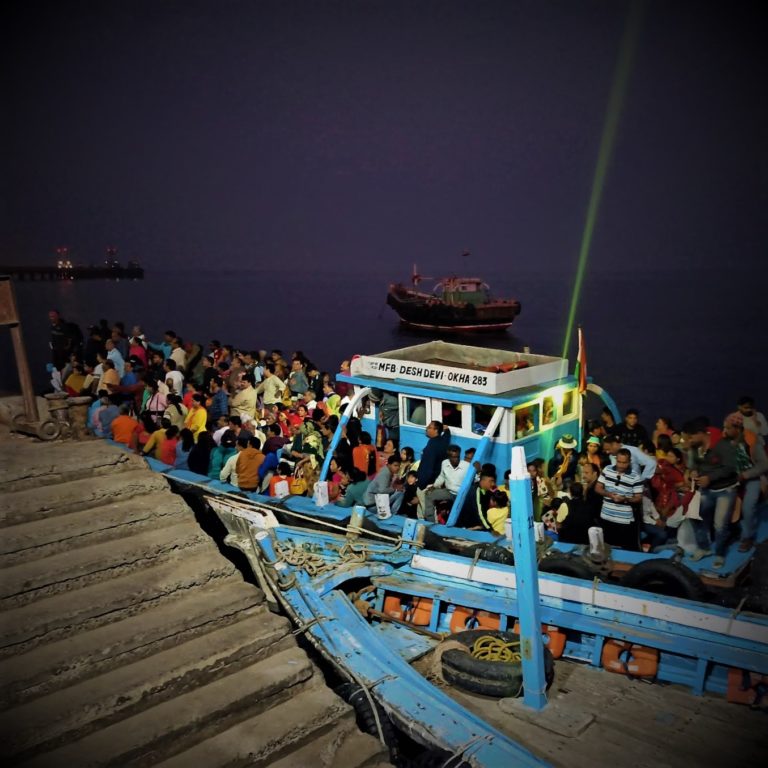 Now we were returning to Dwarka. I suggest you one more thing, that try to visit this place during the day. Accordingly, you can visit more places here, which we missed. One more thing, try hiring a private car or auto instead of bus. Because, the bus driver barely gave us some time to explore  every spot. So, we always had a fear of missing our bus.
But, overall it was a great experience, I hope you have enjoyed with us too. In Dwarka, you can also visit the Bhadheshwar Mahadev Temple, which is located on the Coast of Arabian sea. During the High tide this temple gets submerged under water. If you are an adventure freak, then you can also try Scuba Diving to experience the Amazing marine life.
Our Gujarat trip is not over yet. Tomorrow, will be exploring Kutch-Bhuj. So, for more travel stories follow Discover India by road . 
To conclude, I just want to say Jai Shri Krishna & see you soon.