Gujarat trip | Day 1
(Mumbai to Dakor)
During our Gujarat trip, we will be covering many places from Mumbai till Kutch, Gujarat. We started our journey from Mumbai at 7:00 am.  It's New Year's Day. (Hindu) So we planned to stop at Dahanu Mahalaxmi Temple first. We reached there within one and a half hours. As expected due to New Year's day a very long queue was waiting for us. We finished our Darshan in another one and a half hours. Then we planned to have breakfast there. We had some hot Vada Pav & Misal Pav along with Cold Sugarcane Juice.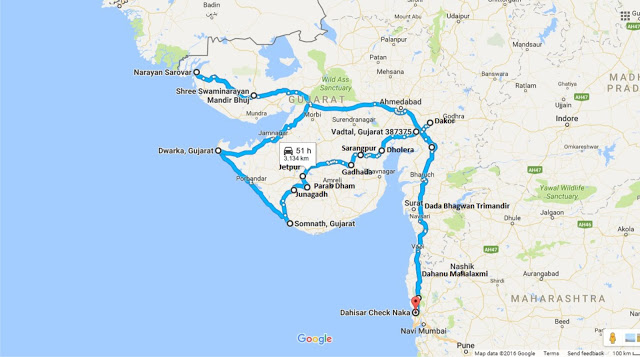 Then we had a halt at Dada Bhagwan Trimandir on Kamrej Chowkdi, Surat. We planned to have some prasadam there ( Rs.40/- each, food is ok ). After having lunch we visit the nice temple of Krishna, Shiva & Parshwanat. And again continued with our journey.  
We decided to take a halt in Dakor (Holy Place Famous for Temple of Shri Ranchodrai Ji) at night.  We reached there at around 6:00 PM. There were so many hotels, Guest Houses & Dharamshalas available out there. But, we decided to take a halt at Shree Swaminarayan Temple near GSRTC Bus Stand. They charged Rs.500/- per room for 4 people. The rooms were self-contain.  
Day 1: Mumbai to Dakor Distance  492km (9 hrs. approx)
Day 2 (Dakor to Sarangpur)
In Morning we took Darshan of Shri Ranchodrai Ji. After that, we tried some famous GOTA of DAKOR as breakfast. Along with Methi (fenugreek) Aloo (Potato) & Mirchi (chili) Bhajiya. Believe me, this is a must-try menu of Dakor. After, finishing our breakfast when we came out we saw a small lake called Gomti Talav. We saw a boating facility over there. So, we planned to take one boat ride there. 
Then we started our onward journey. We decided to visit all Swaminarayan Temples coming on the way during our Gujarat trip. Within an hour we reached Vadtal near Anand.  One of the famous Shree Swaminarayan Temples in Gujarat. As we reached there we faced a heavy rush, there was not even space for parking. (Due to Diwali Vacation) Try to avoid these days. Somehow, we managed to take Darshan. After that, we move ahead towards Dholera, near Bhavnagar. One more famous place for Shree Swaminarayan Temple. Within 3 hours to reach there.
Dholera & Sarangpur Mandir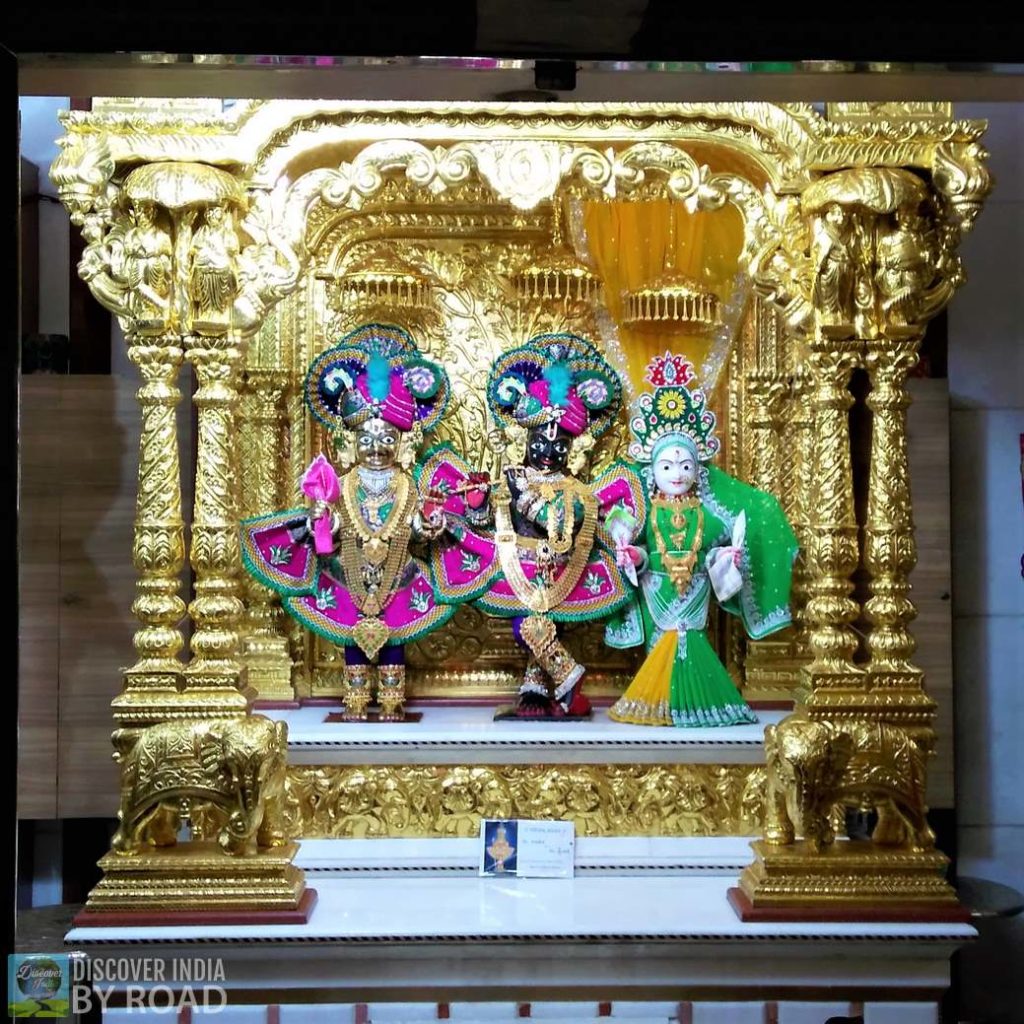 As we reach there we came to know that the Temple was close, & now will re-open at 3:30 pm. So, we had to wait there but now we were hungry too. Fortunately, it was lunchtime there & without any doubt, we had our lunch over there. We took some rest. As the temple was open, we took blessings and started our onward journey towards Sarangpur. (Famous for Temple of Shree Kasthbhanjan Dev Hanumanji)
Within around two & a half-hour drive, we reached there by 5:30 pm. But, the day was Saturday, the place was full of devotees. There was not even space to park a vehicle. But, somehow we managed to do it. 
There are two huge guest-houses available for visitors and one new VIP guesthouse recently opened. But, there was not a single room available. Normally it doesn't happen. Because, they have plenty of rooms, but this time they were all full. 
(also because of Diwali vacation & then we also came to know that Shri Pramukh Swami Maharaj was here. So many followers came here to meet him as he was not well)
I met the guy in the office. And requested him to arrange a room for just one night as we were family. (as there was no other option to stay nearby) Somehow, he manages to allot us one room in the VIP Guest House. (Rs.600/- per day, Check-out time 9:00 AM)
Normally, there is free or very cheap accommodation available in the old guest house. The new guest house is very neat and clean & equipped with all modern facilities; the rooms are also very nice and spacious. Sarangpur is famous for Shri Kasthabhanjan Dev Hanumanji Temple. This temple is very sacred. It is among the more prominent ones in the Swaminarayan Sampraday. The Idol of Hanuman was established by Sadguru Gopalanand Swami. And it is said to be so powerful that a mere look at it by people affected by evil spirits. Drives the evil spirits out of them. To know more about Sarangpur Temple Click here.
Day 2 : Dakor – Vadtal – Dholera – Sarangpur Distance  195km (5 hrs. approx)
Day 3 (Sarangpur to Jetpur)
The next day, we woke up early & took darshan again. After that, we took some tea & breakfast, then checked-out room & continued with our journey. Our next destination was Gadhada. (which is also famous for Shri Swaminarayan Temple) While traveling towards Gadhada. Meanwhile, when we were passing through a town called Botad. Which is also a famous Trade center in this area. We saw a small market on the way so we decided to stop & have look at it. After a quick shopping, again we continued our journey. 
We reached Gadhada by around 2:00 pm. But, the temple was close. However, luckily we have reached on the lunchtime. Mostly, we prefer eating in a temple. Because, while on the journey we avoid eating junk food as its oily, spicy & it may upset your stomach. The food served in the temple is simple and healthy. So we consume it as a Prasad. Normally, in all Swaminarayan Temples food is free for all. However, we always donate some amount in the Donation Box. After lunch, we had to wait until 3:30 pm for darshan.
After taking darshan we started our onwards journey towards Jetpur. But before that, we also wanted to visit a small village called Dadva. Also Known as, "Randal na Dadva" the famous temple of Ravi Randal Mataji.  The Temple of Ravi Randal Mataji at Dadva is more than 1100 years old. And also known as the temple of hopes. 
Once, we reached the temple we saw small shops selling wooden human organs. Locally believed that if people with any disability. who donate these wooden organs in this temple will get cured. Earlier, many times we heard about Randal Mataji, especially during the Marriage ceremony. Normally, we worship "Randal na Lota" but we never know about the origin of this custom. To know more about Ravi Randal Mataji click here.
It was a nice experience, the temple was small but well managed. The Pujari of this temple was very co-operative & friendly. We were really enjoying our Gujarat Trip.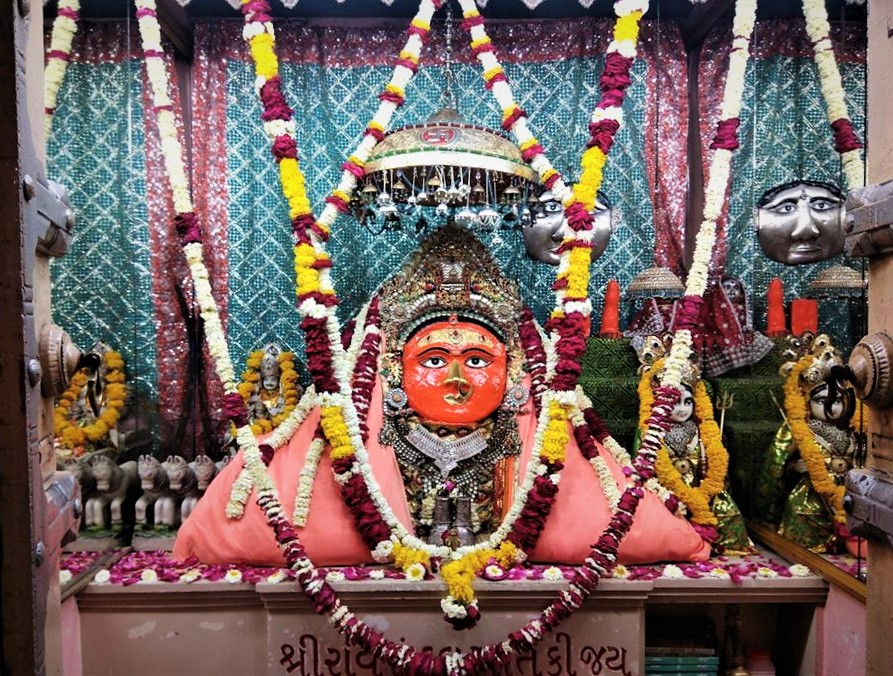 After a quick visit, we started our journey towards Jetpur. Jetpur is Historic town and also famous for Shree Swaminarayan Temple, its also call Gadisthan. To reach the temple you have to pass through very narrow streets. However, the temple is located in a huge complex. There is free accommodation & food available for devotees. The rooms are good and food is also very good and tasty. 
To know more about Shri Swaminarayan Gadisthan Temple, Jetpur Click here.
Day 3 : Sarangpur – Gadhada – Randal na Dadva – Jetpur Distance  175km (4 hrs. approx)
Day 4 (Jetpur to Junagadh)
Jetpur is also famous for its textiles. Jetpur is one of the largest centers for screen printing, block printing and yarn dyeing workshops in Gujarat, India. Apart from this, it is also famous for cotton sarees & Kurties. If you have some spare time then do visit the market. But, we don't have any plans to visit the market. In the morning we took darshan in Swaminarayan temple and started our onward journey.
We checked-out from the room & met Kothariji (Manager) to return the room keys & thanked him for the hospitality. He was a nice person. And asked us for our further plans. We told him that now we were going towards Junagadh. Thus, he suggested us to visit a famous place called Parab Dham which was coming on the way.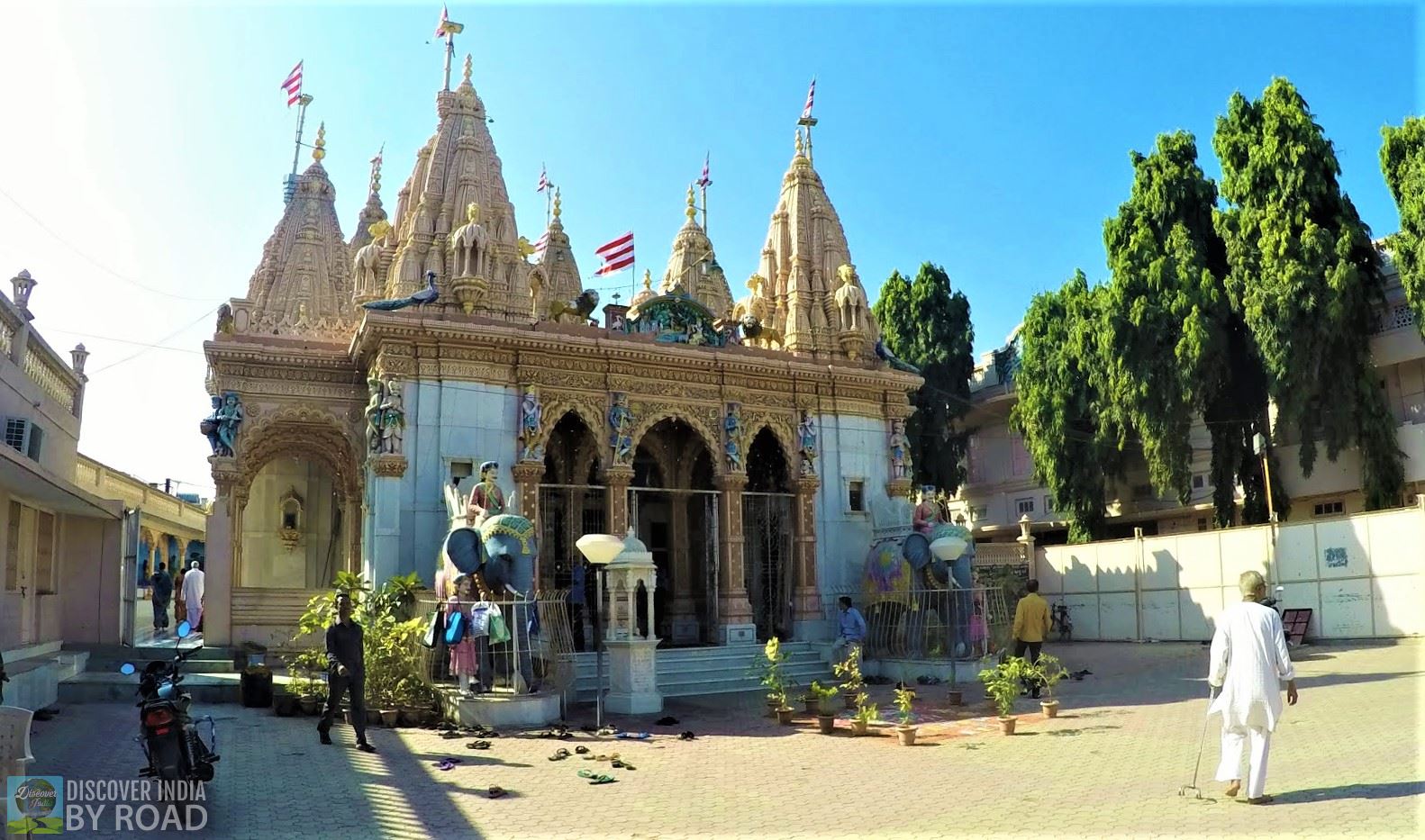 Parab Dham is a pilgrimage located in the foothills of Mount Girnar near Junagadh, Gujarat. This temple complex was built-in memory of the famous saints of Saurashtra, Shri Devidas Bapu, and Amar Mata. Devotees also call them SAT DEVIDAS AMAR DEVIDAS. We decided to visit there and started our journey. In an hour we reached Parab Dham. There was a huge parking space, so you don't need to worry about it. While entering inside, we saw a huge White Temple was complex.
As we entered the main temple, we saw that there were no Idols here similar to other temples. Instead, there were Samadhies of Shri Devidas Bapu, Amarmata, and others. Behind the main temple, there is a small water tank, which was holy. Therefore, devotees consume this water as a Prasad. Inside this complex, there is a Bhojanshala & a Dharamshala was also available. In case, if you want you can stay there. 
Junagadh Swaminarayan Temple
We had a good time here, we wanted to spend more time here. Now, it's time to leave as we had to reach Junagadh before the afternoon. So we continued our journey. We reached Junagadh on time. So, we directly went to the old Swaminarayan Temple. As we had planned to stay there, this temple has good facilitates for lodging & boarding for Devotees. After having lunch, we had some rest in our room. 
In the evening we went to the market to try some local delicacies. We tried many local items. But there was no doubt that we loved the Bhungla Batata. (Spicy Potatoes with fried crispy wafer Rolls) And the famous Chamunda Lassi of Junagadh. These are must-try items if you are in Junagadh. After having these items, we didn't have much space in our stomachs. However, we had some dinner in the temple & went to our room. Before sleeping we planned for tomorrow's sightseeing. As there are many places to visit in Junagadh. Thus, we slept early so that we could wake up early.
Day 4 : Jetpur – Parab Dham – Junagadh Distance  65km (2 hrs. approx)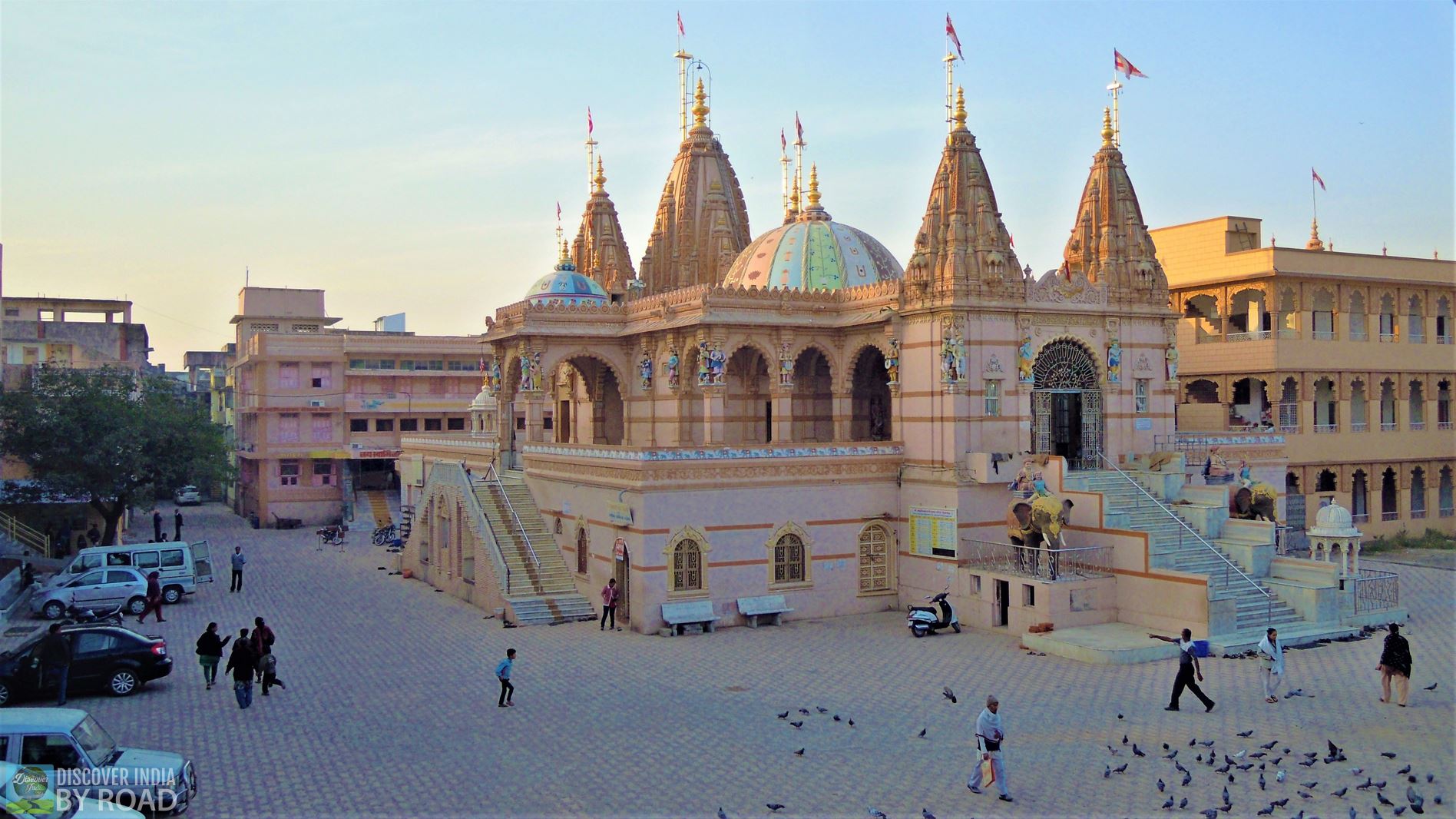 Day 5 (Junagadh Sightseeing)
The next day we were quite excited about our sightseeing. Hence, we got up early & begin our Sightseeing. Our first destination was Uperkot fort, which was at walking distance from Swaminarayan temple. One the way we had some breakfast of Jalebi-Fafda & Tea. Within a few minutes, we reached Uperkot fort.
Uperkot fort was located at the foothills of Girnar hill. During the reign of the Maurya dynasty and continue in use during the Gupta period. Uparkot is the oldest part of Junagadh. Over 2300 years old, with walls up to 20 meters high in some places. The Fort consists of three gateways, one inside the other. The fort walls are from 60 to 70 feet high. Forming a massive cluster of buildings. The inner gateway, a beautiful specimen of the Torana. (Arch) Just inside the entrance, there were temples of Ganesh, Hanuman, and Mataji. The main places to visit are Neelam Canon, Jumma Masjid, Adi-Kadi ni Vav, and Navghan Kuvo. In short, all are located within the Uparkot fort. 
Visiting Hours: 07:00 am to 07:00 pm
Entry Fee : Rs 5/- for Indians, Rs 100/- for Foreigners (Prices are subject to change)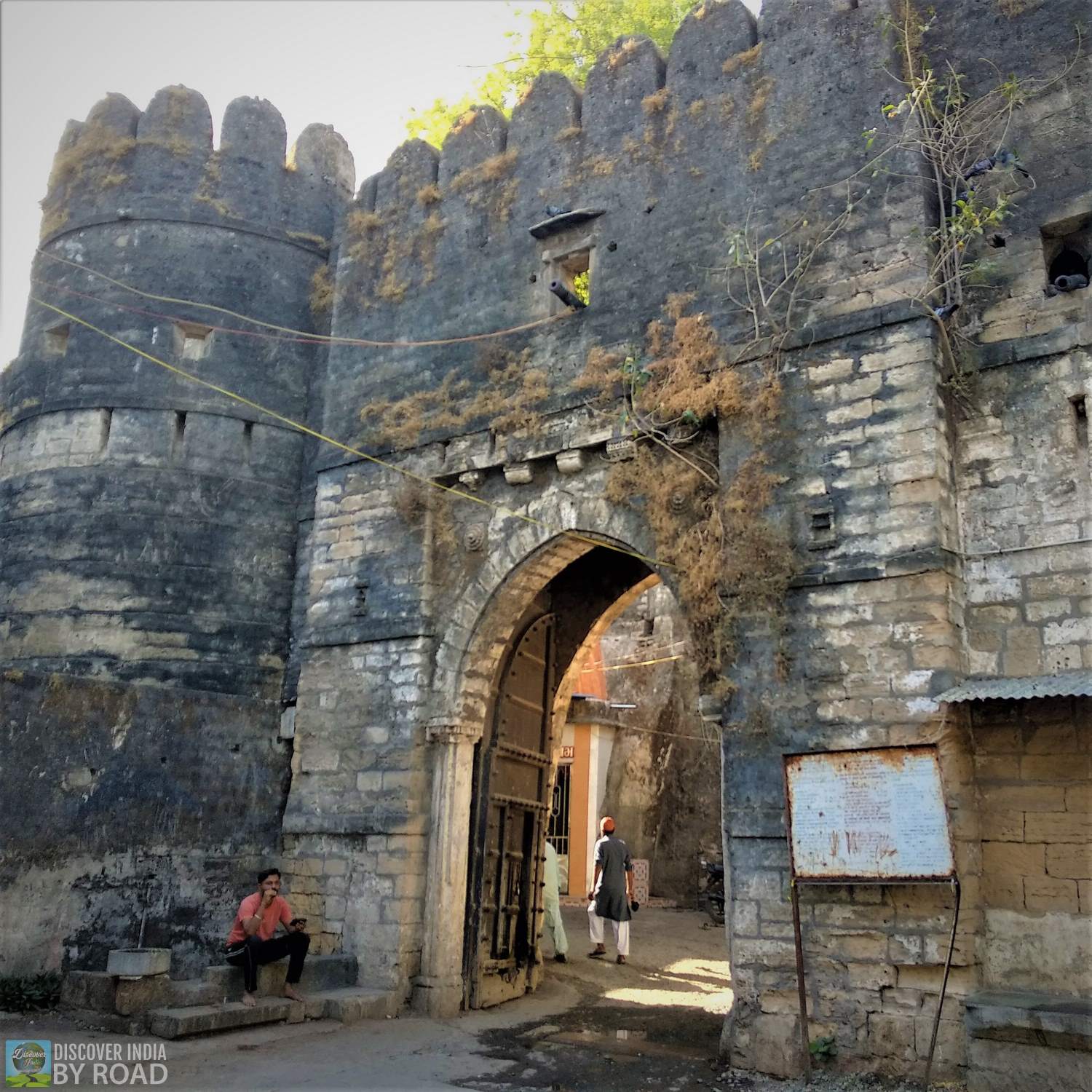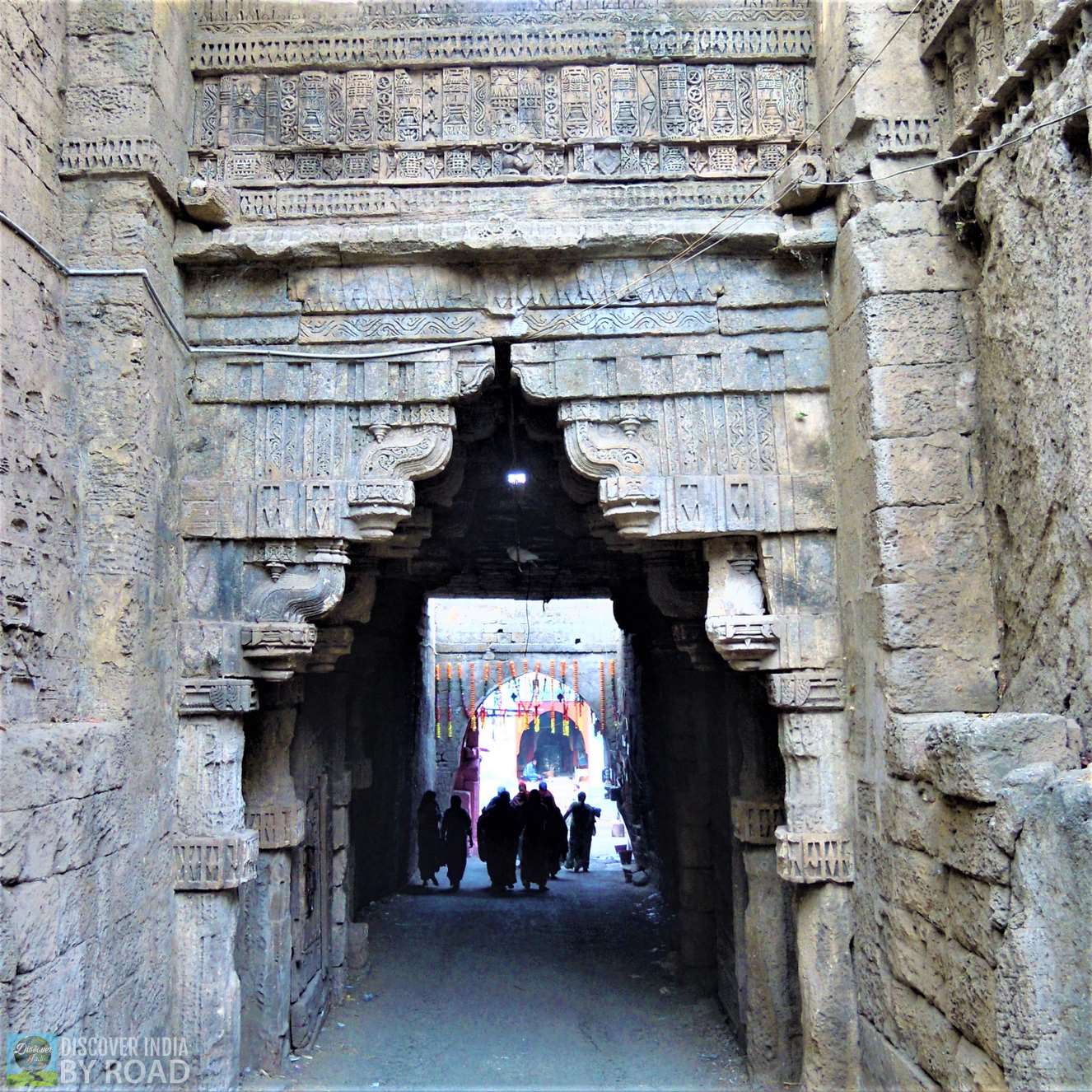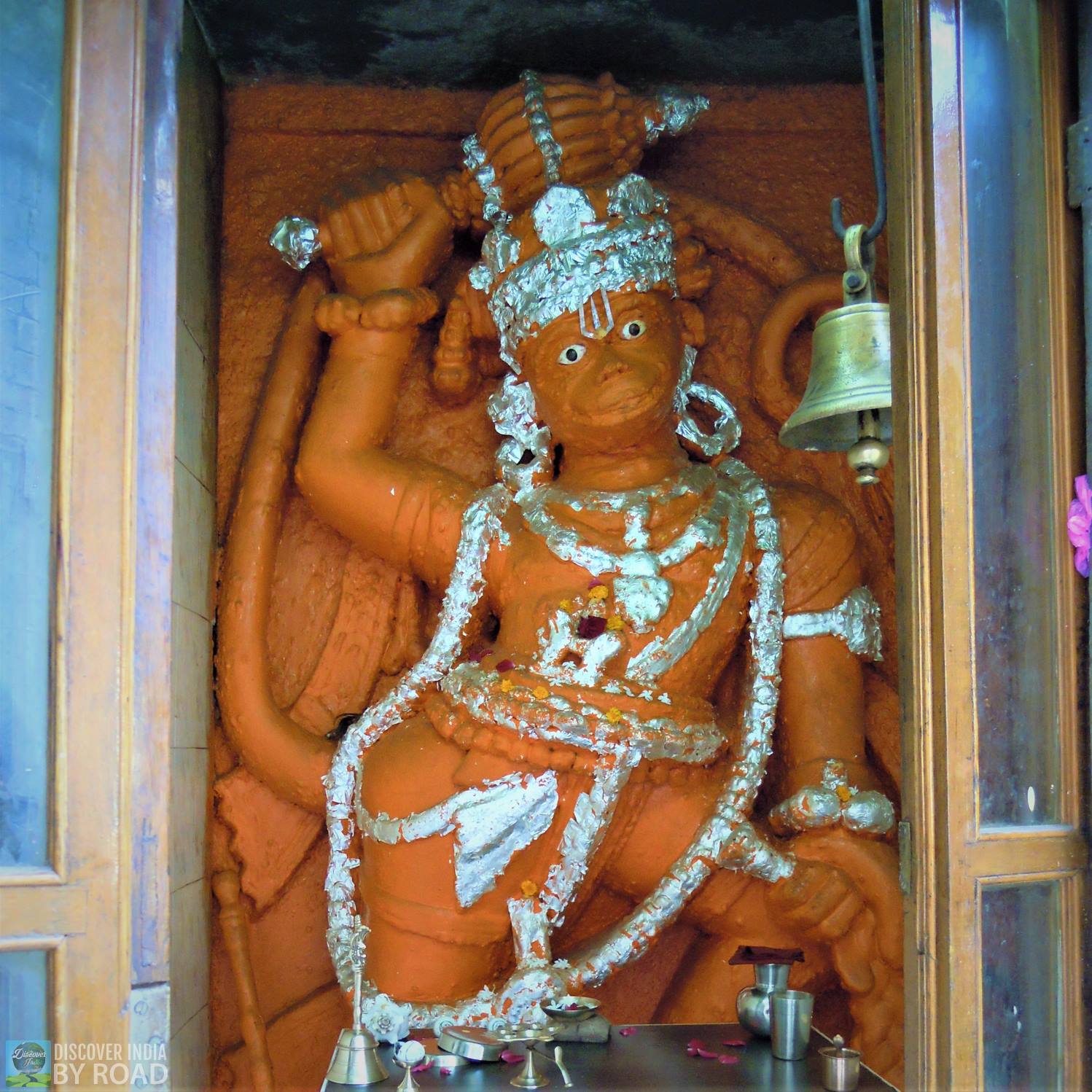 Neelam Top & Jumma Masjid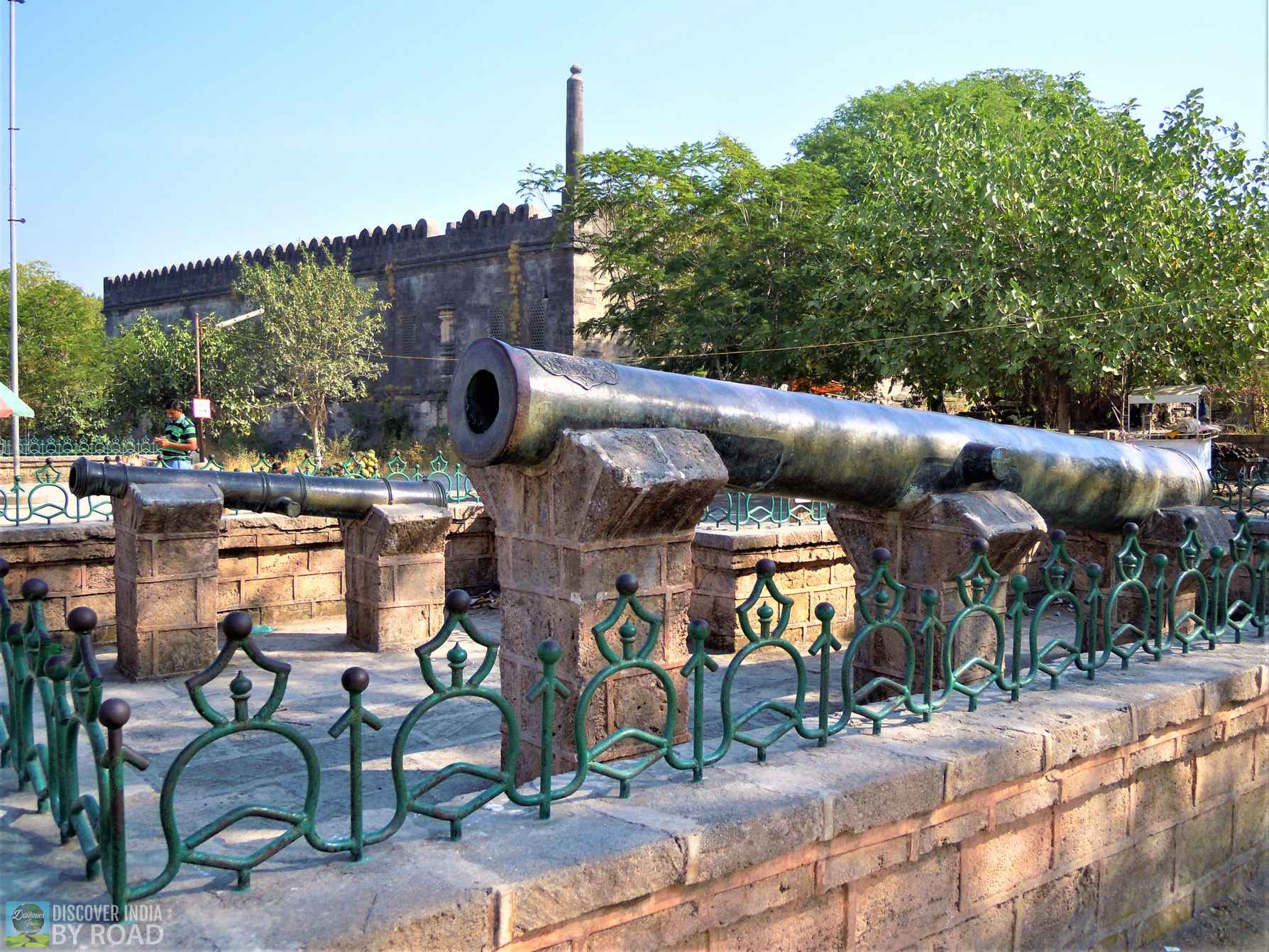 Neelam and Manek Canons, in the early 16th century, when Portuguese arrived on the western coast of India. Bahadur Shah was the ruling king of Saurashtra. Bahadur Shah got support from Turkey. And a Turkish fleet arrived on the coast of Gujarat in an attempt to fight against Portuguese. And to resume the trade between India and Turkey. These two canons Neelam and Manek were brought in this convoy. The canons were cast in Egypt, in the 15th century. Neelam was 17 feet long, the larger among these two canons.
Even today these Canons are in perfect condition. Behind these canons, the building you can see is Jumma Masjid. Yet, another famous landmark in Uperkot. Build-in the 15th century by Gujarat's Sultan Mahmud Begada. It has a very rare roofed courtyard with three octagonal openings that may once have been covered by domes. The delicate Mihrab (which is indicating the direction of Mecca) stonework and the forest of columns are still stunning. 
Adi – Kadi ni Vav (Stepwell) built during the 15th century. Carved from a rock. Overall, 120 stairs cut down out of the stone. To go to the main well which is deep in the stone.
There were two different stories to explain the name of the well. Legend says that once the king ordered to build a Stepwell. But without water. Then the Royal Priest suggested that water would only be found if two unmarried girls were given sacrifice. Adi and Kadi were the girls who were chosen for this. And the story says that water was found after their sacrifice.
The other story, claims that Adi and Kadi were the names of the two girls. Who regularly fetched the water from the well every day. Thus, people gradually started calling this place "Adi-Kadi ni Vav"
Actually, we heard all these stories through a local boy who approached us when we entered in this fort. Who requested us to hire him as a guide. (For historical places like this, you must hire a guide) 
Navghan Kuvo named after the Chudasama king, Navaghana. A small staircase entered through an arched doorway leads to the forecourt. The forecourt to reach the well probably built during the 11th century. The stairs that lead down 52 meters to the water level spiral around the well's shaft itself. Which is also very uncommon. Undoubtedly, the water from Navghan Kuwo helped Uparkot to survive during many long sieges.
Apart from this in Uperkot, there were many other places to explore. But, we had to cover many places in Junagadh. Thus, we left Uperkot & proceeded towards the next attraction, which is the Tomb of Mahabat Khan II.
As we were passing through the streets of Junagadh, we saw many ancient structures still standing firmly. Which reminded us about the Golden Era of this place.
Junagadh was a princely state in Gujarat, once ruled by the Muslim Babi dynasty during British rule. Until, its annexation by the Union of India in 1948. The Nawabs of Junagarh belonged to Pathan Babi or Babai. 
Muhammad Sher Khan Babai was the founder of the Babi dynasty of Junagarh in 1654. His descendants, the Babi Nawabs of Junagarh, conquered large territories in southern Saurashtra.
We have reached the Tomb of Mohammad Mahabat Khan II. (1851–1882) This tomb was build in 1892 over the graves of Navab, a striking resemblance to the Taj Mahal. This yellow mausoleum is a masterpiece of its kind. Embellished with finely designed arches, vertical columns, and elaborate stone carvings on the walls and windows. Its silver-decorated portals, the winding staircases encircling its four tall minarets, and its onion-shaped dome contribute to its splendor. With a great combination of Indo-Islamic & Gothic architecture. Mahabat Maqbara represents a sense of equality between the two different cultures. The Jami Masjid is located on one side of the mausoleum while the Vazir's tomb is on the other. 
But while visiting, we saw that no one was there to take care of this Historical Monument. Kids were playing cricket around it. Some parts of the structure were damaged too.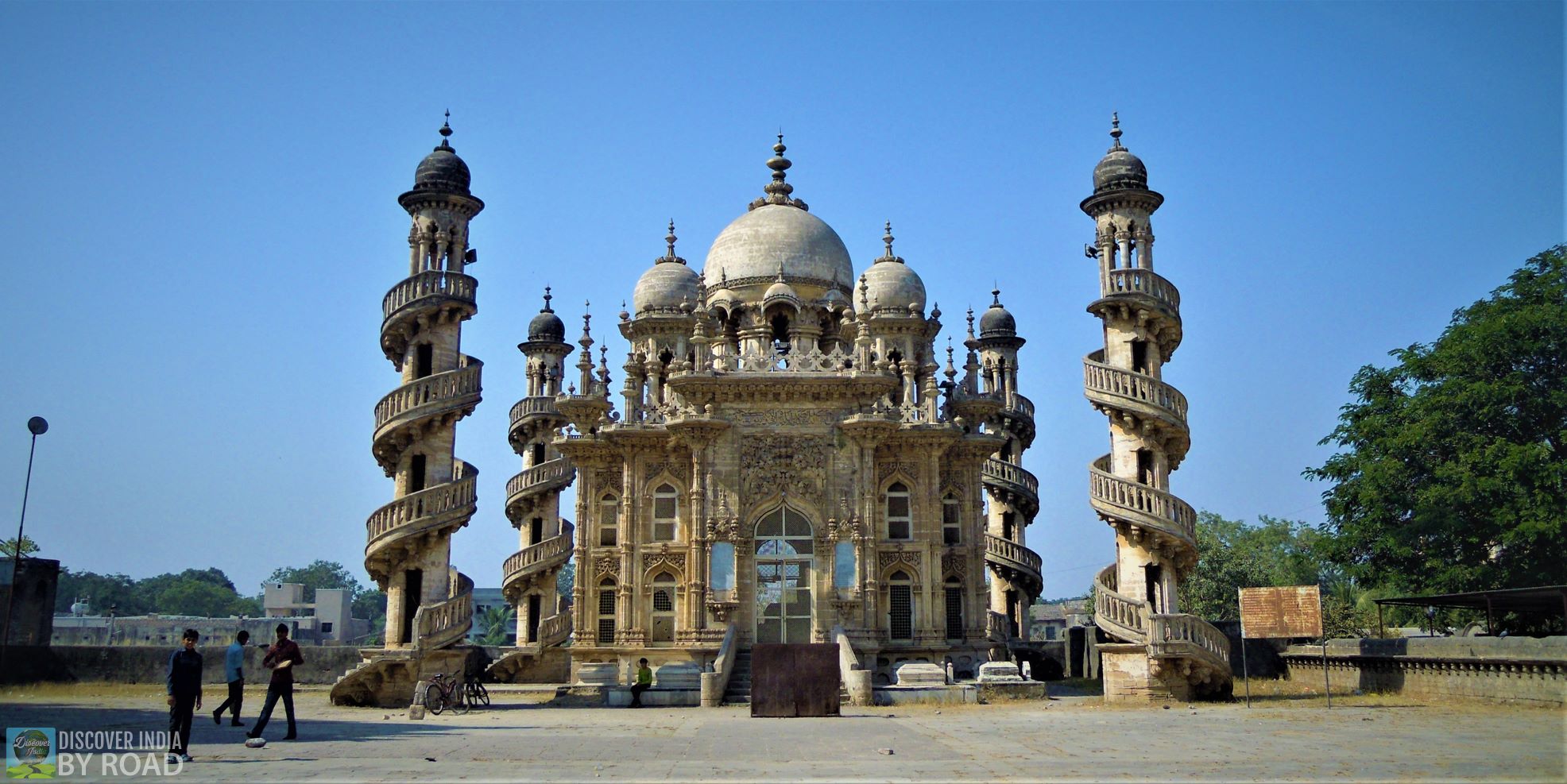 Our Next Destination was Sakkarbaug Zoo, aka Sakkarbaug Zoological Garden. The zoo spreads across 84 hectares. (210-acre) In the year 1863, the zoo developed by the Mahabat khan II Navab of Junagadh state. It is the second oldest & fourth-biggest zoo in India.
In the year 2003, the zoo had inaugurated a natural history museum in a large hall. People who don't want to indulge in a 3-4 hour wildlife safari at Sasan-Gir, can visit the Sakkarbaug Zoo. Similarly, here you can see Asiatic lions roaming freely. Along with, some other animals including, panther, deer, antelope, wild boar, blue bull, blackbuck, and spotted deer. Apart from this, there are many bird species also kept here. Overall, there were 525 types of mammals, around 597 birds and various types of reptiles were kept here. Along with it, one small aquarium was also opened here for visitors.
Timings: 09:00 AM to 12:15 PM & 03:00 PM to 06:00 PM, Wednesday Closed.
Entry Tickets : Adult Rs.20/- | Child Rs.10/- ( Below 12 years) | Camera Fees: Rs.20/- | Video Camera Rs.100/-. (Prices are subject to change)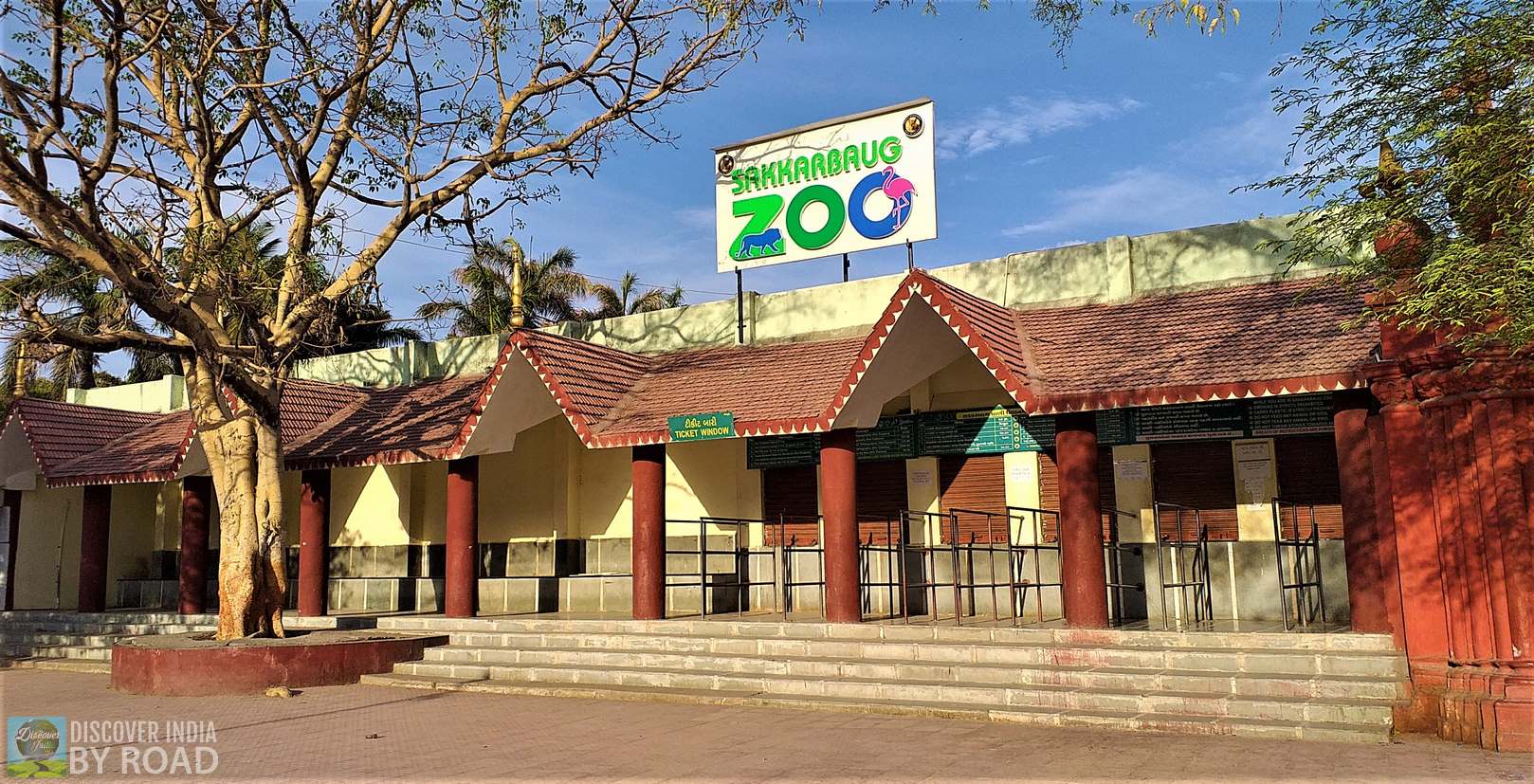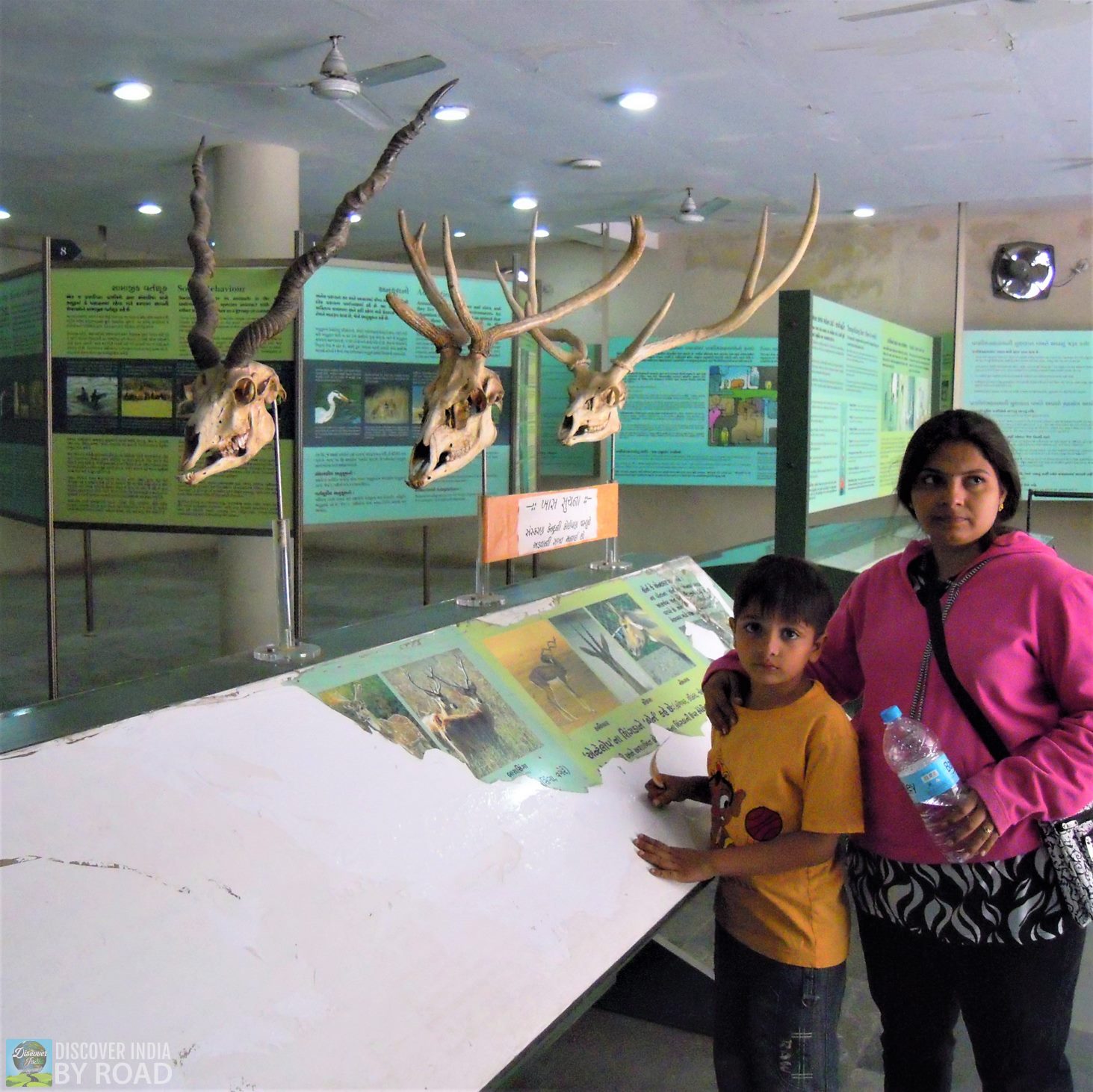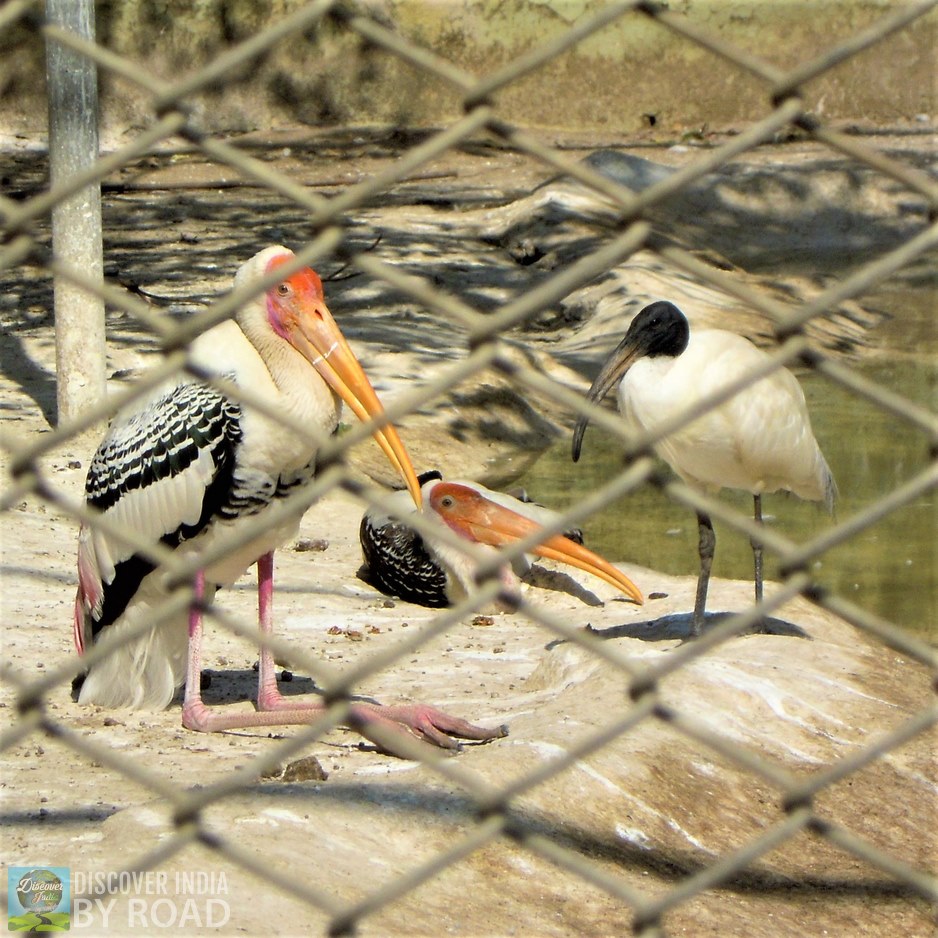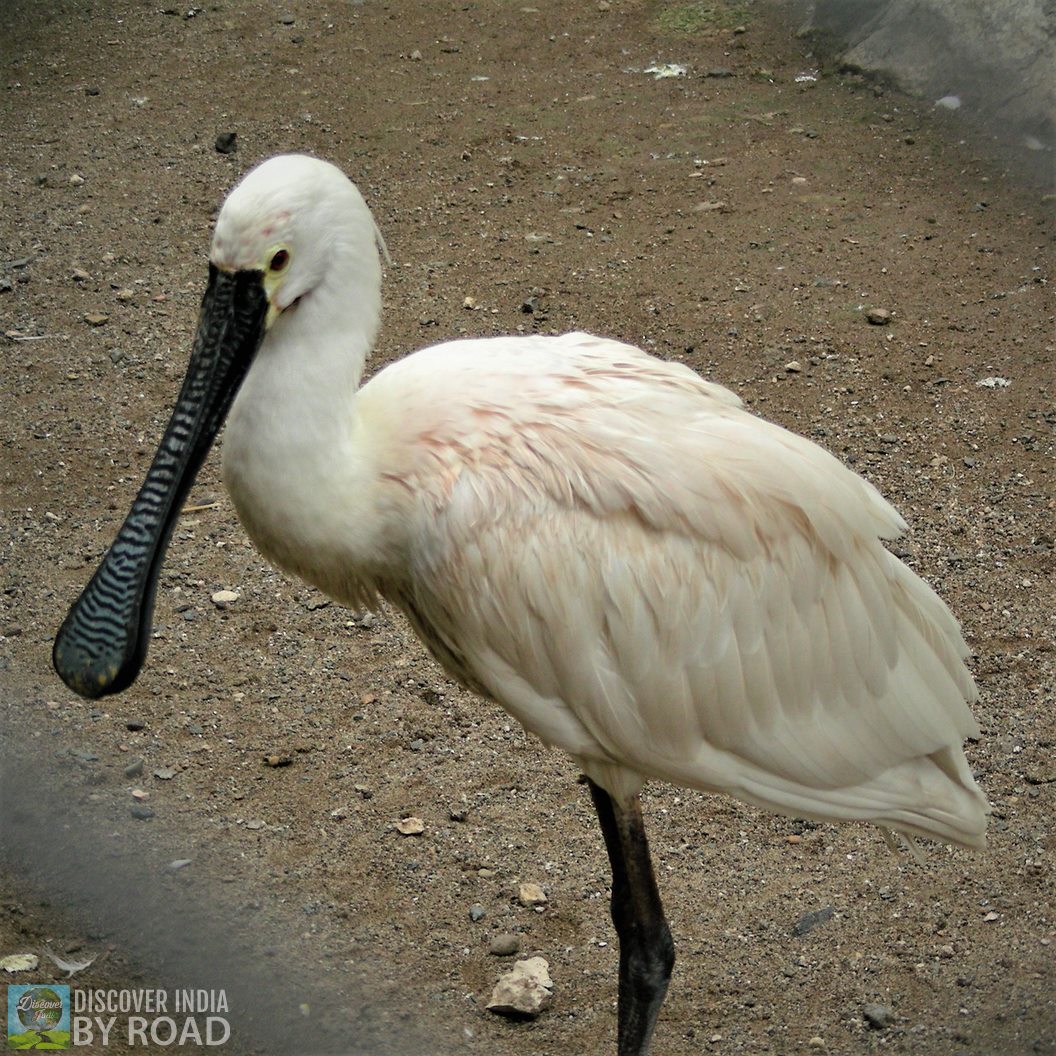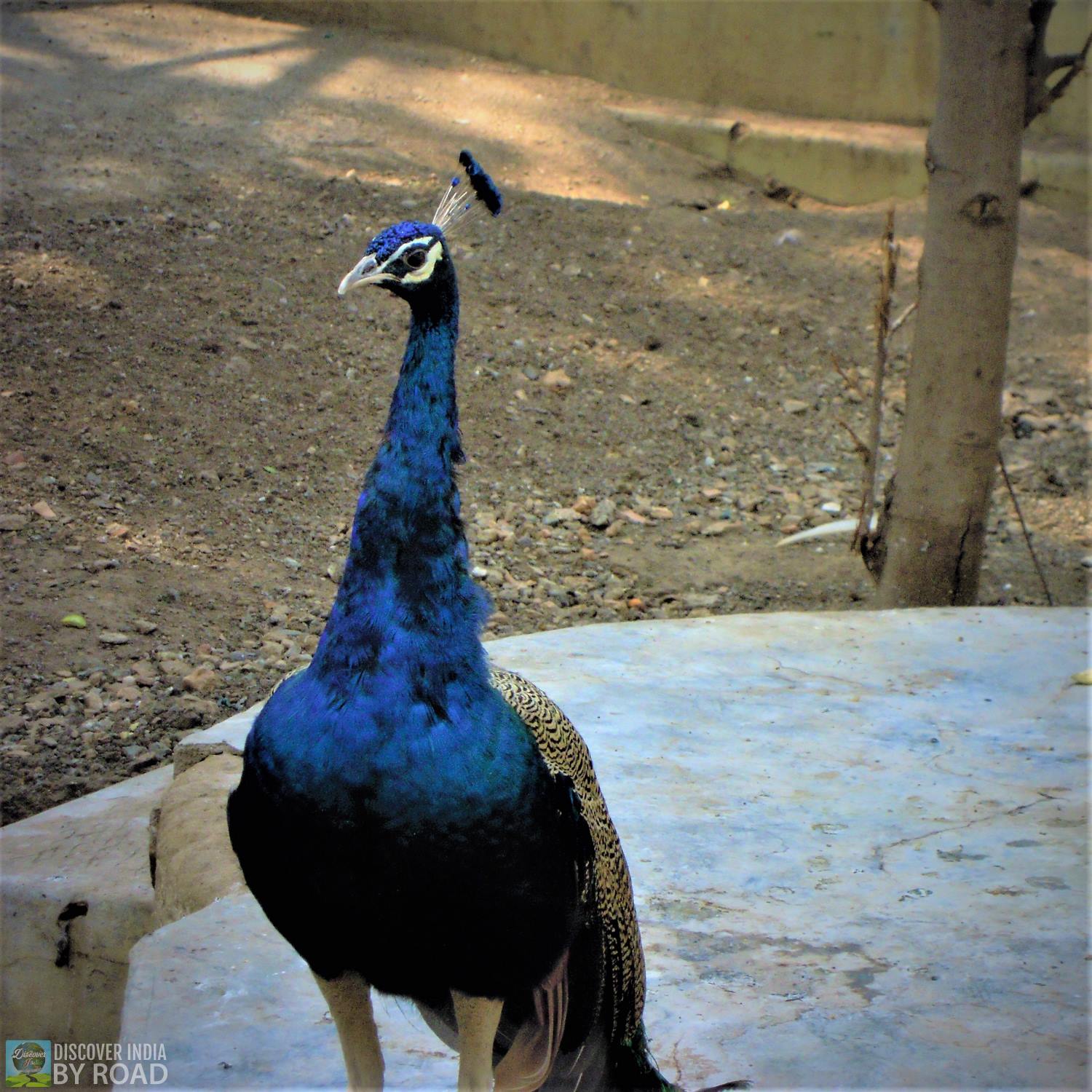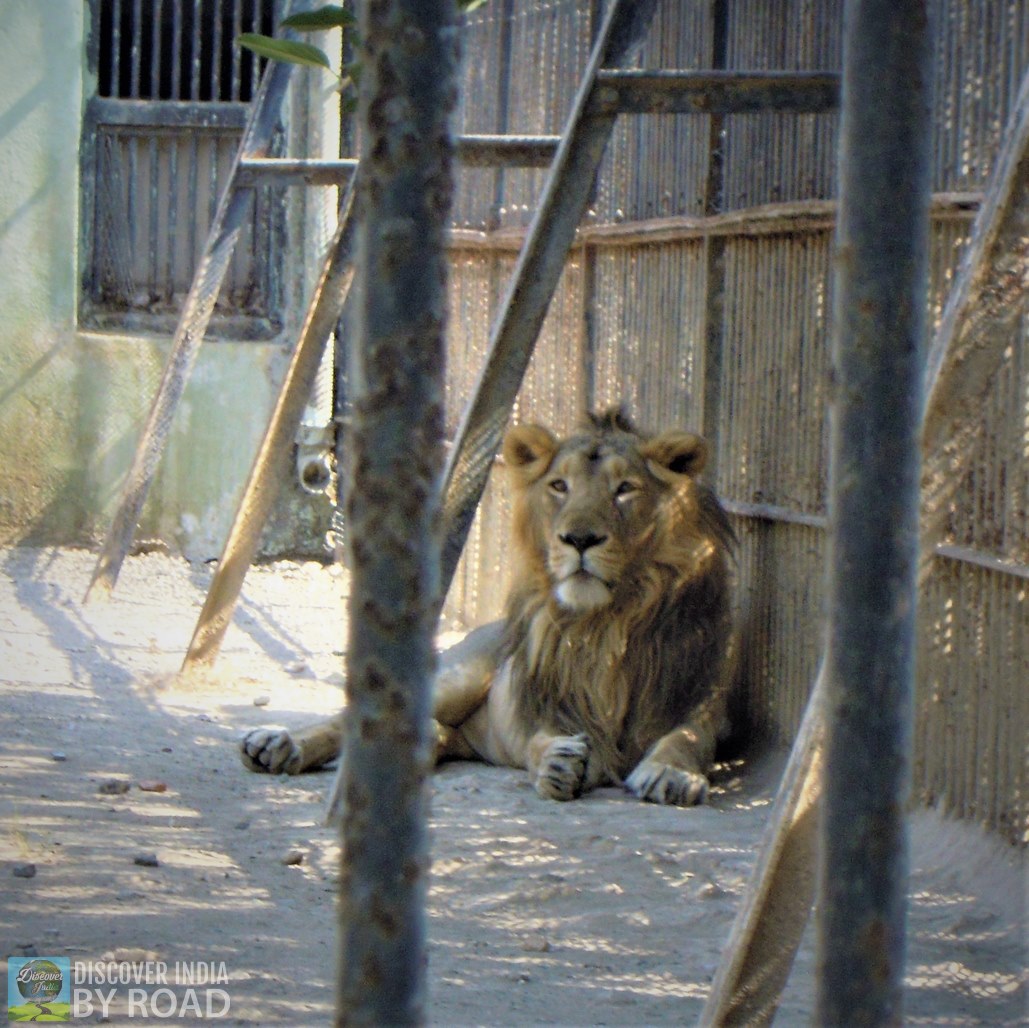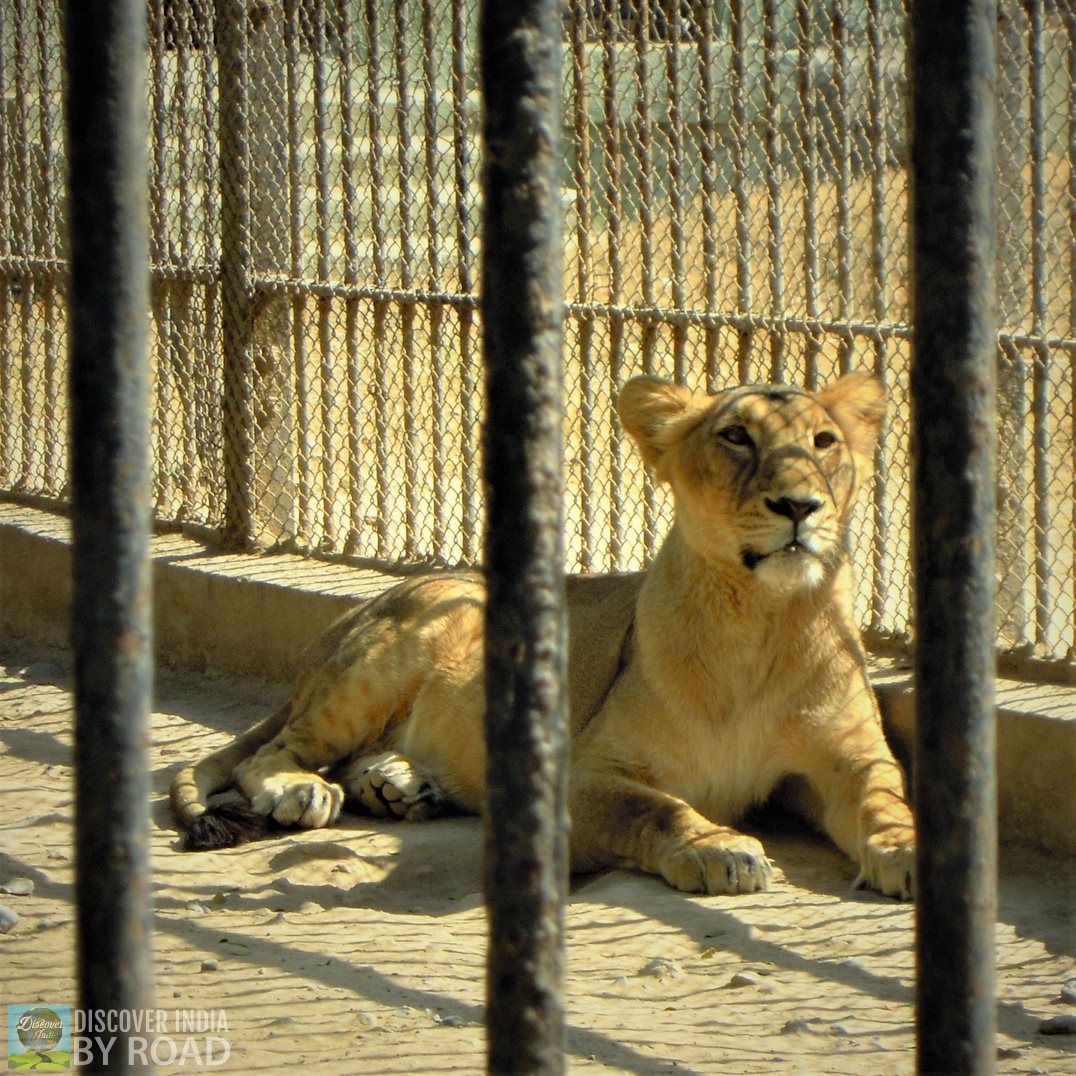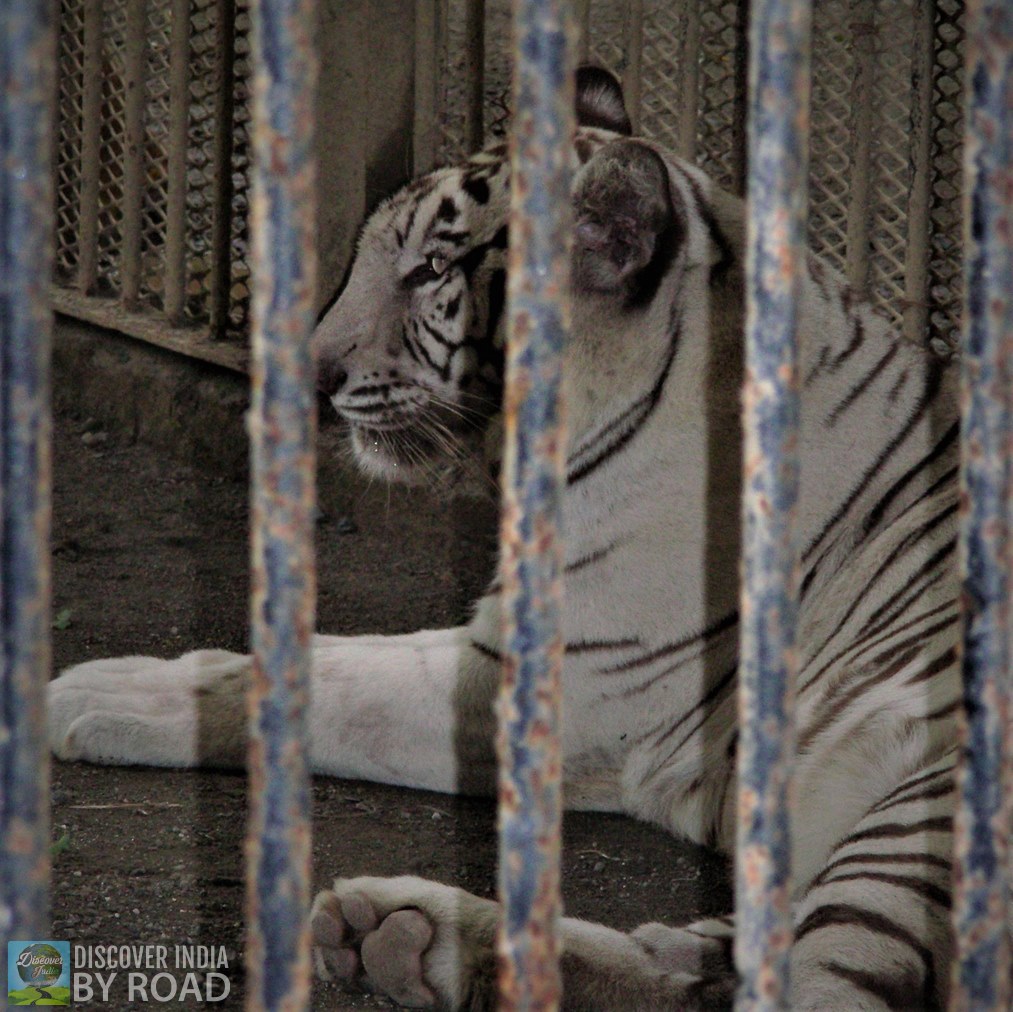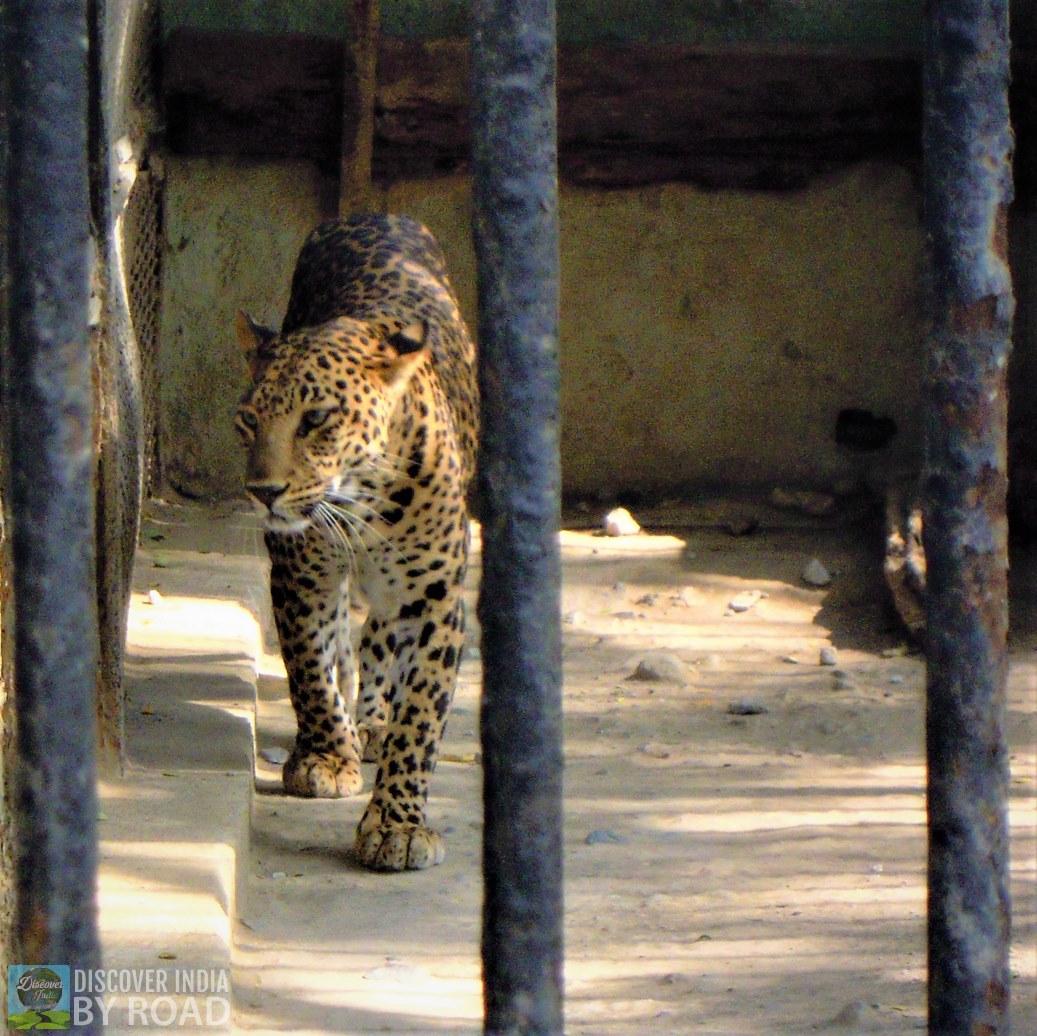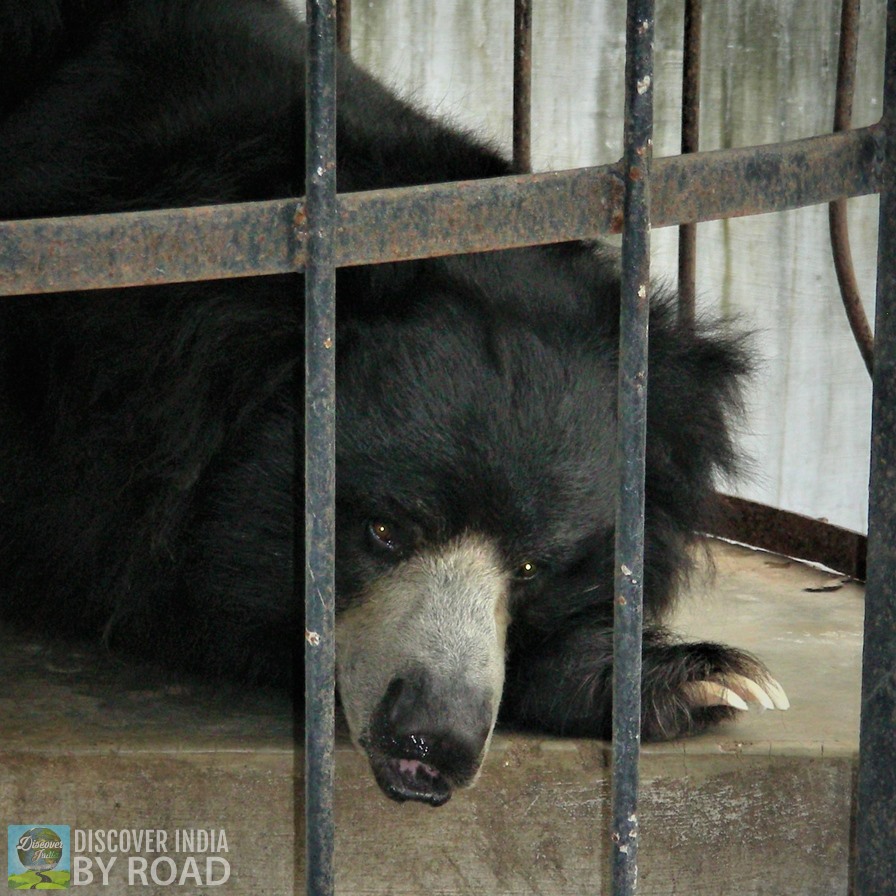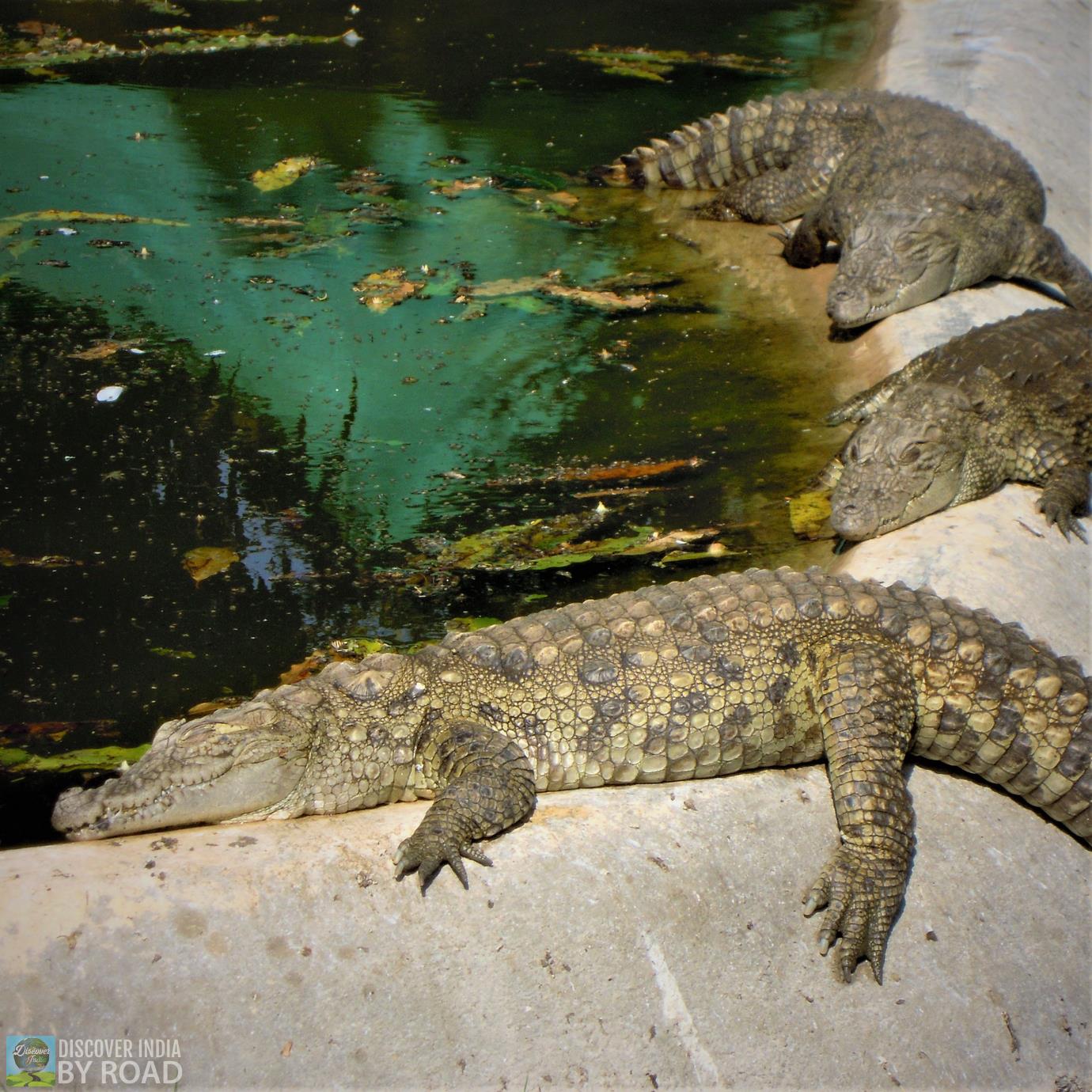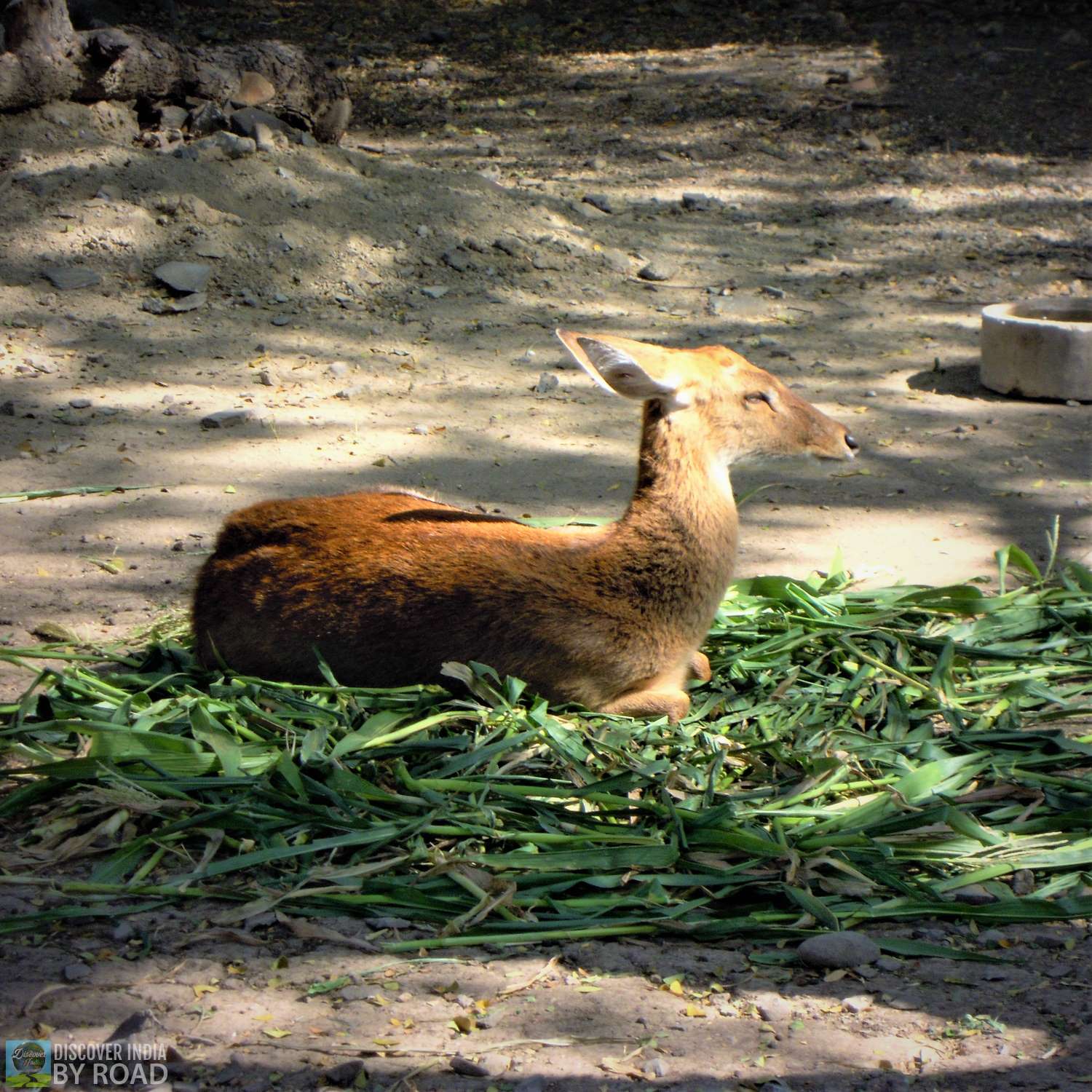 As the Sun was about to set, & we could visit only one place. Thus, we decided to visit the Wellingdon Dam.
It named after Lord Wellingdon, the then Governor of India. This dam built by the Britishers. Between the two hills, on Karva river to provide water to the residents of Junagadh. The view is quite scenic from the dam. Here you can enjoy watching the hills Mount Girnar, with birds chirping around the place. The road leading to the dam from Junagadh town is quite good. However, the best time to visit here is during monsoon.
From another side of the dam, the steps goes up to 2,779 feet (847 m) high to the famous shrine of Jamiyal shah Datar aka Sakhi Datar. Where both Hindu and Muslim devotees share their faith.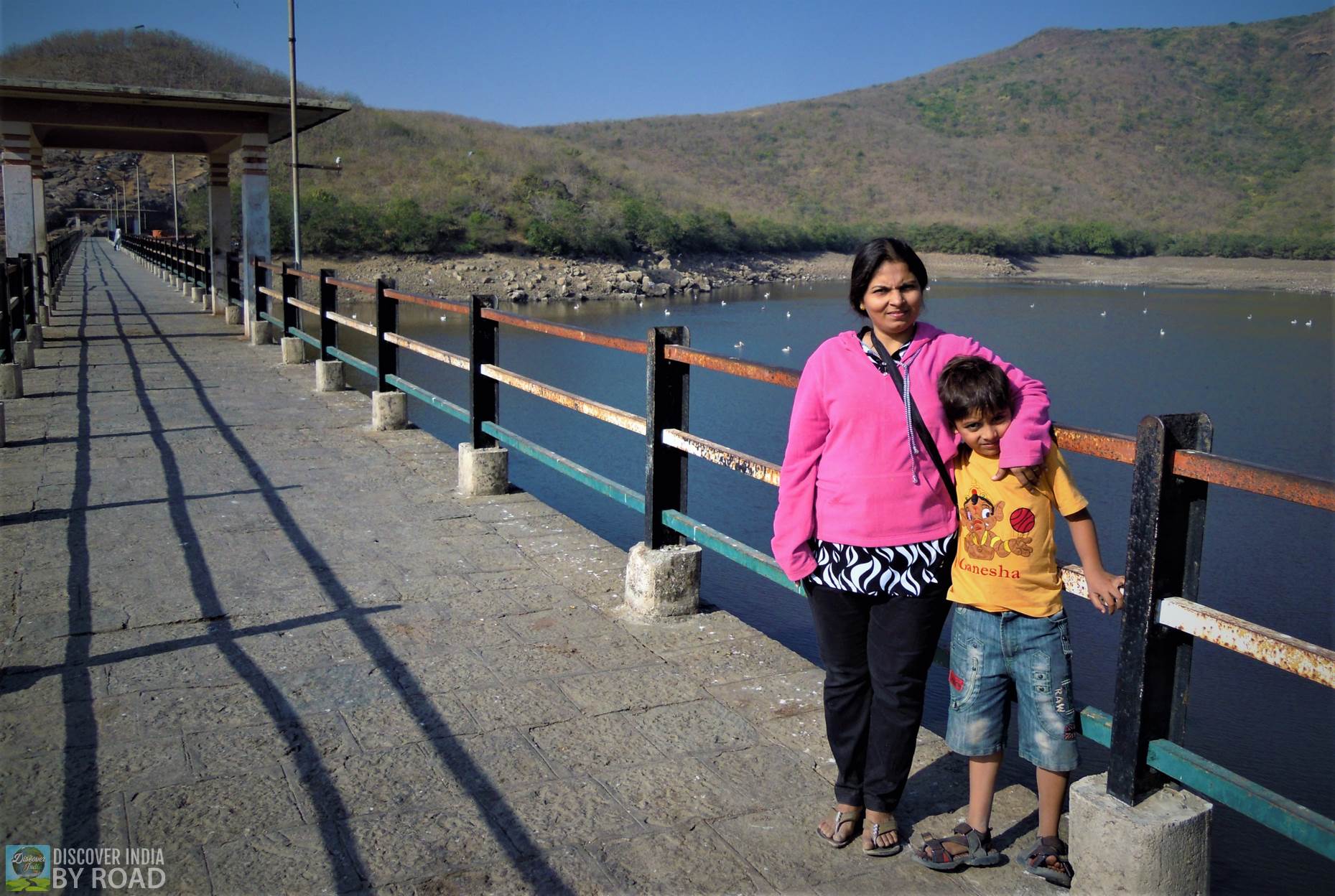 There are still many places to explore. But, we didn't have enough energy & time for it. Importantly, we needed some rest, because tomorrow we have planned to climb Mount Girnar. Which requires a lot of energy & determination. We had our dinner at Swaminarayan Temple & got back to our room.
Day 6 (Trek to Mount Girnar)
"To climb Mount Girnar is not everyone's cup of tea." These are the word we heard from many people. When we talked about trekking to Mount Girnar. We woke up in the morning, with all these thoughts in our minds. And we were quiet nervous too, whether we could make it? But, then we thought, that at least we should try, and give our best.
Mount Girnar is at the elevation of 1069 Meters (3507 Feet) above the main sea level. These mountain ranges are considered to be sacred. It is an important pilgrimage site for Hindus and Jains. Who gather here, in large numbers, mainly during, the Girnar Parikrama festival.
We woke up at 5:00 am, as we wanted to start our journey as early as possible. So that we could return before evening. To start the climb, you need to reach Bhavnath Taleti first, which is around 4 km far from our location. We decided to hire an auto to reach there. As it was the month of December, it was very cold out there. Within around 15-20 minutes we arrived at Bhavnath Taleti.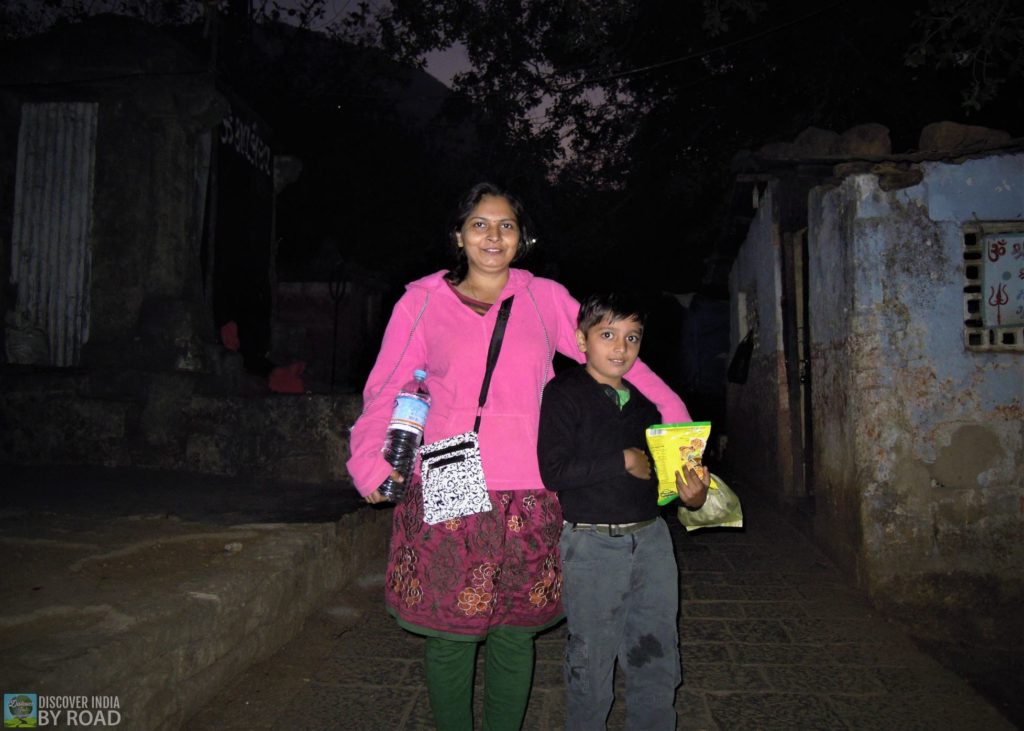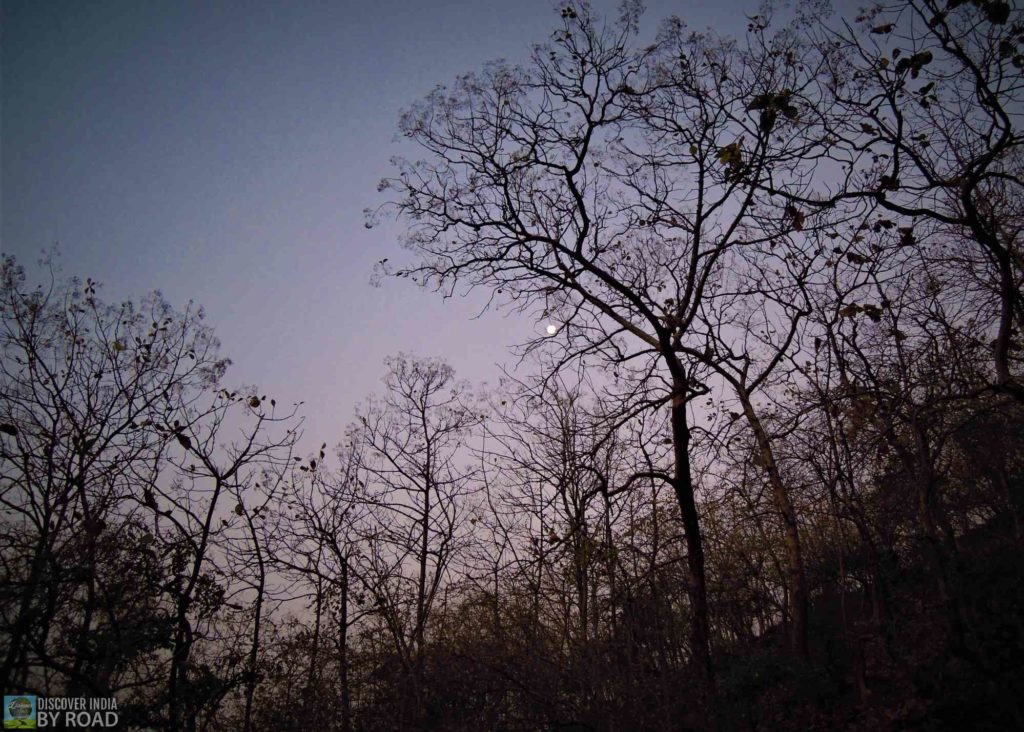 Bhavnath is a small village in Junagadh. It is situated near the Girnar mountain range, close to Girnar Taleti. This is the place from where pilgrims start their trek towards Mount Girnar. Thus, this place is also know as Bhavnath Taleti. During the festival of Maha Shivratri, hundreds of Naga Sadhus (naked Sadhus) of Dashanami Sampradaya gathered here. They have a bath at the Mrugi kund and offer their prayers to God Shiva. People believe that God Shiva himself visits here on this holiest day.
After having a light breakfast, we started our trek. With around 10,000 steps in Mount Girnar, there are many temples coming on the way. Before ascending we bought some snacks & water for our trek. Due to, the climate was cool, we were enjoying the trek. Watching sunrise from here was truly amazing.
There were many Langurs (Monkey) on the way. Whereas, we should be very cautious, as they try to snatch food packets or bags from your hand. If you are unable to trek you can also hire a Dolly. (Palanquin) Today, it was a bright sunny day. We kept walking while taking small halts on the way. However, there are many small temples, where you can sit & relax.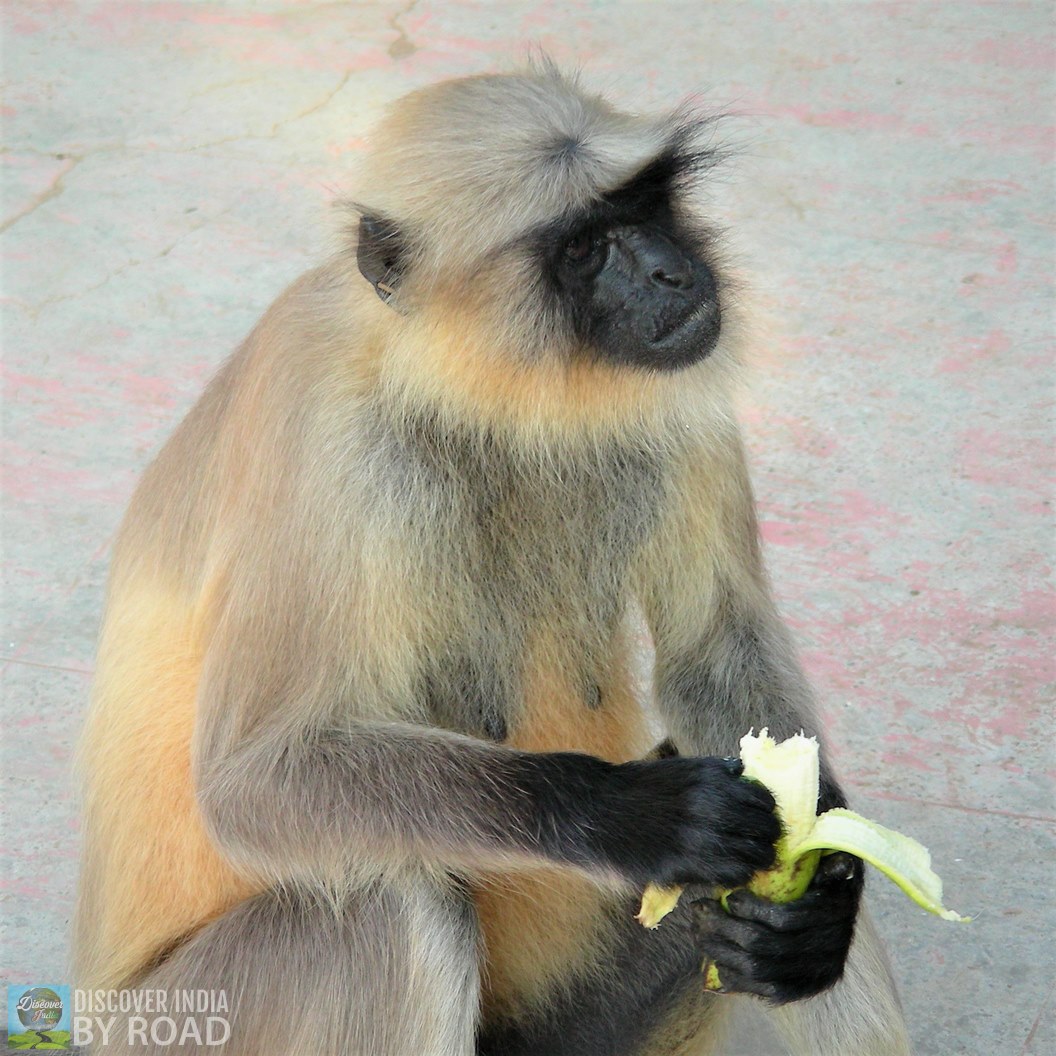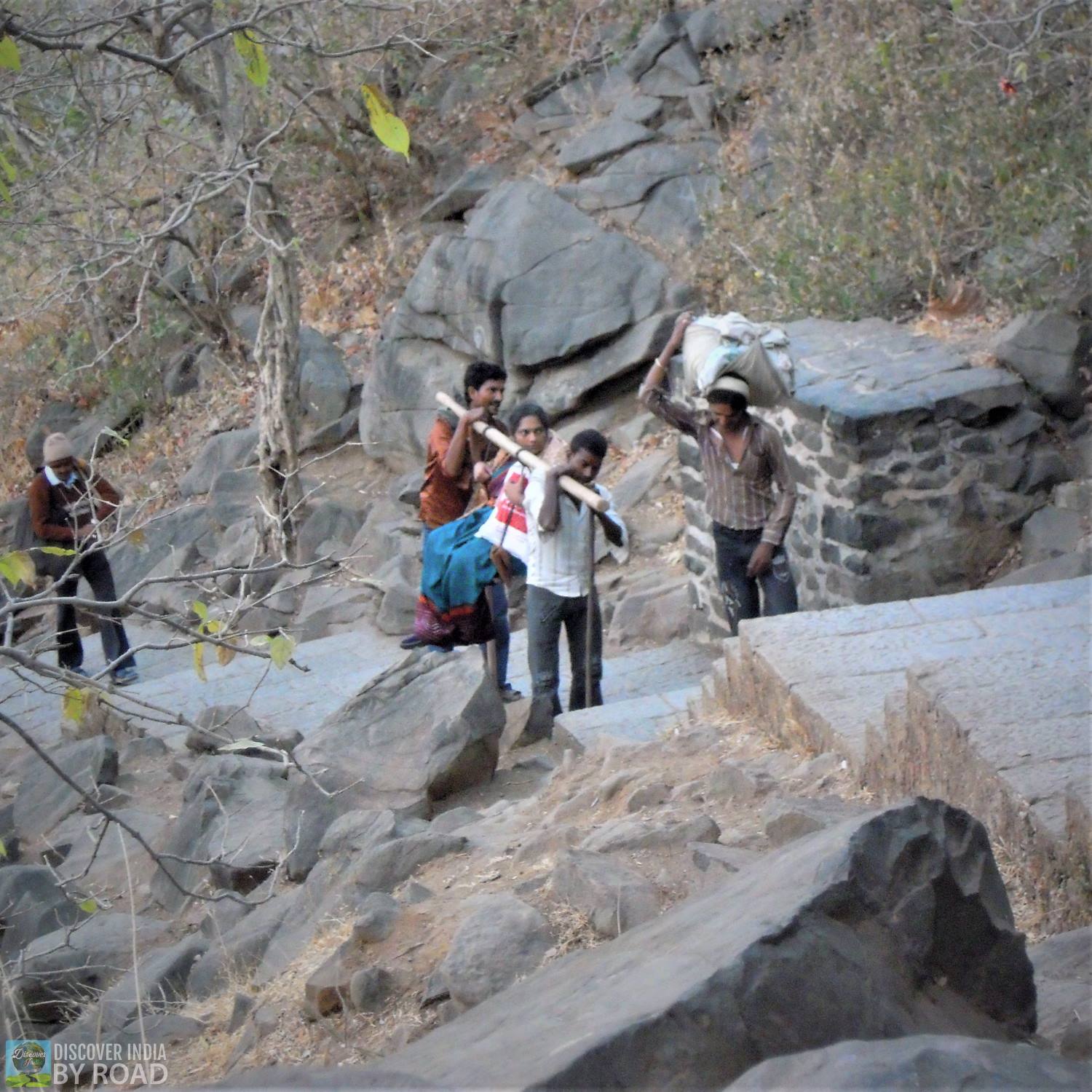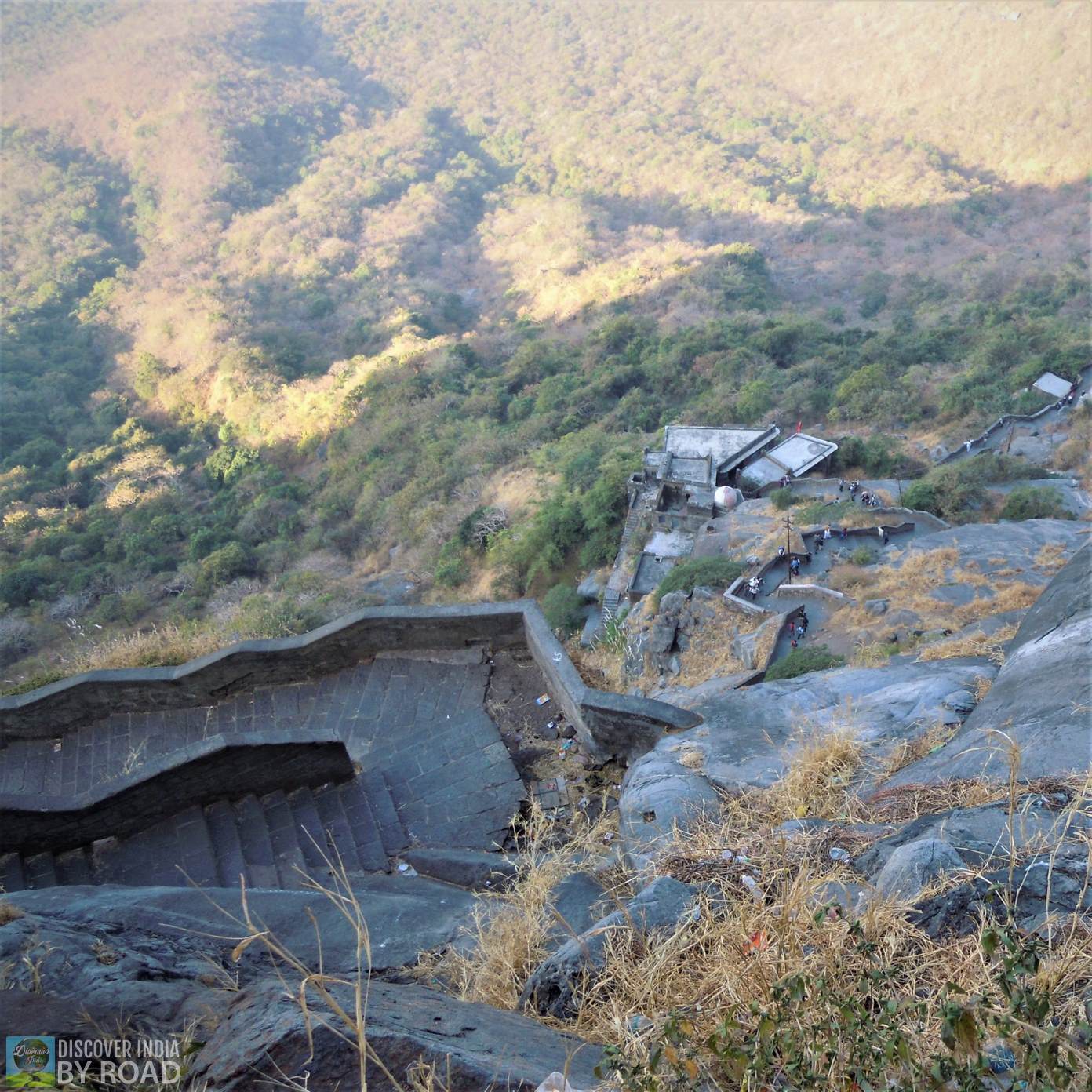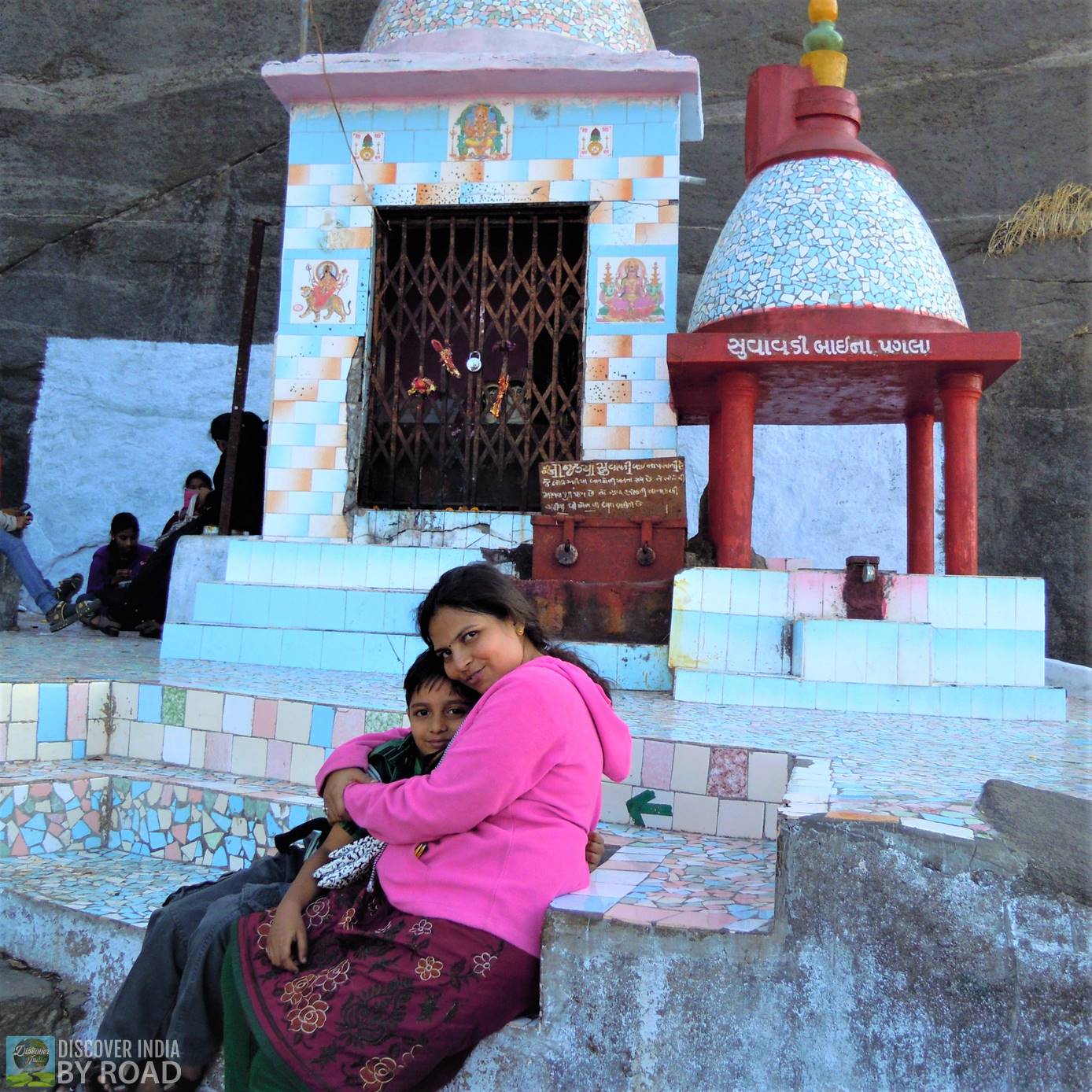 Finally, we reached our first milestone, The Neminath Jain Temples. Situated at 3850 steps from the base. it's around 10:30 am. Once, we entered the gate, we saw the large enclosure of the temples. Total 16 Jain temples here. The largest temple is the Neminath temple, the 22nd Tirthankara. Behind the Neminath temple, there is a temple of Vastupala & Tejpala. The two brothers, who also built the famous Dilwara Jain Temples of Mount Abu in Rajasthan. Here are some glimpse of this marvelous structure.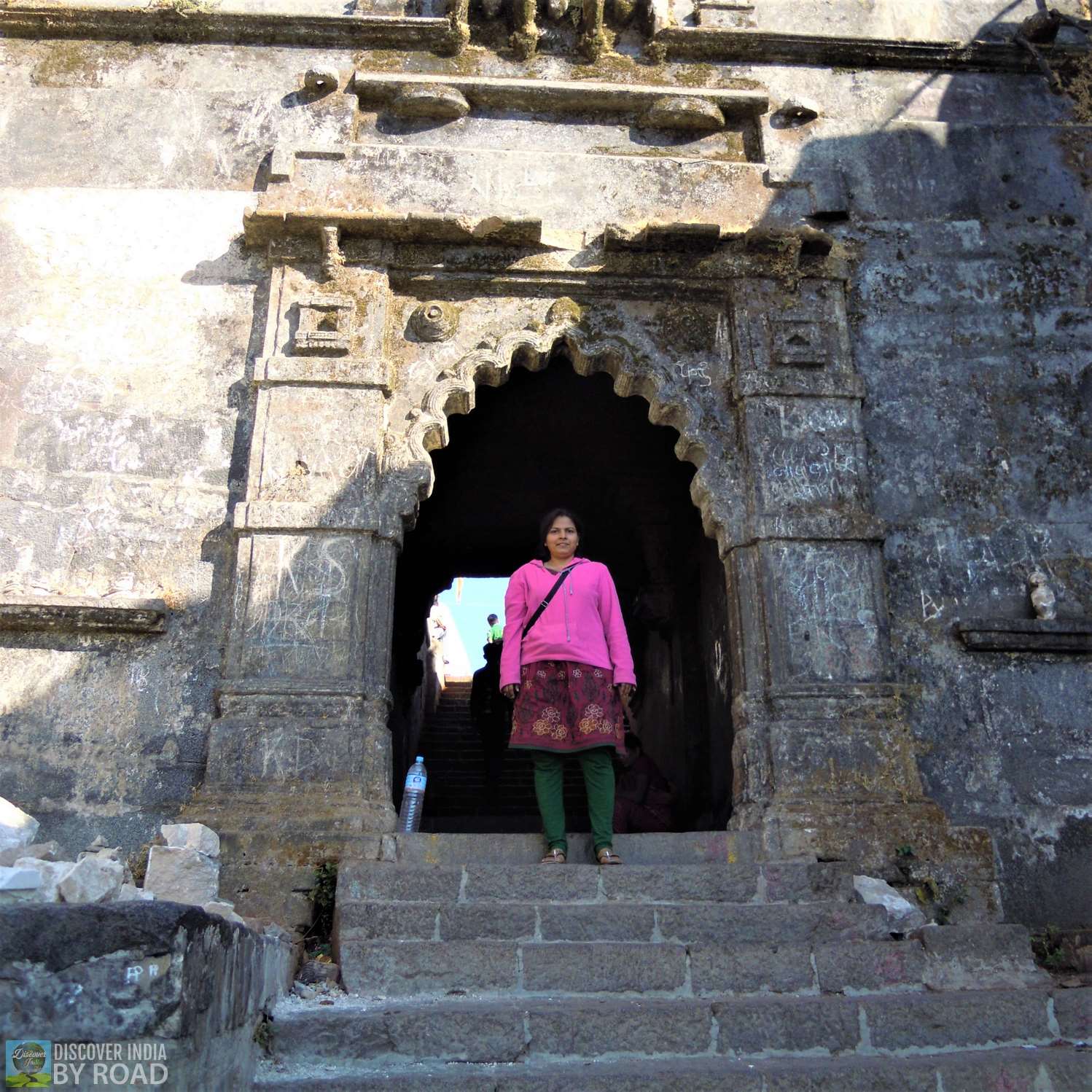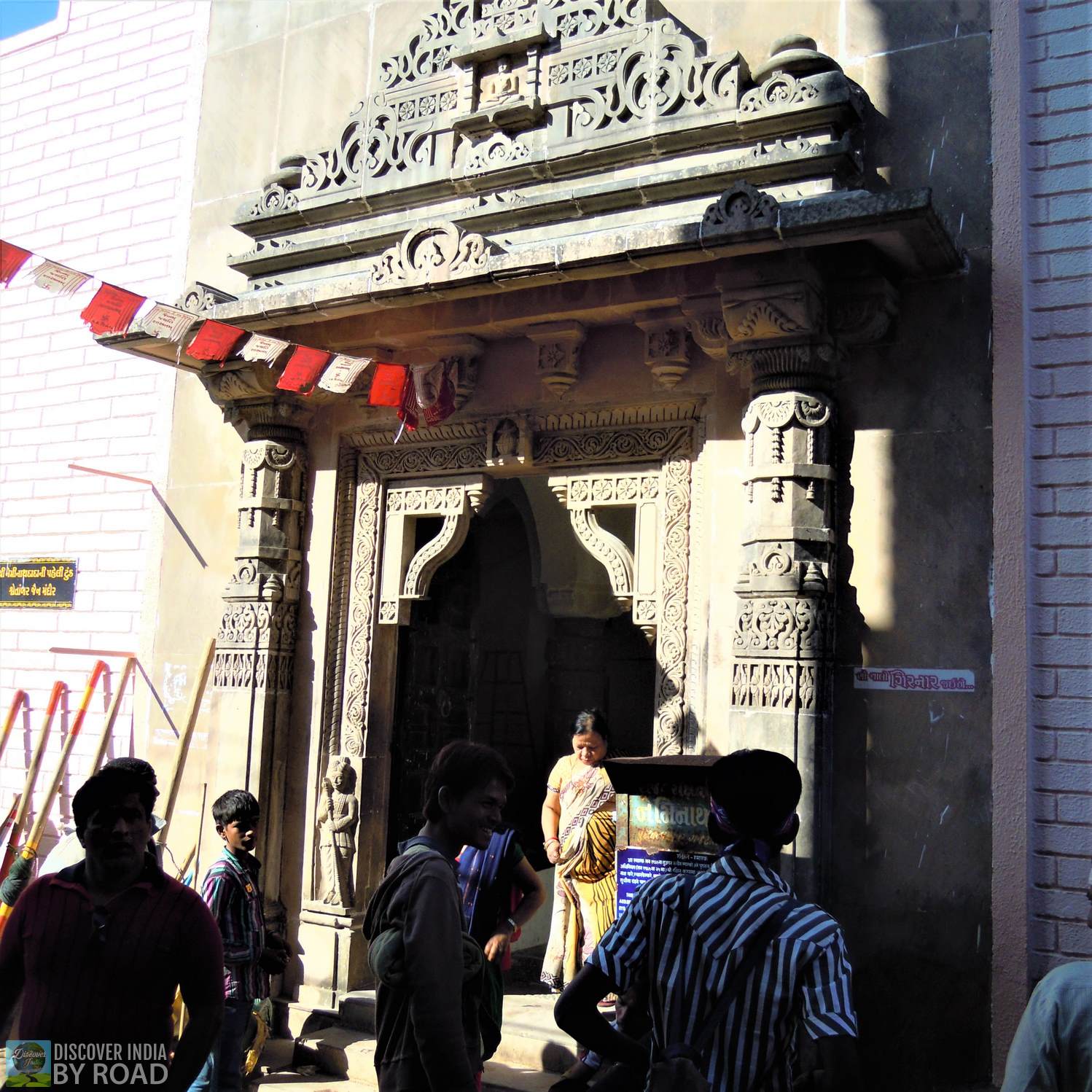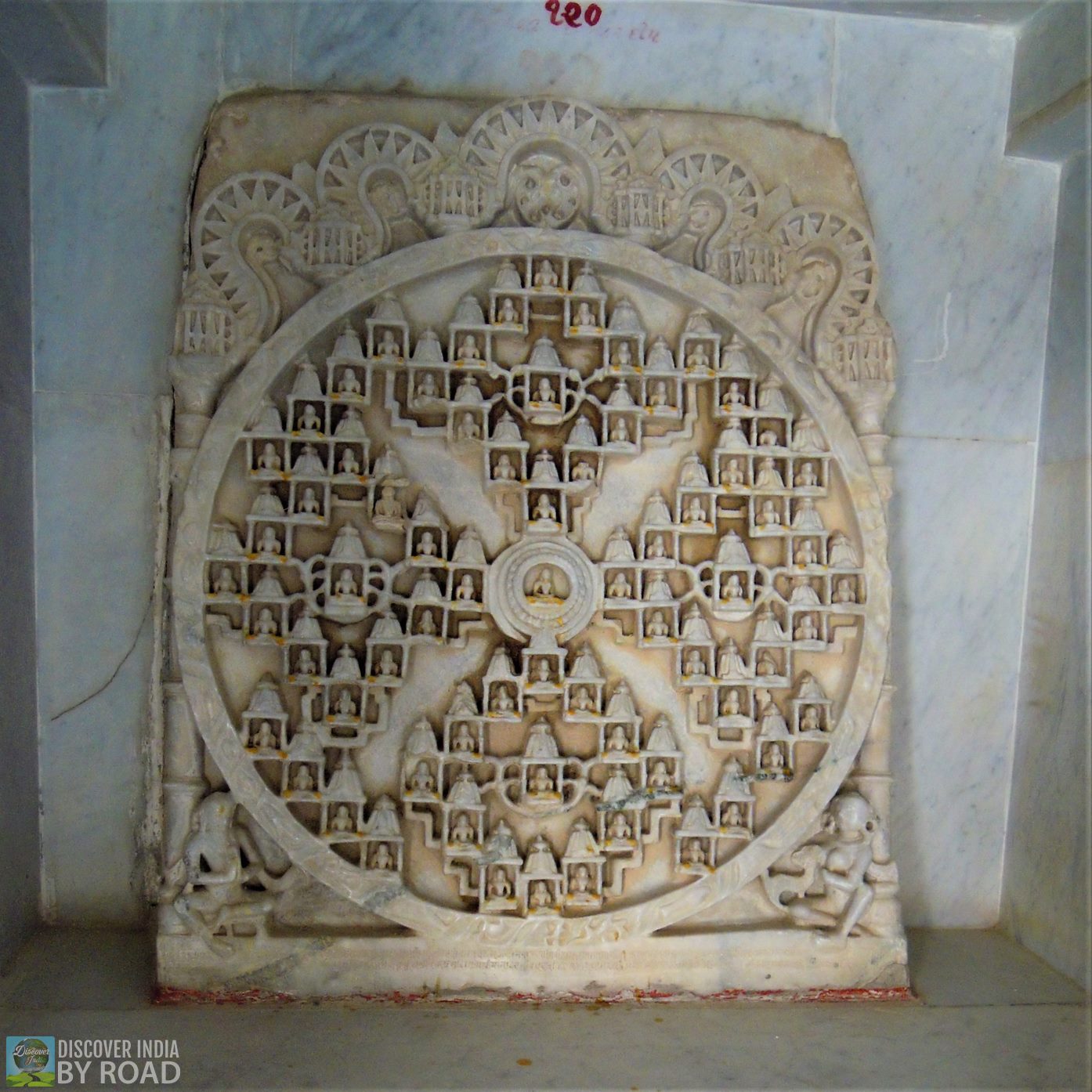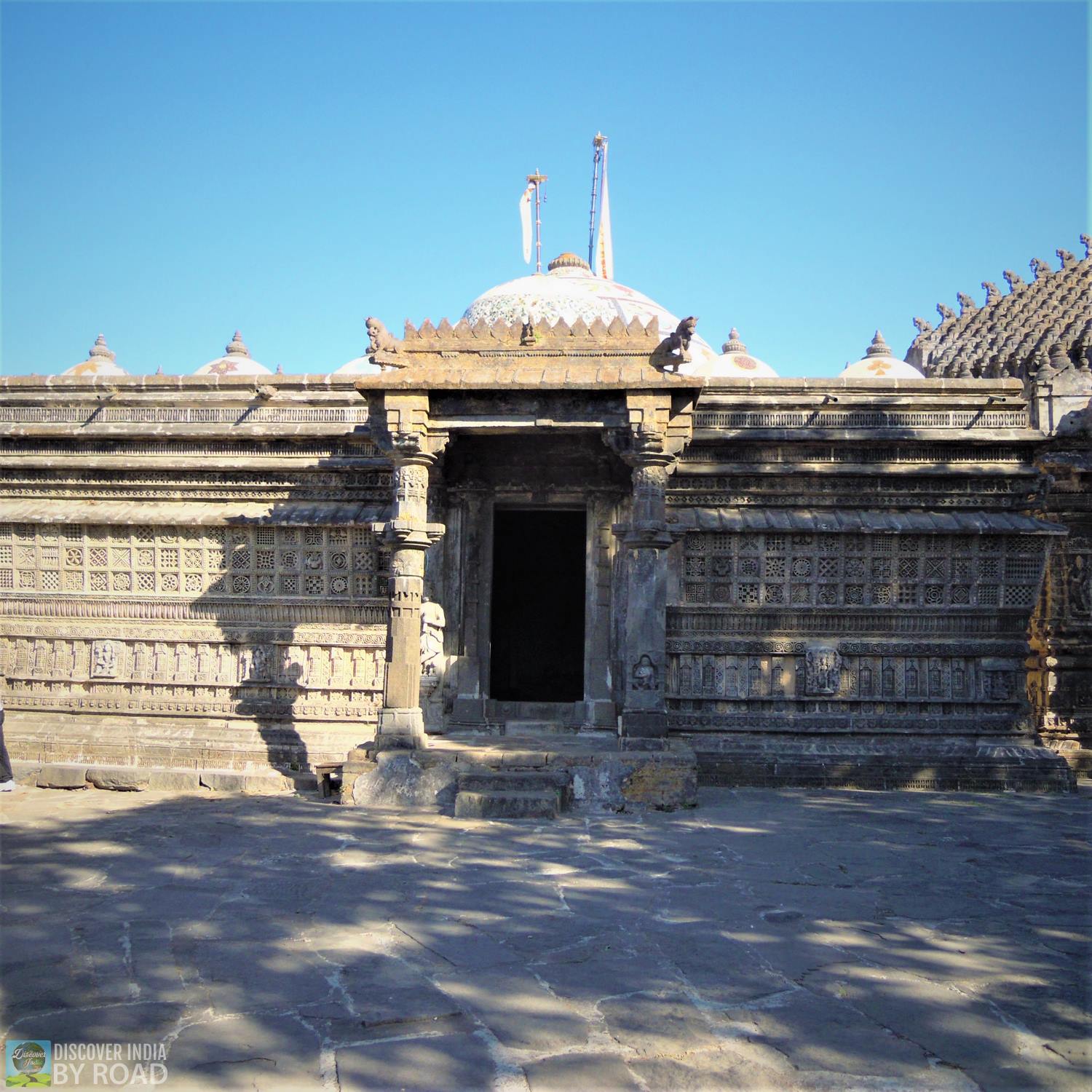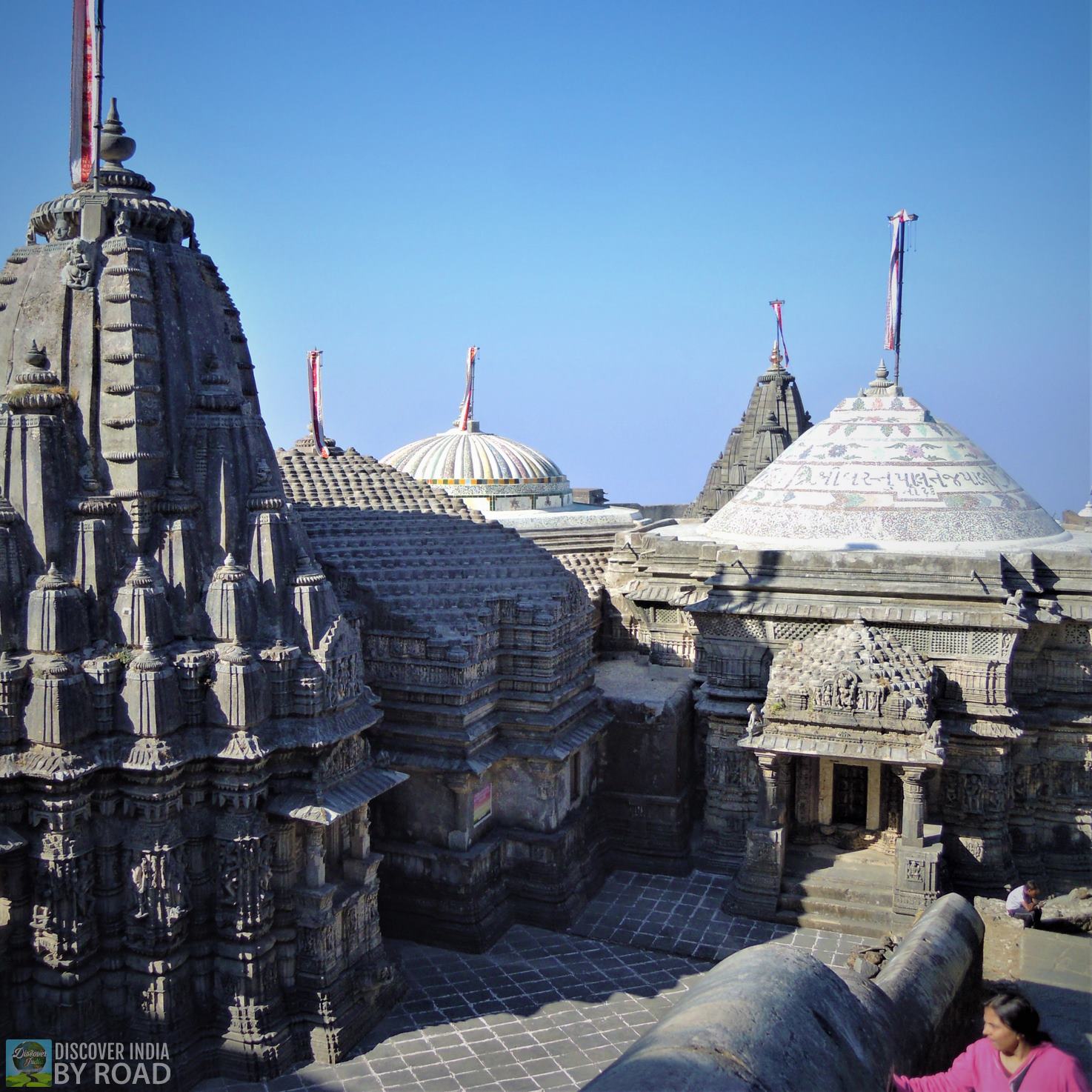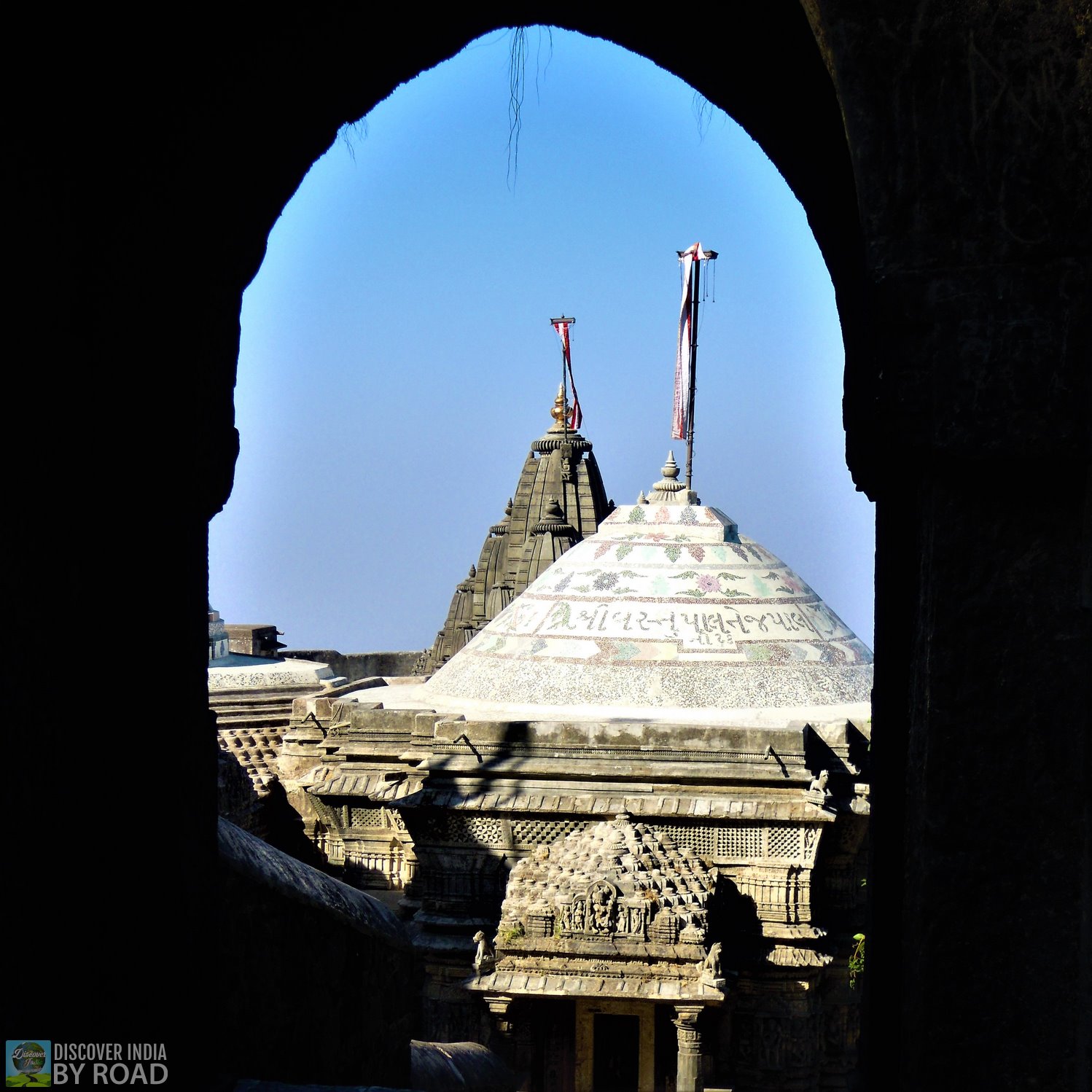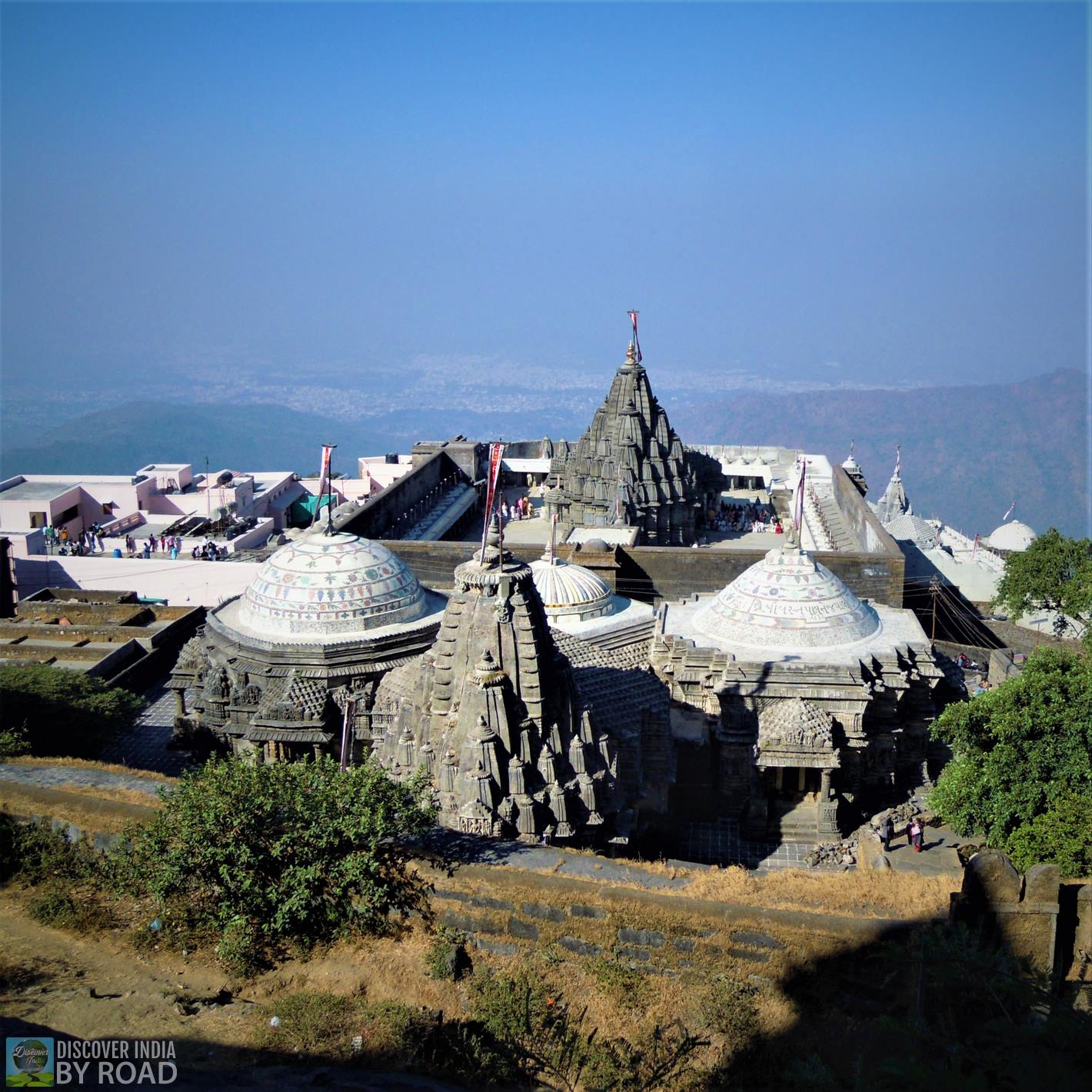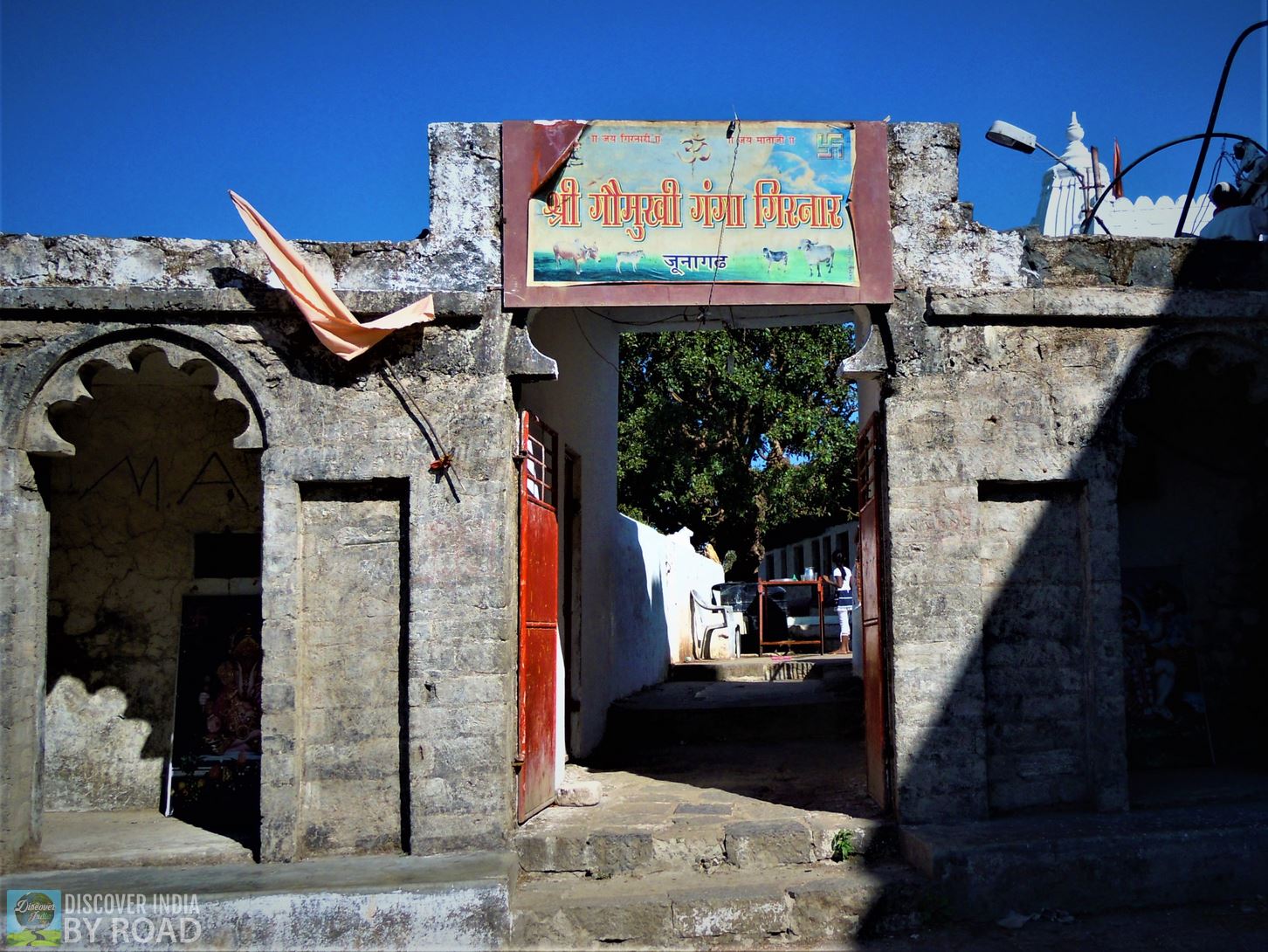 After spending some quality time, we started our further trek.  We saw many small food stalls while trekking. Who were selling fresh fruits, lemon juice, Even we saw someone selling fresh sliced Tomato seasoned with salt & pepper.
Due to, long trek we felt exhausted. So, we decided to try some fresh Tomato & Watermelon, which were really very refreshing. After enjoying this treat, at this altitude, we felt very blessed. 
During the trek, many Sacred places are coming on the way. Such as Gajapad Kund, Gaumukhi Ganga, etc. However, we skipped all these places as we didn't want to waste much time. This was our first trek & we didn't know how much time will it take us, to reach the summit? So we kept walking ahead.
Now it was 12:00 pm & finally, we had reached Ambaji Temple. The temple is on one of the top Mountain, in the Girnar mountain Range called, the Ambaji Shikhar. We had climbed 5000 steps to reach the temple located at a height of 3664 feet.
This ancient temple of Amba Mata, built during the Gupta dynasty. And mostly visited by newly married couples. To perform a ritual, in which they untie the wedding knot. (Cheda Chedi) In the presence of Amba Mata & seek blessings for a happy & prosperous married life.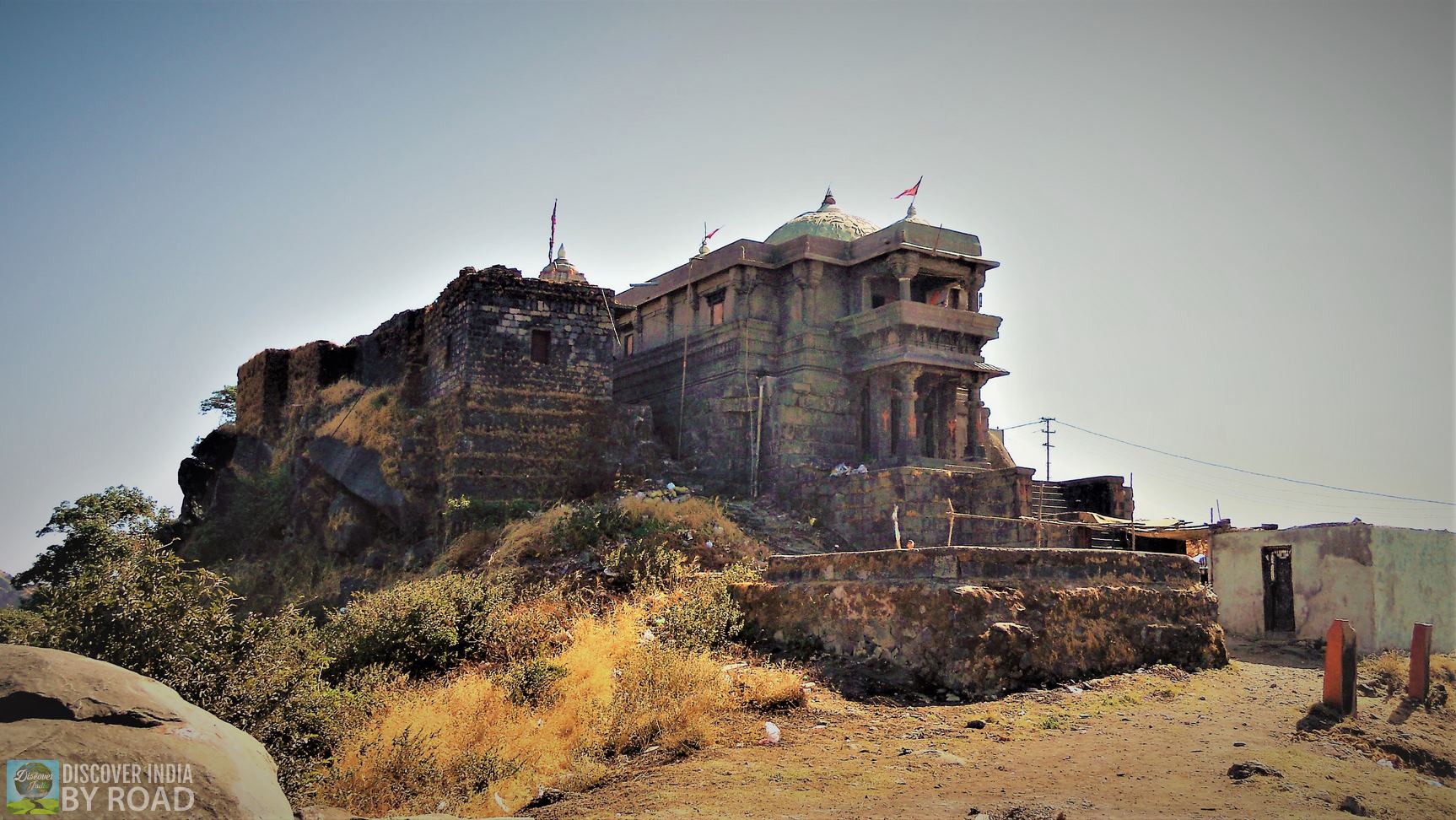 After taking the blessings of Mataji we took some rest & started planning about our further trek. But, as we exited from the temple we saw two more peaks to climb, which looks quite difficult. So we asked some people, who were returning from there. From them, we came to know that there are more three more sites to visit ahead.
The first site is Gourkhanath Tonk, which is the highest point in mount Girnar. To reach there we have to climb down around 850 steps and climb 700 steps. Then the next point is the Kamandal Kund. At about 900 steps down & again climb another 850 steps for Dattatrey Tonk. (peak) Altogether, it's somewhere around 5000 steps more.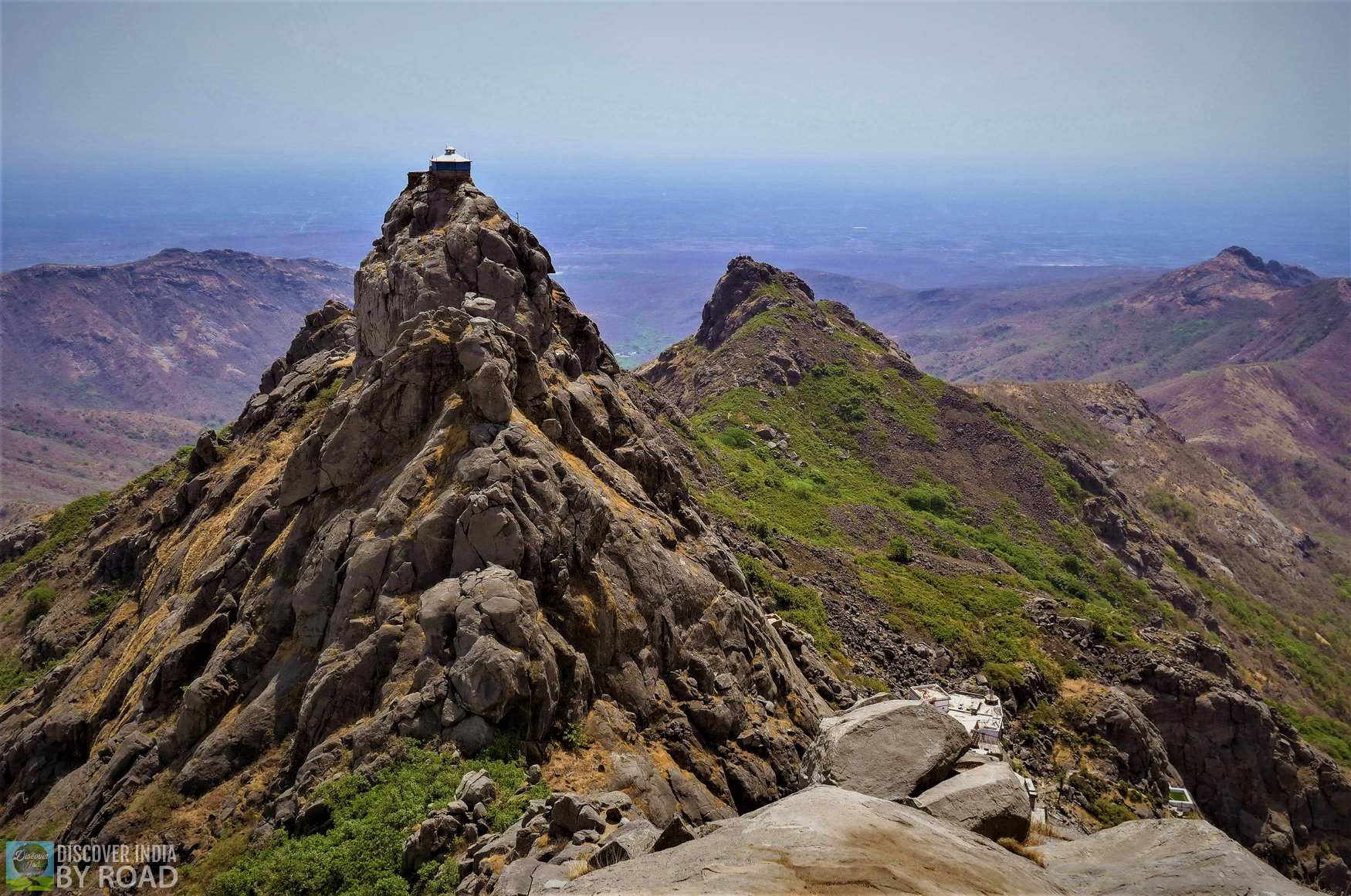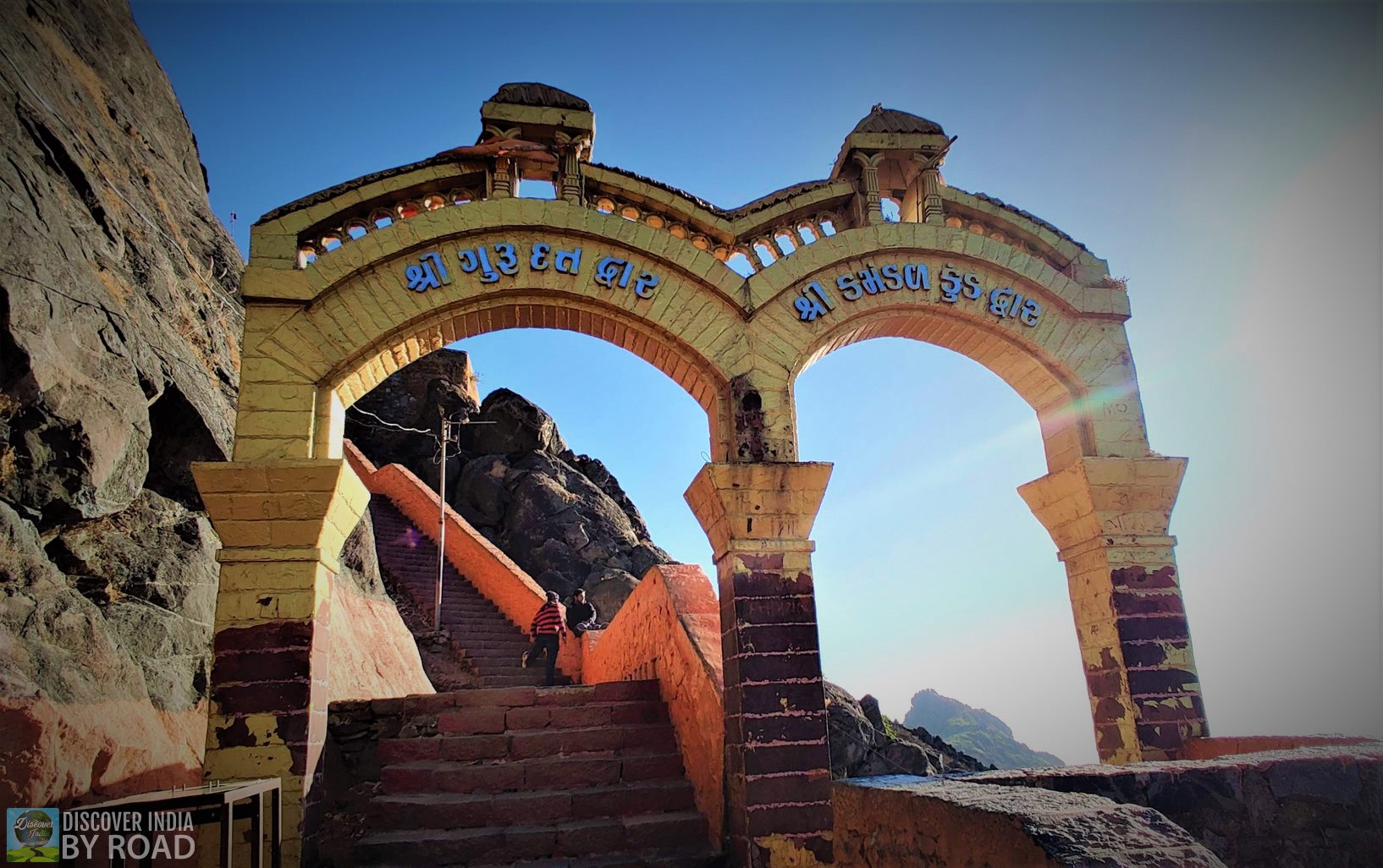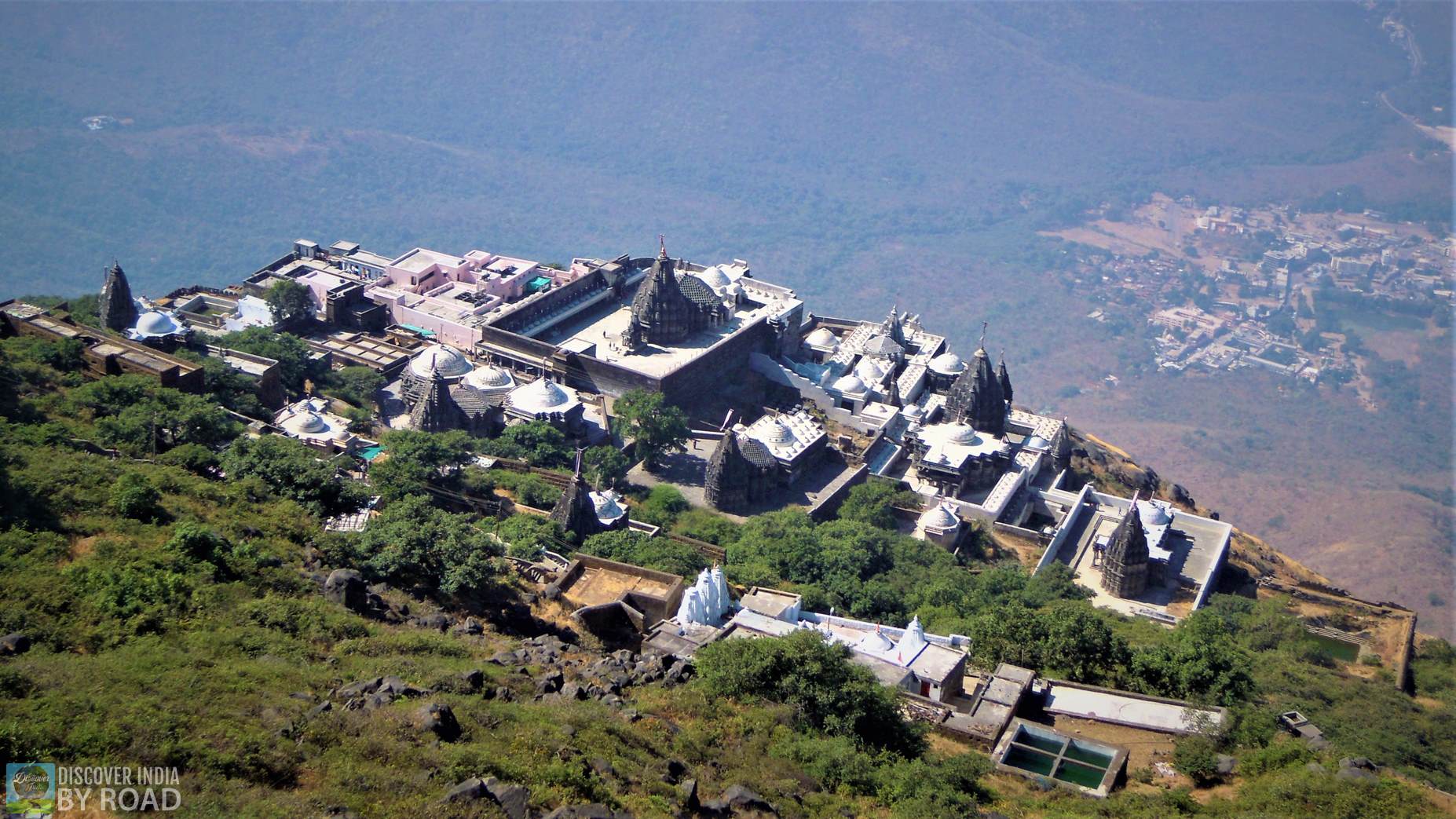 After hearing this we looked at each other & dropped the plan of the further trek. So we clicked some photos. From here you can get a aerial view of entire Naminathe Temple complex with Bhavnath Taleti in background.
We took some rest & started descending at around 2:00 pm. While descending, we had mixed emotions, with the happiness of achieving our goal. However, the sadness of not completing it fully. We had strong determination, that we would return & will Accomplish our goal. With all these thoughts in our minds, we reached Bhavnath Taleti by around 5:30 pm. Here there are several small stalls of Masseurs, in which you can get some Massage if you want. We also felt some pain in our calf muscles, but we could manage it, so we didn't take any massage.
With lots of memories, while returning, when we were looking at mount Girnar. Suddenly, we noticed that the entire mount Girnar resembled the face of a Sleeping sage. So we stopped & clicked some photos. If you are also able to spot the face, please comment below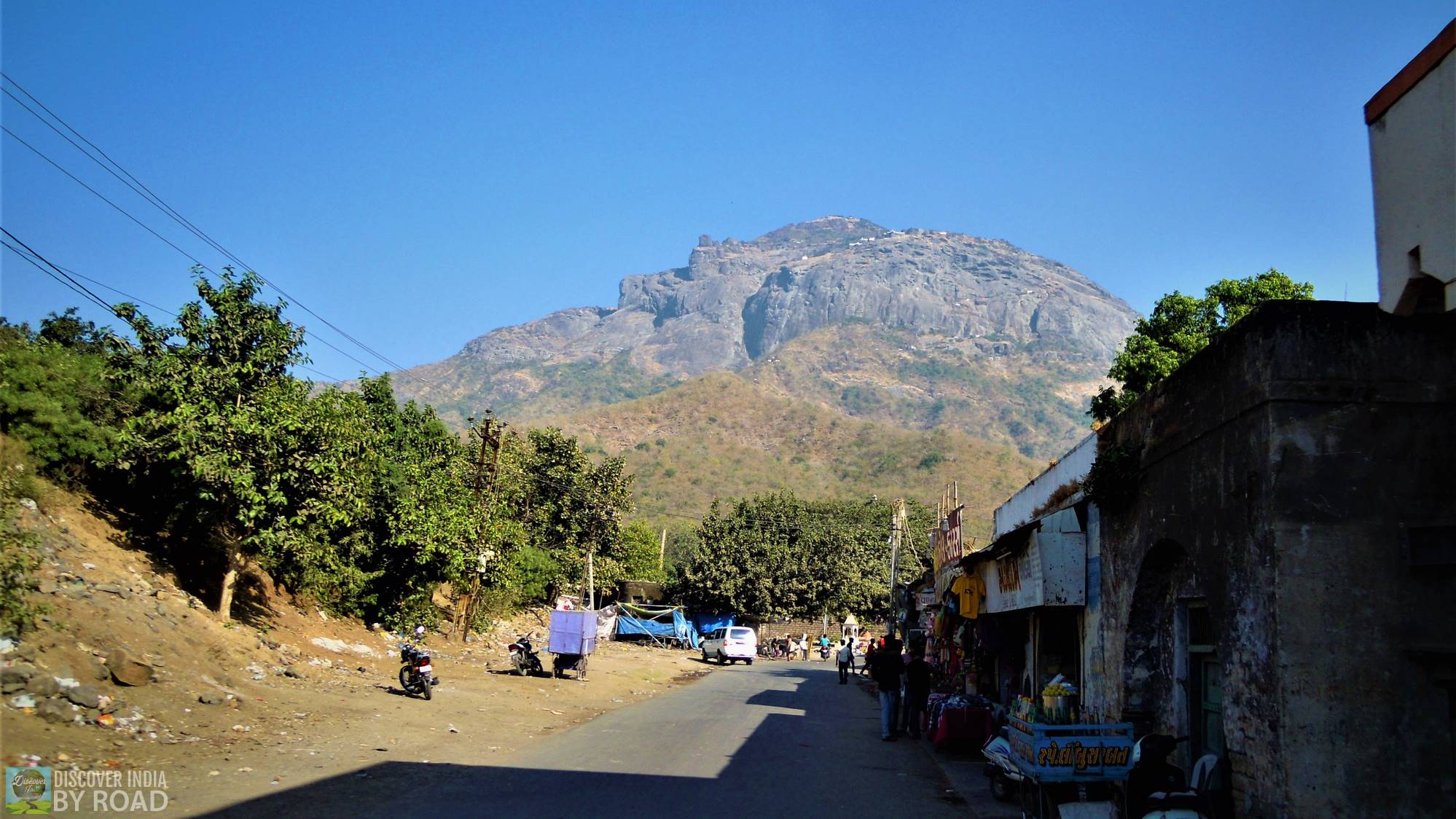 As we were very tired, without wasting much time we returned back to our room. And after having dinner we slept early as tomorrow we were going leave for Somnath.
I will continue the Somnath trip in my next post, for more interesting posts stay connected with us. And if you have any queries regarding our Gujarat trip, please feel free to comment below. Thank you! 
To read about our Somnath Trip Click here.