with complete sightseeing
Shri Somnath is one of the major Jyotirlinga among twelve Jyotirlingas. Where SOM means Moon & NATH means Master. As this temple dedicated to Chandra dev (Moon God).
The Somnath temple located in the Prabhas Patan area, near Junagadh, Gujarat. It is a major pilgrimage and tourist destination of Gujarat. We reached here from Junagadh, which is the part of our Gujarat Trip.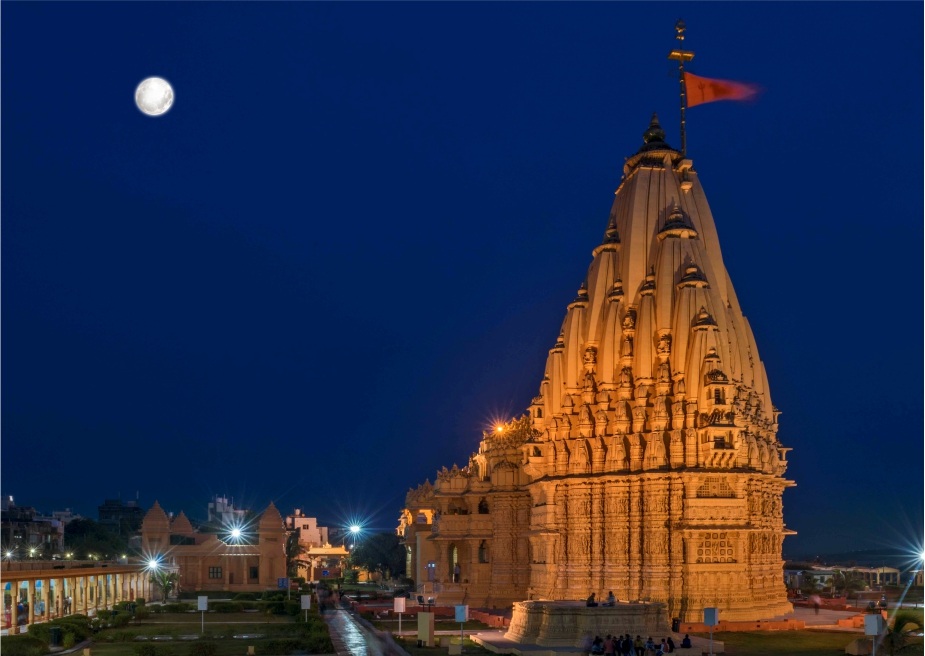 We arrived Somnath at around 3:30 pm, there are many Hotels, Guest Houses & Dharamshalas available for tourists in Somnath. But, as it was December. (Christmas Vacation) Almost, all Hotels, Guest Houses & Dharamshalas were full, & those who were available were quite expensive. Normally, when we visit Somnath, we used to stay at the Guest Houses managed by the Somnath Trust. But, this time those were full too. Recently, they have started Online booking facilities for tourists, but we were not aware of it. 
Somehow, we managed to find a room for ourselves. We stayed at the Prajapati Dharamshala. But, the rooms were untidy so I will not advise you to stay there. I highly recommend you to book your room in advance at the the Somnath Trust's Guest Houses. Like, Lilavati Atithi Bhavan, Maheshwari Atithi Bhavan, Sagar Darshan Guest House & Tanna Atithi Gruh. To book your room online in the Somnath Trust's guest houses please click here.
After having some rest, in the evening we went out & took Darshan of Somnath Mahadev & had our dinner. There are many hotels & food joints available here, where you can eat almost all variety of food. Like, Gujarati, Punjabi, South Indian & fast food too. But, if you want to eat some quality food you can visit Lilavati Bhojanalaya or Maheshvari Bhojanalaya. You can eat unlimited healthy food at a reasonable cost.
We had visited Somnath several times & we loved this place, here you can feel positive energy all around you. We started walking towards our Guesthouse, which is a bit far away from the main market. Tomorrow we have planned for sightseeing of Somnath & nearby places.  
Second day of Somnath Sightseeing
Last night we had a sound sleep. We woke up early & after getting fresh we started our sightseeing.
As our Guesthouse is nearby to the Triveni Sangam. Hence, we decided to start from there. However before that, we had to eat something as we felt hungry. Within a minute or so, we reached the Triveni Sangam, we saw many food stalls nearby. They were serving many Gujarati dishes like Bhajiya, Vada, Khaman, Jalebi – Fafda, etc. After having breakfast, we had some Coconut water. 
Don't miss drinking coconut water in this area. (entire Veraval & Somnath) Lotan is a very famous variety of coconut here. (this variety has more water & sweeter than any other coconut)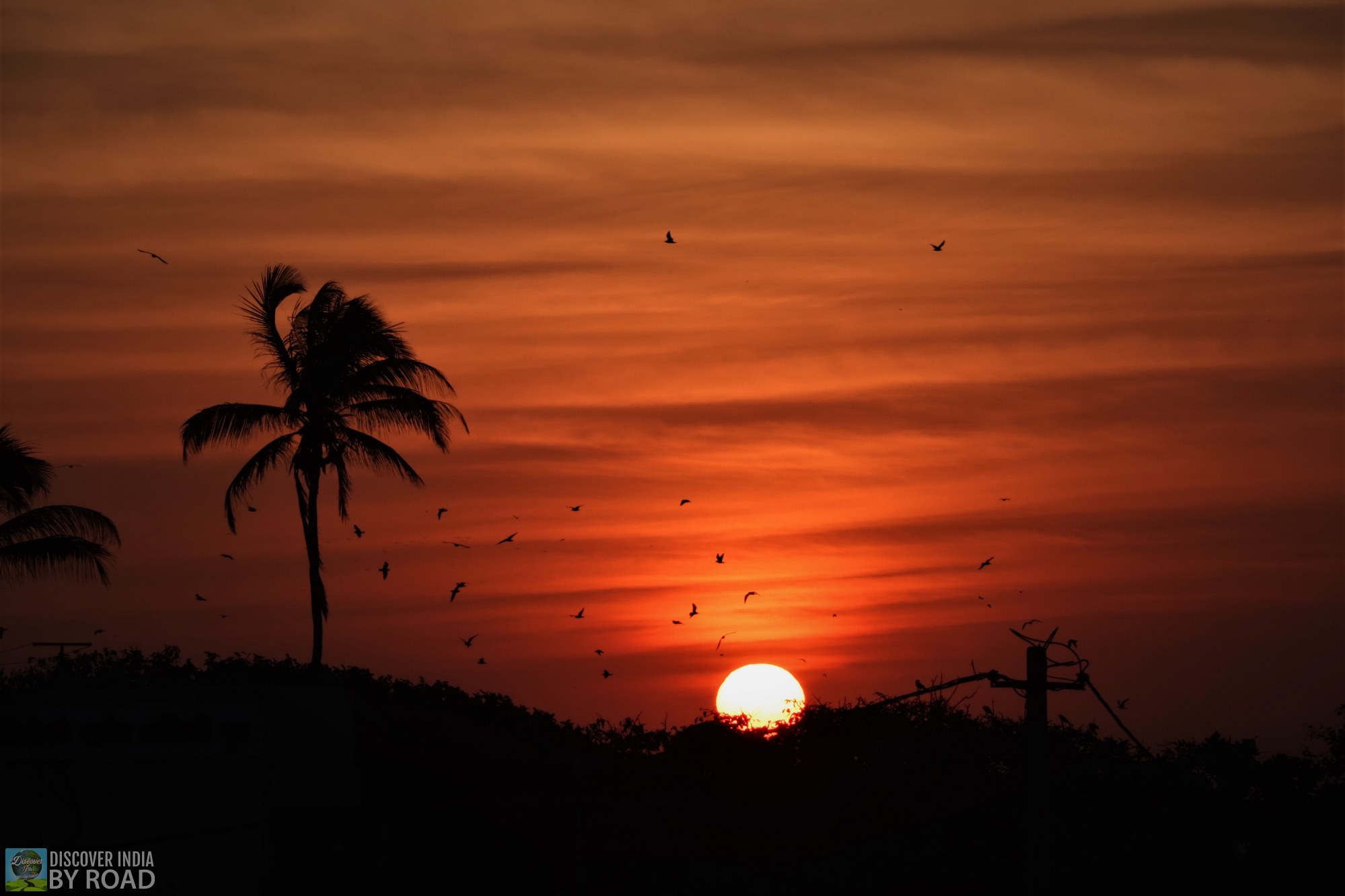 Triveni Sangam & Surya Mandir
Triveni Sangam also known as the Triveni Ghat. Here the three rivers Hiran, Kapila, and Saraswati meet together into the Arabian Sea. The Triveni Ghat holds a significant place in Hindu Mythology. It also finds a mention in the Hindu epics. Thus, people believe that a bath at the Triveni Sangam can wash off all sins and also facilitate Moksha.
As we entered,  we saw many Seagull birds were flying around, and many visitors were feeding them. There were many vendors selling bird food. So, we decided to feed them as well.
Just opposite to the Triveni Sangam, there was a temple complex. In which, there were temples of Kamnath Mahadev, Surya Mandir, Panch Pandav Gufa, etc. We also visited there.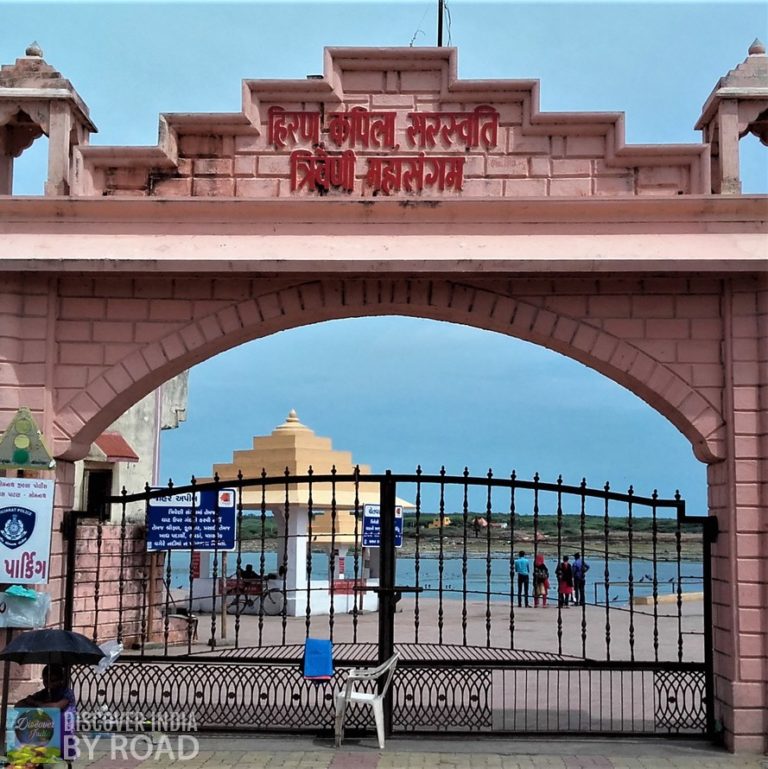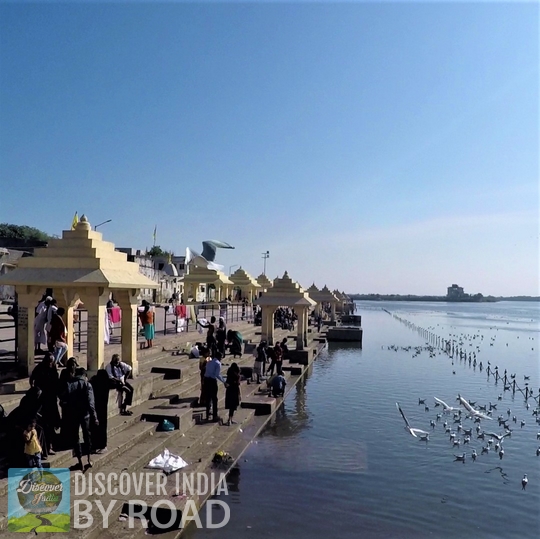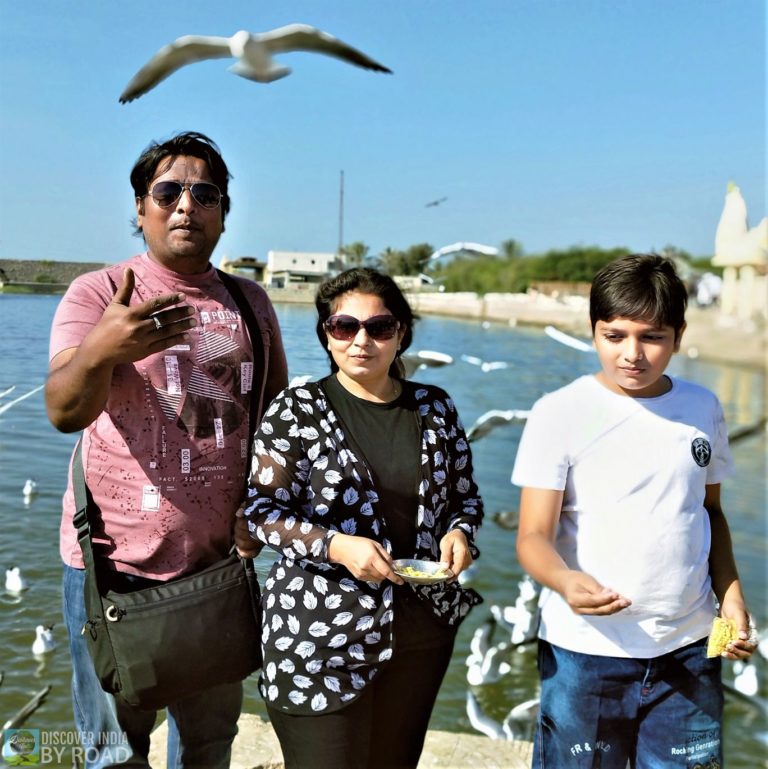 Our next destination was Golok Dham, also called the Dehotsarg Tirth. A holy place situated on the banks of the River Hiran. It's believed to be the place where Bhagavan Shri Krishna took his divine journey to the Neejdham. According to a legend, when Jara's arrow wounded Shri Krishna at Bhalka Trith, he walked a few kilometers towards Golok Dham. Finally, he had a bath at the Triveni Sangam and then left his body at Dehotsarg. However, the footprints carved here are of Bhagavan Shri Krishna.
There is also an ancient cave known as Baldev Gufa. According to legend, Baldev ji, the elder brother of Shri Krishna, also took his last journey from here in his original Sheshnag form. Similarly, we also visited the Gita Mandir and Lakshmi Narayan Mandir situated nearby.
We clicked some photos & continued our trip. Now we were going to take blessings of Somnath Mahadev. Meanwhile, when we were just Passing the Triveni Sangam, we noticed a huge temple complex.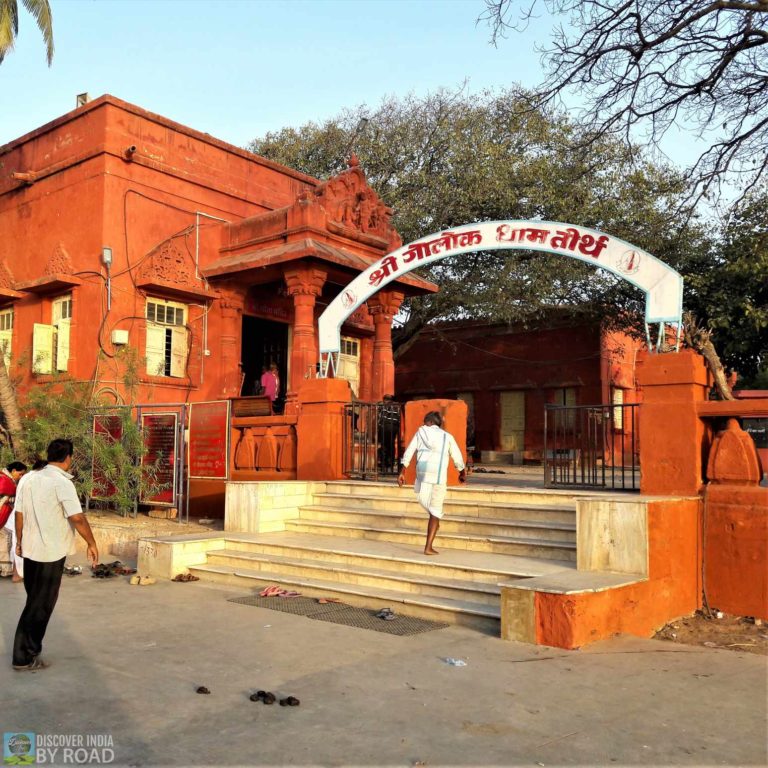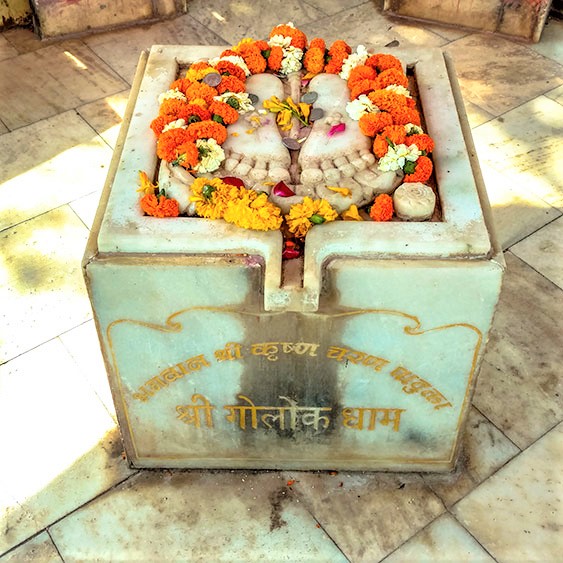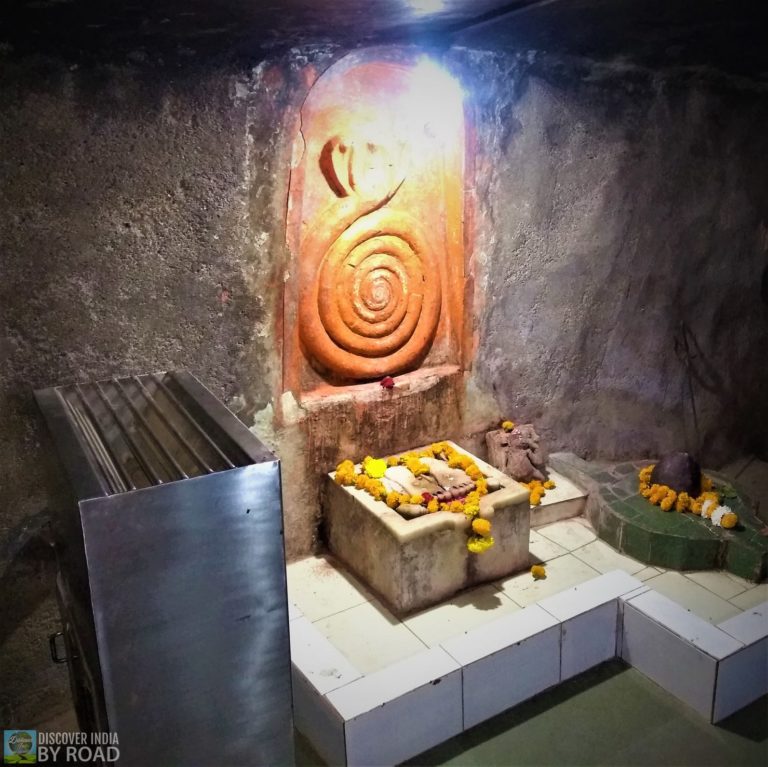 Somnath Temple visitors guide
Shree Somnath Trust has built this temple of Shri Rama. This temple is gradually becoming popular in Somnath. The temple is peaceful and the sanctum has idols of Lord Rama, Sita, and Lakshmana. These idols ware made out of marble.
This two-storied temple made from pink stone. It has an auditorium on the ground floor. The Entry gate of this temple is in the shape of Shri Ram's Dhanusha, with three arrows. You can get a glimpse of Somnath temple, Somnath coast, Triveni Sangam & Sun temple from the balcony of the temple. There was a small path beside the temple, which led us to a sea face area. We clicked some photos & finally proceeded towards the Somnath temple.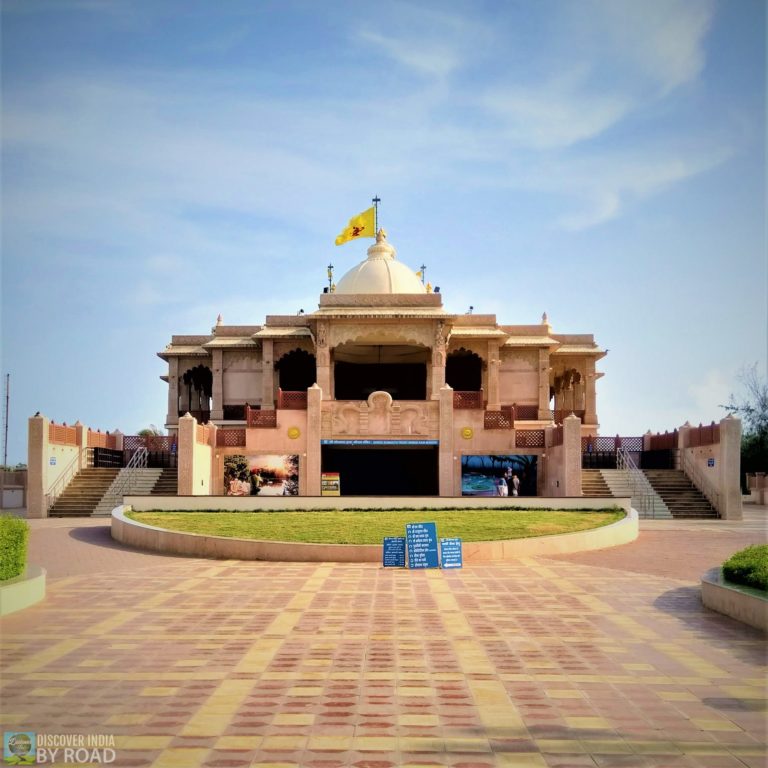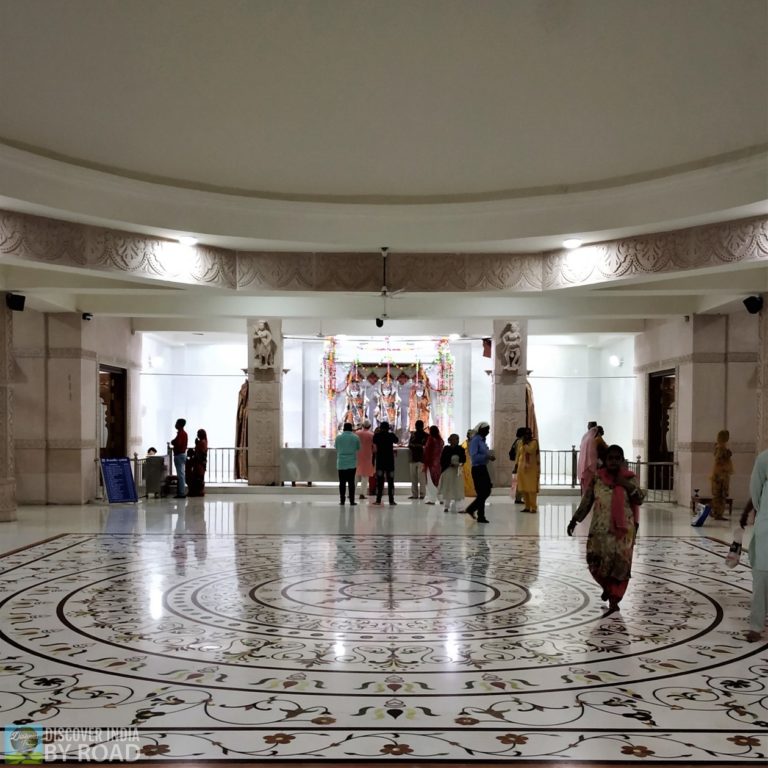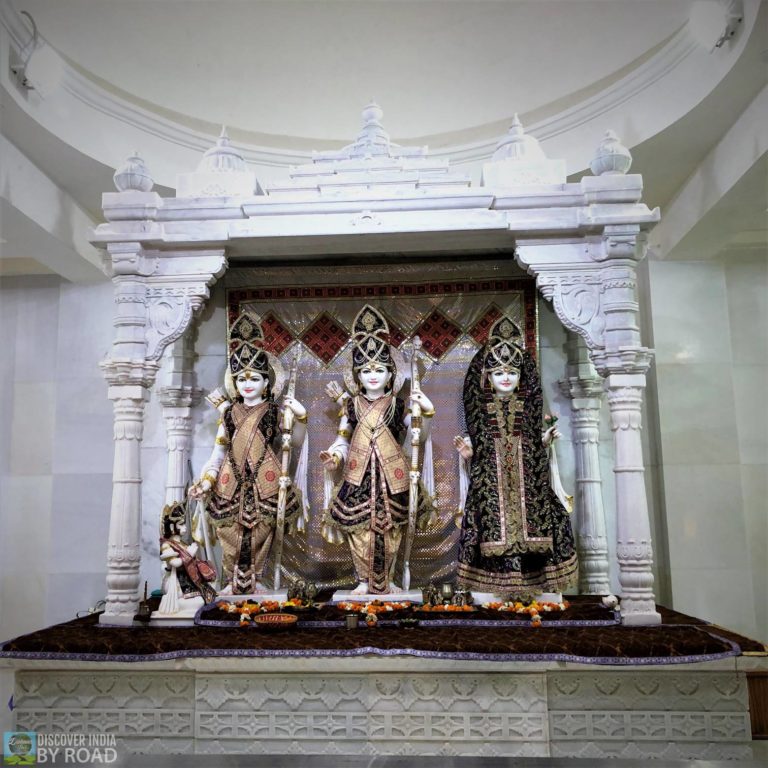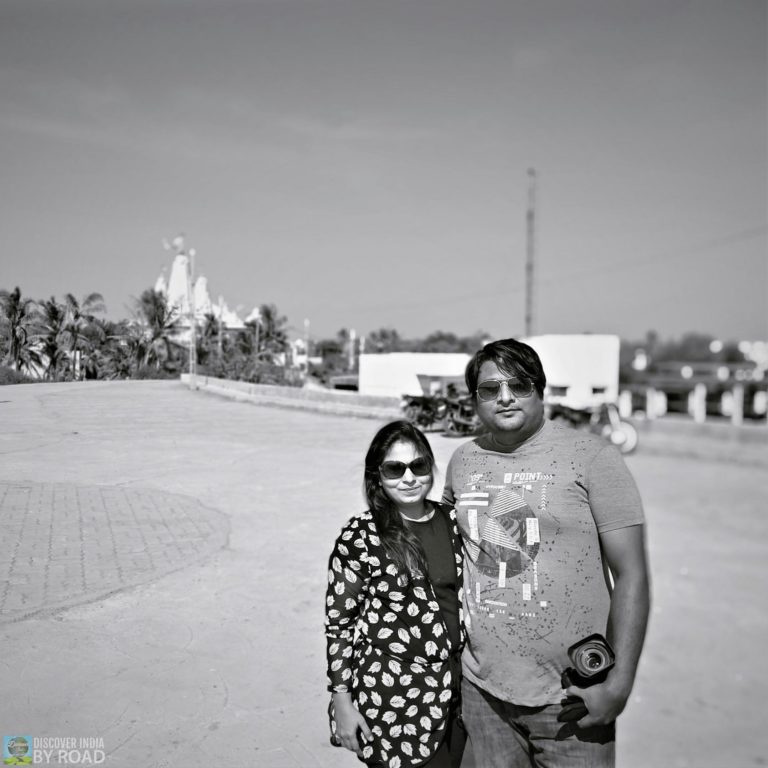 Most importantly, Before visiting the Somnath Temple, you should take care of few things. If you have your own vehicle then try parking it in the Parking lot near the temple. And, keep all your Hand Bags, Mobiles, Cameras, Room keys, Leather belt, etc. inside your car. However, if you don't have a car then, you can keep all these things in the locker room opposite to parking lot. 
Remote Car Keys not allowed inside, so keep it in a locker before proceeding towards the temple queue. Just carry your wallet with you. (not Ladies Purse) We advise you to avoid wearing Mini Skirts and Disrespectful Dressing. You have to remove your footwear before entering the temple. Shoe House is available free of cost.
The Somnath Temple Darshan Timing is from 6:00 AM to 9:30 PM.
& Aarti Timings : Morning: 7:00 am, 12:00 Noon, 7:00 pm.Most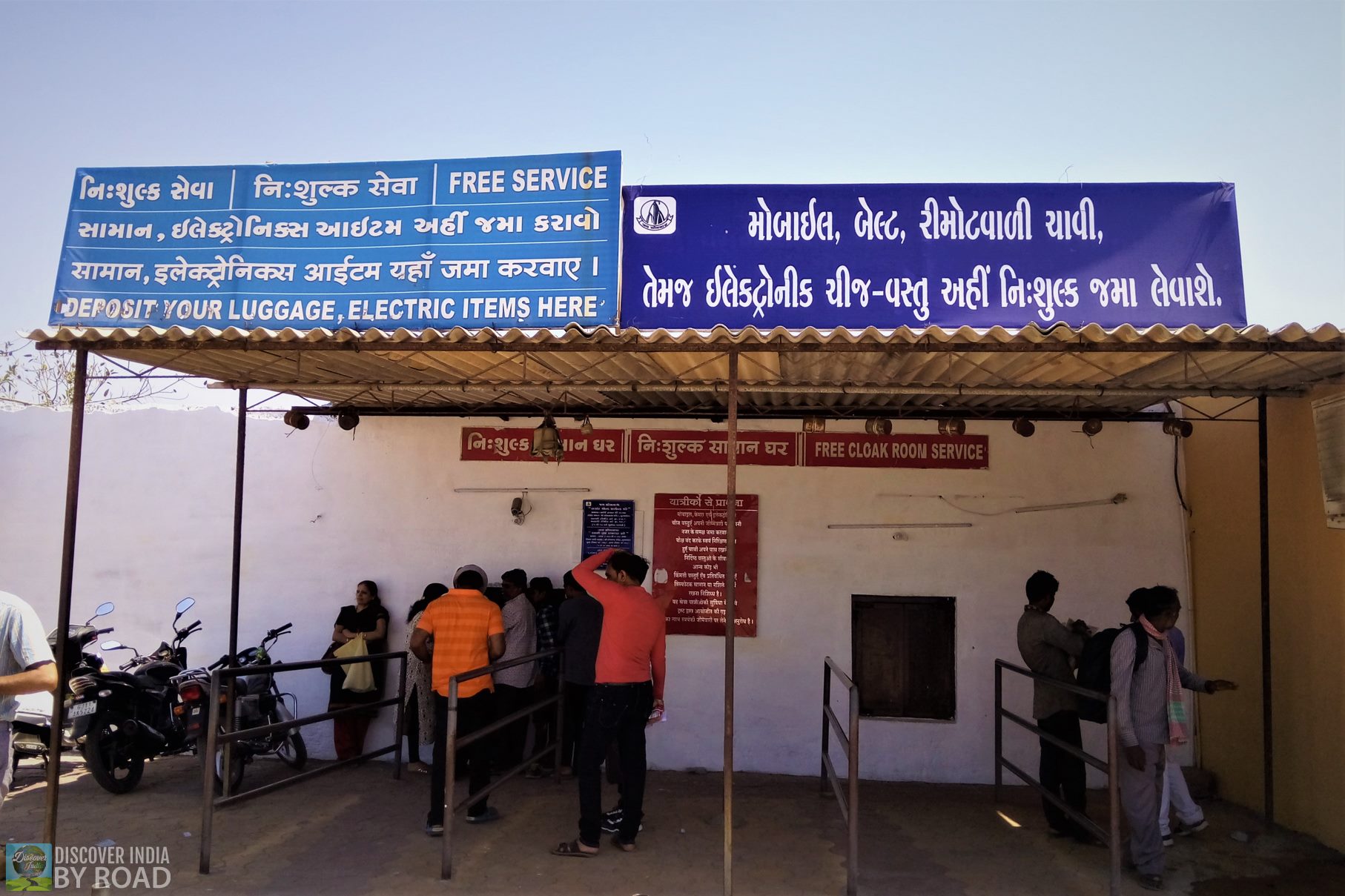 After the security check, we entered the main temple complex. It was not much crowded at this time. Wheel Chairs / Golf Cart was available for physically challenged / senior citizens at the main gate of the temple. And, lift facility is also available inside the main temple.
The Somnath temple is 155 feet tall and seven story high. Constructed in the architecture of Chalukya style. This temple has three sections, a Garbha Griha, a Sabha Mandap or assembly hall, and a Nritya Mandap. The Nritya Mandap also facilitates a souvenir shop, Prasad shop & a booking office for the Laser Show.
The Sabha Mandap has a huge ceiling. Once upon a time, the temple's interior has embellished with the most precious gems and jewels. However, the invaders attacked the temple several times & ruined it. 
Legends say that, the invaders also tried to destroy the original Shiv Linga. Many say that, once the Somnath Shiv Linga was floating in the mid-air. Due to, the magnetic field created by the famous Syamanthaka Mani. This stone belongs to Shri Krishna. As a result, no one was able to touch the Linga. On the other hand, locals have a different story to say, maybe the original Shiva Linga has thrown into the sea or broken into pieces.
As a result, the present Shiv Linga was not the original Shiv Linga. The Pran Pratishtha ceremony of the present Shiva Linga was performed in the presence of  Dr. Rajendra Prasad. However, the Aura & the Vibrations, the Powers & the Faith still remains the same. The credit for the reconstruction of this Jyotirlinga goes to the Sardar Vallabhbhai Patel.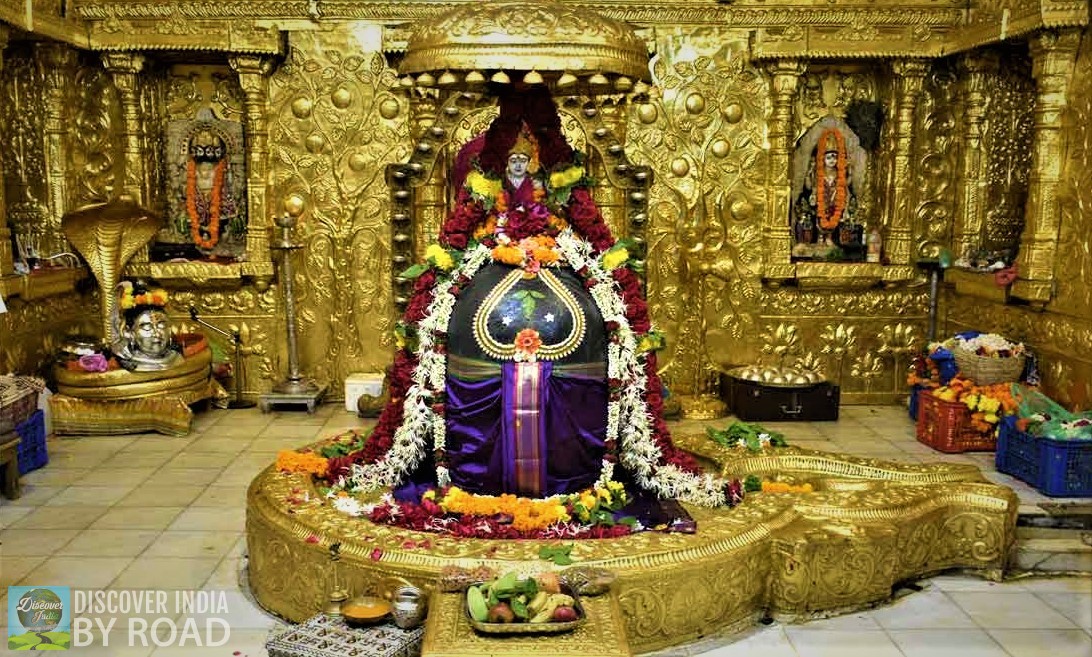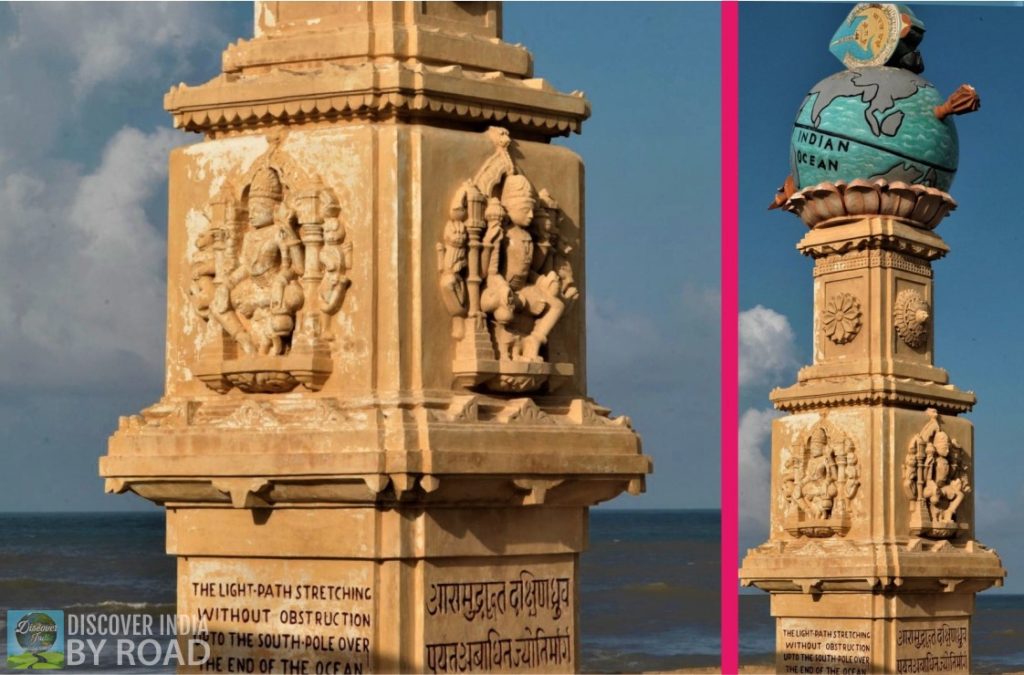 After, taking blessings of Shri Somnath Mahadev we stepped out from the temple. Temple is surrounded by a nicely landscaped garden. As this temple is located on the coast of the Arabian Sea, we could feel cool breeze here.
There is an Arrow-Pillar at the sea-protection wall of the temple, with Sanskrit inscription written on it. This indicates that there is no landmass in a straight line between the Somnath seashore & Antarctica.  
We will be coming back again in the evening to watch the Laser Show. This show projects the mythological story and importance of this place. The show starts on 8:00 pm. (ticket cost was Rs 25/- for adults  Rs 15/- for children)
You can also watch our Somnath trip video on YouTube. If you like our video please like & share, and don't forget to Subscribe our channel
Now, it was time to move on to our next destination, which was the Bhalka Trith. At around a distance of 4 km from Somnath Temple, enroute to Veraval. We reached the Bhalka Tirth, which is a renowned temple in Somnath. In Somnath, Bhalka Trith has become the second-most visited place.
This temple has dedicated to Shri Krishna. It is believed that this is the place where Jara (the hunter) mistakenly shot an arrow at the feet of Shri Krishna. As he assumed the feet was a deer, due to which, Shri Krishna left his earthly existence for his heavenly abode. The synonym of the arrow is Bhal. So, this place is known as Bhalka Tirth.
This temple has recently been renovated. This new temple has made up of red sandstone. Inside the temple, there is a pleasing statue of Shri Krishna, seating under the Peepal tree in a resting posture. In the same way, a statue of Jara in a sitting & praying posture in front of Lord Krishna.
I hope you guys are having fun with us, it was around 2:30 pm. But, we didn't felt much hungry. As, we had a heavy breakfast in the morning & drank coconut water several times. Finally, we decided to visit one more place before having lunch, which was near to the Bhalka Tirth.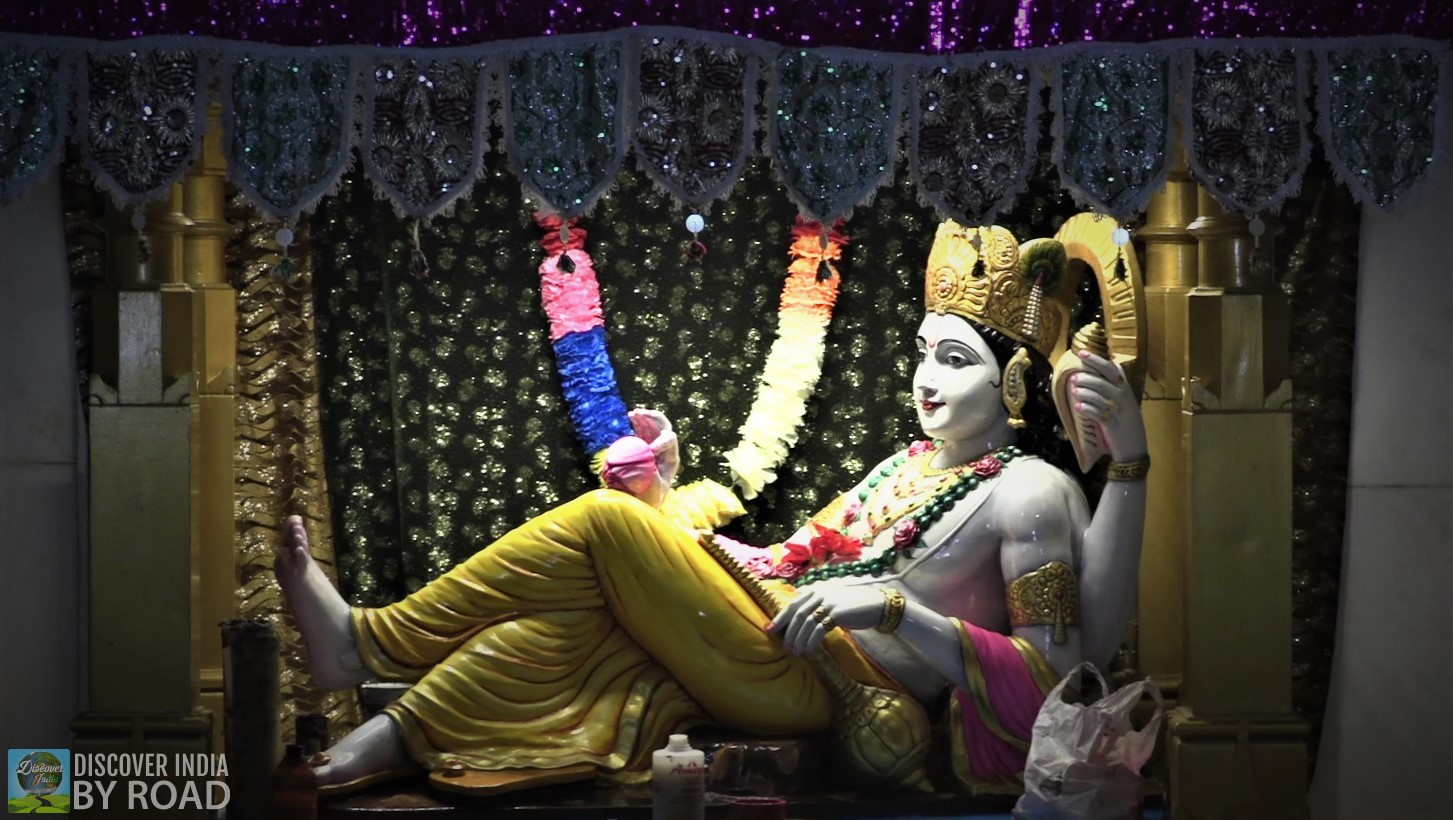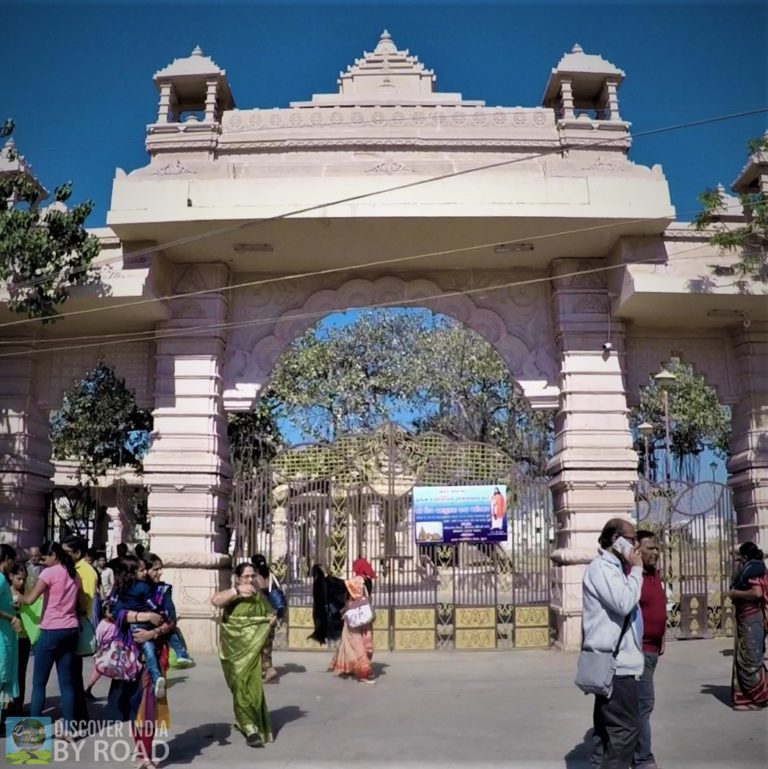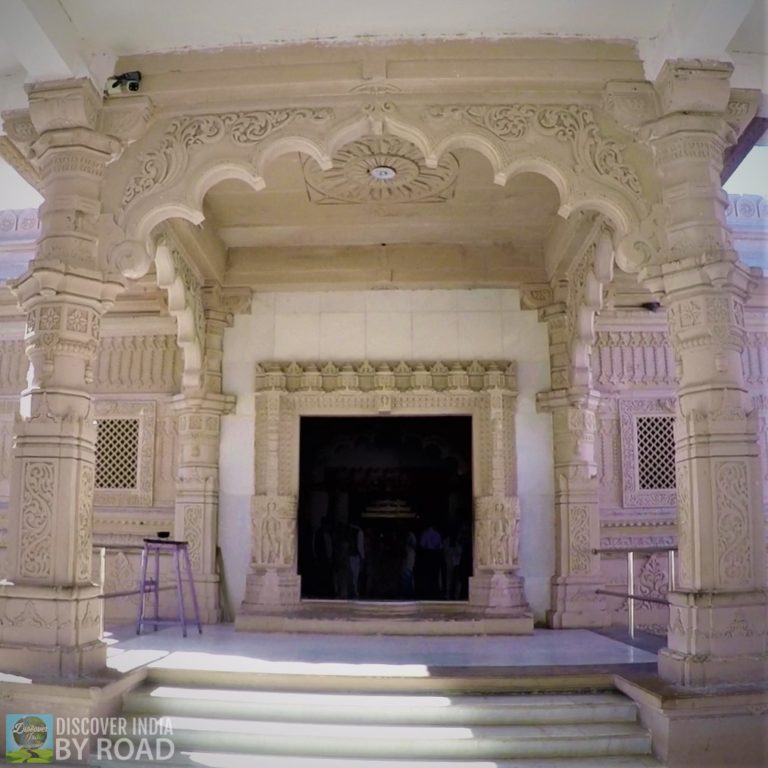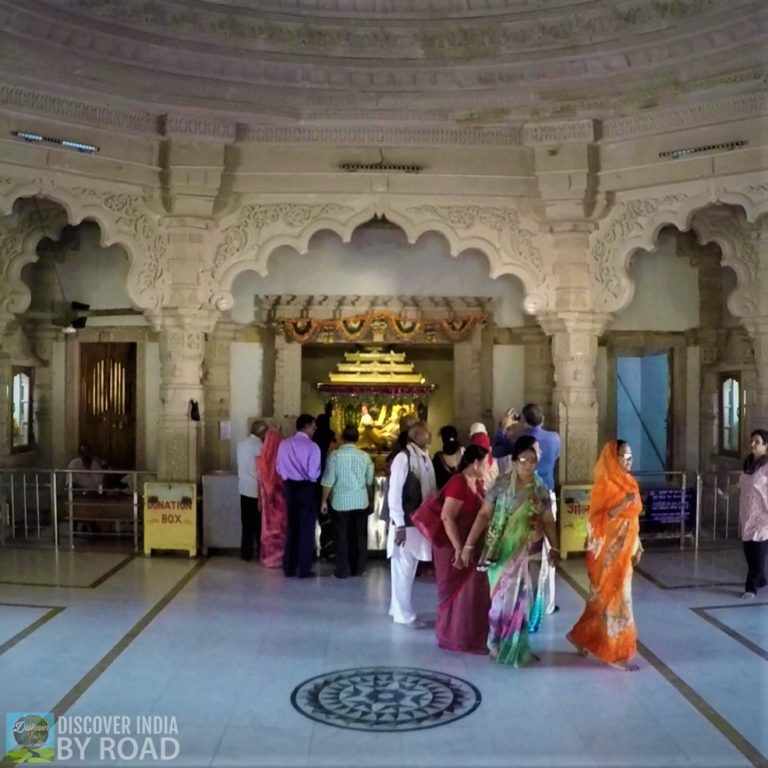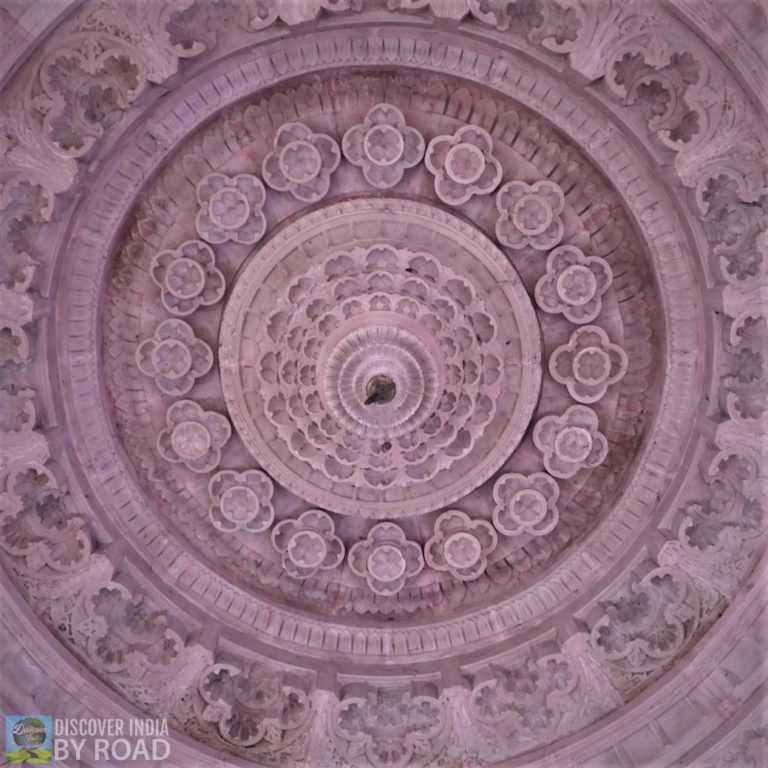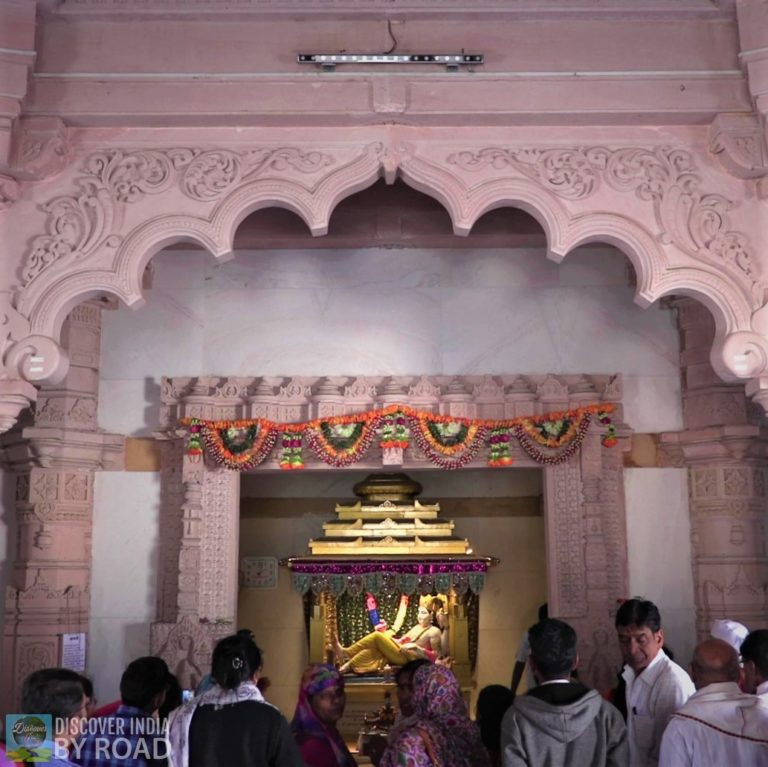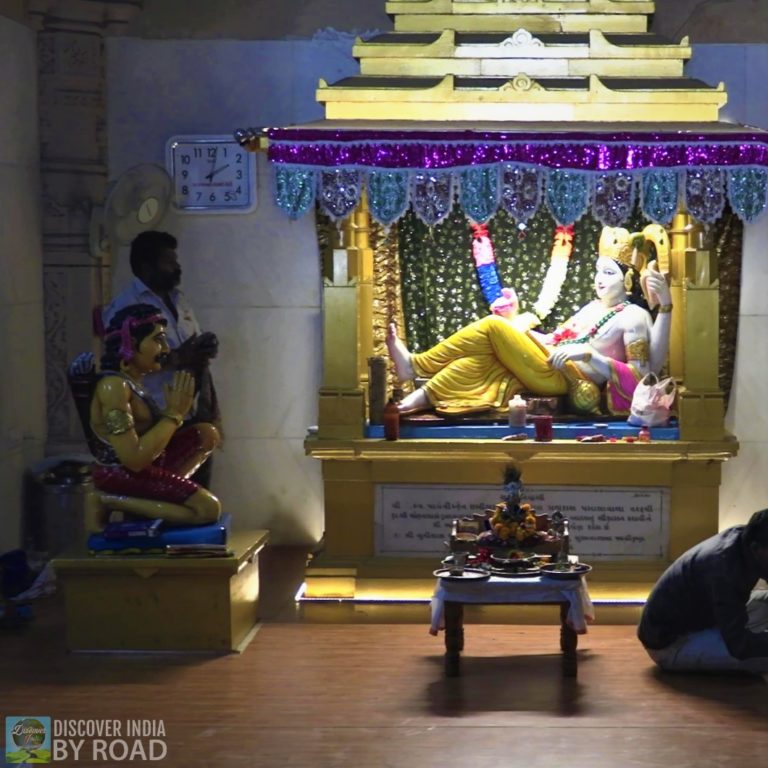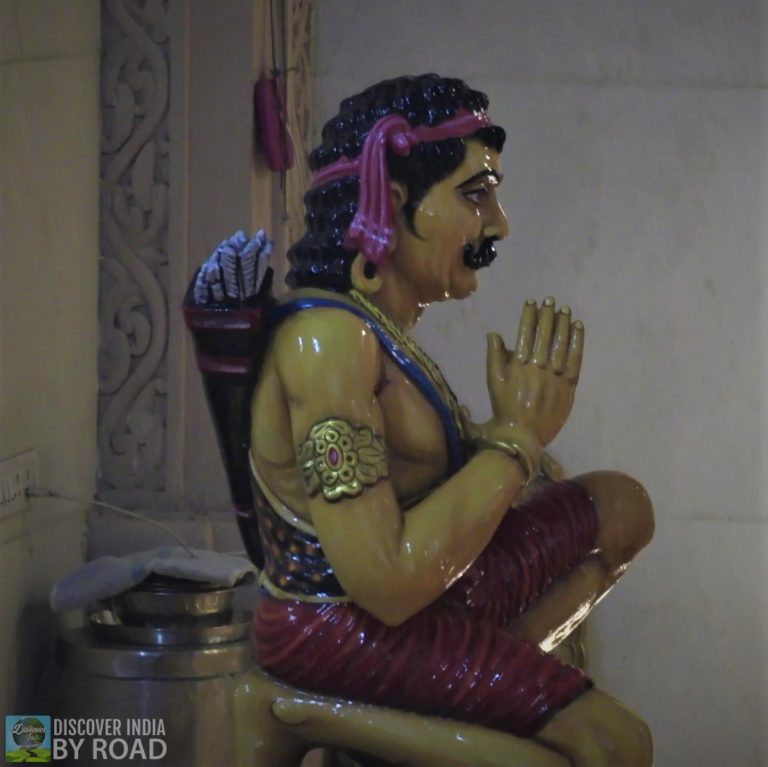 Ban Ganga, this place located on the coast of the Arabian Sea, Near Bhidbhanjan Mahadev temple. The uniqueness of this place, are the two huge  Shiv Lingas present in the seawater. Whenever, sea waves splash on the linga, it creates a magnificent view. We saw many tourists, who entered the water to perform the Abhisheka of the Shiv Linga with seawater. But, you should be very careful, as this seashore is rocky and slippery, 
So, we grabbed each other's hand & started walking towards the linga when we reach the Linga. Our legs were totally wet due to, the waves. However, we enjoyed this. We took some water in our hands and started doing the Abhishek. Believe me, guys, I can't describe this experience in words. If you really want to feel this, you have to visit this place.
We saw many vendors at the seashore, who were selling some oceanic articles like seashells, pearls, & even some semi-precious stones. But, when examined them closely, we found most of them to be fake. Therefore, I recommend you to stay away from them.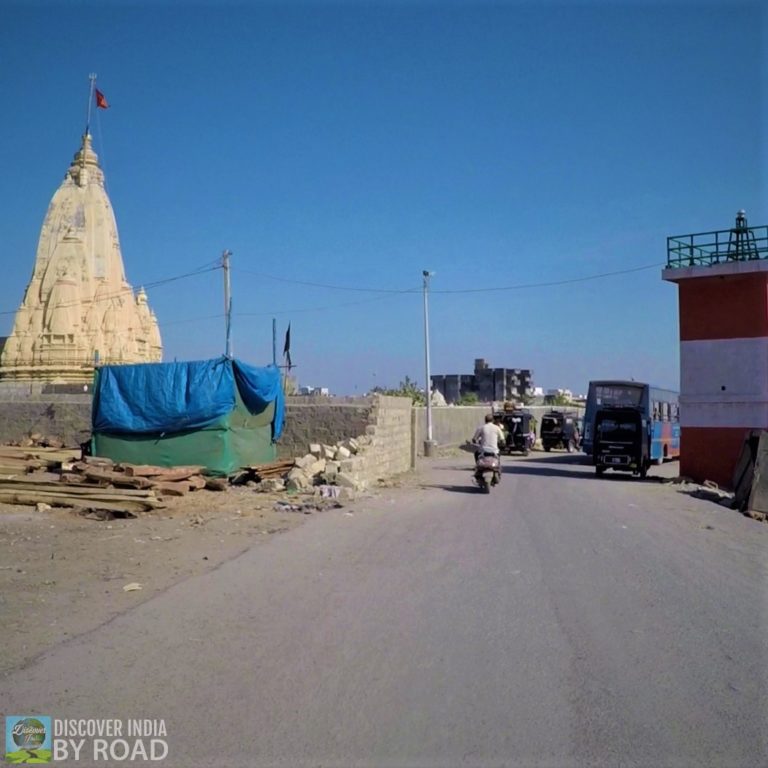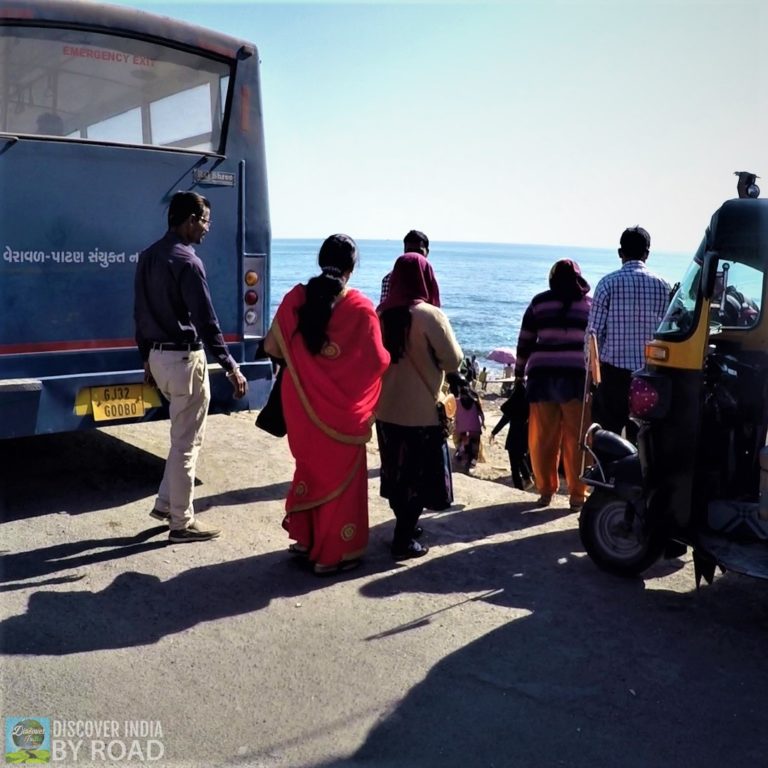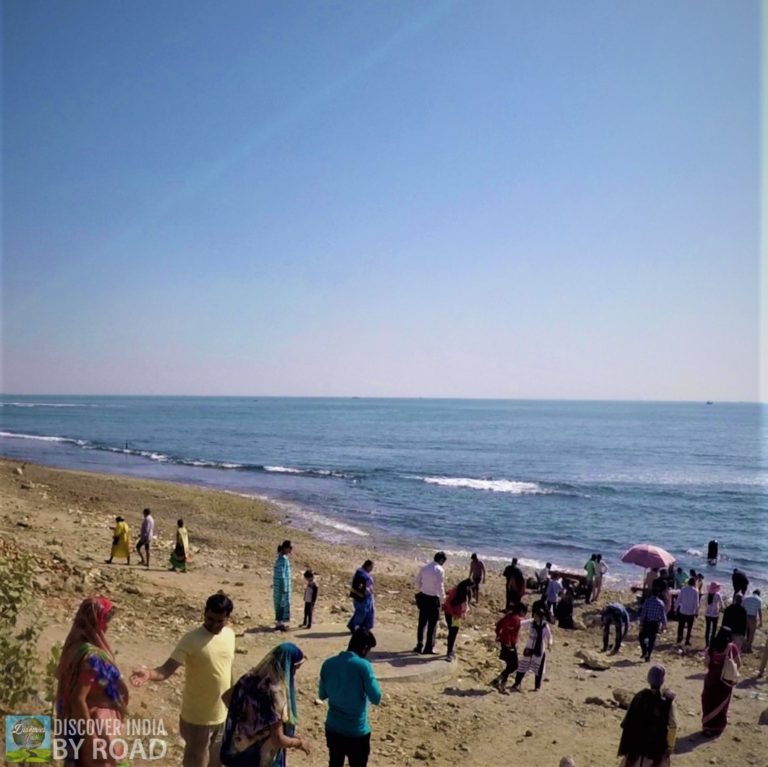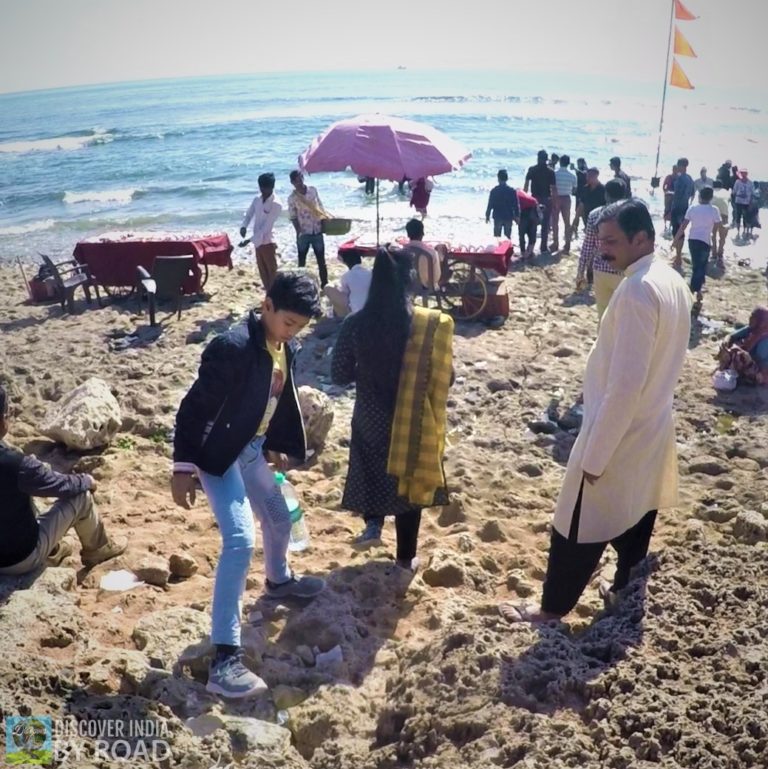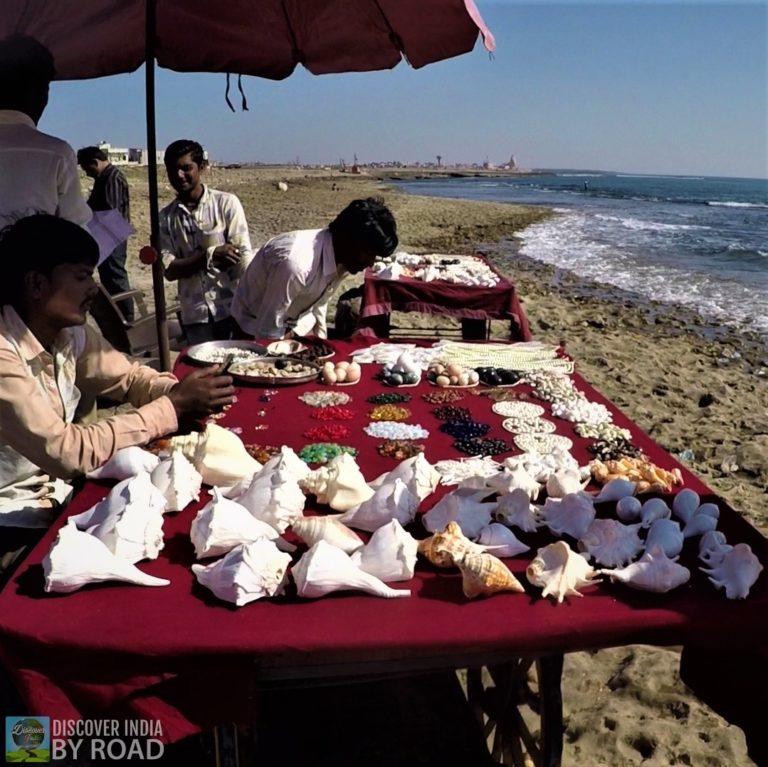 However, if you really want to buy some genuine artifacts then do visit the shopping center on the right side of the Somnath Temple entry gate. We also bought one small Mercury Shiv Linga, Crystal Mala & a small Shankh from here at a reasonable price. As, I found this guy genuine so, I am sharing his details. (New Vikas Sea Shell, Shop no.14, Mr. Goswami Ji  : +91 98983 66512)
There were several fast food outlets in this shopping center. So we decided to try one of them, we went to the Somnath Fast food corner & tried some dishes, which were delicious. Then finally, we decided to have our lunch over there.
If you don't have your own vehicle for sightseeing, then, you can also hire a Bus or Auto for it. The Bus service starting from the main Somnath temple will take you around these places. The ticket will cost around Rs.20 to 50/- per head. Similarly, you can also hire an Auto which will charge nearly Rs 150 to 200/- per head. It will take around 2-3 hours to cover all these places. (all given prices are subject to change)
After having lunch, we went back to our room for some rest. Today is our last day in Somnath. Therefore, we didn't want to miss the last Aarti of 7:00 pm. So, we reached the temple before 6:00 pm. If you want to stay inside the Sabha Mandap during the Aarti, then you must reach here at least one hour prior. Before entering the Sabha Mandap, we first booked our tickets for the Laser show to avoid last-minute inconvenience.
As there were already many devotees inside, we got as near as possible in front of the main Linga. So that we could watch the Aarti clearly. Most importantly, I wanted to mention one more thing, that is there are two separate lines for ladies & Gents here. So, I recommend you to decide on your meeting place before entering the temple.
Aarti started on time, the Shiv Linga was profoundly decorated. During, the Aarti we were feeling positive vibrations. Aarti's duration is around 30-45 minutes. In Somnath, you can't go inside the Garbha Gruha. However, if you want to do Abhishek, you can buy Gangajal from Prasad Counter. After that, pour it in a small inlet, from where the water will go onto the main Linga through Pipe & Motor. This is a very unique system we have observed here. After taking blessings of Mahadev, we had decided to meet at the Viewing Gallery, from where you can watch Laser Show.
The thing which I didn't like about this show, was that there was no discipline or queue while entering the pavilion. The Laser show has projected on the main dome of the temple. Which looks magnificent. Here you can experience the history & significance of the Somnath & this Prabhas Patan region. Mainly, how this temple was attacked & demolished by Invaders. And, how the various kings of Gujarat tried to rebuild this temple from time to time. This present temple was finally rebuilt after independence under the leadership of Sardar Vallabh Bhai Patel. The show's duration was around 45 minutes & we really enjoyed it.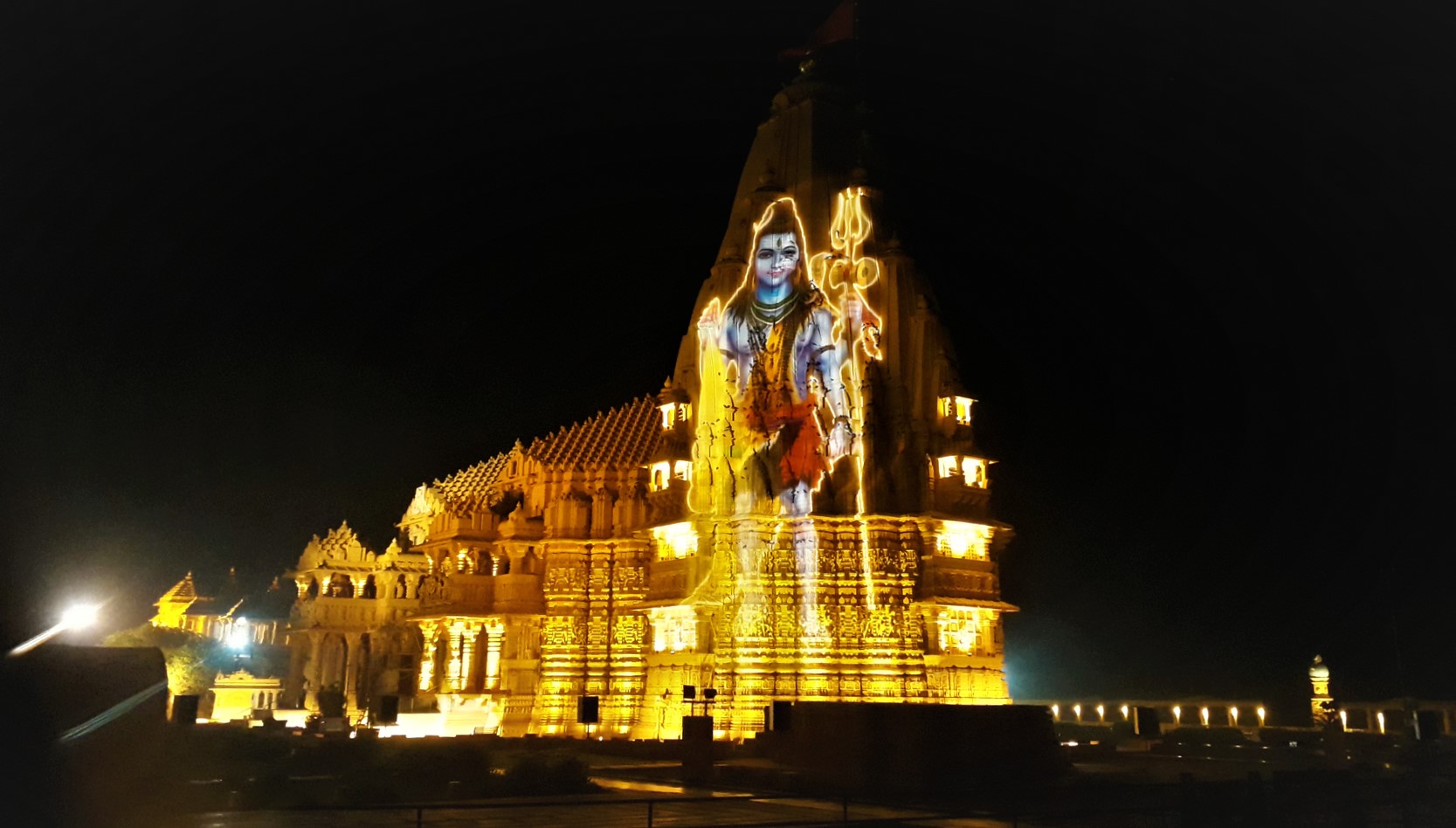 Meanwhile, exiting from here we saw a small museum type gallery at the main entry gate of the temple. Here they had displayed some old photos of this temple. Now, it was almost time for Dinner. For Dinner we went to the Maheshwari Bhojanalaya next to the Lilavati Bhojanalaya, which is also very well maintained. After that, we returned to our room & slept early because tomorrow we had to cover a long-distance, as we were going to Dwarka, The Kingdom of Lord Krishna.