Vaishno Devi is also known as Mata Rani, Trikuta, and Vaishnavi. According to legends Vaishnavi was formed from the combined energies of Maha Kali, Maha Lakshmi, and Maha Saraswati.
Vaishno Devi Katra, is one of the most-visited holy places in India. Every year millions of devotees visit here.
The temple is located at an altitude of 5,200 feet on Trikuta Hill. From Katra, the main temple is located at a distance of approx 13 km.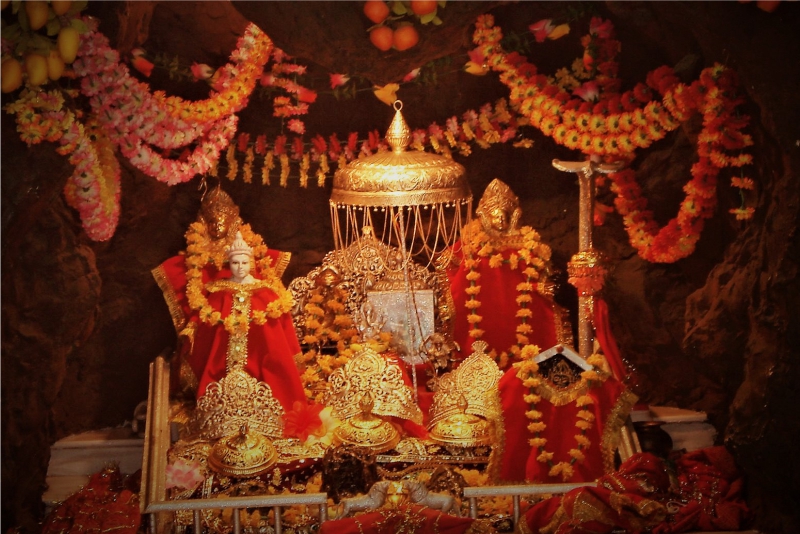 How to Plan Vaishno Devi Yatra?
These were some doubts that occurred to my mind when I started planning my trip to Vaishno Devi. And I am quite sure you might also facing be some trouble in getting your answers. So I will give you all the information that will help you in planning your trip to Vaishno Devi. So let's get started.
Best time to visit Vaishno devi?
It's hard to say when is the best time to visit Vaishno Devi, as it depends on what you're looking for in your trip. If you want to avoid crowds, then winter is a good choice (Oct-Feb). Moreover, If the crowd doesn't bother you then you can visit in any season.
According to me the best time to visit Vaishno Devi is in the winter months. The weather is pleasant and it's not too cold. In the winter, there are fewer people at Vaishno Devi, so you can get more time with your family and friends. It's also a good time to visit because you can enjoy the snow in the mountains and create some beautiful memories.
We had planned our trip in the month of October 2017, just after Navratri. The climate is very pleasant during this time. Because, as soon as November ends snowfall starts here.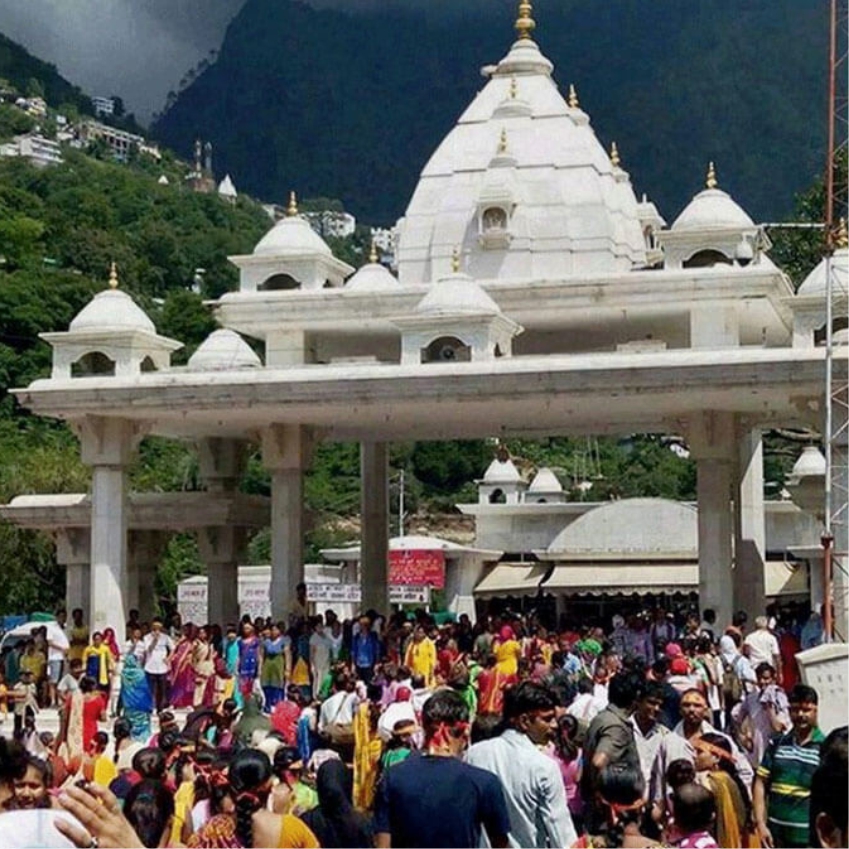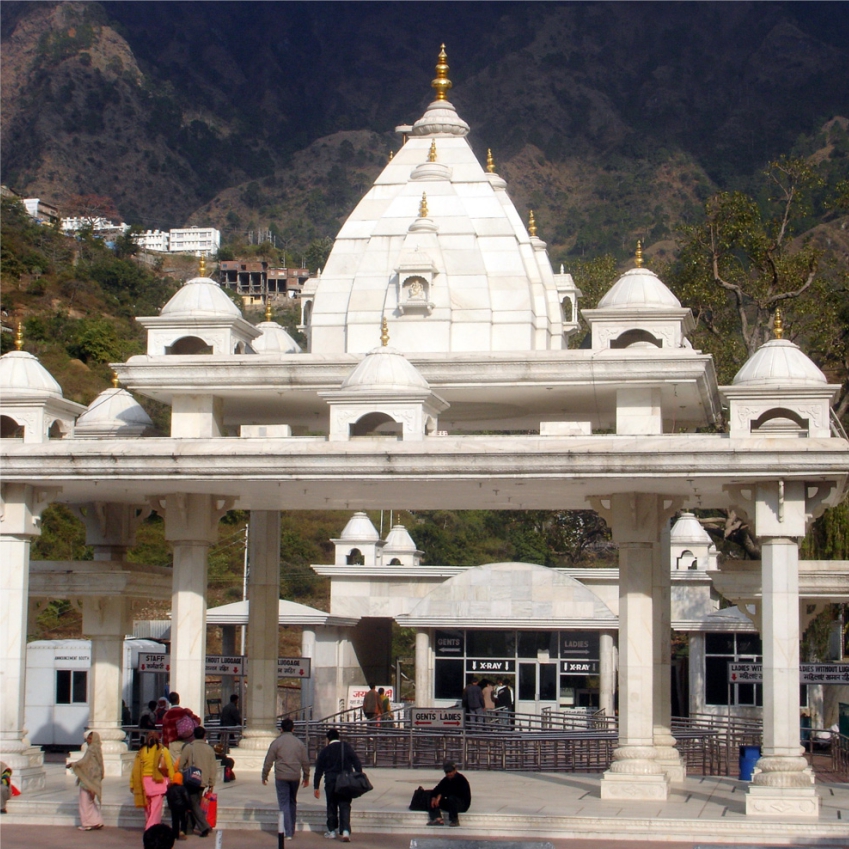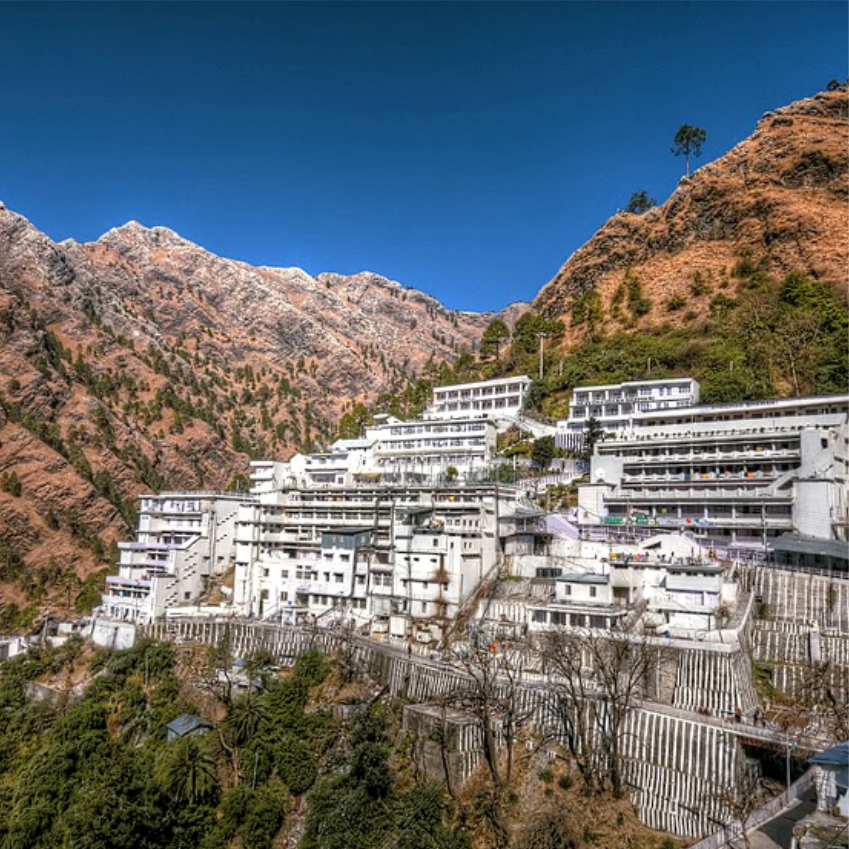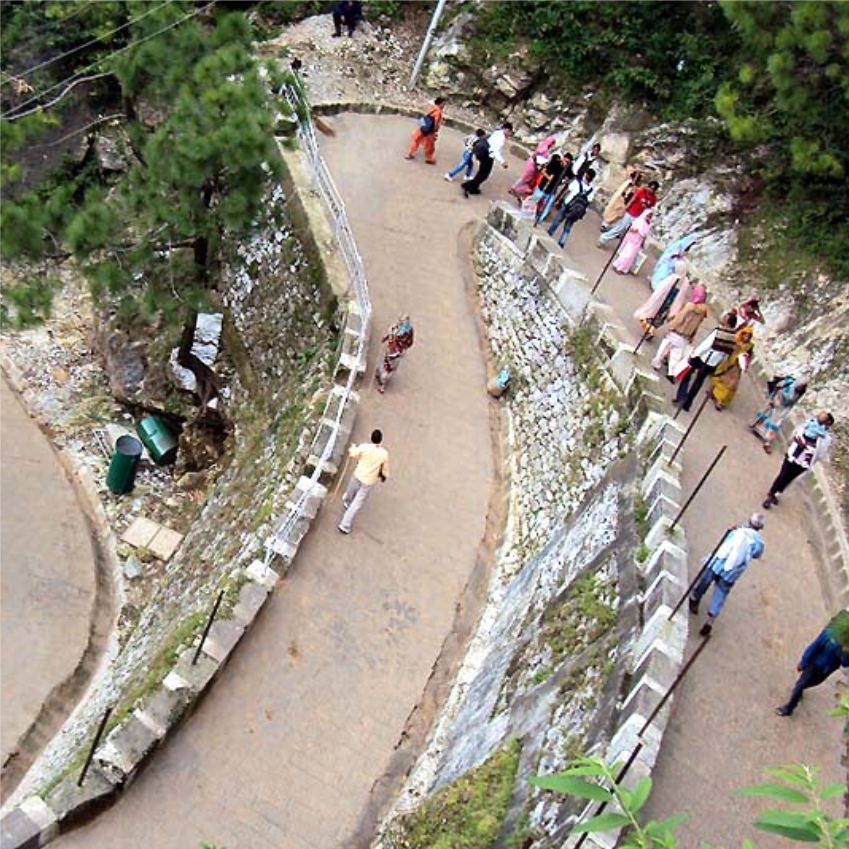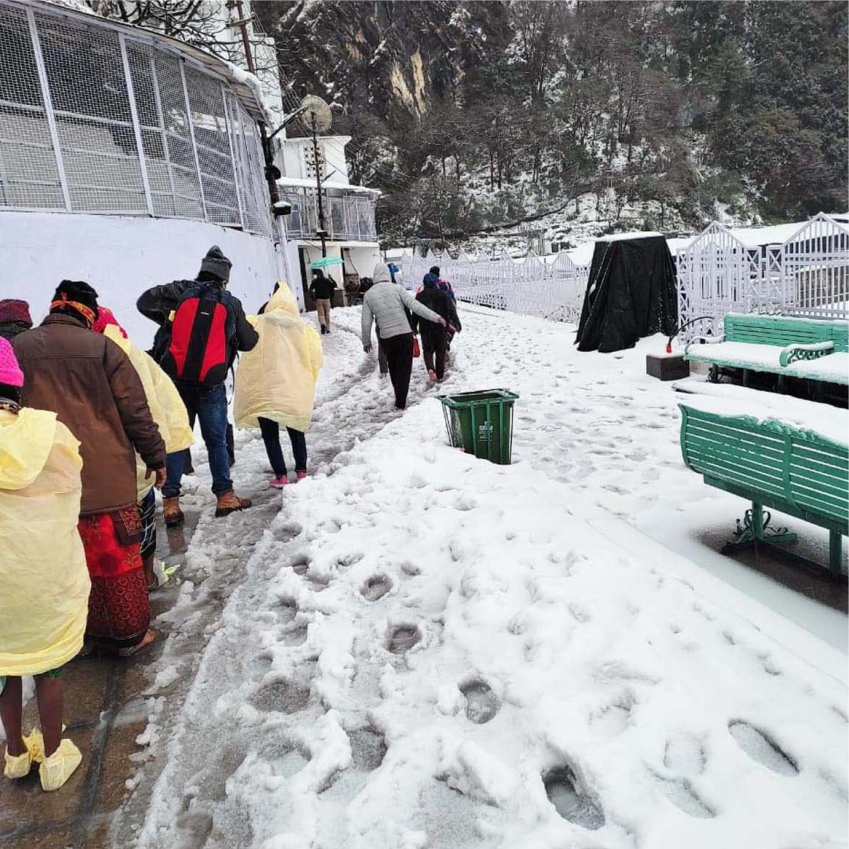 How to Reach Vaishno Devi?
Vaishno Devi is a popular Hindu pilgrimage site in the Indian state of Jammu and Kashmir. There are three ways to reach Vaishno Devi: 
by Train, Air, or Road. 
To reach Vaishno Devi by train, Karta is the Nearest Railway station. From Delhi, you can also take the newly launched Vande Bharat Express.
To reach Katra by air, Jammu Airport also known as Satwari Airport is the nearest one, which is located just about 48 km away from Katra. 
And if you wish to travel by road, Katra is well-connected with all major road networks. From Delhi, Karta is 646 km away.
You can choose the mode of travel according to your preference. But we had chosen to travel by Train. We prefer train Journeys for long distances since it enables us to enjoy the local cuisine from various states on the way and also enjoy comfortable travel.
We started our Journey from Borivali, Mumbai at 11:23 am via 12471 Swaraj Express. This train took approx 31 hours to reach Karta at 5:40 pm. We had spent a good family time on the train. The Jammu Tavi to Katra route is the most popular train route for tourists going to the Vaishno Devi temple. It takes about 5.5 hours from Jammu Tavi station to Katra station and is a scenic journey through the mountains of Kashmir Valley. The Jammu Tavi to Katra train route passes through some Major Bridges, long Tunnels & beautiful places like Udhampur, Nowshera, Ramban, and finally Katra.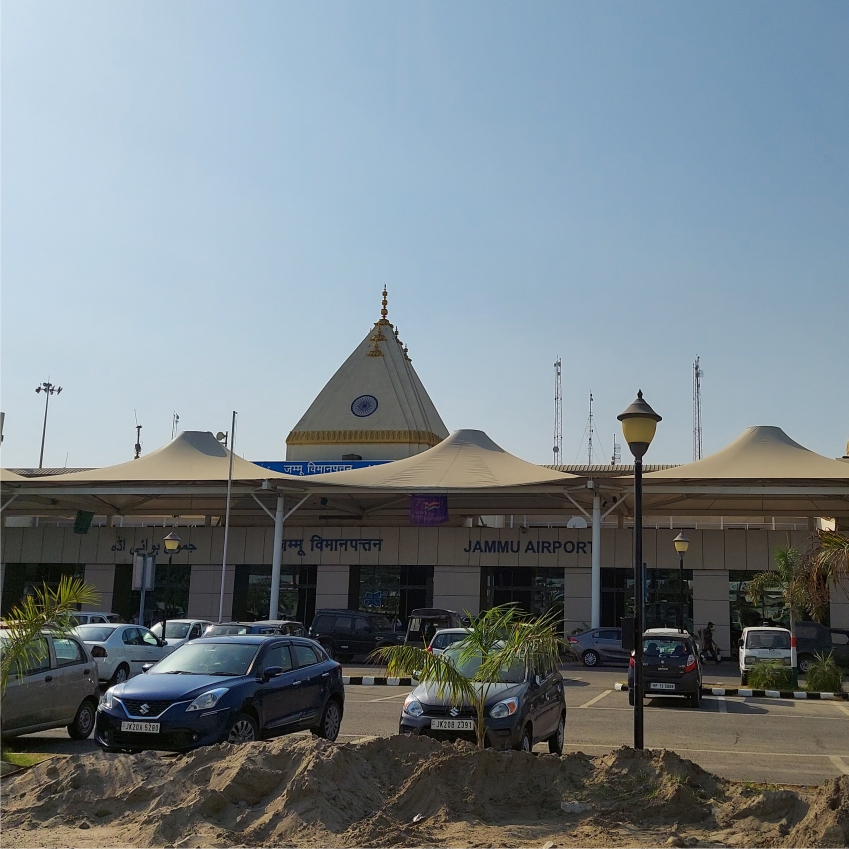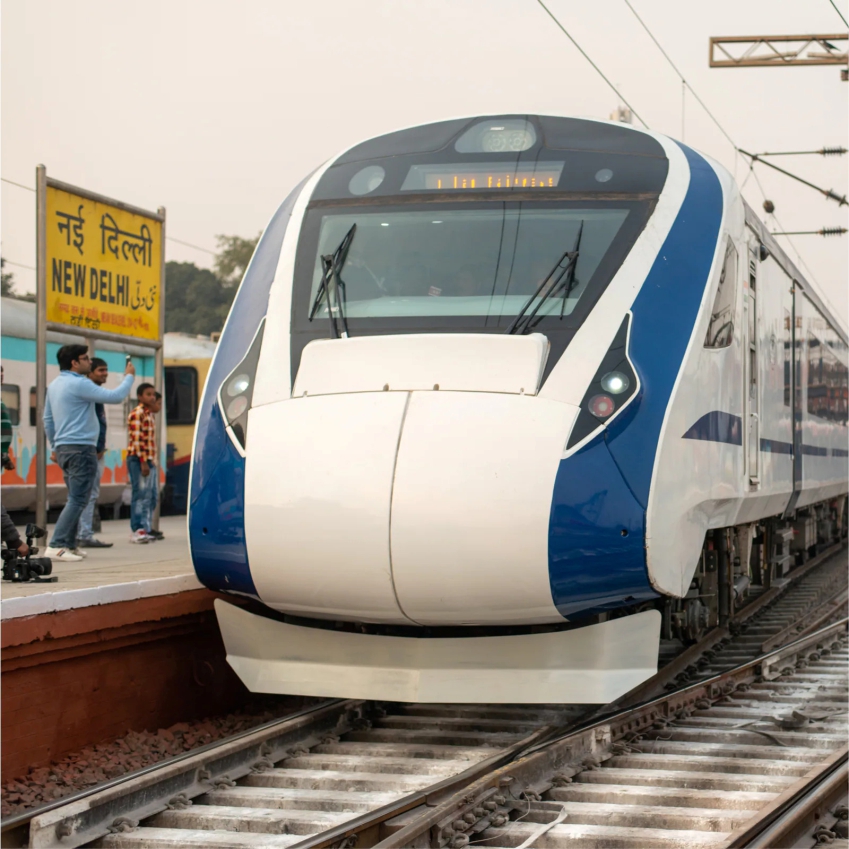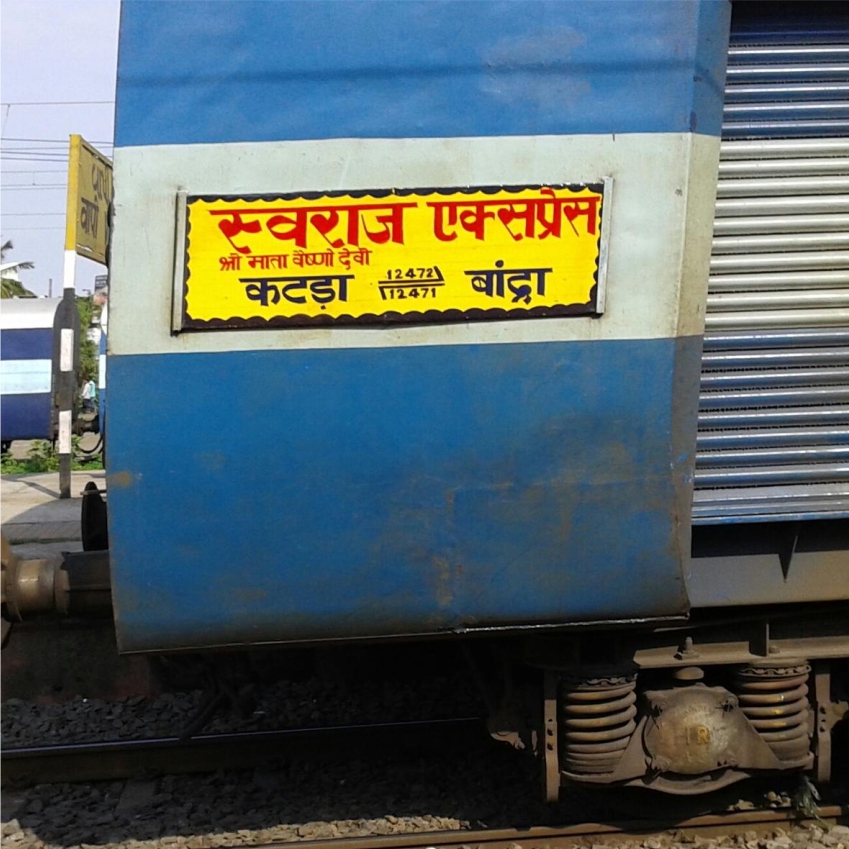 Where to Stay in Vaishno Devi?
In Katra, there are many hotels & Guest Houses available according to your budget & comfort. Even Shri Mata Vaishno Devi Shrine Board provides clean, well-maintained, and very economical accommodation at various locations like Jammu, Katra, Adkuwari, Bhavan & Sanjichatt. You can book them online via their official website. 
For online booking you can register through the website create a user name and password, close all links and open the website page again. Log in with the user name and password, click on room booking, enter the details select location, date, etc. Once you make the payment you will get a booking confirmation.
For More details and booking you can visit here. https://www.maavaishnodevi.org/
At a time you can book a room for one night only, you cannot extend your booking, if you wish to stay for a longer time, then you will have to book it separately. 
We booked our stay at the Niharika complex in Katra. The rooms were neat & clean. From our room's balcony, we could see the mesmerizing view of the Trikuta hills, on which the main temple is situated.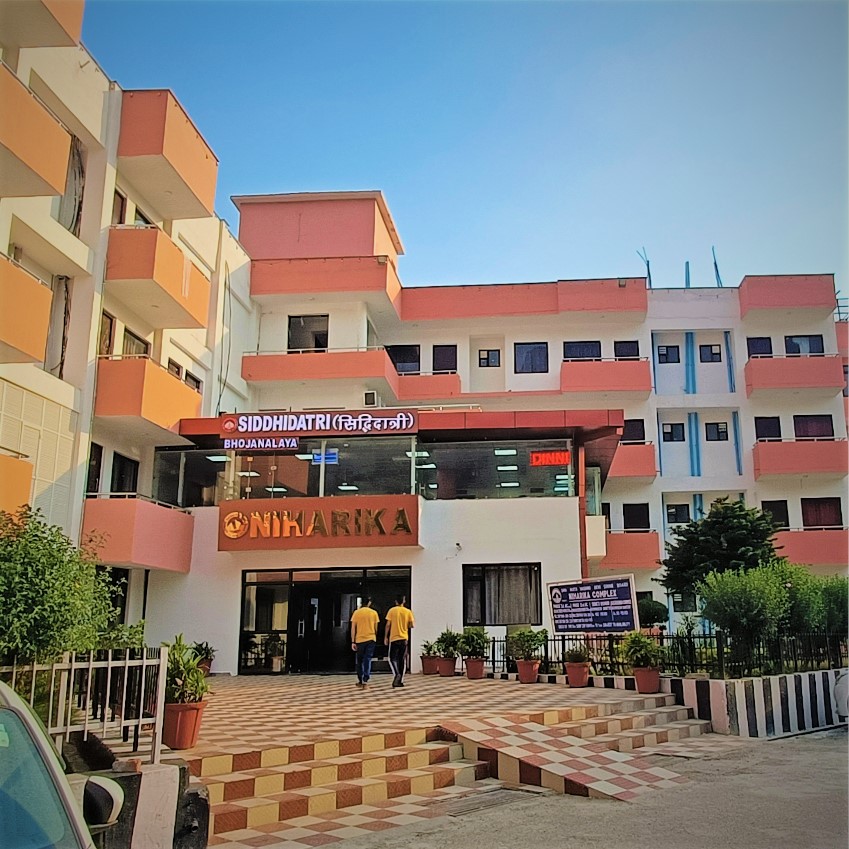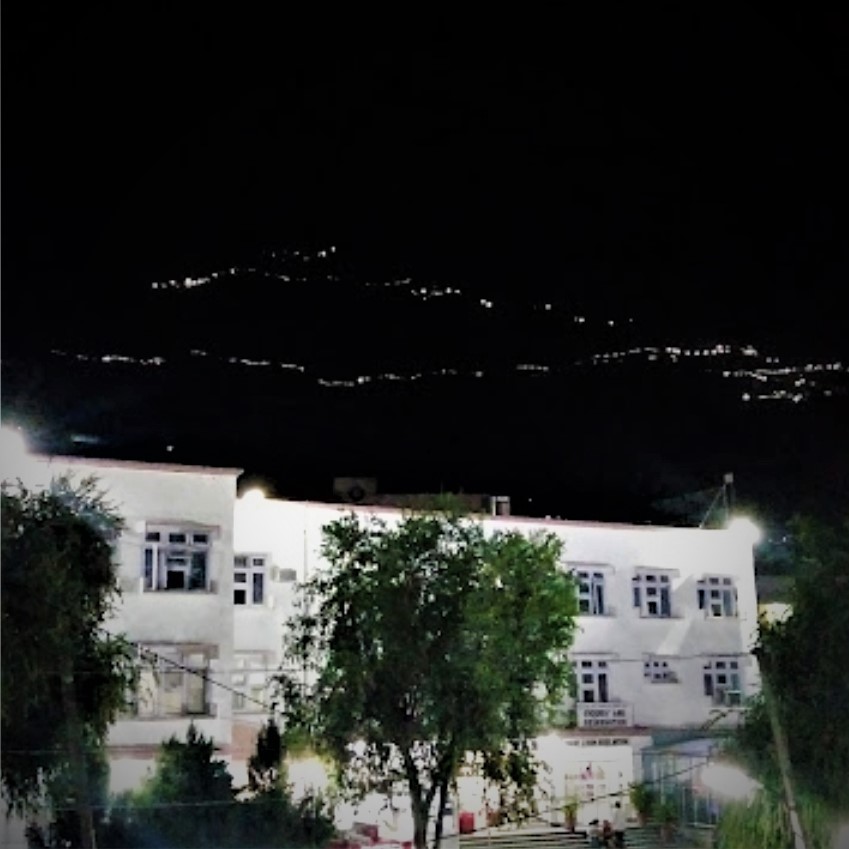 After having some rest in our room, we went to the market for some refreshment. Niharika complex is located near the main Bus stand. Therefore, the area was very busy and crowded. After roaming for a while in the market we decided to finish our dinner early.
After finishing the dinner, we realized that we would need to sleep early. So that we could wake up early in order to begin our yatra to Vaishno Devi. Since we needed some rest before starting our journey. The alarm was set for 3:30 am, so that we could wake up early and begin our yatra to Vaishno Devi by 4:00 am.
For more in-depth information you can also watch my video on YouTube.
Today we all are very excited, we all get ready as per the schedule and packed our bags, as you have to vacant your room. You can keep your luggage in the cloakroom of Niharka Complex free of cost & claim back once you return from Yatra. During yatra try to carry minimal luggage with you. As you will get everything like food, water, etc. on the yatra route. 
We took a small backpack with a water bottle, some energy bars, some Chocolates, Glucose Candy (Glucovita), a cap & sunglasses, fully charged camera gears, ID Cards & the most important document YATRA PARCHI. Without Yatra Parchi you cannot enter anywhere. So let's understand what is Yatra Parchi and how to get it?
What is Yatra Parchi & how to get it?
So why YATRA PARCHI is the most important document for Vaishno Devi Yatra and why it's necessary? 
The answer is, that the carrying capacity of the Holy Trikuta Mountain is limited, the maximum numbers of yatries that can have Darshans in a single day are about 30,000 to 35,000. However, during the peak rush periods, the number of yatri arrivals is far in excess of this number. And the Holy Pindies is situated in a narrow Cave, a group visits for Darshans are not possible here. The system of Darshans is in the form of a continuously moving queue, round the clock. Thus only a limited number of pilgrims can have Darshans every day.
Yatra Registration is carried out at the Yatri Registration counter (YRC 1 & 2) near the Bus Stand Katra. But if you visit here during peak time then you have to face a huge rush here & they may give you a waiting list Parchi. However, you can avoid this by getting your Yatra Parchi Online. 
In order to get your Yatra Parchi online, you need to visit the official website of the Shrine Board. https://www.maavaishnodevi.org/ And Login by using your ID & Password which have been created during Room booking. Now click on the Yatra Parchi tab, enter the no. of visitors & date of visit & click on Get Availablity, on the next page you can see which particular date slots are available or not. If the slot is available you can click on Book now then on another page you need to enter the visitor's Personal Information like Name, Age, Gender, ID card no. and click Proceed to Book & now it's done, take the print of Yatra Parchi, and yes this service is free of cost.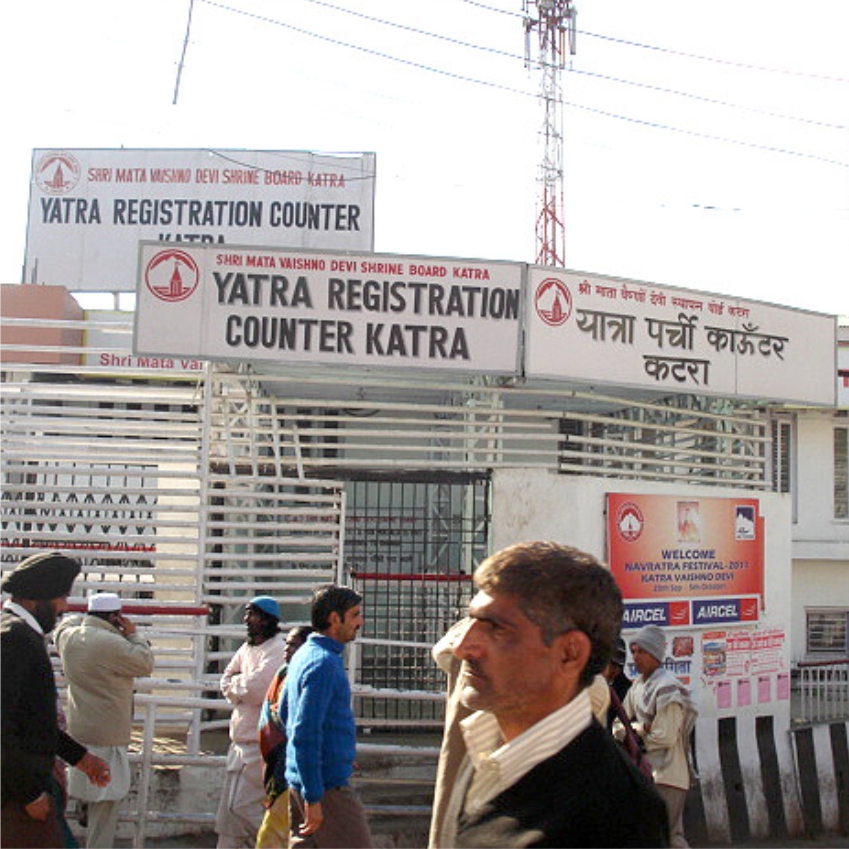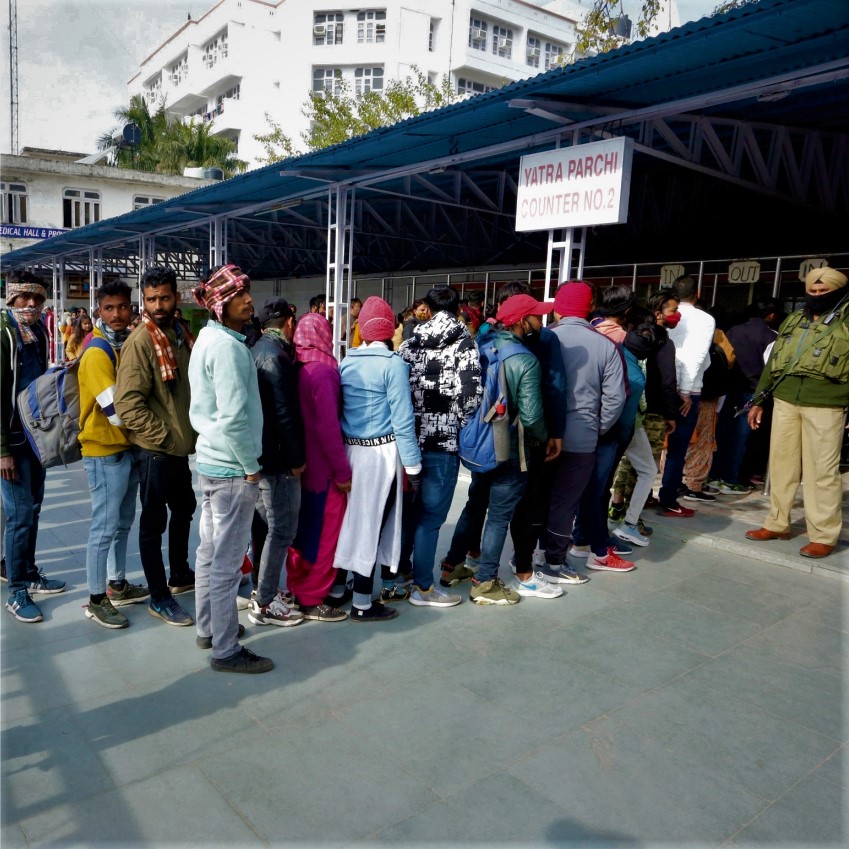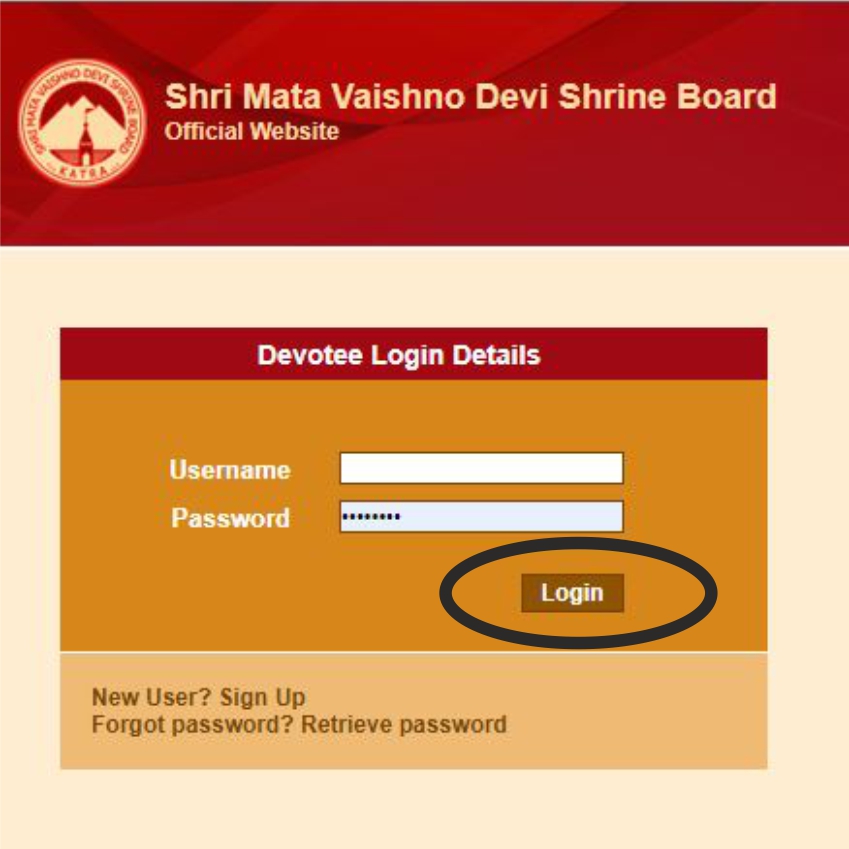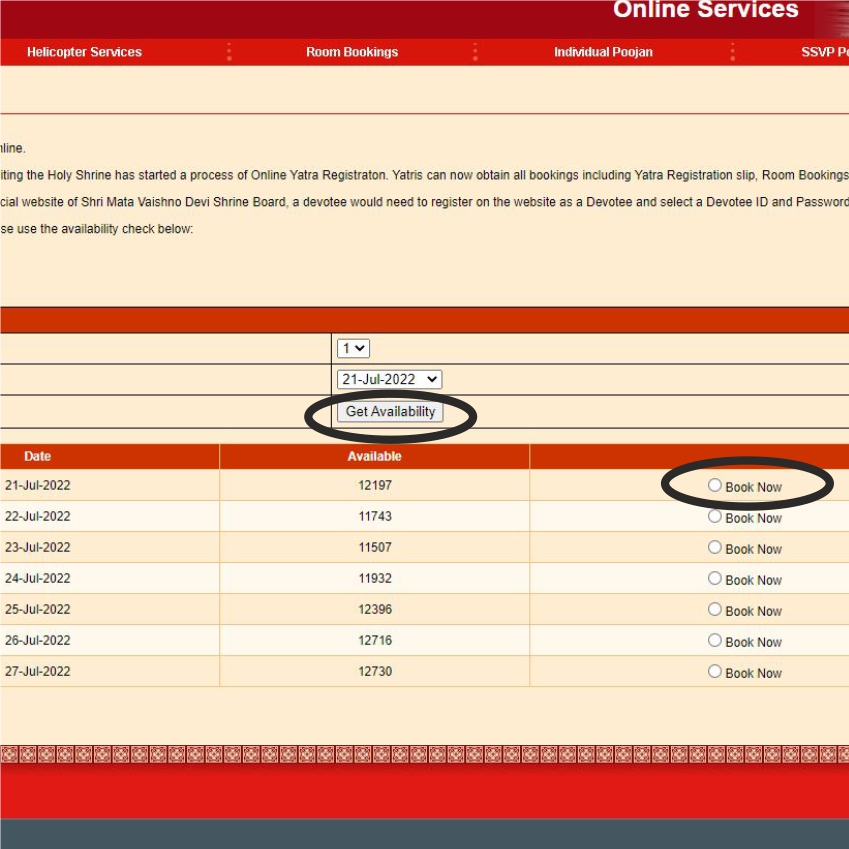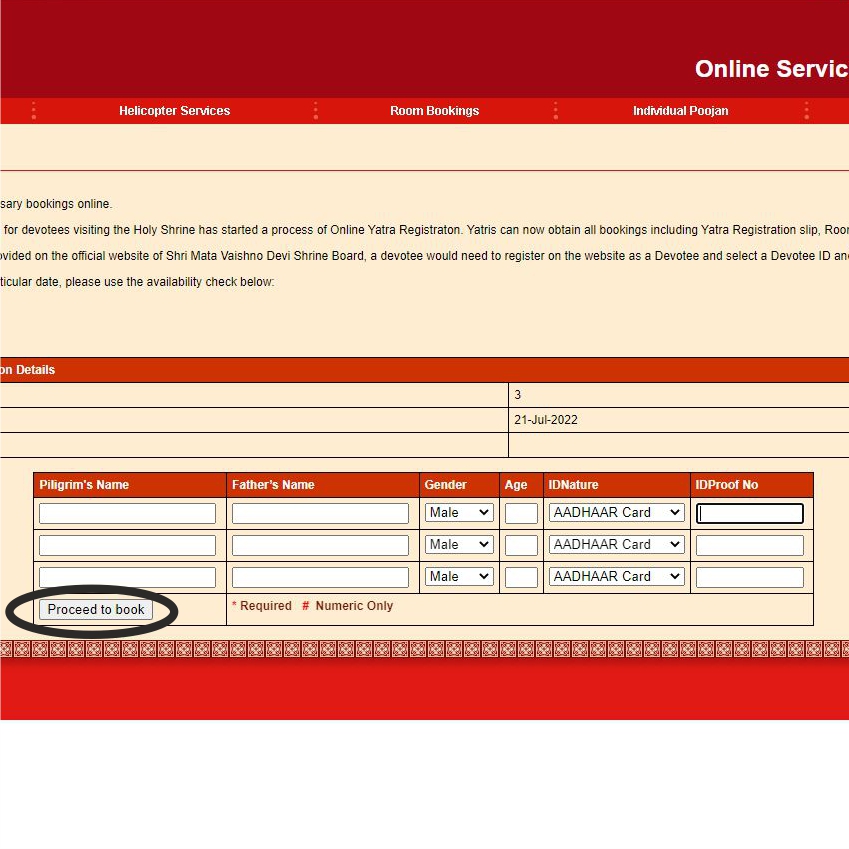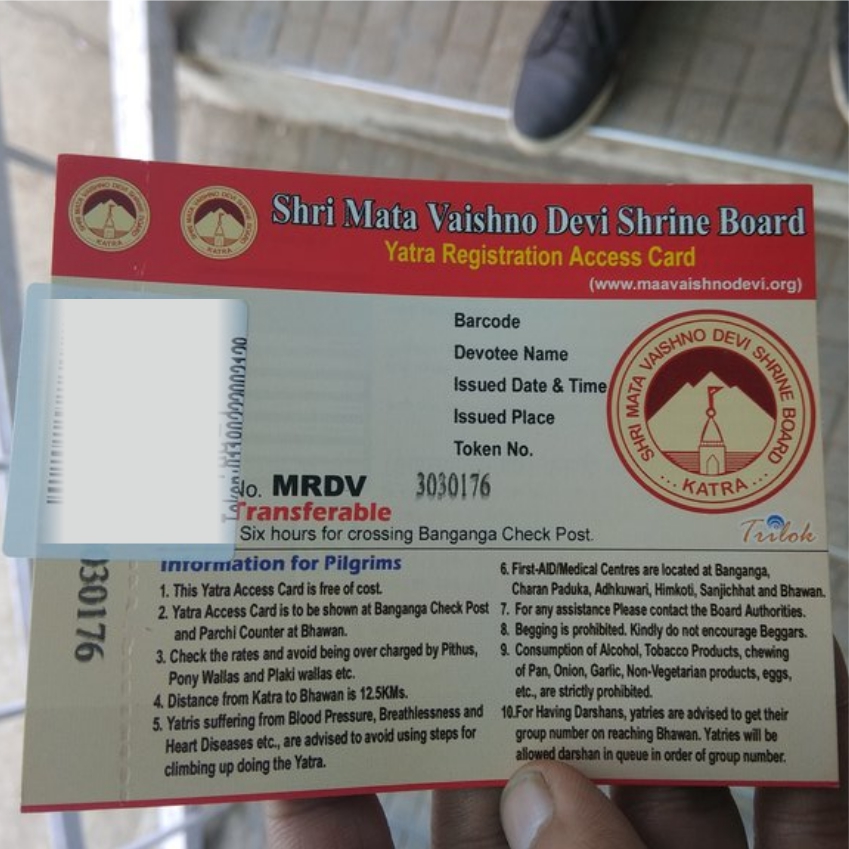 Now It's around 4:10 am and in order to start our Yatra, we need to reach the entry point. Yes, there are three different routes available for devotees from which you can choose any one according to your budget & fitness level. So let's know more about it.
How to select the best route for Vaishno Devi Yatra? 
There are 3 major routes are available for visitors from which you can select as per your convenience, fitness level & budget. The most commonly used route is via Banganga Checkpost. Another newly opened route is via the Tarakot Marg. And Another one via the Katra – Sanjichatt Helicopter route, So let's understand all routes one by one. I will also tell you which route we have taken & guide you on how to choose your route which will reduce your distance. I have also created a 3D Route Map of Vaishno Devi Yatra with all routes and distance charts. if you want you can Download this Map & take a printout with you. 
Vaishno Devi Yatra route via Banganga - Adkuwari - Himkoti - Bhavan (13km)
The Banganga route is the oldest and most common route used by most devotees. We also selected this same route for our Yatra. From Niharika Complex to Banganga Check post is just 1.5km away, so we hire an auto-rickshaw to reach there, in Karta auto-rickshaw is the only mode of local transport. Hence, the Auto fares are very high here, we paid INR.100/- for such a short distance.
Banganga Check post is the first Check post where your Yatra Parchi & luggage was checked. you can carry a camera with you. After checking we started our Yatra. As we entered we saw tariff cards for Pittu, Palkhi & Pony, if you are unable to walk you can hire any one of these services according to your choice & Budget. We personally like to do Yatra by walking ourselves. So we skip all these sections asap because this entire area was stinking with the intense smell of Pony & Donky's Dung, which was spread everywhere.
After walking ahead we reached on a small bridge under which flows river Banganga. The name of this river comes from two terms, Ban and Ganga. The Ban means Arrow and Ganga stand for the river. It is believed that Vasinavi, while on her way to the Holy Cave, created this water body with a shot of an arrow to quench her thirst, hence the name Banganga, and it's considered sacred. There are a couple of Ghats built here, if you want you can take a here bath too.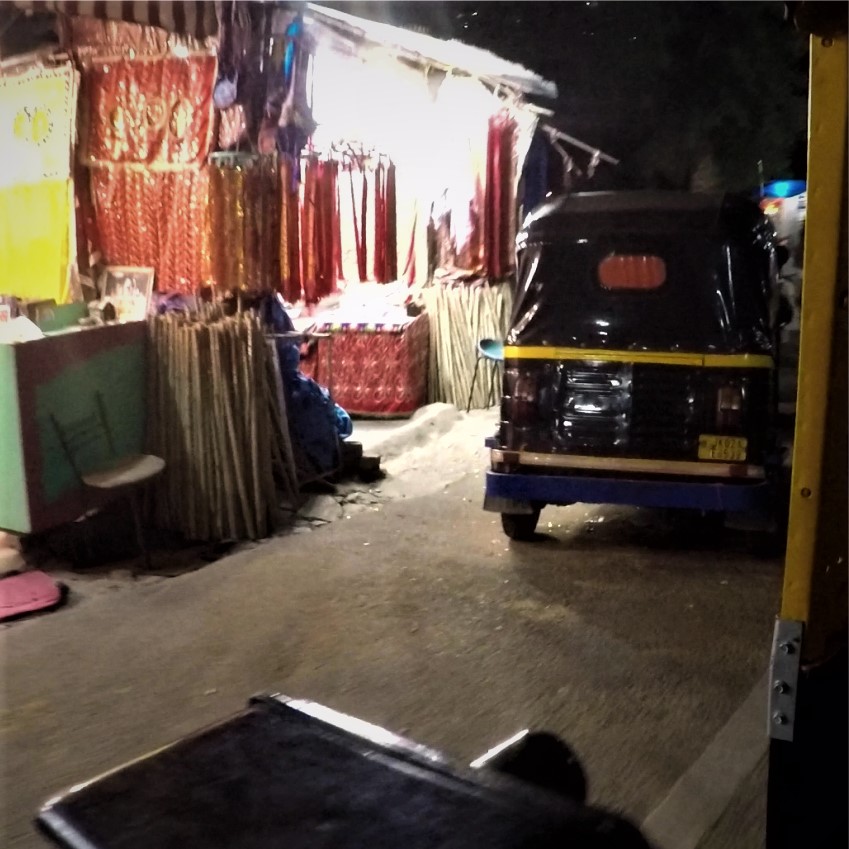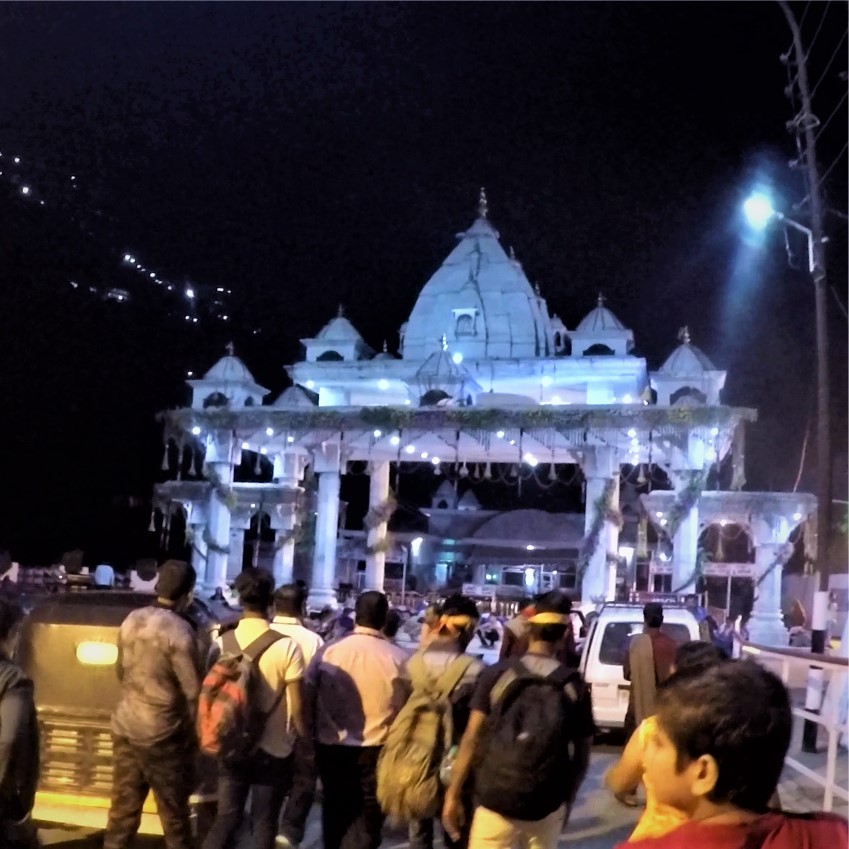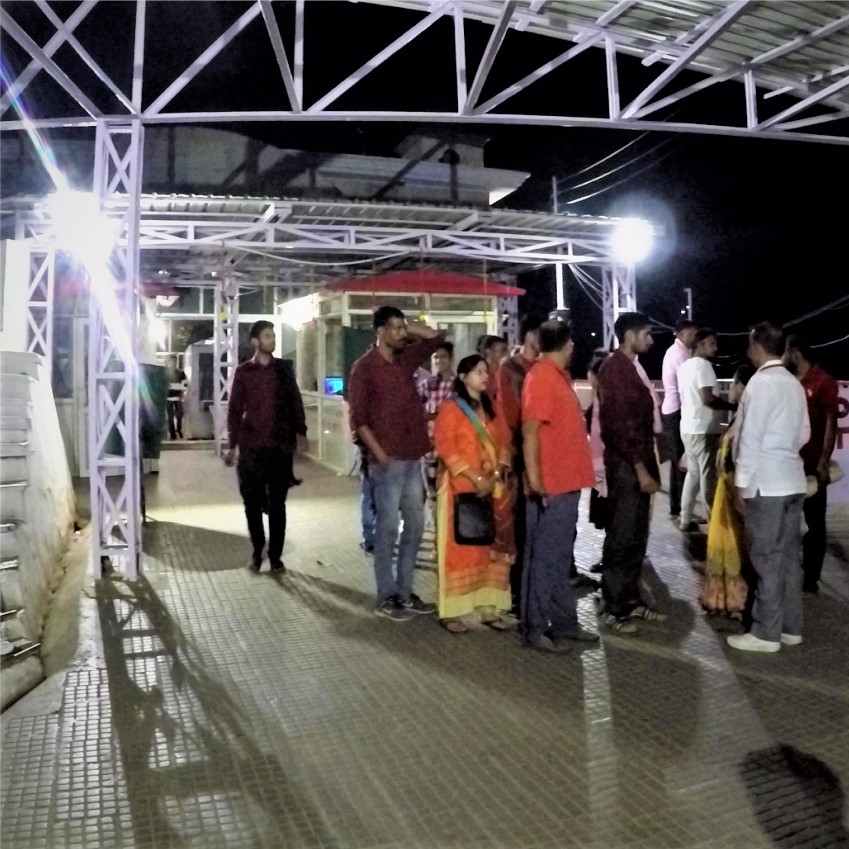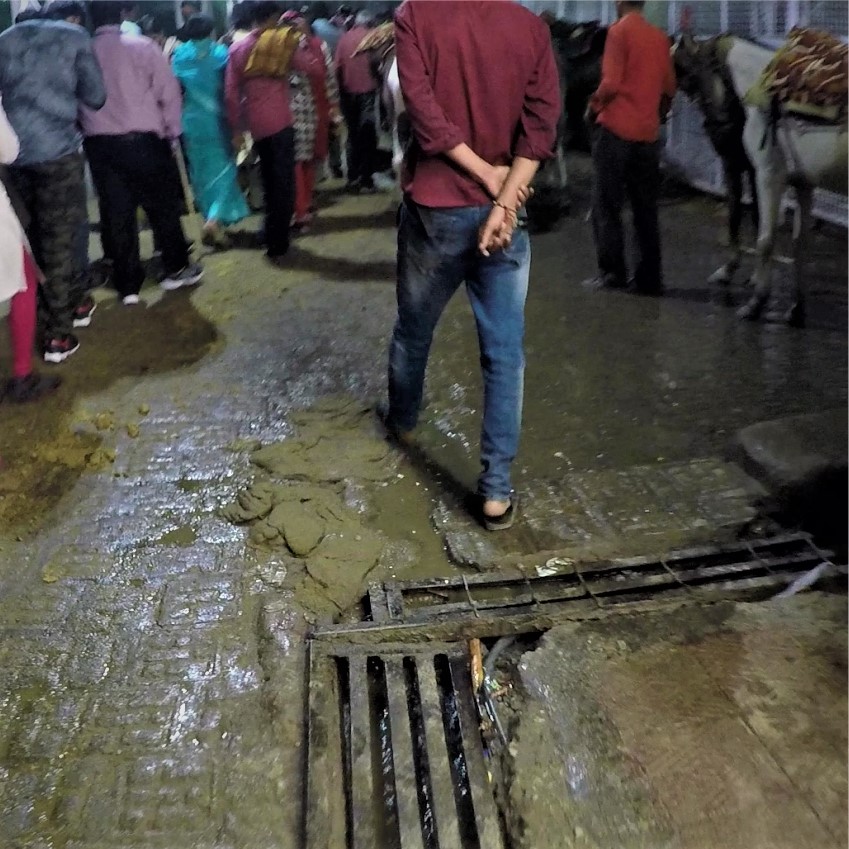 We do not have any plans to take a bath here so we kept moving further. There are plenty of Shops & Hotels located here, Even many photo studios are also situated here with dummies of Vaishno Devi Gufa, where you take photos as a memory with you. Even Medical Units, Toilets & Drinking Water Coolers are also placed at various places on this entire route.
After walking further we reached Geeta Mandir, yet another landmark on the way to Adhkuwari. This old route is very narrow at some points, which creates inconvenience when many devotees gathered together. We also saw many donkeys carrying supplies on their back. Donkeys are the cheapest mode of transport to carry anything on top.
The next popular landmark is Charan Paduka. This white temple is believed to be the place where Mata Vaishno Devi akaVaishnavi stopped over to check if she was still being chased by Bhairon Nath. In Charan Paduka Temple, the feet Impressions of Mata Vaishno Devi's feet can be seen on a rock slab.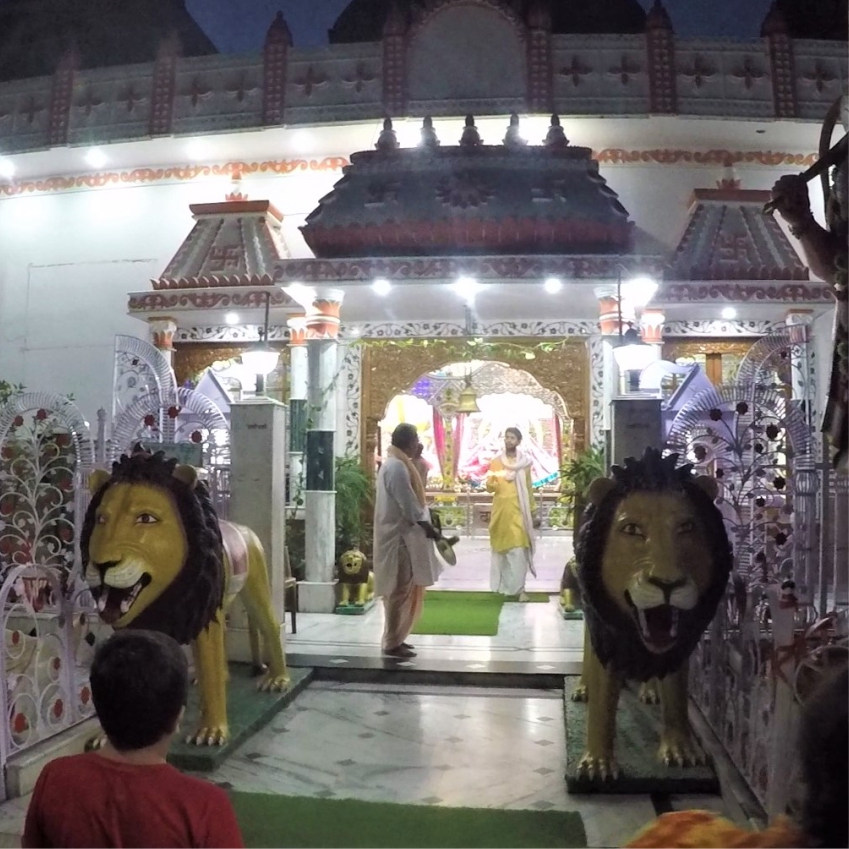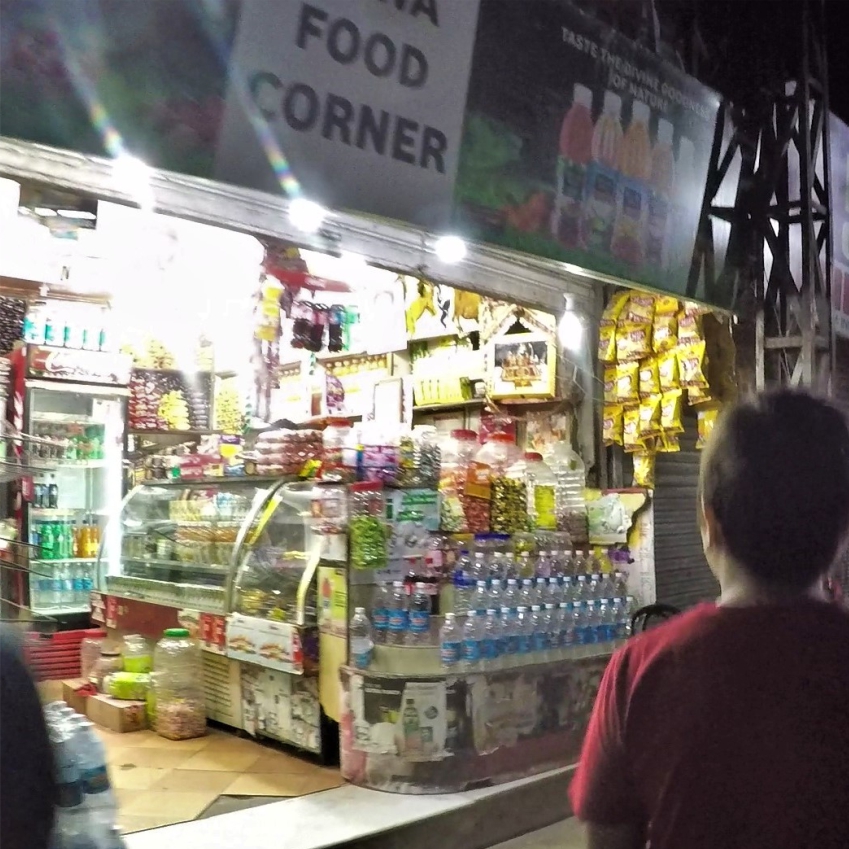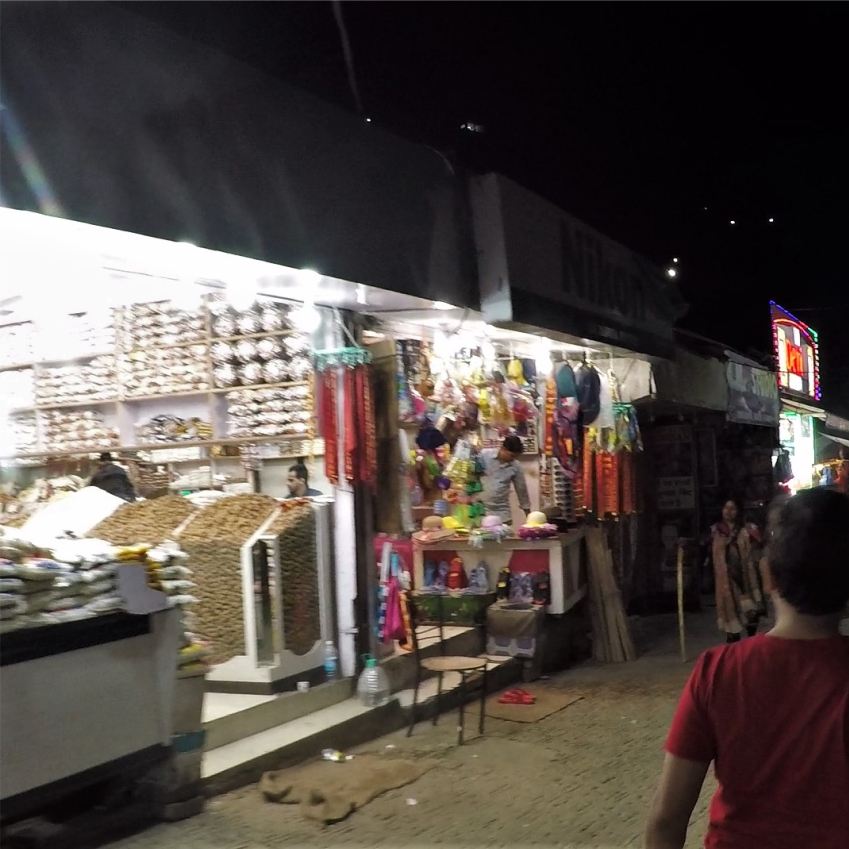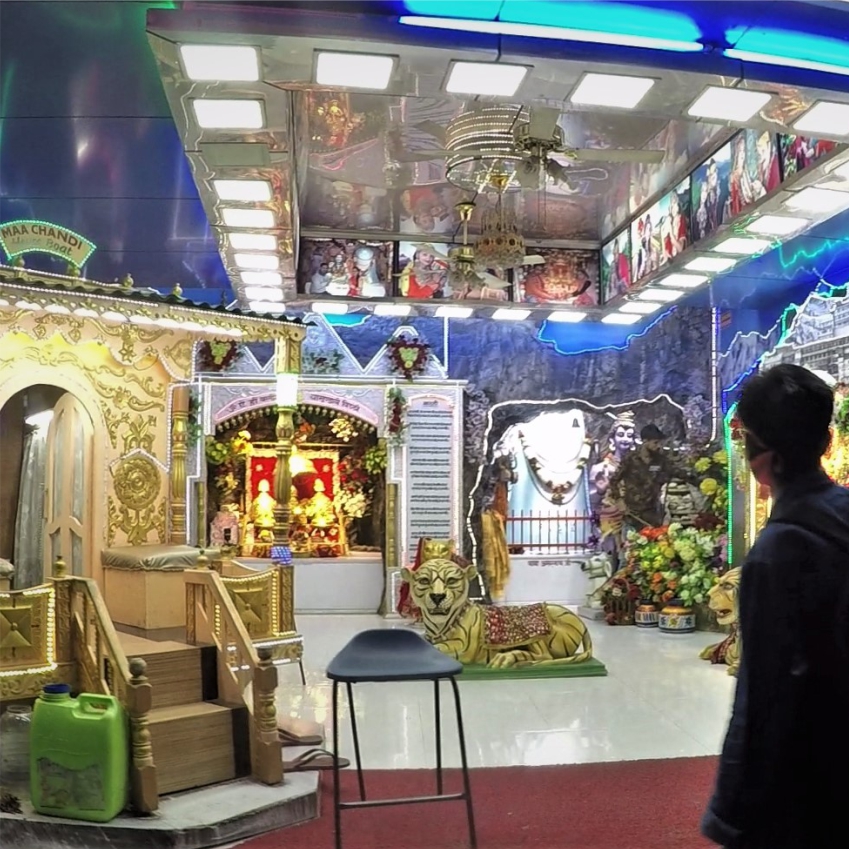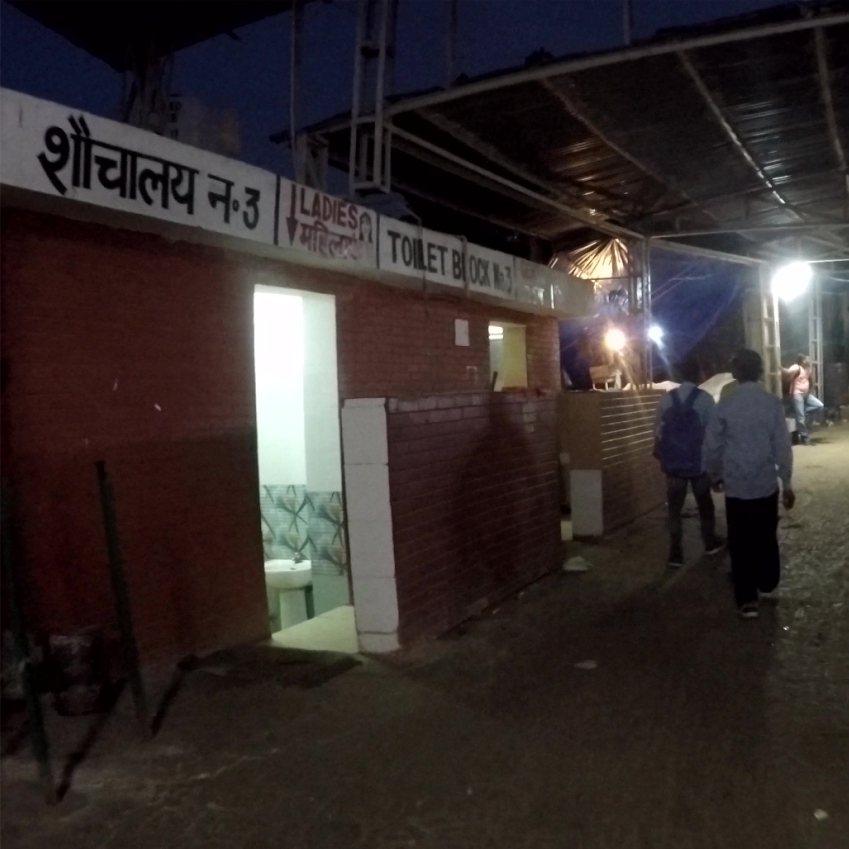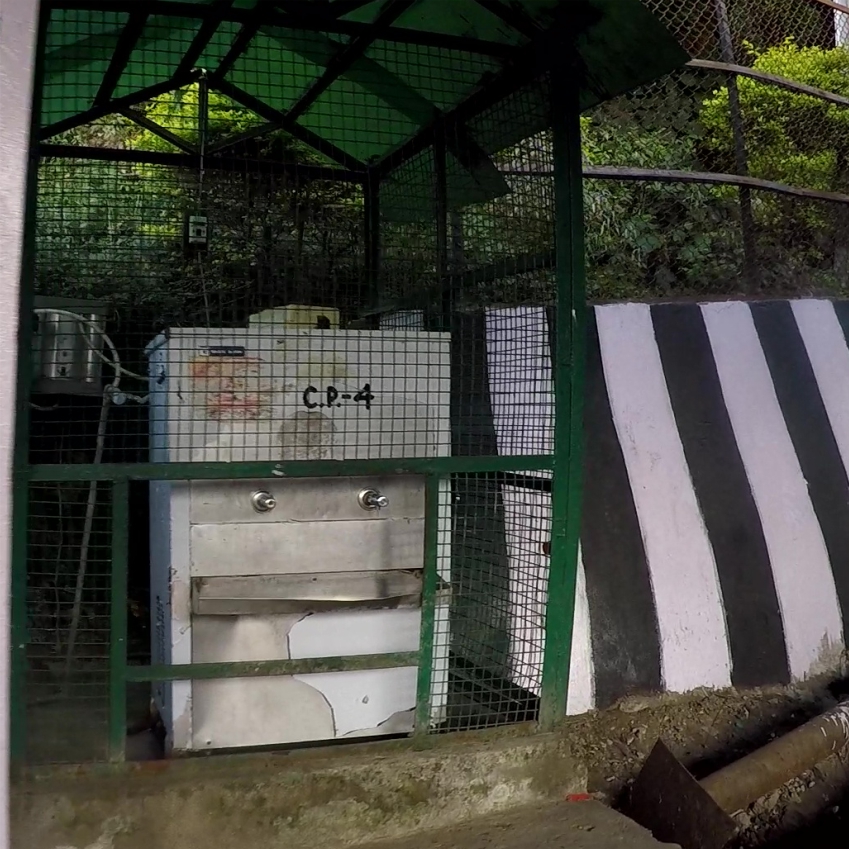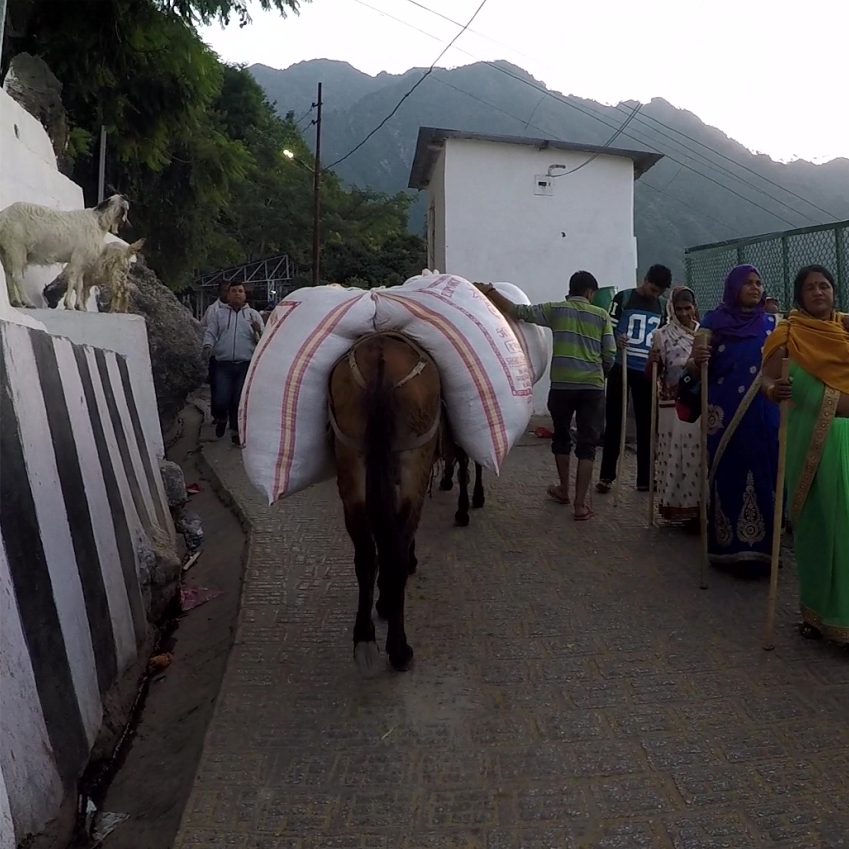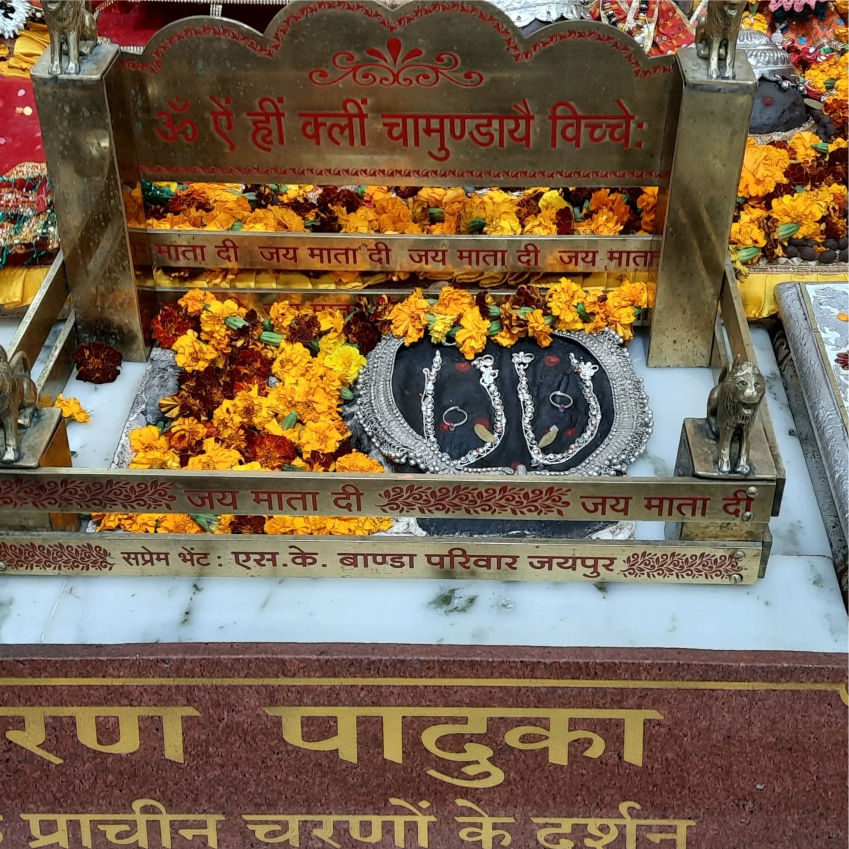 Now we are on the way to Adhkuwari, After Charan Paduka most of the pathway was divided into two sections, one for Walking Devotees & another for Pitthu Pony & Palkhiwalas. While walking on the way we also saw a CCD (Cafe Coffee Day) on this route. Sometimes you also see some local villagers playing dhol on the route to encourage devotees.
We also notice a Stairways was made at some places as a shortcut to reduce your walking distance. But it will exhaust you instantly, so be careful if you have any Heart, BP, or Breathing issues.
After taking many Stairway shortcuts we finally reached Adkuwari, The term Adkuwari is believed to have come from Adi kumari, which means "The Eternal Virgin". Adkuwari is also considered a halfway mark on the track as it is situated at a distance of nearly 6 km. Adkuwari is the second most important Darshans of this entire Yatra.
According to the legend, when Vaishnavi was a small girl, she left the Bhandara organized by Pandit Shridhar, and she was chased by Bhairon Nath. To hide from him first she halted at Banganga and then Charan Paduka. From there she reached here. Where in a small womb-shaped cave she meditated for nine long months. Therefore,  this cave has become popular by the name of Garbh Joon, which has come from the term Garbh Yoni meaning the Womb. When during her meditation She realized that Bhairon Nath had approached the cave in search of her. She created an exit at the other end with her Trident and proceeded towards the Holy Cave.
It is generally believed that by merely passing through this cave, a devotee's sins are cleansed and his soul becomes pious again. Since the cave is very narrow, only one person can pass through it at a time. Hence, they have made a group system here for darshan.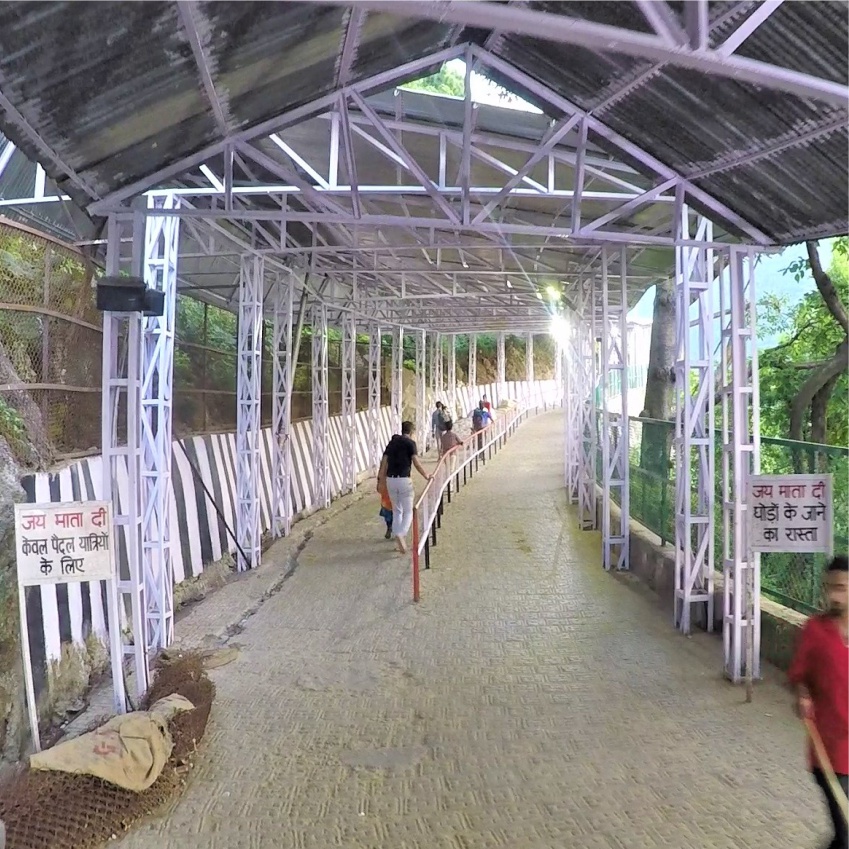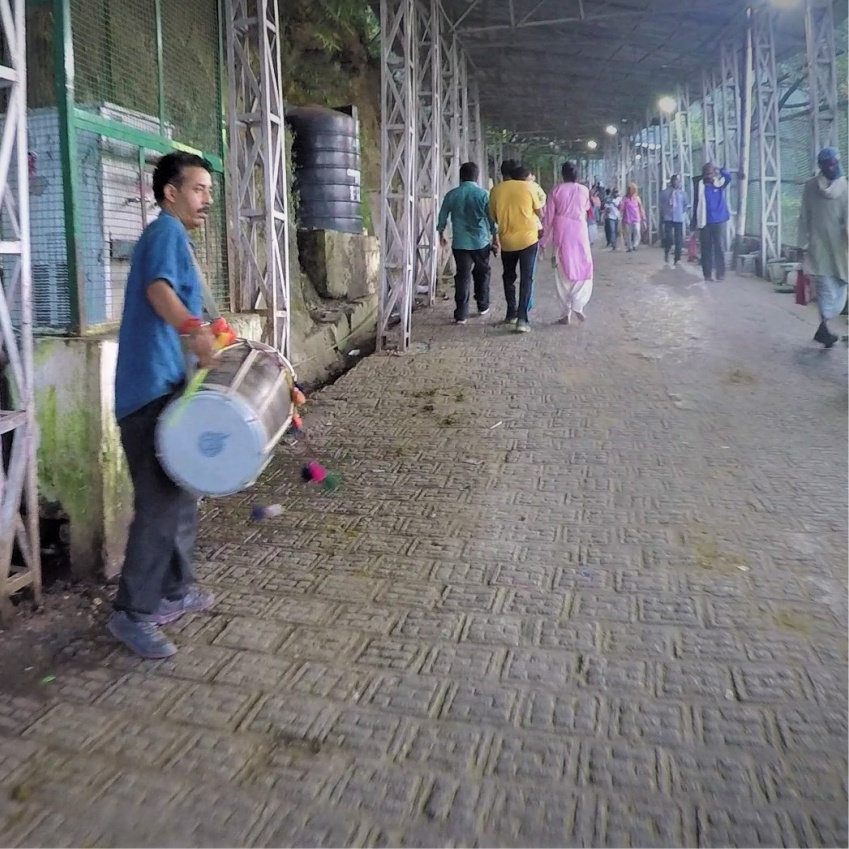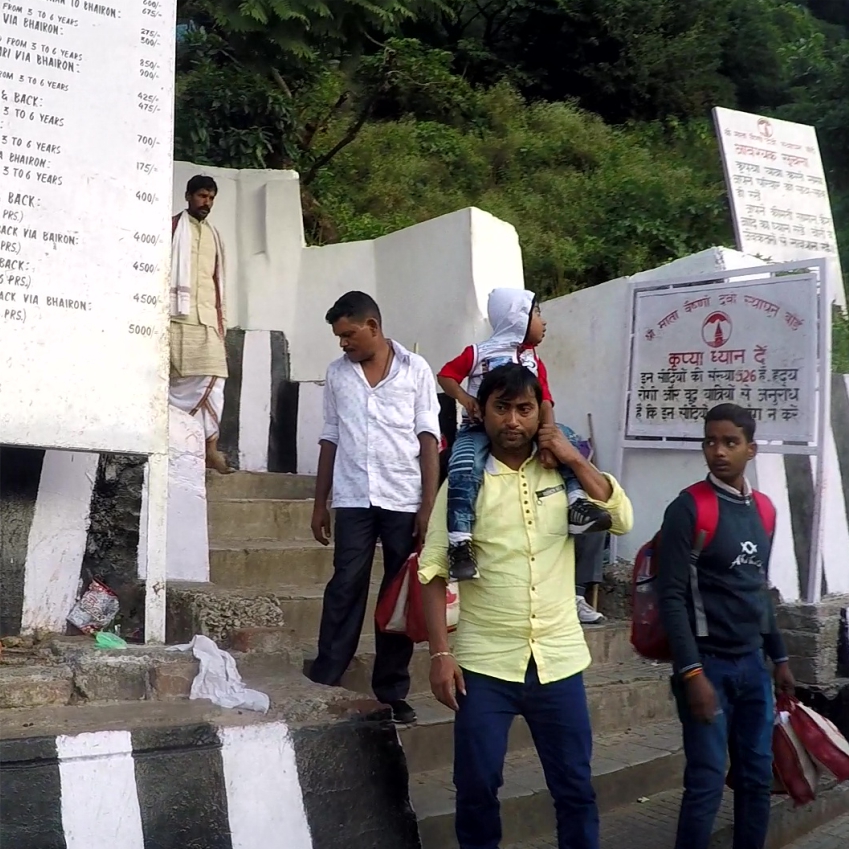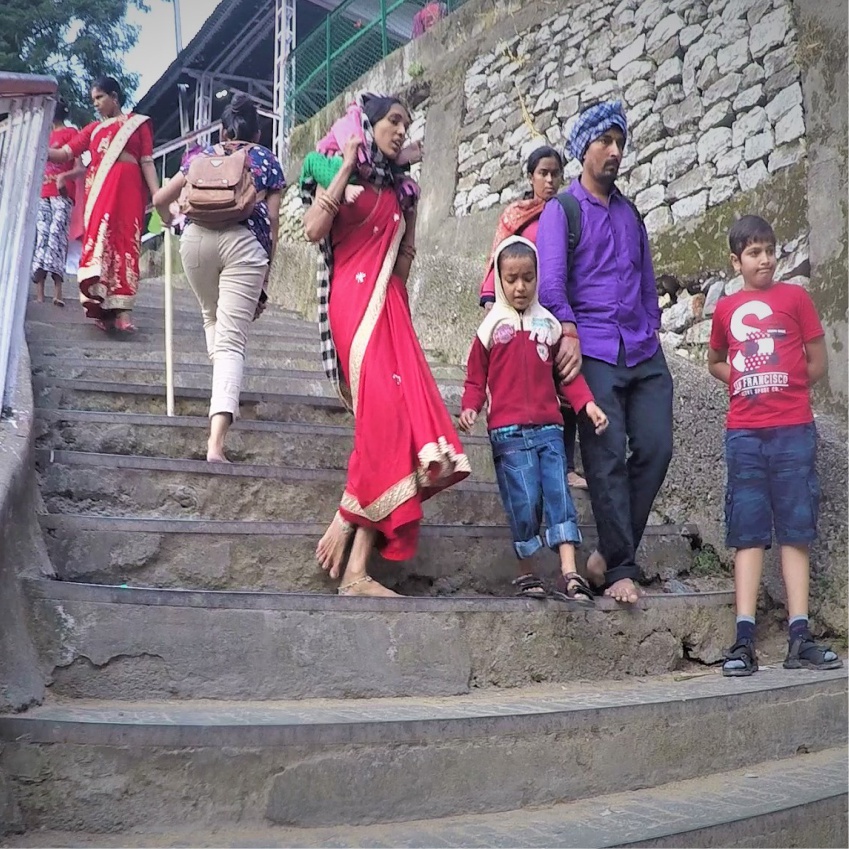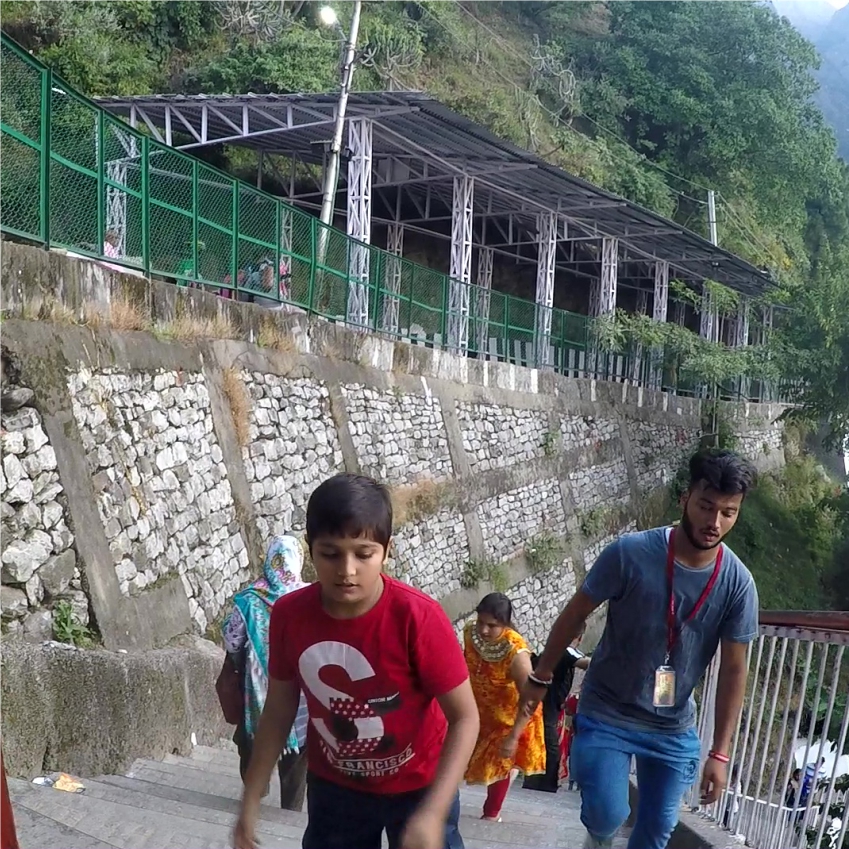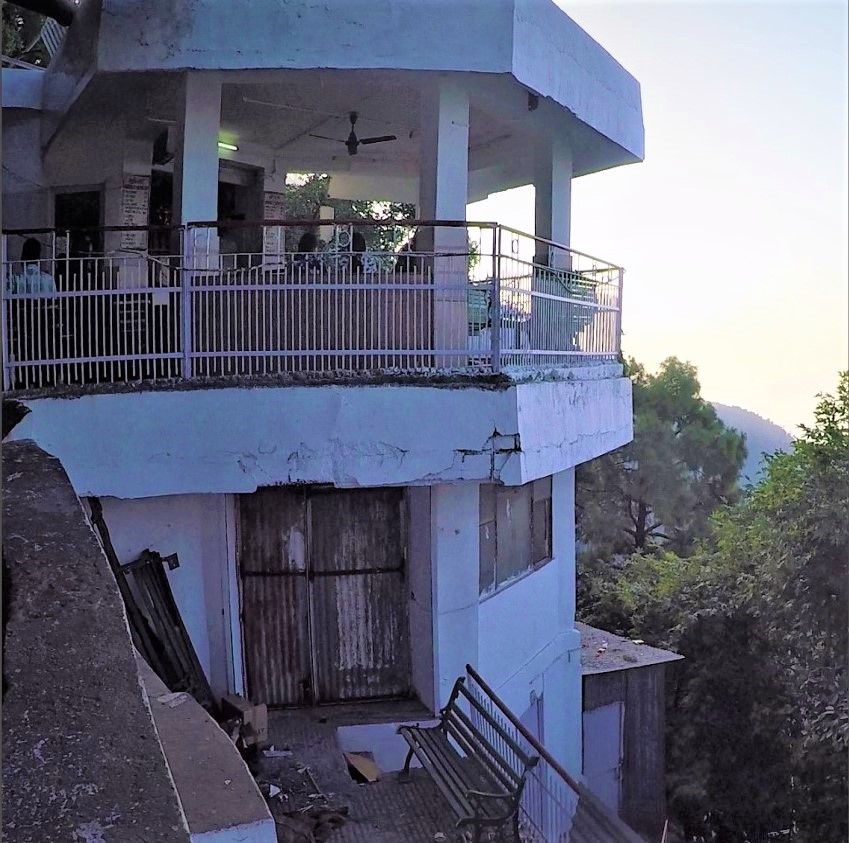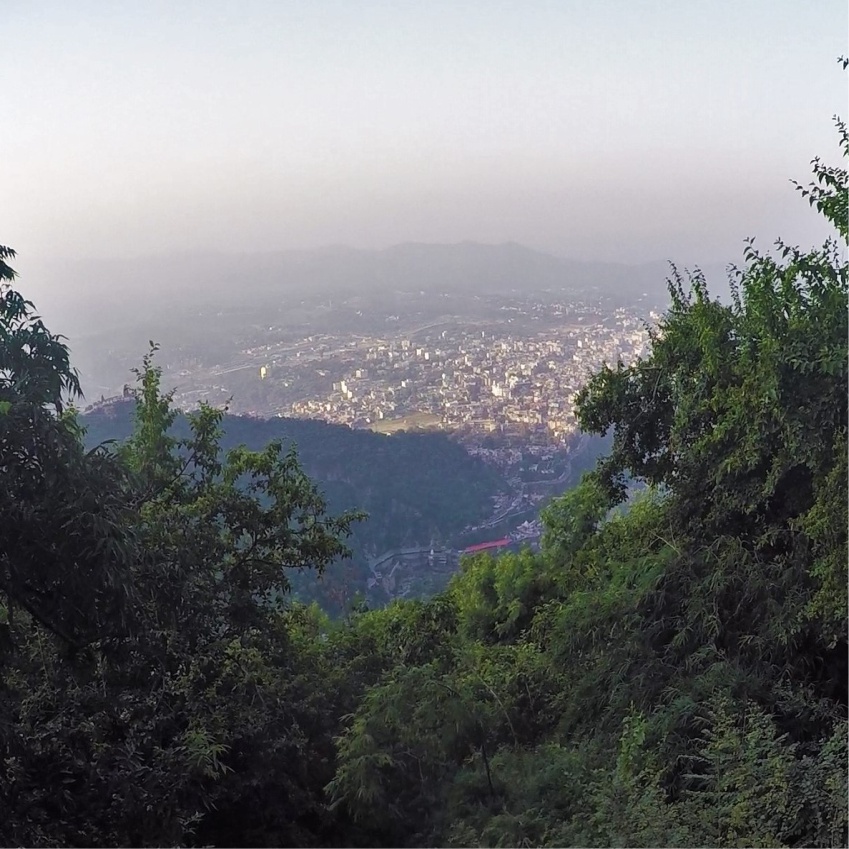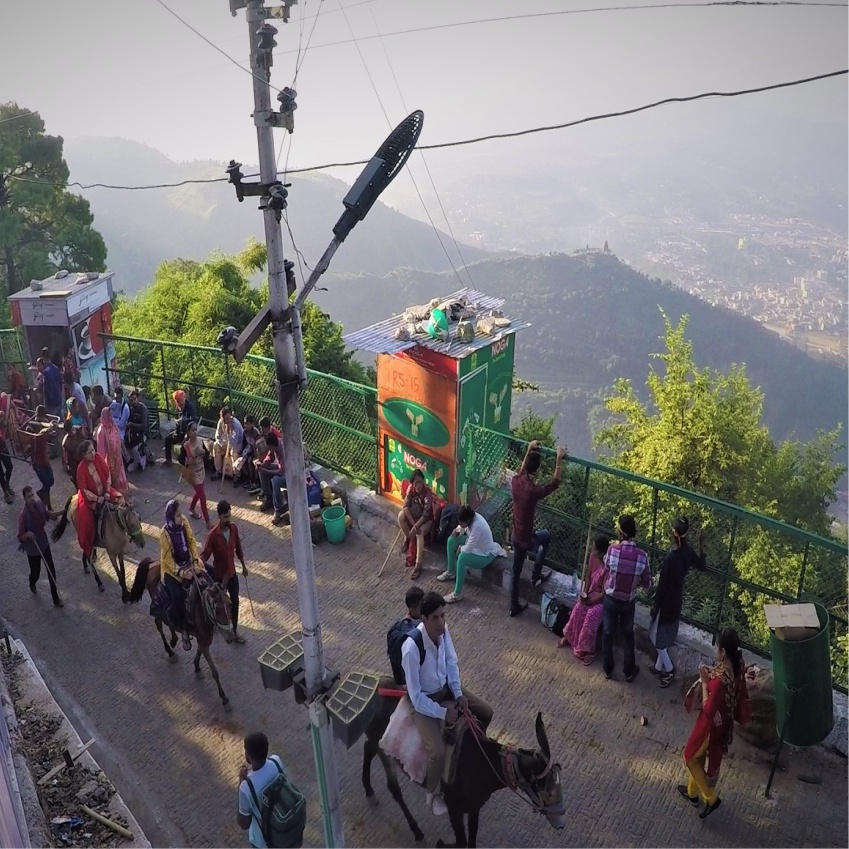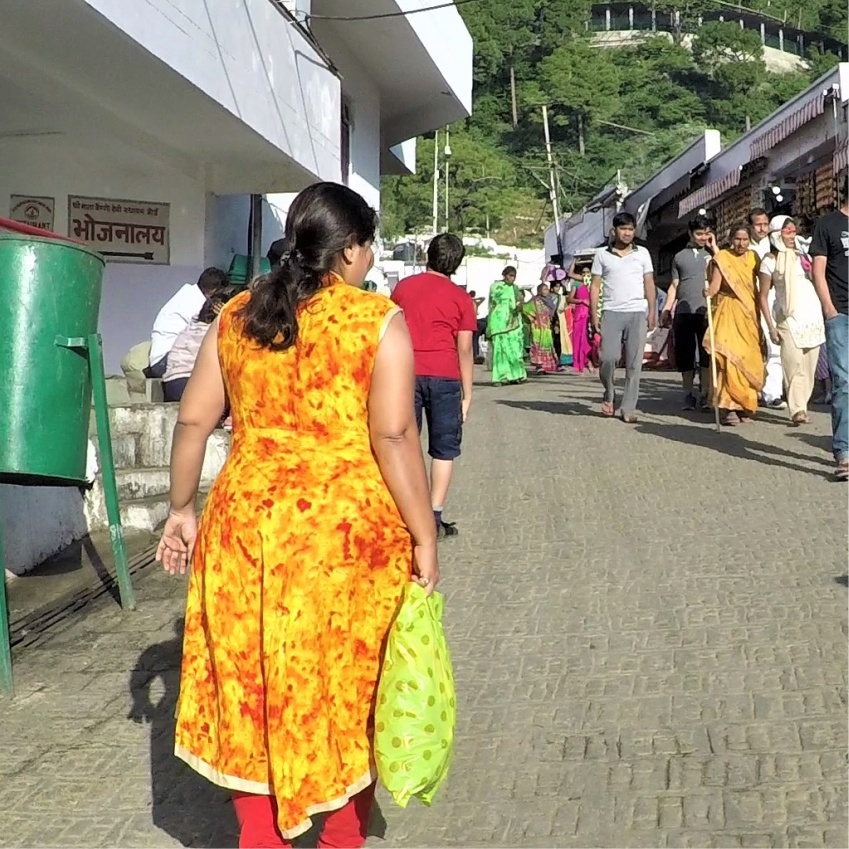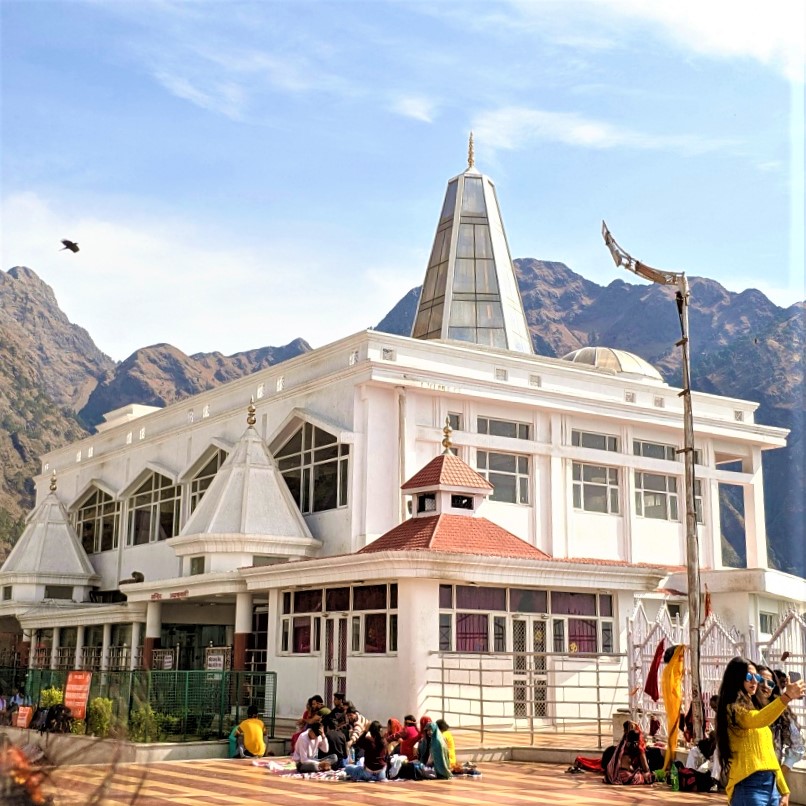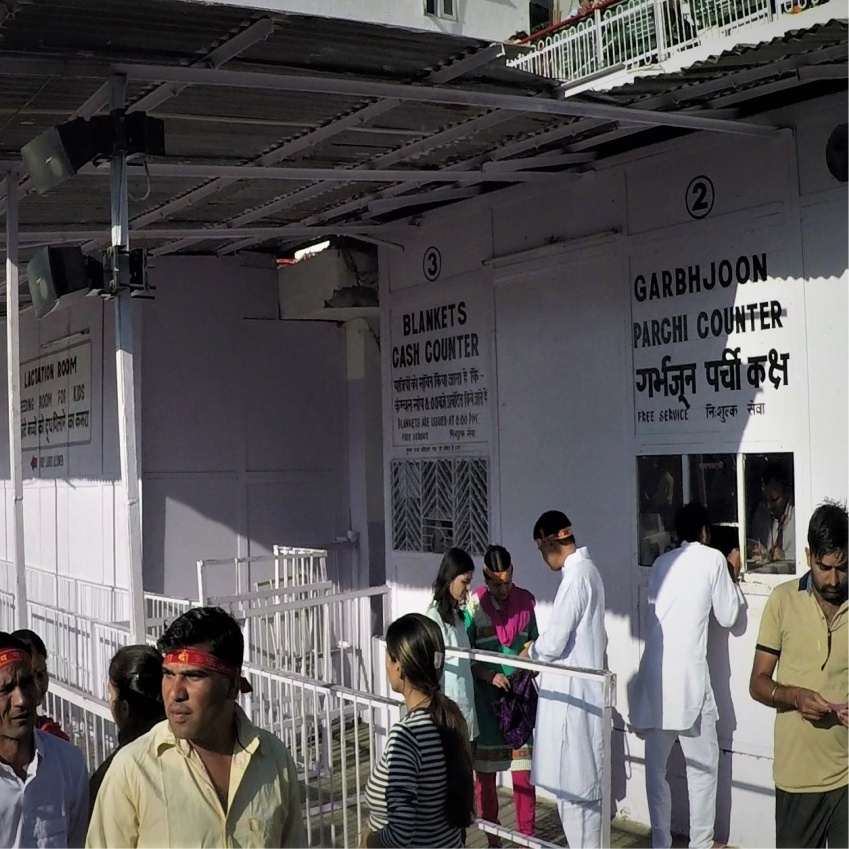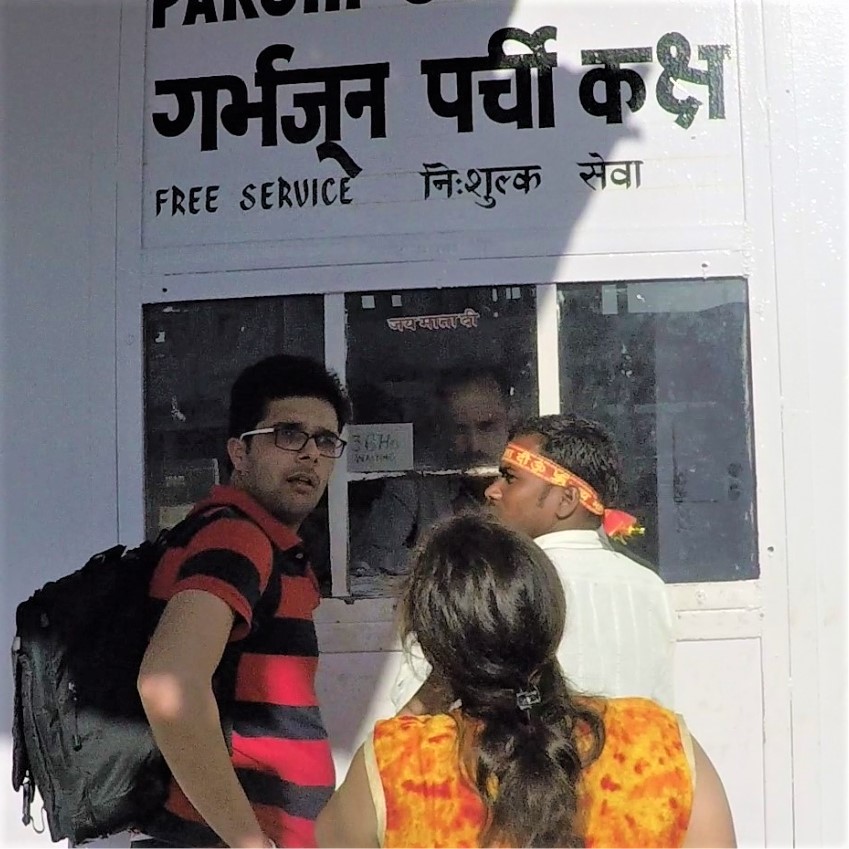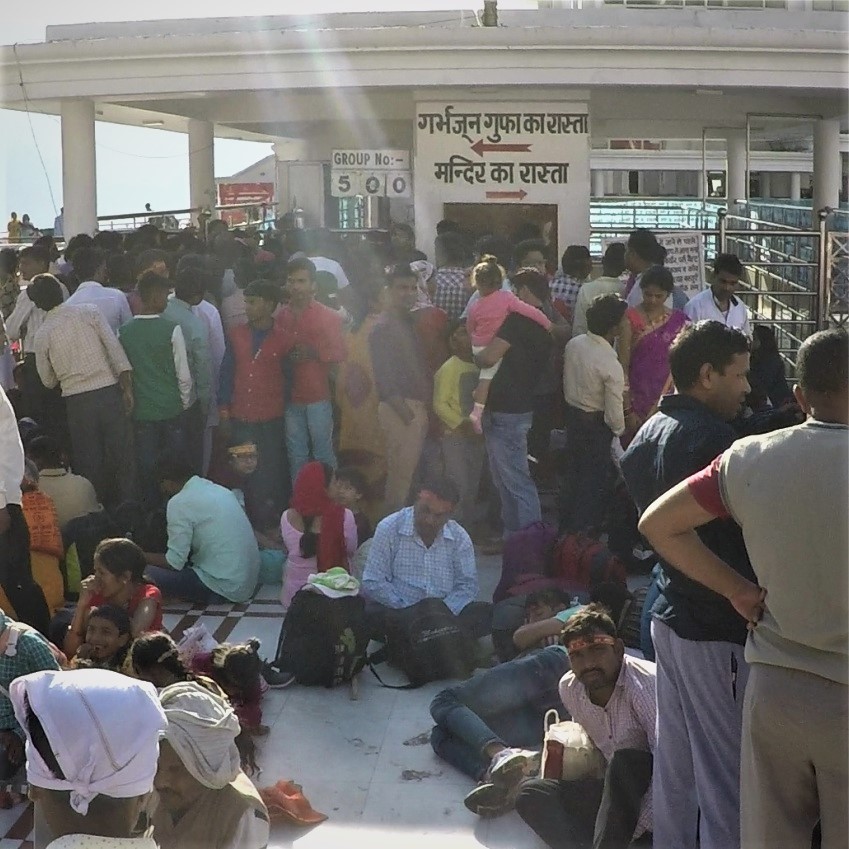 When we reach Adkuwari we saw a huge crowd waiting for a Darshan, when we inquire at the Garbh Joon Parchi counter for Darshan we came to know that there were 36 hours waiting period for darshan. So we decided to skip this and walked further. 
From here we took the Himkoti route. You have to pass through a small tunnel mentioning the Way to Bhavan.
Adkuwari to Himkoti (3km)
This route is also called a new route. Because earlier devotees were using the oldest route called Hathi Matha Route. This route is still used by many devotees. But we decided to choose the Himkoti route as this was the most convenient way to walk or if you want you can also take a Battery car from here till Bhavan. This Battery car is run between Adhkuwari & Bhavan.  Tickets can be booked in two modes – online and offline. The online ticket for the battery car can be booked by using your same ID & Password through the official website of Shri Mata Vaishno Devi Shrine Board: https://batterycar.maavaishnodevi.org/. The cost of Tickets is given below.
| | | |
| --- | --- | --- |
| Route | Fare for Adults (above 5 years) | Fare for Kids |
| Ardhkuwari to Bhawan | INR 300 + INR 54 (GST) = INR 354 | Free up to 5 years (maximum of 2 infants/ children allowed in a single ticket) |
| Bhawan to Ardhkuwari | INR 200 + INR 36 (GST) = INR 236 | Free up to 5 years (maximum of 2 infants/ children allowed in a single ticket) |
Himkoti route is much wider and cleaner compared to the older routes. Most of the route is paved & covered by Shade. You can also find a few monkeys on this route. But most of the time they are harmless until you tease them. The Shrine Board has also constructed many restaurants & Prasad Counters on this route. 
After walking for around 3 km we reached Himkoti Viewpoint. As soon as we reached here we saw a Dosa Point, a Small restaurant & a huge resting area. We wanted to try some Dosa but it was not opened yet. The police check-post is also situated here, where they will check your luggage again.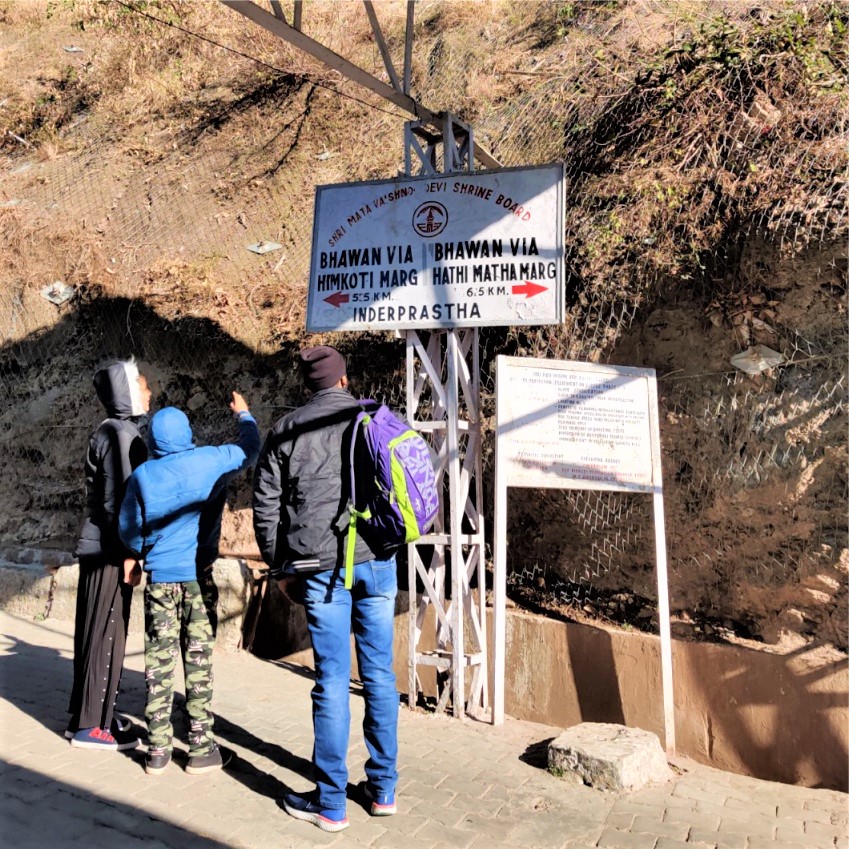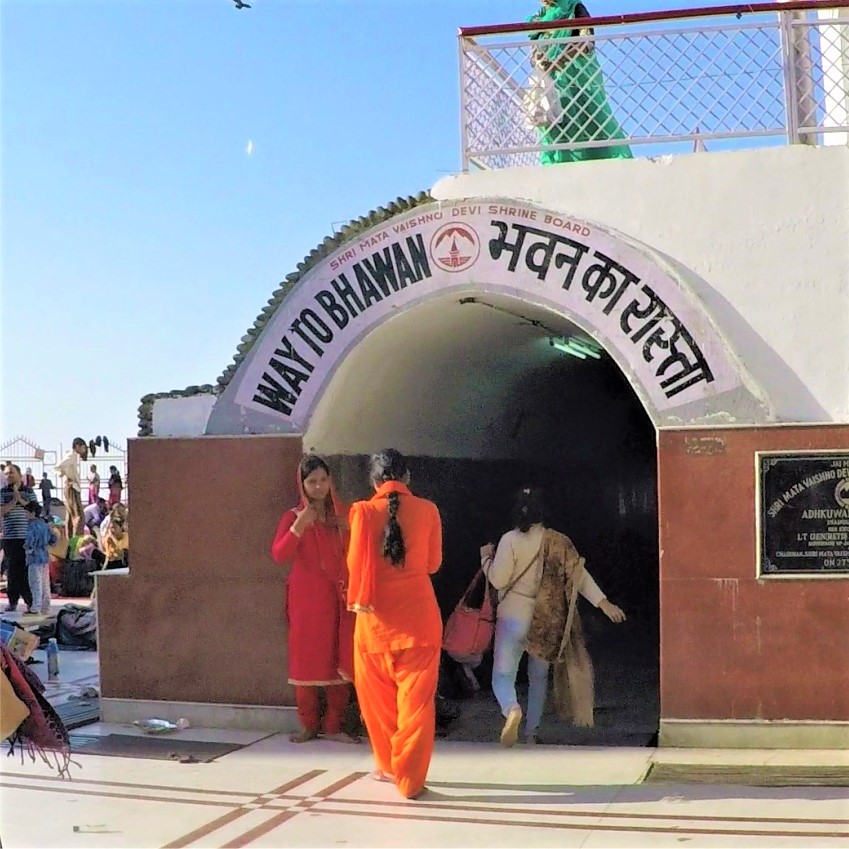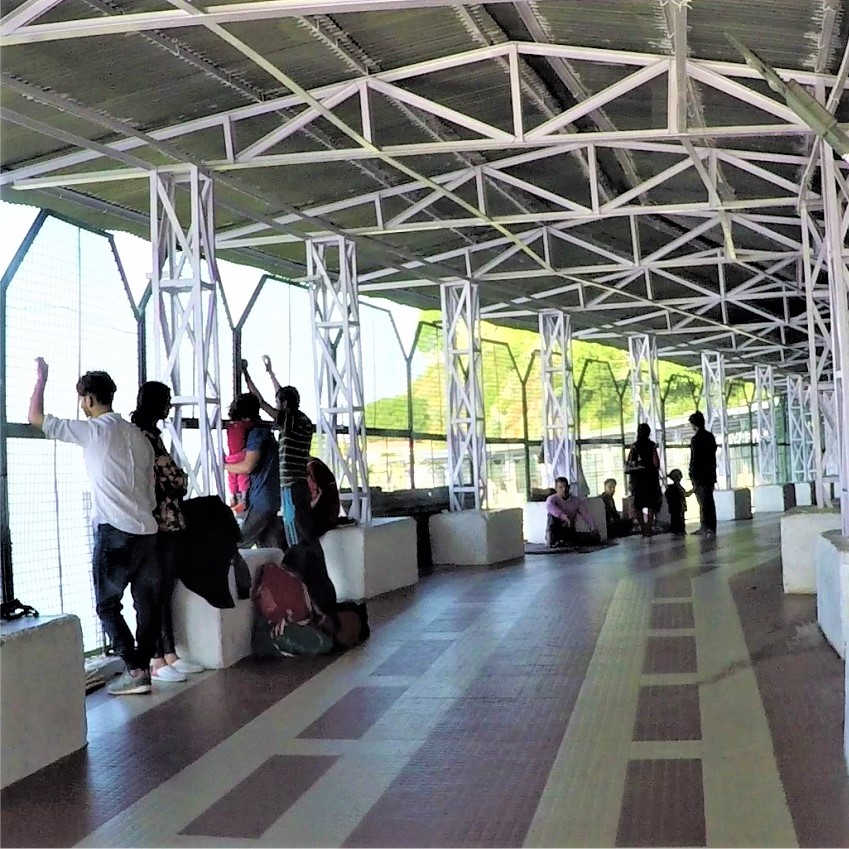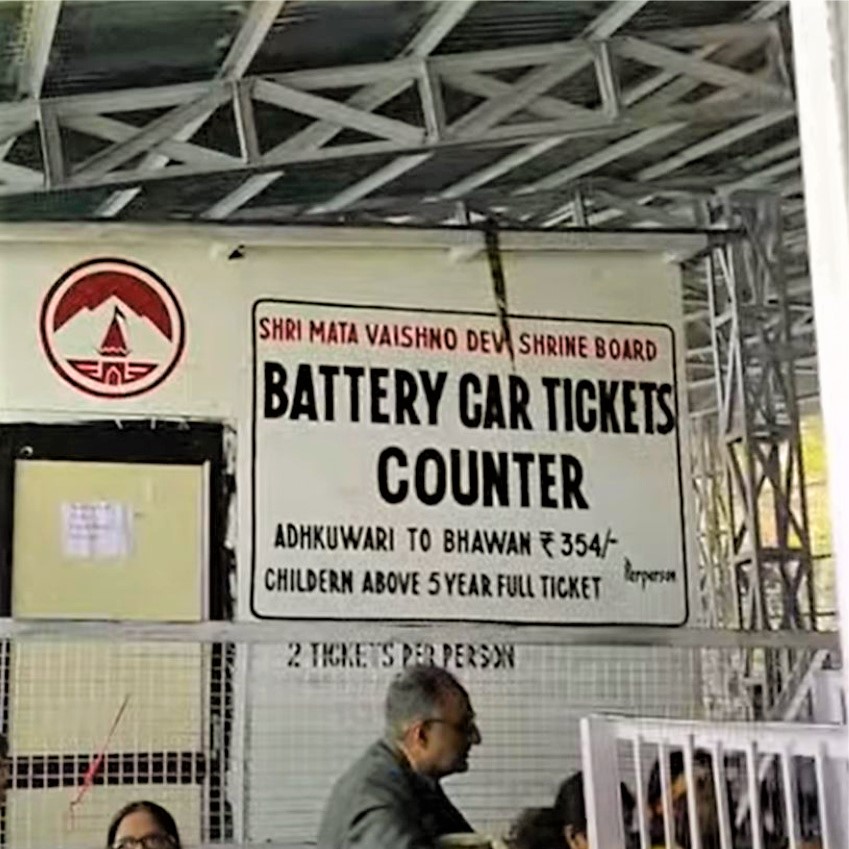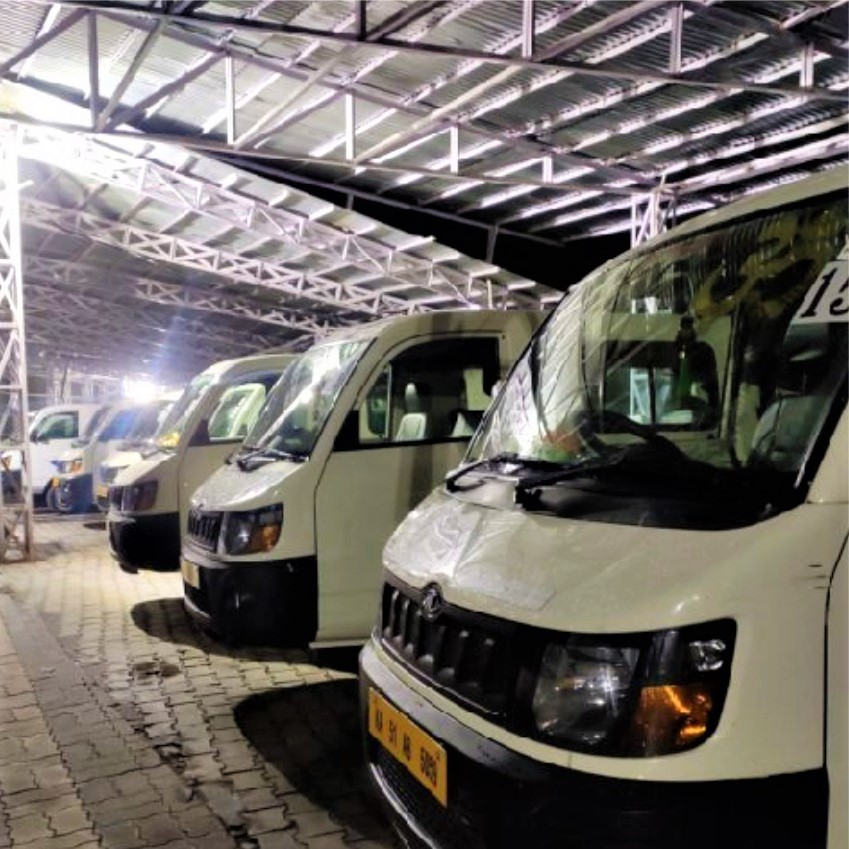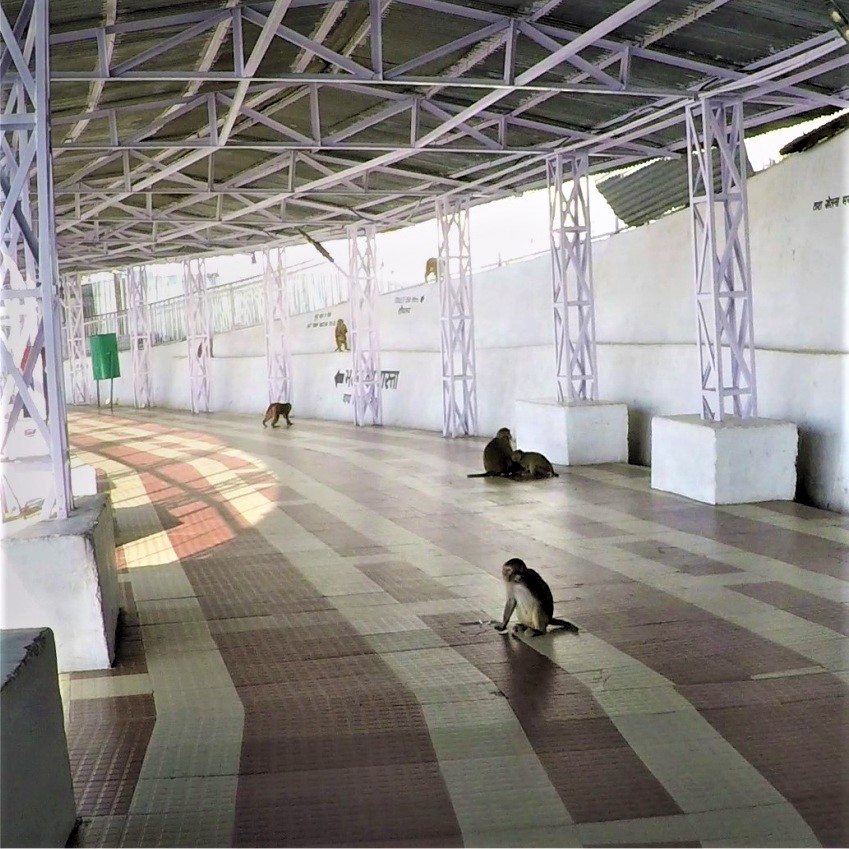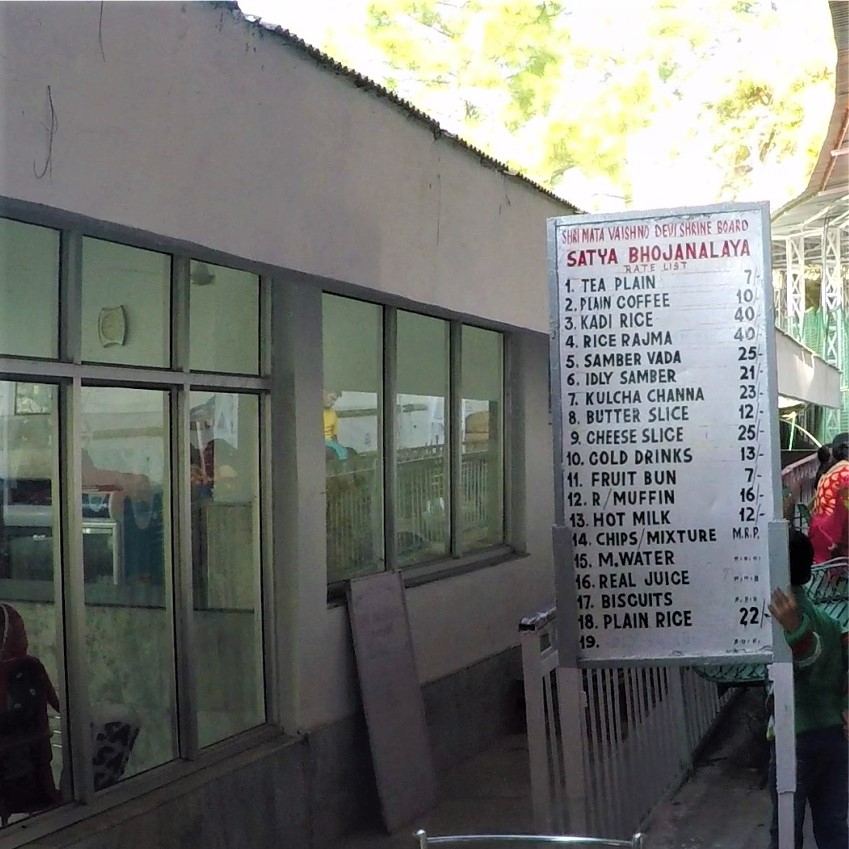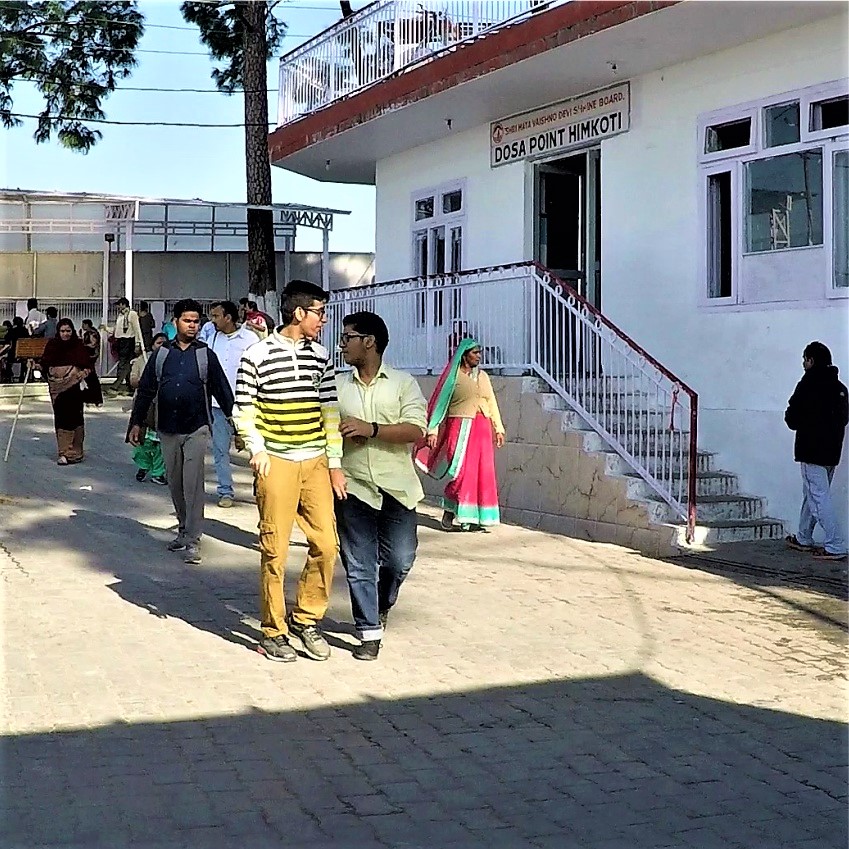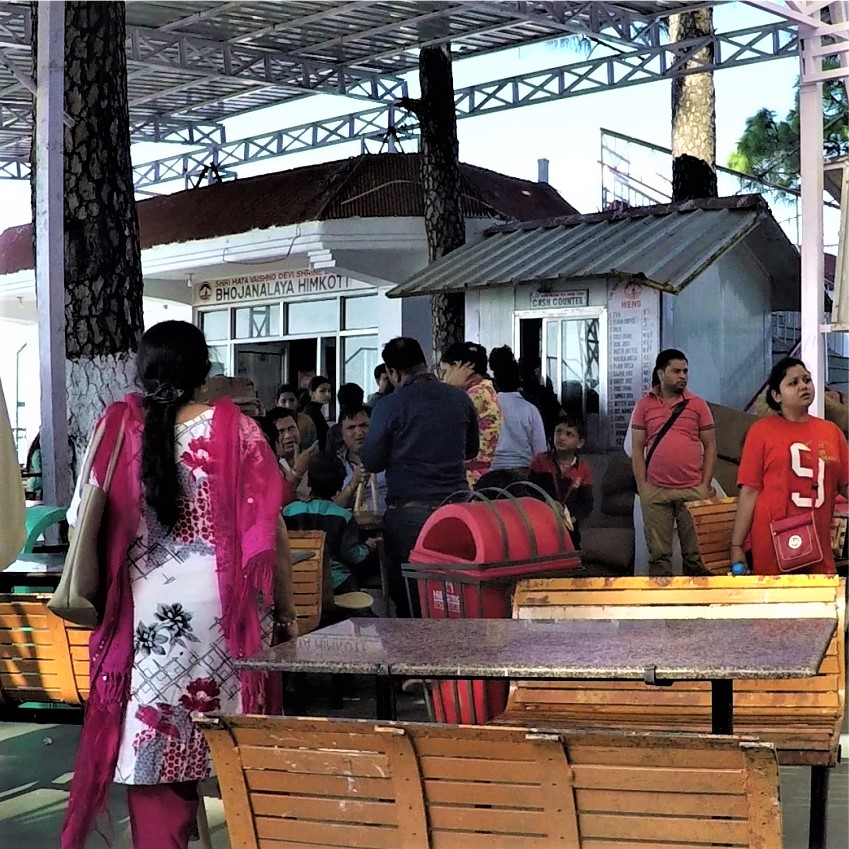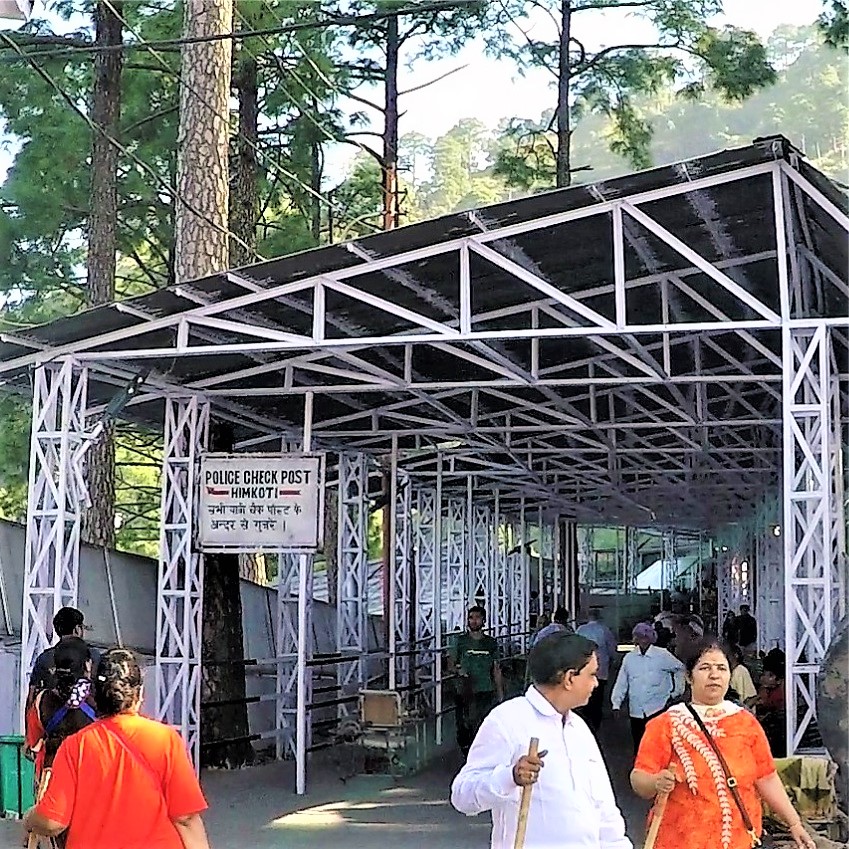 From Himkoti the Bhavan is around 4km away. Now we were very hungry as we had not taken our Breakfast yet. We are gaining energy by eating some chocolate & energy bars. We also saw a Sakat Bhajanlaya on the way, So we planned to have some hot Rajma Chaval, but it was not ready at that moment.
On this route your Yatra Parchi was chacked again, from there you can get the first glimpse of Bhavan " The Adobe of Mata Vaishno Devi". By walking further we getting more closer to Bhavan, while on a walk we saw some old abandoned staircases, which might be the oldest trek of Vaishno Devi.
Finally, we reached Bhavan, we also saw many battery cars parked here as this was their last stop. After walking ahead again you have to pass through another Police Check Post. After checking we walk ahead toward Bhavan, at that time a Ropeway was under construction (we were there in the year 2017). However, here I am sharing all the datils of Ropeway with you.
Vaishno Devi Ropeway system connects Vaishno Devi Mandir to Bhairon Nath Mandir, which is located about a couple of kilometers. The one and half-hour trek from Vaishno Devi Mandir to Bhairon Nath Mandir is tough and very difficult for the elderly. It can be covered in just 5 minutes with the ropeway. This air-conditioned cable car can carry 45 people at a time. The panoramic aerial view of Bhairo Valley from the ropeway is stunning. The Vaishno Devi Mandir is 300 meters away from the Ropeway.
Vaishno Devi Ropeway Ticket Price is INR 100 per person for Too and Fro, and Ropeway Timings are from 8:00 AM to 5:00 PM. Currently, no online booking is available, you have to book your tickets from the ticket counter once you reach here.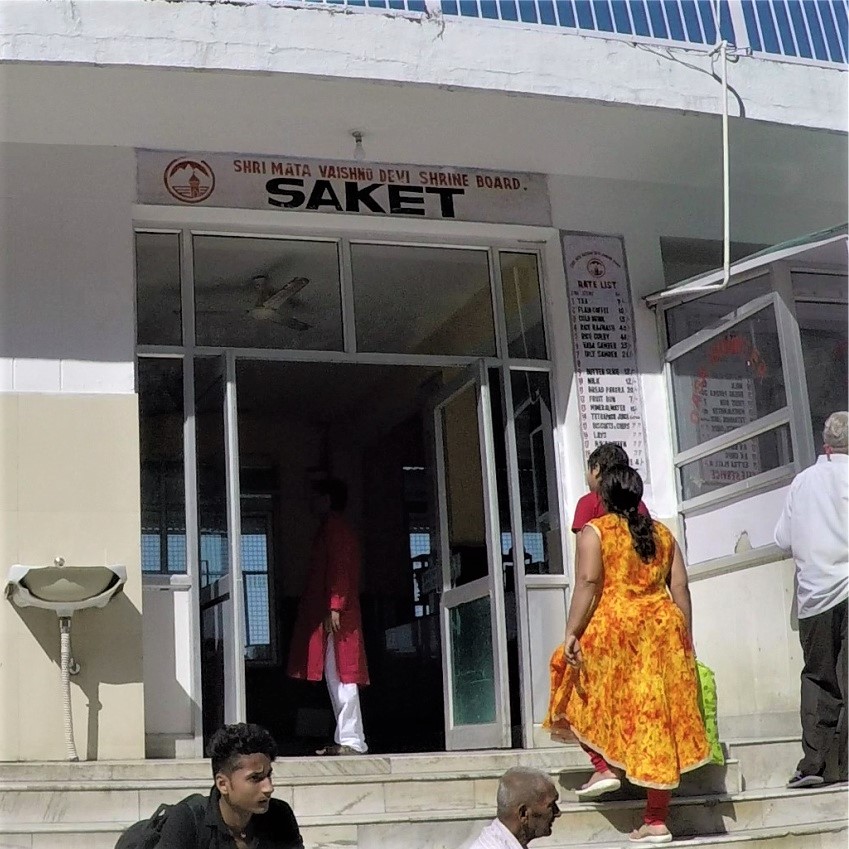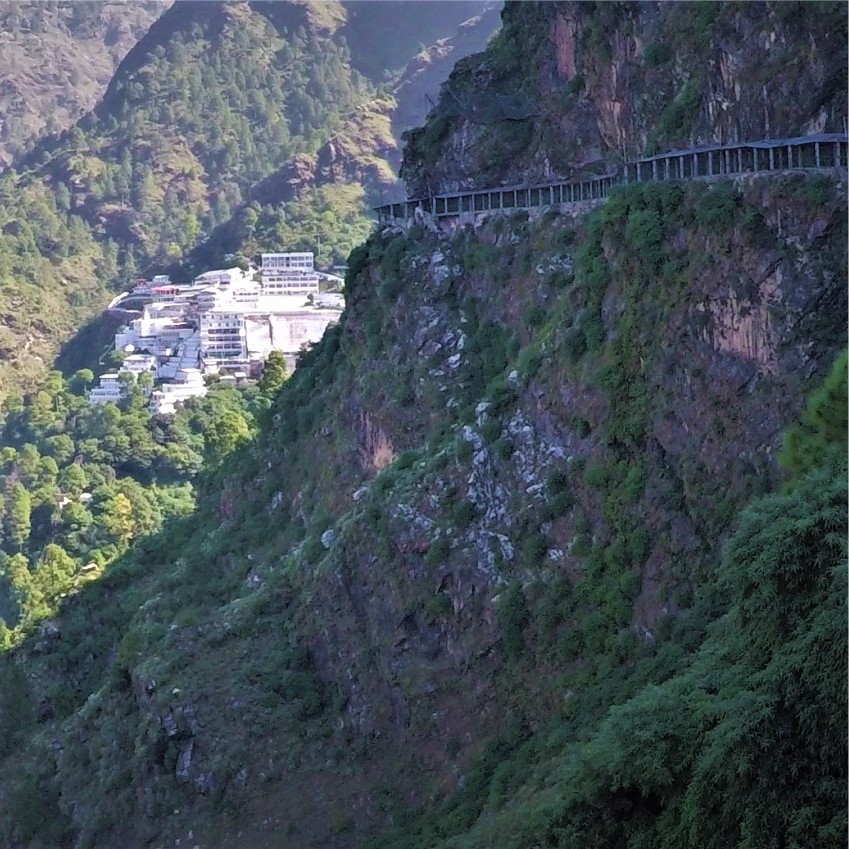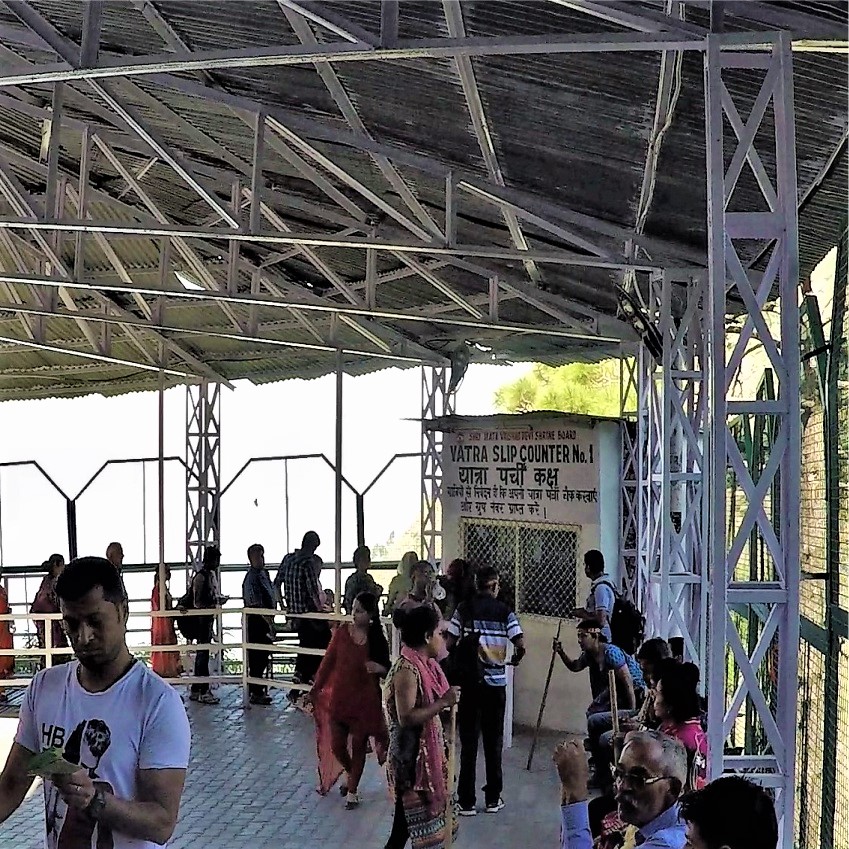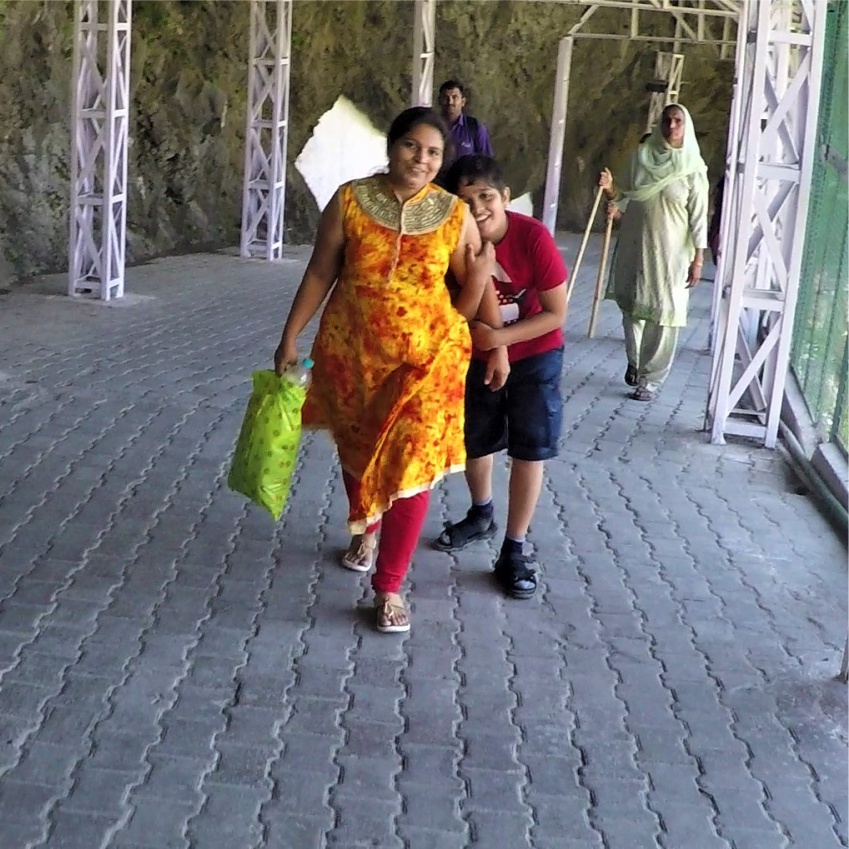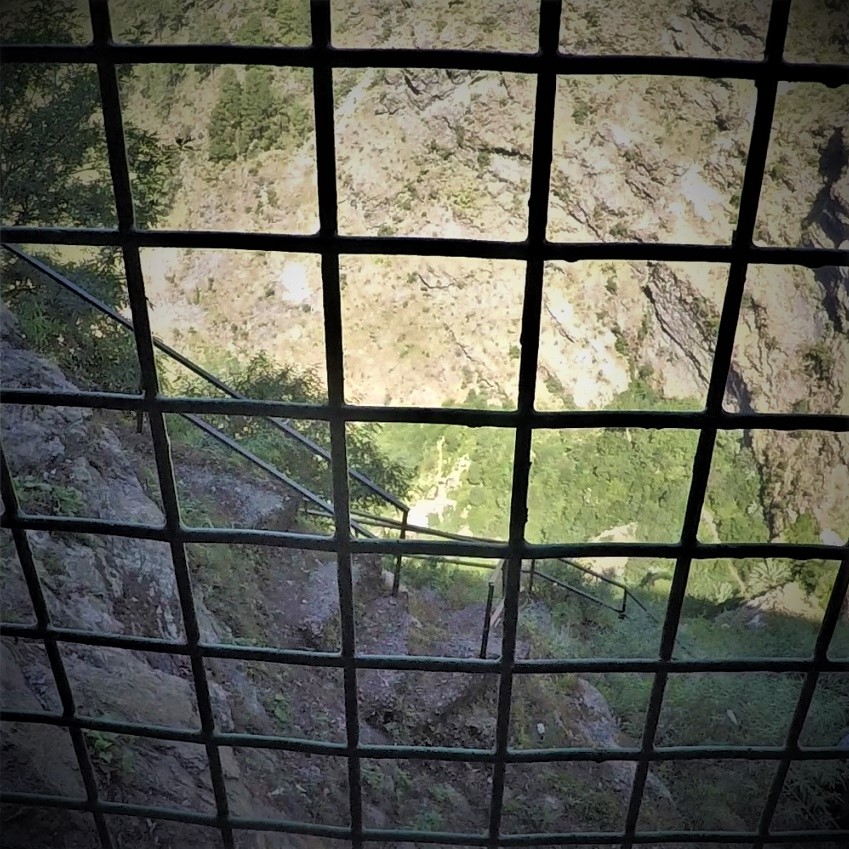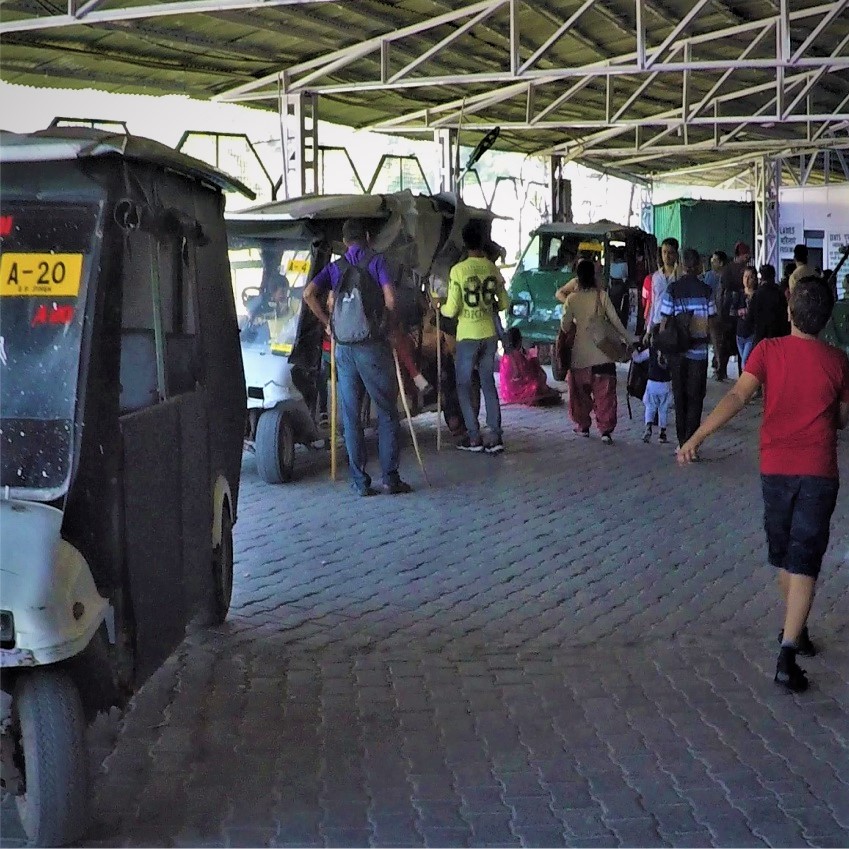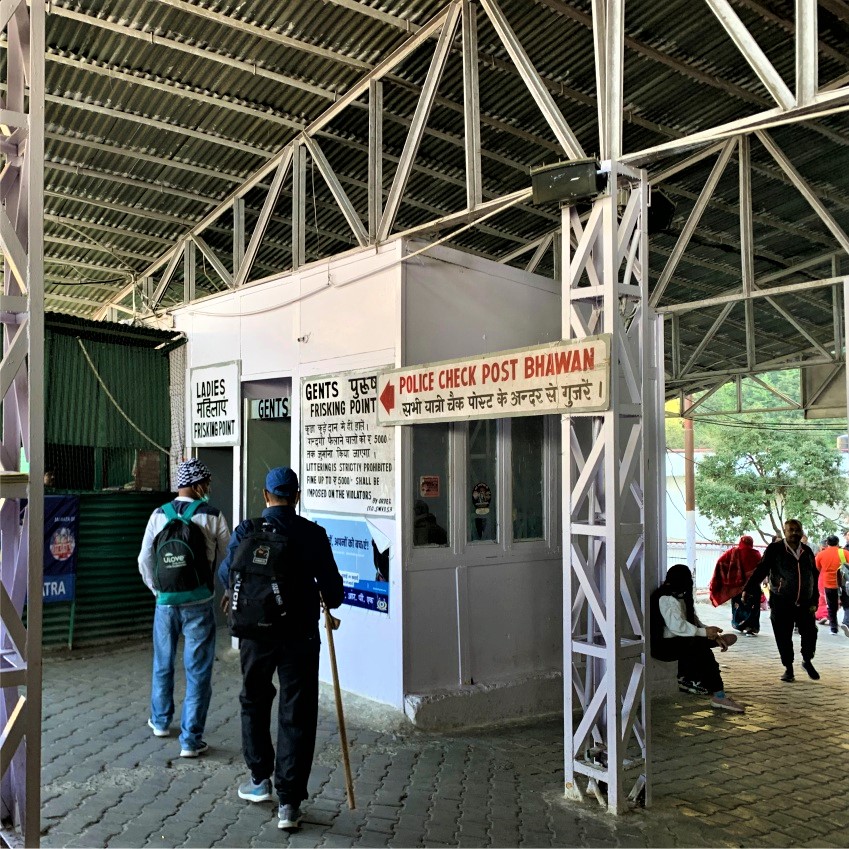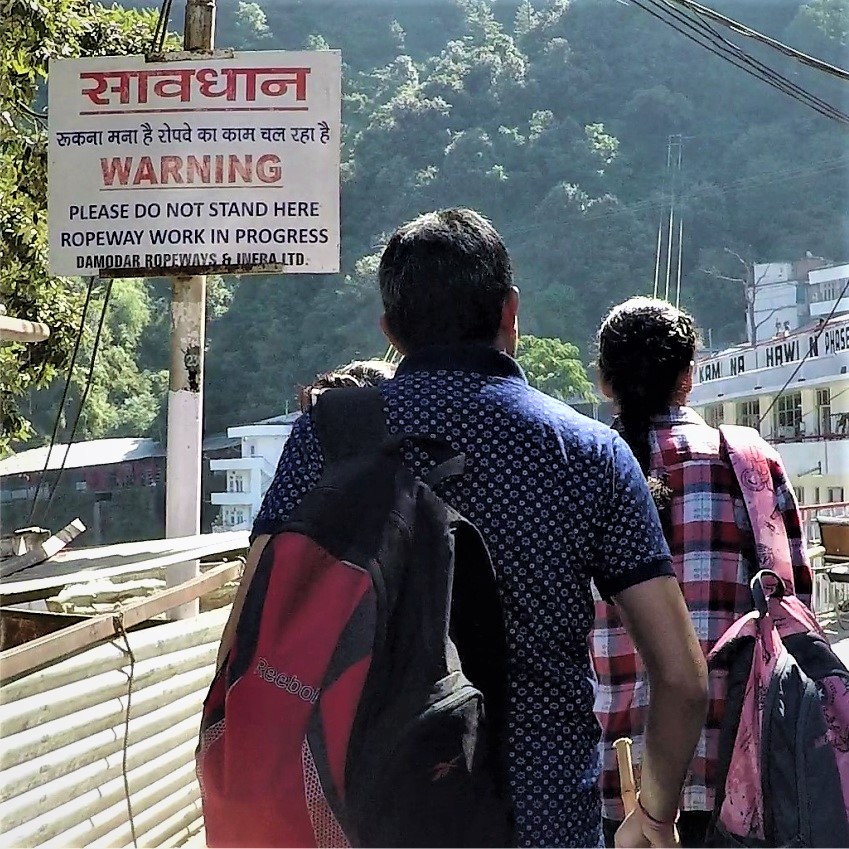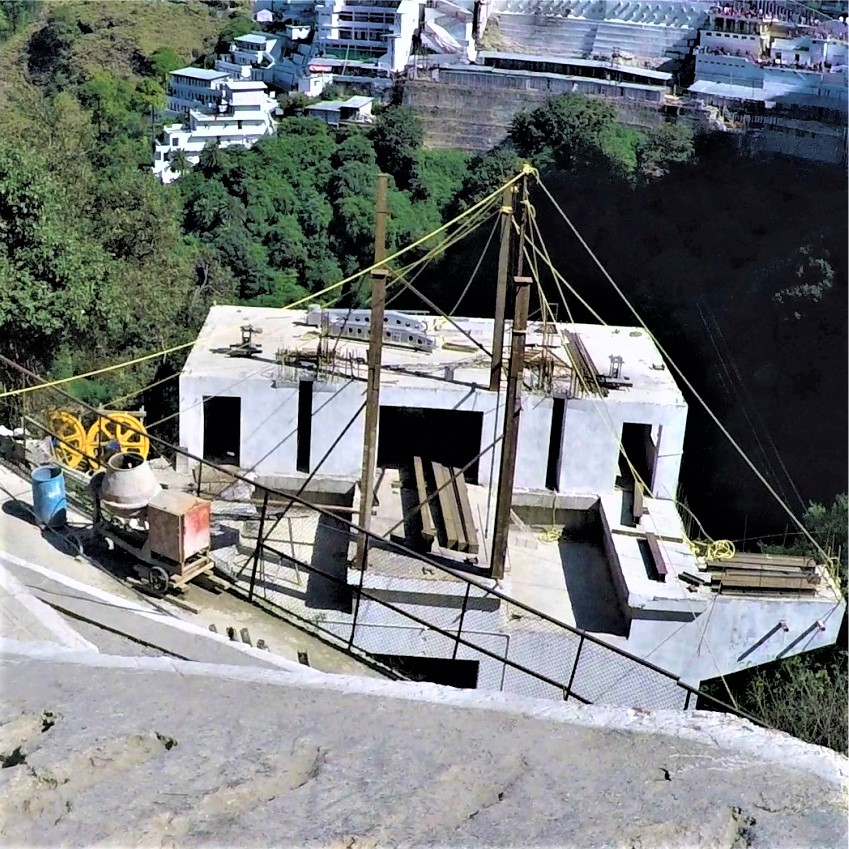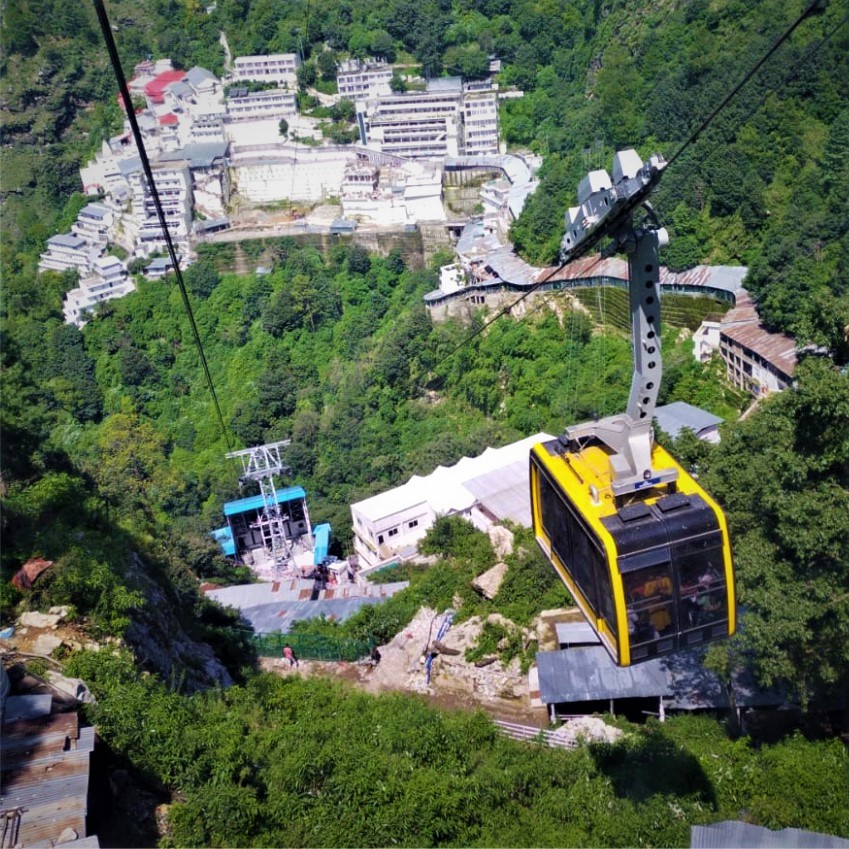 Darshan of Mata Vaishno Devi
The Bhavan is the final destination of all the devotees, where the Holy Cave of Mata Rani is situated. But before proceeding for the Darshan of Mata Vaishno Devi first we need to eat something. as we are very hungry now. As we walked just a few steps Mata Rani fulfilled our wish, we saw a Manokamna Bhojanalaya. The name itself means wish or desire. Here we had some Rajma Chaval & Chole Bhature.
Now it's time for Darshan of Vaishno Devi, like other yatra dham there is not such a huge temple built here. The word Bhavan itself means The home or residence, it's believed that the Mata Rani resides here, And there may be some another reason too, because wherever you see you find buildings named Bhavan i.e Vaishnavi Bhavan, Kalika Bhavan, Laxmi Bhavan, Shridhar Bhavan, etc.
We are visiting here just after Navratri, hence we saw a very beautiful decoration done on the entire path in this section. Before Proceeding for darshans Devotees are required to deposit all their belonging in the free cloakrooms, as nothing except cash and selected offerings are allowed inside the Holy Cave. All articles of general use like belts, wrist watches with leather belts, combs, pens, pencils, purses, handbags, Mobile Phones, Cameras, etc. are prohibited. For the convenience of the yatries, Shrine Board has organized free locker facilities at many points in the Bhawan complex.
We decided to keep our stuff in the last locker room, so we can shoot as much as possible. After keeping our luggage, shoes, etc. at the last locker we proceed further towards The Holy Cave.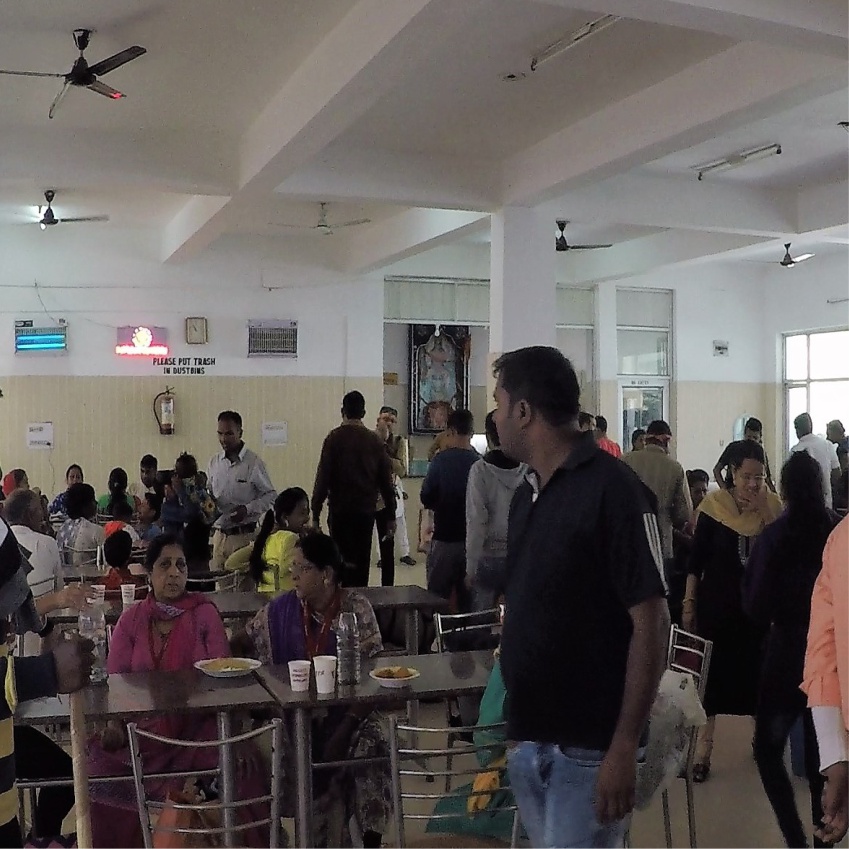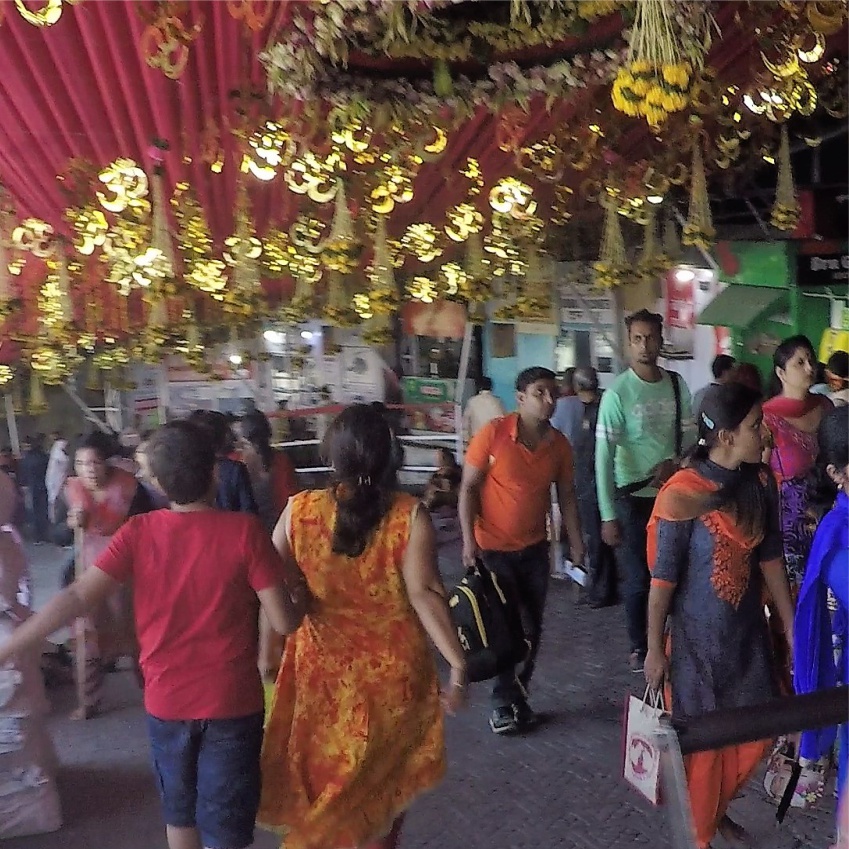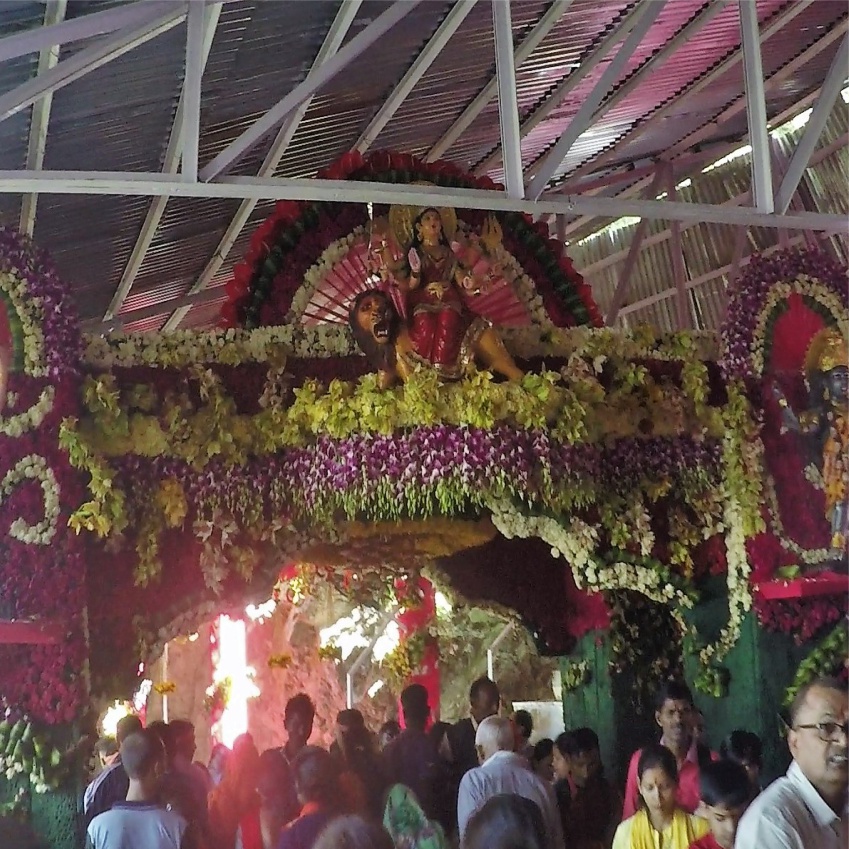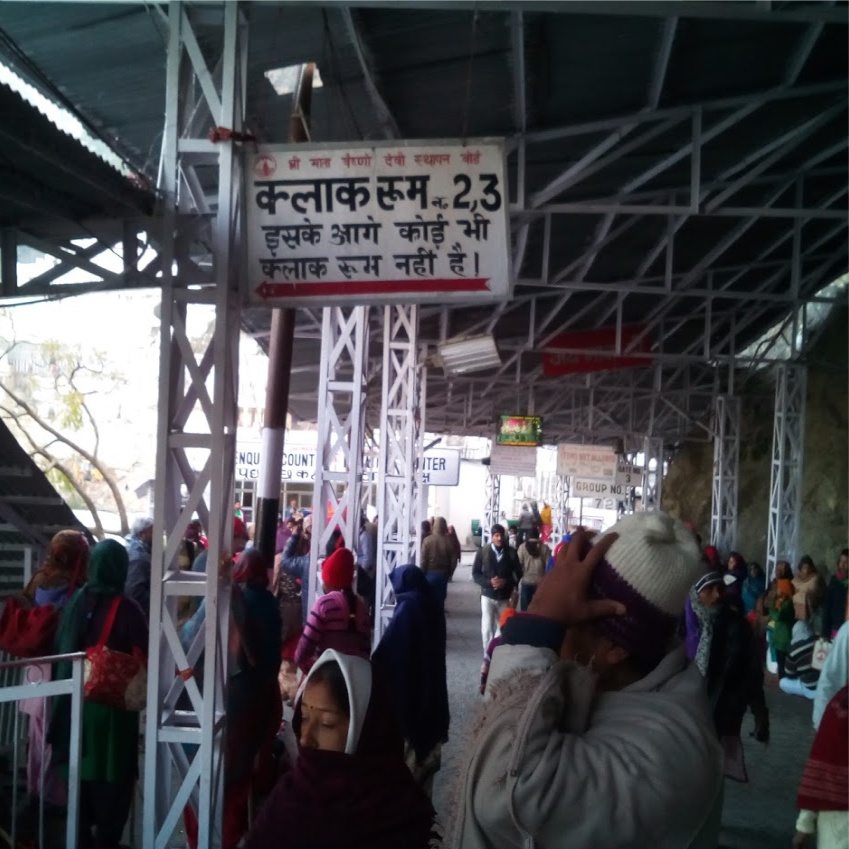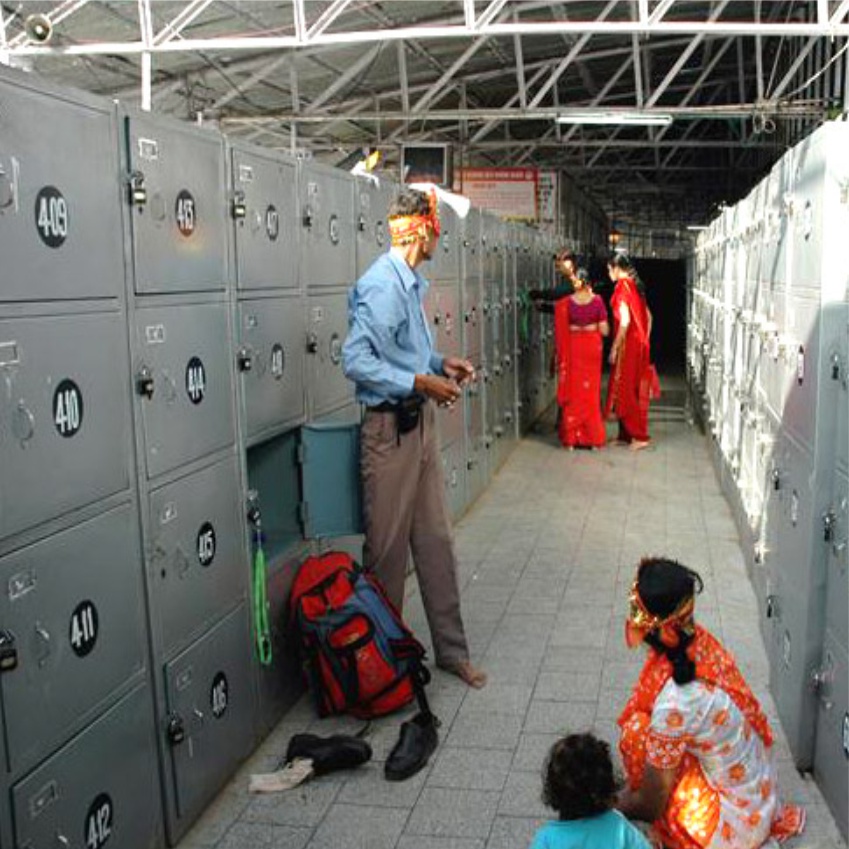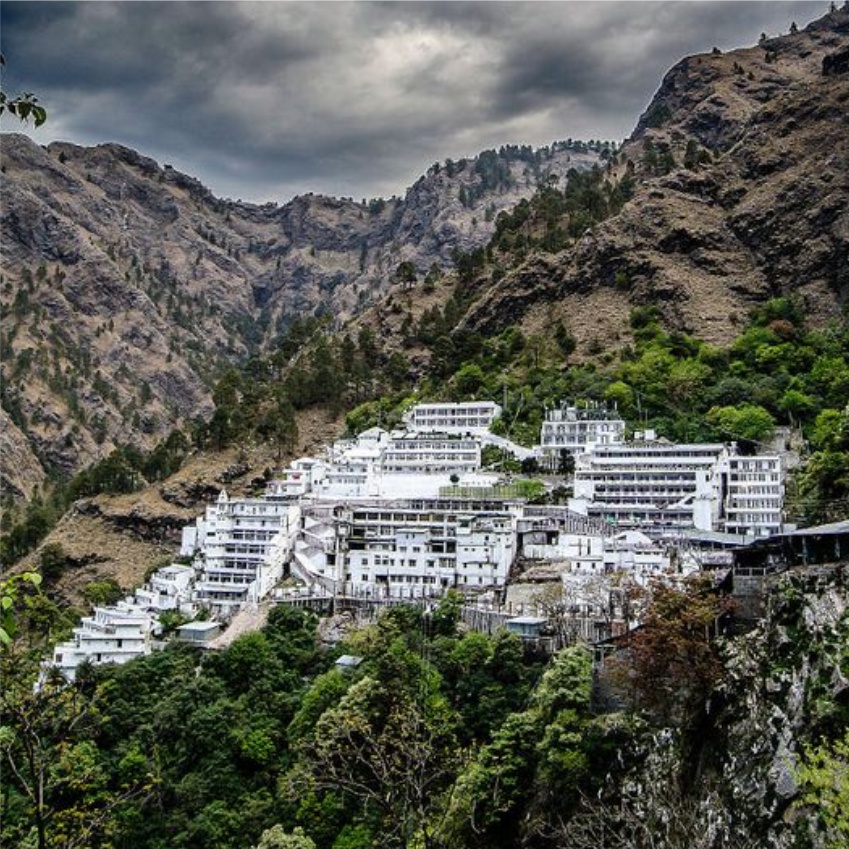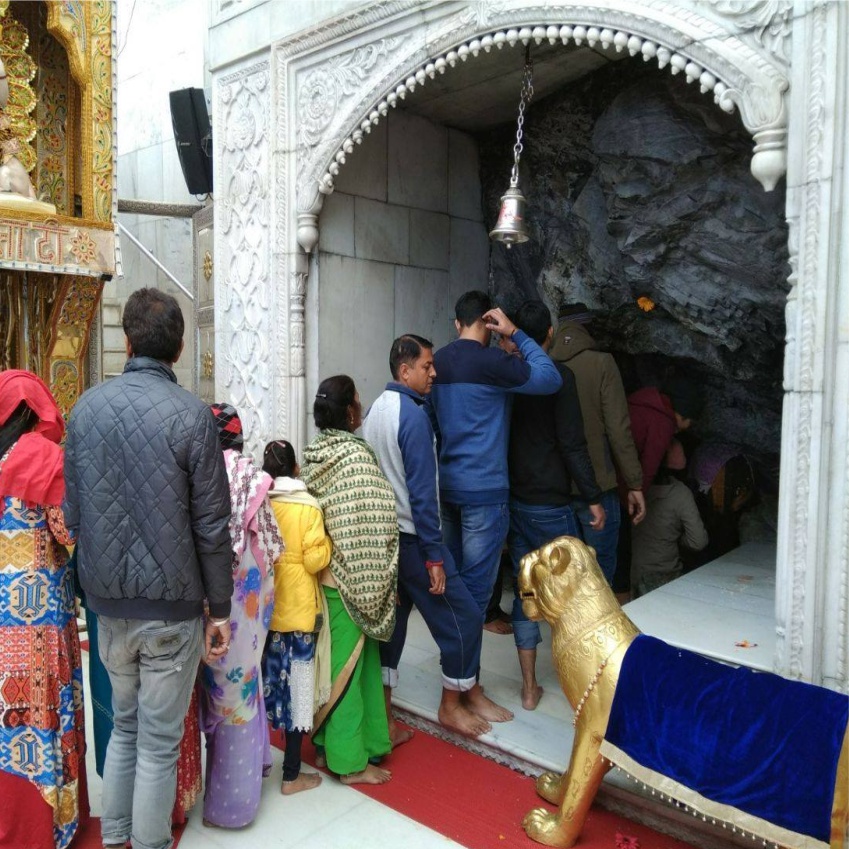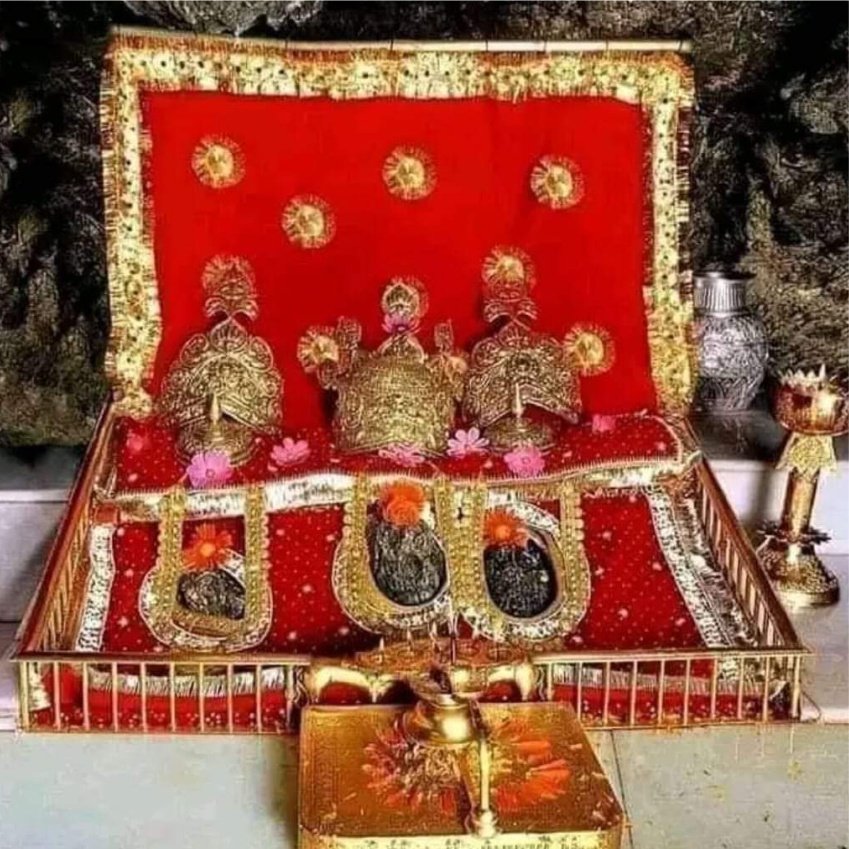 On the way to the Darshan, we cross a small patio type of structure on the right-hand side which looks like a Cave opening. This is the original Cave leading to the Holy Pindies. During the olden days, the yatries used to reach the Holi Pindies through this cave only. Nowadays, this cave is kept closed most of the time throughout the year. Since this cave is quite narrow, it takes several minutes for a single person to cross it and take darshans.
Therefore, two new tunnels have been constructed to facilitate a larger number of devotees to have Darshans. One tunnel is used for the entrance and another tunnel is used for the exit. By making an illustration I have tried to explain this.
As we entered the tunnel, we felt positive energy all around us. At the end of the tunnel, there is a raised marble platform on which the Mata Rani has revealed herself in a natural rock formation known as the Holy Pindies. There are no statues, pictures, or idols inside.
The Panditji was sitting on the platform, informing the devotees about these Pindies, however since the time for Darshans is very limited, we only get a glimpse of the Holy Pindies and have to move further in order to keep the queue moving. 
Bhavan to Bhairon Mandir (1.5km)
Just outside the exit tunnel, towards the left-hand side of the Cave, the Amrit Kund or Charanamrut is situated where water taps are located which flows the water of the Charan Ganga, the sacred water flowing from the feet of Mata. (bottom of Pindies)
After taking some Charanamrut as we walk further we saw a small window of Prashad's counter. From here we received the Prashad pouch of Mishri (a kind of Sugar)  plus a blessed Silver coin, as a token of your visit. And after taking our luggage from the Locker room we proceeded to Bhairon Nath Temple.
What is the importance of Bhairaon Temple? To understand this we need to know what happened when Vaishnavi left form Adkuwari. The Vaishnavi after halting at Adhkuwari finally reached the holy cave Shrine. When Bhairon Nath continued to follow her despite the Vaishnavi trying to avoid a confrontation, the Vaishnavi was compelled to kill him. Bhairon Nath met his ultimate fate when the Vaishnavi was just outside the mouth of the cave and beheaded him. The severed head of Bhairon fell with a force at a distant hilltop. Bhairon Nath upon death realized the futility of his mission and prayed to the Mata Rani to forgive him. The Mata Rani had mercy on Bhairon and gave him a boon that every devotee of her would have to have the Darshans of Bhairon after having the Darshans of her and only then would the yatra of a devotee consider to be completed.
Now it's time to visit Bhairon Temple which is located around 1.5km away from Bhavan. As I mentioned earlier you can take Ropeway, which will hardly take 5 mins to reach on top. However, when we visited the ropeway was still under construction, so we have to walk. You can also hire Pitthu, Pony, and Palkhi if you wish. After walking & taking a few stairways finally we reached Bhairon Nath Temple.
After Darshan of Bhairon Baba, we have to move further towards Sanjichatt Helipad to catch our Helicopter for Katra. Yes, we are returning via Helicopter. But before I share my experience I will give a short idea of the new route which is Tarakote Marg.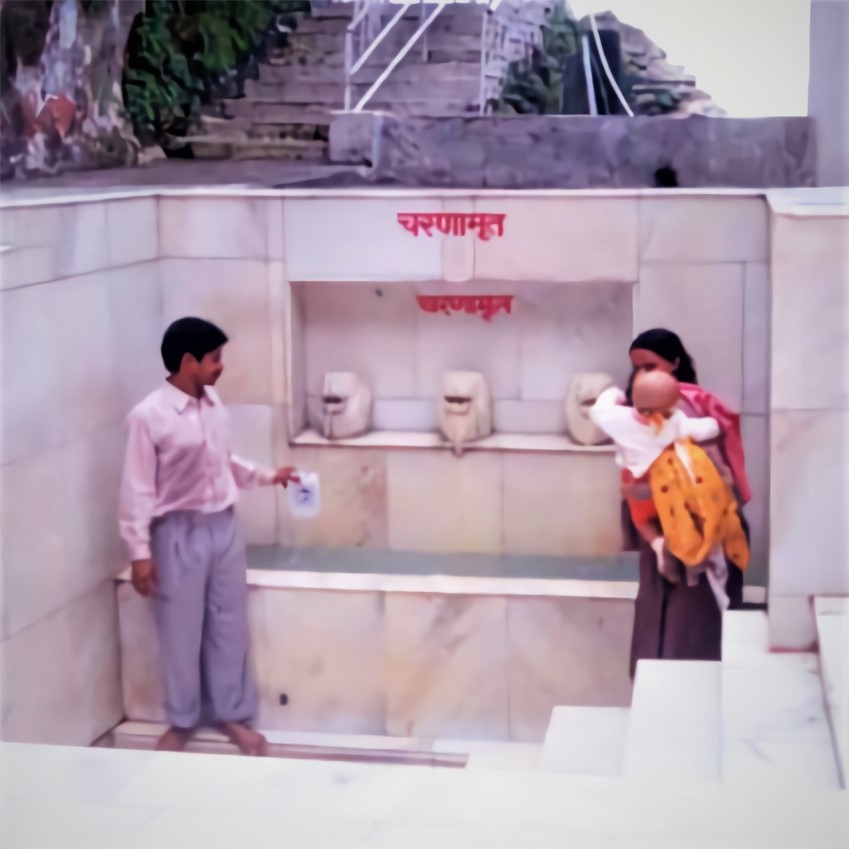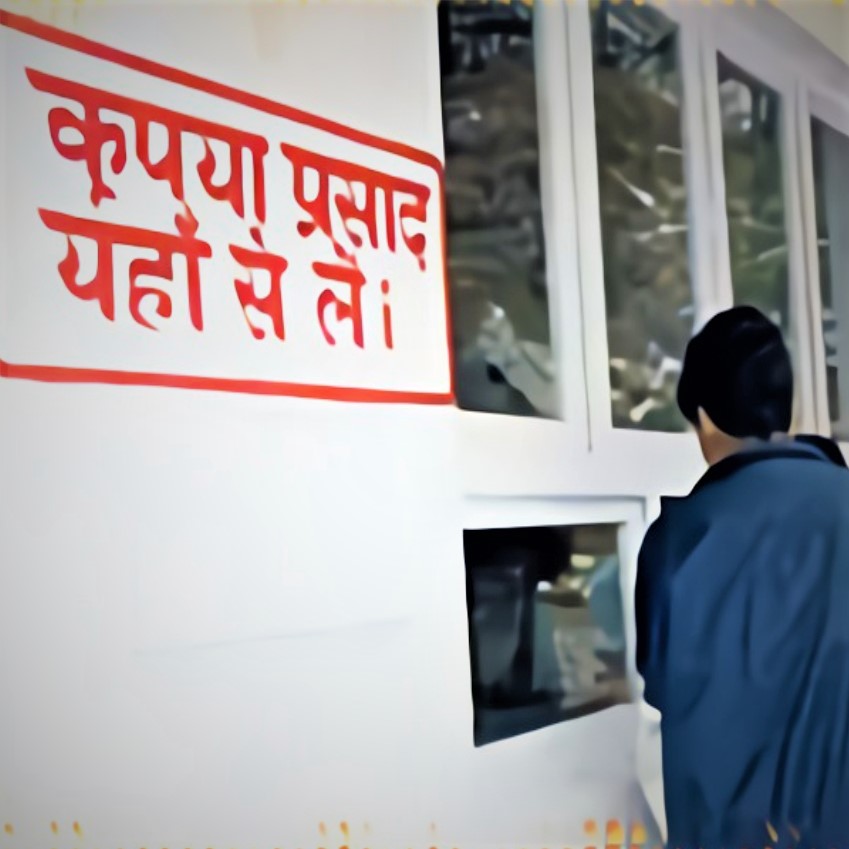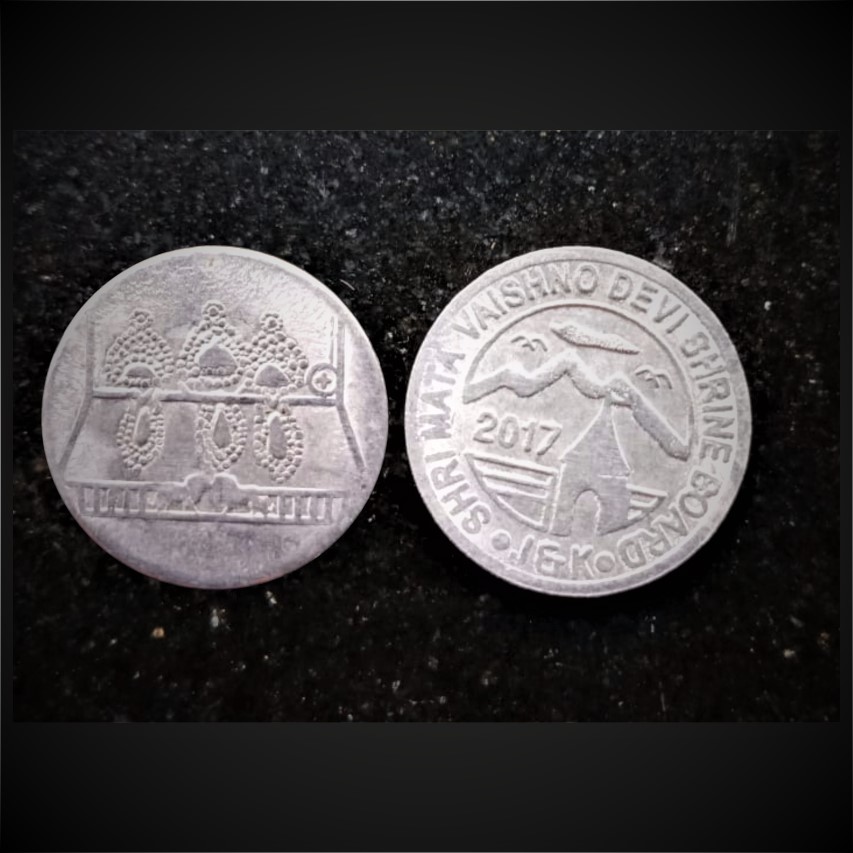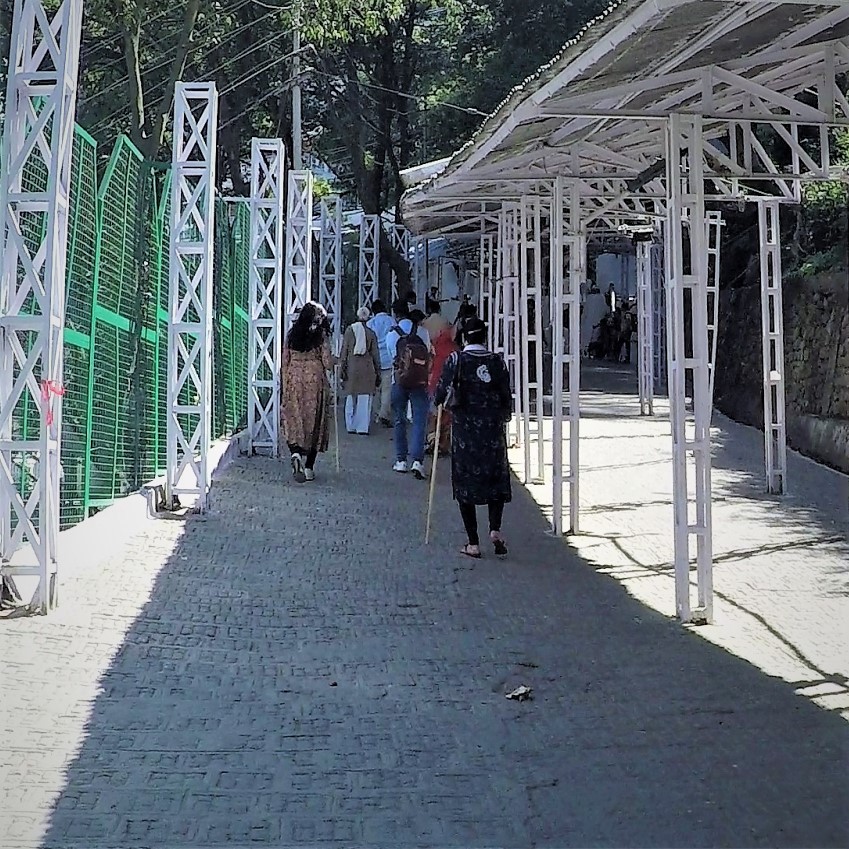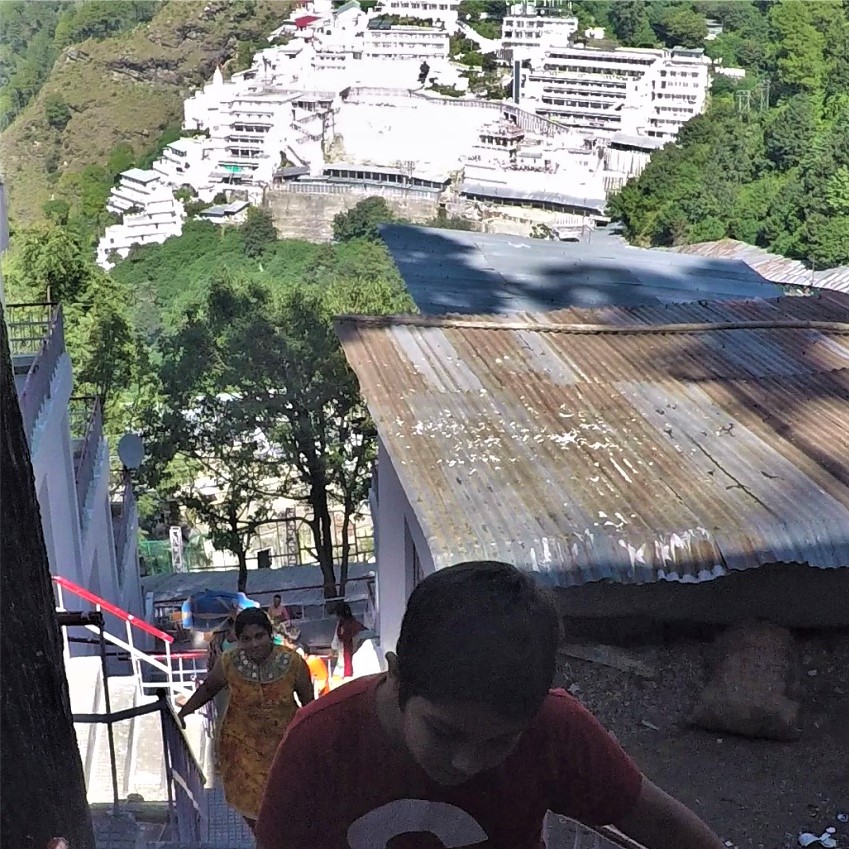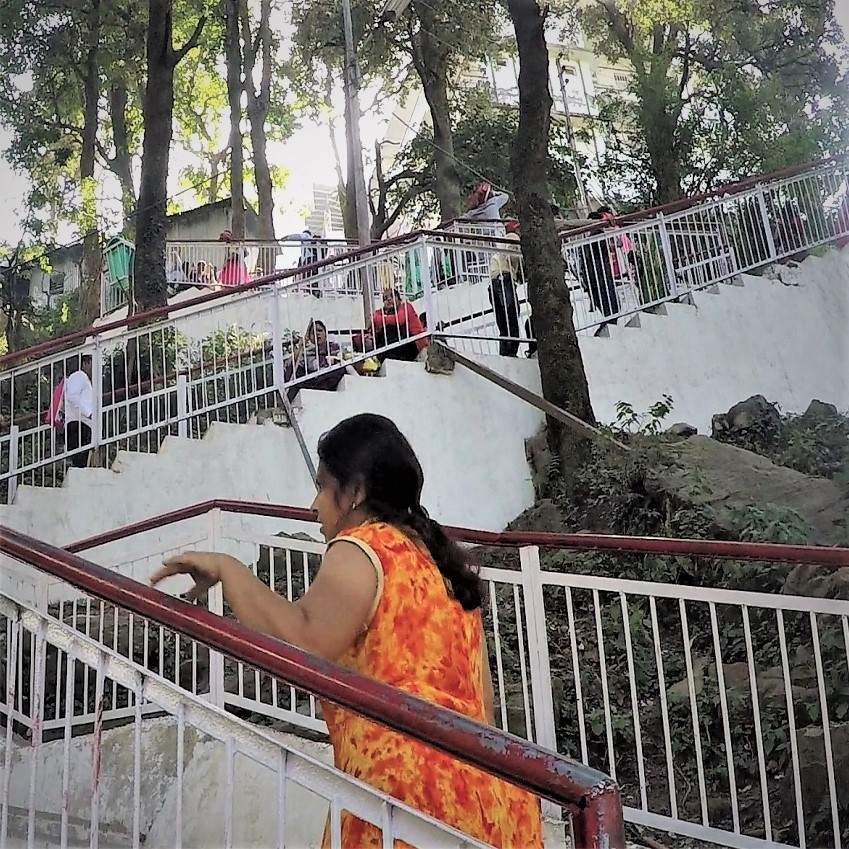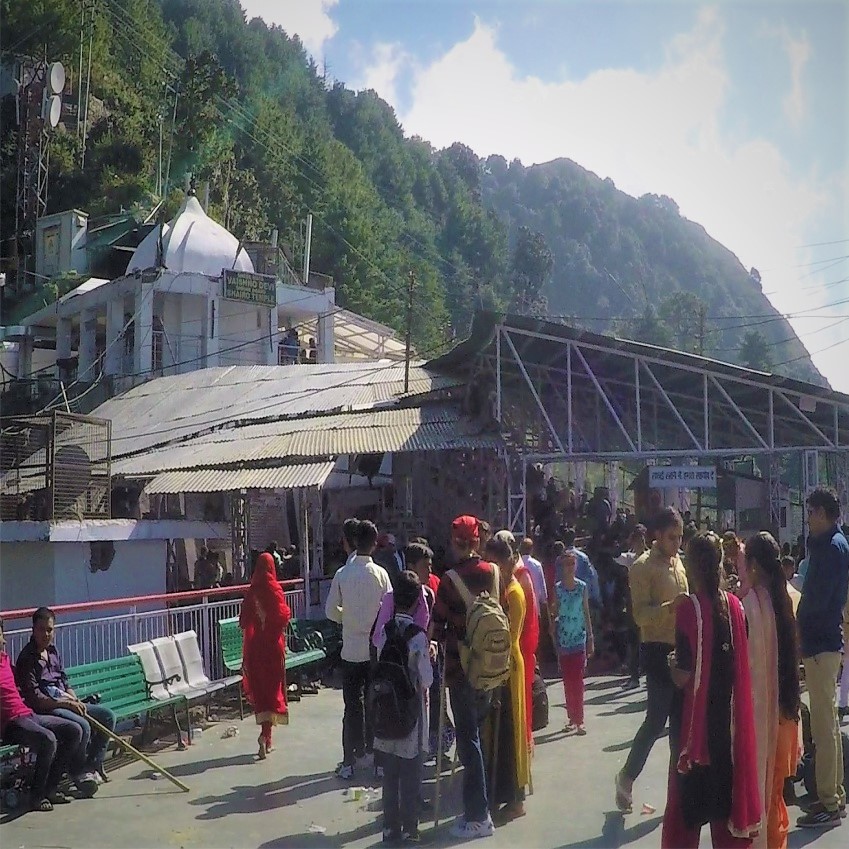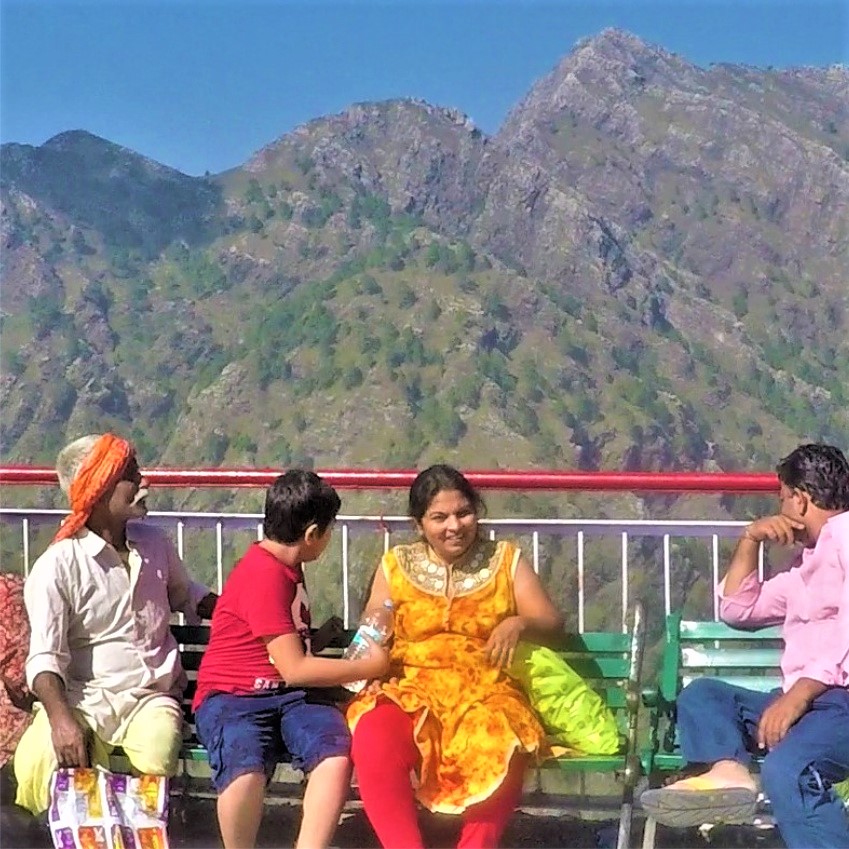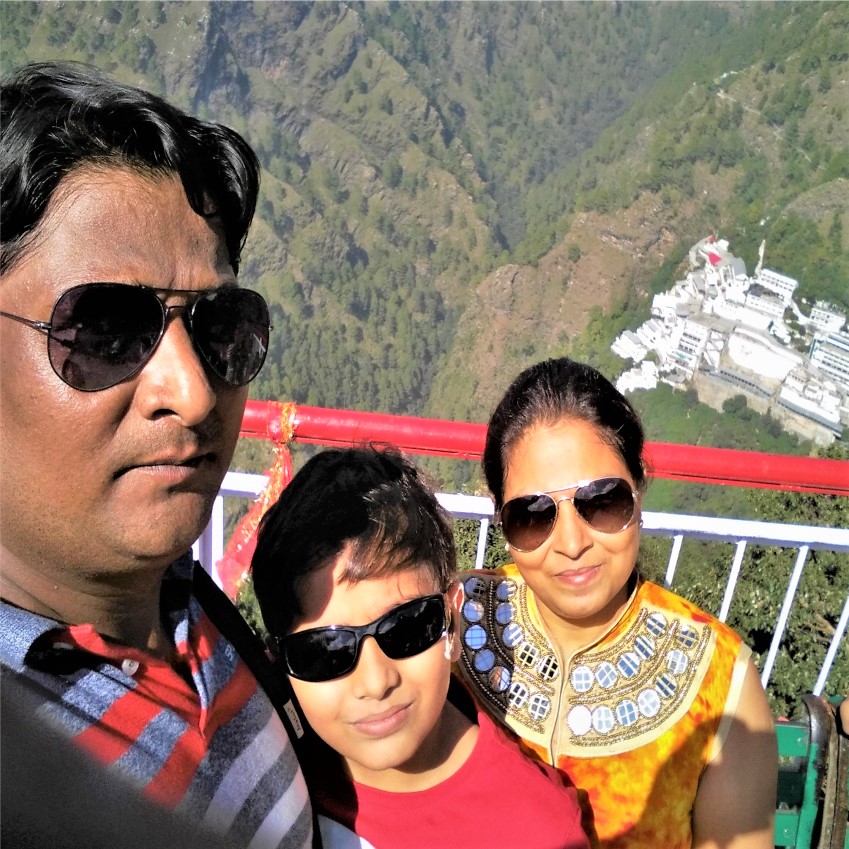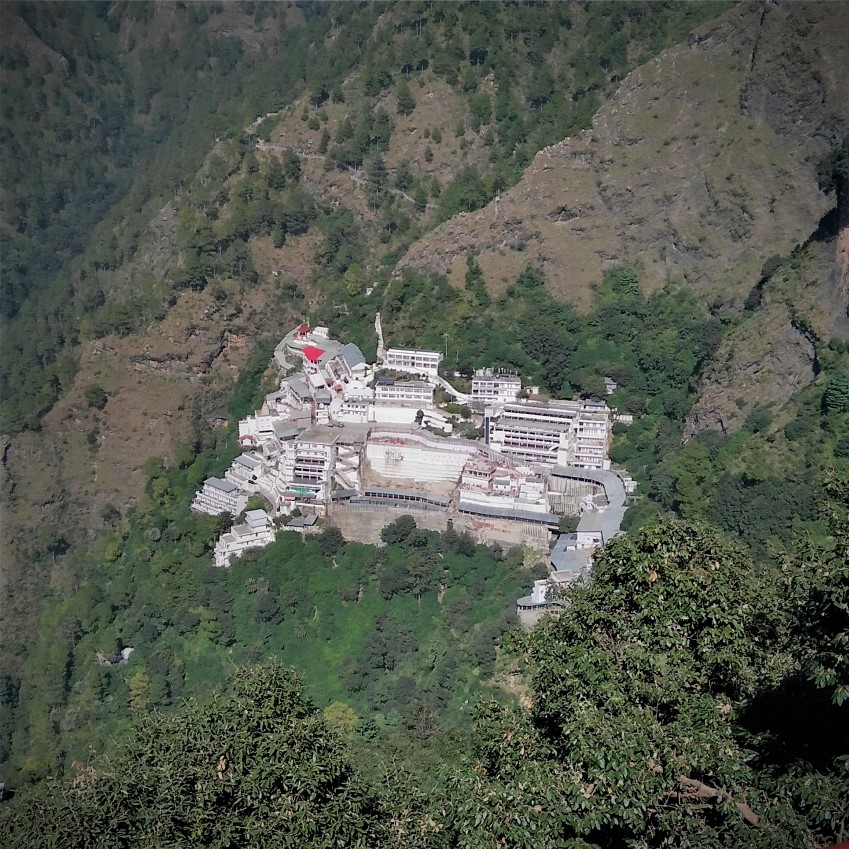 Vaishno Devi Yatra route via Tarakote Marg - Adkuwari - Himkoti - Bhavan (14km)
Tarakote Marg is an alternate option for devotees of Mata Rani. This 7 km long & six-meter wide track is constructed to reduce the rush on the existing tracks to the holy shrine. This route is Just 1km longer than the Banganga (6 km) route. The track was opened to the public in May 2019 in the presence of Governor NN Vohra and inaugurated by PM Narendra Modi. 
In order to start your Yatra, you have to reach Tarakote Marg Starting Point. This point is located around 3.3 km away from Katra Chowk or Katra Bus stand. From here you can hire Auto @ Rs.50/- per person (this fare is decided by Shrine Board) but if you are traveling alone then you have to pay Rs.205/-.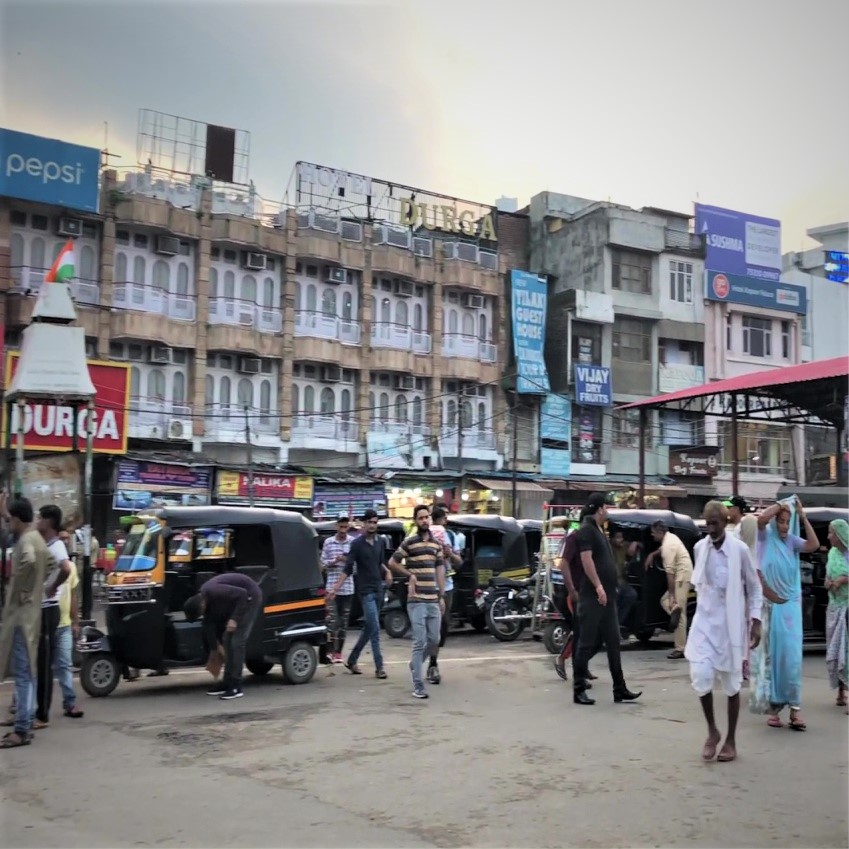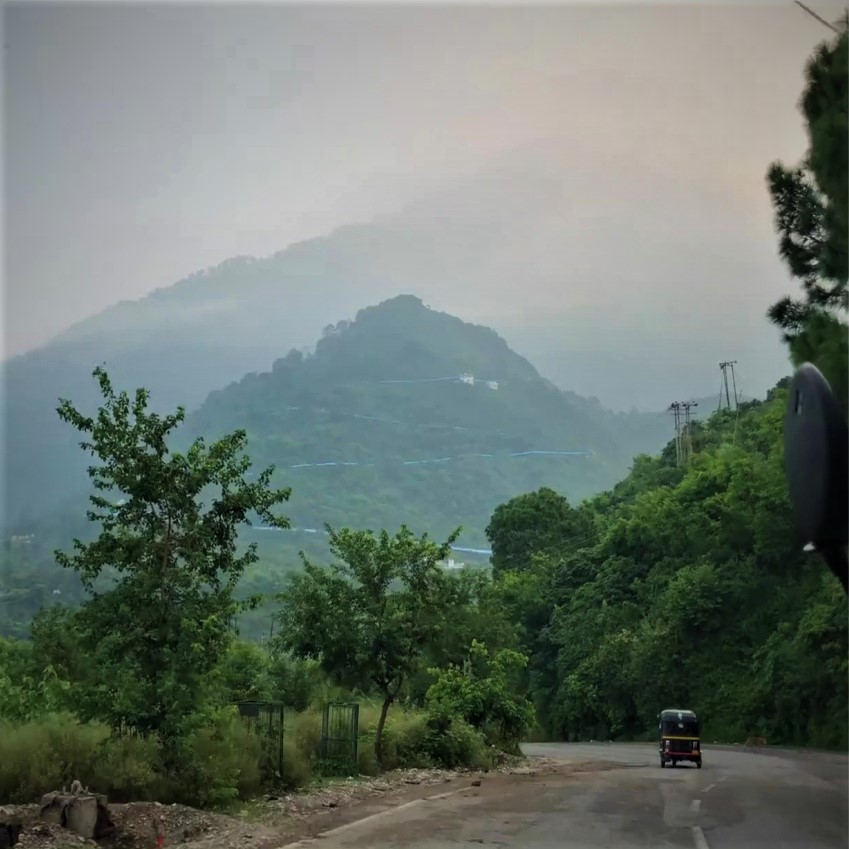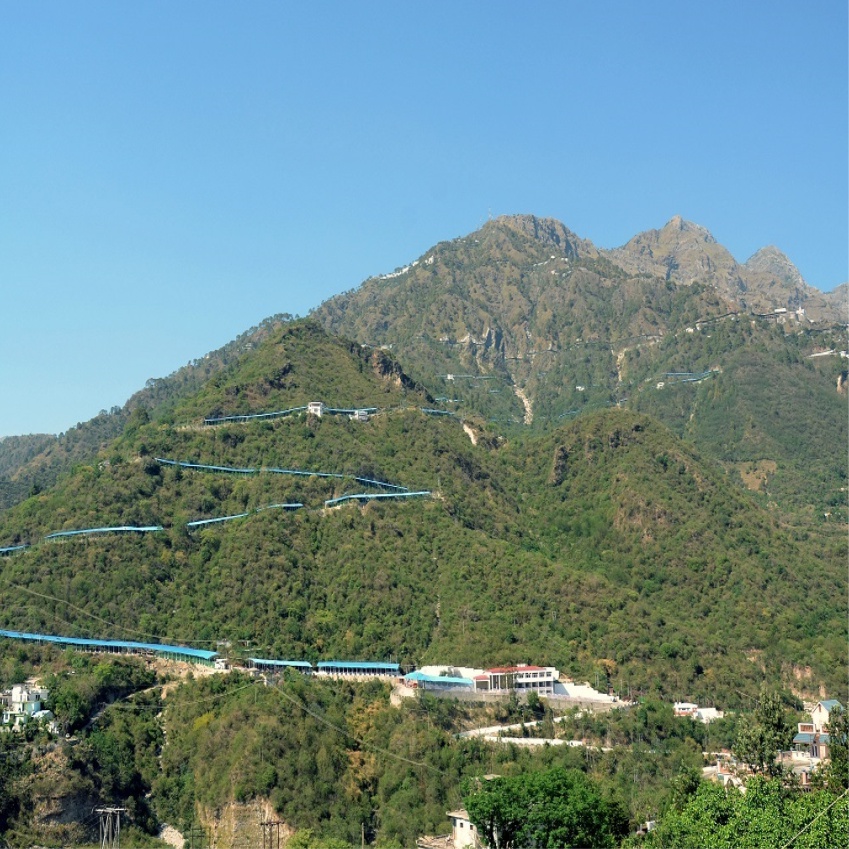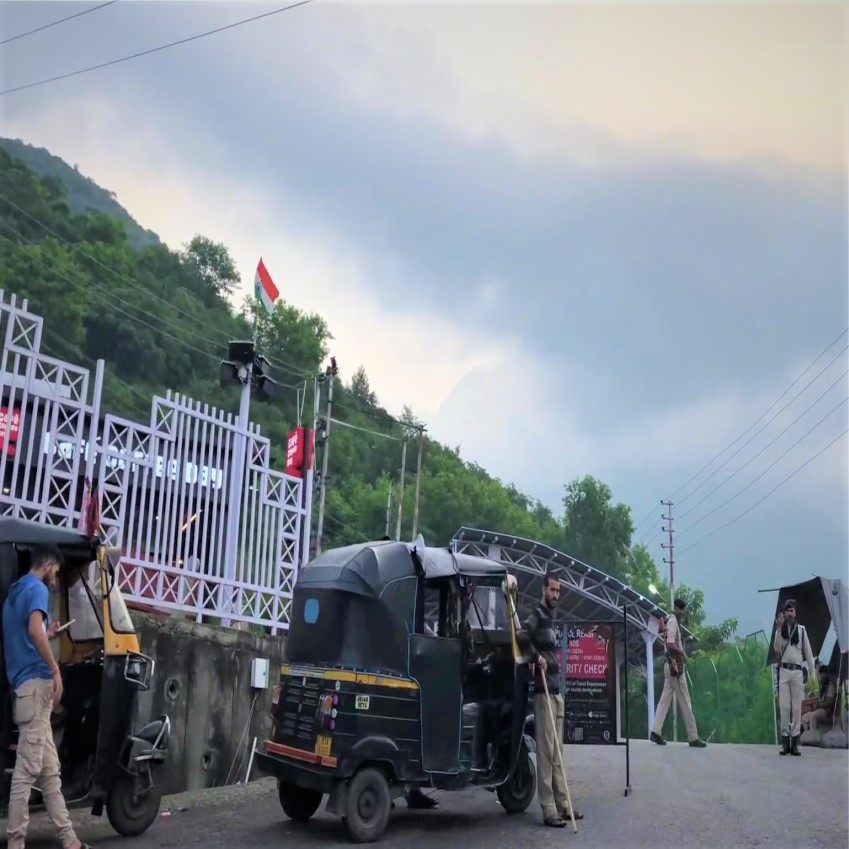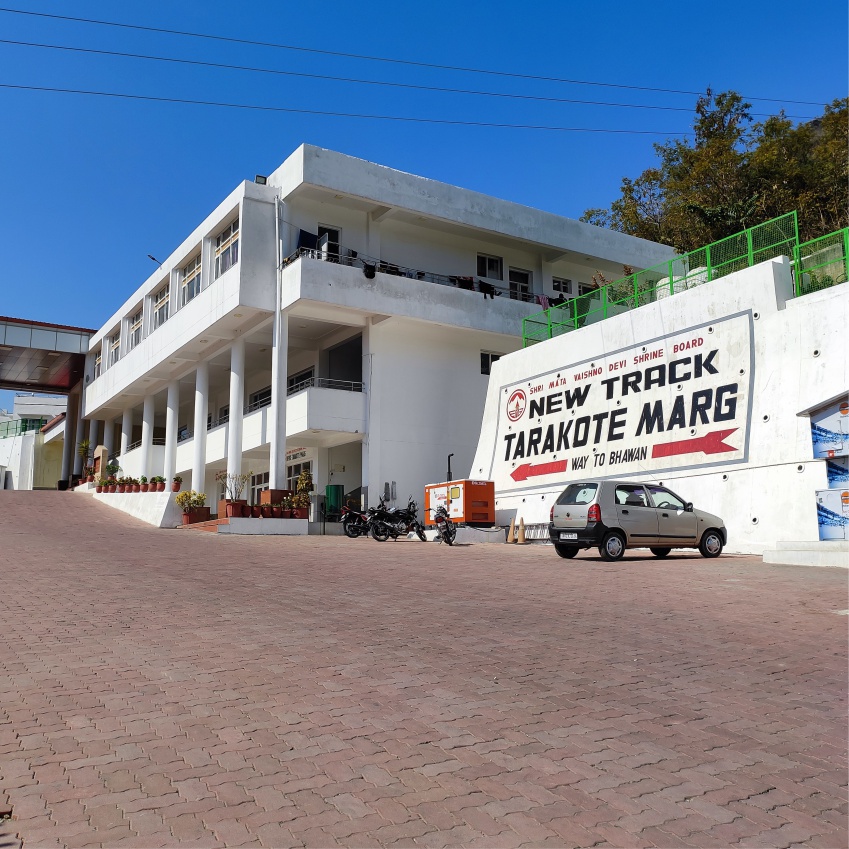 Tarakote Marg to Adkuwari (7Km)
once you reach the starting point, you can enjoy Hot Coffee at CCD. Here you can also get your yatra Parchi from the Yatra Parchi counter. After Screening your Luggage you can Start your Yatra. The main benefit of this route is it was neat & clean because horses & Pones are not allowed on this route. Just a few meters ahead you can see the first Bhojanalaya of this route. If you wish you can take some light refreshment here. 
This new track has two Bhojanalayas, two ATMs, four viewpoints, seven toilet blocks, and facilities like a medical unit with doctors, paramedics, medicines, and equipment that had been established here for pilgrims. Tarakote Marg has also been aesthetically landscaped with ornamental plants, herbs, flowering, and avenue trees have been planted to improve the ambiance and three fountains. 
At almost half of the distance, you can reach Langar Hall where you can take Mata ka Bhandara as a Prasada. This place is very clean & hygienic. One ATM is also located here. After walking for about 4 Km you can reach Adkuvari. From here you have two options, either you can visit Adkuwari or you can Proceed to Bhavan via Himkoti Marg & after darshan of Mata Rani & Bhairon Baba, you can choose your desired mode of return Because we are returning via Helicopter.
But Before we proceed on our return journey let me tell you the pros and cons of the newly inaugurated Tarakote route of the Mata Vaishno Devi Shrine
Pros.
Much cleaner and more scenic than the older route.
The incline is much gentler than the old track. So it is much easier to trek despite having a slightly longer distance.
Not at all crowded so it is easier to walk and find places to rest.
Clean restrooms, water points, and food points at regular gaps.
No Horses and ponies are allowed on this route. So you are saved from the smell of horse dung which is present throughout the old route. Also, the ponies tend to corner the pedestrians which is very troublesome on the older route.
The track is much wider than the older track and is almost fully covered so easy to walk even in the rain, bright sunlight, etc.
Cons.
Very less crowded. It looked almost deserted at night (if you are alone then avoid traveling on this route at night).
The older track has more eating points and massage points.
You don't have the luxury of hiring a pony or palki if you get tired midway which is there on the older track.

No stairs to cut short the distance.

1 km longer than the older route.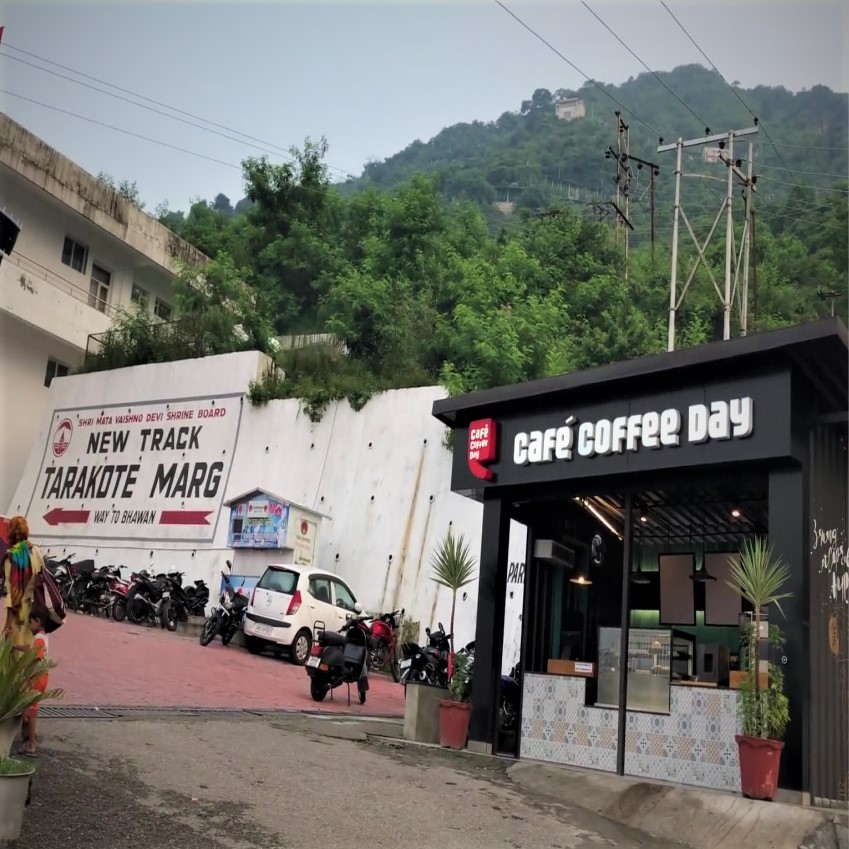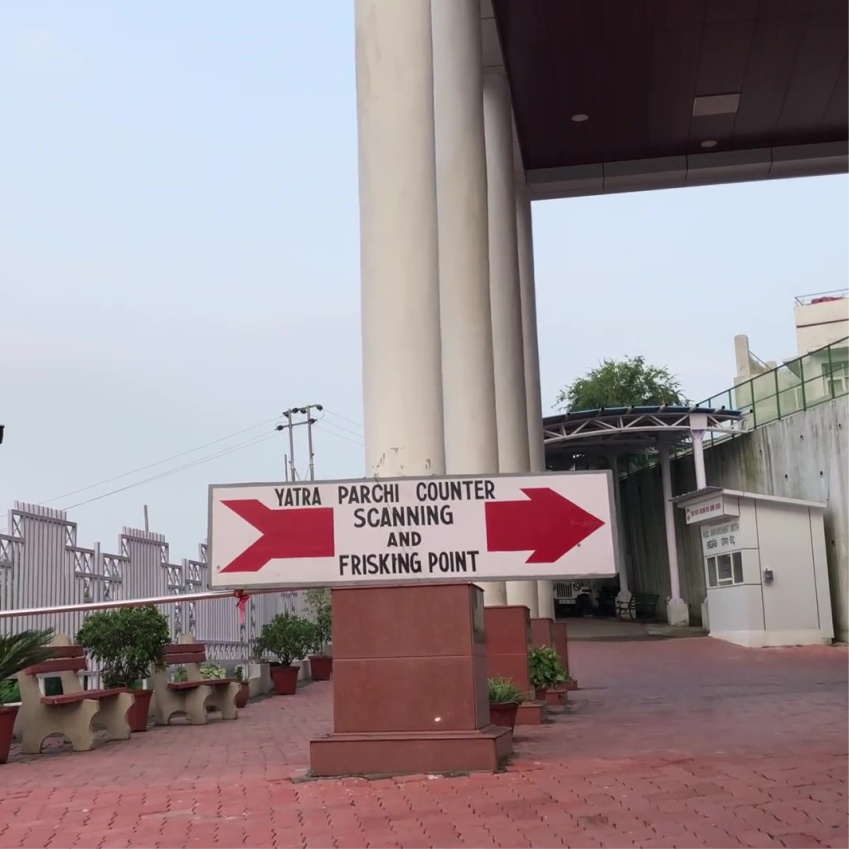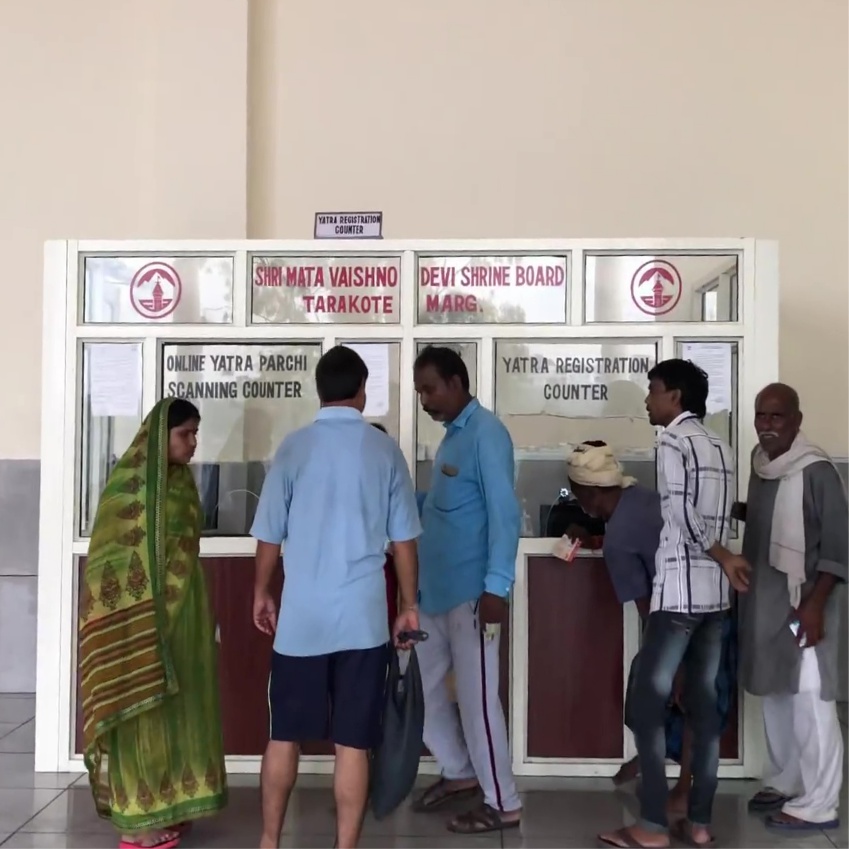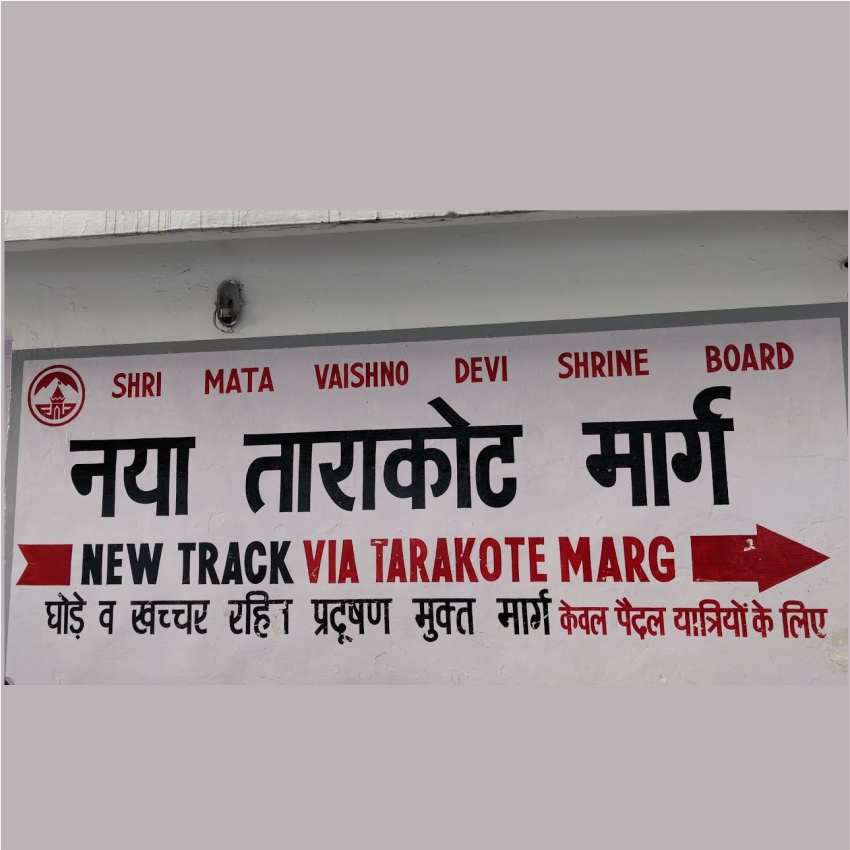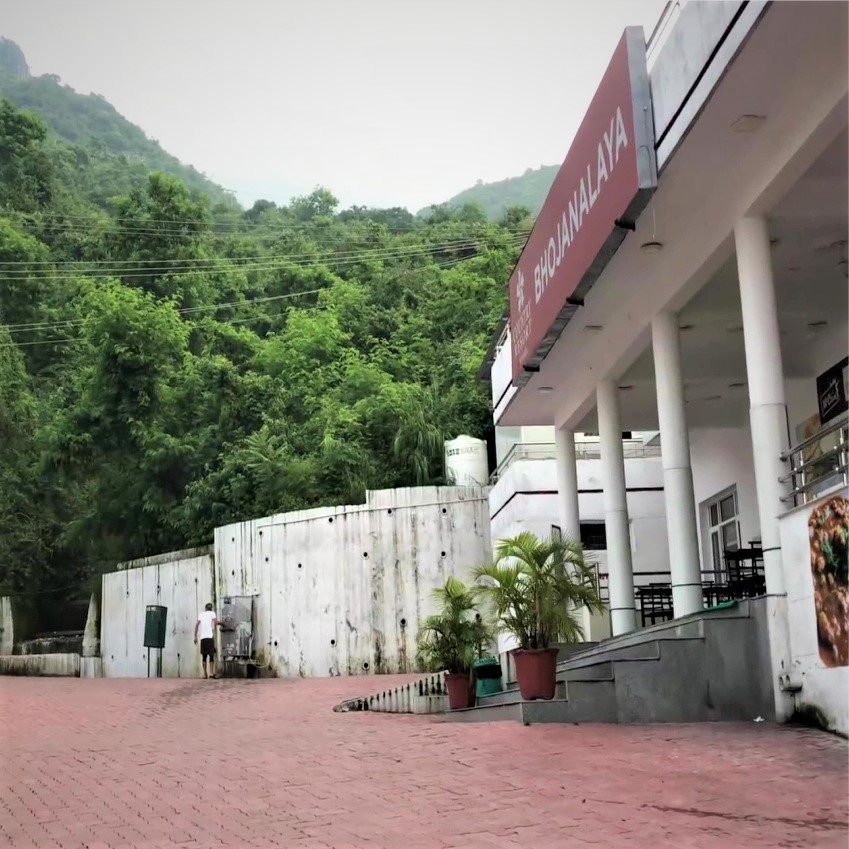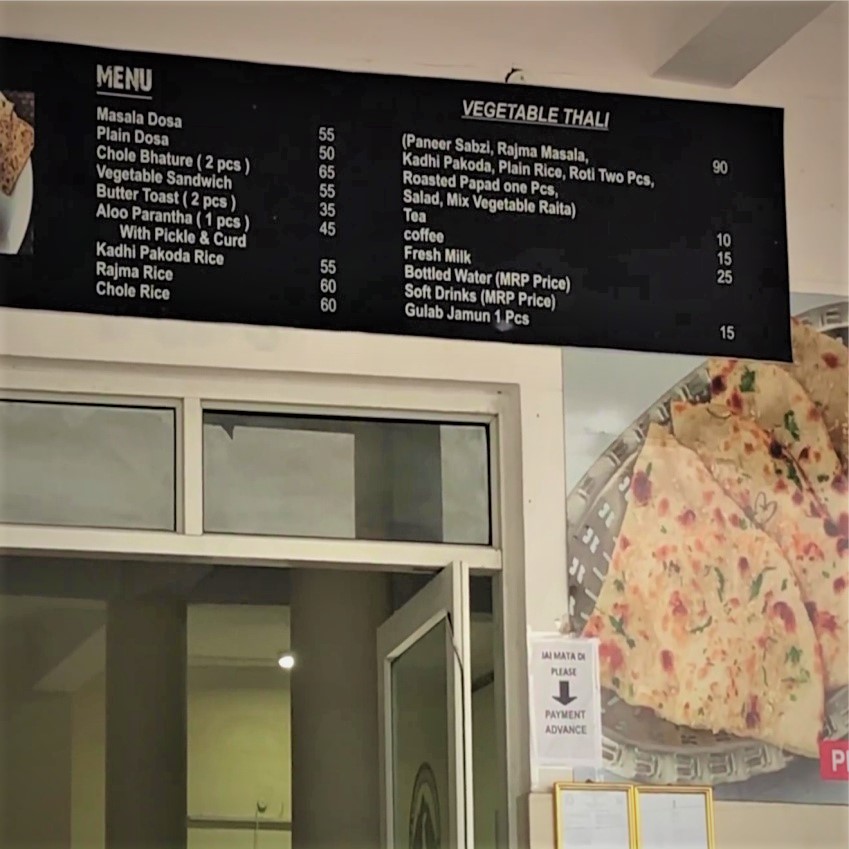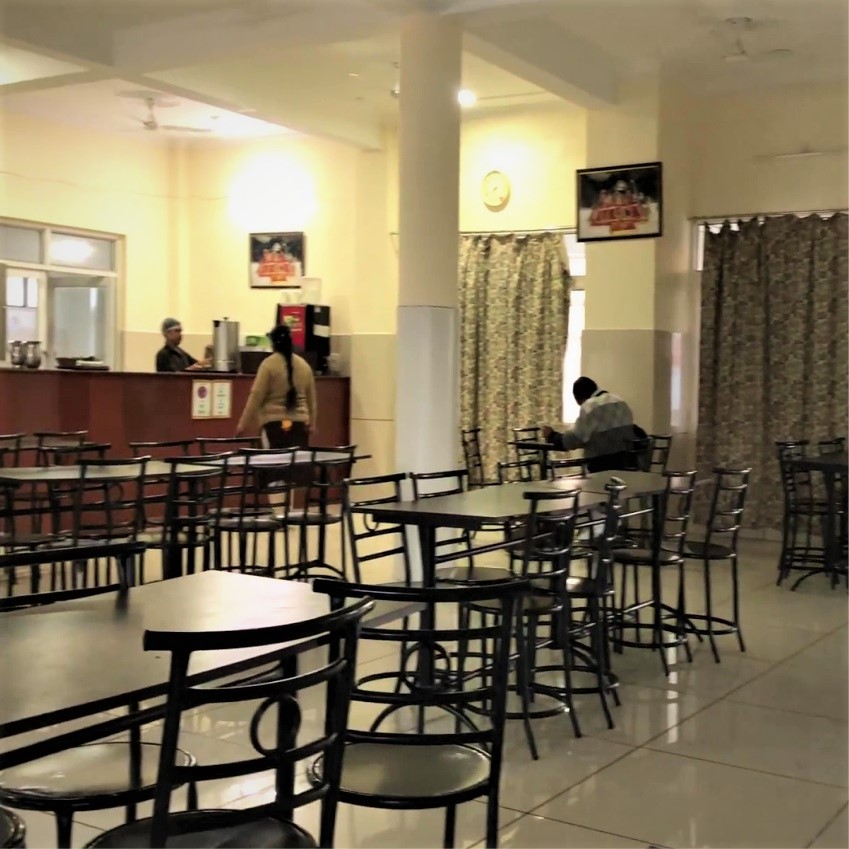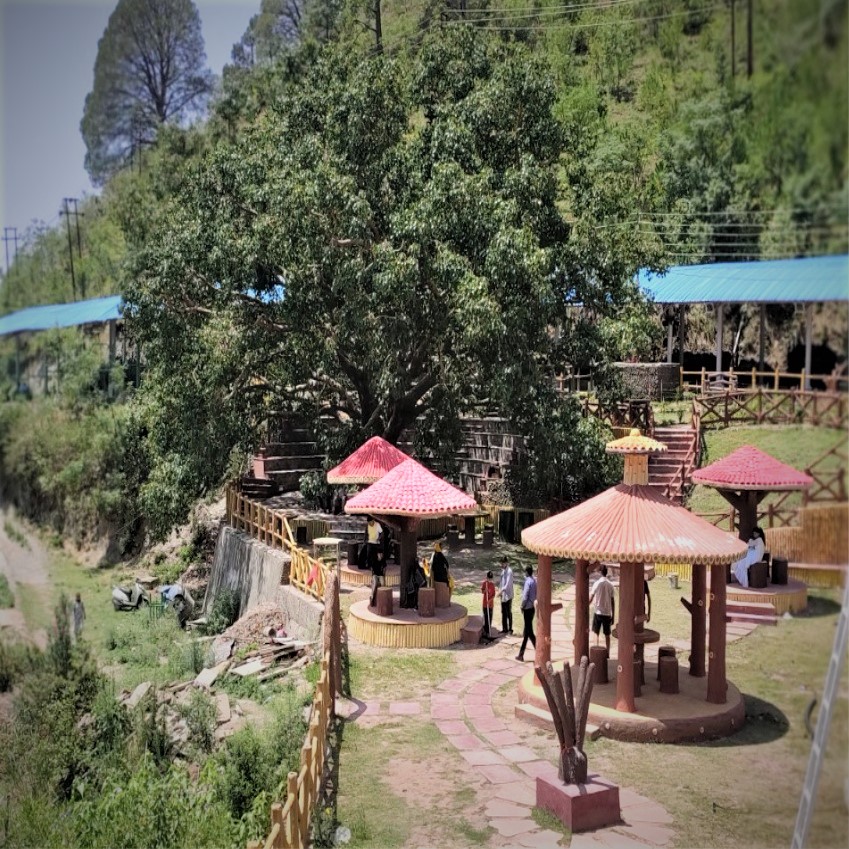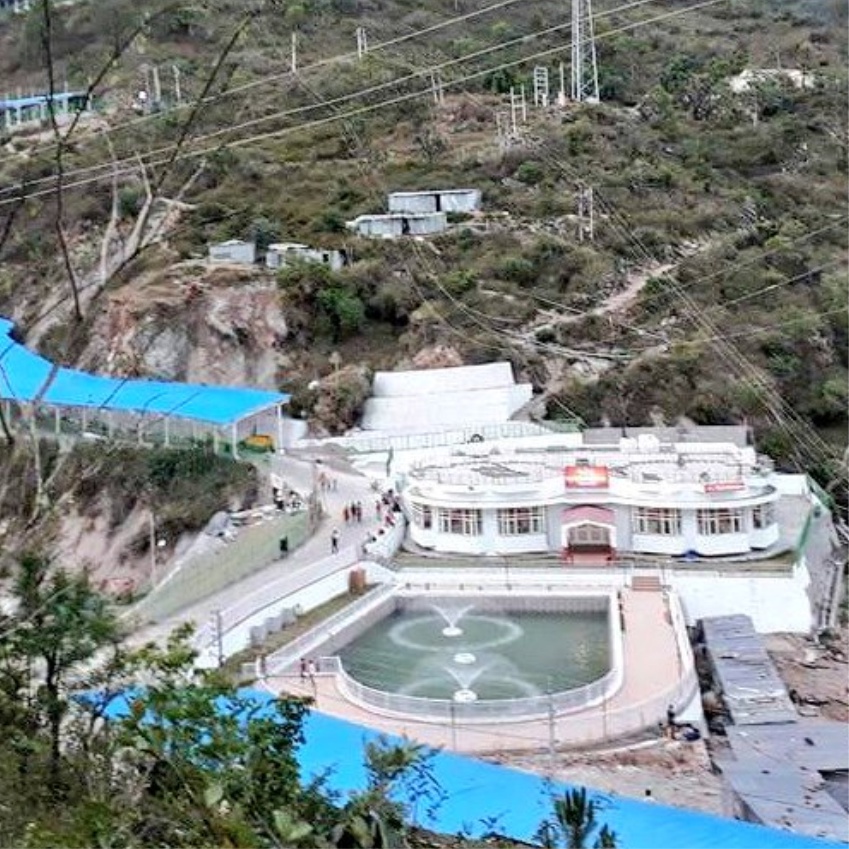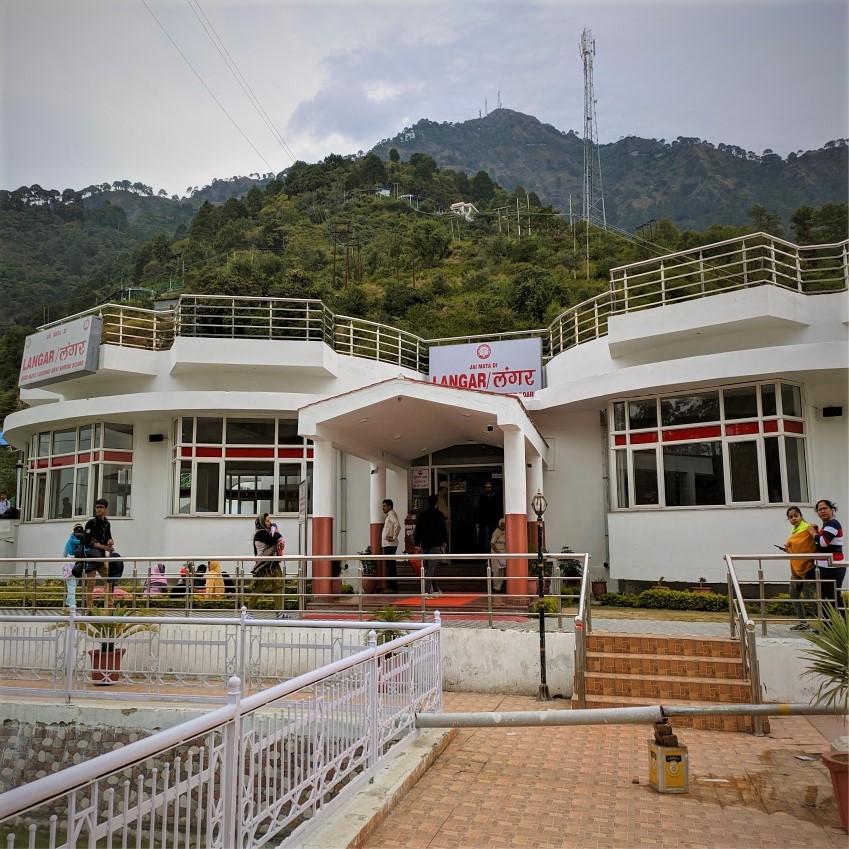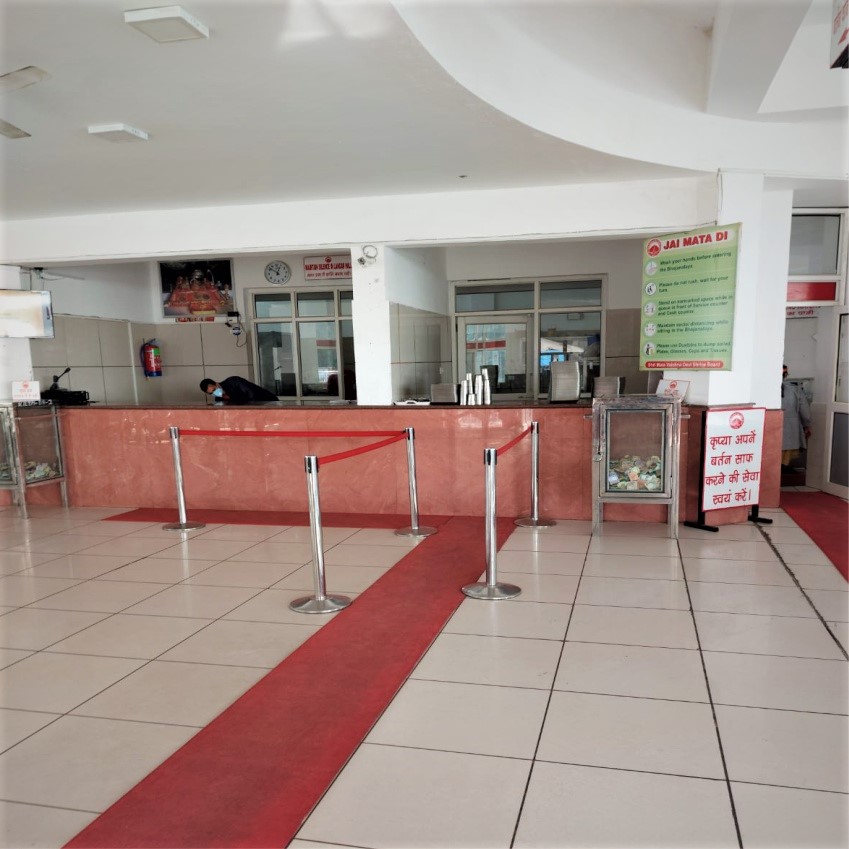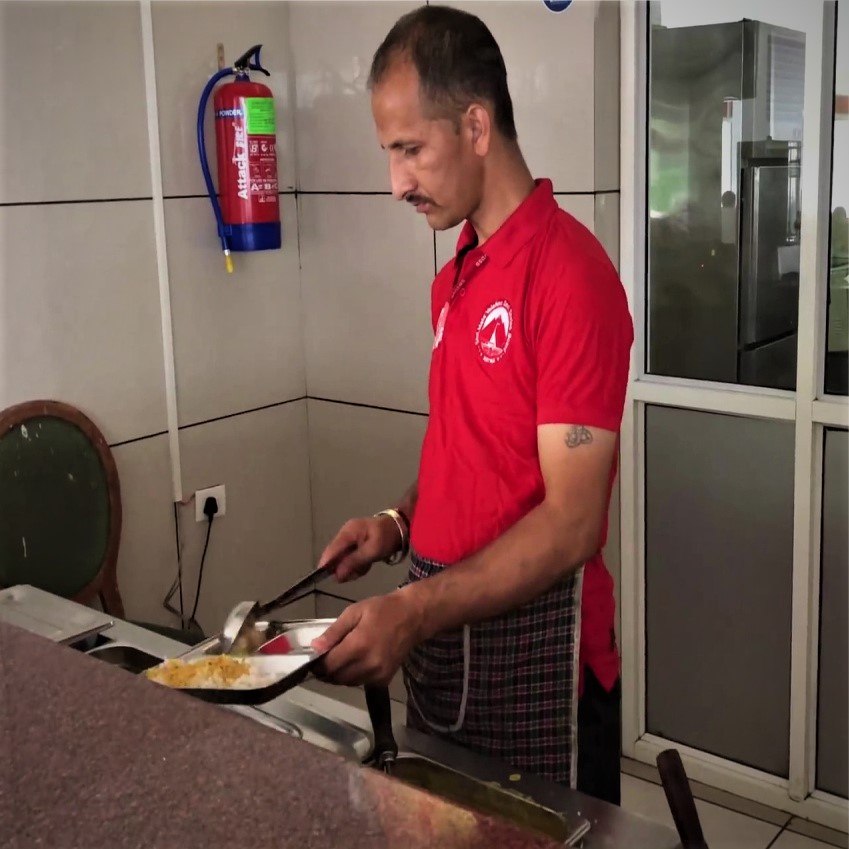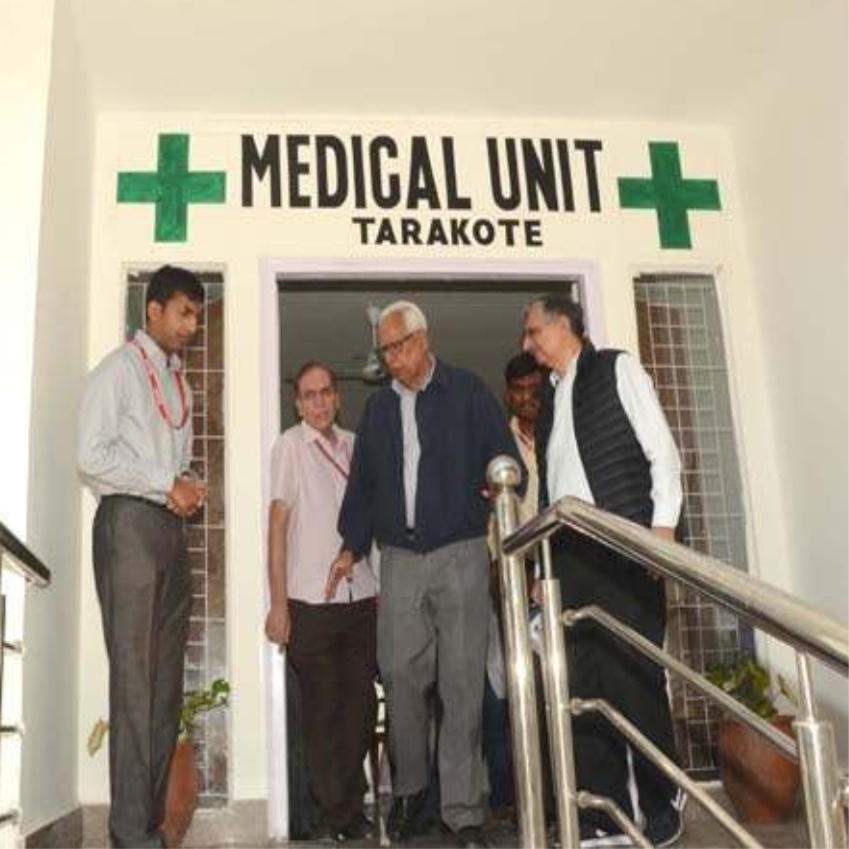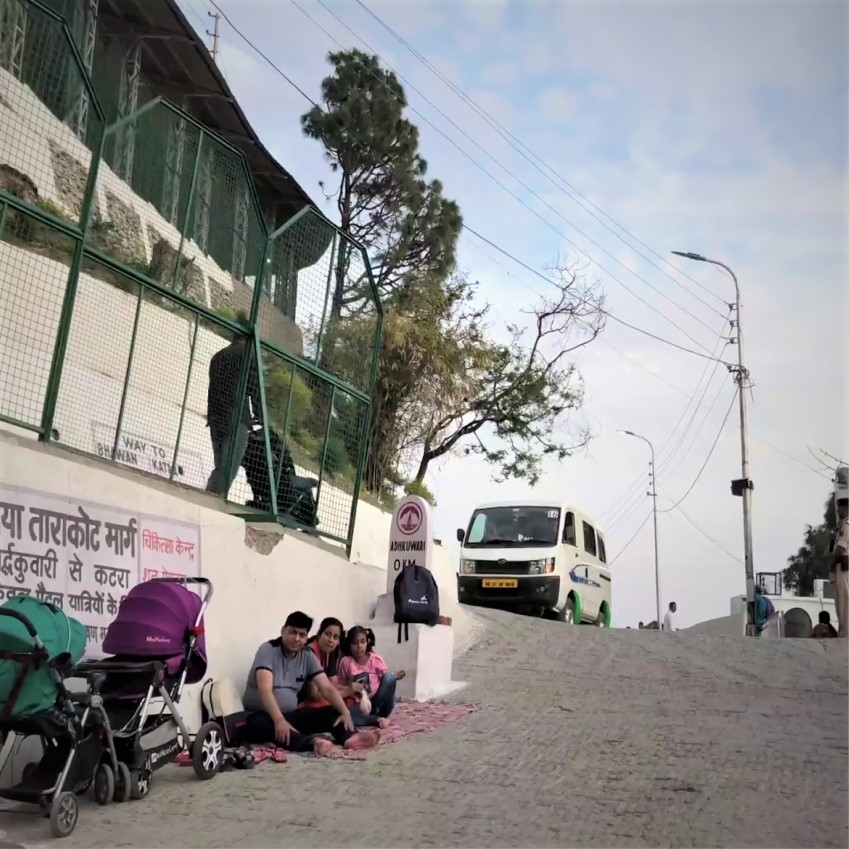 Return Journey options from Bhairon Ghati to Katra
From Bhairon Ghati you have two options for your return Journey, one is the same route from which you have come i.e. Bhairon – Bhavan – Himkoti – Adkuwari – Banganga or Tarakote – Katra, And the second is Bhairon – Sanjichhat – Adkuwari -Banganga or Tarakote – Katra. Or you can also book a Helicopter ride from Sanjichatt to Katra, which we have chosen for our return Journey. So first let me tell you how to book your Helicopter ride in advance because all seats are getting full.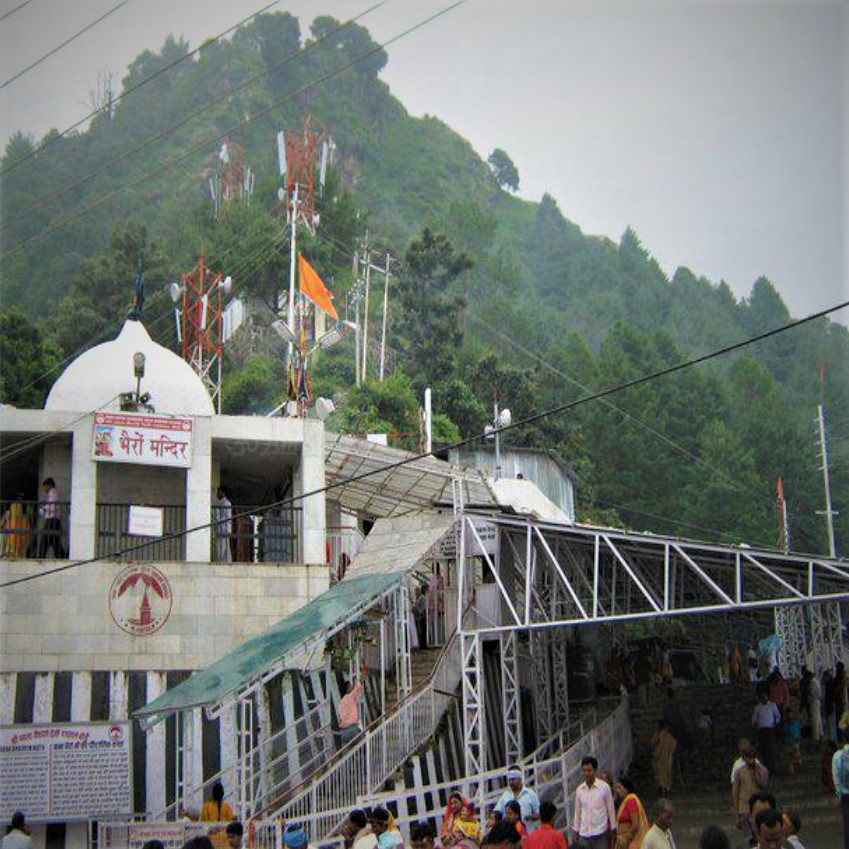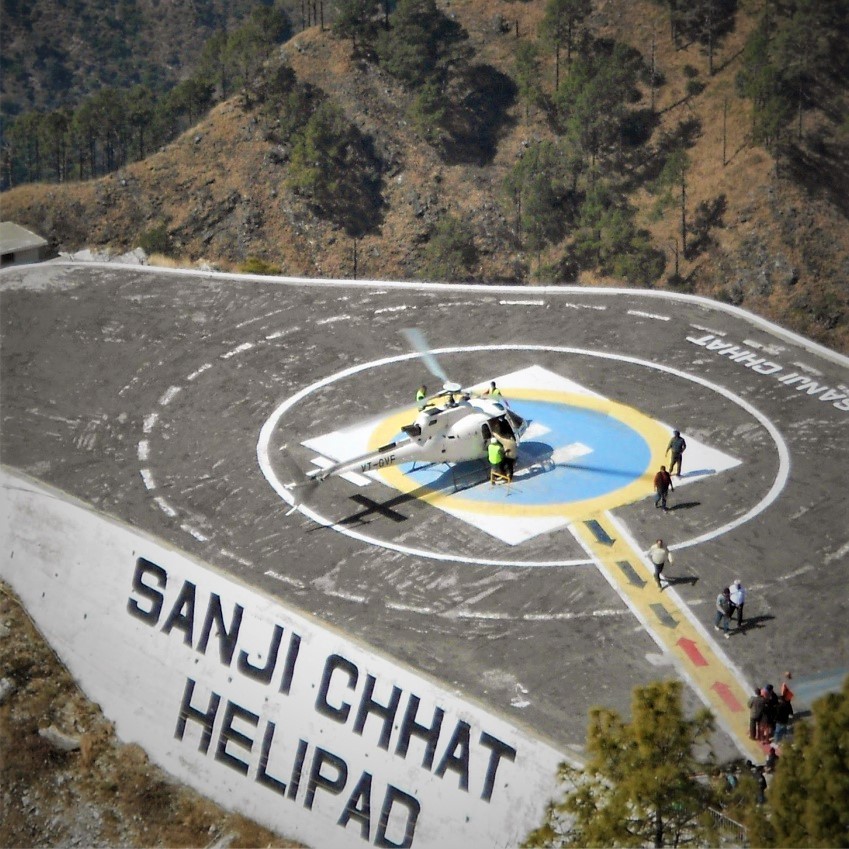 How to Book Helicopter Ride for Vaishno Devi Yatra?
For adding more comfort & convenience Shrine Board provides Helicopter facilities for Devotees of Mata Rani. Helicopter service is available from Katra Helipad to Sanjichhat Helipad which is located at a distance of just 2.5km away from Bhavan. However, to avail of this facility, I strictly recommend you to book your tickets online only, Because last the moment it's difficult to avail of tickets offline. So let's understand how to book your helicopter tickets online step by step.
There are two booking options available for Devotees: Katra to Sanjichhat INR.3660/-   |   Sanjichhat to Katra INR.1830/- (Incl. of GST) as of the year 2022.
Online booking of tickets on the official website of SMVDSB can be done a maximum of 60 days, and a minimum of 04 days in advance from the desired date of journey. The online booking opens exactly 60 days in advance at 10 AM every day. For advance booking of tickets, please visit: https://www.maavaishnodevi.org 
In order to book your tickets Login with the user name and password, click on Helicopter Services,  select date, route, no. of passenger, time, etc., and enter other passenger detail. At the end click on the payment gateway, link that opens the bank site you can enter the credit card number, CVV number (at the back side of credit card) and expiry date. If the bank will accept your credit card and the message appears for the Non-secure site you can click on yes. Your booking is completed. You can obtain the printout of said page. For booking terms & conditions please visit https://www.maavaishnodevi.org/helecopter_detail.aspx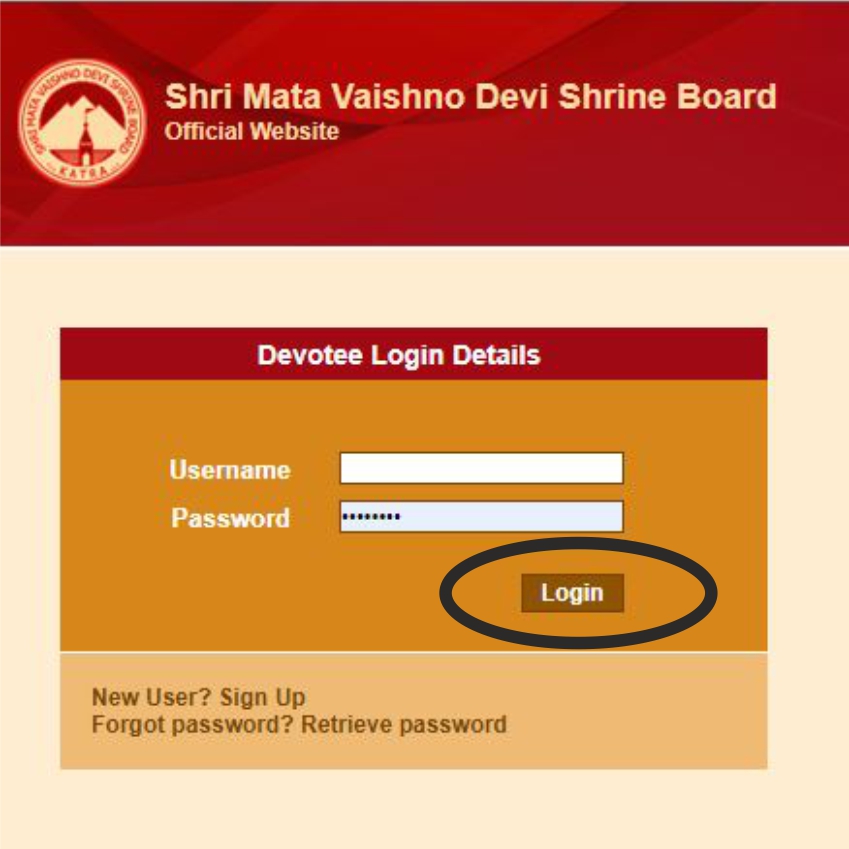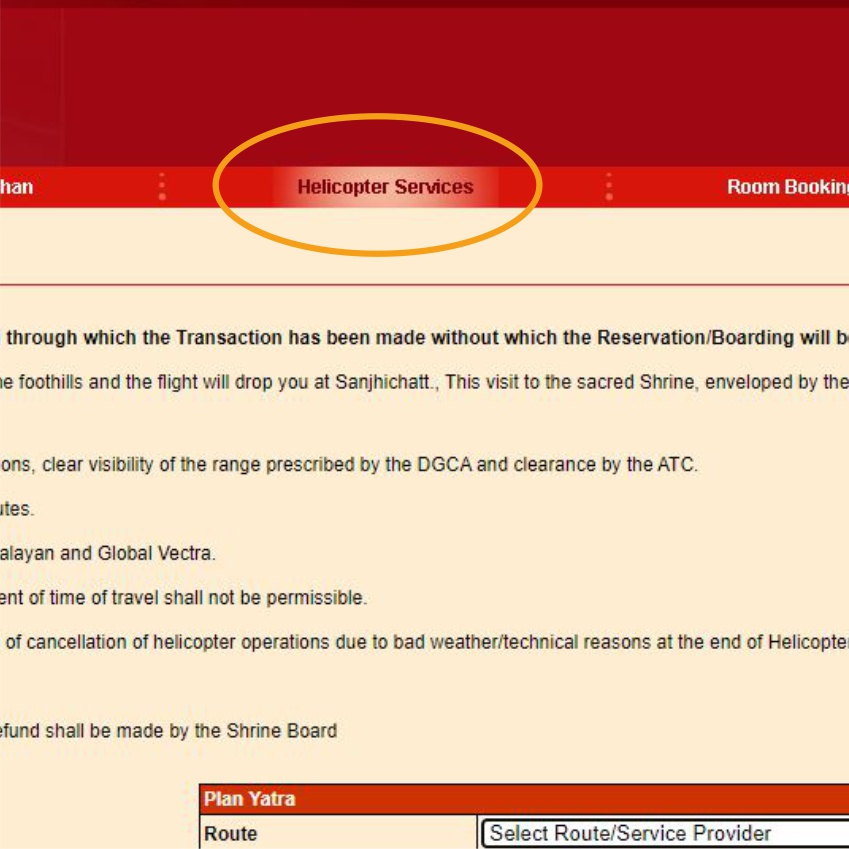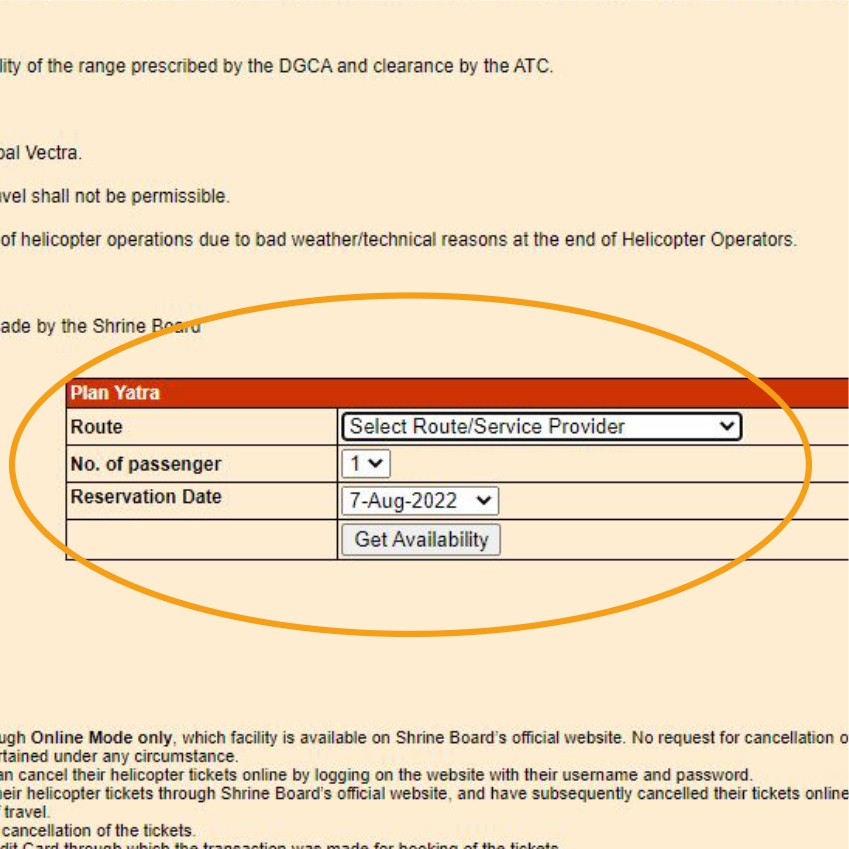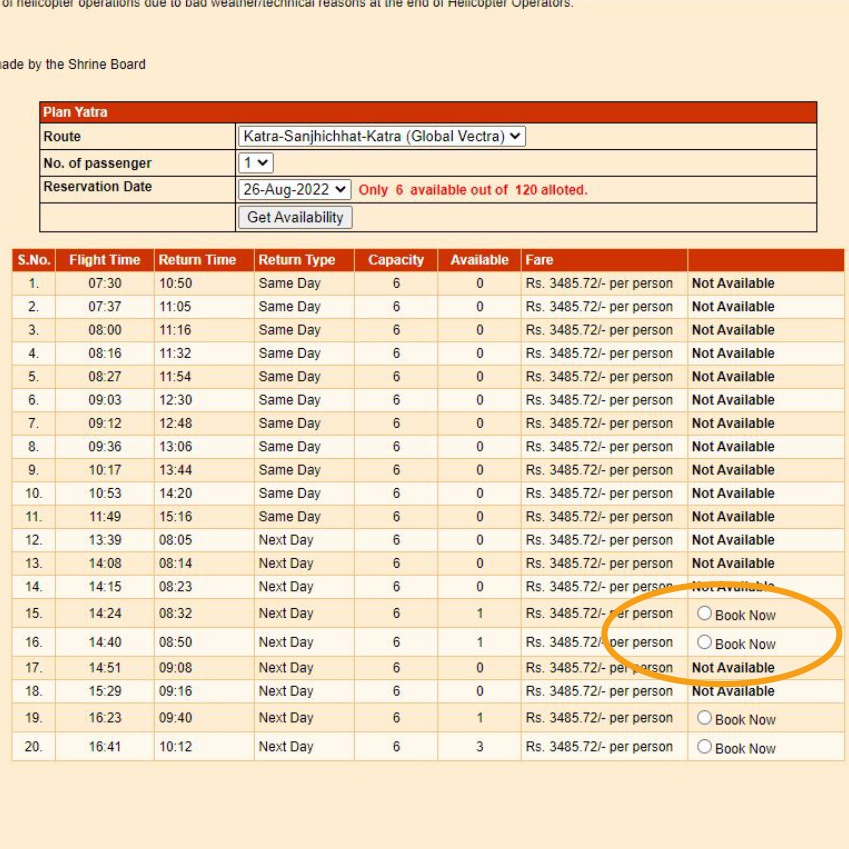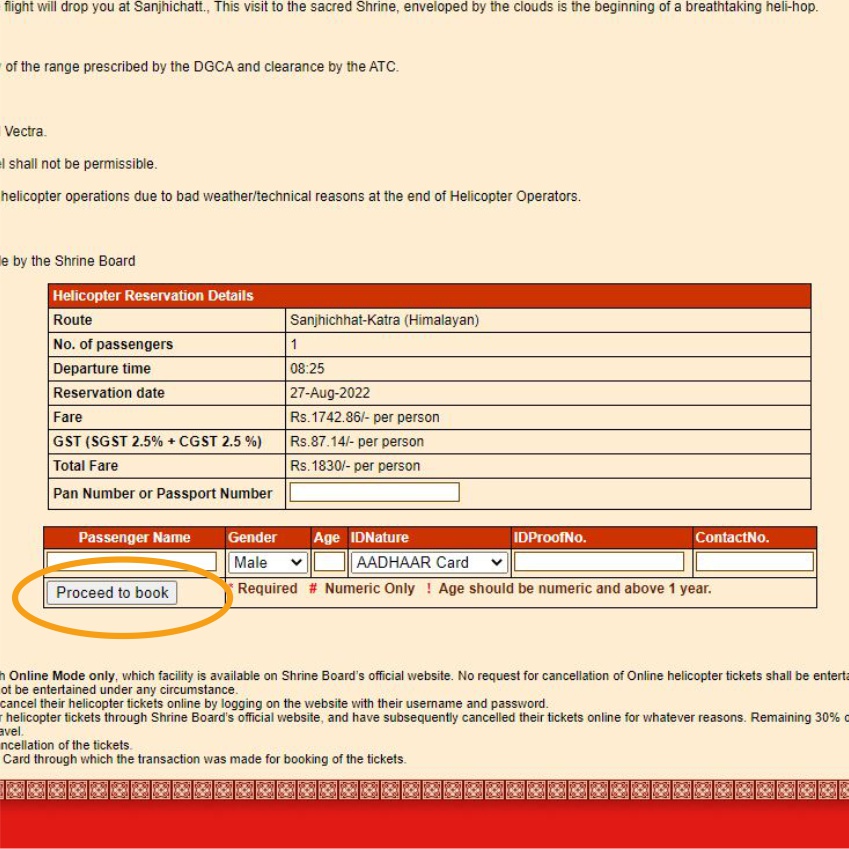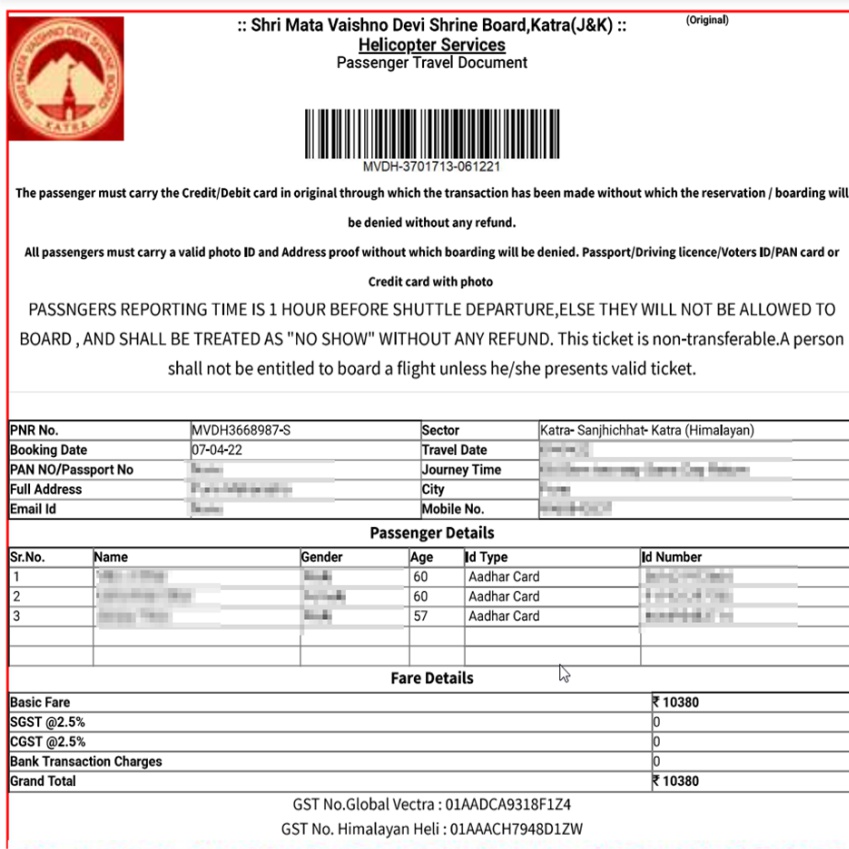 Bhairon Ghati to Snajichhat Helipad (1.5km)
From Bhairon Ghati we started descending towards Sanjichhat Helipad. This route is also very Scenic you can enjoy the beautiful view of the Pir Panjal Mountain range. On the route, you can see many Monkies too like Himkoti Marg. The helipad is easily visible from the route you enjoy watching Helicopters lending & taking off from Helipad. 
We booked our Slot for 3:45 pm & we started descending on 2 pm we have just 1:30 hours to reach down to the helipad, this was our first time so we don't know the check-in procedure of the Helipad & how much time earlier we have to check-in. Hence we increased our speed in order to reach faster. After a quick walk, we reached there within the time, as soon as we entered we showed our printout, after checking our weight they allotted us a boarding pass & inform us to seat in a waiting hall. 
Within 10 mins our number was called, it was very quick to take off within 5 mins passengers came out from helicopter & we have to board in. at a time 4 passengers traveling in one chopper. This was our first time experiencing a Helicopter ride so we were very excited. This ride hardly take 5 mins to reach Katra Helipad, our chopper was very nice he took a Helicopter from Katra Railway Station, and this was an amazing experience for all of us. 
From Katra Helipad their Van will drop us at the main gate, and from there we hired an Auto for Niharika Bhavan (INR.200).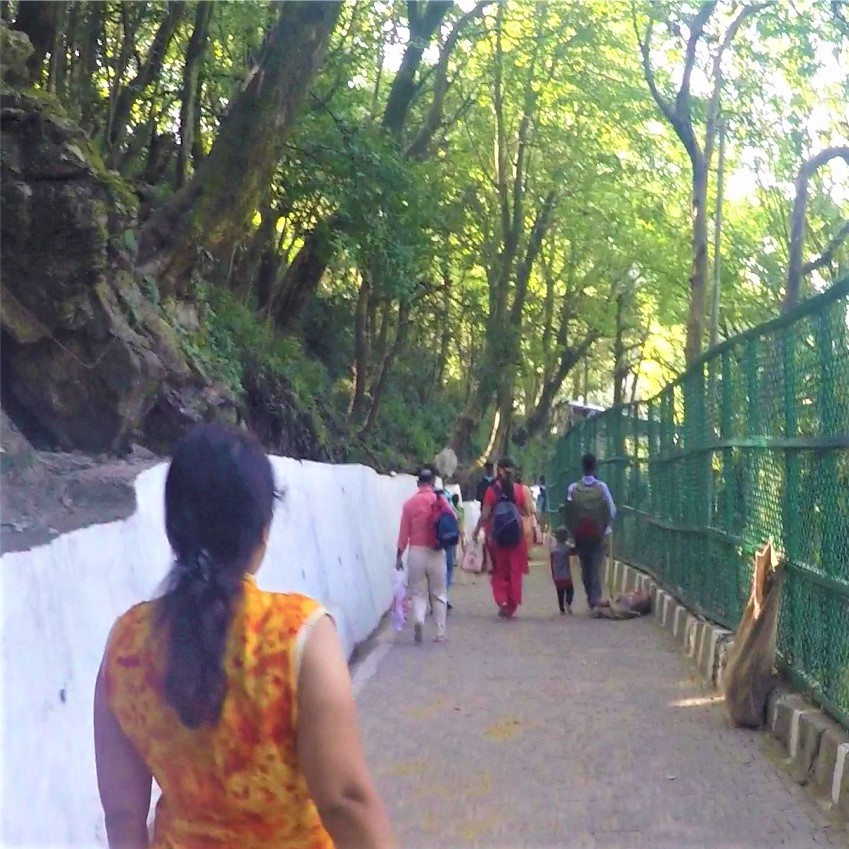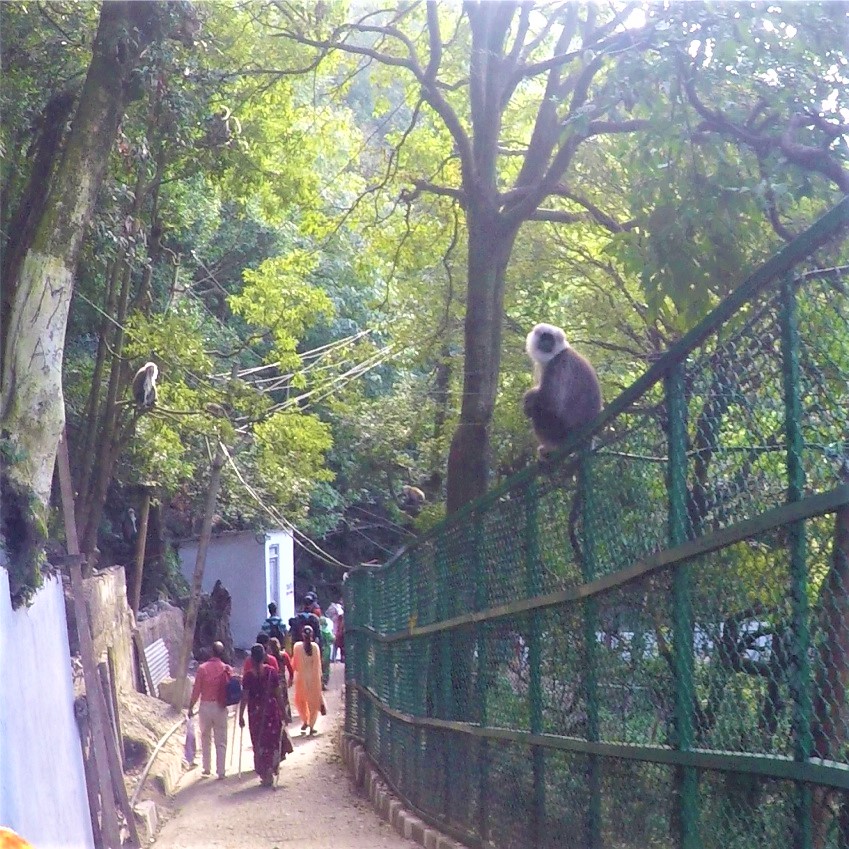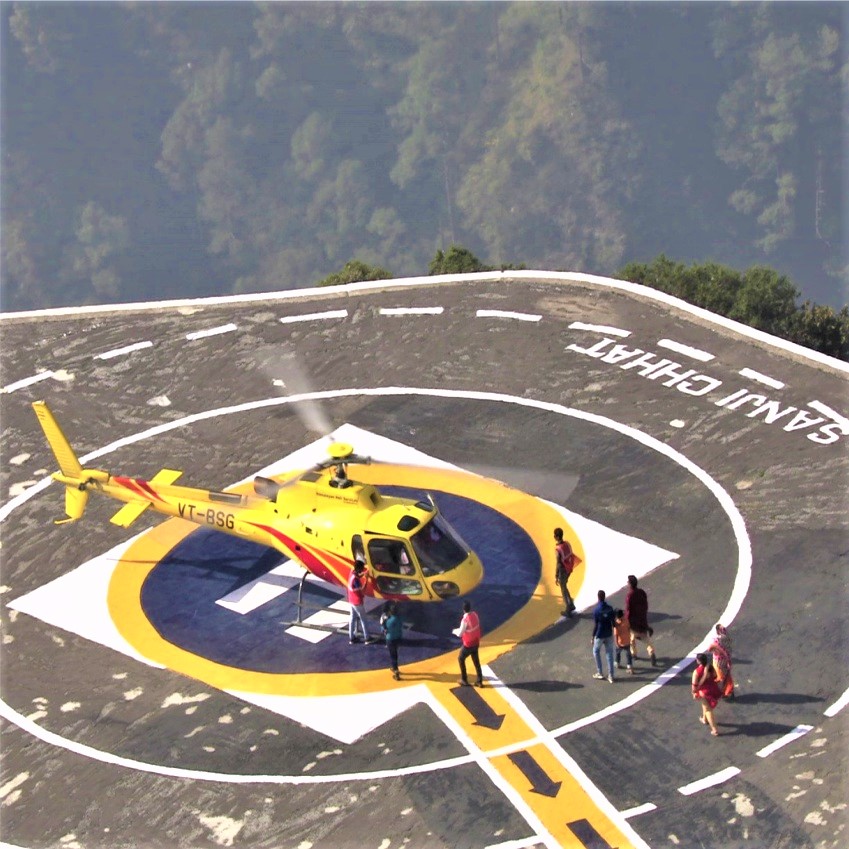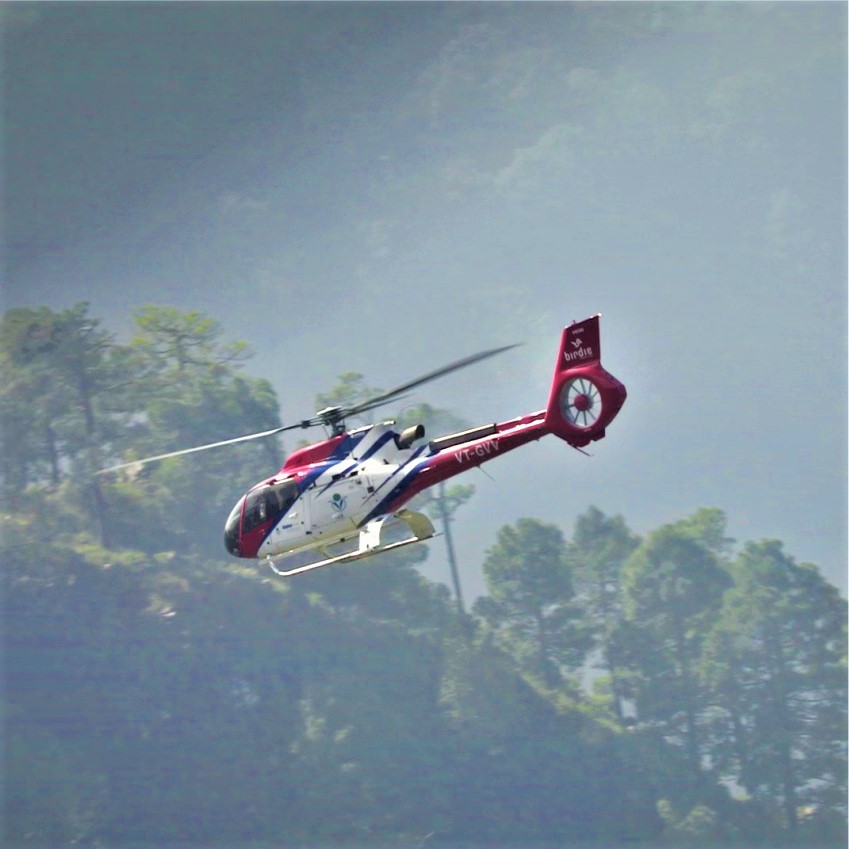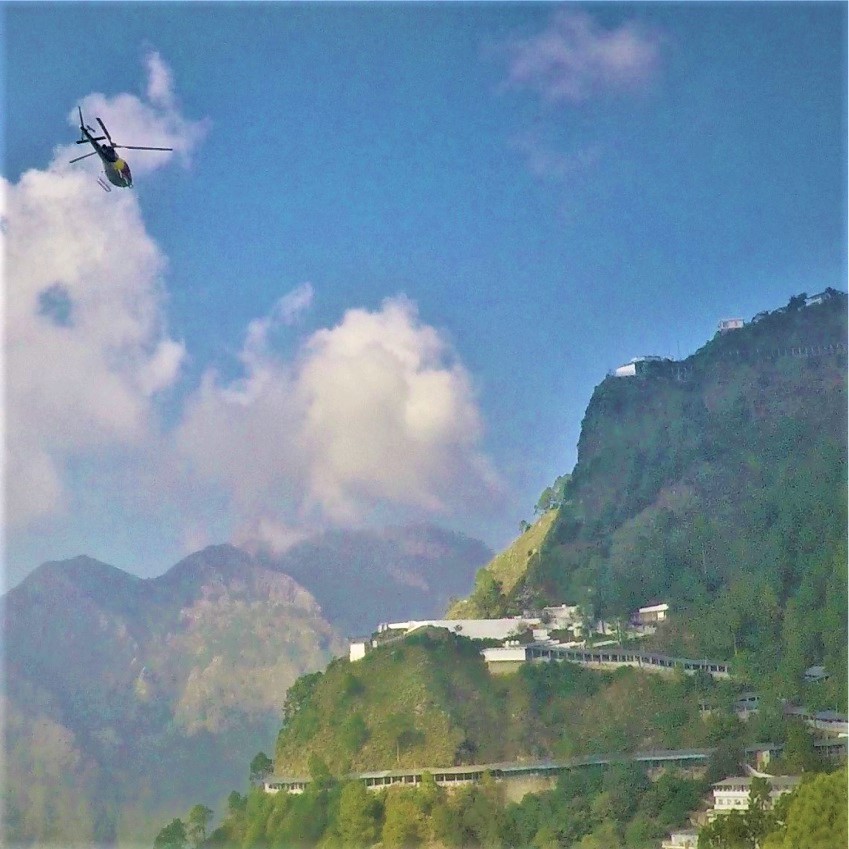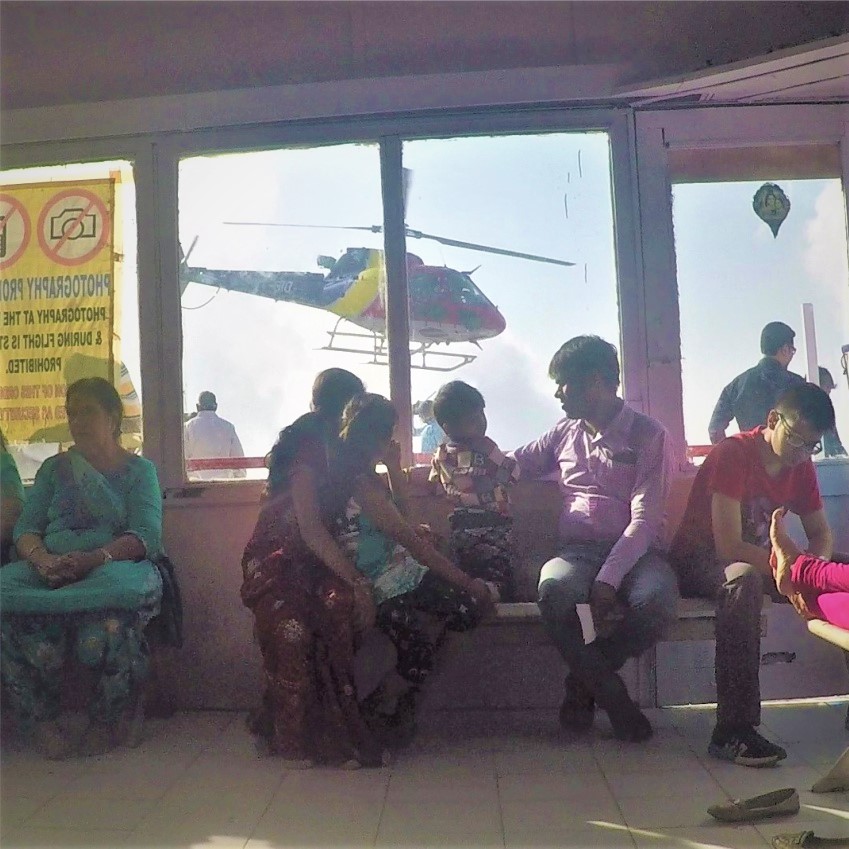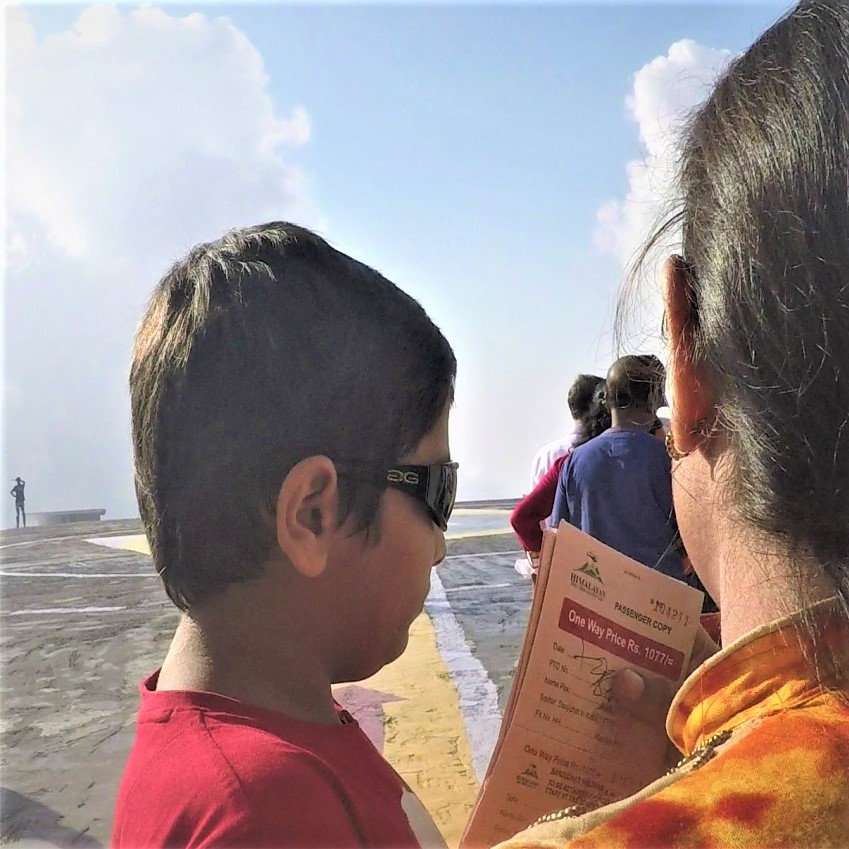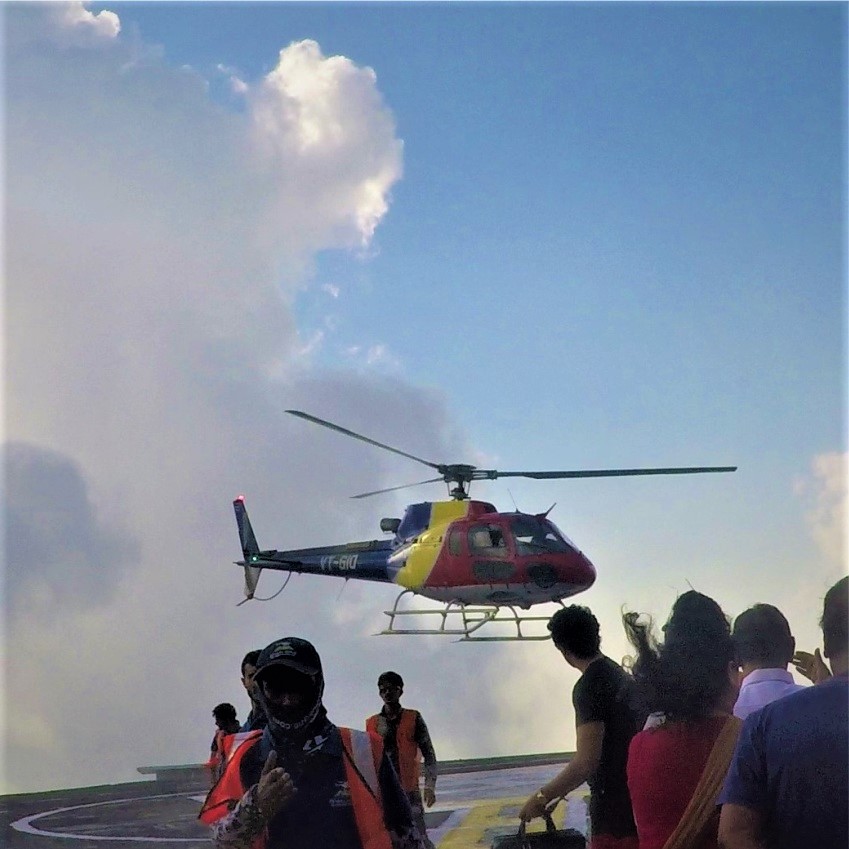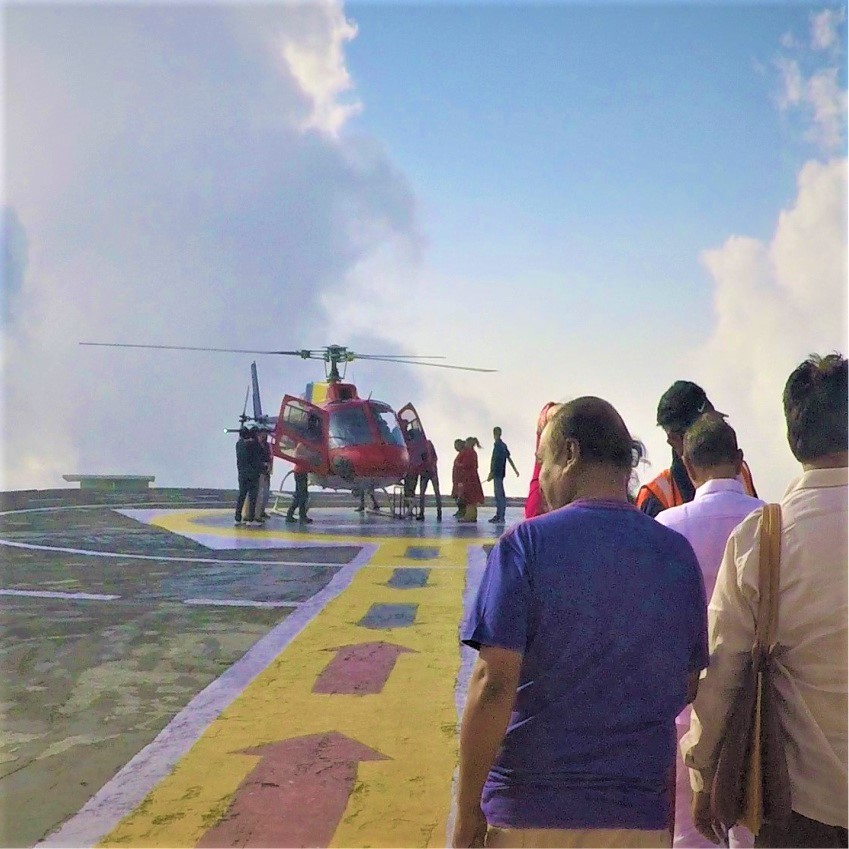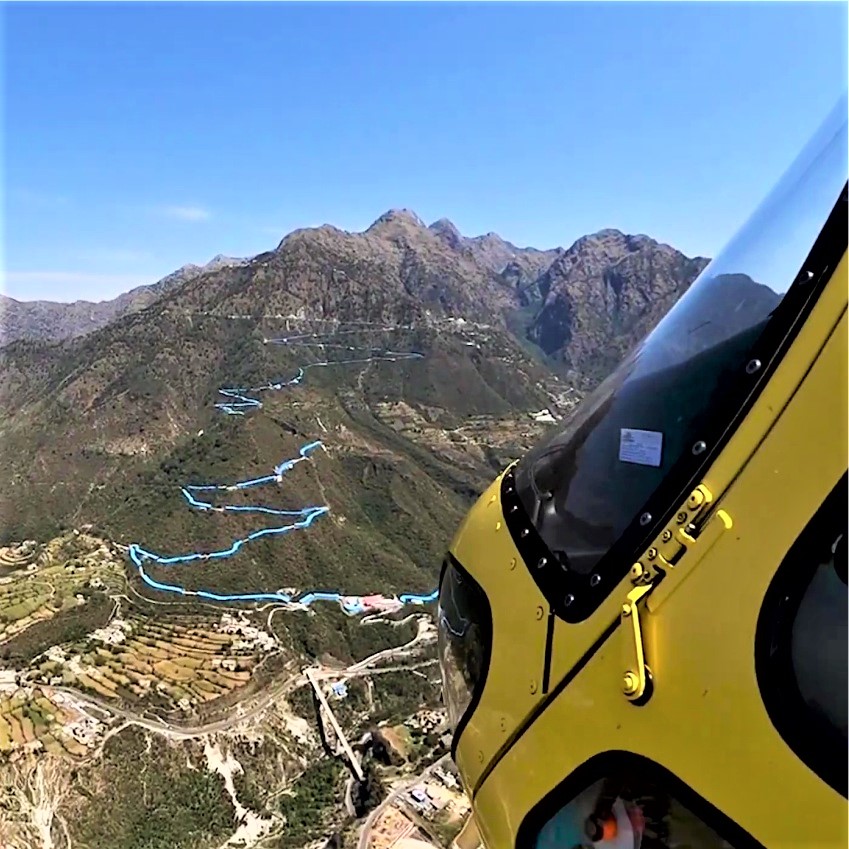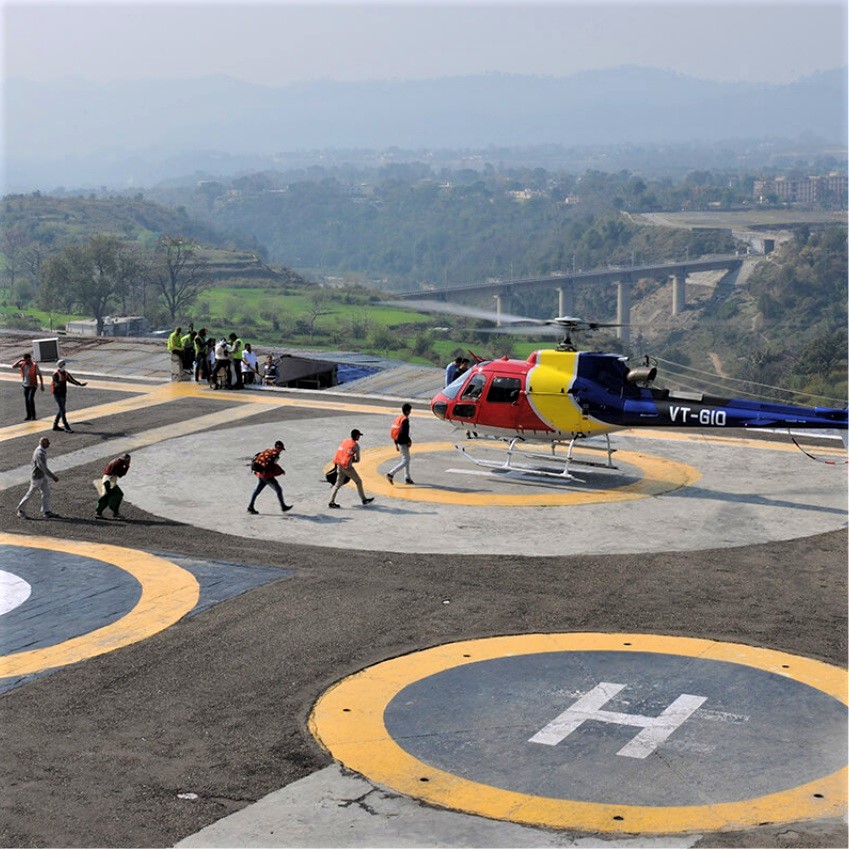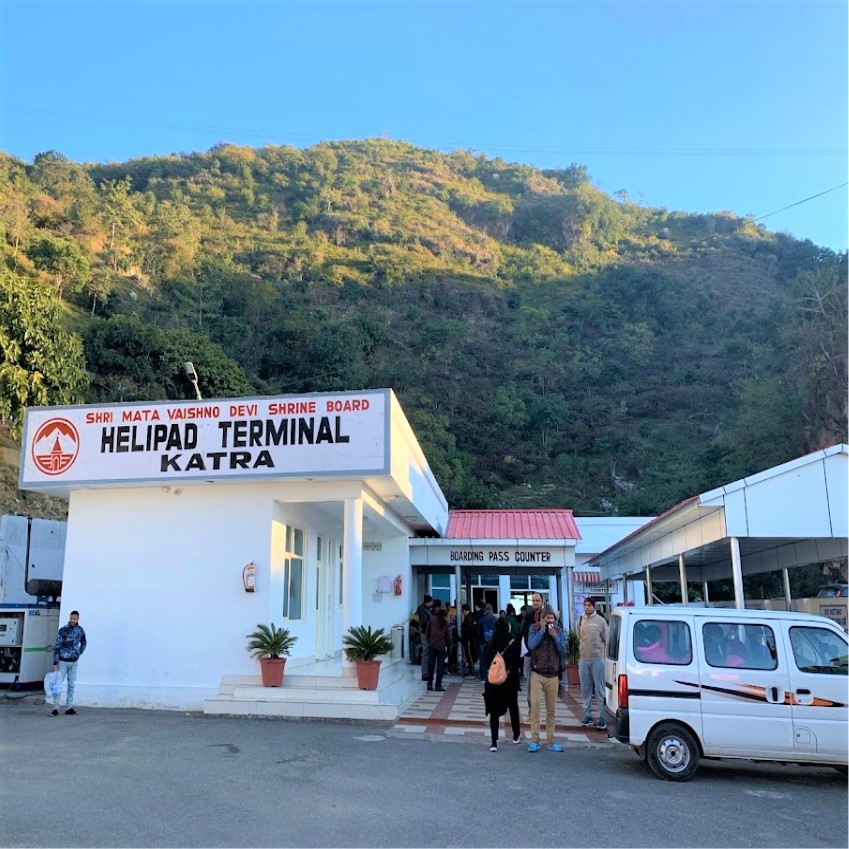 Within approx 10 mins, we reached Niharika Bhavan & then we collected our luggage from the Clock room & Check in to a room which we have booked earlier. It's around 4:30 pm, so we decided to take some rest in our room, because, tomorrow we not returning back to Mumbai instead we were going to visit some beautiful places of Himachal Pradesh, like Khajjiar, Dalhousie, Dharamshala, Mcledgunj & from there we were going to visit the Holy Golden Temple, Jalianwala Baug & witness the Wagha Border Flag lowering ceremony. So stay with us for more such beautiful trips.
However, you can also enjoy this entire Yatra video on our YouTube Channel. And if you get any value from my content please do like my channel & Share it with your family & friends. To stay updated please subscribe to our YouTube channel.  Thanks a lot for being with us. Jai Mata di.