Today, we will be taking you on the adventure of Kutch-Bhuj trip. Bhuj is the capital & Gateway of Kutch region. The main attraction here is the Runn of Kutch. One of the world's largest Salt Desert, spread over 30,000 sq/Km. Here at Kutch, you can experience a combination of Culture, Heritage, & food. 
Once upon a time, The Jadeja dynasty of Rajputs ruled Kutch. One of the oldest Hindu dynasties, for hundreds of years, until India became a republic. During this trip, we will be exploring as much as we can.
Today was our last day of Dwarka Trip, now it was time to proceed for our next destination, Kutch-Bhuj. Bhuj is around 410 km away from Dwarka, which will take around 7-8 hours to reach. So, we had to start our journey as soon as possible. Our Travel route was Kambhalia – Jamnagar – Morbi – Bhachau – Bhuj. In Bhuj, our Destination was Shri Swaminarayan Temple.
The weather was cold, as it was the month of December. We had breakfast of hot Puri-Bhaji with tea & started our journey by around 9:00 am. I must say that Gujarat has much better roads than Maharashtra. We reached Jamnagar by around 12:00 pm. As we entered Jamnagar we can clearly see the development here. It's because of setting up Reliance refineries in Jamnagar.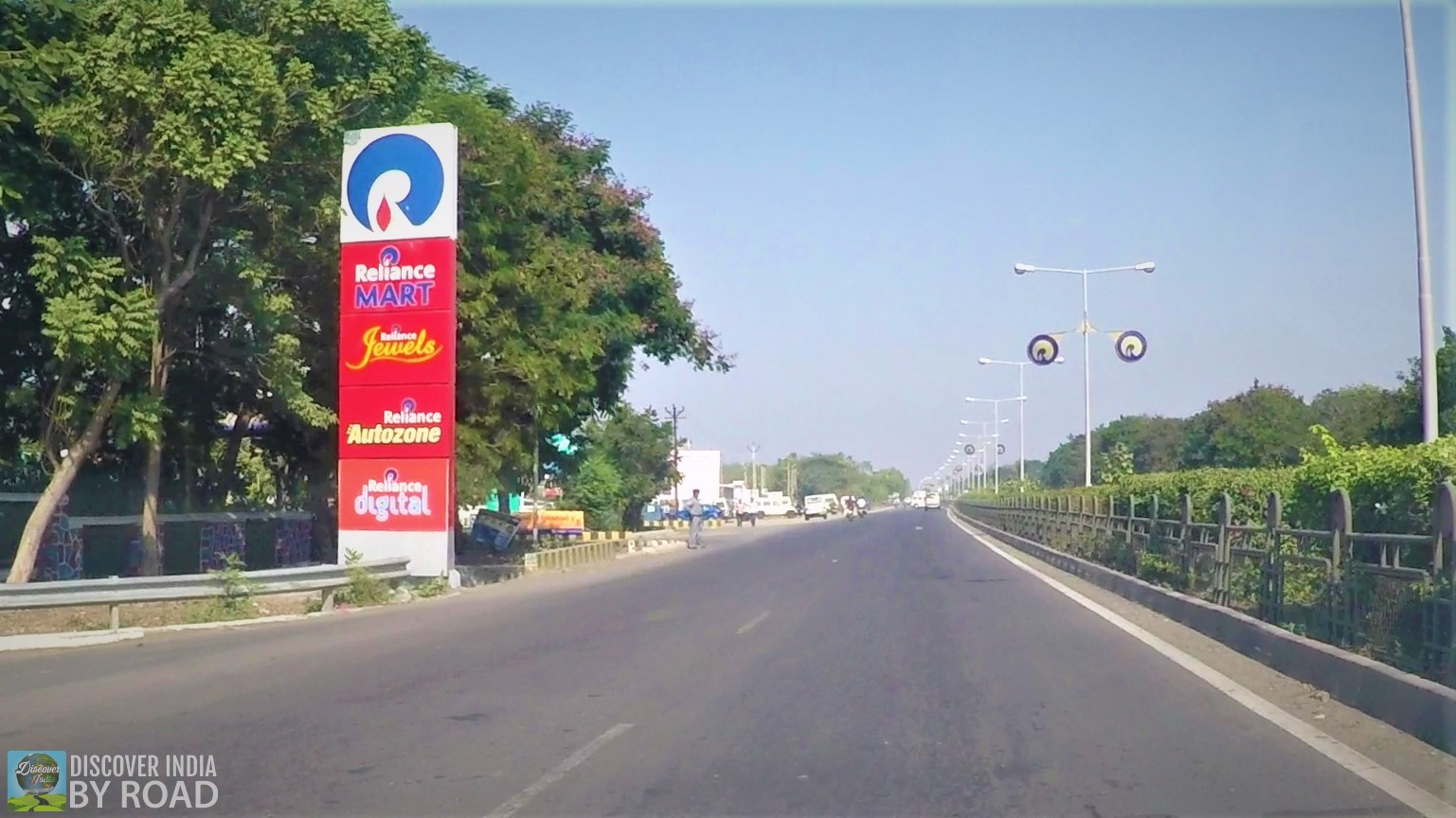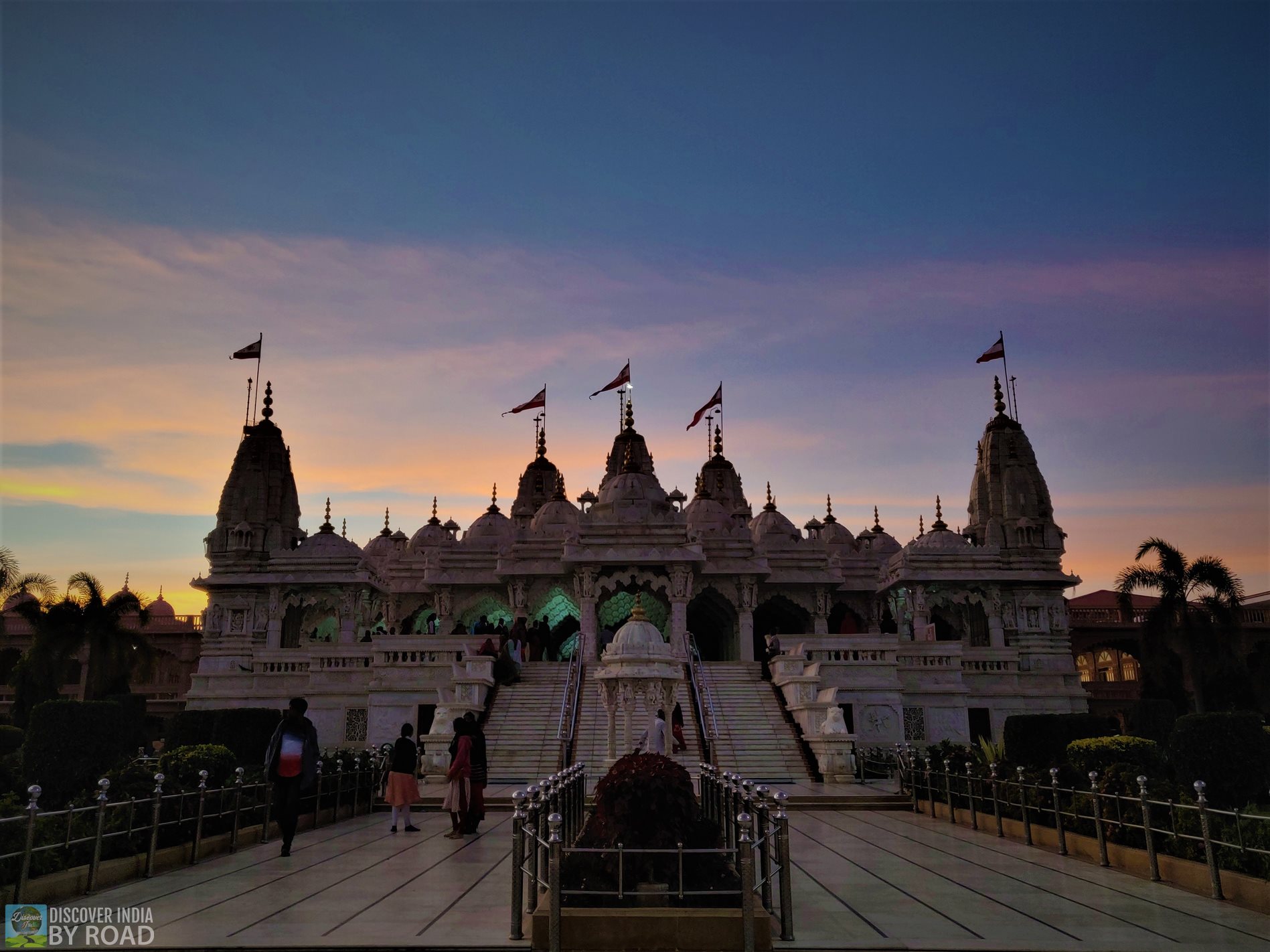 After having our lunch at Jamnagar, we proceeded for our onward journey. Finally, at 6:30 pm we reached the Bhuj Swaminarayan Temple. Bhuj Temple is very beautiful, made up of carved white marble. We were feeling quite exhausted. So we quickly took darshan & started inquiring for rooms. 
Like all Swaminarayan Temples, this temple also provides stay facility for devotees. But, on a chargeable basis. The main Guesthouse was full, so they arranged our room in the other old guesthouse. Here we paid Rs.500/- for a room. The guesthouse was not so clean. But, we just had to spend one night and we didn't have much energy to look for another room. So we made up our minds and stayed there.
There were few hotels nearby our Guesthouse. We had our dinner over there and got back to our room. Tomorrow we have planned to go for Bhuj Sightseeing. So, we slept early.
Bhuj Sightseeing | Swaminarayan Temple
Now it was time to explore Bhuj. Firstly, we need to have breakfast, so we decided to try some local dishes like Kutchi Dabeli, Kadak, and Puff. After that, we started our Sightseeing with The Swaminarayan temple Bhuj, which we were not able to properly explore yesterday. Bhuj is one of the six places where Lord Shree Swaminarayan constructed the temples by himself.
The Gujarat Earthquake of January 2001, destroyed much of the city of Bhuj. Including some parts of the old temple. Miraculously the divine idols remained as they were, without any damage whatsoever.This new temple was built on the banks of lake Hamirsar. The use of traditional Vedic architectural methods has played a significant role in the construction of this temple. After the Bhumi Pujan ceremony on 7 May 2003, it has taken 7 years for its completion.
Spread across in an area of 35,000 sq. feet, this Temple has 7 sky-touching pinnacles. It consists of one central dome, 25 minor domes, and 258 pillars, with the use of icy marble of Makrana and Ambaji. It gives heavenly beauty, serenity, and the divine approach to the temple.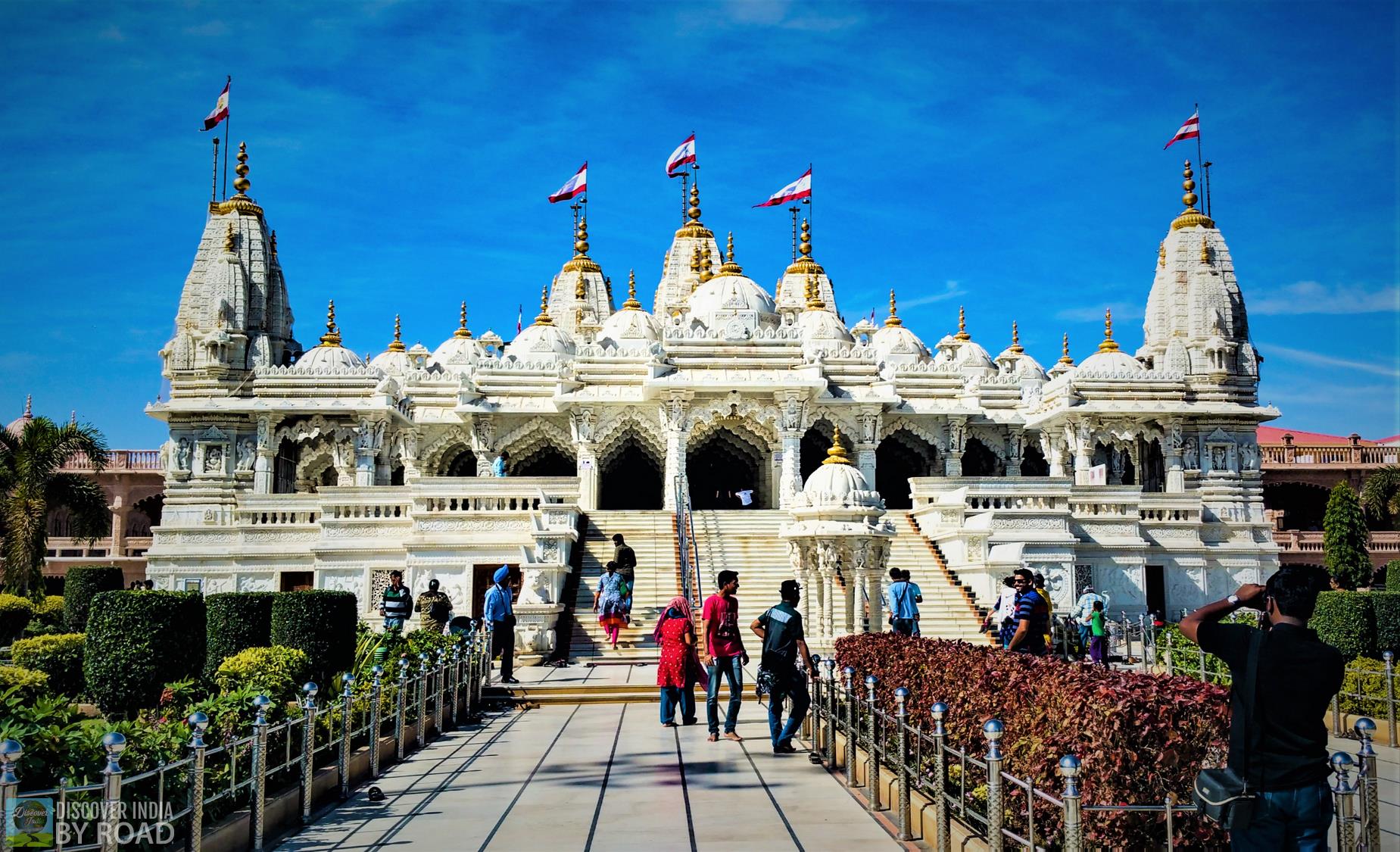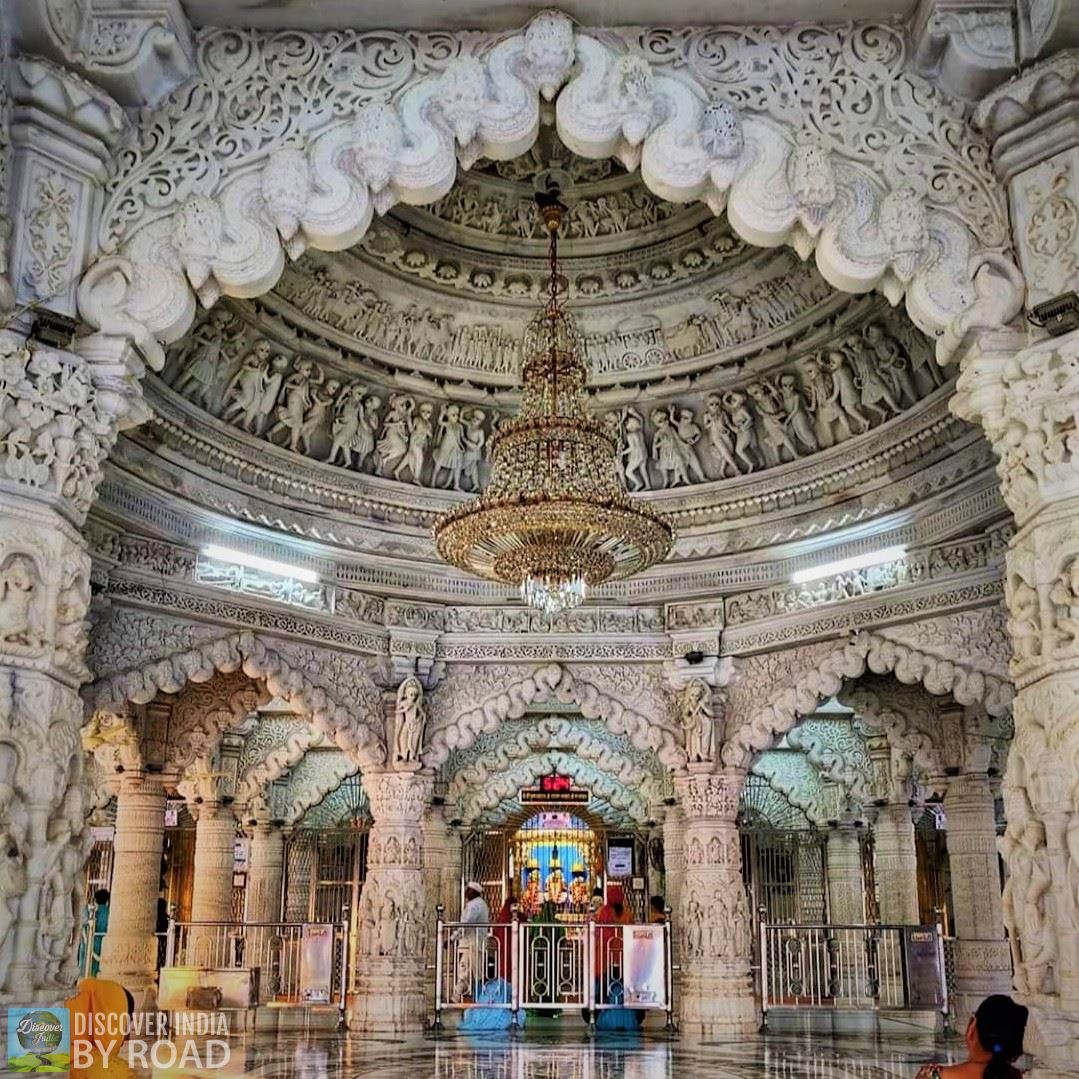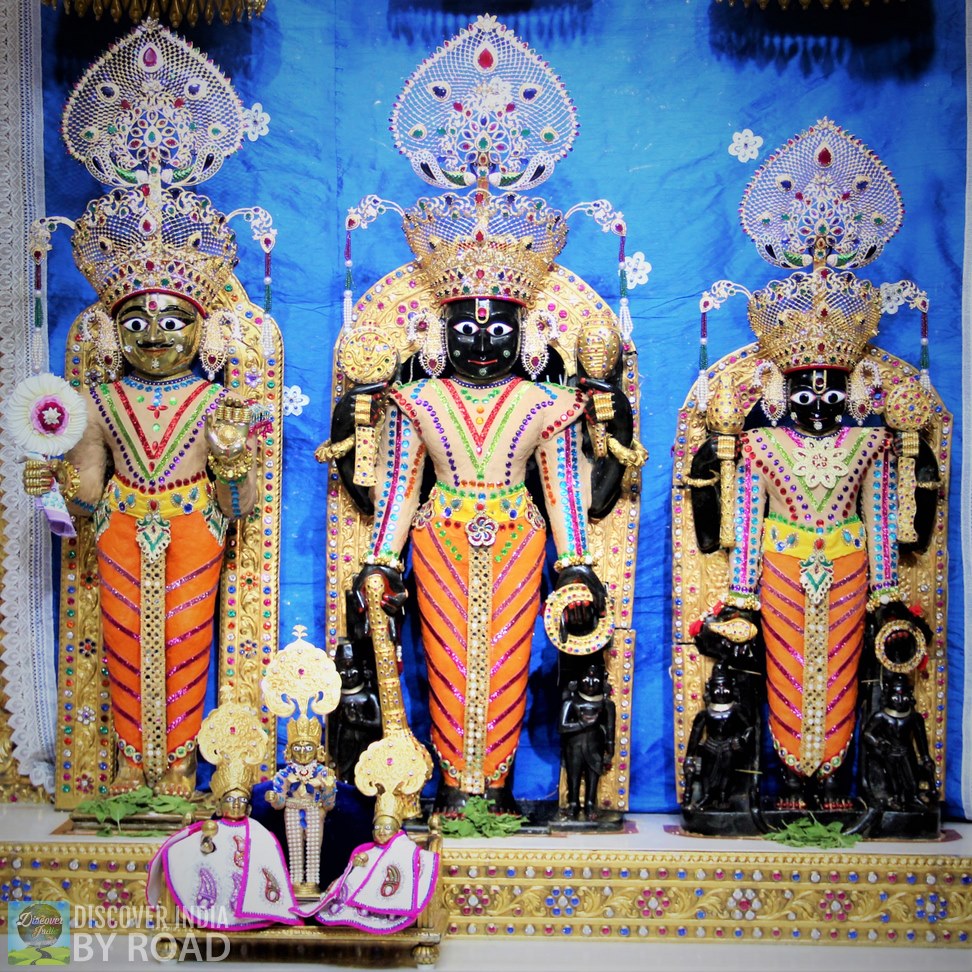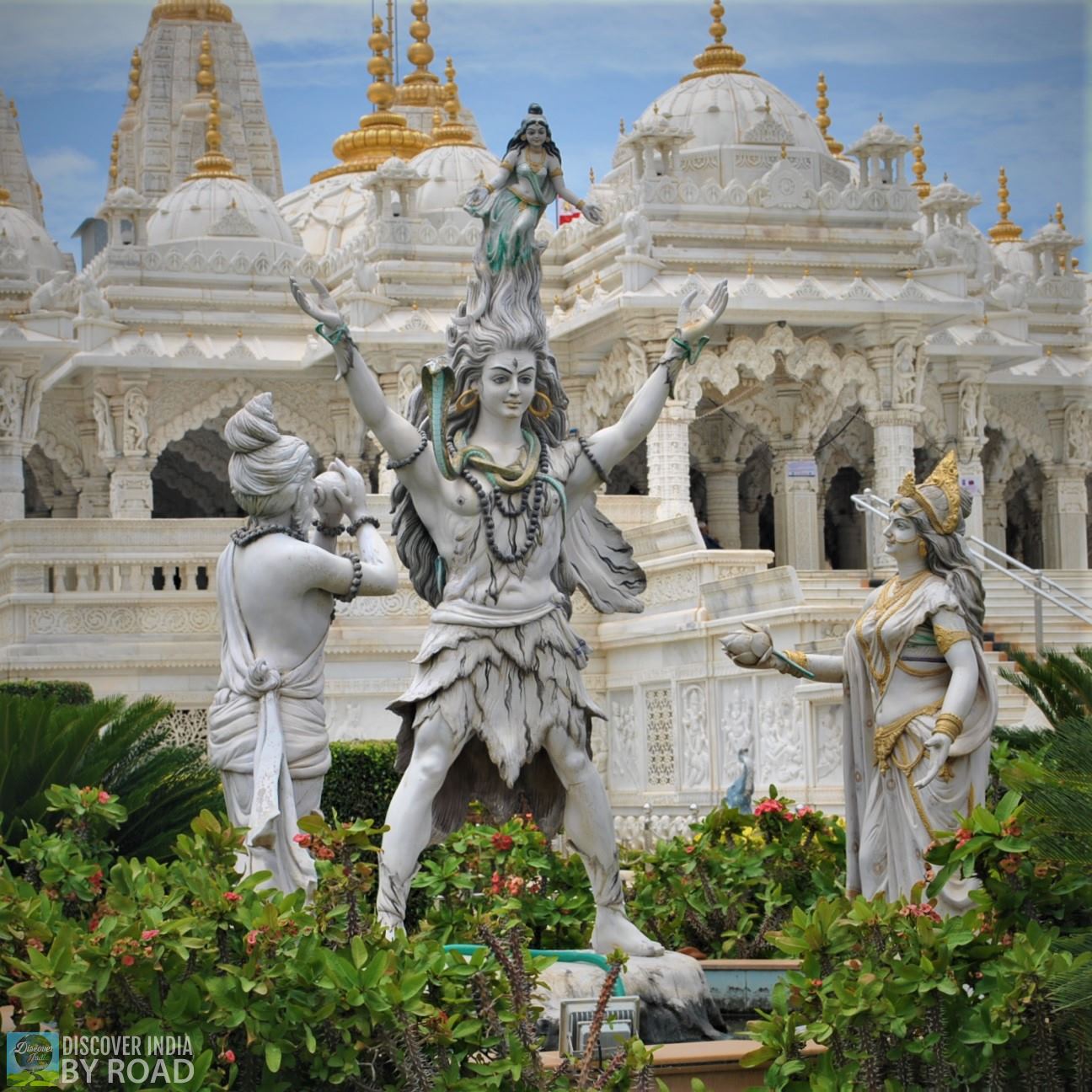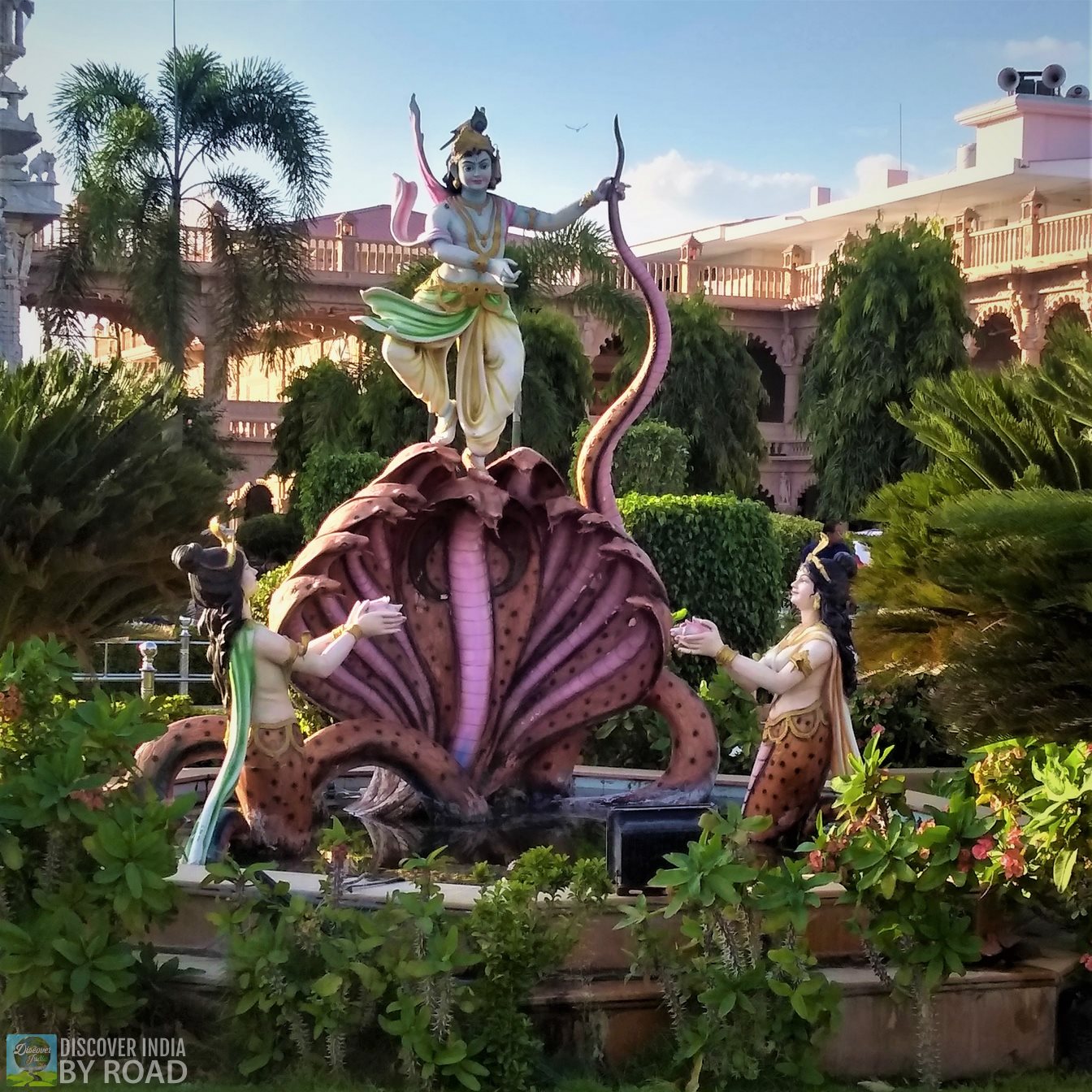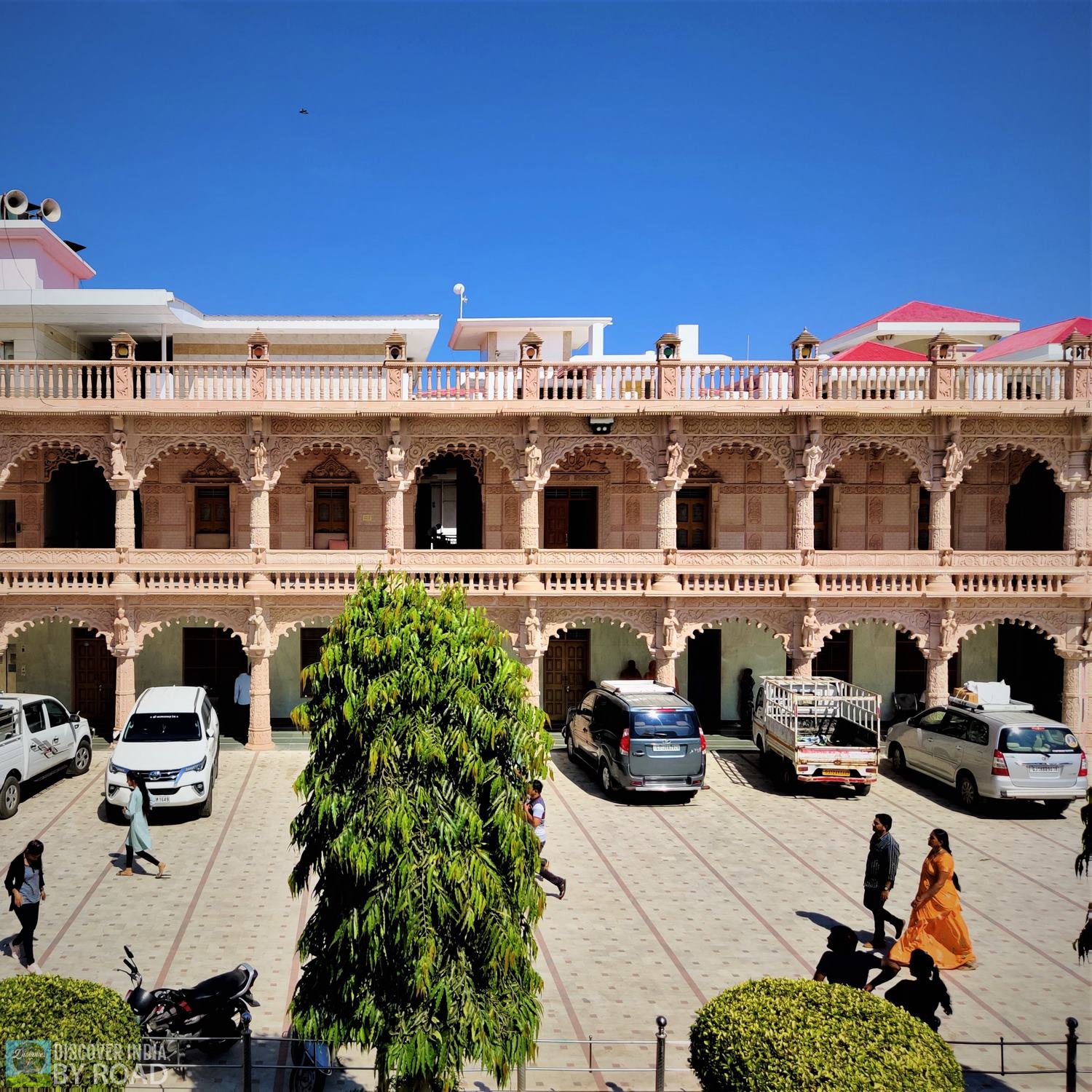 Our Next stop was Prag Mahal Palace. Prag Mahal is one of the popular tourist places in Bhuj, commissioned by King Pragmalji in the 1860s. Designed by Colonel Henry Saint Wilkins in the Italian Gothic style and made out of Italian marble and red sandstone. Durbar Hall, Bing Bang Clock Tower, murals, and courtyard are some of the main attractions of Prag Mahal. In 2001 this palace majorly affected by the earthquake. Later after renovation, some prominent parts of the building were open for the public.
Visiting Hours
Morning :  9:00 am to 12:00 am | Evening 3:00 pm to 6:00 pm.
Closed on : Public Holiday.
Charges : Entry Rs. 20/- | Photography Rs.30/- |  Video Shooting Rs.100/-.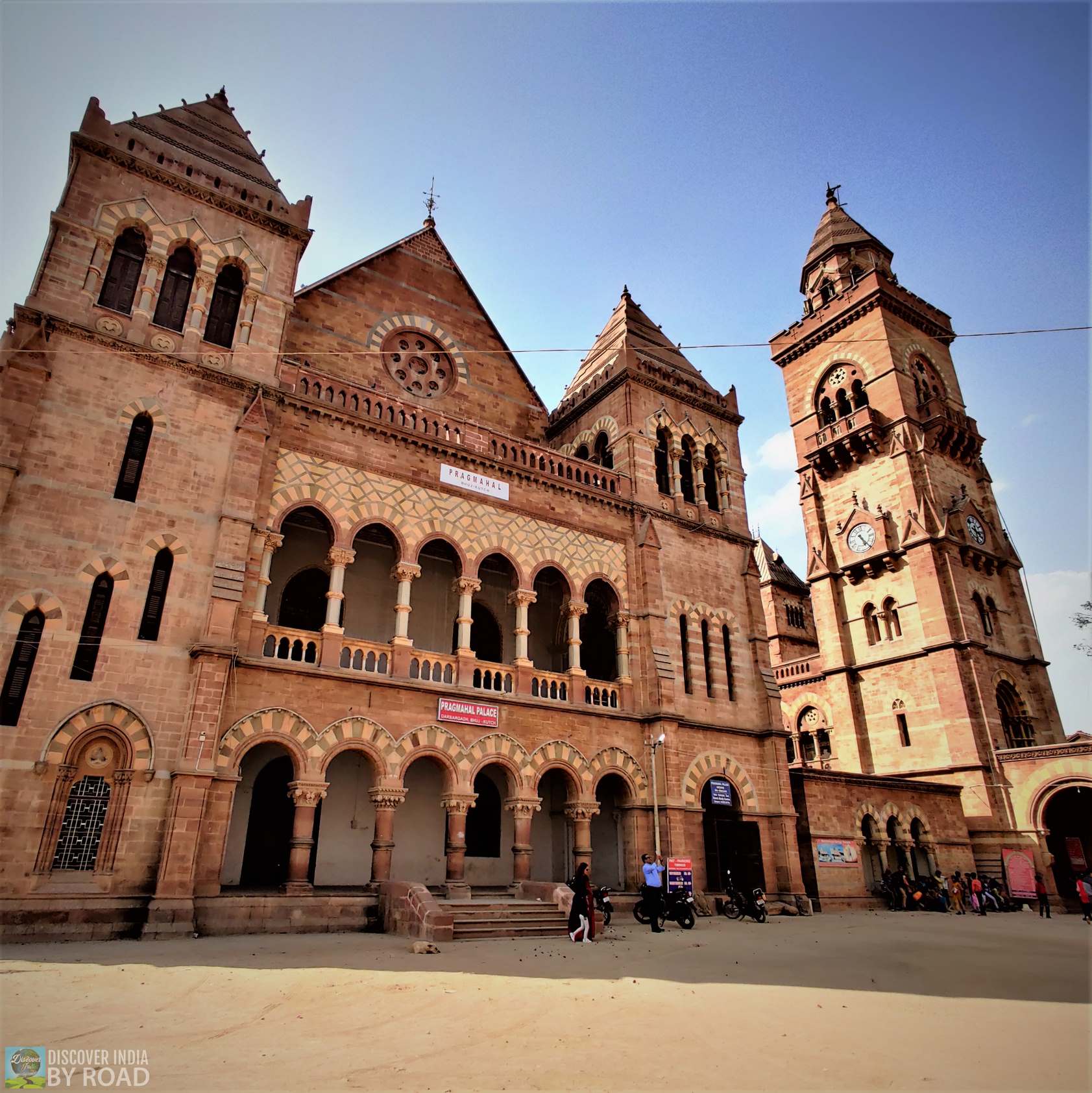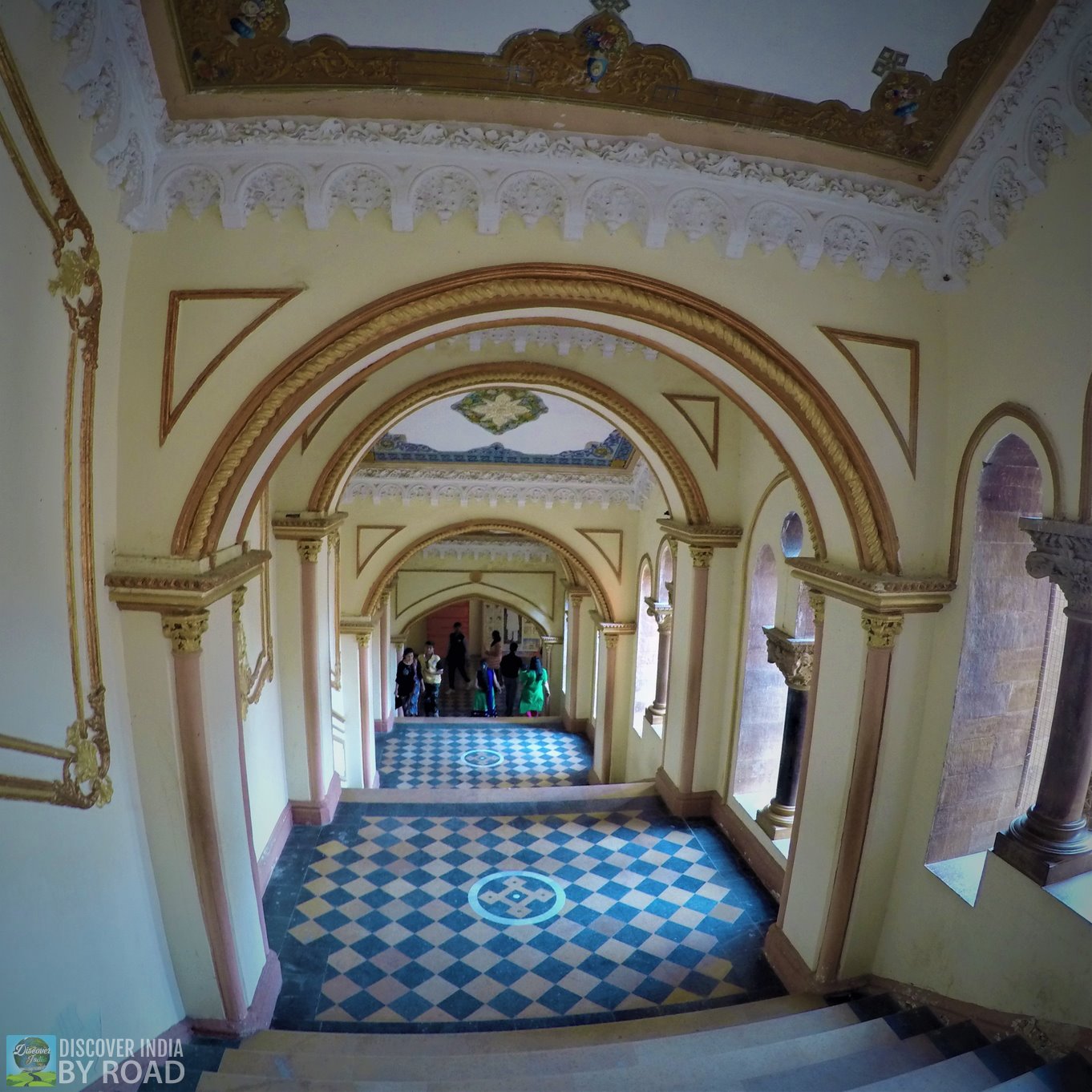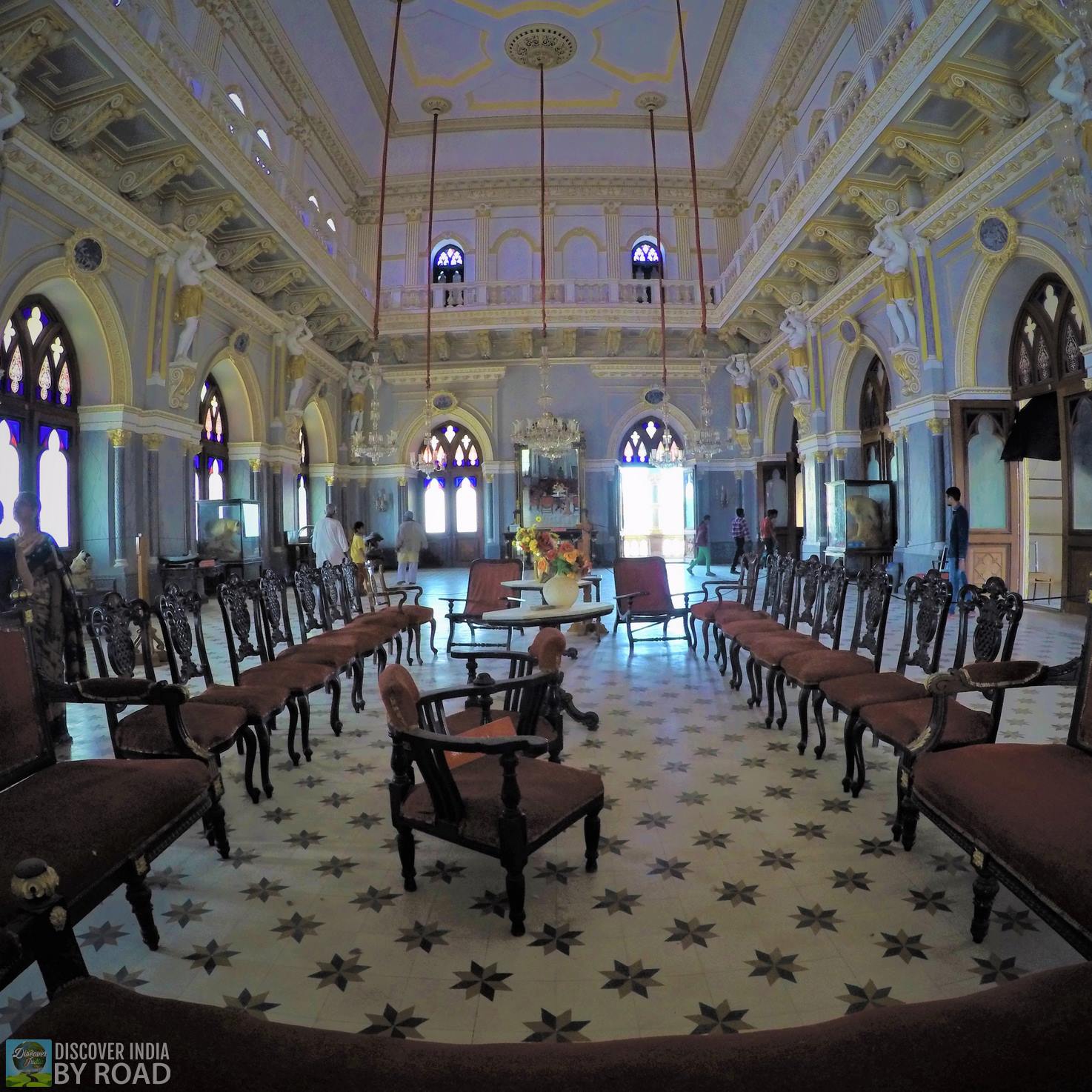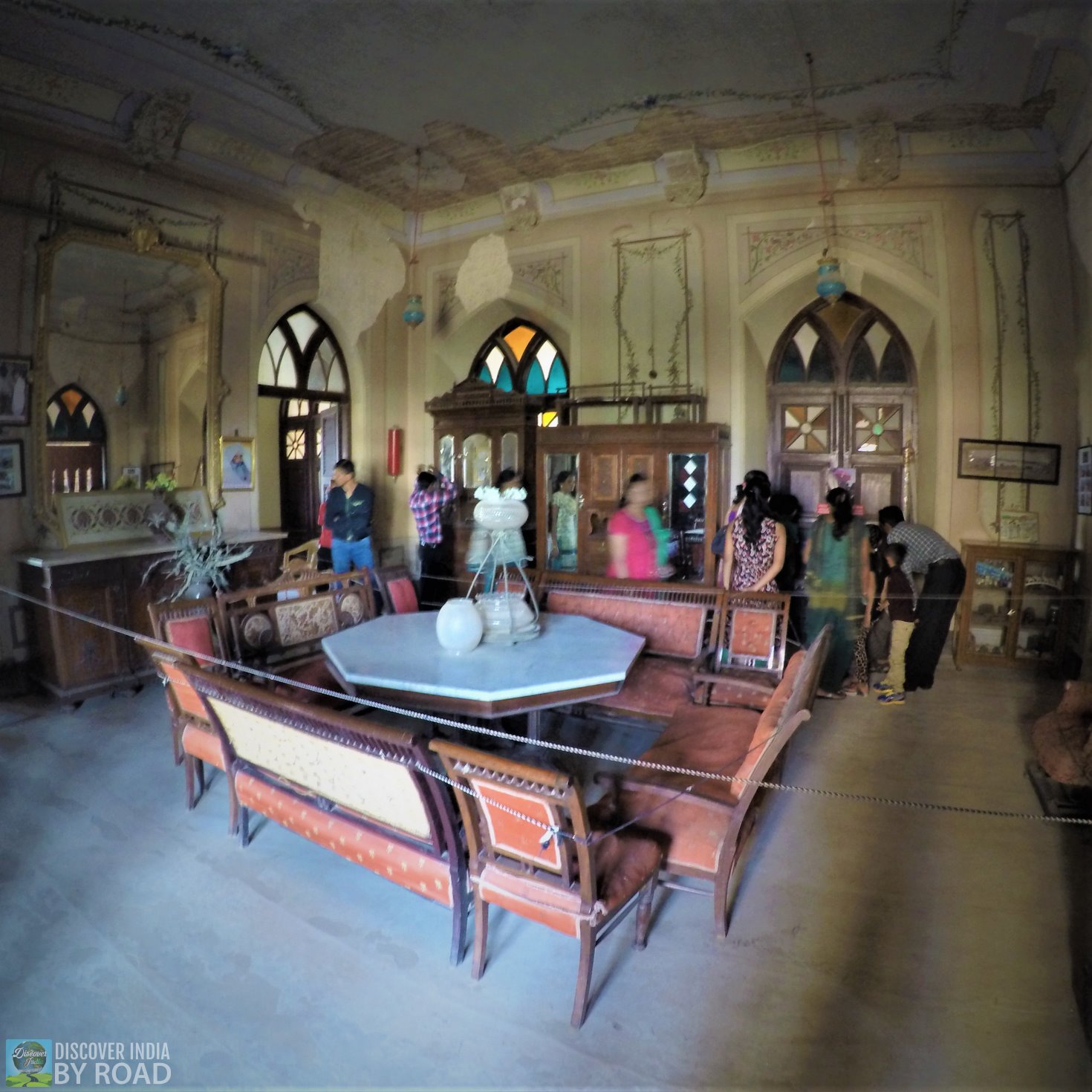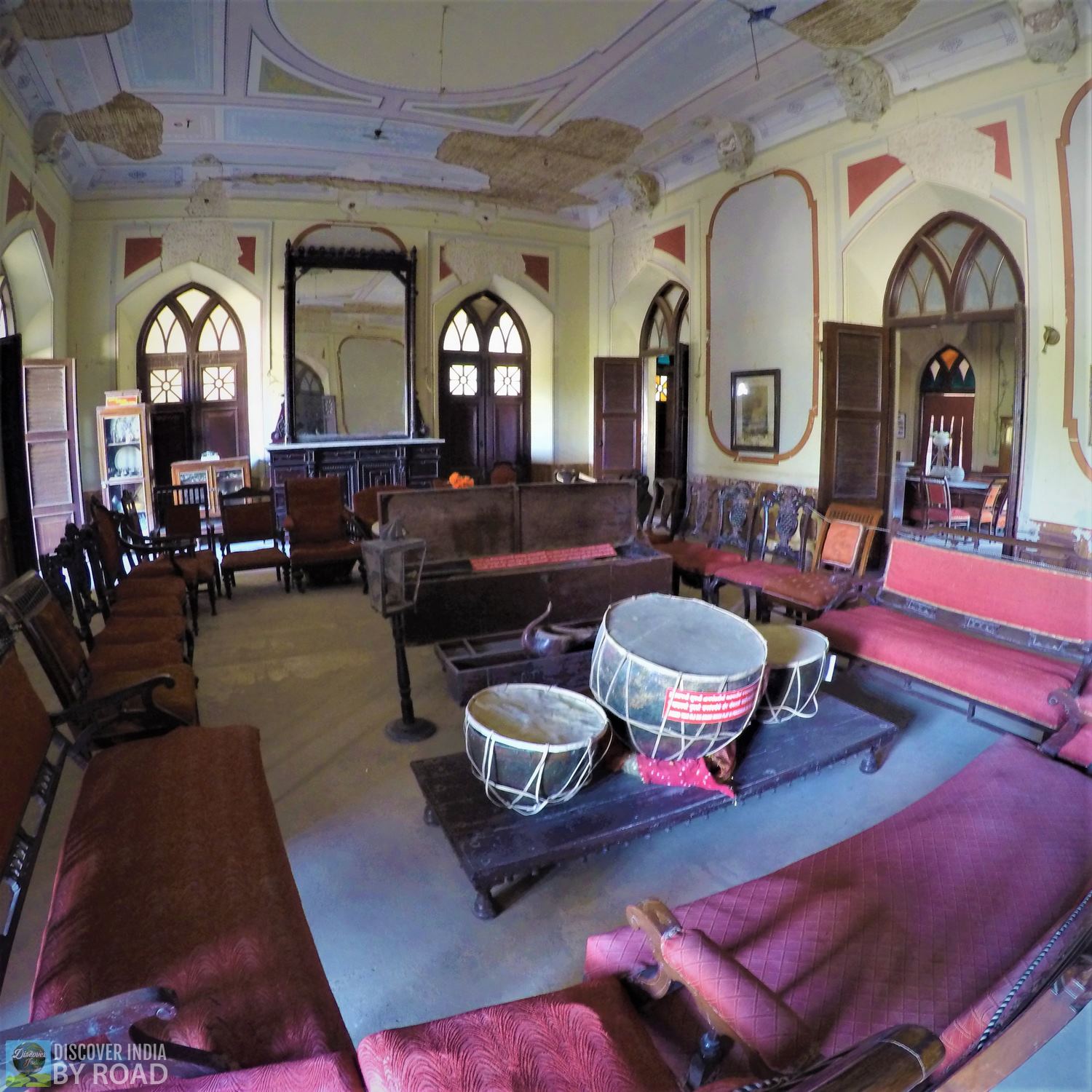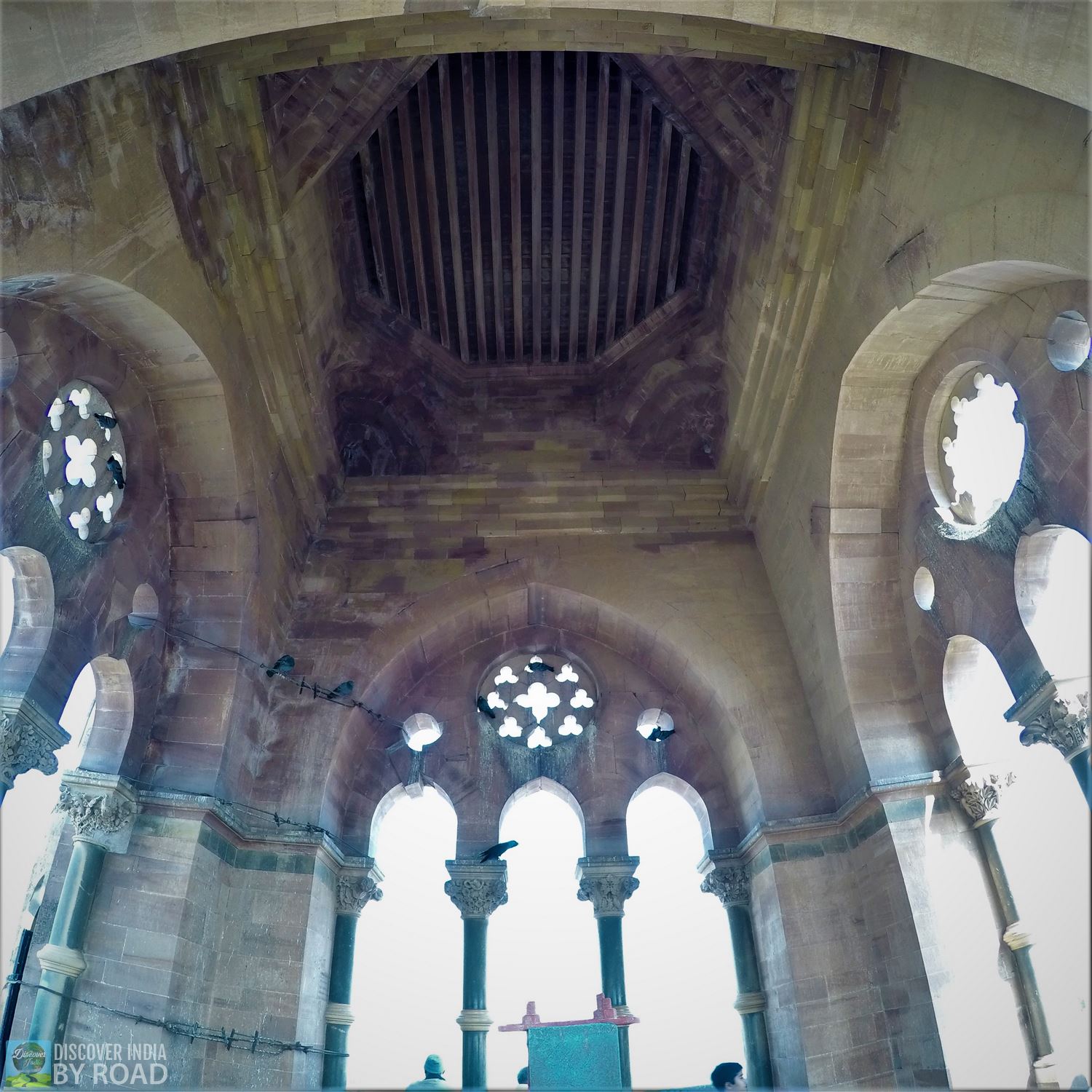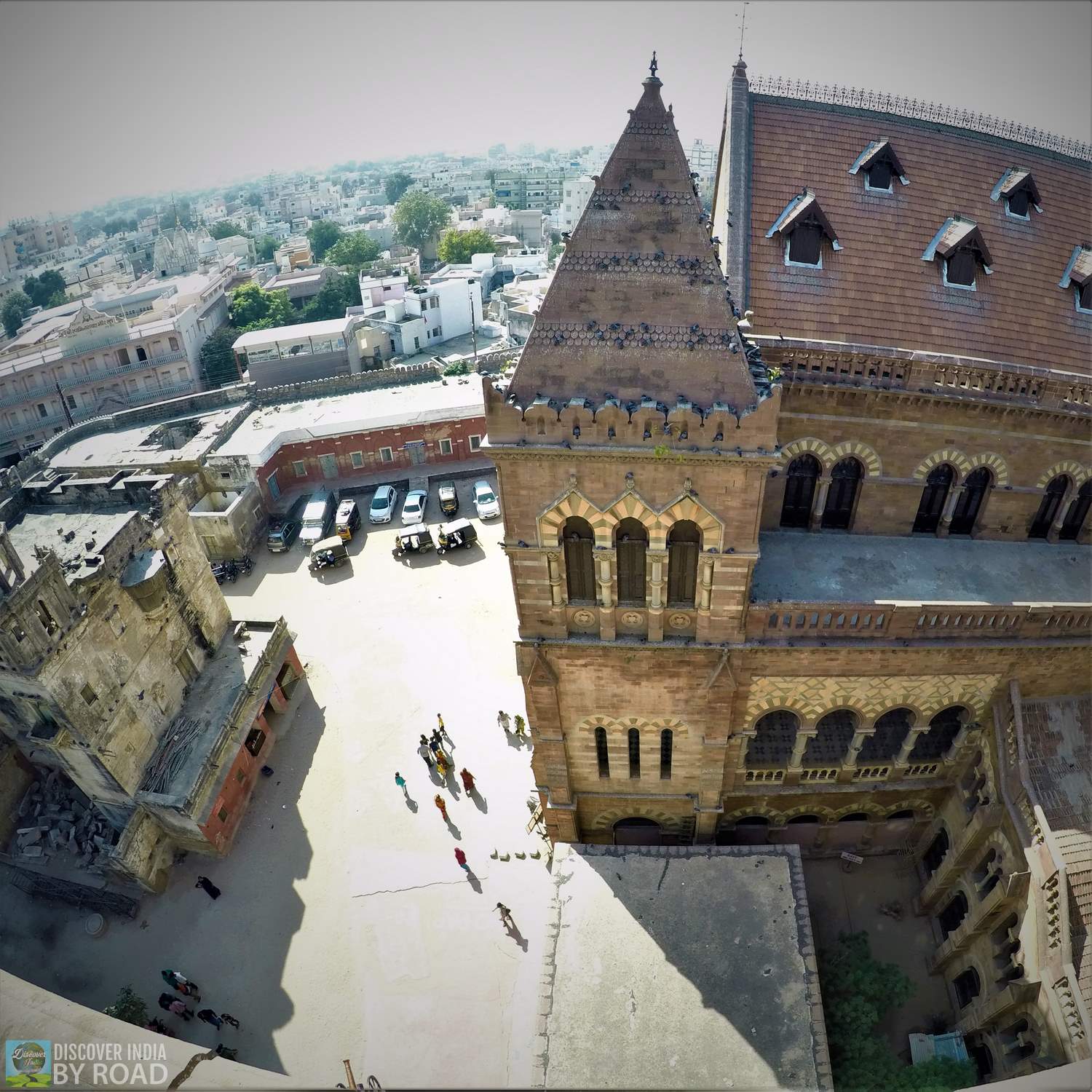 The Aina Mahal is an 18th-century palace that is located next to the Prag Mahal in Darbargadh. This palace built by Lakhpatji around 1750. Lakhpatji's master craftsman Ram Singh Malam designed the palace in the local style. And decorated it in the European style with glass, mirrors, and tiles.
The palace had two floors. The first floor has the Audience Hall, the Pleasure Hall, the Hall of Mirrors, and the State Apartments. And the second floor has the ante-chamber, Darbar (Court) Hall, and Marriage Hall. Nowadays, the building has been converted into a museum. Which includes a "europeanize" collection that includes clocks, wares, mechanical toys, paintings, and pictures.
Visiting Hours
Morning : 9:00 am to 12:00 am | Evening 3:00 pm to 6:00 pm.
Closed on : Thursday.
Charges : Entry Rs. 20/- | Photography Rs. 30/-.
Meanwhile, exploring Aina Mahal we met someone who guide us to visit Hill Garden, Mata na Madh & Narayan Sarovar. So we planned to Hill Garden first.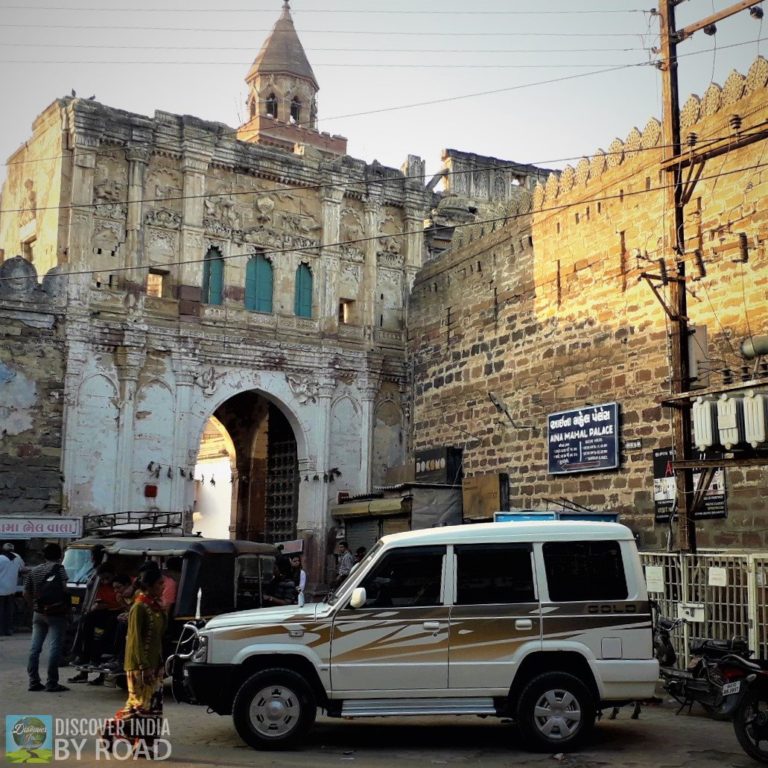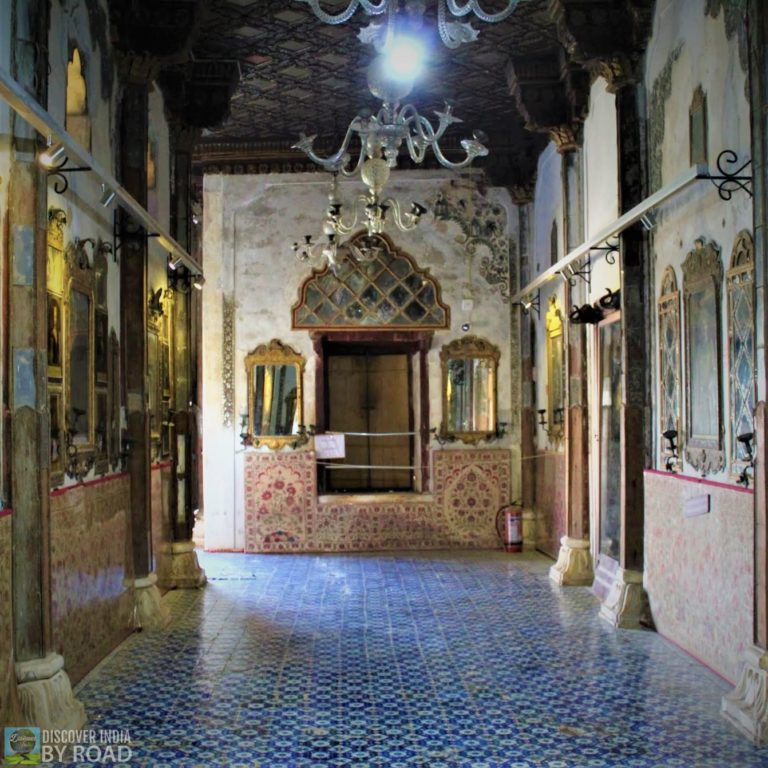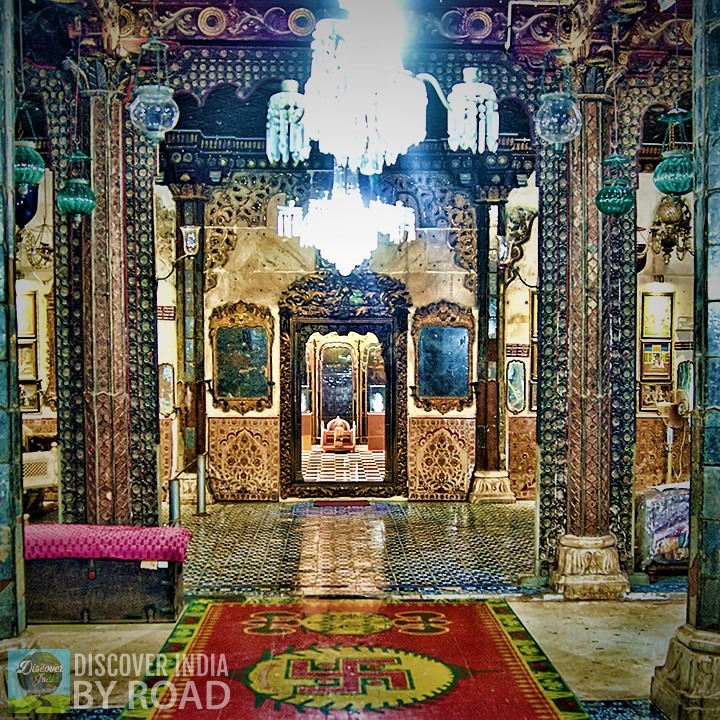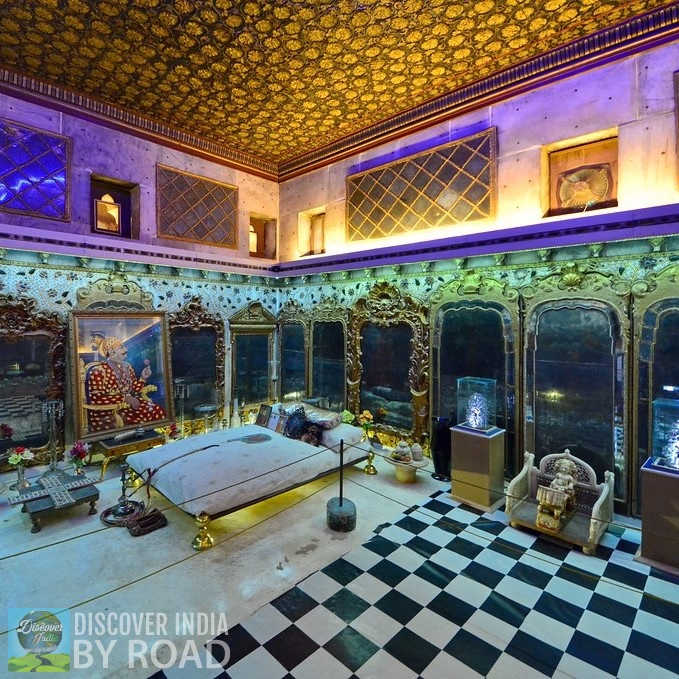 Hill Garden & Blue Whale, Bhuj
The Hill Garden is not so far from Prag Mahal Palace, within 10 minutes we reached there. The Hill Garden, also known as 'Hanging Garden of Bhuj'. This unique garden is present on the hilltop with an area of around 22 acres. There are many activities for children in this garden, like merry-go-rounds, giant wheels, Toy cars, and bike rides, etc. (On chargeable basis). You can also enjoy a mini toy train ride here. The entry fee is Rs.2/- per person. The park remains open until 10 pm.
The main attraction of Hill Garden is the BLUE WHALE PAVILION. The entire skeleton of 85 feet long dead Blue whale found at Diu coast. This whale is displaying in a huge dome-shaped structure. Here you have to pay the entry fee Rs.10/-.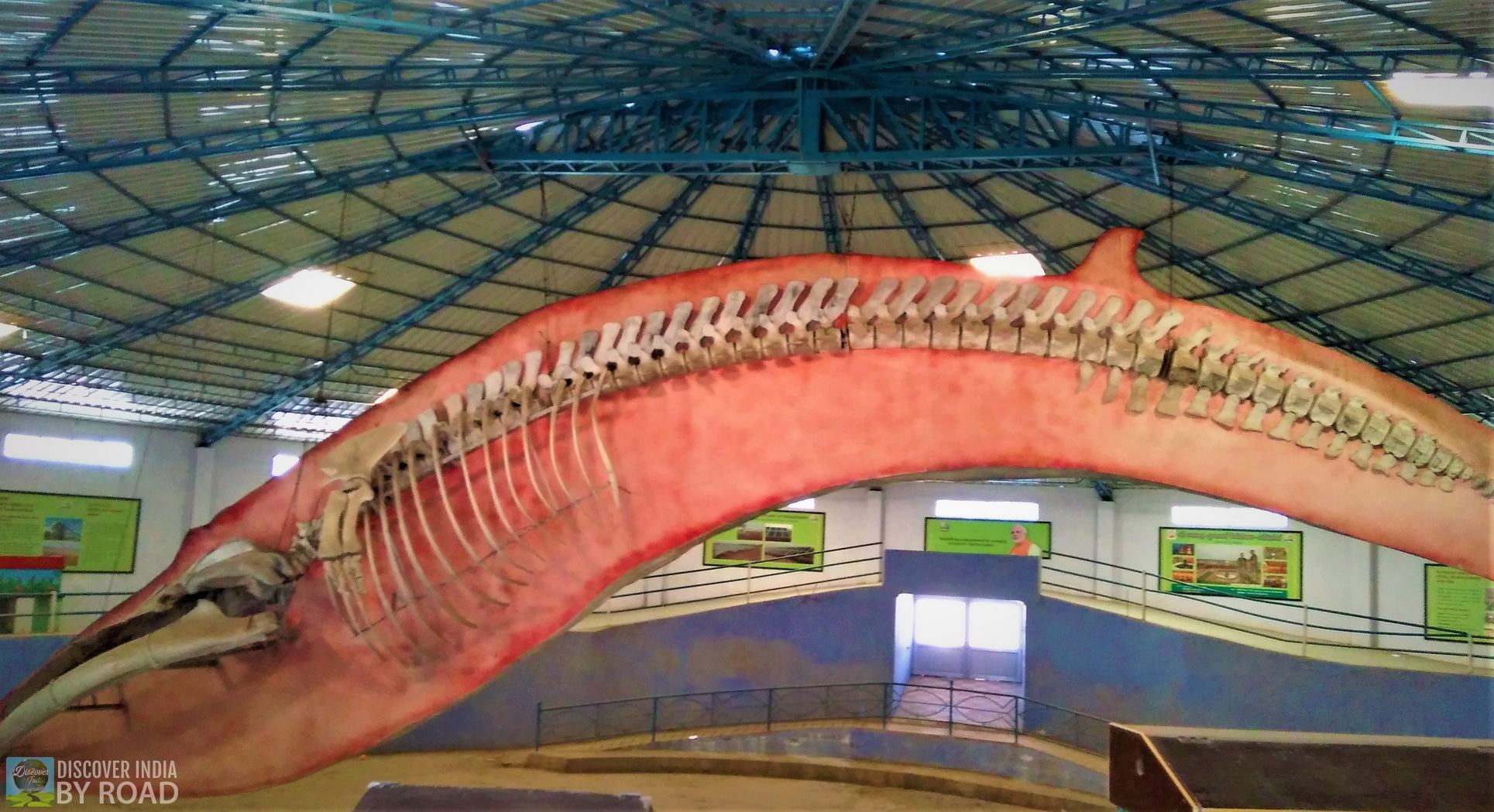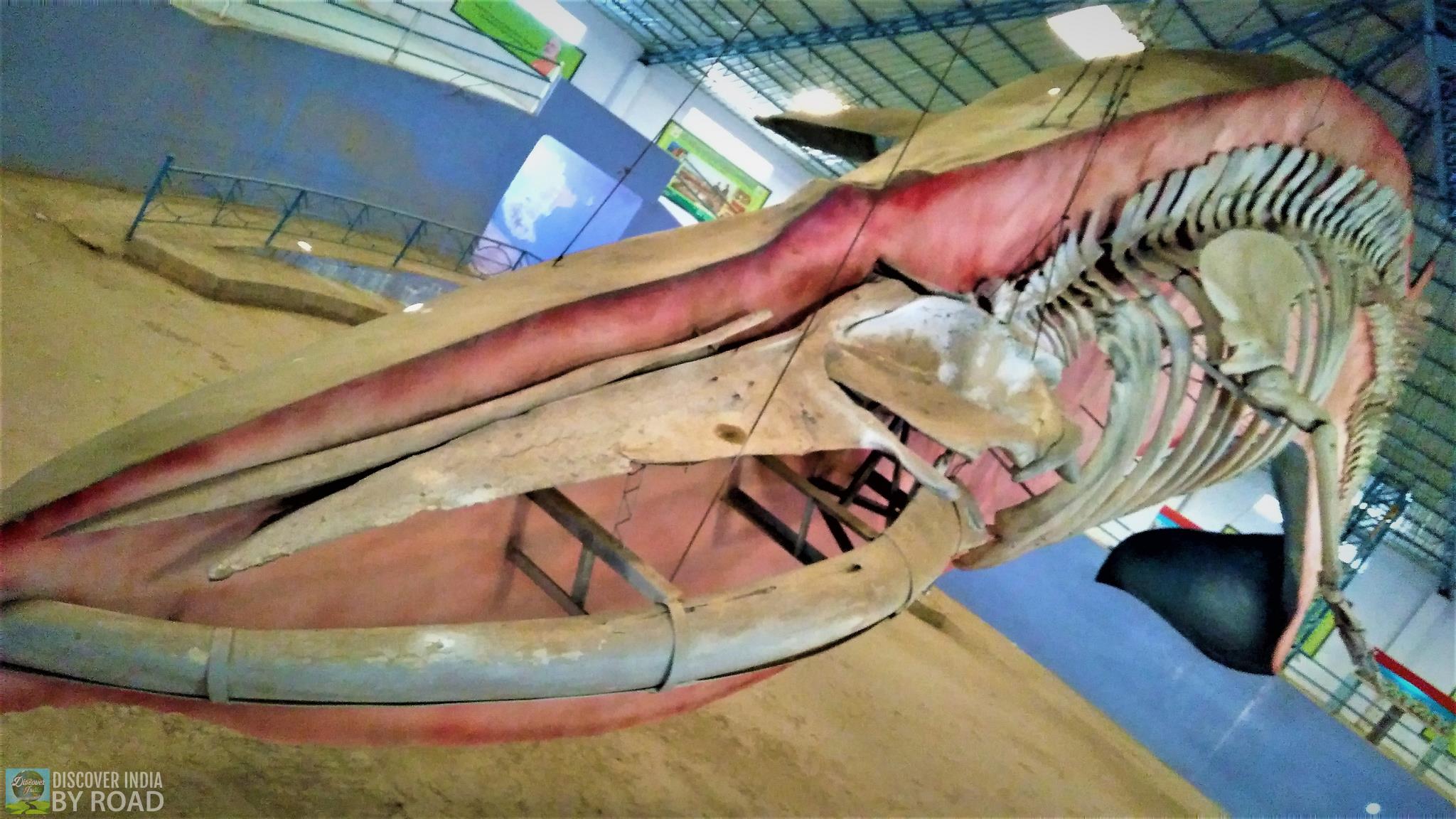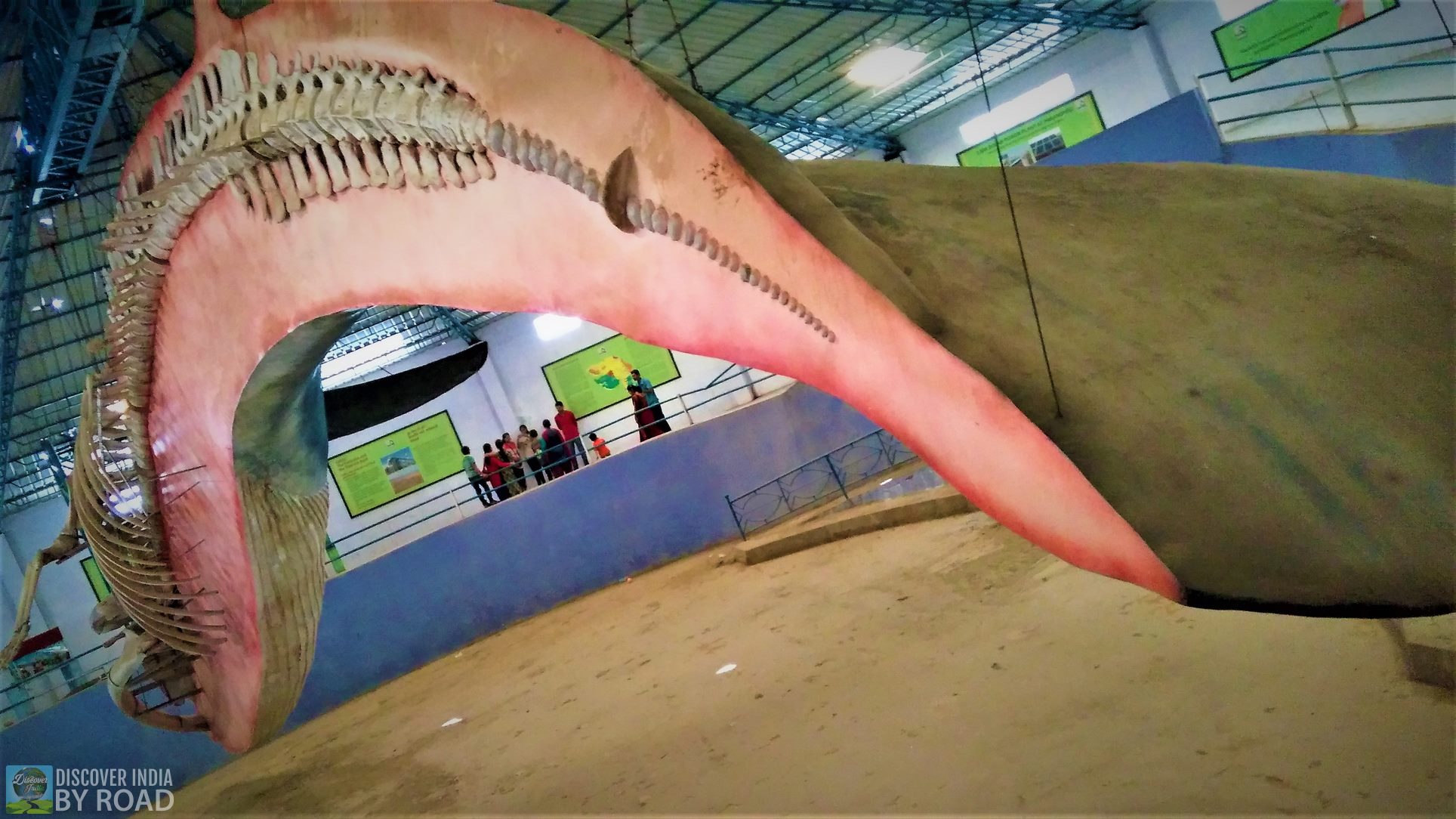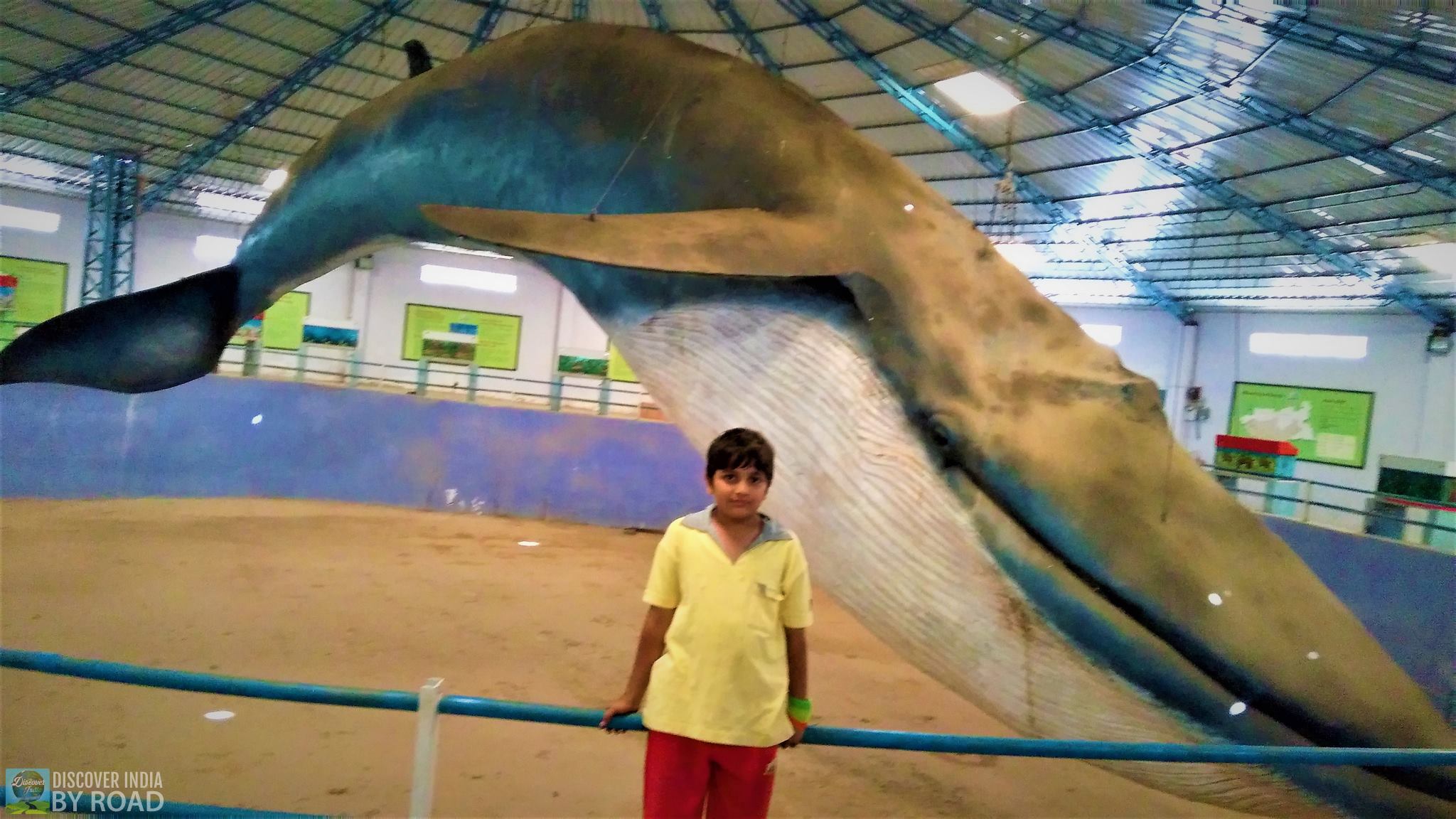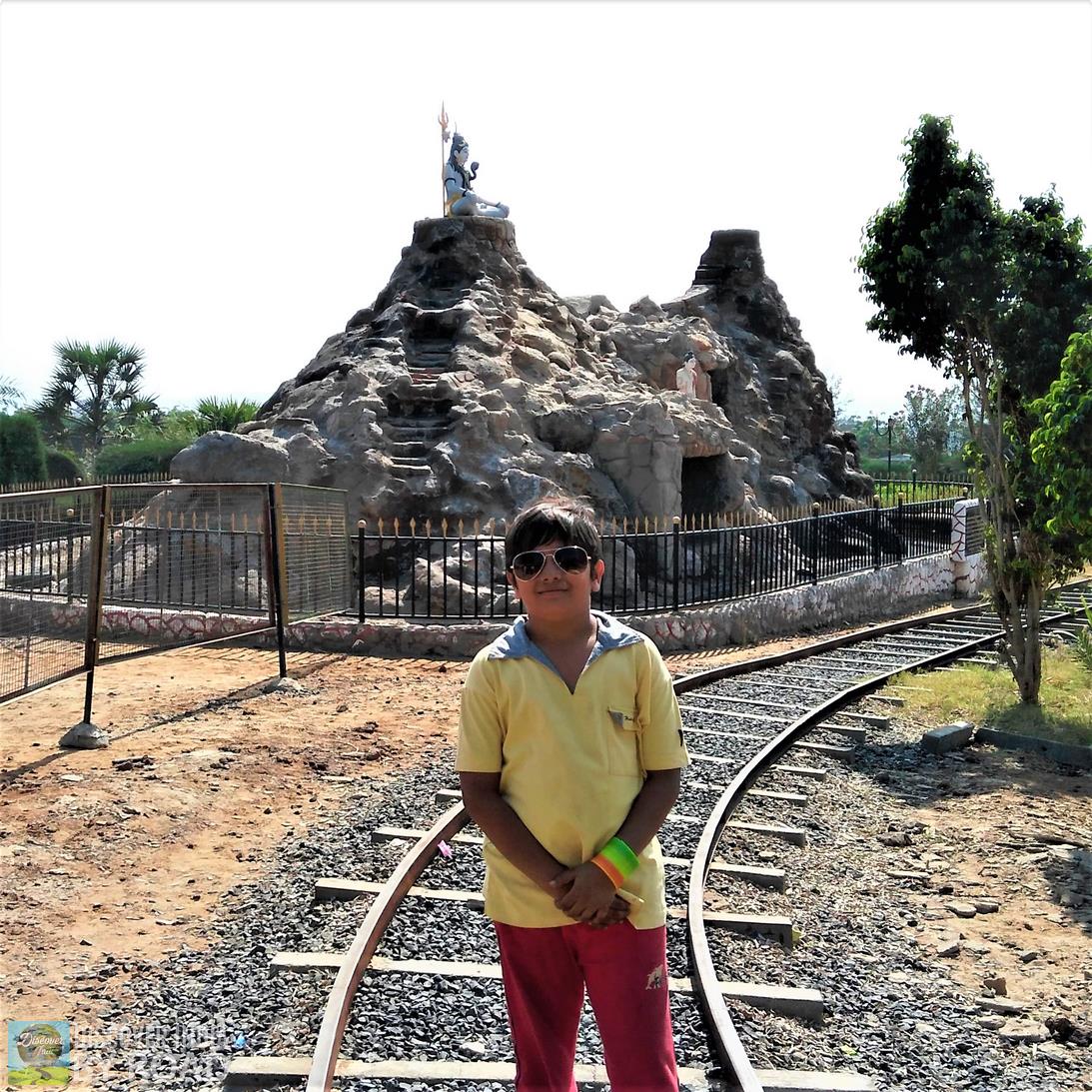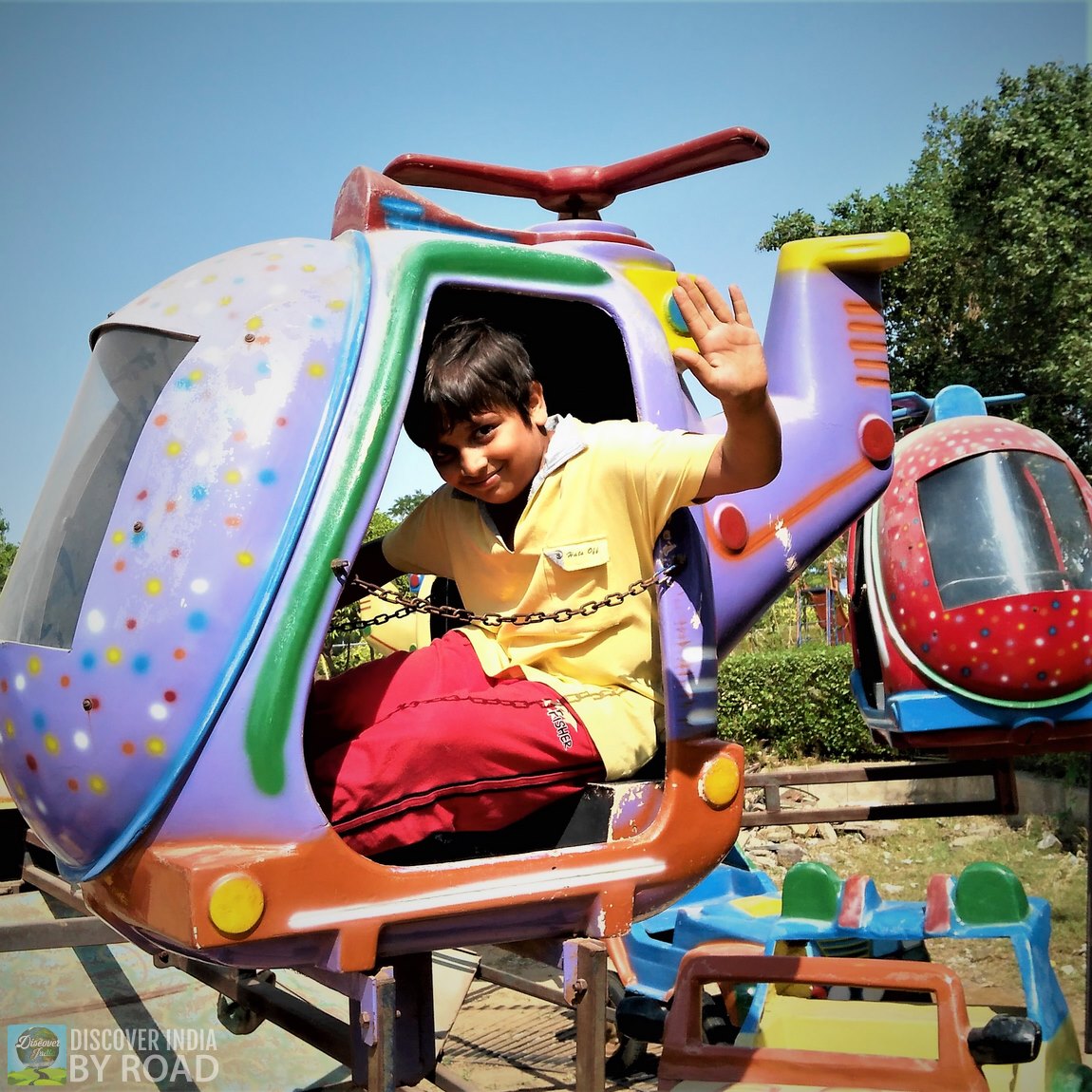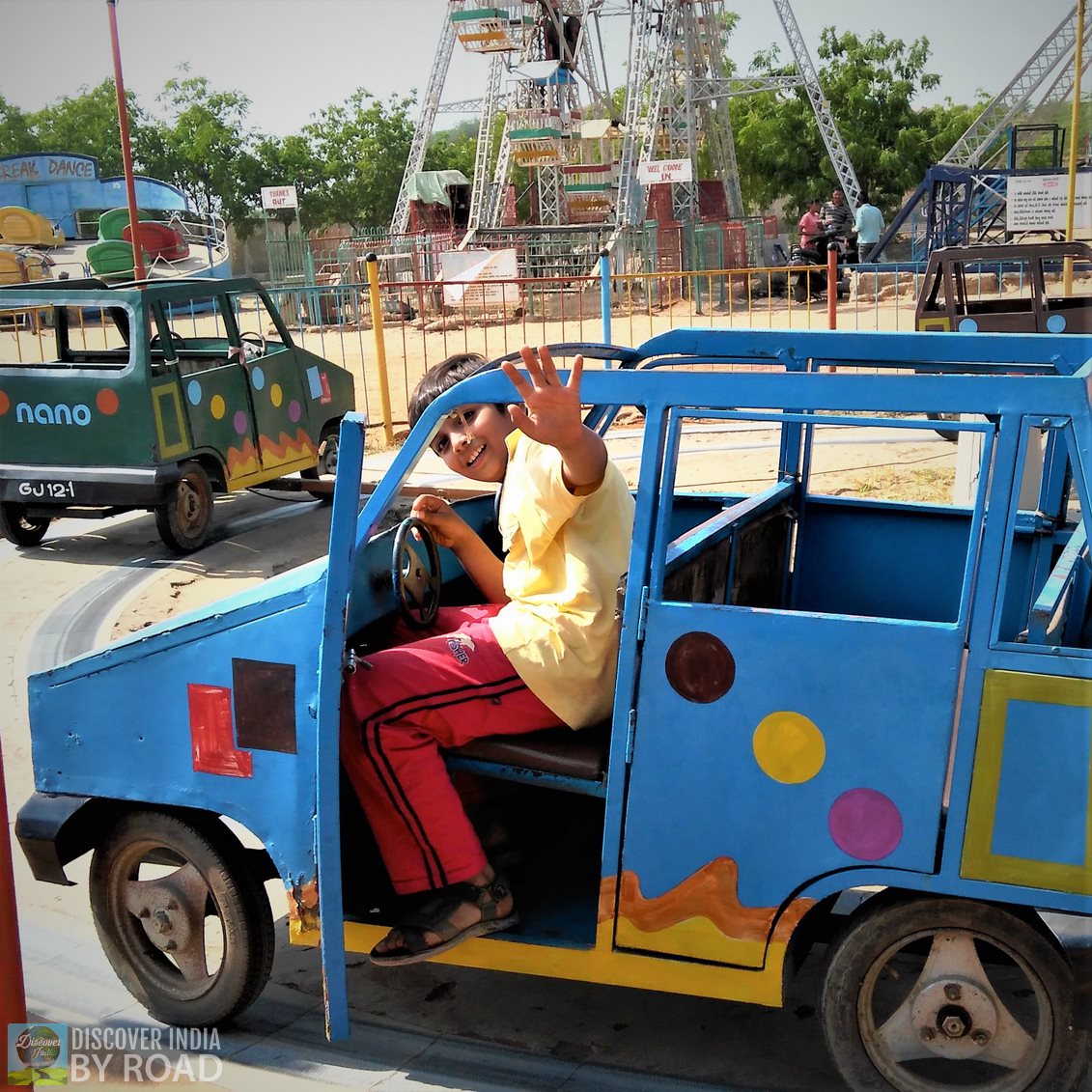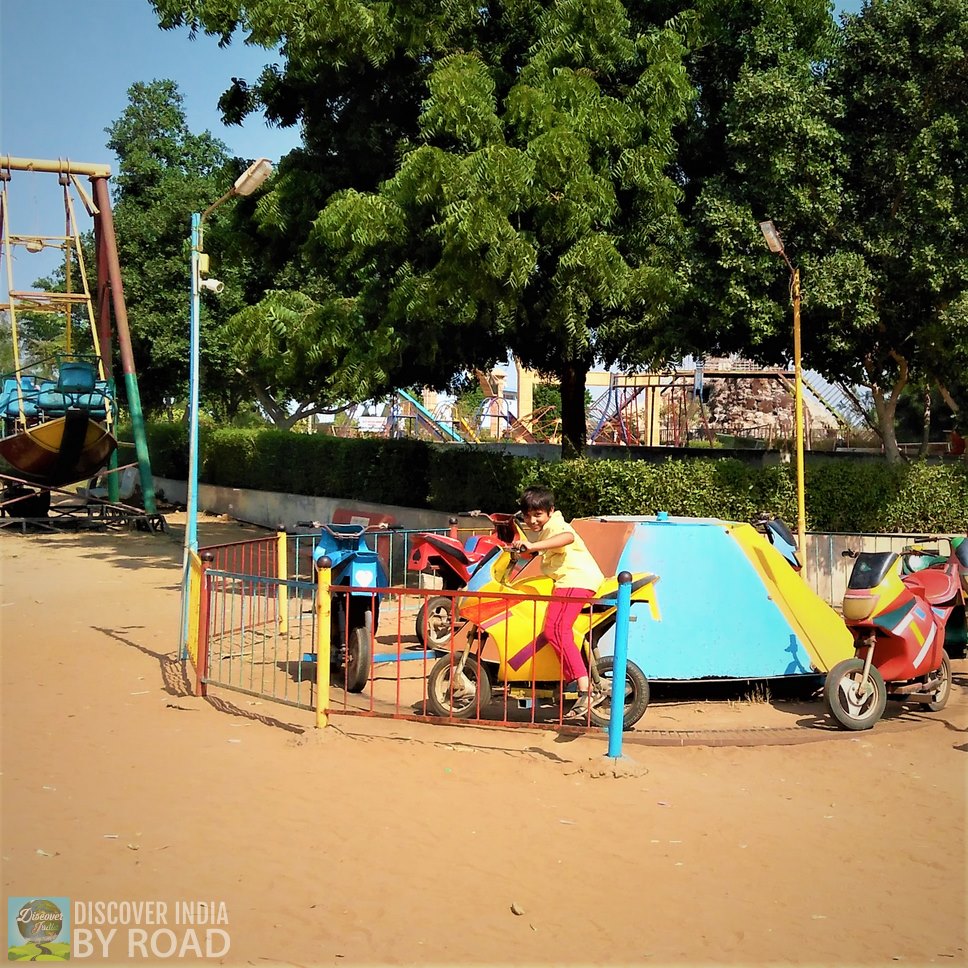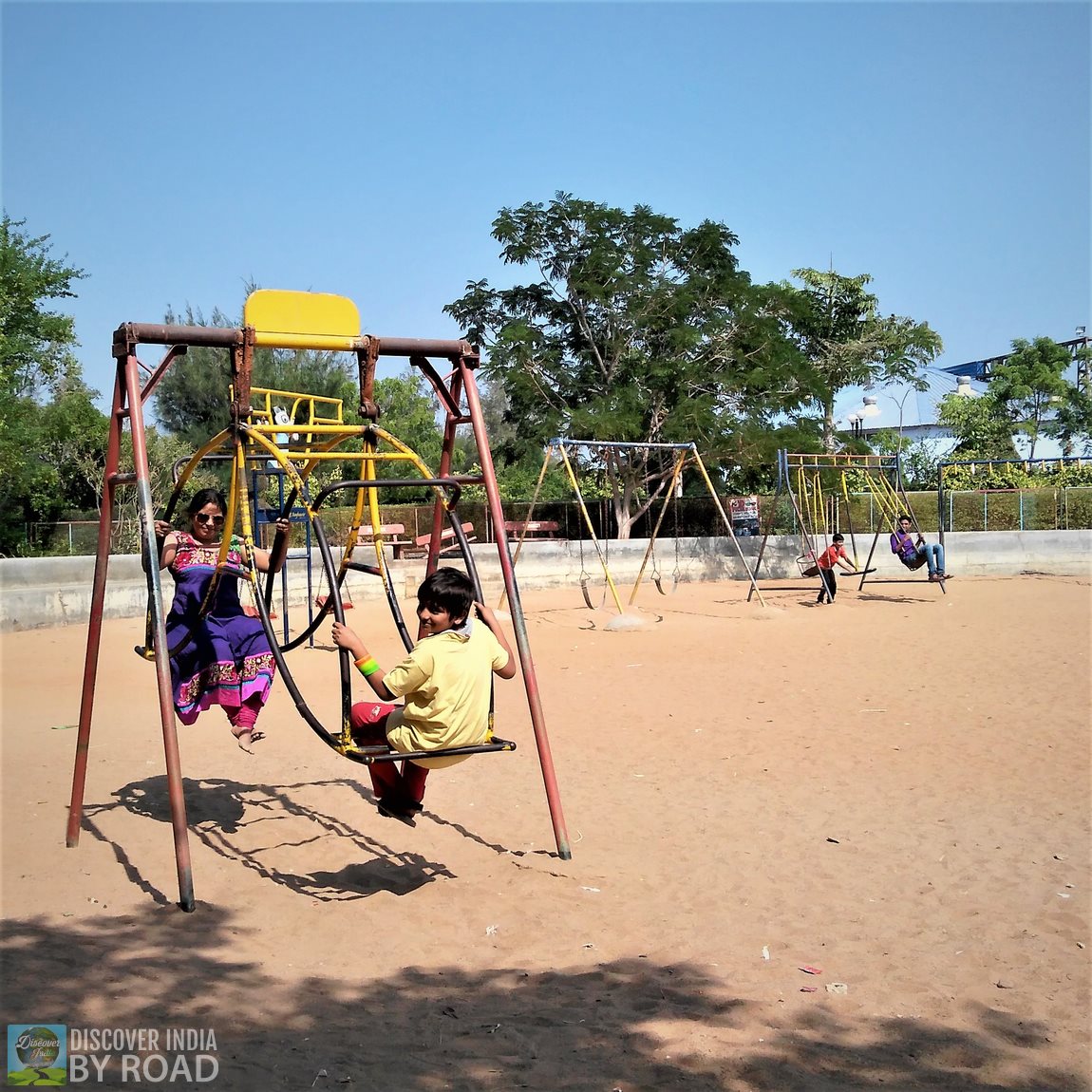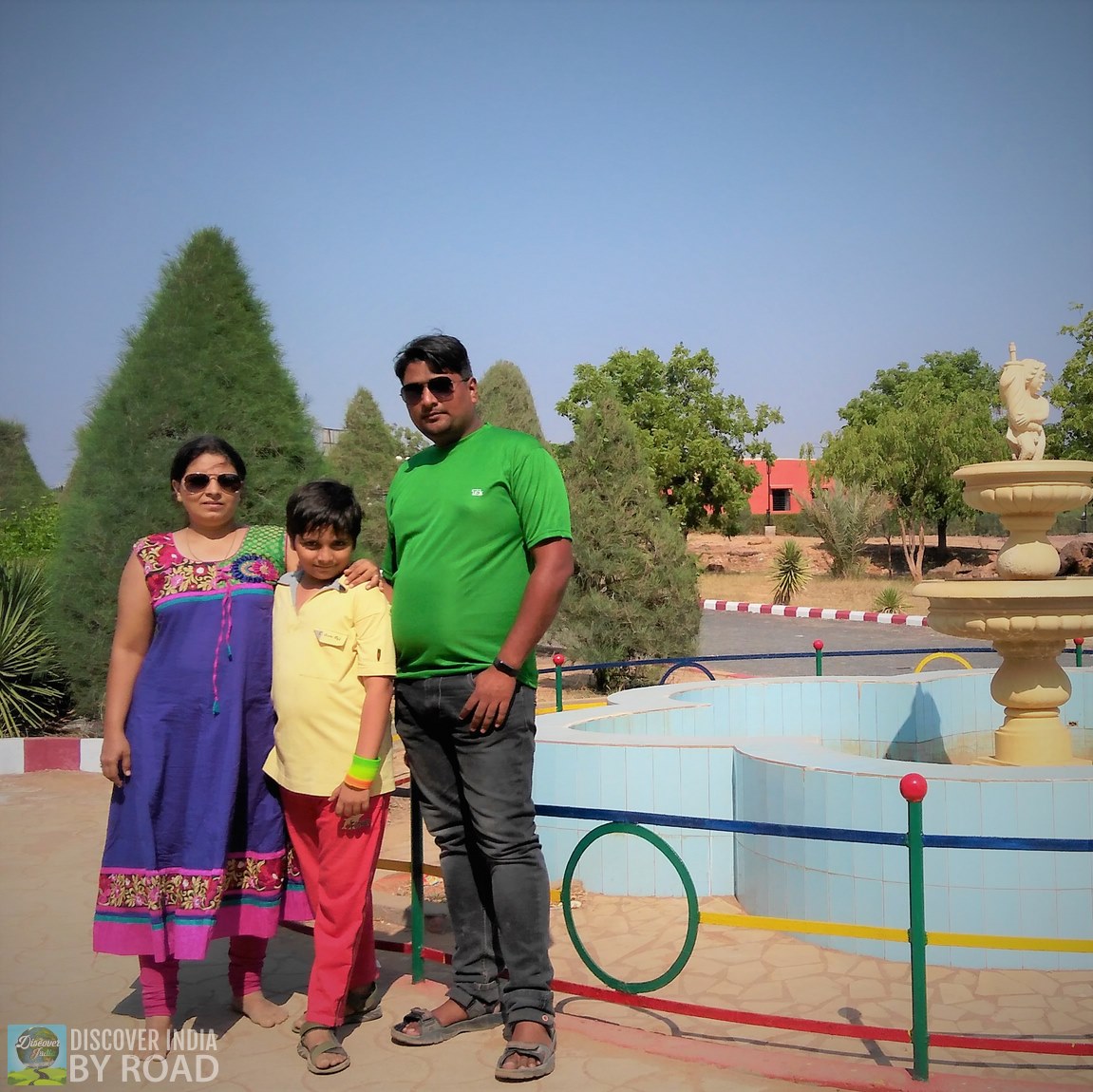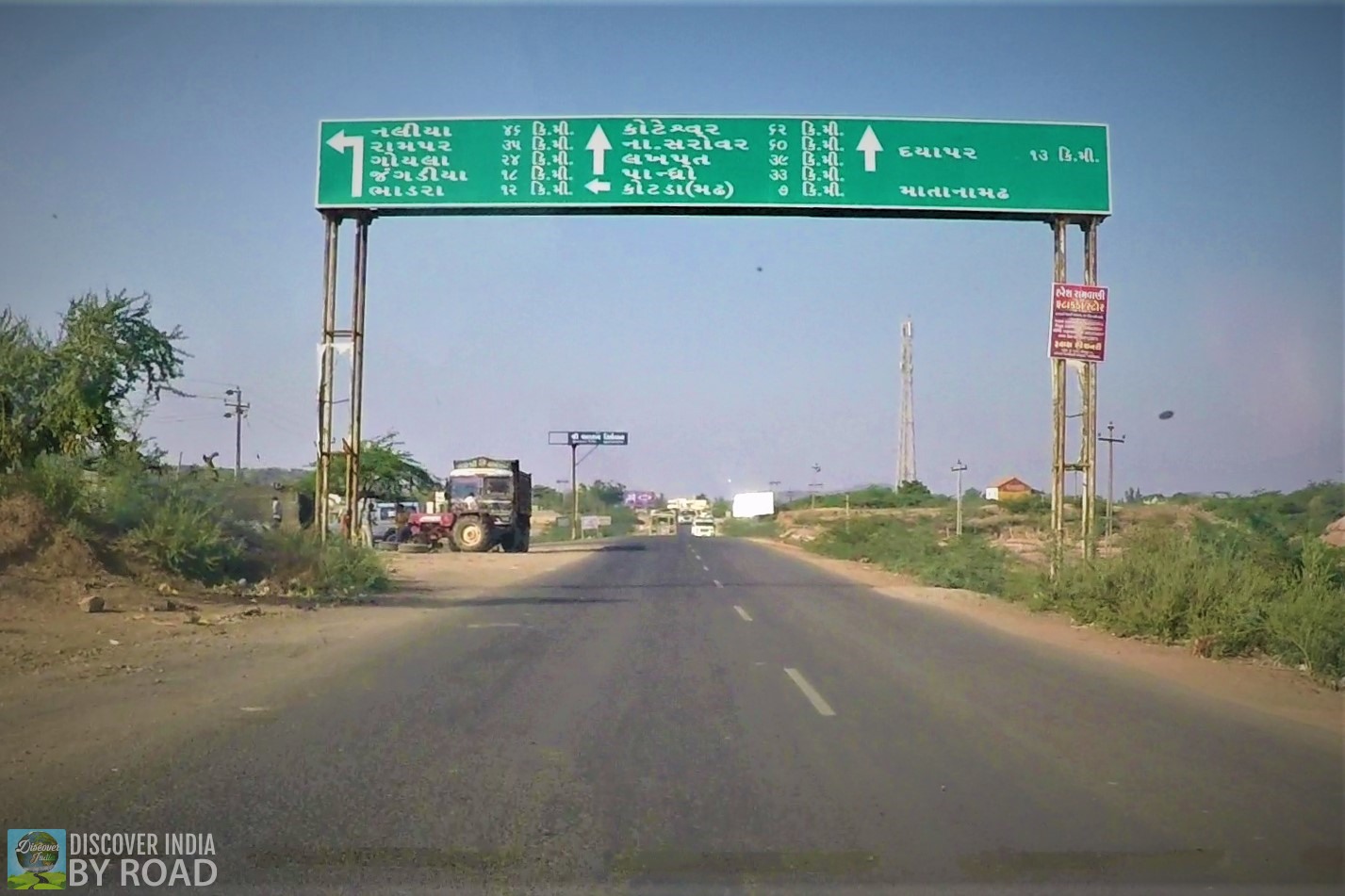 It was overall a very amazing experience, we also enjoyed playing with kids in their activities. Now it was time to proceed towards our next destination. Actually, in the beginning, we had planned to visit the Runn of Kutch. For which, we had to travel around 82 km till Dhordo, the gateway of Rann Utsav. 
But, when we inquired about a tent, we came to know that due to vacation, everything was full. However, it wasn't worth to visit the Runn of Kutch, unless you stay there.
So we skipped our visit to Runn of Kutch & proceeded towards Mata Na Madh & Narayan Sarovar. Mata Na Madh is famous for the temple of Desh Devi Maa Ashapura. Similarly, Narayan Sarovar is famous for Shri Kotheshwar Mahadev Temple.
Mata Na Madh is around 95 km away from Bhuj town, a village in Lakhpat Taluka. This temple is dedicated to Ashapura Mata. The Kul Devi of former Jadeja rulers of the Kutch state. In the 14th century, two Karad Vanias (Baniya) Ajo, and Anagor had built the temple. In the earthquake of 1819 & 2001, the temple damaged twice. Eventually, from time to time it has been reconstructed.
The divine Idol of Ashapura Mata is a red-Colored stone, about six feet high and six feet broad. Starting from the base, narrowing up to a top in a shape looked like a human figure. This idol came from Jashod in Marward, Rajasthan. Another unique thing about the idol of Ashapura Mata is that it has 7 pairs of eyes.
We reached Mata Na Madh by around 3:00 pm. We had to park our car a little bit far from the temple, as there was no parking place available nearby. After passing through the narrow street, we entered the main temple complex. It was charismatic to look at a temple that is carven out of Pink sandstone.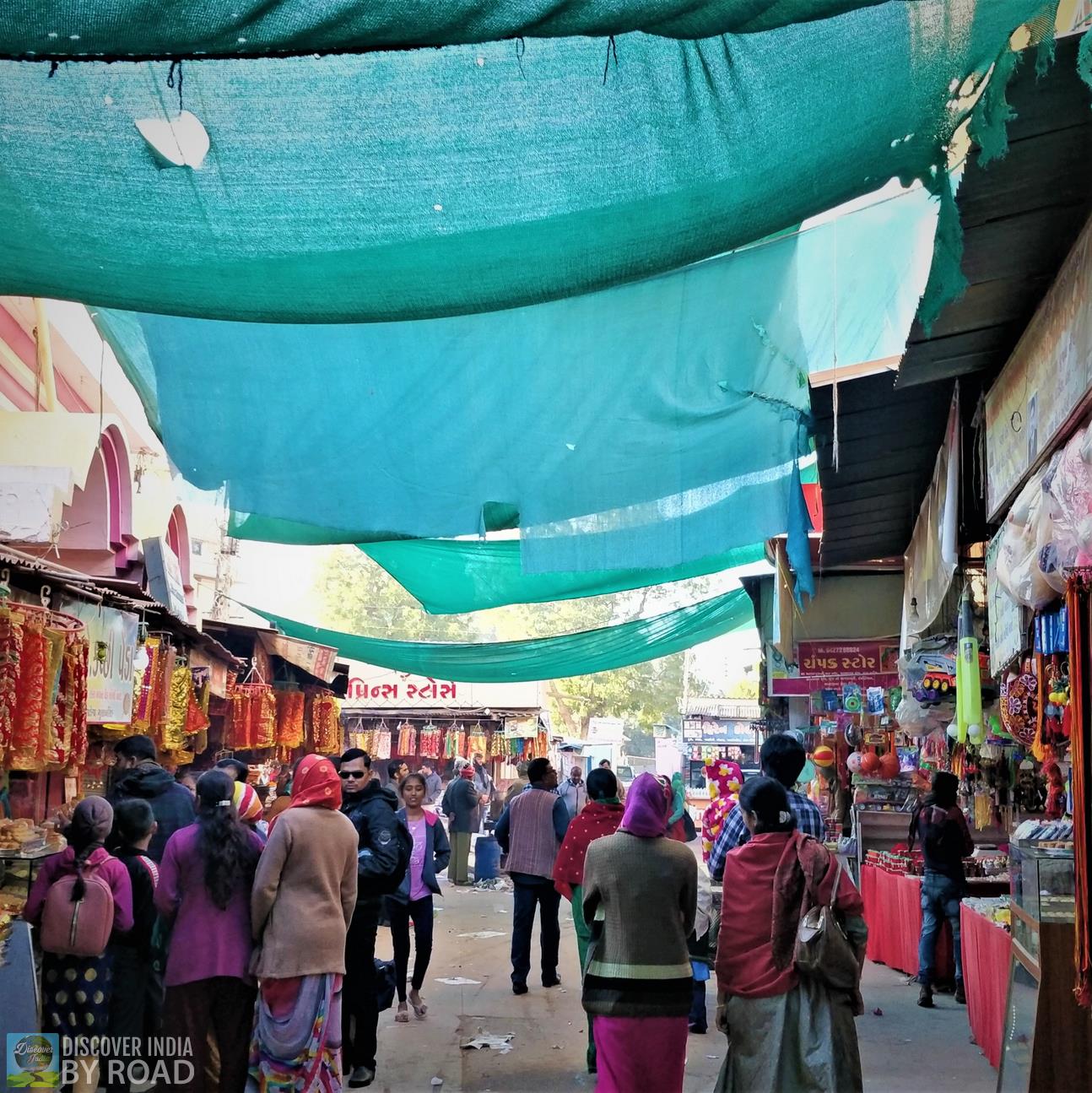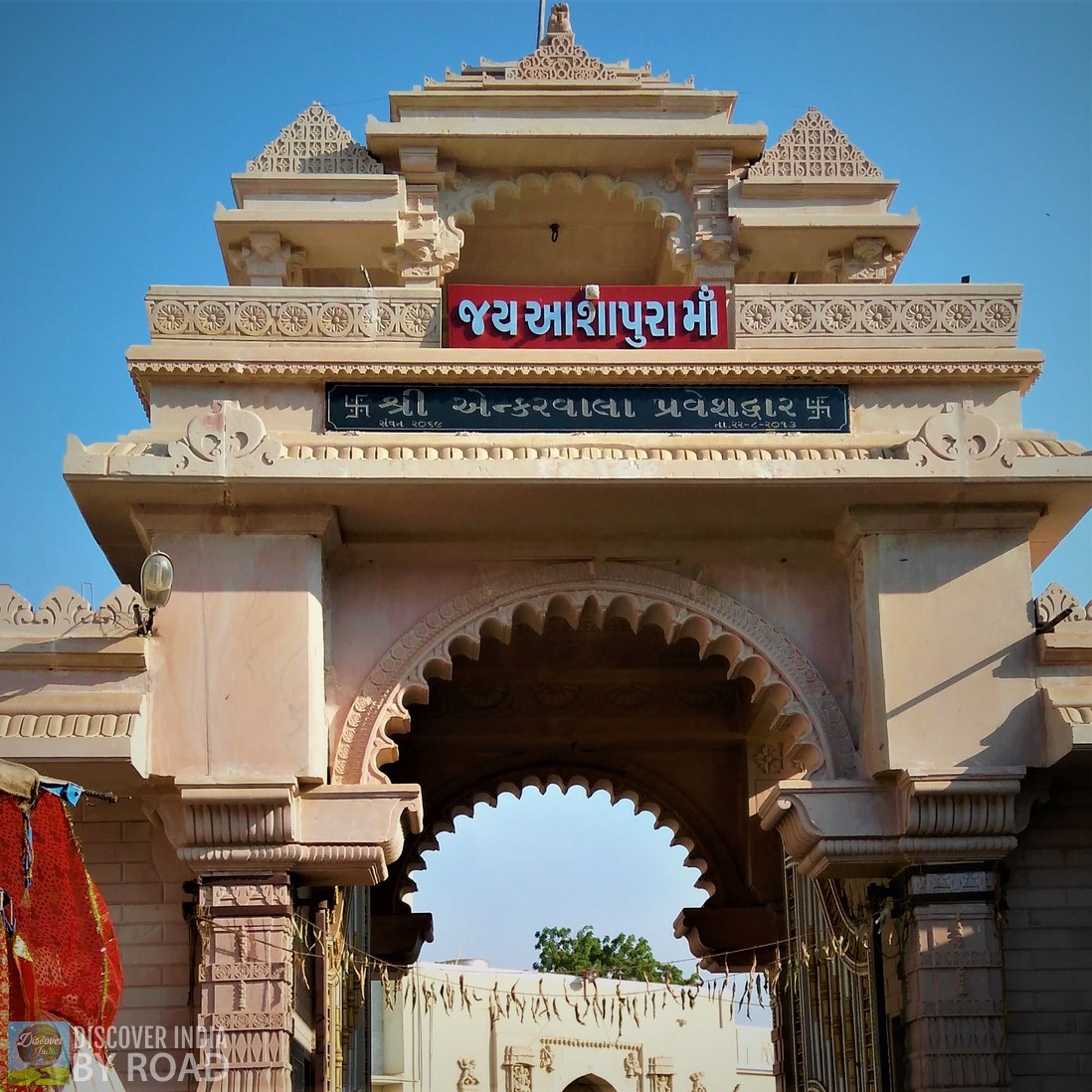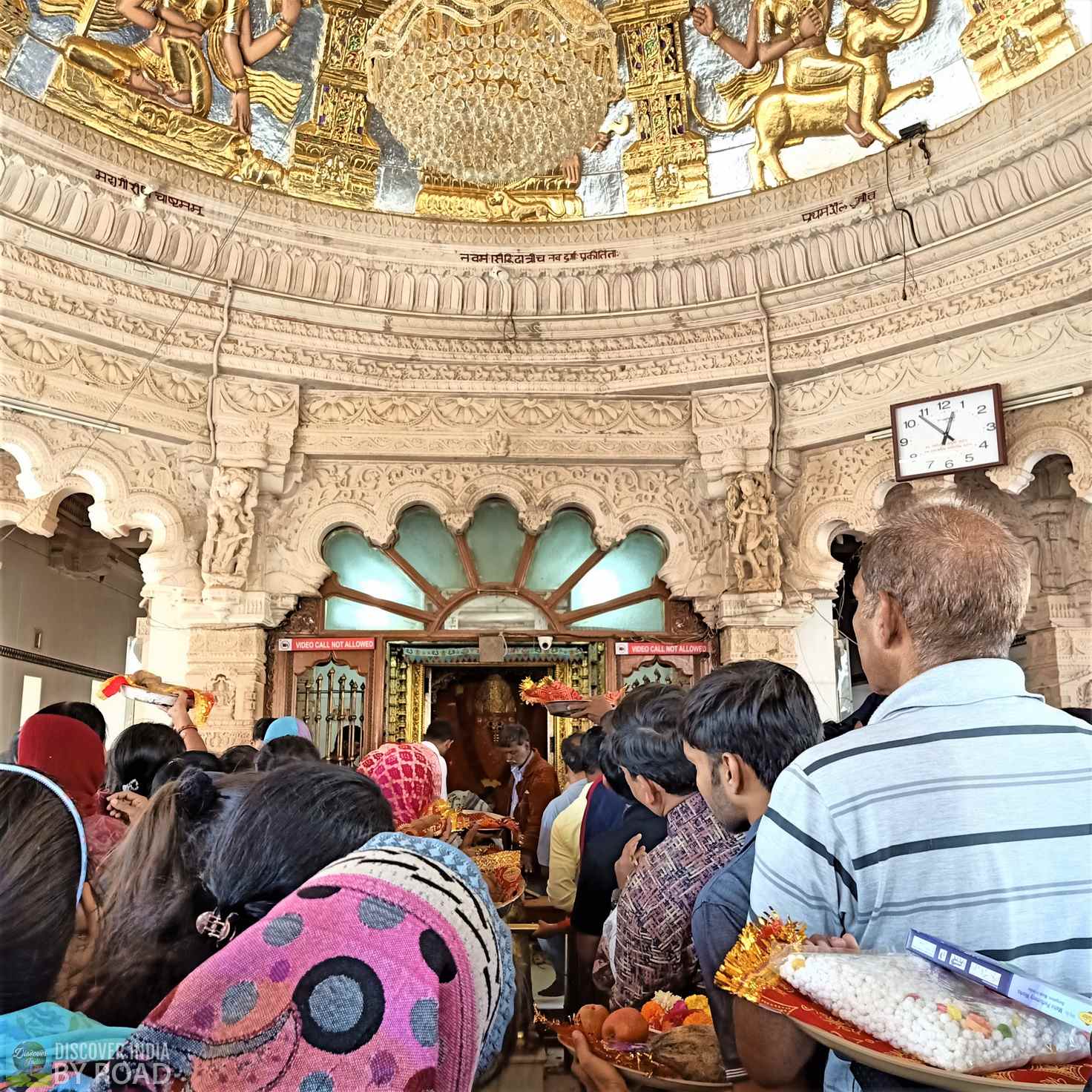 The temple committee also provides stay faculty for devotees at a reasonable cost. So we inquired for rooms in the office, the rooms were available. But, the manager suggested us to stay at Narayan Sarovar. As per his opinion in the Narayan Sarovar, there were many more scenic places to explore & also a better place to stay. So we decided to go there.
Mata na Madh Temple Timings & Aarti Timings
Morning :  5:00 am to 1:00 pm | Evening 3:00 pm to 9:00 pm. 
Morning : Mangala Aarti  5:00 am, Dhoop Shringar Aarti 9:00 am | Evening Aarti : After sunset.
Where to stay in Narayan Sarovar?
Narayan Sarovar is around 59 km away from Mata Na Madh. It's around 4:30 pm if we start our journey right now, then we will be reaching there by around 6:00 pm. We reached Narayan Sarovar by 5:30 pm. As we entered, we saw a huge guest house named Valram Vishramdham. The Guesthouse was huge, so we asked for rooms. Fortunately, there were many rooms available, at a very reasonable cost. We got an A/c. the room just at Rs.600 for a night. (Check-out time was 10:00 am) The rooms were very clean & tidy. In my opinion, this is must stay place in Narayan Sarovar.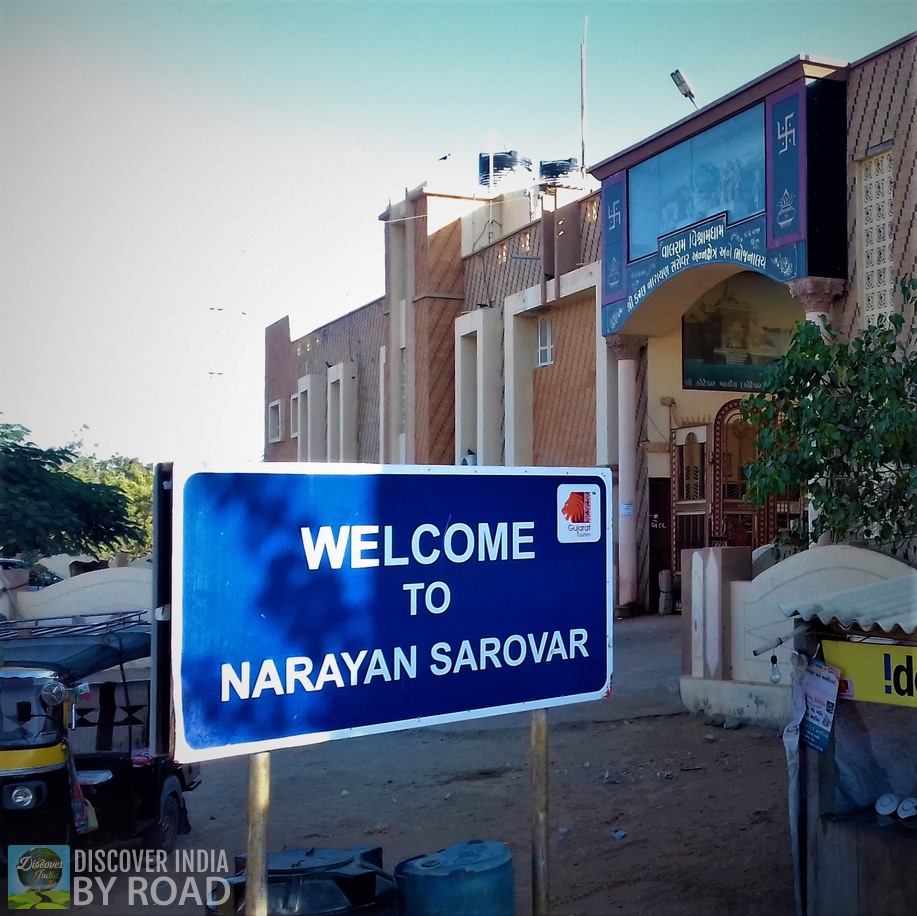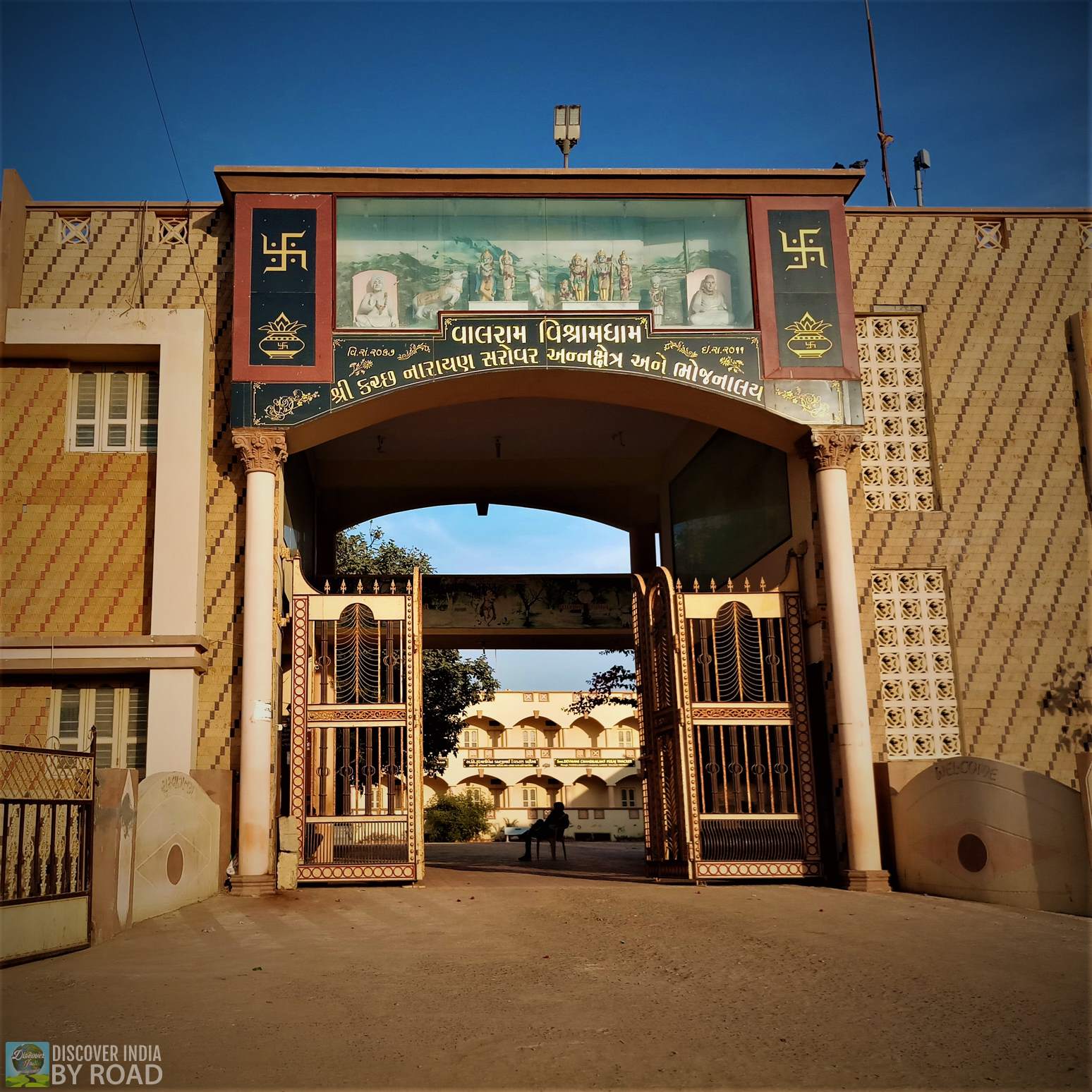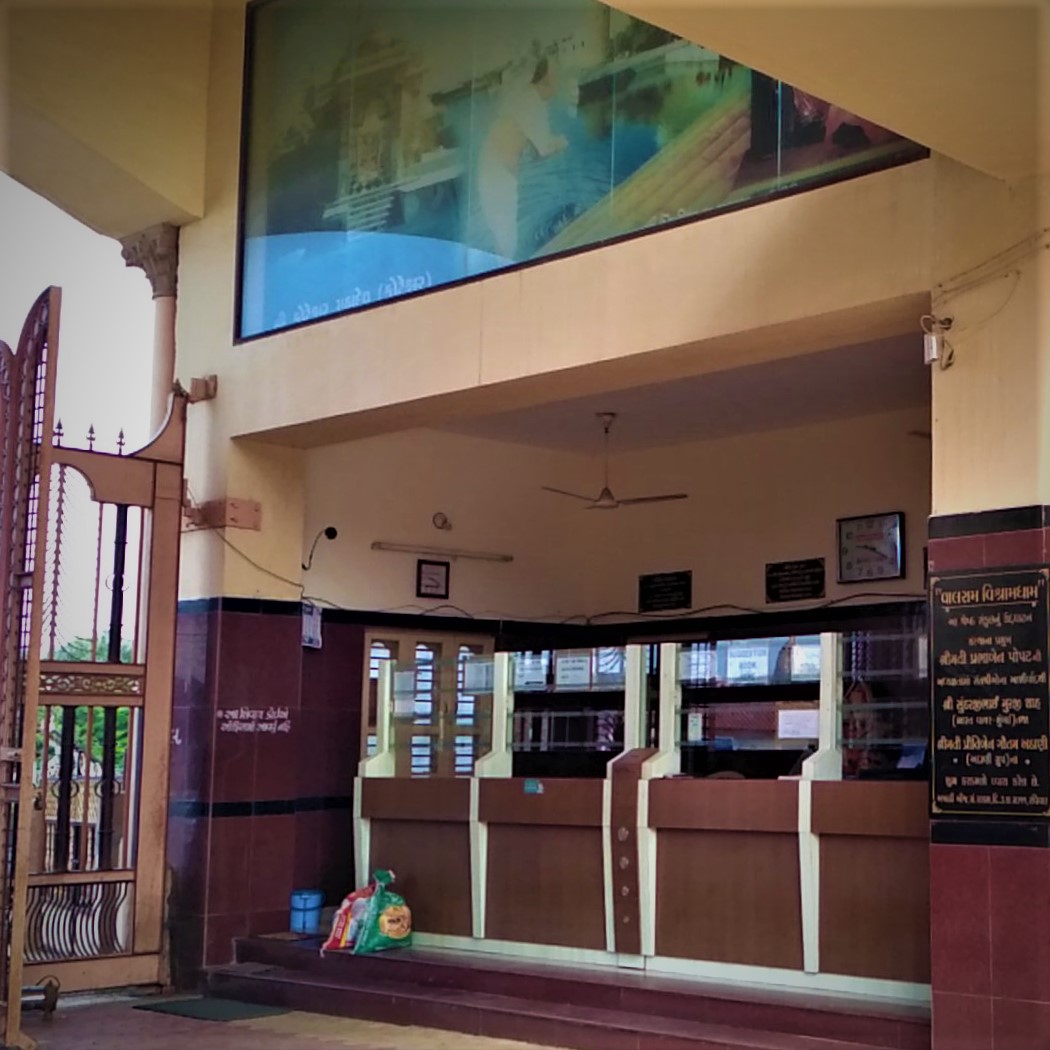 The Sun was about to set, & the coast was nearby our Guesthouse. Hence, we quickly shifted our luggage into our room & we left for the coast to enjoy the Sunset. This place is located on the coastal border between India & Pakistan. 
There are two Temples on the seashore, namely, Koteshwasr Mahadev & Nageshwar Mahadev. The Koteshwar temple is on a small hilltop. The Nageshwar temple is on the coast of the Arabian sea. When we walked ahead, we saw a small BSF Post at the end. Tourists can't go any further beyond this point. We sat & relax there for some time to enjoy the Sunset. 
Now, we had started thinking about our dinner. Because earlier while entering the Narayan Sarovar, we had observed only a few hotels here. 
But, when we reached the Guesthouse, the watchman suggested us to have our dinner at the Valram Trust's Bhojnalaya.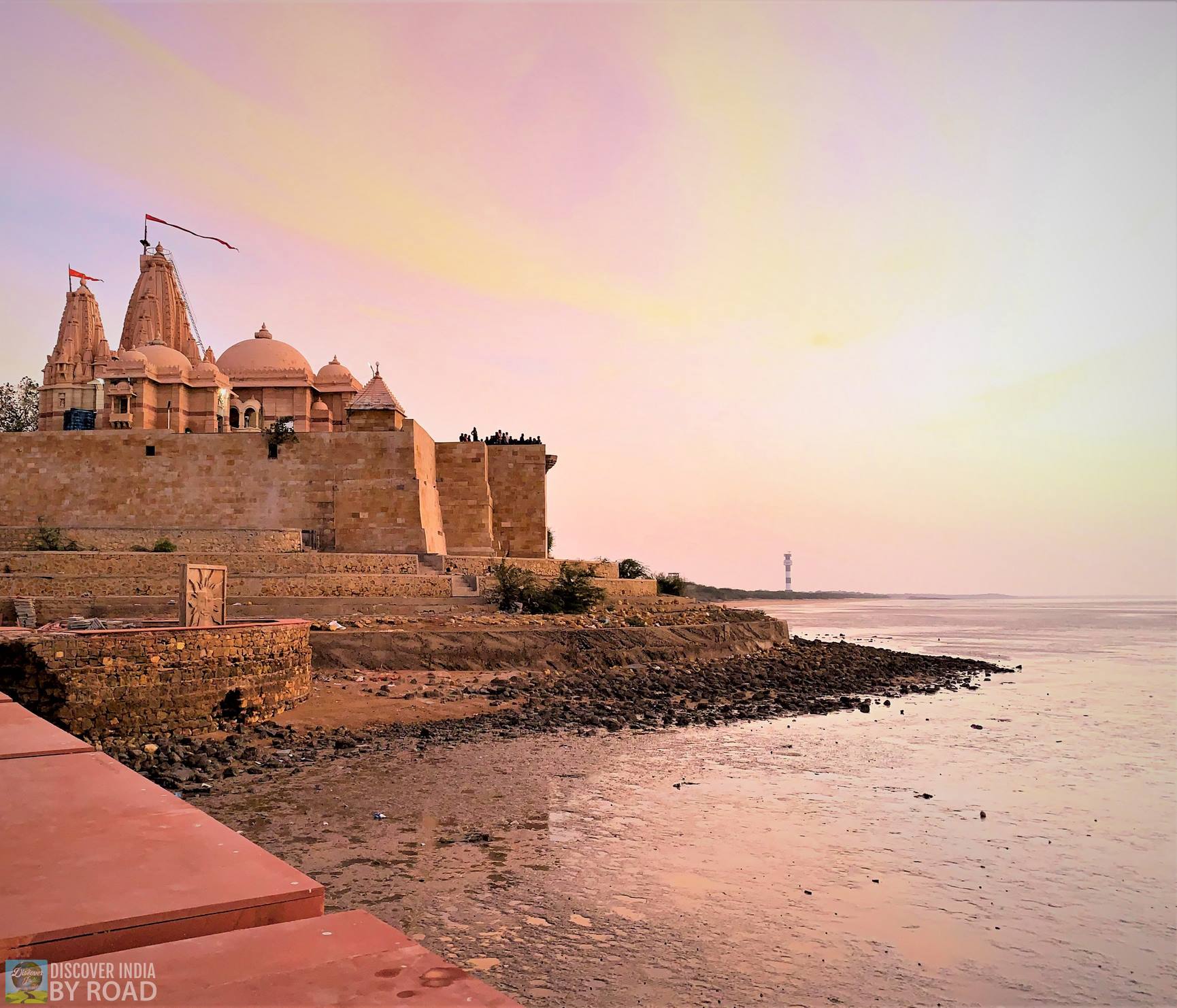 Here we didn't have much choice of hotels, so we had to have our dinner there. We saw many tourists coming here for dinner. So we got some assurance that we were in the right place. The food was not free here, they took a small amount as a donation, which is good. The food was good, after having dinner, we went back to our room. Tomorrow we are going to visit the Narayan Sarovar & other Tourist Places.
Narayan Sarovar & Trivikramrai ji Temple
The next morning, after having breakfast first we went to Narayan Sarovar Lake. Narayan Sarovar is one of the five sacred lakes; collectively called Panch-Sarovar. Mansarovar near Kailash (Now in Tibet), Bindu Sarovar in Siddhpur, Gujarat, Pushkar Sarovar in Ajmer, Rajasthan, and Pampa Sarovar in Hampi, Karnataka. The legend says that once upon a time the Sarasvati river had an outlet into the sea near the present-day of Narayan Sarovar. The water of the lake was filled with holy waters of river Saraswati.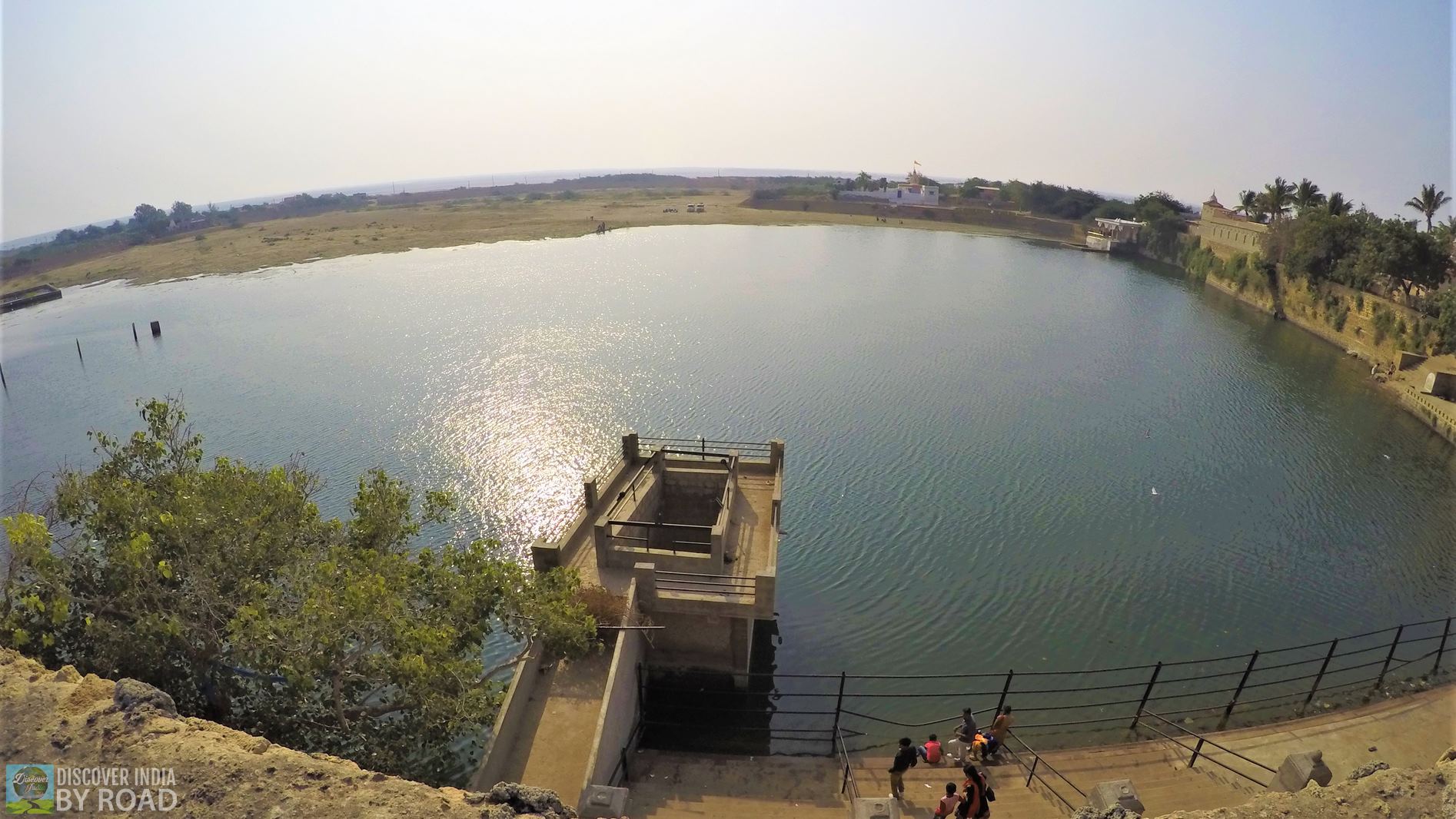 Apart from the lake, this complex consists of the temples of Trivikramrai Ji, Lakshminarayan Ji, Govardhannath Ji, Dwarkanath Ji, Adinarayan Ji, Ranchhodrai Ji, and Lakshmi Ji. These temples surrounded by a fortified wall, built by Mahakunvar Ji, the wife of Maharo Deshalji. Dwarka temple was the main inspiration behind the architecture of these temples. This place is very calm & beautiful, we click some pics & proceeded for Koteshwar Mahadev Temple.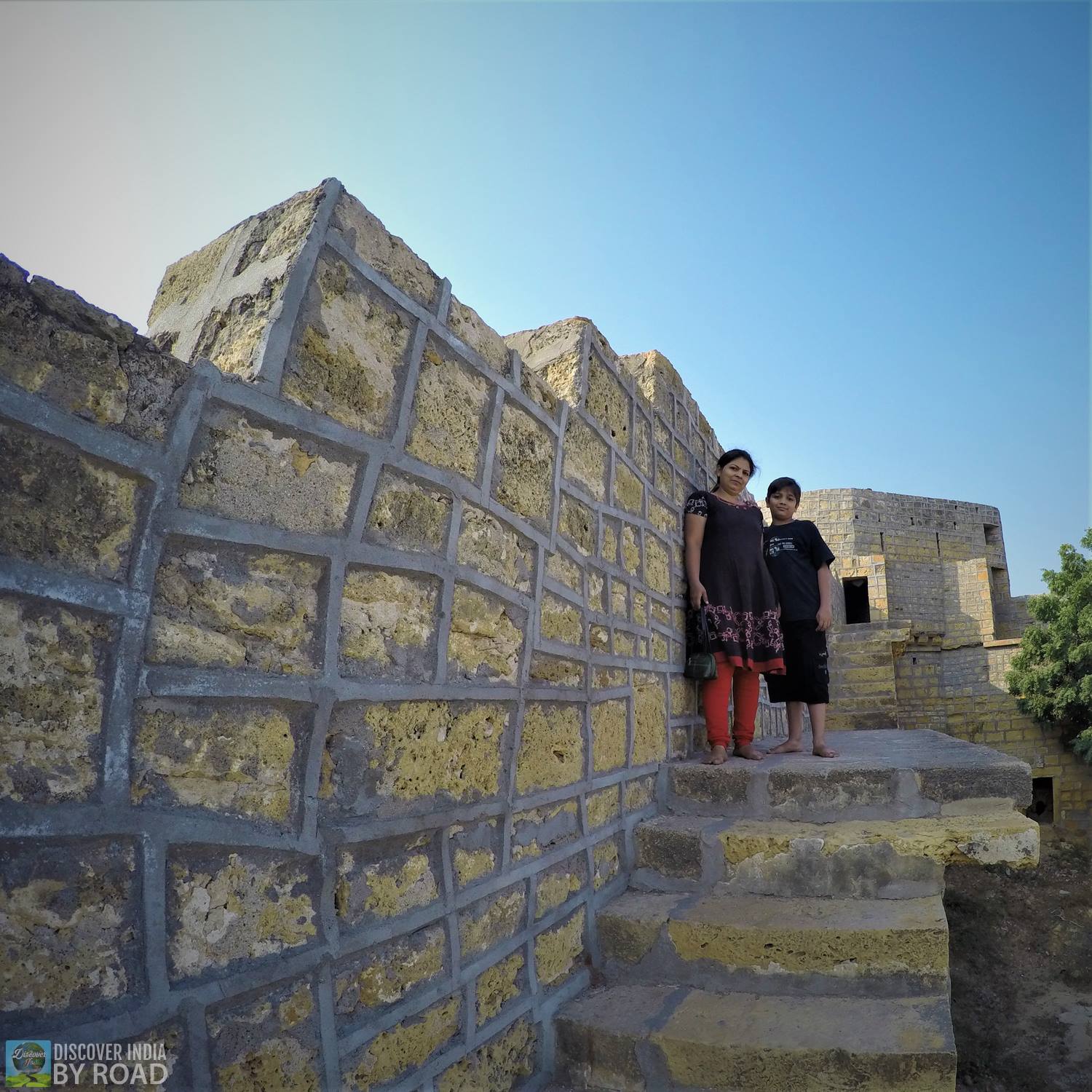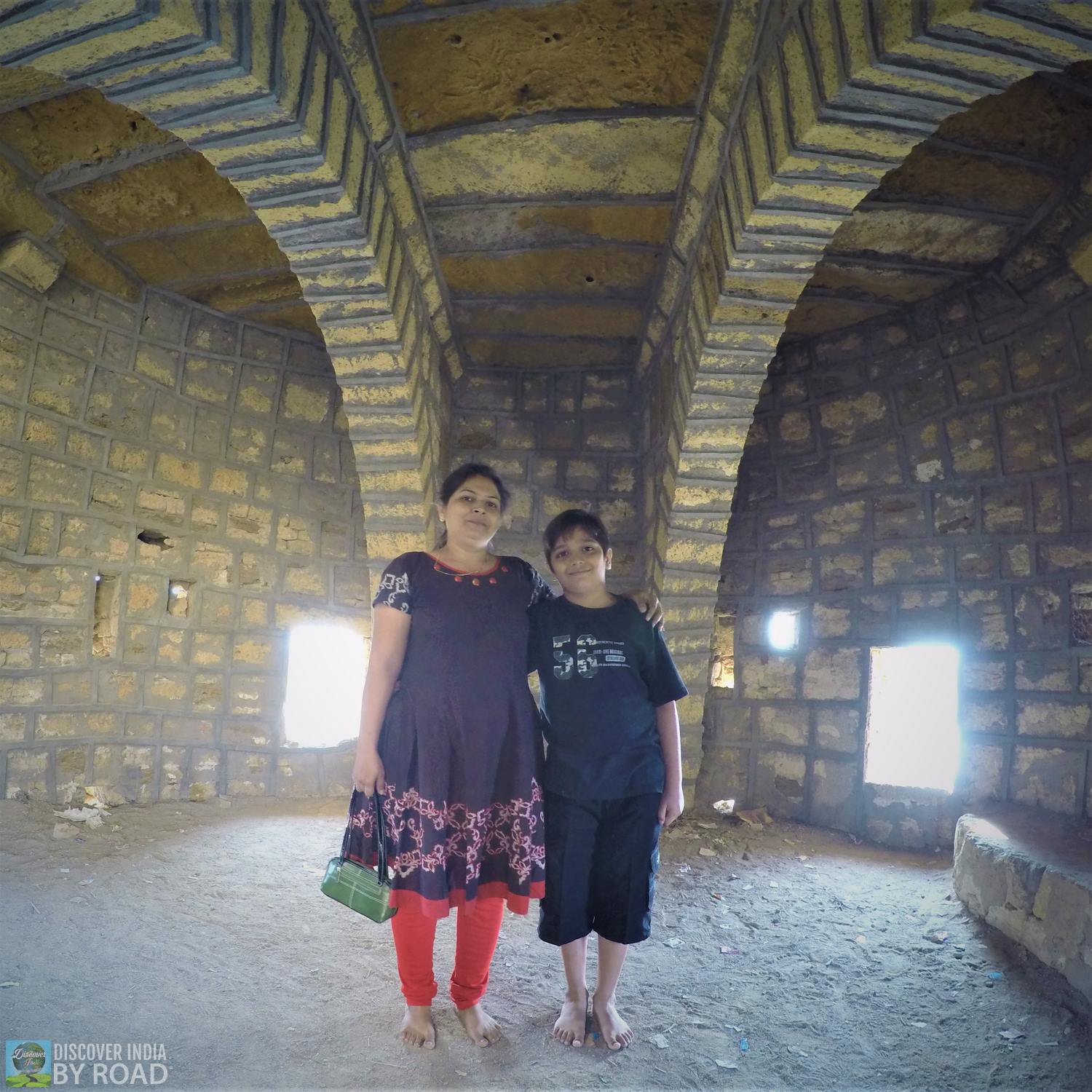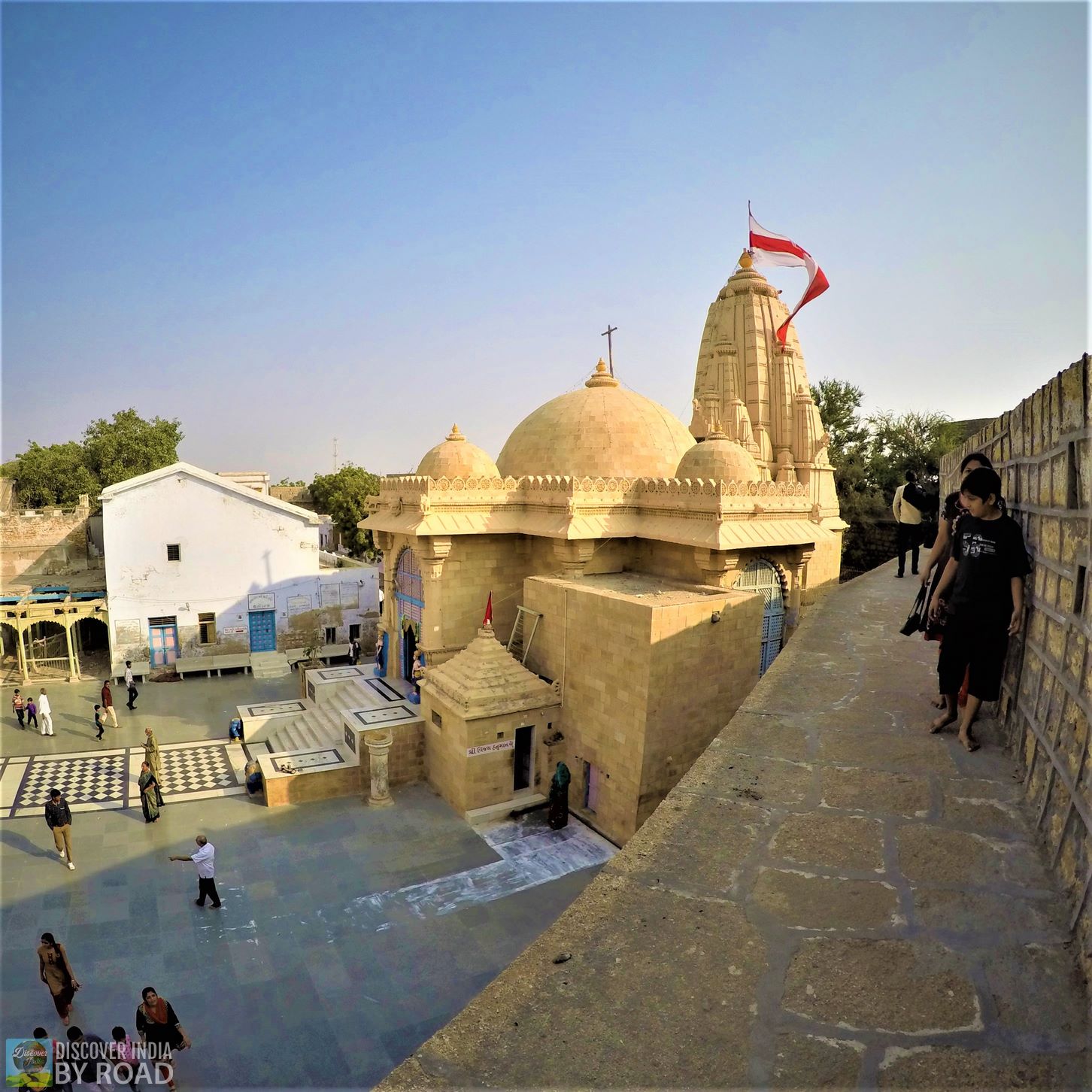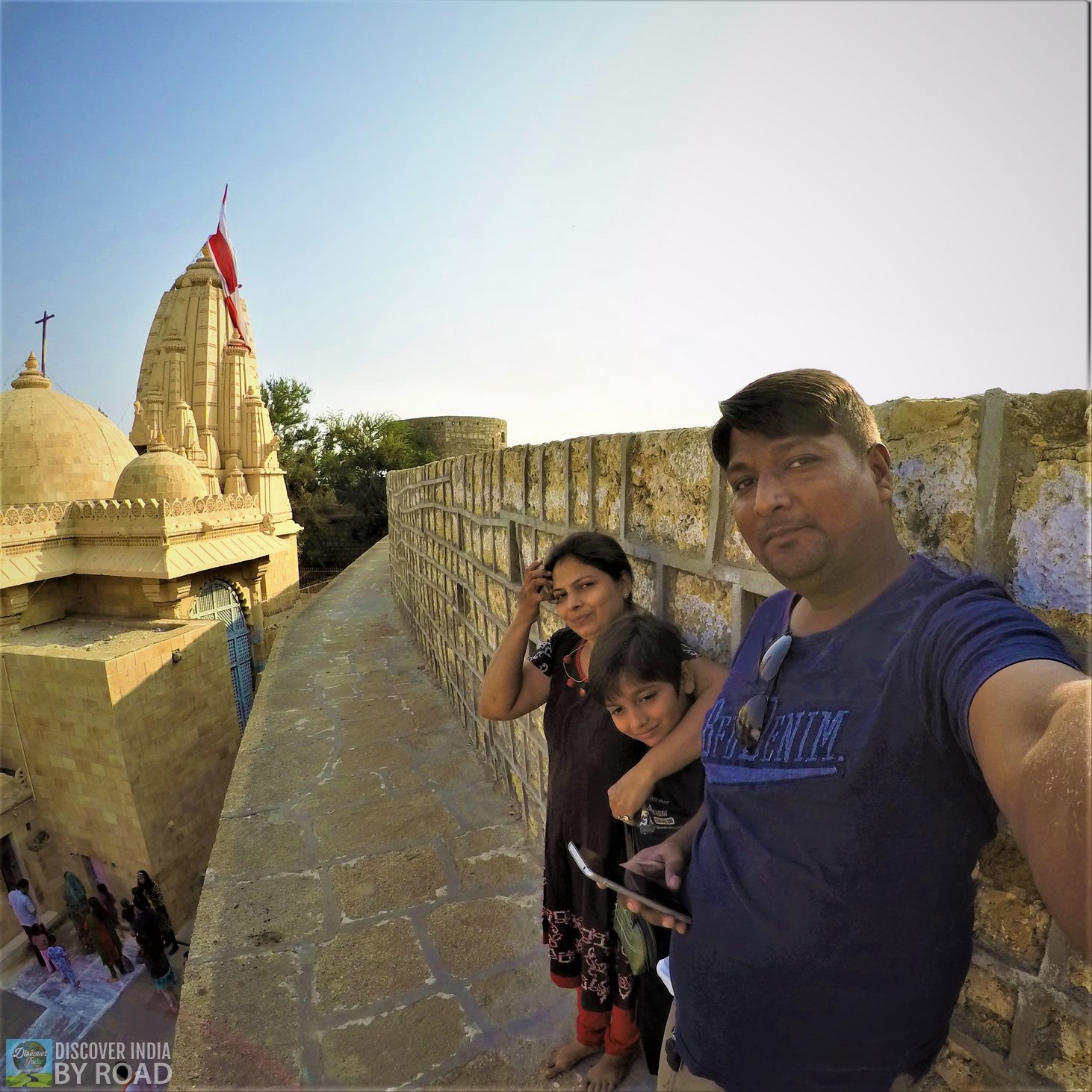 Koteshwar Temple is close to Narayan Sarovar, located on a small hilltop. From the top site, you can enjoy a breathtaking view of the Seashore. At night when the sky is clear, the gleaming temple lights can also be spotted from Karachi in Pakistan. The reference for this place can be found in the manuscripts written by a Chinese traveler Hiuen-Tsiang. Hiuen-Tsiang mentioned this place as a "Kie-tsi-shi-fa-lo, situated between the Indus river and the Indian ocean. During that period there were around 5000 monks living here in 80 monasteries.
According to Hindu mythology, there is a story of Ravana that was popular behind the formation of this place. The legend says that once upon a time Ravana did penance of Lord Shiva for many years. Lord Shiva was very happy with him and gave him a Shiv Linga full of religious power. As a result of which, Ravana would have become Immortal. This created fear among all the deities.
So, all the Gods united together and conspired to gain the Ling from Ravana through treachery. To do so, one of them disguised himself as a Cow and got himself into the sludge. He started shouting for help. The rest of the gods act as they were sages & trying to save the cow. Ravana watches all this and joins them for help. But, while helping mistakenly he kept the Linga on the ground. 
When he turned back, he saw there were one Koti (Million) Lingas on the ground. He got confused about which one is the original. Finally, he took one of them and continued his journey. After this, gods installed the original one as the Kotilengeshwar (Now Koteshwar).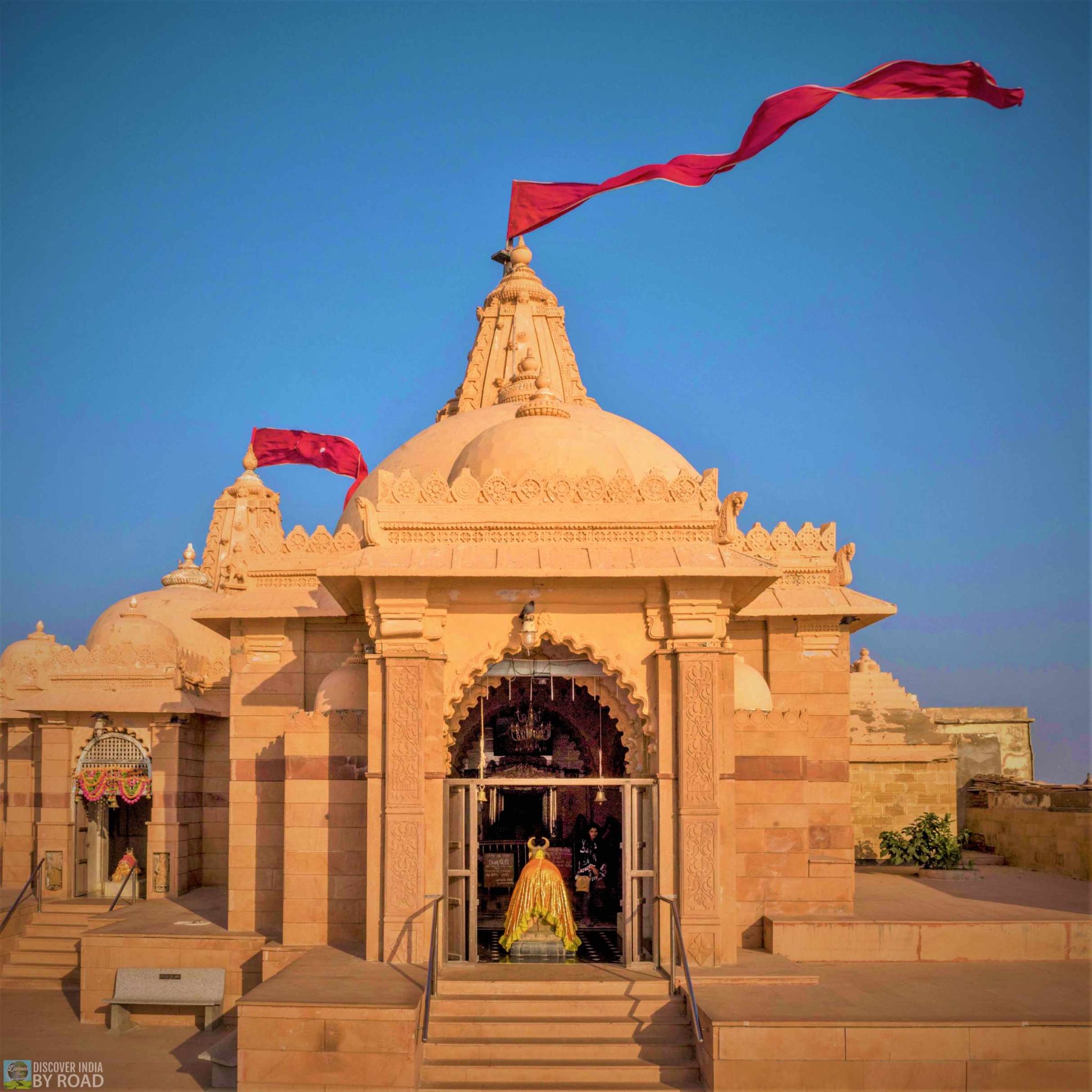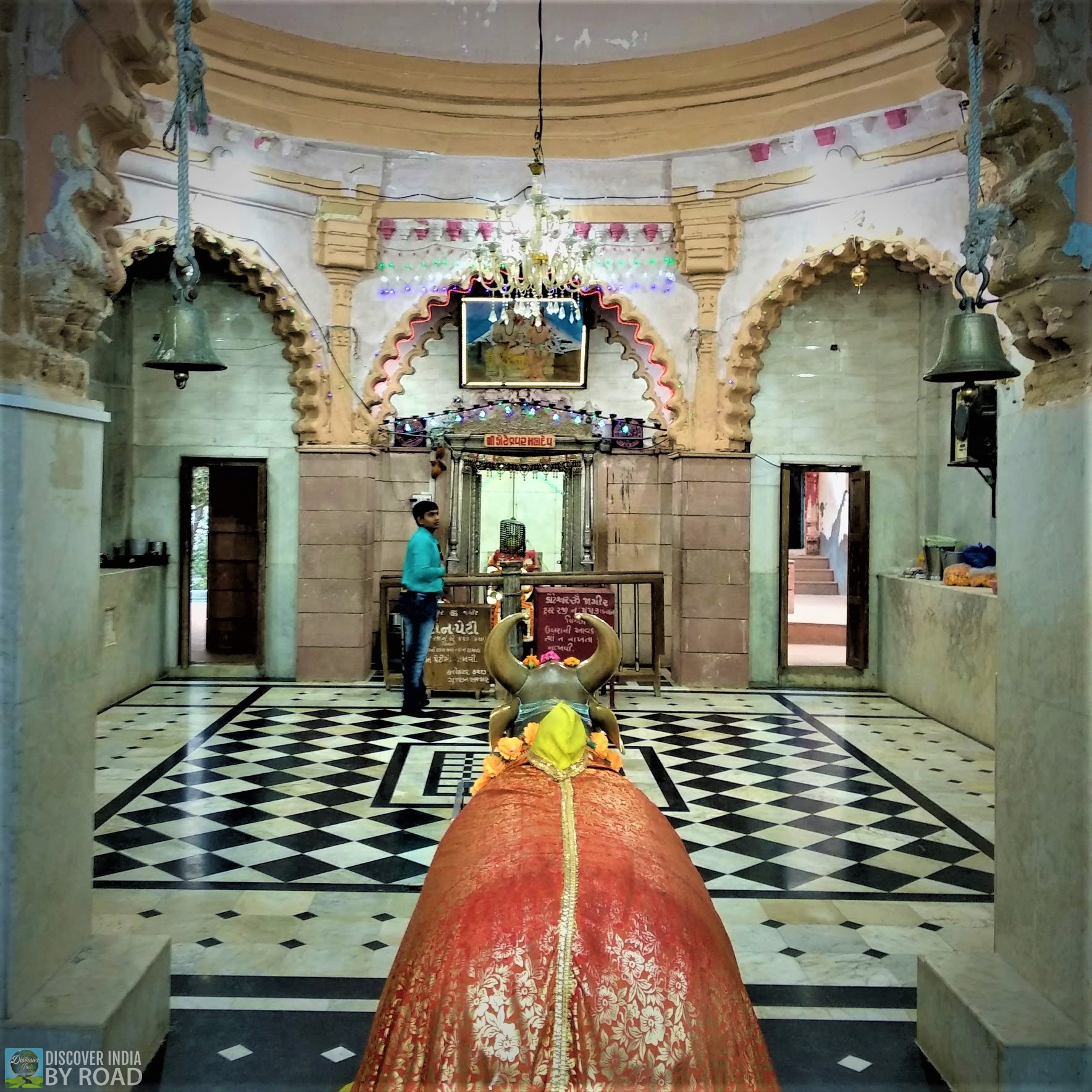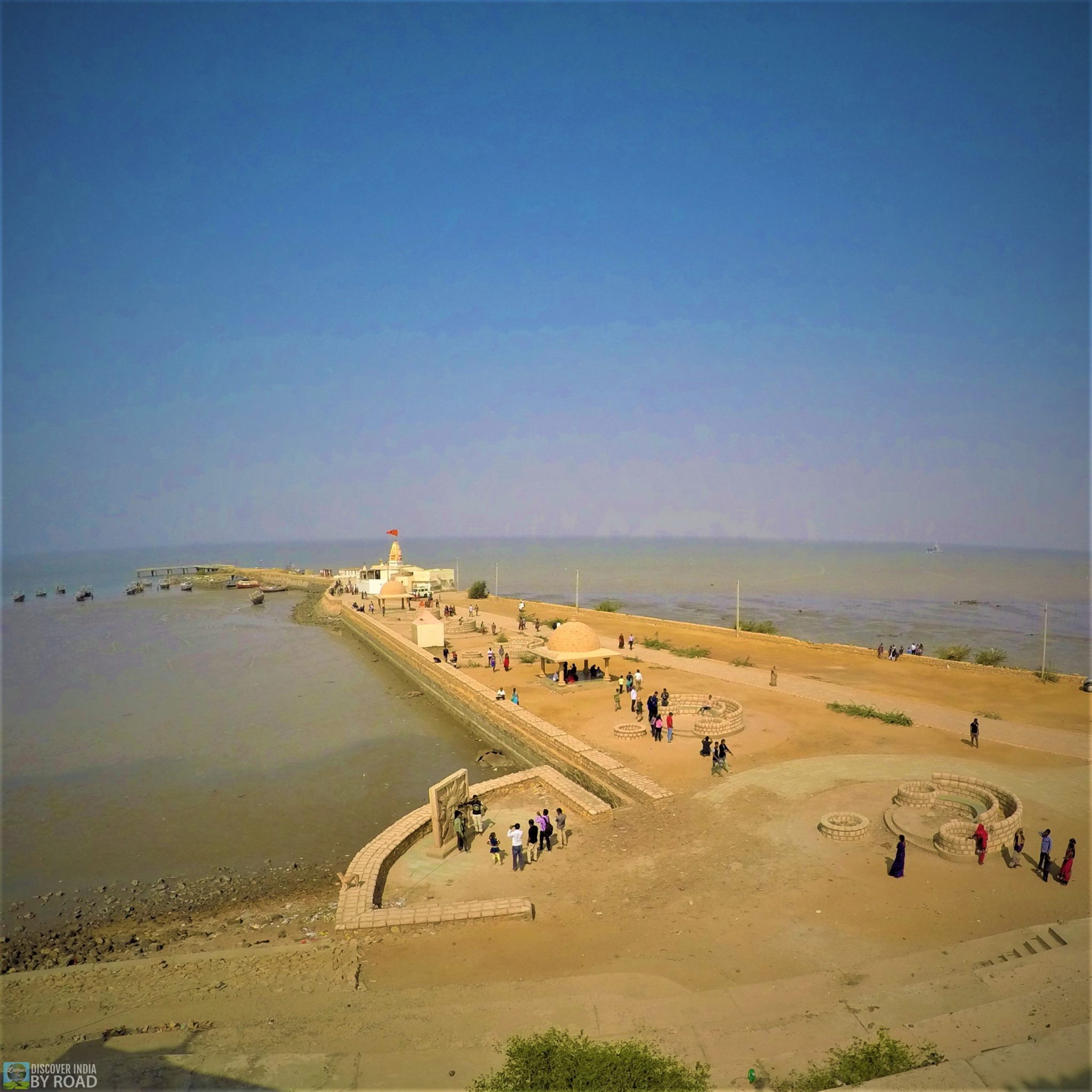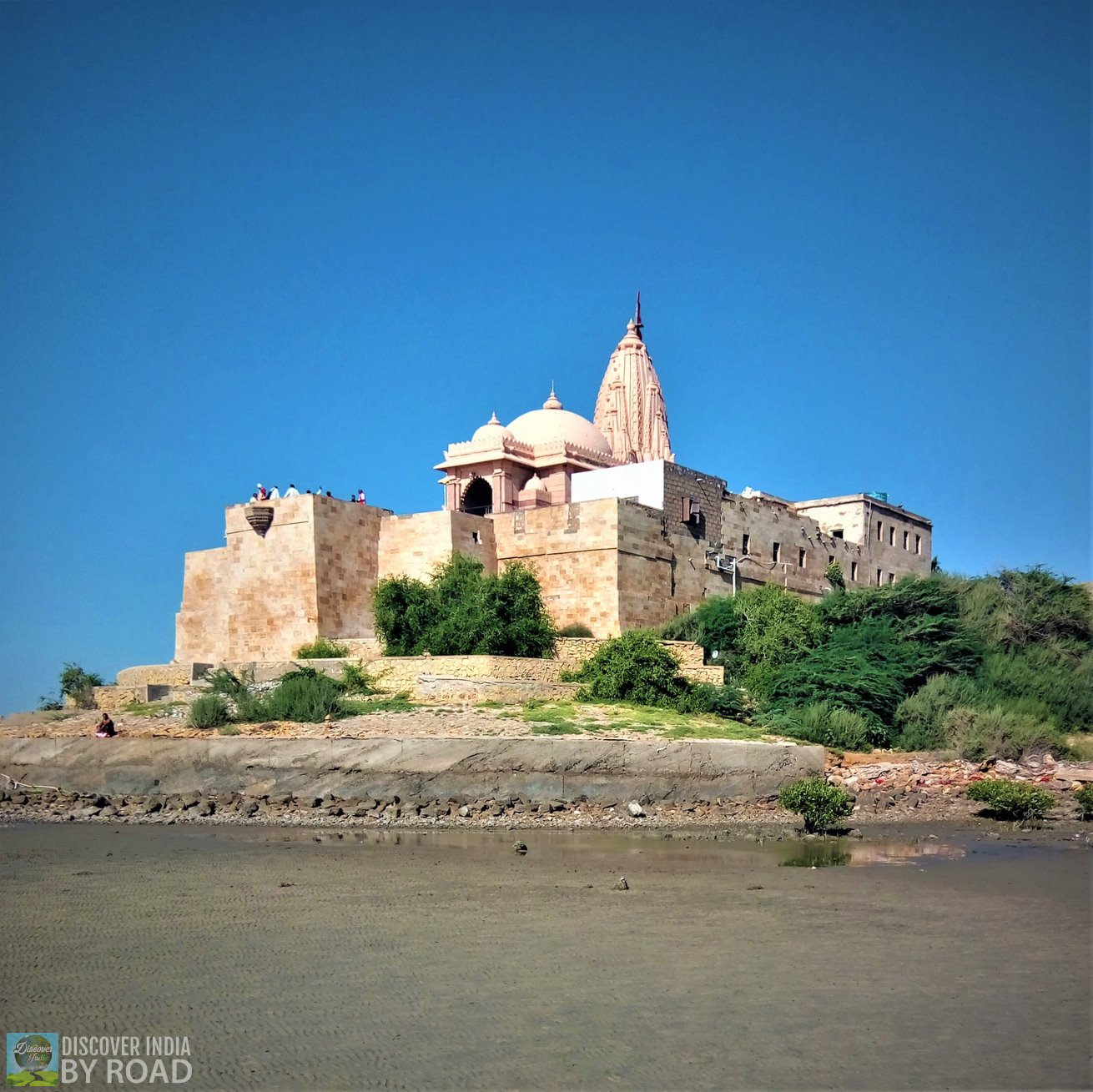 Nageshwar Temple & BSF Check post
Now, we were eager to visit the beautiful coast of the Arabian Sea. There was a way going towards a small jetty, with Nageshwar Temple & BSF check-post on the way. This area has been beautifully  developt for tourists.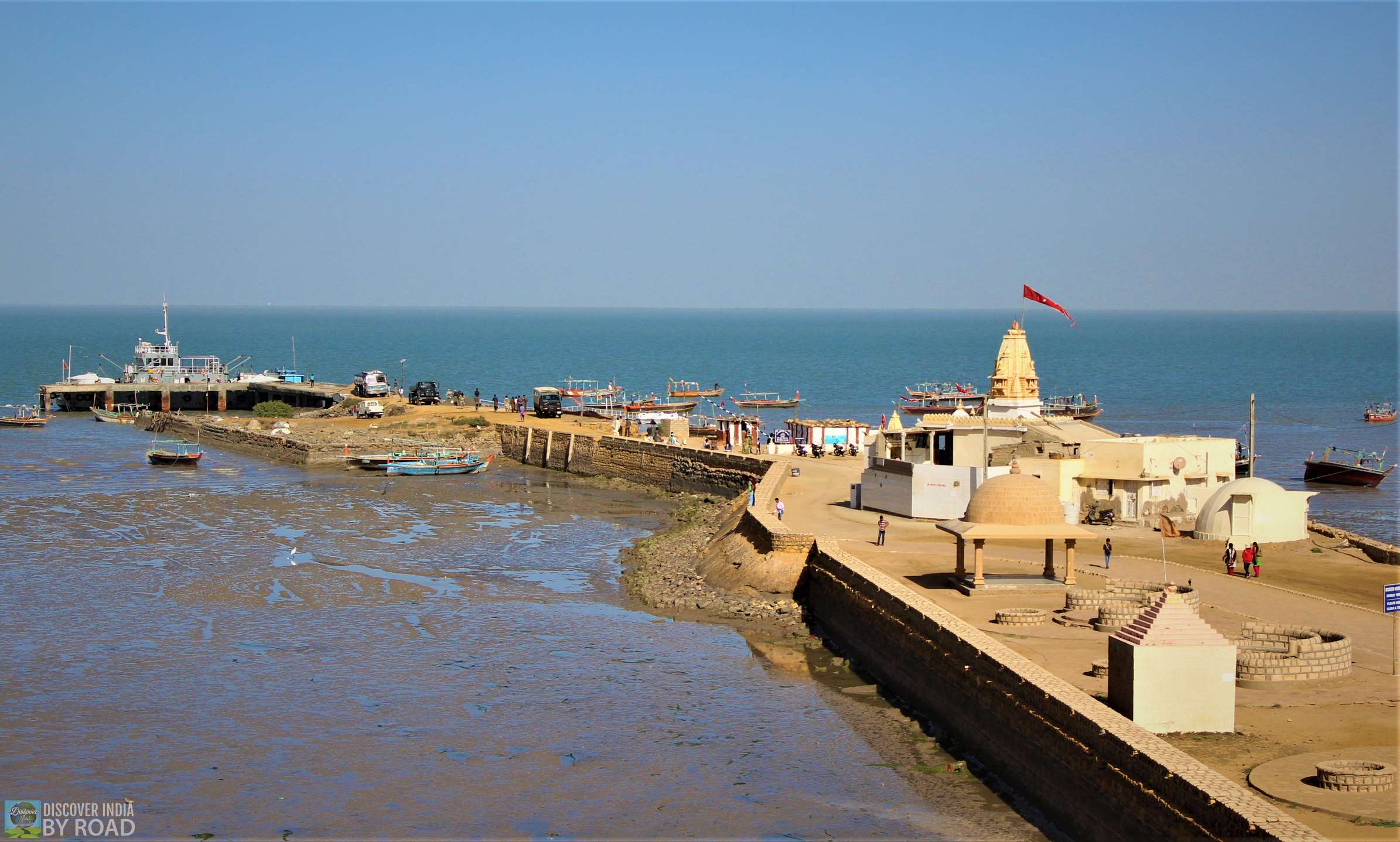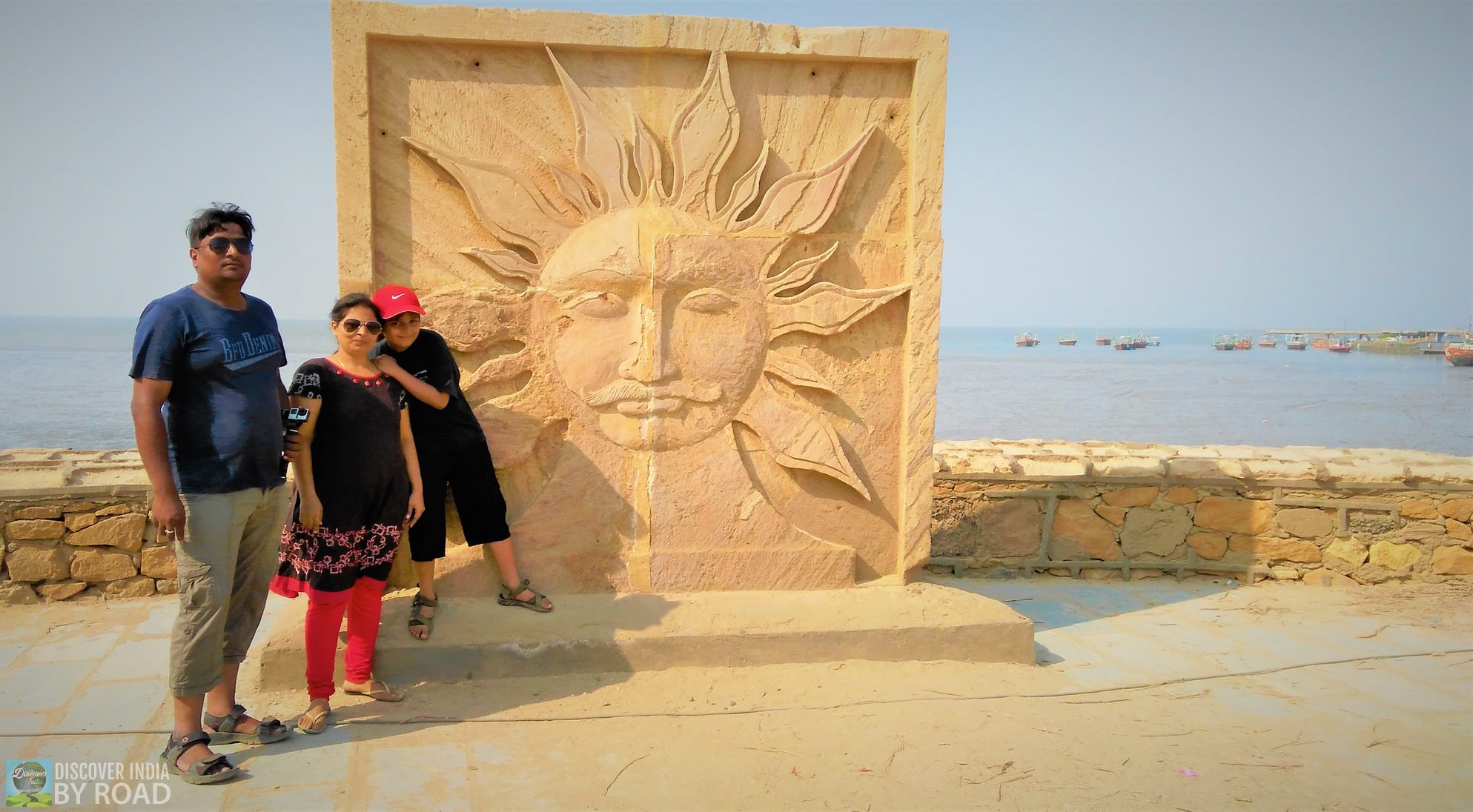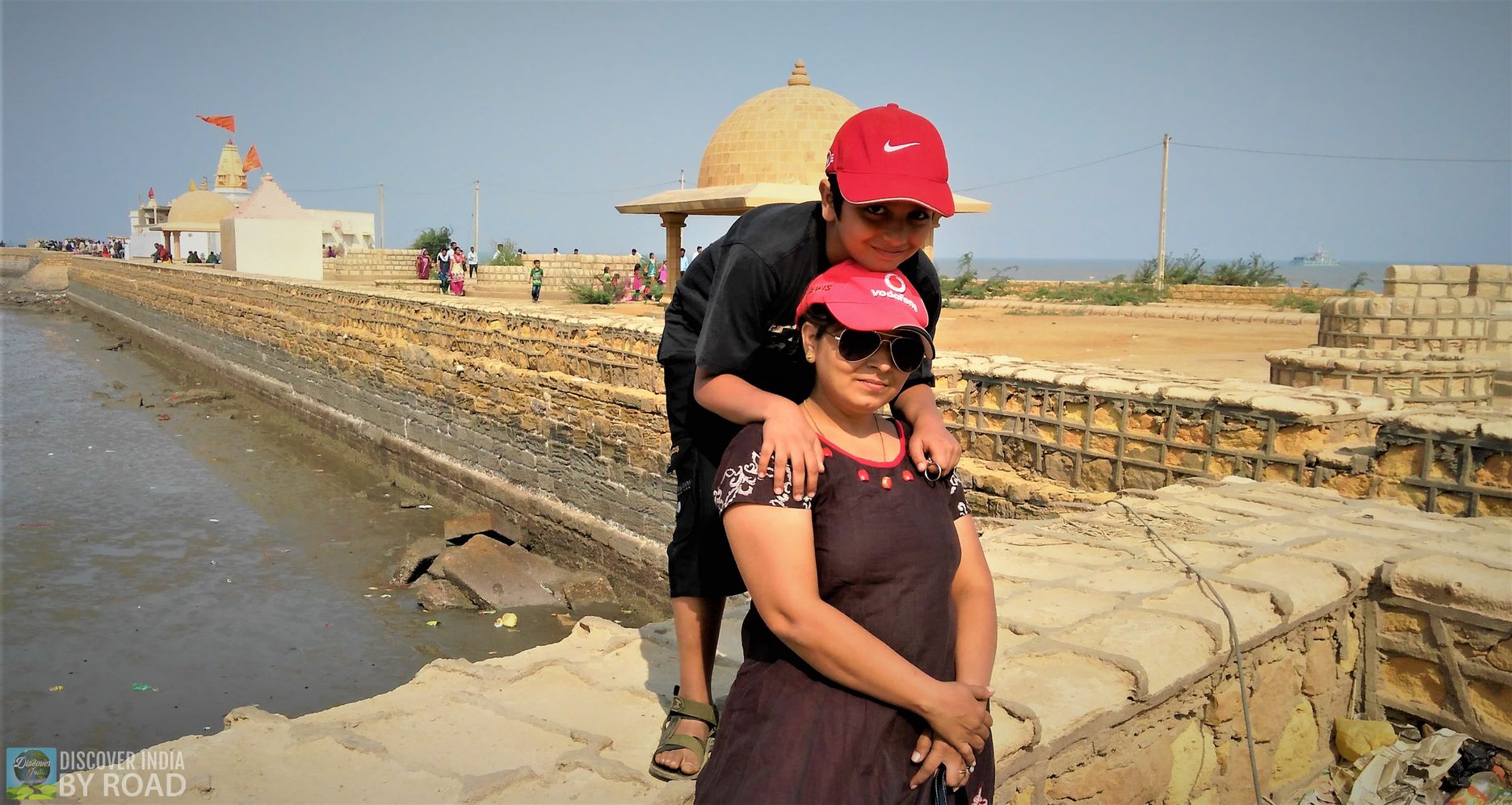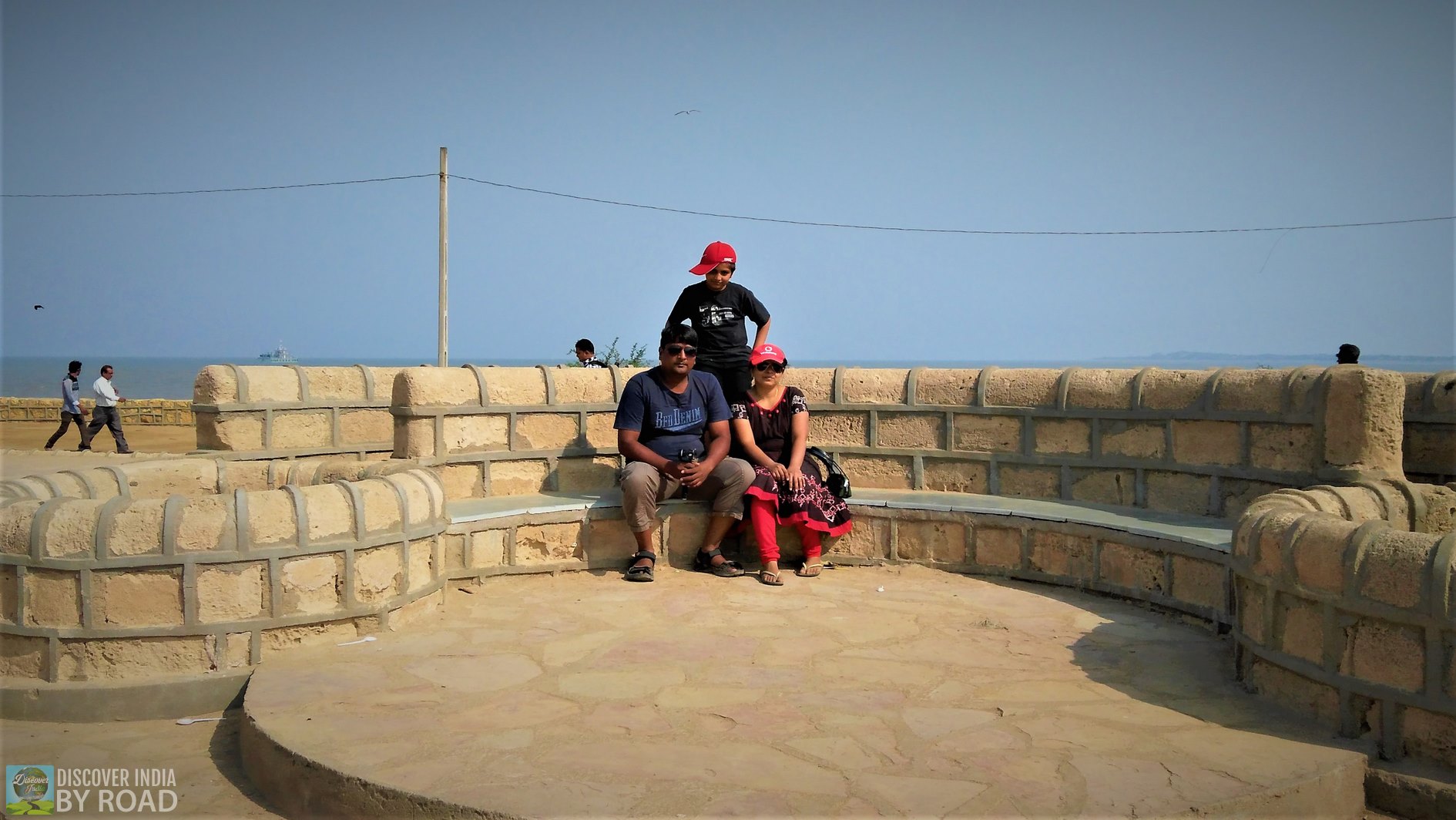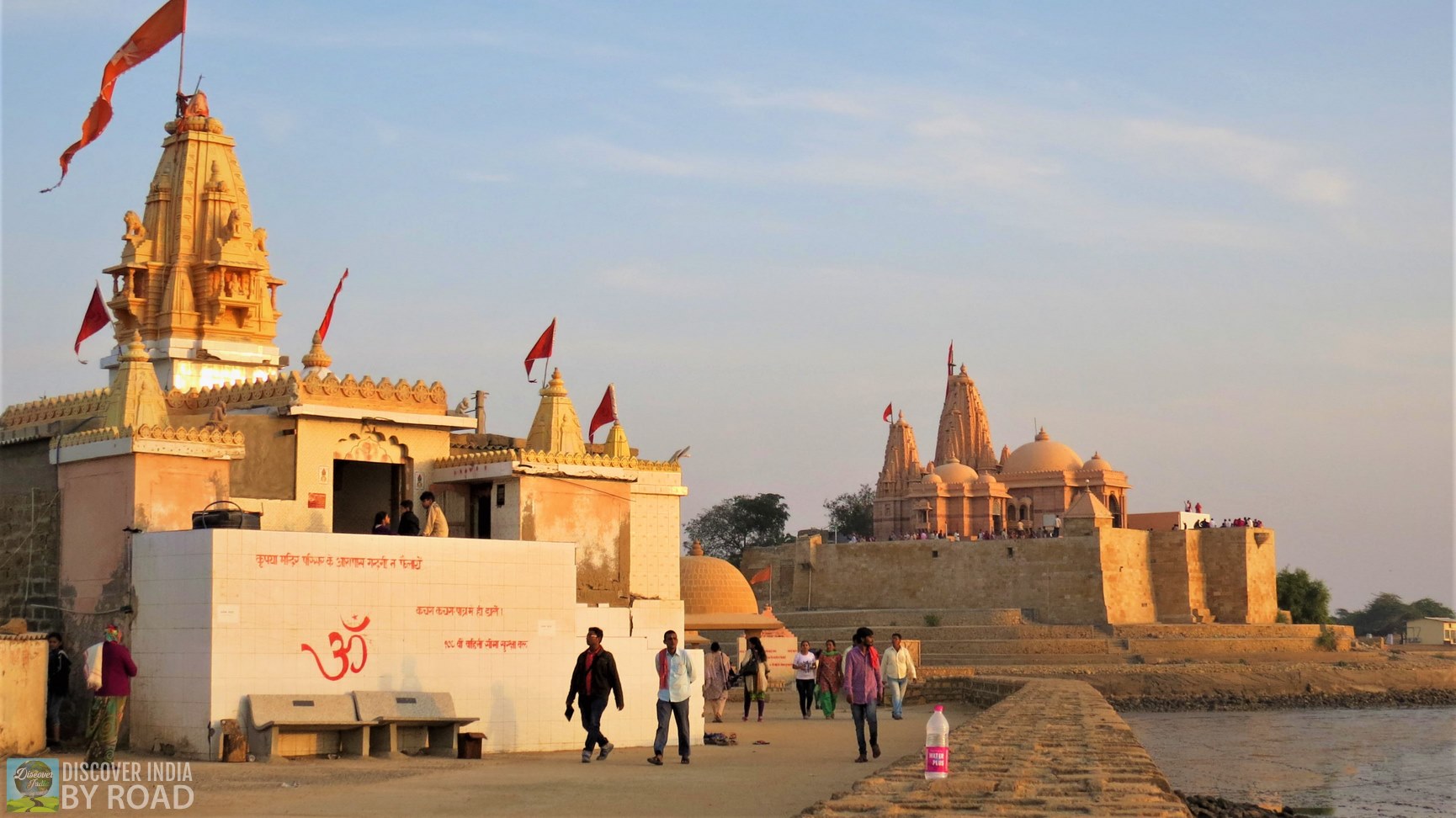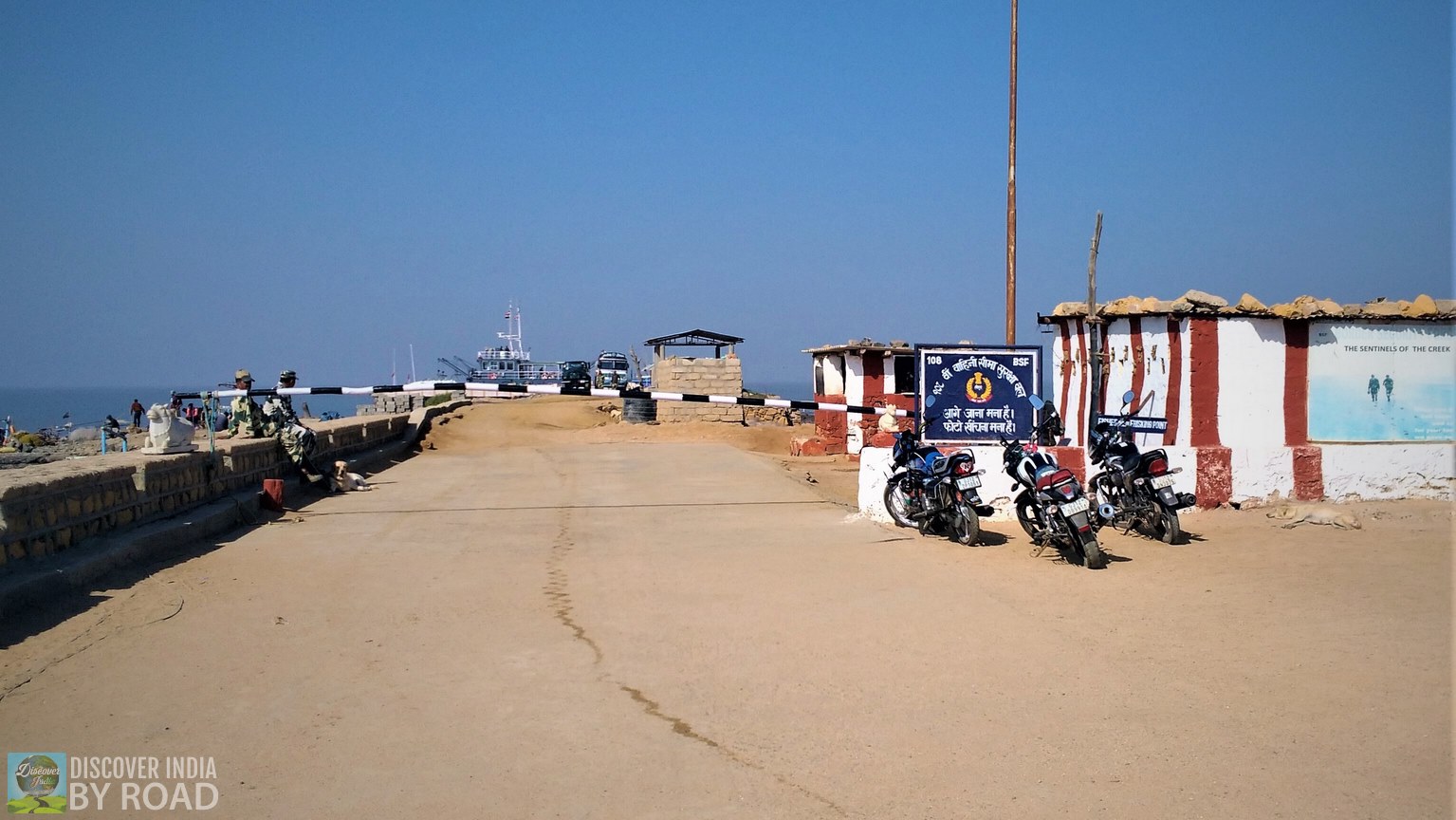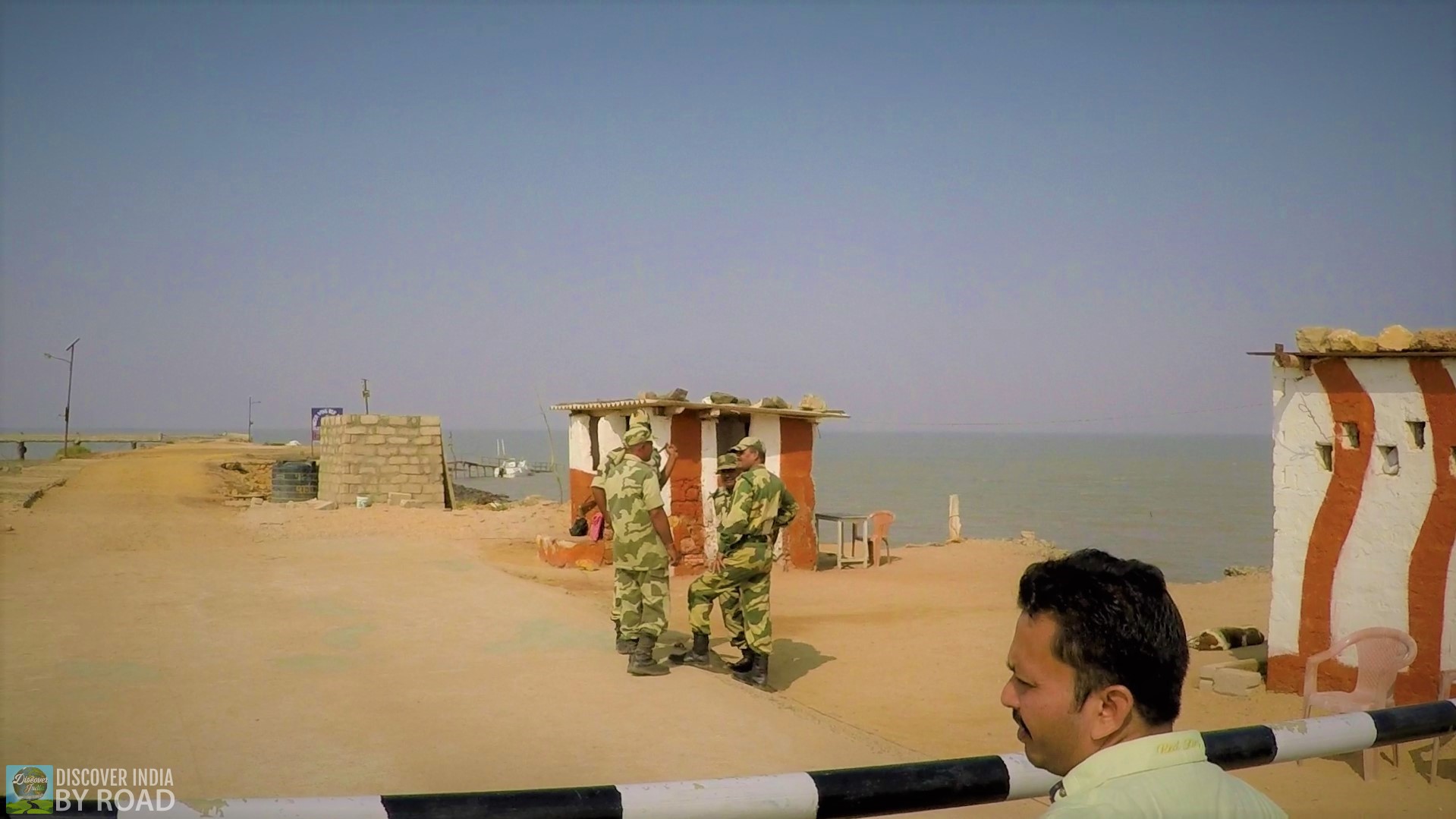 The BSF Check post was the last point, you can't go further beyond this. This place is worth a visit. After spending some quality time, we capture some memories & started thinking about our return journey. However, before returning we really wanted to visit the Runn of Kutch. So, once again we tried our luck. But, there was not a single tent available for the entire season. Finally, we made up our minds & promised ourselves that we will surely be returning back here for it.
Now it was around 10:00 am, so we checked-out from our room & immediately started our journey. Our Route was via Bhuj – Bhachau – Malia. We almost covered around 320 km & reached to Halvad. While passing through Halvad, we saw a huge temple complex on Highway. Therefore, we decided to have a visit there for Darshan. The name of this place was Naklank Gurudham, located on SH-7, Shakti Nagar.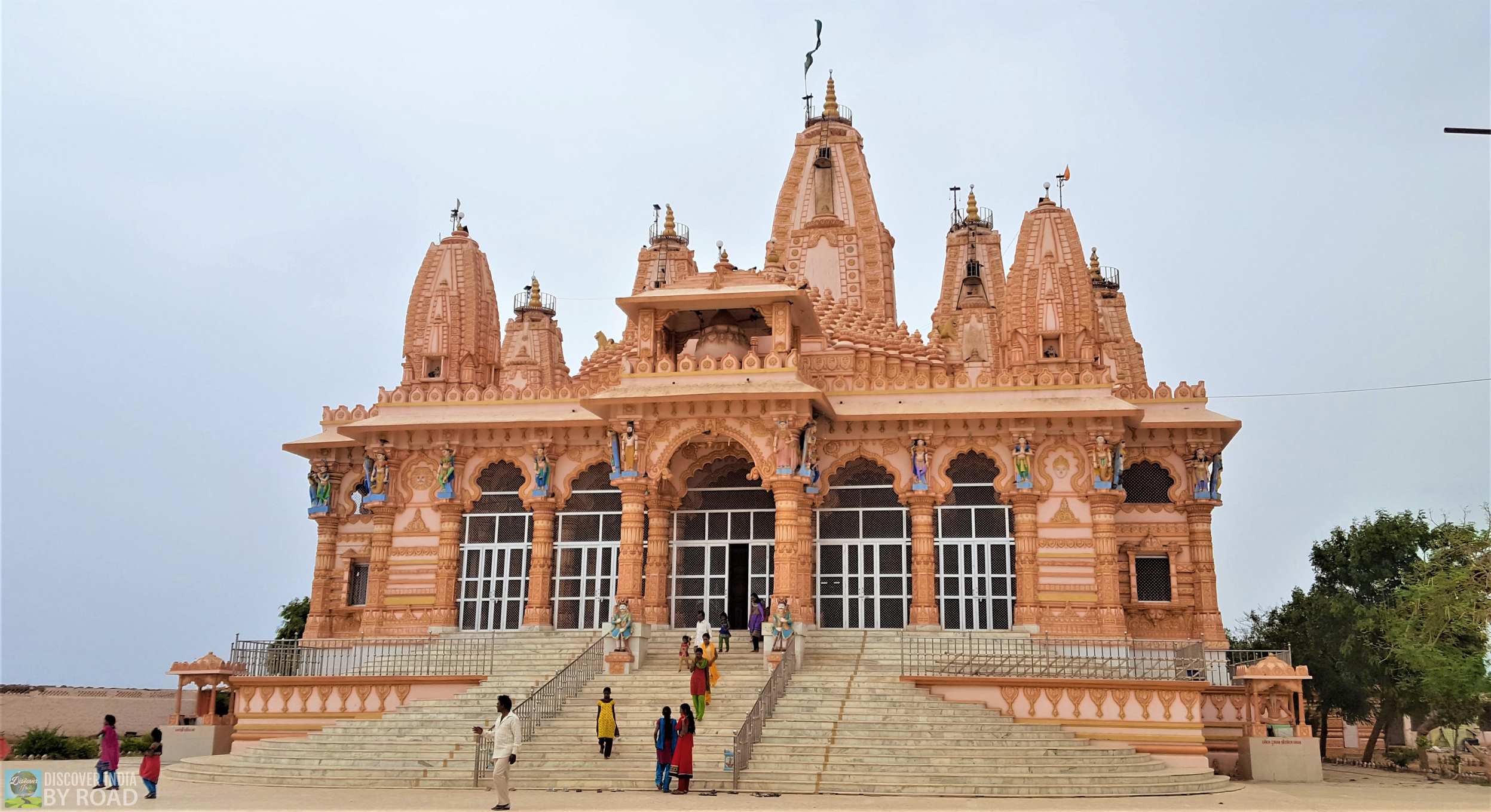 The entire complex was very beautiful. Inside the main temple, the main idol was of Shri Ramdevpir Ji with other deities. Meanwhile, roaming in the complex, the Mahant Ji (Main Priest) approached us & asked about us. We told him that we were on a family trip, & were now returning back to Mumbai. So he requested us to have dinner with him, and offered us a room for a night stay.
Now the sun was about to set, & we didn't prefer driving at night. Finally, we decided to stay there. The Mahant Ji and their family members were very co-operative, they gave us a very homely treatment. I surely recommend to visit this place, if you are travelling on this route.
The Next day, in the morning first we met Mahant Ji, & offered him some donation. As we didn't wish to stay here for free. At first he refused to accept the donation. But, after requesting him several times, he finally agreed. After taking darshan, we continued our return journey to Mumbai via Dhangadhara – Sanand – Nadiad – Anand – Vadodara -Surat – Vapi and Mumbai. The total distance was around 635 Km, which we covered in one a day.
Overall, we had a great time during this entire trip. I tried to provide almost all the details related to this trip. However, if you want any other information apart from this, please feel free to contact us.
In our next trip we are going to explore Pavagadh.